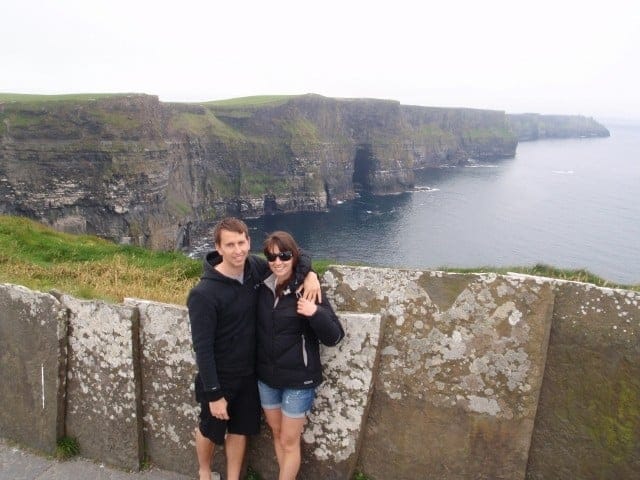 We flew out to Dublin from Edinburgh late on Thursday night with a smooth transition through customs into Ireland.  Much to my annoyance my new "smartphone" decided not to be so smart and wouldn't pick up any of the roaming signals as the Three network decided not to automatically set this feature up.  My fault for not checking I guess. Picked up the rental car and headed off to the outskirts of Dublin for a sleep before an early rise to head down to the Cork region in the morning.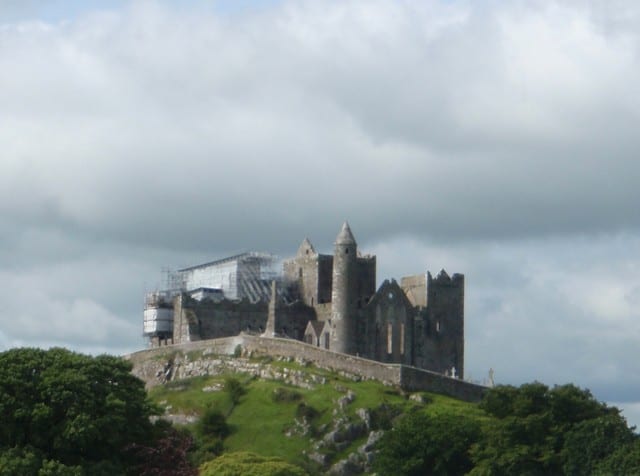 Thanks to the continental brekky providing us with our stamina for the day (plus 8 free muffins stuffed into the girls handbags) we were off to Blarney.  Our first stop led us to the recommended Rock of Cashel, which I originally understood to mean that it was Gaelic for Castle but turns out its a grand old Cathedral.  We were just in time to catch a tour around the site which always helps with understanding the history of the area.  The site even contains a graveyard which you can still be buried in if you are on the register, however this has dwindled to just 5 locals all over the age of 80.  Once they have passed away then no one else will be buried on the site.  
Stop 2 was right down at Blarney Castle next to Cork.  Amazing grounds with Blarney Castle rising above numerous caves and passages dug into the rocks beneath the foundations. The main reason for visiting was to kiss the old Blarney Stone so that we might gain the "Gift of the Gab" or achieve great eloquence.  No luck so far but that might be because I only gave it a minor brush after seeing the slobber marks left by the other hundreds off tourists that had preceded us that day!  Adela assured me that she gave it a good old smooch though as you hang upside down over the walls of the castle.  So was not really looking forward to later on when she leant in close…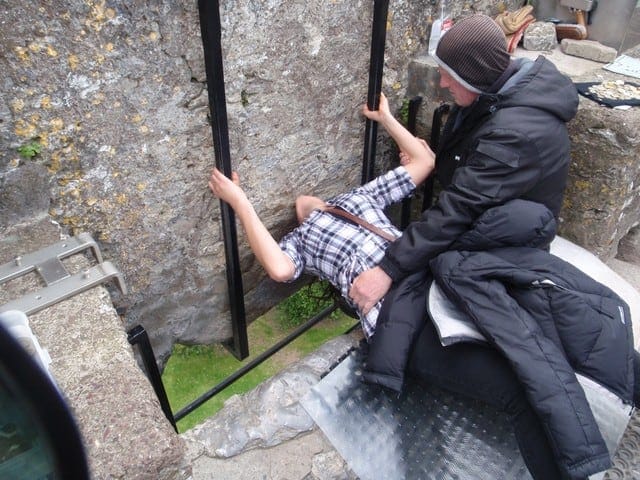 As per usual, our holidays are punctuated with food experiences and this was no different as we prowled around for half an hour looking for the best eating spot and decided upon a really tasty Chinese restaurant with starters, mains and desert for a reasonable £15. 
Blarney to Galway.  Google maps is telling us that its only 5 – 6 hours to drive, however as with previous experience driving across Canada and USA I knew this would extend into 10+ hours after stops and detours.  Sure enough after only an hour we had visited Ross Castle on the Killarney lake front which has a spectacular setting.  Our drive continued on to the Dingle peninsular with stops at several beaches.  Some brave souls decided that since the sun was poking through the clouds it was summertime and speedos seemed to be the order of the day.  Luckily I forgot mine on this occasion as the water would have created some incredible disappearing acts in the nether regions that would rival David Copperfield's acts.
Through Dingle to pick up some lunch and up and over the amazing Connor Pass (the highest mountain road in Ireland) with some beautiful scenery.  Unfortunately there was heavy fog at the top but some amazing views nonetheless.  Quick pit stop for lunch with turkey and coleslaw sammies on the beach.  Amazingly you are allowed to drive along the beaches although I was fairly worried that our tiny Fiat wouldn't make it off again but some smooth wheel spins ensured our safety.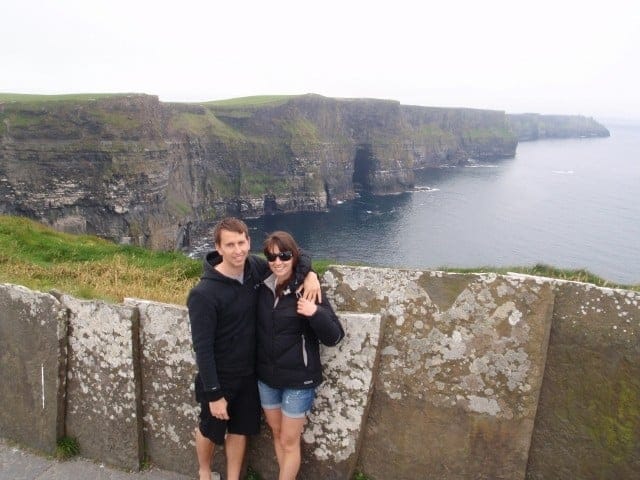 We drove onwards to the breathtaking Moher Cliffs which plunge over 200m into the Atlantic Ocean.  I only wish we had some binoculars so that we could see the Puffin's clearly.  Absolutely gorgeous and produces some great (and not so great) vertigo moments for someone like myself who is petrified of heights!  I couldn't believe Adela and Warrick could stand so close to the edges with no barriers.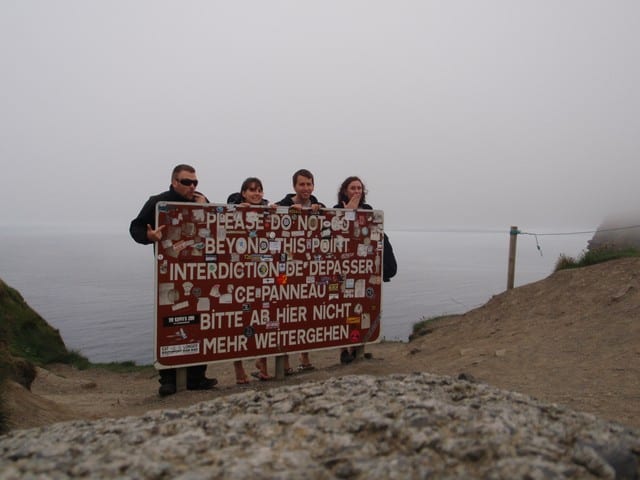 From left to right – Warrick, Adela, Cole and Kate at the Cliffs of Moher (we are in our jandals of course)
We parted ways with our flatties the next morning so that we could head out Aillwell Cave and they could lounge around in the Cafes of Galway. I must say that Aillwell Cave was definitely one of the highlights on the entire trip with a short tour in near pitch-black surroundings with a well informed guide.  The caves were formed from an underground river before drying out and is where the local, now extinct, bears use to hibernate.  At one moment the guide shut off all the lighting within the cave to understand how it was for the discoverer of the caves. You could not even see your hand 1 cm from your face and the guide informed us that if you spend just 72 hours in that level of darkness you will end up blind from your eyes straining to pick up light sources. Spooky.
We ventured back to Galways and enjoyed the atmosphere of the local Arts festival and tourist sites including the Spanish Arches, Cathedral and canal with an ice cream in hand.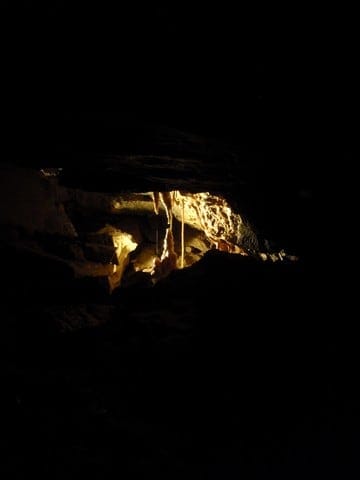 Some amazing features in Aillwell Cave including this 10,000 year old Pillar
We spent Sunday night in Dublin enjoying a well earned pint of Guiness, which tastes a lot better in the city it is brewed in I must say.  After stuffing ourselves from the hotel breakfast buffet the next morning Adela and I joined the free Dublin walking tour. Any chance we get we always jump on a free walking tour in all the major cities as they are a great way to see a large portion of the city and quickly gain your bearings. In addition they are free although always worth at least £5 in tips to the unpaid guide who does a good job of sneaking in the word tips every chance he gets. As usual we took in all the most important sites including the Cathedrals, bridges, top pubs in the Temple Bar area and other historic landmarks. All accompanied with a historical background of the Irish independence movements.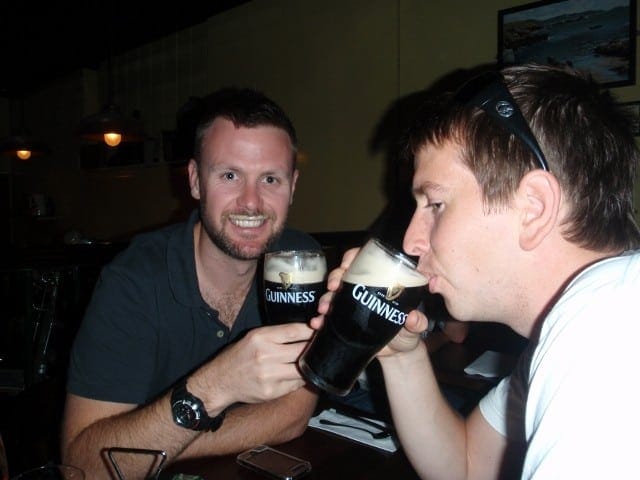 Guiness – its so much nicer in Dublin
Although we managed to see a large portion of Ireland, travelling 1100 km in just 4 days we really only scratched the surface and will be returning shortly when we get the chance to explore and enjoy the sights again at a more leisurely pace.
On a final note, make sure if you have not taken the next day off work when you get back to the real world, don't go catching the 10.55pm flight!
Most Underrated Travel Destinations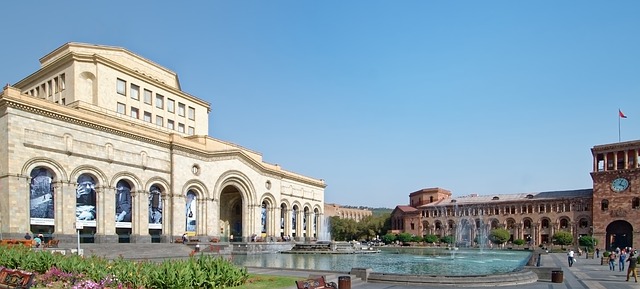 Everyone knows about Paris and Rome and London but there are so many other beautiful travel destinations that are amazingly underrated and they are cities on our list to visit again once the Coronavirus allows. The fact that so many beautiful countries go unexplored by travelers is a tragedy and we want to change that after Coronavirus. Not only because so many people are missing out on rich cultures and picturesque views, but also because a lot of these destinations tend to be a lot cheaper to travel to than popular cities. 
But what a lot of people don't know is that there are gorgeous, underrated foreign cities one can visit for a fraction of the price of touristy European cities. Forbes recently published a collection of the ten most underrated destinations you should consider visiting. 
Here are a few of them to learn about while stuck at home due to Coronavirus:
Yerevan, Armenia
Yerevan, the capital of Armenia, is known for its magnificent sights of Mount Ararat, historical monasteries, and its many striking temple ruins. Armenian cuisine is other worldly with classic dishes like rabbit stew, sautéed eggplant rolls, and lamb tartare. 
Telč, Czechia
Telč is a colorful town with Italian influences in Czechia. It boasts of Baroque-Renaissance architecture and has a castle of its own with exciting tunnels and passageways that you can explore underneath the town.
Santiago, Chile
Santiago is the capital of Chile and features gorgeous architecture from the neoclassical era. There are towering cathedrals and, of course, plenty of quality Chilean wine. Plus, the city of Santiago is a great place to kick off your exploration of Chile's wine country. 
Rotterdam, the Netherlands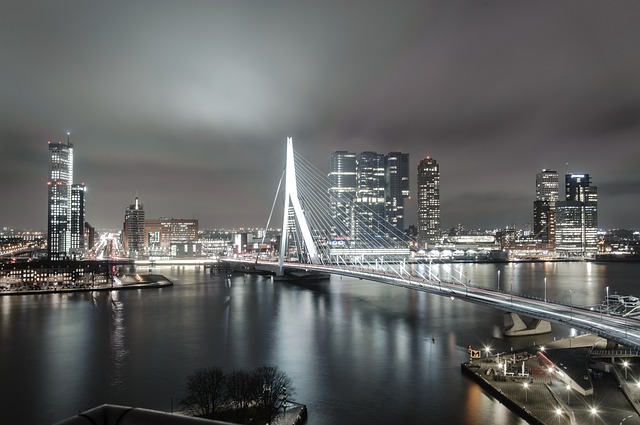 Rotterdam is often ignored due to the popular neighboring city of Amsterdam, but it is a bastion of underground music and street art. The architecture is strikingly modern since the city was heavily bombed during World War II and thus had to be rebuilt from the ground up. The city is filled to the brim with amazing cuisine and museums.
Lagos, Nigeria
If you are looking for a big city destination, Lagos is a metropolis that has plenty to see and do so that you'll never be bored. And whenever you need a break from the urban marketplaces, private beaches are just a short drive away.
Con Dao, Vietnam
Con Dao is a Southeast Asian island that makes an excellent beach destination with two resorts and tons of fascinating history. Once host to a brutal French prison, the island is also home to the tomb of the Vietnamese martyr Vo Thi Sau. 
Colonia del Sacramento, Uruguay
This is one of the oldest cities in Uruguay dating back to the 17th century. The city has a vibrantly decorated historic quarter and a three-century-old convent. It's also only a short trip away from the bigger city of Montevideo.
A majority of Americans, when asked about traveling abroad, will likely shake their head and say they can't afford such trips. Many people deal with multiple monthly bills, such as mortgage or rent, student loans, and title loans, which are all stress inducing. 
3 Tips For A Luxury Camping Experience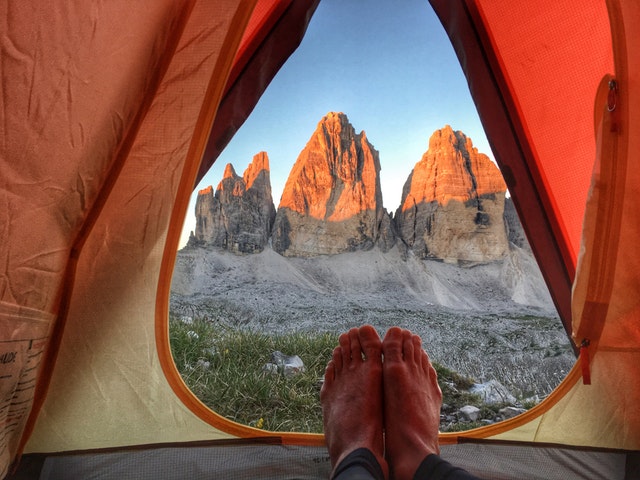 If you are used to travelling in style and staying in high end hotels, camping is probably your idea of hell. Why would you spend a week sitting in a freezing cold tent, hiding from the rain when you could be relaxing around the pool in a nice hotel? But camping gives you a completely different travel experience and if you do it right, it can be very rewarding. If you invest in the right equipment, you can enjoy all of the good things about camping without any of the downsides. If you follow these simple tips, you will have a comfortable experience and fall in love with camping.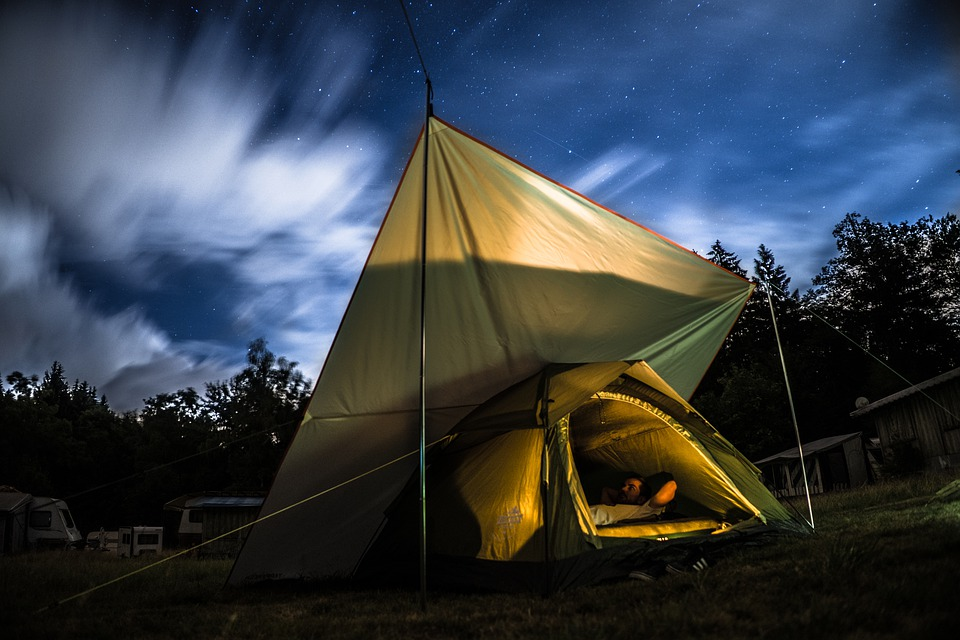 Image From Pixabay CCO License
Buy The Right Tent
The tent is the most important thing if you want a comfortable camping experience. All of those horror stories you hear about leaking tents only happen because people buy cheap tents. If you invest in a good quality tent, it should hold up to the weather and keep you dry and warm.
When you are buying a tent, you need to check the hydrostatic head rating. This gives you an indication of how much rain the tent can stand up to before leaking. The higher the rating, the less likely your tent is to leak. It is also important to consider the size of the tent and how easy it is to put up, especially if you are planning a road trip. You need to make sure that it fits into the car easily, and you also want to avoid anything that is too complicated to put up. However, be careful with pop-up tents because most of them will not stand up to the rain.
If you want the ultimate comfortable camping experience, you should consider a camper trailer instead. There are some great camper trailers that come with all of the same facilities that you would find in a basic hotel, so you can camp in comfort. If you really hate the idea of camping, this is the best option.
Get A Good Quality Sleeping Bag
If you are worried about being freezing cold at night while you are camping, you need to get a good quality sleeping bag. A cheap one will not be comfortable and it won't keep you warm, so you need to make sure that you buy a good thermal one. Sleeping directly on the floor will be uncomfortable as well, so you should invest in a sleeping mat as well. If you are willing to spend a little more on good sleeping equipment, you will be nice and comfortable while camping.
Pack Good Food
The food is another big issue for people when they go camping, but there is no need to live on beans all week. You can get some great dehydrated camping food packs so, as long as you take a small camping stove, you can still eat proper meals. If you pack a coolbox and freeze some food before you go, it should last a while so you can have barbecues as well. As long as you plan ahead, there's no reason why you can't eat well while you are camping.
Camping doesn't have to be the nightmare experience that you think it does. If you follow these simple tips, you can have a luxury camping experience and enjoy all of the benefits of the great outdoors.
Tips for Planning Your Uluru Tour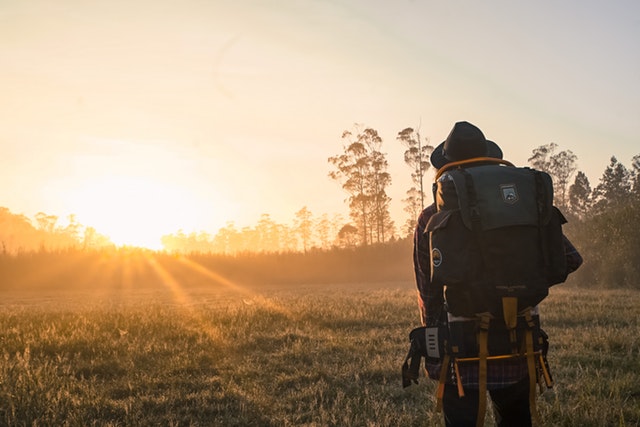 Located in the Uluru-Kata Tjuta National Park, the magnificent sandstone of Ayers Rock or Uluru stands tall at 1,142 feet above ground. The natural formation is widely known for being one of the most sacred places to the indigineous peoples in Australia. At the same time, it is also popular for attracting tourists from all over the world to the land down under.
If you want to visit Uluru in order to pay tribute to this wonder of nature, then doing so through the right tour is in your best interest. It's not only because Uluru is located at least a few hours from civilization, but it also because such a tour allows you to enjoy the picturesque sights that come along the way within the Uluru-Kata Tjuta National Park.
So what sights are there to see along the way and what other general tours suggestions you should keep in mind while visiting Uluru? To help you answer these and some other important questions, here are 5 top tips to keep in mind while visiting Uluru.
Don't Climb the Monolith
First things first, while it is legal to climb atop Uluru, it is recommended that you do not attempt such an action in order to show your respect to the indigenous peoples.
It is a pretty easy rule to follow when you pay attention to the emotions of the indigenous tribes who have recommended time and again for people to not climb Uluru.
But that doesn't mean that you cannot enjoy the natural beauty that Uluru has to offer. In fact, you are encouraged to visit the sandstone and take in its natural glory by standing right beside the formation. That's why 4WD tour is highly recommended. The tour guides would be able to tell you what you can and can not do.
Visit During Sunset
Ask anyone who has visited Uluru about the best time to see the formation, and you will instantly get the answer as "sunset."
It's because Uluru is not an ordinary monolith, but one that is formed through arkosic sandstone. This allows the rock to actually change its color according to the position of the sun. As a result, you can expect the formation to sport a different color depending upon what time of day you reach it.
At sunset, Uluru projects an amber glow that is surreal to take in, especially when you are seeing the formation in person for the very first time. That's why, it is recommended that you time your trip in a way that allows you to experience this magnificent sight.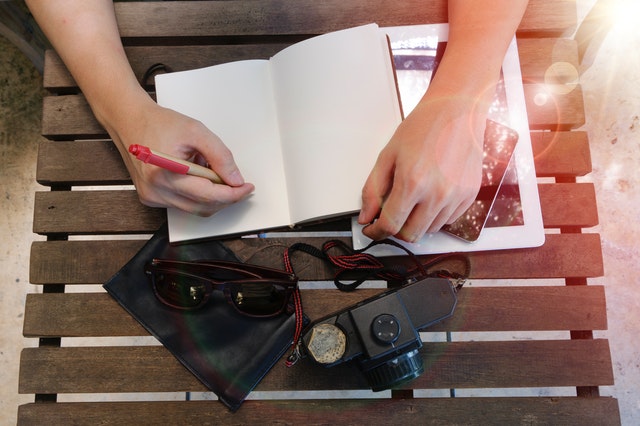 3. Take Your Time to Plan the Trip
Perhaps the best way to visit Uluru is through the nearby town of Alice Springs, which has various amenities and accommodation options for tourists who are making their way to the Uluru-Kata Tjuta National Park.
The drive from Alice Springs to Uluru can take around 5 hours, which is why it is recommended that you arrive at least a day before you are planning to tour Uluru.
This way, you can reach the national park while feeling fresh and rested. This also gives you time to plan longer trips to the park in order to enjoy all that it has to offer.
4. Take in the Sight of the Rock Art
Uluru is not just a wonder to look at by itself, but it also holds several little pieces of wonderful art within it.
The caves at the bottom of the formation hold several pieces of rock art that can only be found at Uluru. If you love learning about other cultures through their art, then this will be a must visit.
Just make sure that you take the time to learn about this art through a local tour guide or via the information provided within these exhibits. This ensures that you have an immersive and informative experience which you can remember for a long time.
5. Don't Forget the Natural Attractions Around the Rock
Enjoying the breathtaking sight of Uluru sounds rewarding enough for a trip to the Uluru-Kata Tjuta National Park. But it's not all that you can do during a tour of Uluru.
From seeing the red kangaroos and other marsupials to spending some time with the camels, and from seeing the one of a kind formations of Kata Tjuta to taking a walk by the Valley of the Winds, there's so much to see and do around Uluru.
That is why, it is recommended that you take your time at the park and put aside at least two days to enjoy all of the unique activities that the area has to offer. It would give you a well-deserved break from the hustle and bustle of daily life while also allowing you to make the most out of your long journey to the sandstone.

We have been wearing out our jandals (Kiwi for flip-flops) on our travel adventures around the world since 2009. We think our blog is thought provoking and a little witty. But we have been proven wrong before. Find out more about us here...
What Are You Looking For?