Best Places to Relax in Austin, Texas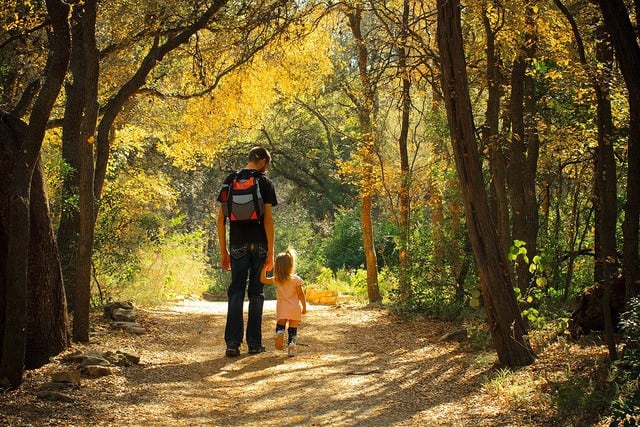 Sometimes you just need to get away from it all. You work a busy schedule, you're bombarded by important tasks, and you just don't have any time to relax before you have to get up and do it all over again. So, when getting away from the stresses of your everyday life, a city like Austin, Texas might not be first on your mind. It should be, though. There are plenty of great places here that will help you to unwind and relax.
Zilker Botanical Garden
One of the best places in all of Austin to relax is the Zilker Botanical Garden. Here, you'll be able to enjoy peaceful gardens, the Green Garden (where local designers showcase plants native to the area), and the Taniguchi Oriental Garden. There are ponds covered in lily pads and the serene sounds of waterfalls. You'll also find the Hartman Prehistoric Garden, which is located right where actual dinosaur tracks were found in 1992.
Zilker Park
While Zilker Park is well-known for its ACL Music Festival and its incredible light show during the holiday season, it's also a great place to relax. No matter if you just want to lay down in the grass and read a book or set up a blanket and have a picnic lunch, this park is the best place to so. The main field in the park also offers an incredible view of the city skyline while you relax surrounded by nature.
Viva Day Spa
The Viva Day Spa was voted the "Best Spa" by Austin Monthly Magazine several years in a row.  If you are looking to relax this is the place. Their spa packages all include various massages where you can melt away for a few hours. This is a very upscale day spa that also offers pedicures, manicures, facials, and some med spa services.
The Greenbelt
The Greenbelt actually starts at Zilker Park. It offers almost 8 miles of trails on 809 acres of land. There are plenty of ways to relax here, from sitting near the water, to going for a jog, to climbing on the cliffs. You'll have plenty of natural beauty around you to help you unwind.
Barton Springs Pool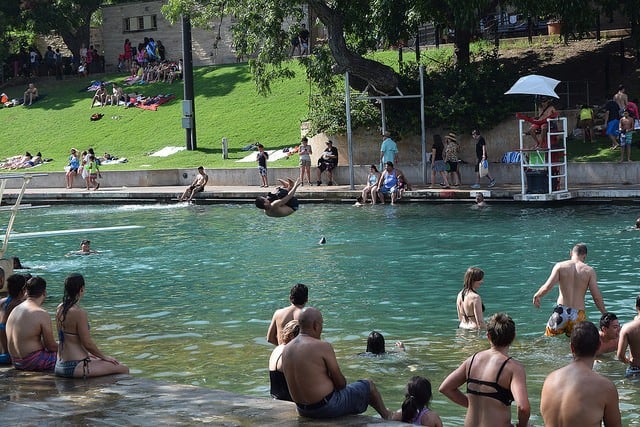 Barton Springs Pool boasts 68-degree water year-round. It's refreshing and can be shocking at first, but is often just the thing you need if you're in Austin in the middle of summer. When you arrive here, you'll see plenty of others with the same goal in mind, relaxation. A quick look around will show you people doing yoga, drawing, or reading. Bringing your furry friend with you? Check out, Barking Springs. It's adjacent to Barton Springs, but it's a pooch-friendly swimming hole that allows you and your four-legged companion to relax together.
McKinney Falls
McKinney Falls is a great place to go if you need to get away from it all, and it allows you to get in a bit of a workout at the same time. Here, you'll find hiking, biking, swimming areas, and places to go fishing. If you need more than just a few hours of getting away from the stresses of everyday life, you can even camp out here.
Mayfield Park
Mayfield Park opened up to the public in 1971, after the original owners passed away. Now, it's a nature preserve complete with peacocks wandering around freely. In addition to these beautiful birds, you'll also find ponds and flowers, giving you an incredible place to relax.
Mozart's Coffee
For some, relaxing can't be done without a good cup of coffee. If this sounds like your kind of way to relax, check out Mozart's Coffee. The delightful coffee place is located right on a lake, giving you a great view. It's also lit up with light streamers at night. Sure, college finals time can get a little busy, but if you hit it at just the right time, you'll have peace, quiet, delicious coffee, and a delectable treat.
Austin might not seem like it, but this city has a lot to offer in the way of relaxation. No matter if you're looking to get away for a weekend, a week, or longer, this city has you covered. You won't regret having traveled here.
Five things to do in Las Vegas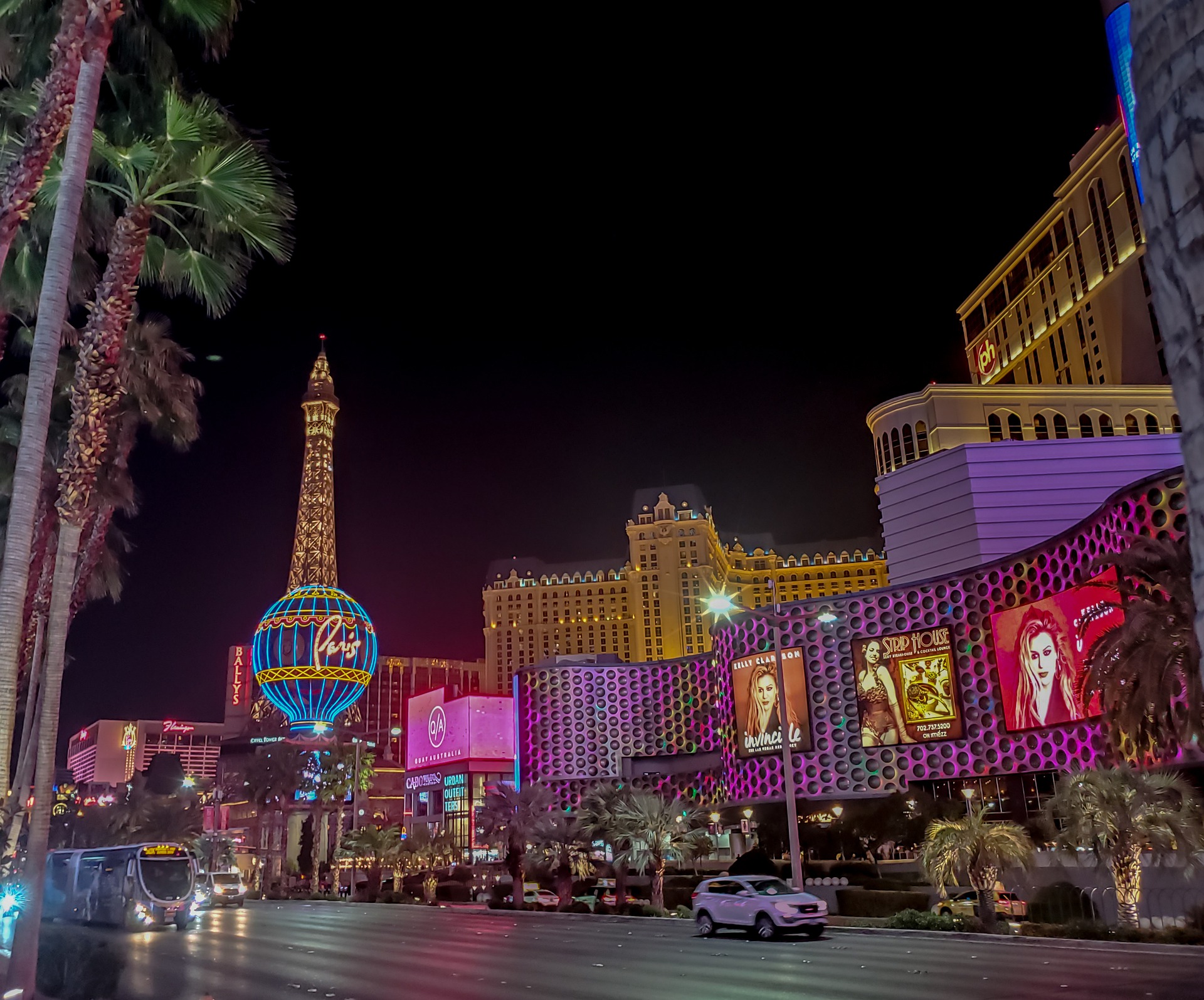 There are many places to visit in Las Vegas, the city of leisure and entertainment par excellence. Its huge themed hotels along the Strip offer everything from gambling in its casinos, shopping in its malls to watching magic shows, circuses or music, to celebrating your own wedding.
This city built in the middle of the Mojave Desert, in addition to enjoying its attractions and shows, offers you the opportunity to take a trip to the spectacular Grand Canyon of the Colorado or rent a car and do a stretch of the legendary Route 66.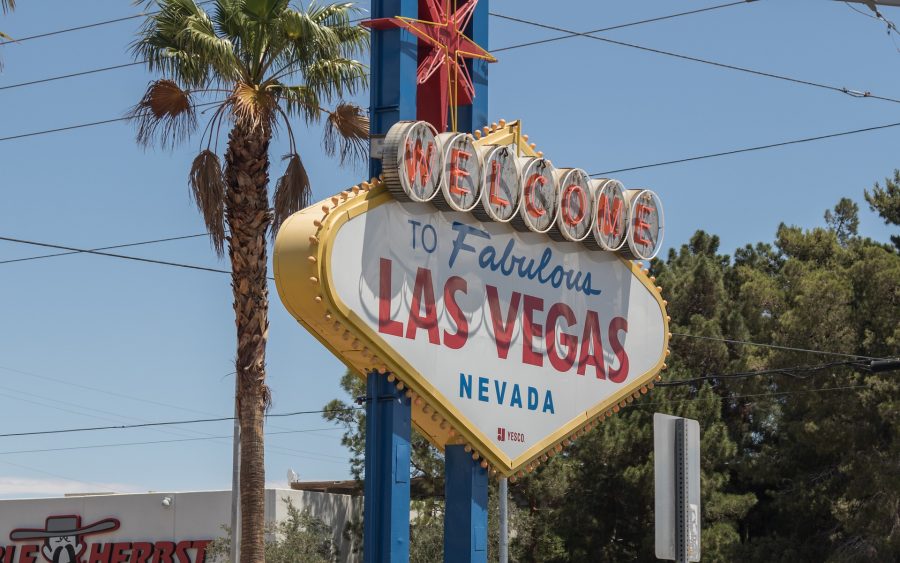 1. Place a bet in a world famous casino
Even despite the $5 minimum deposit casinos on the Internet, with one foot in the past and one in the future, Caesars Palace, at 50, remains an icon of Sin City's decline. The Palace is one of the last remaining old school properties, and few casinos in Las Vegas can match it in atmosphere. But before you get to the roulette, poker or baccarat room, do some research. The Gamblers General Store in Downtown Las Vegas has a library of books on how to take on casino challenges. If poker is your game, head to the Bellagio, where you can see some of the world's best players in action, or to the legendary Downtown Golden Nugget, where you can pit your skills against those of gray-haired, anonymous veterans who don't seem to have left their seat for decades. If you prefer to stick to slots or video poker, head to The Palms, where the payouts are above average, or to the Gold Coast or Circus Circus, both of which offer examples of Las Vegas' vintage past.
2. Practice trekking
Visitors to Las Vegas are often surprised to discover that The Strip isn't a four-mile-long, swanky city lost in the middle of the desert. The city is surrounded by mountains and canyons that offer wonderful excursions throughout the year. During the winter, visit the Red Rock National Conservation Area, where reddish rock walls are dotted with climbers and trails leading to charming ravines. In summer, head north to Mt Charleston, nearly 10,000 feet high: cooler temperatures, Bristlecone pine forests and sweeping views of the valley.
3. The Welcome Poster, one of the places to visit in Las Vegas
One of the things you have to do in Las Vegas is to be photographed with the famous Welcome to Fabulous Las Vegas sign on the back. This sign, located on the south side of Las Vegas Boulevard near the Mandalay Bay hotel, marks one of the boundaries of the Strip and is one of the symbols of Las Vegas. As a curiosity we will tell you that on the back of the sign you can read the phrases "Come Back Soon" and "Drive Safe".
A great way to save is to book the Las Vegas Pass which gives you free access to over 50 Las Vegas attractions or the Go Las Vegas Card which includes top attractions depending on the days you are in town.
4. Walk the Strip
The Strip is the most famous avenue in Las Vegas, the one you've seen a thousand times in movies or pictures with all the casinos on either side. The street is 6 kilometers long and goes approximately from the famous "Welcome to Fabulous Las Vegas" sign to the Stratosphere hotel tower, where we were staying.
My recommendation is that you walk around it both during the day and at night, watching the two very different scenes that this great avenue leaves with the sunlight and when it falls and all the neon lights come on.
5. See the Bellagio fountain show, one of the most beautiful in Las Vegas
This show became famous with the movie Ocean's Eleven and since then, it's one of the most sought after shows in Las Vegas. And they certainly are spectacular. Water, colors and music combine in a beautiful show that is also free. Don't hesitate, the Bellagio fountains are one of the best things to see and do in Las Vegas.
You can check out the show's schedule on the Bellagio's website.
The Best Way to Stay in LoDo Denver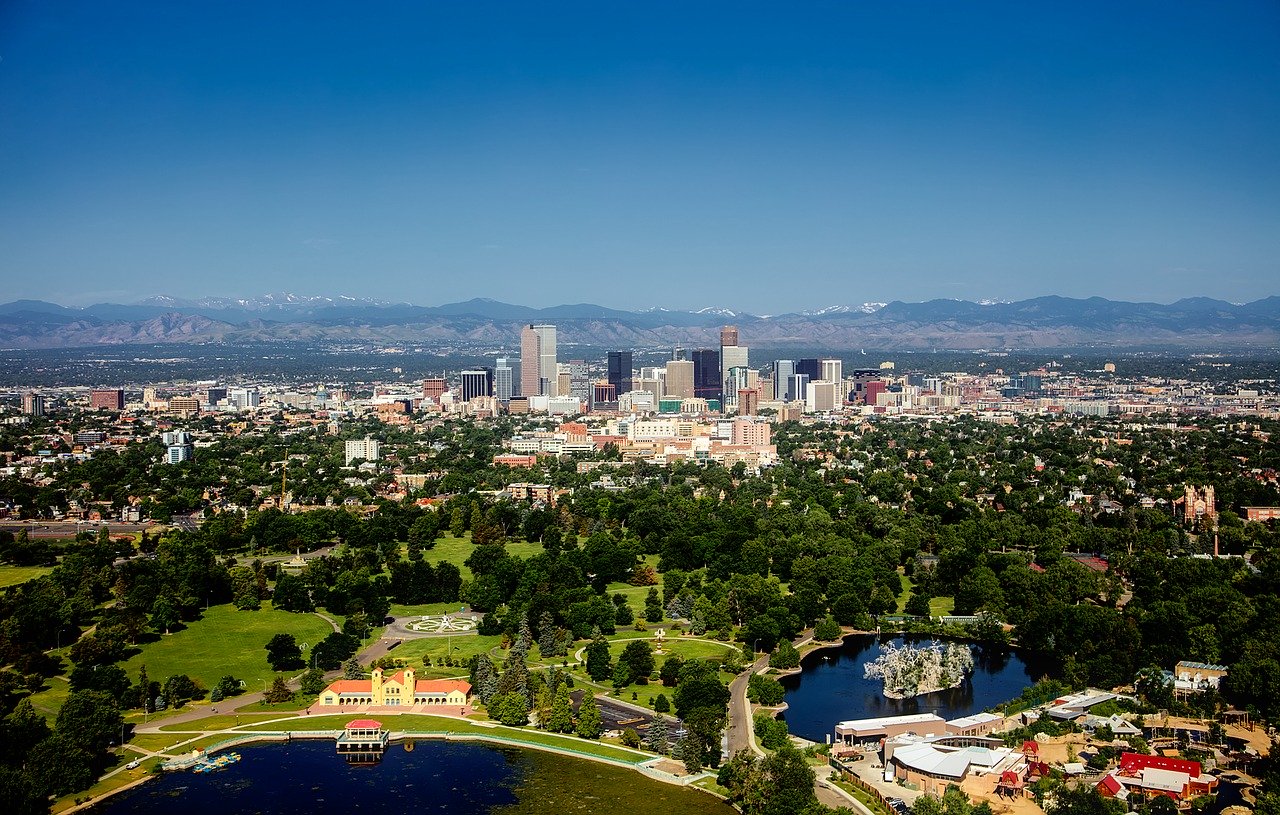 The Mile High City welcomes all comers with open arms. Denver is a unique city, and not just because it is located exactly one mile above sea level. No, Denver is unique because of the amount of fun it contains in one neighborhood. Meet Denver's Lower Downtown, colloquially referred to as LoDo. LoDo is the most popular neighborhood in Denver, thanks to its incredible location. A stay in LoDo puts you within easy walking distance of Denver's Contemporary Museum of Art, the historic Larimer Square, and the always impressive Coors Field. To be honest, we don't feel any pressure to sell you on this, because LoDo Denver speaks for itself. However, we do want to point you in the right direction when it comes to picking a place to stay in LoDo, as that is a much less discussed point. There are a near infinite number of places of various sorts for you to stay in, but today we're going to compare and contrast two of the most popular venues: hotels and vacation rentals. Let's begin, shall we?
Travel Apartments
Travel apartments are vacation rentals don't have to be used by people on vacation. Travel apartments let people who are visiting a new city stay in their own private residence. Rather than having to share space with in-laws or strangers, you can stay in travel apartments, which give you own space while in LoDo. Each travel apartment comes with a private washer and dryer, along with a fully functional kitchen. Let's examine some of the other benefits.
Pros
Privacy. As mentioned, your travel apartment will be yours and yours alone. No housekeeping to worry about, no noisy neighbors; this is your home during your stay in LoDo.
Amenities. And even more amenities. In addition to your private kitchen and laundry room, you get a spacious, well-lit, upscale apartment to live in. Take your pick from any of the travel apartments in Denver linked above, because each one will have a sleek design and comfortable layout. There are more small amenities than we have room to enumerate, so we'll let you discover those for yourself.
Location. Every travel apartment is located in the ideal spot for vacationers in a new city. Pick any one of the LoDo travel apartments and you'll be within walking distance of the best attractions, restaurants, and bars in the Mile High City.
Now let's look at some of the disadvantages.
Cons
You'll need to book in advance. If just reading this article has convinced you to book a stay in Denver right now, it's possible there won't be a travel apartment available for you. Make sure to reserve your spot in advance.
You'll have a specified leave date. Similar to the first issue, you can't just purchase another week's stay at the end of your trip, because someone else may have reserved the space. Be sure to book yourself a long enough stay the first time!
You're unlikely to get that native influence. Privacy is great, but talking to Denver natives gives you a fresh perspective on the city. You'll need to make a point of going out and meeting some locals during your downtime!
Hotels
You know what a hotel is, right? Okay, cool. Here's the pros and cons of hotel living in LoDo Denver.
Pros
Availability. Hotels are everywhere, with a huge range of pricing options. No matter what corner of Denver you wanted to stay in, you could find a hotel there. Moreover, with that many options, it's easy to find one that fits your budget.
Helpers. You have someone to clean your sheets and a concierge to answer questions any time of the night or day. If there's a place to stay where you can order food straight to your room besides hotels, we haven't found it.
Cons
Noise. Hotels are loud, nothing to be done about it. When you've got people living above, below, and to the left and right of you, things are bound to get a little noisy. All you can do is hope that the kids don't start crying…
Unreliable advertising. Hotels all seem eager to advertise their tranquil oasis of a pool area. Sorting out which pools will actually fry your hair with hyper-chlorination can be exhausting.
No privacy. Between housekeeping, your four sets of neighbors, and that one guy from the next room over drunkenly swiping his key card at your door, it can be hard to find space that's yours and yours alone.
So, what's the right way for you to stay in LoDo Denver? Hotel or travel apartment? Ultimately, the choice is yours and yours alone. Of course, if you hate being indoors, maybe glamping in Denver would be more your speed? No matter what you choose, you'll have the time of your life flying high in LoDo Denver.
The Best Dog-Friendly Attractions in Portland, Oregon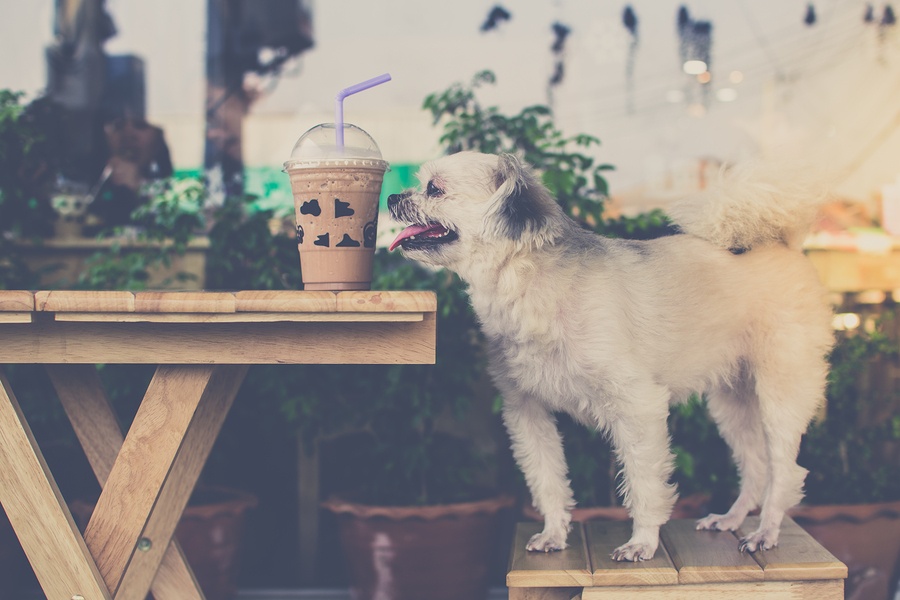 With a green focus and an animal loving attitude, a superb collection of pet-friendly hotels and many fantastic pooch-welcoming bars and restaurants Portland is one of the most dog friendly cities in the USA. Check out our top dog-friendly attractions…
1 Sellwood Riverfront Park
With a 1.5 acre off-leash area which extends to the river this is a great place to bring your dog especially if yours loves to run and play with other dogs. You'll need to put your dog back on the leash to use the connecting paths which take you through the forest, parks and neighborhood areas but there's plenty of places for them to enjoy sniffing around. Make sure you bring your own poop bags and drinking water for your dog. The park provides picnic tables where you can rest after your walk.
2 Wildwood Trail, Forest Park
Situated at NW Germantown Road, this wilderness area is for serious hikers and canines of a high fitness level as its 30-mile hike takes a couple of days to comfortably get around. It is recommended that you consider getting a map of the Forest Park to find the best way to get around the trails as some are more challenging than others. You'll need to keep your dog on a leash the whole time and you'll have to bring your own water and poop bags as these are not provided.
3 Portland Saturday Market
If you and your pooch are the socializing kind then the open-air arts and crafts Saturday Market and Farmers Market at 2 SW Naito Parkway is the place to be. You'll have to keep your dog on the leash at all times while you're browsing for delicious baked goods, meats and cheeses but dogs are made welcome with plenty of drinking water stations and lots of shady spots when the weather gets too hot.
4 Portland International Raceway Dog Park
If you're looking for somewhere you can let your canine really stretch their legs, the fenced off dog park here has got to be the best place to go. This is a very well maintained area where the grass is kept short and neat and garbage is constantly cleared away so take poop bags with you at all times. Portland International Raceway is the home of drag racing, auto racing, motorcycle racing and motocross as well as Cruise-in specials and all these are held at various times throughout the year so why not make a weekend of it and enjoy plenty of thrills, excitement, music and great food and drink. Remember though that your pet must be properly supervised, on-leash at all times and must be cleaned up after. Some events do not allow pets so check before you book.
5 Plum Hill Vineyards
How about this for something a little different? Plum Hill Vineyards, situated between Forest Grove and Gaston this family-owned concern brews its own wines and not for nothing do they say it's 'your dog's favorite winery'! It has to be one of the very few places where you can enjoy the company of your canine friend and at the same time sample some of the delicious wines the Plum Hill Vineyard has to offer. This place is genuinely dog-friendly as well-behaved dogs (and their humans) are allowed into the tasting room and onto the outside patio area. There is a large fenced dog run right next to the Vineyard where you and your dog can play. Poop bags, water and treats are thoughtfully provided for you.
6 International Rose Test Garden
If you love to walk around well tended gardens that are full to the brim with the sweet aroma of more than 10,000 beautiful roses, other plants and attractions then this is well worth a visit. The International Rose Test Garden, the oldest public garden in the US, is pet-friendly and extremely easy to get around on paved paths. You can take one of the free public tours or just stroll around at your own pace to enjoy the fountain, statue and gardens. Why not bring a picnic lunch and sit a while to enjoy the superb view, provided it is a clear day, over the city and Mt Hood in the distance. The garden is open all year round but to see the roses at their best you should visit in June. There is free admission and a gift shop on site as well.
7 Sandy River Delta, Thousand Acres Park
Although known to locals as simply Thousand Acres, and located just off I-84, 20 minutes from downtown Portland, this is actually 1,400 acres of doggy paradise. Consisting of open fields, wetlands, hiking trails, two rivers (the Sandy River and Columbia River) and numerous blackberry bushes you and your pooch can enjoy as much off-leash fun as you can handle. If your dog loves to swim, run or just take a leisurely stroll at your side you should come here to appreciate all that the Thousand Acres has to offer. It isn't solely for dog walkers either – the Park is popular with birders, waterfowl hunters, horseback riders and mountain bikers. There is one part of the park that you won't be allowed into however as one third of it is an off-limits wildlife habitat so be aware of this. The park is open all year round from dawn until dusk and there is car parking on site. The US Forest Service is responsible for the upkeep and development of the Park as well as maintaining the off-leash regulations for doggy visitors. These state that dogs should be kept on-leash at all times in the parking lot and within 100 feet of the Confluence Trail.
8 Hotel Monaco
Canine and human visitors to Portland will need a dog-friendly place to stay and the Hotel Monaco is one of the best. The hotel welcomes all dogs whether large or small, pure-breed or mutt. On arrival you and your pooch are greeted by the hotels' own canine, a Golden Retriever, to make you all feel at home. You can order up a dog bed, food and water bowls and mats if you don't want to take your own. The hotel's nightly wine reception welcomes guests and their pups and you'll be glad to know there are a good number of dog-friendly restaurants nearby.

We have been wearing out our jandals (Kiwi for flip-flops) on our travel adventures around the world since 2009. We think our blog is thought provoking and a little witty. But we have been proven wrong before. Find out more about us here...
What Are You Looking For?