Your brand. Your business. Your products. Everywhere.
Four Jandals Adventure Travel Blog is one of the worlds leading adventure travel blogs. We are leading the way in providing travel tips, travel advice and my own personal adventurous tales to a targeted and niche audience. Email us now at [email protected]
I am very open to partnerships and consulting work.
However, I will always check to make sure that the companies and brands that I associate the Four Jandals brand with have the same values as me.
Who are Four Jandals?
I have been wearing out my jandals (Kiwi slang for flip-flops) on my travel adventures around the world since 2009. I love all types of adventures that allow me to step outside my comfort zone, in comfort. In 2011 I realised that I wanted to share my adventurous tales, travel tips and advice with the world so I established the Four Jandals brand.
We have been quick to rise through the ranks of travel blogs. We continue to prove that we are a powerful alternative to traditional media outlets and have a huge advantage as we have a highly engaged audience.
You can learn more about me here.
Who are the Target Audience?
Adventure travel has quickly established itself as one of the leading tourism markets with over 16% of tourists getting involved in adventure activities. I have chosen to target this market and help the average person take the next step into the travelling world.
My readers are passionate and interested in:
Adventure Travel Activities
Couple's Travel Tips
Backpacking around the World
Working Holidays
Gap Year and Overseas Experiences
Travel Planning
Traffic Statistics – September 1, 2017 – September 1, 2018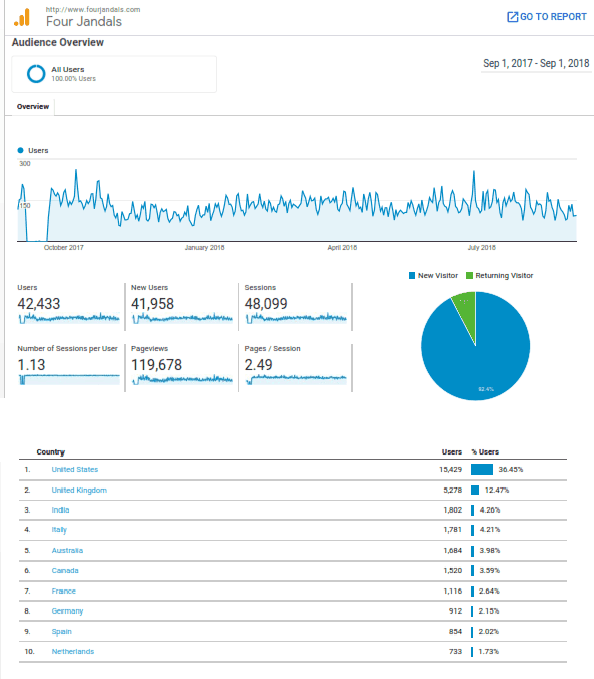 Social Media Statistics
Independent Site Statistics
 1,878,020 
1,260,772
Demographics are split between USA (55%),  Europe including the UK (20%), Canada (8%), Oceania (8%) and rest of the world (7%).
I also have a strong social media presence that continues to grow exponentially on Twitter with a targeted and engaging community.
Through this engaged following, Four Jandals is the perfect choice for your company to reach your targeted audience and promote your travel related product and/or service to the world.
Email [email protected] directly.


We have been wearing out our jandals (Kiwi for flip-flops) on our travel adventures around the world since 2009. We think our blog is thought provoking and a little witty. But we have been proven wrong before. Find out more about us here...
What Are You Looking For?