Basic Arabic Words for Travel to Egypt
Use our quick language guide to learn the key basic Arabic words that we used when travelling through Egypt and the Middle East.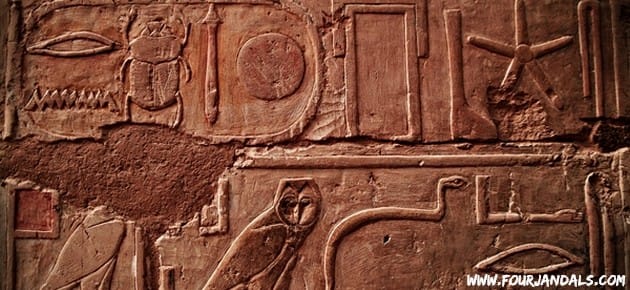 We knew very little about the Egyptian language before we visited earlier this year. In fact all we really knew was that they spoke Arabic. And to be honest, to my untrained and ignorant eyes the written Arabic language looks a lot like squiggly lines.
Just to be clear, we are not talking about ancient Egyptian hieroglyphics either which would really make me feel like an idiot if I had to translate them!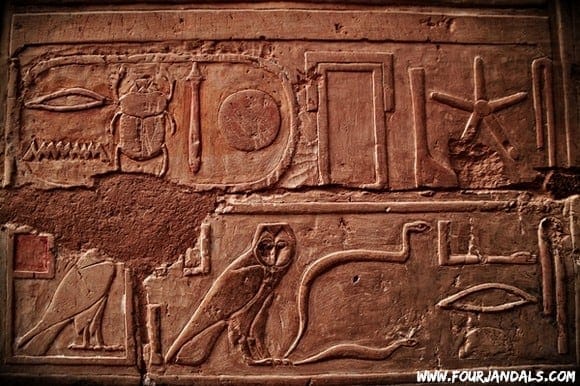 We always pride ourselves on learning a few basic words and phrases to help us communicate when we are travelling in foreign countries. The locals always seem to appreciate it and it makes us feel as if we are immersing ourselves in the culture which is why we love to travel.
So whether you are just visiting the numerous Red Sea all inclusive vacations or the Great Pyramids of Giza use our list of basic Arabic words and phrases below to help you out on your next travel adventure through Egypt and the Middle East.
Keep in mind that there are of course loads of different ways to greet someone or be polite etc. But by using the basic Arabic words below on a daily basis when strolling through the markets or stopping to eat Egyptian street food we always got by.

Basic Arabic Words and Phrases
MarHaba = Hello.
Shukran = Thank you (although we usually used "la shukran" which is no "thank you" when being offered another 100 camels for Adela).
Tatakallam 'inglizi? = Do you speak English?
Ya-llah = Let's go.
Naam = Yes.
La =No.
Min fadlik = Please.
Kam? = How much?
Afwan = Excuse me.
Ilal-liqa = I'll see you later.
'Ayna… = Where is…
…al-Hammaam? = …the rest room?
WaaHid = One
'Ithnayn = Two
Thalaatha = Three
'Arbaxa = Four
Khamsa = Five
As always practice makes perfect and there is no easier way to learn a language than trying it out in every day situations so don't be afraid to have a go. Your pronunciation might be a bit off the first few times but like we said above, most locals will appreciate you trying and correct you.
Reader question: Do you have any tips or additional words that we didn't include that you think we should?
Review: 10 Day Egypt Explorer Tour with Expat Explore
A comprehensive review of Expat Explores 10 Day Explorer Tour through the stunning country of Egypt.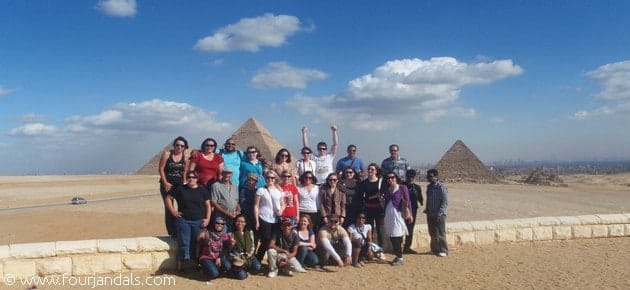 We have been wanting to visit Egypt for a while now so when the opportunity to get away over the Christmas and New Year period arose we knew we needed to head there for a break. We joined Expat Explore on their 10 Day Explorer Tour through Egypt taking in the sights of Cairo, Aswan, Luxor and Hurghada.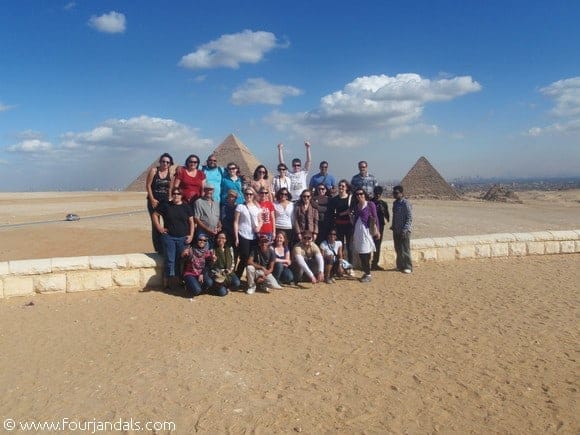 The reason we chose Expat Explore was that they were the cheapest in price with all the same sights and in the end we were happy with our choice.
Pre-departure they emailed us our itinerary with the optional excursions and additional costs for entry fees included so that we could budget properly. As well as following up with our pre-trip questions regarding flights, insurance and uhealth and safety advice.
From the start they were very professional. Landing in Cairo we were personally greeted the day before our tour and transported to our City centre hotel. That drive was an eye-opener to Egypt with crazy lane changes, honking, swerving, flashing lights with animals, people and vehicles everywhere.
El Tonsy Hotel is your base for your arrival and last night. Luckily we didn't expect much as our door didn't lock which was a bit dodgy and the rooms were freezing cold with a broken heater and only one blanket. You wouldn't think you would need heat in Egypt but it was the middle of winter and it was chilly at night. No complaints with the location though as we could see the Pyramids in the distance and were only 5 minutes walk from the Nile and 15 minutes to Tahir Square (perfectly safe by the way). Plus they have a little bar/restaurant with cheap food and free Wi-Fi. Just buy your snacks and water from the supermarket across the road and you will get on fine.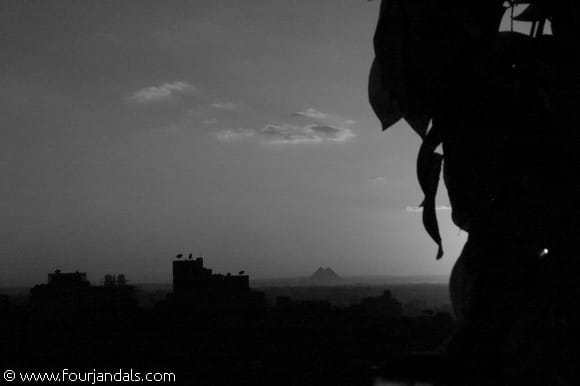 It's quite hard to break down a whole trip into one post but here goes:
Day One
Your tour starts with the best in my opinion by touring some sights of Cairo. The steeply angled Step Pyramid, mind-blowing Pyramids of Giza and the smaller than expected Sphinx. This day was definitely the highlight.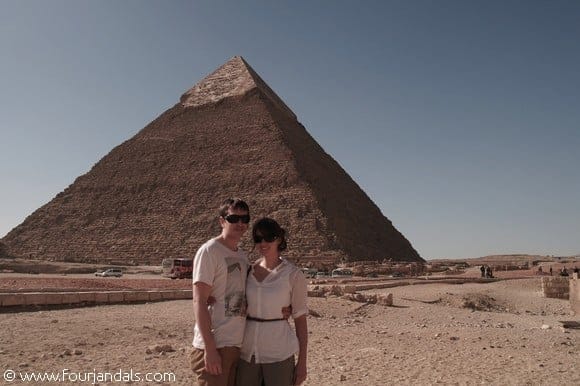 That night is spent aboard the train for 10-12 hours to Aswan. I highly recommend the Sleeper train for an extra £50 per person. Others that caught the standard train froze their butts off while we had a toasty sleep with a served dinner and breakfast. Unfortunately Expat Explore never told us about the provided food so we ate before we got on-board but what we could fit in was delicious.
Day Two
The tour splits in Aswan as one group embarks on a River Cruise aboard a 5 star ship while the others spend time in hotels and on a Felucca. No surprise that we went with the cheaper option aboard the Felucca so the next few days are from that point of view.
The afternoon is yours at Sara Hotel on the banks above the Nile. We lapped up the beautiful rays of the sun and managed to turn our pasty white bodies a more fitting slightly white shade. The Hotel was great until the toilet next-door erupted sending a river of smelly waste across our bedroom floor (throw your toilet paper in the bin not the loo)! Luckily we woke in time to rescue our bags from the watery mess! Not the fault of Expat Explore and we didn't blame the Hotel either as shit happens.
Day Three
Your day begins by visiting the monstrous High Dam for 10 minutes (fairly boring) and a drive past the Unfinished Obelisk. While the highlight is definitely the Philae Temple. When the sunsets across the Nile reflecting off the stonework it really is quite magical.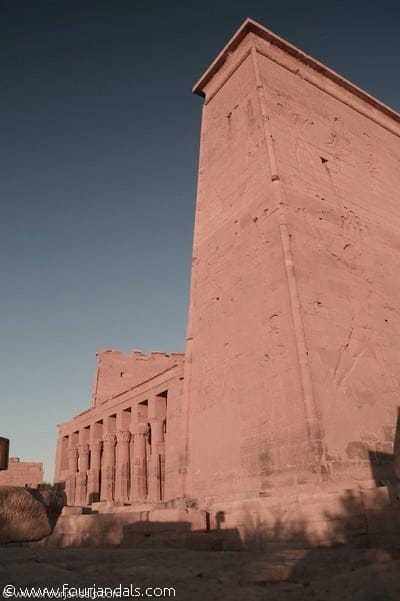 The evening ended with an optional dinner in a traditional Nubian families house. The food was scrumptious and you better bring your singing and dancing shoes.
Day Four
The following day and night is spent relaxing aboard the Felucca for a sail up the Nile for several hours. Sleeping no more than 8 people you will be snug if you bring your own sleeping bag like us. The rest of our crew were jealous as it did get quite chilly in the evening however blankets were provided.
With delicious pita bread and falafel cooked on the boat you will not be disappointed with the food either.
The day ends with a bonfire on the Nile shoreline as you sing and dance with the crazy fun Nubian crews. This was definitely one of the highlights of the entire trip for us.
Travel Tip: Don't be put off by doing your "business" amongst the reeds of the Nile. Just enjoy the view and remember to bring your own toilet paper (which you need everywhere in Egypt anyway).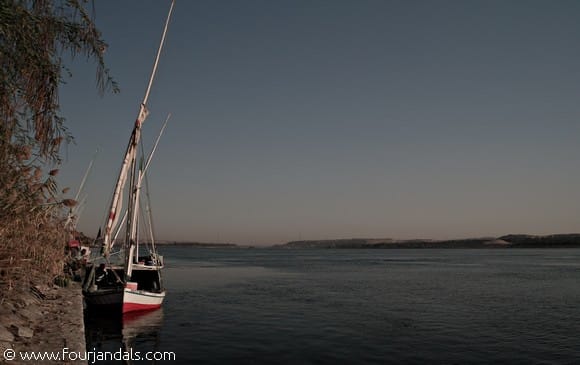 By all accounts, from the other tour members, the River Cruise is just as great with 3 nights on-board in comfortable accommodation, a pool and  buffets morning, noon and night.
Day Five
Waking to a sunrise breaking the morning chill is a glorious way to start a new day. Unfortunately there is little time for relaxation before you are off the Felucca and on a bus to Kom Ombu and Edfu Temples. I must say, all of the transportation was more than adequate with toilets on the buses and room enough for everyone. It's lucky because you do spend the majority of the time being driven around.
The Lotus Hotel in Luxor was probably the pick of them all. Situated on the Nile bank with a swimming pool and tasty buffet breakfast.
Day Six
One more day, one more busy schedule. Rushing to beat the crowds at the Valley of the Kings it's another 8am start. You are only allowed to visit three tombs and we recommend the guides picks which were Ramses II, IV and IX.
Travel Tip: You are NOT allowed to take your camera with you off the bus. Please don't ruin it for everyone by taking photos as you will be charged by security when caught.
We also squeezed in the crowded rock carved Hatshepsut Temple but only drove past Luxor Temple as we ran out of time as you need to drive 6 hours to reach Hurghada that night.
Day Seven and Eight
The next two days at the Red Sea are yours to do whatever you like so use them wisely. We joined most of our group for a spot of snorkelling and diving. The dive and the staff were great but the whole day seemed a little rushed which was a shame. Keep an eye out for our post on our diving experience in Hurghada.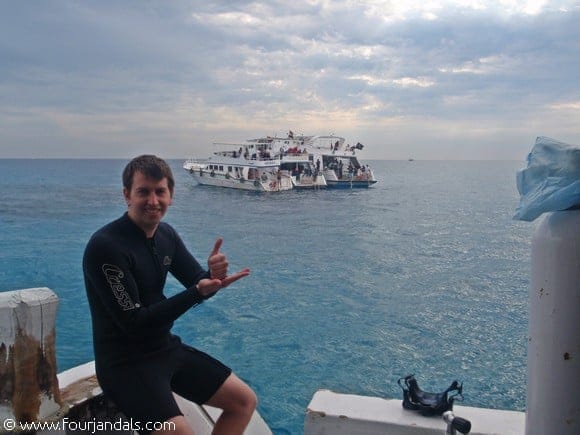 So nice being able to relax on a beach and read a book after such a hectic schedule. It's hard to leave and the 6 – 8 hour bus ride back to Cairo is tough.
Travel Tip: If you plan to do the tour over New Years Eve then you will have to depart Hurghada half a day early which sucked as it meant celebrating the New Year at the Hotel in Cairo. Bit of a let down but when hasn't New Years Eve been!
Day Nine
Your final day of sightseeing is spent around Cairo. Our favourite part of the day was definitely the Cairo Museum with an excellent tour guide. It fits perfectly at the end by seeing all the history close-up after having learned about it over the last 8 days.
By the time we hit the old area of Cairo and the Coptic Hanging Church we were spent on history but our guide made a good effort at keeping us entertained.
The last group activity is free time for an hour or so at the Khan El Khalili souk markets where the touts try to prise your cash from you for the last time from every nook and cranny.
Day Ten
With the tour over it's time to head home. Our flight was late the following night so we walked around the city and Souks on our own for the day. Expat Explore provides transport back to the airport which was great.
The Negatives
The trip was awesome but we think it's important to note the little things that could make a huge difference to the overall experience:
It felt like we were always hungry. Maybe it is just Kiwi's and Aussies that eat all the time but it seriously felt like we were constantly starving with lunches being served usually after 4pm and dinner at 9pm onwards. It might be the Egyptian way to eat at those times but not for us. Travel Tip: Buy lots of snacks for the road which are very cheap at supermarkets.
There was sometimes a lack of direction in what seemed to be happening. Everything is done on Egyptian time so be patient.
We were often delayed or behind schedule with little to no guidance as to how long it would take to get from place to place. A little knowledge goes a long was as then we can plan ahead.
More free time would be great to explore places on your own rather than have our hands held everywhere.
The Positives:
As we said above, the trip was amazing and the little positive things far outweighed the negatives which helped make it a memorable trip.
Pre-departure information and care was extremely good.
The tour was exceptional value for money and it was the cheapest tour we could find even though we still saw all the same sights the other groups did.
The guides were extremely knowledgeable and never failed to answer any questions we had. The insights into the daily lives of the people around us was a nice break from all the history. They also ensured you never felt unsafe or uncomfortable.
The Felucca trip was better than expected and overall so was the accommodation and transport options.
All in all we highly recommend you book with Expat Explore if you are considering a trip through Egypt.
Make sure you subscribe now and come back soon so you can enjoy reading our new posts which will cover everything else in more detail.
Disclaimer: Expat Explore provided us with a discount for our 10 day tour of Egypt however as always our thoughts are always our own.
Let's Go Visit The Home of Ramses, Egypt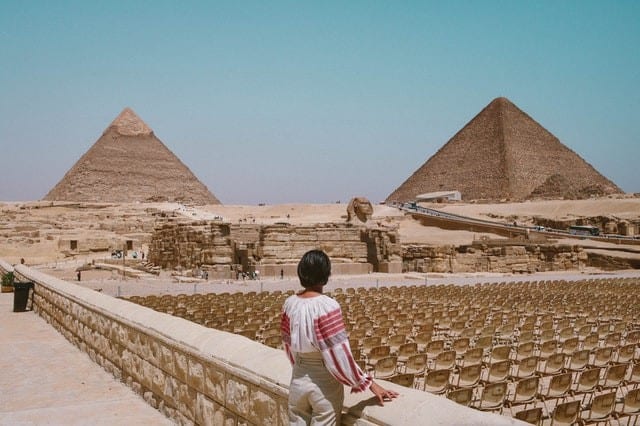 When is the last time you've heard about Egypt? It was probably the Arab Spring was taking place, and it went through a change of government. Well, things are much more stable now and everything has returned back to normal, the people of Egypt are essentially back to business.
Since everything is calm again and since there is relative peace within the general region itself, a trip to the scene would certainly be in order. If you've been waiting a while to go to someplace exotic and want to experience different cultures and sights, well Egypt tour packages are definitely in order.
It is one of the most ancient civilizations, it has a lot of history, a varied type of people's and many things to do.
You must take a trip out to Egypt today, it will be worth your while and the while of those that you are traveling with as well, whether it be your family members or your friends and acquaintances.
Let's find out what there is to do in the great land of Egypt.
Cairo
Make it a point to visit Cairo, this city is the capital of Egypt and is quite a bustling town as well. You might be able to run into the egyptian equivalent of food trucks and try a staple of the Egyptian diet, ful. This food is their equivalent of fast food except this one is actually healthy for you.
That's right, you will be able to be able to gain nutrients and energy by enjoying this dish comprised of fava beans, veggie oil, spices, and some herbs as well.
You will want to take a trip out to Tahrir Square, a place that is as iconic as Times Square in New York except maybe even more iconic due to more prominent events that took place in that space (not just consumerism and branding).
Cairo also has the Egyptian Museum for those who are history buffs and for those that appreciate the things of the past, it is comprised of items and narratives of many experiences from quite a few centuries ago, more than 4000 years of history are encased within that museum. Make sure to take a visit and take some time to really learn and enjoy the museum, don't take too much time though, there is still a lot more activities left to do!
Cairo is a hub, you can visit the places within and then go visit places that everyone wants to go to, such as Giza and the great pyramids of Egypt.
People are still astounded by the level of work that it would have taken to build the pyramids, especially way back in that timeframe, the intellect, labor and engineering needed to see it through is a testament to the capacity of humans to do what they put their minds to.
Don't think of the pyramids as something that everyone does, no, its something special, it is meant to be viewed and admired by all.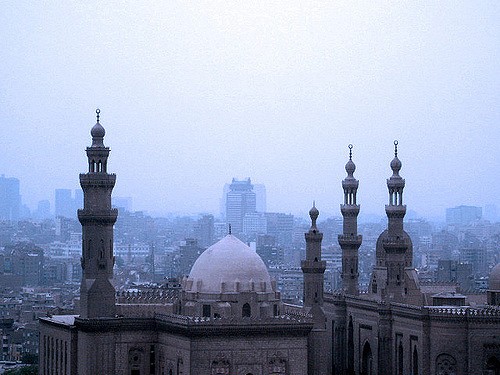 Cairo Citadel
If you are a fan of war, defense, strategy, and history, you'll want to visit this Citadel, it's culture runs way into the past and is a sight to see.
While in Cairo, make sure to check out the Khan-el-Khalili, it's a place to go shop, but be about your wits, negotiate, and have a great time.
Cairo and Egypt have a lot to offer, make sure to plan accordingly so you are able to immerse yourself in all that it has to give you.
Packing and Route Tips for Climbing Kilimanjaro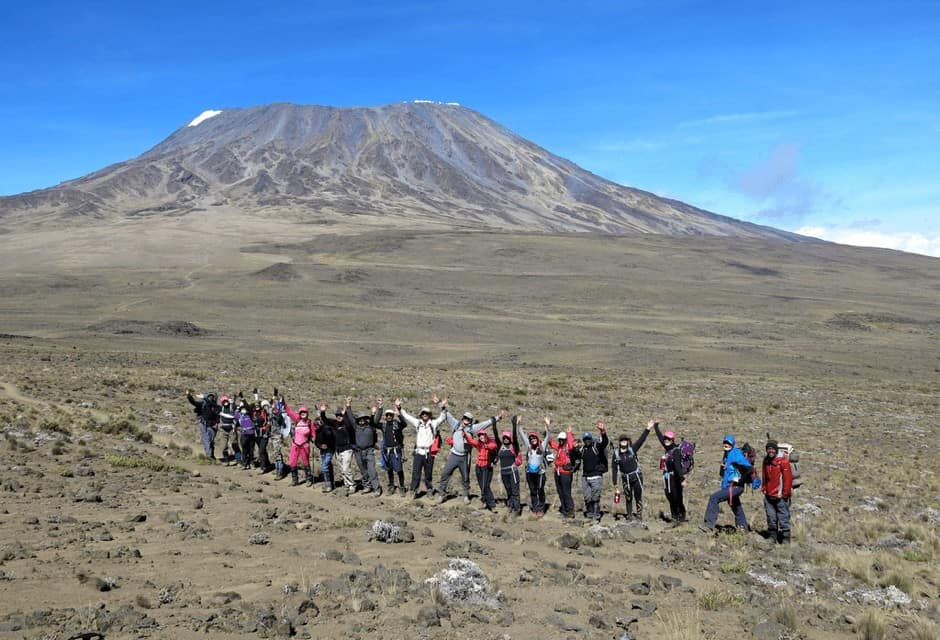 East Africa is renowned for boasting many breath-taking attractions, from the beauty of the Serengeti to stunning Tanzania beaches like Kendwa and Nungwi. However, there's one thing that undoubtedly attracts adventure lovers more than most, Mount Kilimanjaro.
Mounting climbing can be a daunting experience, especially when you're stood at the foot of Africa's highest peak. However, there are a series of routes available to anyone who takes on the challenge of climbing Kilimanjaro.
Naturally, some routes are more treacherous than others, and are approached from different points, so this article offer some insight what you can expect from each one and what you'll need to take with you.
The Marangu Route
Departing from the Moshi Hotel and into the Kilimanjaro National Park via the Marangu Gate, this stunning route allows you to experience The Saddle – a high altitude desert which can be found part way up the mountain.
This route is said to be the most straightforward in terms of its physical demands, however it has a notoriously steep incline which climbers must overcome in order to reach the summit.
The Machame Route
This route also passes through the Marangu Gate, and leads through picturesque ice fields as you reach the Shira Plateau.
This route takes a day longer than the Marangu Route to complete, although this can be advantageous to climbers as it allows for better acclimatisation.
The Rongai Route
This route enters the national park via the northern entrance of Rongai Gate, and is considered to be the second easiest route to the summit of Kilimanjaro.
The route begins at a fairly high altitude and involves a relatively gradual incline to the summit.
The Lemosha Route
Entering via the Londorossi Park Gate, the Lemosha Route is the toughest and most remote route to the summit of Kilimanjaro, and crosses the Shira Plateau where its paths meet the Machame Route.
Despite its challenges, the route has a high success rate, and involves spending a couple of nights at various altitudes.
What to pack?
Packing for a mountain climb in Africa can often be a difficult thing to get right. Pack too lightly and you run the risk of running out of essentials – but pack too much and you'll end up wasting your energy lugging around stuff you don't need.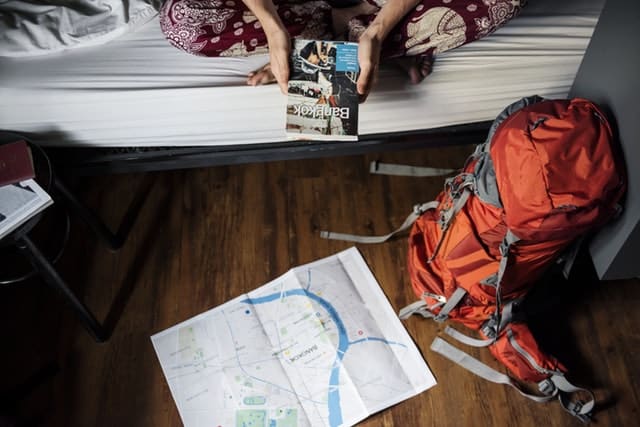 Your clothing should include the following items for travel:
Gloves (thick waterproof for trekking + thick pair for evenings)
Balaclava
Shorts
Pants (for hiking and relaxing in the evenings)
Short-sleeved and long-sleeved shirts or t-shirts (for hiking and relaxing in evenings)
Underwear (sports bras for ladies)
Thermal underwear
Fleece jacket
Down jacket or ski parka (for temperatures below freezing plus wind-chill)
Rain jacket + pants (for the humid rainforest and cold snow)
Travel towel
Swimwear (for first and last day swimming – can be left at your hotel during your trek)
Ski or trekking poles
Headlamp or flashlight
Hiking boots
Gaiters
Socks – hiking socks + wool socks
Other essential kit includes:
Water bottles and Camelback (2-3)
Sleeping bag (rated -25 degrees)
Get 3 litres of bottled water before the trip (available at your Moshi Hotel)
Camera + tripod
Video camera + tapes
Batteries
Notebook + pencil / pen
Pocket knife
Energy bars
Alarm clock
Sewing kit

We have been wearing out our jandals (Kiwi for flip-flops) on our travel adventures around the world since 2009. We think our blog is thought provoking and a little witty. But we have been proven wrong before. Find out more about us here...
What Are You Looking For?