We are one of the worlds leading independent adventure travel blogs and New Zealand's leading adventure travel blogging couple. With our expertise, we have the ability to strengthen the online exposure of brands, companies, products, tourist boards, and individuals around the world.
Before you get started, make sure you know exactly who we are by taking a look at our About Us page or contact us now at [email protected].
If you like what you see and want to hire us to help you reach your full potential, then this is what we can offer you…
Social Media Consulting
Phase One – Getting started
In an increasingly web-driven world, travellers are turning to web-created content, and bloggers are becoming a more prominent part of that space. Rather than waiting 6-18 months for information to appear in print, we have the ability to reach your audience immediately with social media and blogs.
And it doesn't just relate to travel businesses and brands. All companies must have an online presence. The key is finding what works best for your business. As what may work for one, will not work for another.
We can help you get started in creating your online presence by building a community and managing your social media networks. This can be done with one-on-one coaching directly with us, or by trusting us completely to help operate your social media networks while we train you.
Phase Two – Mass Social Media marketing
Once you have created your own Social Media networks and begun to build an online community, then it may be time to push your products into the market.
Using travel bloggers and their large, highly engaged communities, you have the opportunity to target the right audience in a very cost effective solution to market your brand and products.
We have partnered with many tourism boards and global travel brands on very successful blogger partnerships. We have understood completely the needs of the clients, and provided exceptional value for money on these campaigns.
We can show you how to achieve the same success by helping you to work with the right travel bloggers with the right audiences for your brand. By partnering with us, we can open the doors to our extensive relationships with many of the most influential bloggers across a range of different niches.
Contact us now to find out how we can help you to engage with your targeted audience online.
Brand Ambassadors and Sponsorship
As one of the worlds leading independent adventure couples travel blogs, we have a highly engaged, targeted and rapidly growing travel community who trust us.
This means that if we recommend a travel adventure that they should try, or somewhere to visit, a tasty treat to eat or a place to stay, then they will listen to us.
We are the perfect brand ambassadors. We are passionate, driven and strive on a challenge.  We can turn any idea, even something extremely vague, into a new and exciting campaign that will have the market talking about you and your brand.
Most importantly, if we trust you, and you give us your full trust, then we want to partner together.
Check out our advertising page to learn a little bit more about what we have to offer and get in contact with us immediately.
Create Exciting Content
Videos, Photography and travel writing. We can do it all. We guarantee that we will create content for you that will draw your readers into your brand and leave them begging for more.
We will provide travel content that is as varied as our own travel adventures. Solo travel to group travel. Sleeping under the stars to relaxing in 5 star spas. Our extensive and firsthand travel experiences are exactly what you are looking for.
Adventure Travel
Destination Guides
"How to" advice
Foods to taste. Or foods to avoid!
Accommodation guides
And much, much more.
In all of our unique content, your brand or product, will feature prominently for maximum benefit for you. And we are proud to showcase all of our work on our own social media channels and travel blog.
Contact us to hear more about the content we can create for you.
New Travel Blogger Help
We know exactly how tough it is to start a new travel blog. Working full time jobs, trying to run a travel blog AND having the time to travel is a huge task.
It was only just over a year ago that we began the Four Jandals brand ourselves. But in such a short time, we have achieved so much. We also made a lot of mistakes.
However, there is a wealth of information at your fingertips if you know where to look for it, or who to ask. And we want to help you get that information so that you can achieve success like us.
Just contact us to hear more about how we can help get you started on the road to success, and a life of travel.
Or email us at: contact[at]fourjandals[dot]com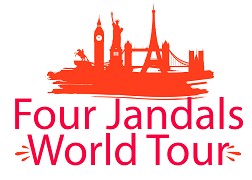 We have been wearing out our jandals (Kiwi for flip-flops) on our travel adventures around the world since 2009. We think our blog is thought provoking and a little witty. But we have been proven wrong before. Find out more about us here...
What Are You Looking For?