It's Wednesday which means it is Hump Day. What is hump day you may ask yourself? To get a full understanding what it is and why we do it then you have to check out our original Hump Day Wednesday photo.
Basically each Wednesday we post up a picture of something that we have found helps us imagine what we might get up to this weekend. It could be just a relaxing beach, a surfing location, a great snorkelling spot, a destination, well you get the idea.
We want YOU to guess where it is AND tell us why it helps you get over Hump Day to the weekend!
Each week we will choose the winner based on who guesses the correct answer. The winner will be profiled on our site the following week with a Link back to your site! Pretty easy way to earn yourself a back-link if you ask me.
Last weeks winner was no other than my biggest fan – My Mum! She guessed the correct answer was in Jasper, Canada. More specifically it was the frozen Maligne Canyon. Luckily they actually have a website as they own the local Hire Centre in Whangamata back home in New Zealand. If you are up the Coromandel Peninsula then they would love to have you stop by and say hi. I bet they will even cook you some fresh fish and have a typical Kiwi BBQ!
Where In The World This Week?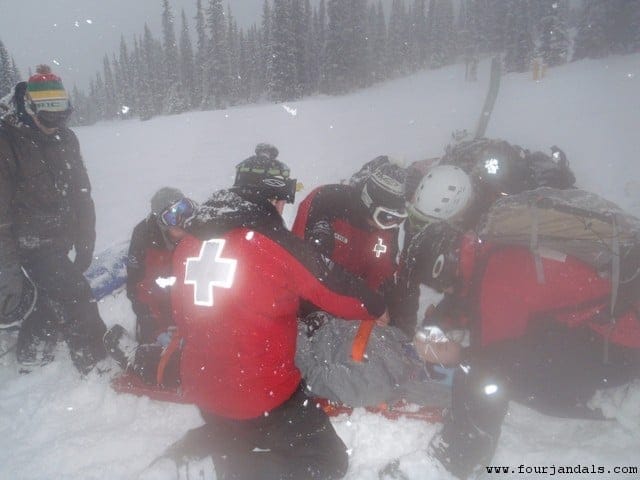 This photo was taken exactly 2 years ago on just our fourth day of Snowboarding in Canada (we worked there so you should be able to find the answer easy enough on our site if you need help)! Adela and I had separated on one of the runs as it was snowing pretty heavily with loads of fresh white champagne powder. As I came down I noticed a girl sitting in the snow holding her right shoulder. Being the gentlemen I was, I stopped to see if she was okay.
And bugger it all it was Adela!
She managed to snap her collarbone in two and this was the result – 5 Ski Patrollers, 1 Ambulance ride, 1 X-Ray, 3 months off Snowboarding and about $5,000 in costs.
So what we want to know is where was this photo taken? And what memories does it evoke for you to get over Hump Day?