What Does Travel Insurance Cover For You?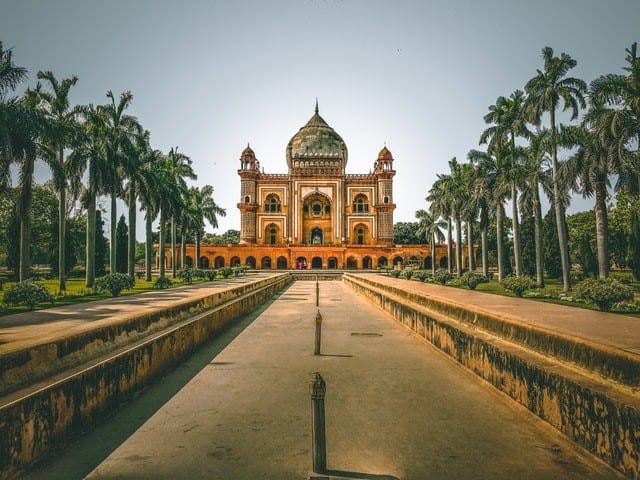 Many people in India underestimate travel insurance for no reason in particular. They are of the mindset that travel insurance is an unnecessary investment and can be avoided easily. If you also believe the same, then you are completely wrong!
Travel insurance is as important as health or any other kind of insurance. Travelling is a part of human life. There are hardly any people who do not travel to new places either for work purposes or for vacations. And when you travel, you obviously need safety, right? And safety comes from buying a travel insurance policy.
There are many insurance companies in the market that are providing with different kinds of travel insurance policies. You need to choose the best amongst them as per your priorities and budget. Try to strike a balance between these two aspects (affordability and requirements) as it will help you benefit more. Compromising on your needs or going way beyond the range of your budget will lead you in trouble at a later stage.
Travel Insurance policy provides you a sense of security whenever you are not at home. Apart from you, it also keeps your family members satisfied whenever you are not with them. In this way, you can enjoy your trip in a better manner with complete safety, be it financially or physically.
But before buying the policy, you should be aware with what it covers for you, right? Below mentioned are few points that will guide you regarding the same. Just have a look at them!
Travel insurance provides coverage against the following.
Trip cancellation:
A much awaited trip is what a person waits for to explore, relax and it provides a break from the hectic life, which is quite common these days. The major sadness strikes when the travel plans gets cancelled. Few reasons for the cancellation may be:
You may fall sick or face illness before the travel date.
You may face injury which restricts you from travelling.
Weather conditions are not good for travelling.
A terrorist attack may strike at your destination.
An emergency work or situation may rise which makes you cancel your travel plans.
Travelling requires a lot of preparation and planning in advance before you leave towards your destination. It involves pre-booking of hotels, flight, trains etc. and a fair amount of money is always spent on these things which can be non-refundable. If a situation arises in which a person has to cancel his or her trip with the money already paid as advance, then there is quite a chance that he or she will have to face these expenses without any reason.
To save you from facing such financial loss travel insurance comes into play.
Travel insurance cover provides reimbursement to these non-refundable costs incurred by you prior to your travel.
In order to purchase the trip cancellation cover one must insure some or all of your trip expenses.
Trip interruption:
In addition to the trip cancellation policy one gets a benefit named as trip interruption cover.
A situation may arise when you are required to travel back home in between your trip. But it is obvious that you must have made the arrangements in advance for the whole trip.
Trip interruption plays the role of refunding you the amount of all the unused expenses. These unutilized expenses can be the amount paid for hotel bookings, travel etc.
Trip interruption protects a person from facing unnecessary expense.
Health emergencies:
No one is immune to health problems and diseases and they can strike you anytime and anywhere without any notice. You don't want them to ruin your travel plans but it is not in your hand.
In the situation of these medical emergencies the patient requires proper treatment on time. Treatment in many countries can be a costly affair and no one will want to think and worry about the costs at this situation.
People believe that domestic health coverages will work in abroad too. But this is completely wrong as one needs to purchase a separate health insurance cover while travelling abroad.
Travel insurance cover will reimburse you with all the expenses incurred by the insured for the complete treatment. These expenses may include the consultancy charges, ambulance charges, treatment cost and so on.
Medical evacuation:
Medical evacuation isalso known as medevac cover and it goes along with the medical emergency cover.
In case medical emergency strikes at the time of travel this cover provides you with ambulance facility to the nearest hospital and can bring you home if hospital determines that it is necessary in your situation.
You may also choose the hospital which suits you. Along with Sthis the cover provides you with on vehicle medical assistance till the time you reach the hospital.
Lost baggage or passport cover:
Travel insurance cover also deals with lost baggage or important documents like Visa or Passport.
This type of cover is helpful in securing your belongings at the time of travel. One may face a situation like theft or damage which may lead to loss of any important possession. In this situation, this insurance cover will pay you for the loss of your belongings.
You must be aware of the fact that passport is one of the most important document a person requires to travel as no country will allow you to enter without it. If a person loses the passport due to any reason then the travel insurance company will make arrangements for a temporary passport so that the insured does not face any problem and stays tension free.
In case there is baggage delay the insurance company pays you for the basic amenities like clothes and toiletry kit. This is done so that you have required things till the delayed baggage arrives.
Delayed flights:
Flights only take off when the situations are suitable. With situations we mean weather conditions or mechanical welfare.
Under unsuitable conditions the flights can be delayed or even cancelled.
Delays and cancellations are common in air travel as good conditions required to take off are not in the hand of people. For example: there is a fault in airplanes turbine or stormy weather.
This delay or cancellation may lead to financial loss to the travelers as they might have made pre-bookings at their destination and have paid them already.
Along with paying for the medical expenses or loss of luggage they also provide reimbursement for the loss incurred by the insured person due to delay or cancellation of flight.
It is often heard that he or she missed the flight as he or she didn't arrive at the airport on time. There can be many reasons behind this like traffic, weather conditions etc. Whatever the reason is, the airline company will not return your money in such a case, which will eventually lead to your loss.
For this purpose missed connection benefit comes as a savior for travelers who are delayed, and incur additional costs to catch up to their trip.
The actual reason for the delay should be mentioned in your policy in order to receive the benefits from this cover.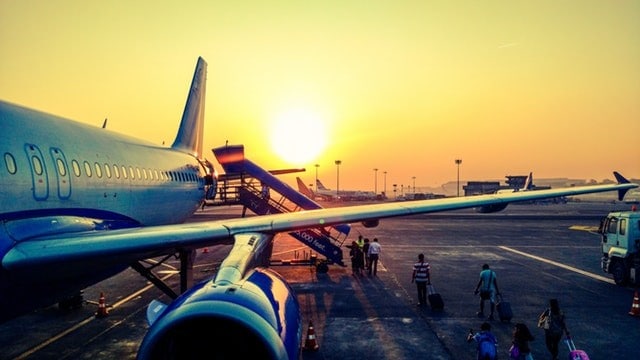 Emergency evacuation:
Everyone thinks of having a good time while they are travelling. But one should know that uncertainties may arise at any moment without any notice.
Situations like natural calamity, serious health problem or a terrorist attack may be the reasons for emergency evacuations. No person will want to be stuck in such a situation in order to be safe and sound.
If you get stuck in this situation in order to reach a safe place or hospital you will have to pay a large amount of money in transportation. Benefits of purchasing this coverage is that it will pay for all the evacuation expenses like airlift, transportation cost to reach hospital.
Worldwide phone assistance:
This cover can be really very beneficial for you at the time of medical emergency, loss of luggage or passport or cancelled flights. It provides you with worldwide coverage and phone assistance so that you can make a call if you face these types of situations.
Along with this they also offer you 24/7 travel assistance service. This cover will provide you with both medical and non-medical benefits like:
Provide transportation to the hospital.
Provides proper treatment.
Free choice to choose your hospital.
Assistance in case of lost passport or documents.
Help in locating lost luggage.
Travelling without purchasing a good travel insurance cover in not an option one should prefer. Looking at the possibilities of facing any major or minor uncertainty one must surely purchase a travel insurance cover before travelling abroad as no one knows when it may come to use.
How To Assess Which Saigon Guided Tours Are Worth Taking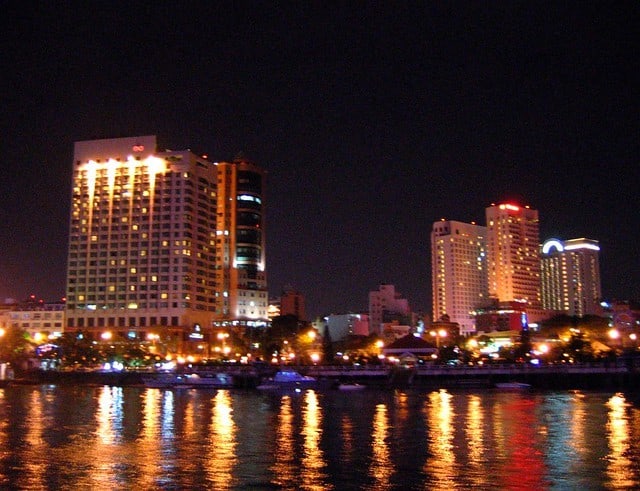 Knowing where to begin when you arrive in a foreign city or country is the biggest challenge facing those on a travelling or backpacking experience especially if you only have a limited amount of time in which to enjoy it. So this is why a good guided tour can be invaluable as it cuts down wasted time and energy seeing parts that are not quite what you wanted.
Look At The Routes Offered
You might think all tours are essentially the same but this is absolutely not the case. What you will find is that many of the tours are geared more for one demographic than another and this can affect the routes and sites they take in. For example, if you choose a tour geared more towards older people and you are looking for something a bit physically active including, hiking or climbing, for example, you are sure to be disappointed this way. So be sure to check where they go and choose appropriately
Read The Descriptions On Their Website
This seems obvious but rad the description carefully as this will let you know exactly what you are going to get and what not to expect. Often the company can be a bit vague or offer a certain price on an advert that turns out to be the most limited version of what they offer. Also be sure they offer a tour in a language you can comfortably understand, there's no help in having the most top-notch tour guide if you don't understand them.
Check Out The Reviews
You'll have no greater idea of whether or not a tour operator is better than reading what others have said about the experience. You will want to get one of the most reputable tour operators in Ho Chi Minh City and this made the time spent so much more enjoyable. The best tour guides will know where the top ho chi minh photography spots are. I even found that you can get a photography class in Saigon as part of some of these packages.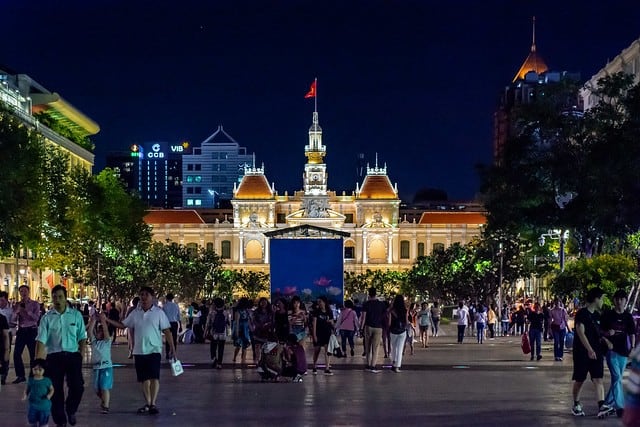 Get In Touch & Ask Questions
If you are unsure of something or have any specific requirements a good tour operator will be happy to answer these before you book. There are so many things you may not have even considered to ask, here is an excellent list of things to consider such as is food included and what provisions there are for poor weather etc.
Try Something A Bit Different Where Offered
If you ask around and are lucky you might find some more alternative types of tour that offer a real insight into the local culture and way of life. As the main tourist spots are easily known these days with resources such as TripAdvisor etc. Something like this Slum Tour may sound weird but can be a real eye opener and give you a real feel for the city rather than just the history. So look around and find the tour that's right for you.
8 Best Road Trips in Australia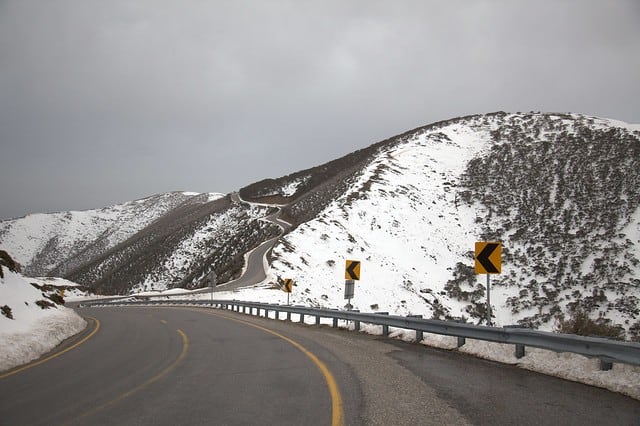 Welcome to the Land Down Under, where gorgeous cityscapes meld with the rough outback and sunburns are indicative of a day well spent. This continent/country is tailor-made for the wide-eyed adventurers. Expansive rainforests, canyons, mountains, and world-famous beaches beckon thousands of visitors every year, but what exactly is the best way to get the most out of a tour in Australia? Eschew the plane in favor of a 4WD! Cruising the open road guarantees the best sights and experiences, so here are 8 of the best road trips in Australia.
The Great Ocean Road leads you along some of Austalia's most stunning coastlines. Gawk at cliffs, rainforests, and shipwrecks and don't forget to spend a moment taking in the beauty of the Twelve Apostles – a collection of limestone structures just off the shore of Port Campbell National Park.
Recommendation: Twelve Apostles is Port Campbell National Park's most iconic spot, but don't forget to wander further. Check out Lock Ard Gorge for the stunning 19th century shipwreck, the Island Archway, and snap a few photos of the Gibson Steps rock formation.
Distance: 243 kilometers
Starting and ending point: Torquay to Allansford, South Australia
Duration: 2-3 days.
Best time to go: February-March or October-November for warmer weather and off-peak prices away from the crowds.
A road trip through the Gibb River Road is definitely one for the books, what with its magnificent displays of wildlife and wilderness. Touted as one of Australia's greatest 4WD adventures, this road trip takes you through Kimberley where you can explore gorges, waterfalls, outback cattle stations, rock art, and Aboriginal sites.
Recommendation: The Bell Gorge can be a challenge to reach, but the sight itself is worth all the effort. Marvel at cascading waterfalls while swimming in its natural pools!
Distance: 660 kilometers
Starting and ending point: Derby to Wyndham, Western Australia
Duration: One to two weeks.
Best time to go: Catch the dry season from April to September when waterfalls are fully fed by the previous rainy season. The road is closed December to March due to heavy rains and flooding.
For adventurers seeking a little solace, the Great Eastern Drive offers the peace and quiet of Tasmania with the hustle and bustle of only its wildlife. From Orford to St. Helens, this reflective journey takes you through the east coast wine country, forests, beach towns, and stunning farmlands. The region's bountiful produce and seafood guarantee you'll be munching something along the way.
Recommendation: The Freycinet National Park is a worthy detour with its crystal-clear bays, waters and rich birdlife.
Distance: 176 kilometers
Starting and ending point: Orford to St. Helens, Tasmania
Duration: 2-5 days.
Best time to go: The autumn months of March-May for crowd-free travel.
Looking to get lost in the wilderness? A trip to Cape York, one of Australia's most remote landscapes, offers more than a thousand kilometers of untamed and rugged rainforest beauty. This picturesque route features river crossings infested with crocs, ancient rock art, and two World Heritage sites in the Wet Tropics. Beautiful as it may be, here's some bad news for your social media followers: Cape York has very limited phone reception, so bye-bye Instagram (that's right, take this time to reconnect with Mother Nature!)
Recommendation: Take a guided tour through the Quinkan Galleries at Laura to gawk over 30,000-year-old rock art.
Distance: 1000 kilometers
Starting and ending point: Cairns to Cape York, Queensland
Duration: One to two weeks
Best time to go: During the cooler months of June to October. Other times of the year might be met with road closures and floods.
Nature lovers, buckle up your seatbelts. This trip from Perth to Ningaloo promises to offer you the best that Mother Nature has to offer. Here, the sprawling Indian Ocean converges with the rugged outback, offering countless adventures on both land and water. Explore the Pinnacles Desert and the Kalbarri National Park for land-dwelling creatures and the World Heritage Shark Bay to spy on manta rays, dolphins, and whale sharks.
Recommendation: Dedicated divers must check out the Navy Pier – one of the world's top 10 on-shore dive sites.
Distance: 1200 kilometers
Starting and ending point: Perth to Ningaloo, Western Australia
Duration: 1 week
Best time to go: Come between June to September for a stunning display of vibrant wildflowers.
Cruise along the continent's highest accessible sealed road to marvel at scenic mountain ranges, deep valleys, and spectacular wine regions. The waterways of the Gippsland Lakes region are a must visit. Looking to reflect? The journey is studded with charming historic towns, such as Omeo, Beechworth, and Bright.
Recommendation: Visit Mt. Hotham, Victoria's highest alpine village, for rejuvenating mountain air and absolutely breath-taking alpine views. Lots of action here for snowboarders, skiers, and sledders!
Distance: 500 kilometers
Starting and ending point: Wangaratta to Metung, Victoria
Duration: 3 days
Best time to go: Any time of the year, but some roads may be closed during winter (June to August)
Our penultimate road trip will have you traveling 3,700 kilometers across five World Heritage sites and 15 national parks, all without ending up in another country or kissing the ocean. This epic road trip may be grueling, but this is one journey that truly offers the Australian outback experience. Expect lots of time spent in nature from grassy plains to lush rainforests, waterfalls, ancient rock art, remote cattle stations, and turquoise waters.
Recommendation: The Boodjamulla National Park is a must-visit. Gawk at magnificent gorges, 25-million-year-old fossils, emerald waters, and orange sandstone cliffs.
Distance: 3700 kilometers
Starting and ending point: Cairns, Queensland to Broome, Western Australia
Duration: 10 days to 3 weeks.
Best time to go: Come during the dry season between May to September.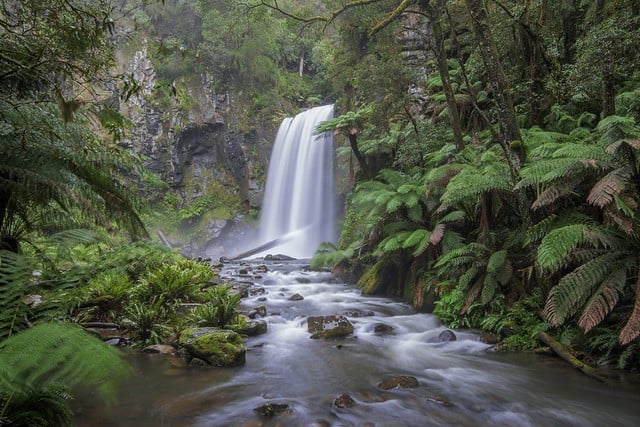 Ready for an adventure of a lifetime? The Big Lap is for die-hard road-trippers – an epic road trip that encompasses the entirety of Australia. If you have 6 months or more to spare, this road trip promises more than just spectacular sights and the full Australian experience, you'll also get lifelong bragging rights.  Highway 1 links Australia's seven capital cities and skirts around Brisbane, Darwin, Perth, Melbourne, Sydney, Cairns, Broome, Esperance, Hobart, and Adelaide. The Big Lap offers everything Aussie: verdant rainforests, bustling cities, coastal towns, the rough outback, and crystal beaches. This is one road trip unlike any other.
Recommendation: Add more to the experience by including Alice Springs, Kakadu, and Uluru, all accessible via the Stuart Highway in NT.
Distance: 15,000 kilometers
Starting and ending point: This is an epic road trip around Australia with no definite start or end points. You will be cruising along Highway 1 which skirts around the entire continent, with some divergences if you want to explore key cities
Duration: Six months to a year
Best time to go: If it's summer, December to Australia head south. During winter, June to August, head north or explore the red center. Wet seasons from November to May may close roads and national parks.
If you want an amped up travel experience, explore Australia on four wheels. The greatest part of a road trip isn't about arriving at your destination and this rings true in the Land Down Under. This continent offers a myriad of sights and adventures you just might miss when traveling on air!
7 Top-Rated Tourist Attractions in Kerala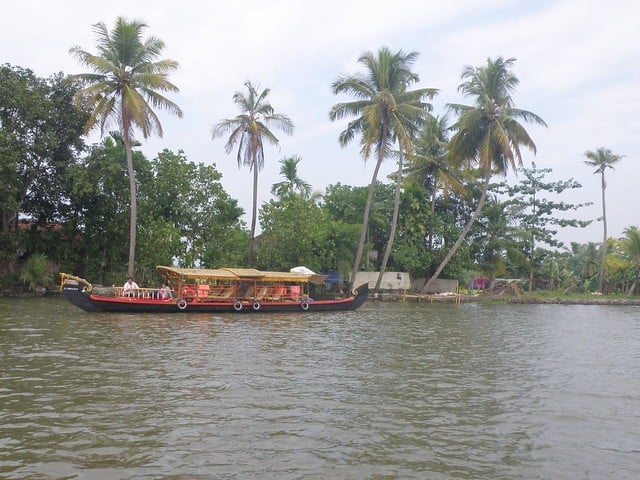 Kerala, God's own country is one of the most famous tourist places in India. For explorers from across the world, it is a promising coastal state that  lies between the Western Ghats and the Arabian Sea, offering diverse and dynamic experiences. The land is capable of pleasing tourists throughout the seasons. Golden beaches, unique emerald backwaters, high mountain ranges, beautiful hill stations, culturally rich art forms, delightful cuisines; the options are many to relish at Kerala. There are many tourist destinations in the state that are equally ideal for families, honeymoon couples, adventurists, and solo backpackers. Listed below are the some of the best tourist spots in Kerala which makes the place a must-to-visit destination.
 Alleppey, The Venice of east welcomes you!
Alleppey (Alappuzha) is an inevitable choice to be included in your bucket list if you visit Kerala. Known by the title, The Venice of East, Alleppey is a perfect destination of backwaters and beaches which is an ideal place to spend your houseboat vacation. The exploring of watery routes in the age-old transportation facility houseboat can even provide you luxuries equivalent to a 5-star hotel.
The sight of scenic landscape and backwatering through coconut groves, paddy fields, villages, water lilies, and ducks will give you a soothing effect. The excited cuisines offered there is the fresh produce from the water into your plate. The bliss you earn from there will be remembered all the time.
The main attractions of Alleppey are the Alleppey beach, Marari Baech, Punnamadas lake, Krishnapuram Palace, Ravi Karunakaran Museum, Pathirmanal island, and Sri Krishna temple Ambalappuzha. The snake boat race held at Alleppey during August o September is another attraction.
The best time to visit Alleppey: September to May
Nearest airport: Kochi International Airport is 53 km away from the place
Nearest railway station: Alleppey Railway Station.
 Munnar, The Kashmir of Kerala
Munnar is one of the widely attracted tourist places in Kerala for its natural beauty. Located at an altitude of 6000 ft. above the sea level, Munnar is a town of excess charm. The mind soothing climate of the hills and mountains covered with tea plantations. About 80,000 miles of hills are covered with tea plantations. The cold climate and the mind-blowing sights make Munnar undoubtedly a place for Honeymoon. The ancient colonial ambiance of Munnar is evident through the TATA tea Museum. The comfortable stays, trekkings, camps make your days in Munnar the most memorable in your life.
The major attractions of Munnar include Anamudi, Top station, Eravikulam national park, Attukal waterfalls, TATA tea museum, Meesapulimala, Marayoor Dolmens, Mattupetty dam, Kundala lake, Blossom Park, Pothenmedu vide point, Indo-Swiss dairy farm, Life of Pi Church and Lockhart Gap.
The best time to visit Munnar: October to March
Nearest airport: Kochi International Airport which is located 143 km away
Nearest railway station: Aluva Railway Station which is located 110 km away.
 Kovalam, Experience the beauty of Beach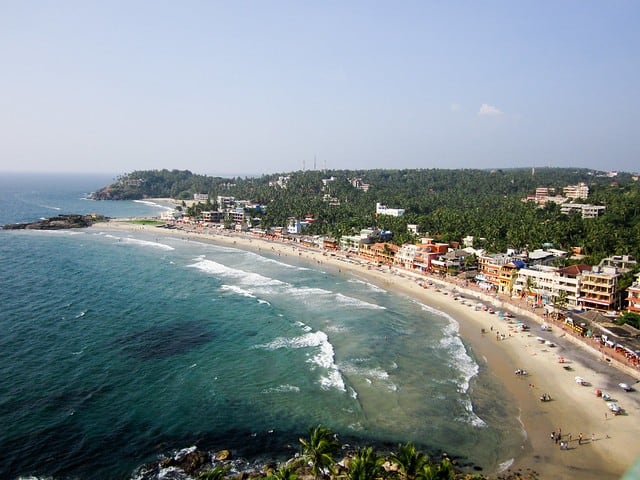 Kovalam is one of the must-visit tourist places in Kerala for its beach beauty. Kovalam offers cherished experiences for lots of tourists. The pleasant weather, soft sand, eye catchy blue sea, a soothing sea breeze, and the tall coconut trees aside the beach makes the place a miniature of paradise.
The tourists there are allowed to involve in swimming, surfing, bask under the sun, and enjoy the lip-smacking seafood. The mind soothing body massage is another attraction where both the mind and body are nurtured. There are various accommodation facilities for every kind of visitors ranging from the cheapest to most luxurious ones. You can relax in the sunbathing and get engaged snorkeling, parasailing etc.
The main attractions of Kovalam include Hawah beach, Samudra beach, Vizhinjam marine aquarium, Fishing harbor, Akkulam Lake, Aruvikkara, Rock cut cave, Karamana River, Thiruvallam parasurama temple, Kovalam Juma masjid and Valiathura Pier.
The best time to visit: September to May
Nearest airport: Trivandrum International Airport which is 15km away.
Nearest Railway Station: Trivandrum Railway Station is 14 km away.
 Fort Kochi, ¬¬¬¬The gateway of Kerala
Fort Kochi, considered as the gateway of Kerala is one of the most attractive tourist spots in Kerala. Fort Kochi is the main attraction of the Queen of the Arabian Sea with a multitude of personalities. The ancient city possesses a wide heritage and multi-ethnic culture. Being a most visited place in Kerala, Fort Kochi is an ideal destination for nature lovers, tourists and history buffs.  The mind-blowing sights, delicious seafood, museums, palaces, synagogues, heritage buildings, beaches, art galleries, churches, Hindu temples etc makes Fort Kochi a promising land for exploring. People will not leave Fort Kochi without savoring the multi cuisines and grab some reminiscence to home.
The major attractions of Fort Kochi are the Bolgatty Palace, Mattancherry Palace, Paradesi Synagogue, Santa Cruz Basilica, Hill palace, Willingdon Island, Museum of Kerala history, St. Francis Church, Marine Drive, Ernakulam Shiva temple, the sunsets and sunrise near the Chinese fishing net and Kodanad Elephant training center etc.
The best time to visit Fort Kochi: September to March
Nearest Airport: Kochi International Airport
Nearest Railway Station: Ernakulam Junction which is located 13 km away
 Thekkady, Experience the wilderness
Thekkady is one of the top-ranked tourist destinations in Kerala. It is blessed with the wild beauty cuddled with the lush greenery of the Western Ghats and the dense forest. The Periyar wildlife sanctuary nearby the Periyar Lake is known for the tourist delight. It is one of the 27 Tiger reserves in India which is a home for 35 diverse species of fauna such as Tigers, wild Elephants, Sambars, and Gaurs etc. other than this, there are coffee and many spices plantations in Thekkady which is another attraction of the place. There are around 265 species of birds. You can enjoy the wild beauty of Thekkady through adventurous jungle safaris, patrols, bamboo rafting, border hiking, and camps.
The main attractions of Thekkady include Rmakkalmedu, Kumily, Elephant Junction, Periyar wildlife sanctuary, Periyar Lake, Deepa world spice and Ayurvedic Garden, Mudra cultural center, Mullaperiyar Dam, Chellarkovil, Vandanmedu, Murikkady, Periyar Tiger Trail and Kadathanadan Kalari Center.
The best time to visit Thekkady: November to May
Nearest Airport: Karipur International Airport which is situated 95 km away
Nearest Railway Station: Kottayam Railway Station which is situated 114 km away.
 Wayanad, The symbol of scenic beauty
Wayanad is the proof of why Kerala is called God's own country. It is the greenest place to visit in Kerala. The ravishing wild beauty with the adventurous trekking experiences makes the place a must-to-visit spot in Kerala. The comfortable stays in the soothing climate and wild ambiance of Wayanad are promising.
Real-time experience of the tribal heritages from more than 50 tribe dwellings in Wayanad is uniqueness about Wayanad expedition. Trekking and camping is another factor which attracts tourists from various parts of the worlds. You can even try your fortune if you spot the Neelakurinji flower which blooms once in 12 years.
Major attractions of Wayanad are Banasura Sagar Dam, Edakkal caves, Wayanad Wildlife Sanctuary, Papanashini river, Kuruva dweep, Thusharagiri waterfalls, Thirunelli temple, Lakkidi viewpoint, Puliyarmala Jian, and Padinjarathara Dam.
Best time to visit Wayanad: October to May. Also, you can enjoy the trip to Wayanad during Monsoon seasons.
Nearest Airport: Karipur International Airport which is located 95 km away
Nearest Railway Station: Kozhikode Railway Station which is located 72 km away.
 Kumarakom, Enjoy the contours of Vembanad Lake
Kumarakom is a famous tourist destination in Kerala known for backwatering and bird sanctuary. The peaceful hamlet possesses enthralling sceneries, exotic environment, and cool weather. Being one of the best places to visit in Kerala, Kumarakom gives you a mind-blowing experience in backwatering through the fresh paddy fields, coconut groves, and villages. The relaxing houseboat rides are available for all type of tourists at cheap rates too expensive ones. The delightful cuisines of Kumarakom should be tried at least once.
The Kumarakom Bird Sanctuary is a must-to-go place in Kerala which homes to a wide variety of bird species that mainly includes migratory birds and Siberian storks.
The major attractions of Kumarakom are The Kumarakom Bird Sanctuary, Kumarakom Backwaters, Aruvikkuzhi waterfalls, Vembanad Lake, Pathiramanal Island, Kumarakom beach, Bay Island Driftwood Museum, Thriunakkara Mahadeva temple, Cheiryapally, Valiyapally etc.
The ideal time to visit Kumarakom: September to May
Nearest Airport: Kochi International Airport which is located 85 km away.
Nearest Railway station: Kottayam Railway station which is situated 16 km away.

We have been wearing out our jandals (Kiwi for flip-flops) on our travel adventures around the world since 2009. We think our blog is thought provoking and a little witty. But we have been proven wrong before. Find out more about us here...
What Are You Looking For?