Biking the Rail Trail in Costa Brava, Spain
If you are looking for a cycling adventure for summer 2013 then biking the rail trail in Costa Brava might be the right choice for you.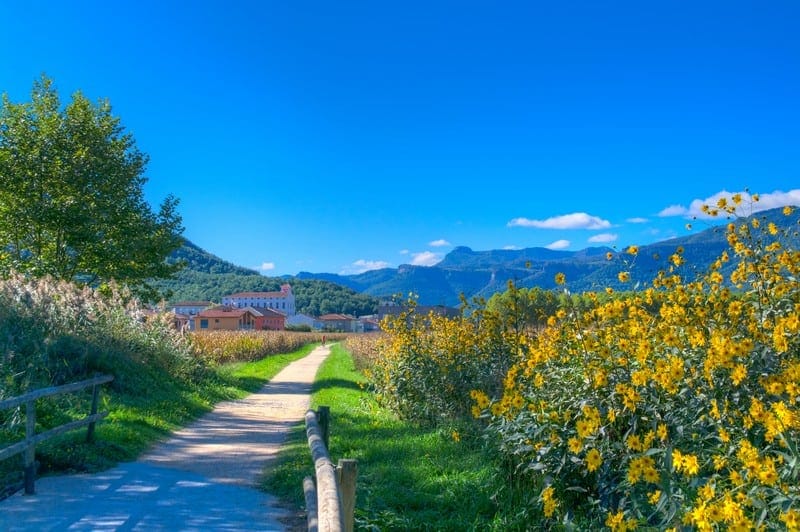 If you only had one option to get around Europe, then I would recommend by bike. Especially if you are in the northeast of Spain around Costa Brava. Wide open landscapes, warm weather in summer and cute towns around every bend make it a cyclists haven.
Check out our awesome short video below of my adventure biking the Rail Trail in Costa Brava.
A multitude of old rail trails dissect the landscape and provide the perfect excuse to see the hidden gems of Spain and work off all those tapas you have been eating. Not to mention the fine wine that you have been guzzling.
To travel from Girona airport into the City before your rail trail experience, we recommend Atlas books and transfers.  They will help you get your bike to the start of your adventure.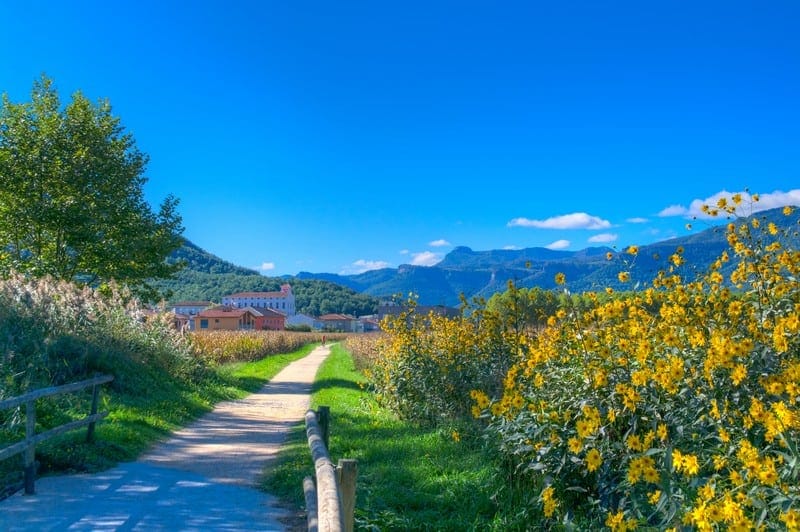 Biking the Rail Trail in Costa Brava
Descending from the Pyrenees to the pearly white sandy beaches dotted along the Mediterranean Sea the biking pathways crisscross this beautiful landscape.
With just a simple bike you can meander along along abandoned railway tracks that have been converted into gravel cycling paths suitable for all abilities, including kids. With minimal inclines you don't even have to break a sweat, yet can still cover 30+ km's in just a couple of hours.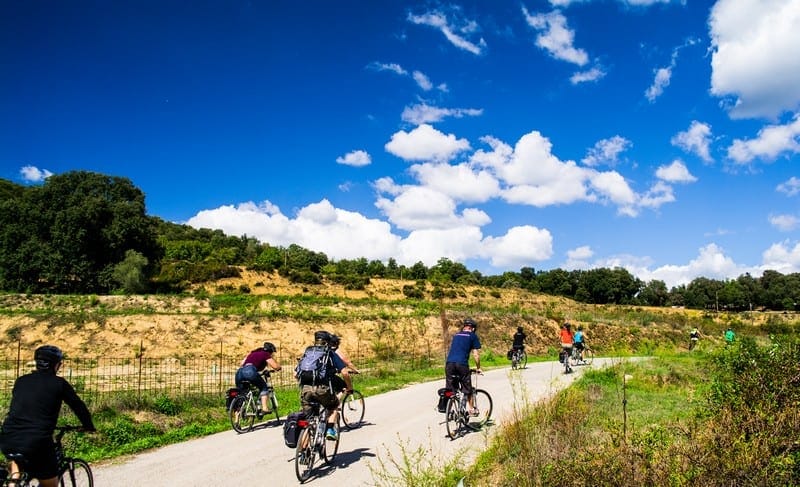 The entire cycling network is over 125 km in length and is broken into 4 distinct routes; the Iron and Coal Route, the Olot-Girona Narrow-Gauge Railway Route, the Girona-Sant Feliu de Guíxols Narrow-Gauge Railway Route, and the Little Train Route.
Make sure you check out Vies Verde de Girona for more information on the Greenways around Costa Brava. They have maps, secret spots to be discovered and all the things you might not have thought about. If you are travelling from another city, then Girona airport transports will get you and your bike to the start of your adventure.
Along the way the old railway stations have been converted into Tourism Information centers as well as small cafes so that you can rest your legs.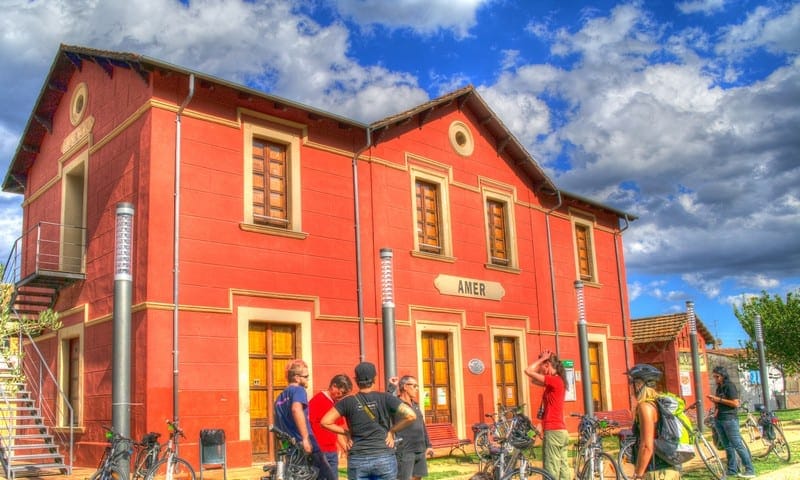 On our first day we covered 35 km in just a few hours. And that was with plenty of rest breaks to snap photos and have a coffee.
Plus you can compare your hotel and accommodation options before you go. This way you will know exactly how far you have cycle each day and then you can rest when you need to.
While it took 2 days for our butts to get used to molding into the seats, I would jump at the chance to do it all again. Especially with views like this to look forward to.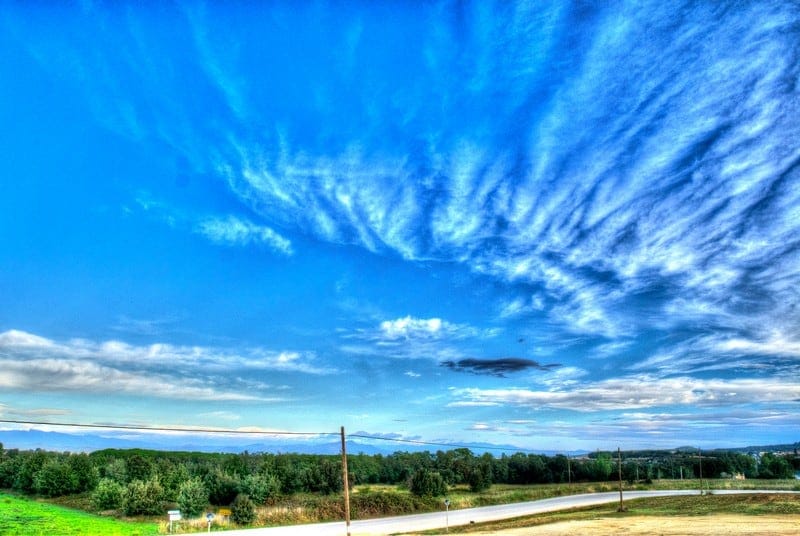 Travel Tips and Information

You can Bike the Rail Trail with Ciclo Turisme and find out more about the Greenways in Costa Brava by checking out Vies Verde de Girona who can provide maps and information.

You can fly direct to Girona airport, in Costa Brava, from throughout Europe.
Disclaimer: I was a guest of the Costa Brava tourism board for 3 days, although the video footage, photos and opinions are always our own.
Here Are 5 Essential Air Travel Tips That You Ought to Know About!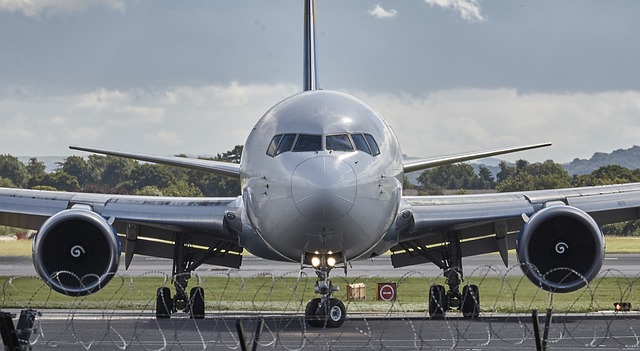 Taking a long vacation is all one can long for after experiencing a tough time at work or at home. That small break can you do your body, mind, and soul sound, especially when one is on the verge of a mental breakdown. You ought to plan yourself accordingly more so concerning your travel arrangements. It will enable you to have an adventurous time right from the time you leave your front door. Here are essential air travel tips that you must know about when planning for your trip.
Book your flights smartly 
Booking any flight that appears on your schedule won't do you any right; instead, it might cost you lots of cash. You ought to be flexible as you check out Sydney to Hong Kong flight time. You ought to check out various air travel websites as well as apps to find the ideal flight for your travel destination.
Pack smartly
If you are planning on flying, you must limit the amount of luggage that you'll carry. It would be best if you packed a few everyday items that you use.
Pack only clothes that you might need. To pack all these, you ought to have the nitty-gritty details concerning your trip.
Check out the location, activities you'll engage in, type of trip as well as stay duration. It will act as a basic guideline for all items that you might require.
Make your luggage easy to identify
The last thing you would want to deal with during your pleasant trip is worrying about your luggage, more so when they get loaded randomly on the plane. It would be best you made your luggage easy to identify.
You can tie a small noticeable ribbon or a put a sticker, which will make it different from other bags. You can also choose to write your home address as well as a phone number. That way, in case of anything your sideways, you can quickly get a call.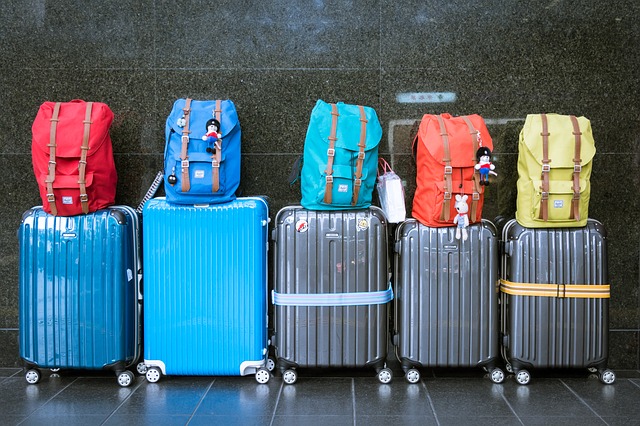 Come with some form of entertainment
It never hurts to come along with some leisurely activity. It will come in handy more so when the flight lacks an inflight entertainment system.
You can choose to use this time to catch up on a movie, listen to a podcast, or finish that novel that you have put off for quite some time. It's a good time to disconnect with the hassles of life and relax.
Be mindful what you eat
It's easy to get a stomach upset when traveling to a new destination. You ought to know what you are eating at all times.
Some food might affect your flight experiences. Therefore, you must avoid gassy foods. You might discover that carb-rich meals might assist in reducing jet lag.
Travelling can get a little bit hectic, more so when air travel is concerned. You ought to be cautious about fight times, including Sydney to Hong Kong flight time, among other necessities. It will enable you to have a pleasing as well as a fun time all through.
What To Do If You Have A Car Accident While Traveling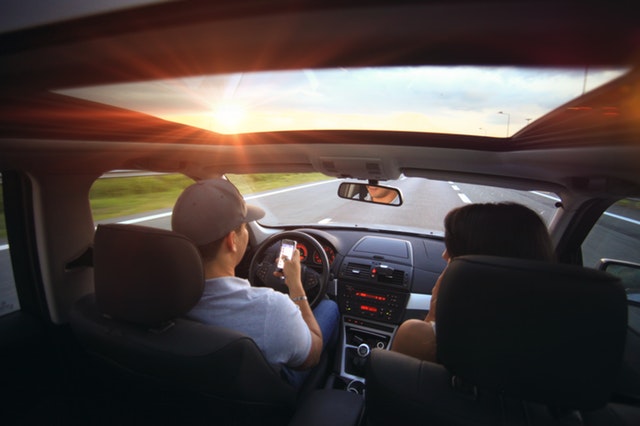 Travel is exciting. Generally speaking, this is a good thing. But, sometimes a trip can turn out to be eventful for the wrong reasons. 
The last thing you need is to have a car accident, even a small one, while you are traveling. It puts a real dampener on things and if you do not take the right action an event like that can carry on having a negative impact on your life even after you get home. With this in mind, I thought I would put together a few tips to help you to navigate what can be a tricky situation.
Call a lawyer
Regardless of where you are, it is wise to speak to a car accident attorney after an accident. In particular, if someone has been hurt or it looks like there could be a lot of damage. . 
You can never be sure where these cases will lead, so having the support of a lawyer is useful. Most car accident lawyers offer a free initial consultation. So, you can use that to ask them what to do next and ascertain if you are likely to need their services. 
It is best to start by explaining that you have had your accident while vacationing. This will enable them to advise you about whether you need to hire a lawyer close to where you live or where you had the accident. 
Notify the insurance firm
Also, ask them about what to say when speaking to the insurance firm. You will definitely need to contact them. Usually, there is a time limit for doing this, so be aware of this and make sure you comply.
But, you will need to be careful about what you say. Regardless of where you are in the world, it is not wise to admit blame.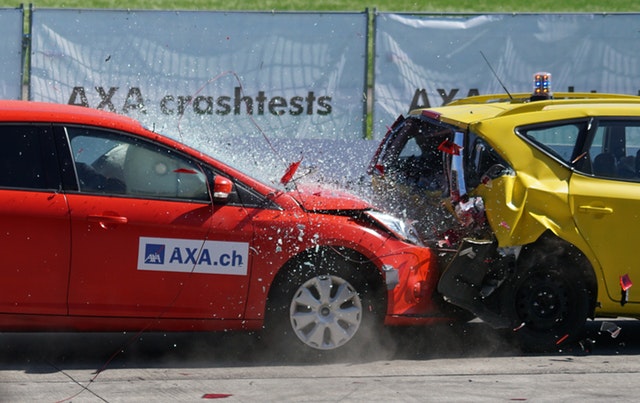 Notify the car hire firm
If you were driving a hire car, at the time of your accident, you normally have to notify them too. Again, your lawyer will be able to advise you about what to say. 
This will ensure that you do not inadvertently end up taking the blame or agreeing to pay for something you shouldn't. You need to speak to your car hire firm within the timescales agreed when you signed the contract.
Follow the local rules and regulations
Before you leave home, you need to have familiarized yourself with driving rules of the area you were traveling to. There are differences. For example, you have to understand how serious an accident has to be for it to be obligatory to call the police to the scene of the accident. In some parts of the world, you have to deploy warning triangles and put on high visibility vests. Not knowing and complying with these special rules can get you in a lot of trouble.
Contact your travel insurance provider too
Wherever you travel to you should always buy a good travel insurance policy that includes cover for medical emergencies. Most of the time, this is how your medical expenses will be covered. But, as you can see here if you are held responsible for the accident you will almost certainly be liable for the other party's medical expenses. That is why it is very important to only hire a car if good car insurance is included.
Three Reasons You Need To Try Camping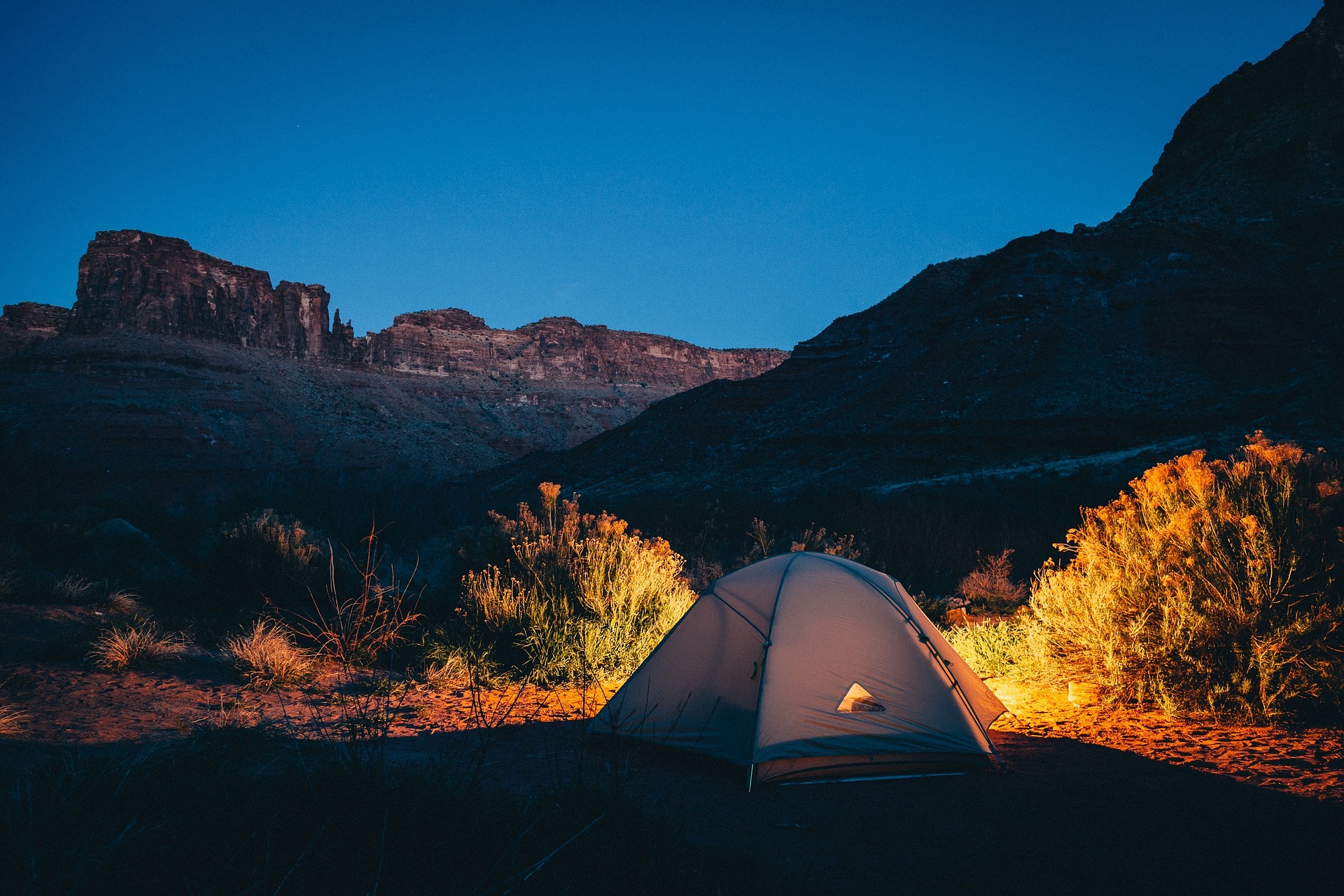 Holidays are that point of your working year when you finally get to relax, finally get to step away from the laptop and finally get some much needed time to recover from the stresses and strains of work.
It's the pin on the calendar that gives you something to look forward to and the point where you know all that planning and work was worthwhile.
But are that person who finds it hard to put down the laptop and step away from their phone. Perhaps, you find it hard to switch off and worry about how the business is functioning in your absence.
In this blog, we take a look at three reasons why camping is the ultimate getaway for the stressed out executive.
Image from Pixabay: CC0 licence
Why Basic is Better
What's the first thing you do when you check into your luxury hotel? That's right, you ask for the wifi code and make sure your charger is plugged in. A home from home environment is great but when that home turns into an extension of your office, then you're not going to be able to switch off and focus on where you are, even with the best will in the world.
Taking yourself out of your comfort zone and limiting your options is a bit like tough love, hard to do but ultimately a decision that everyone benefits from.
Gone is your focus on charging a phone and instead you're thinking about when to fire up the BBQ or how many blankets you're going to need that night.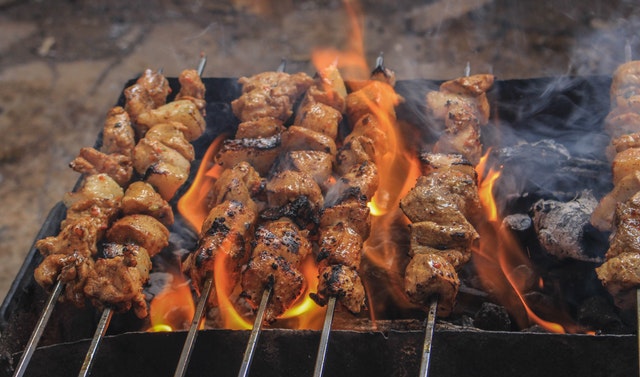 Great for All Types of Families
Including couples, friends and those with children. Simply put camping brings people together. The campfire toasting marshmallows, the walks into the countryside and the late nights talking and playing cards together. No phones, no TV and no distractions, just you and your family remembering what it's like, just to talk and be together.
The Great Outdoors
Watching your kids or your dog enjoying bounding around outside is great for the soul. Just taking time to enjoy the views at a campsite such as Rest Point Caravan Park in Walpole will help you to reconnect with the great outdoors and remember what's it like to forget your responsibilities, just for a little while at least.
You might also give yourself the opportunity to try a new sport, get back on your bike or just enjoy some gentle exercise in the fresh air with the prospect of a tasty BBQ at the end of the day.
You might not feel like a natural camper but if the alternative is being cooped up in your hotel pouring over your emails, then make this an option that you add to your list. Be brave, go and buy a great tent or go to a site where you can rent them and take a chance on the great outdoors. Breathe some fresh air, admit there's no wifi and enjoy a holiday reconnecting with the people and pets you value most.

We have been wearing out our jandals (Kiwi for flip-flops) on our travel adventures around the world since 2009. We think our blog is thought provoking and a little witty. But we have been proven wrong before. Find out more about us here...
What Are You Looking For?