15 Student Budget Travel Tips
15 Student Budget Travel Tips
Travelling is a dream, more or less secret, for many students. They are growing up, becoming adults, and their unquenchable thirst for more knowledge is always hunting for new horizons. Encouraged by their study and by a huge travel literature, some students are eager for museums, exhibitions and cultural events, others are fascinated by remote mystical spots, others are compellingly attracted by extreme challenges.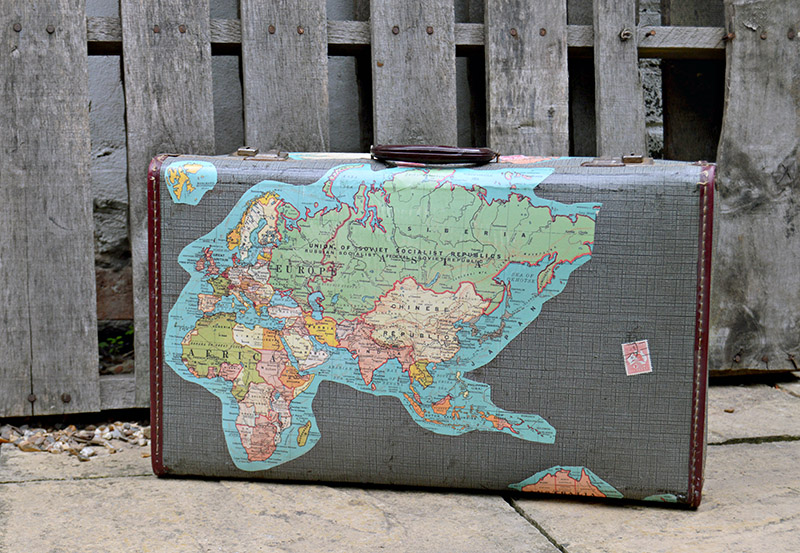 Yet the goal of a journey is perhaps less important than the journey itself. "Travel doesn't merely broaden the mind. It makes the mind" (Bruce Chatwin): exploring the world with an open mind and a positive attitude, getting in touch with far cultures and diverse people can really make your points of view more flexible and objective, even showing how life in your homeland, in your very hometown is just one of the countless possible way of living on this planet. Is one better than another? The more you travel, the less your judgements are conclusive.
How to plan a budget travel
Unfortunately, college and university years are often associated with an endemic lack of money and many travel wishes often turn in broken dreams. Yet traveling inexpensively is possible and several websites offer useful travel tips, sometimes very unusual, on how you can create a budget travel. A smart planning, moreover, can even allow you to earn money while fulfilling your dreams!
Hence take a seat, pen and paper, and let's start defining the goals for your next trip!
Where, when, how much. Indeed, the basis for every travel! They should be planned together: the available budget and the travelling season influence the final decision on the target. There are many cheap travel destinations you can choose among, a bit off the beaten track maybe, but as charming and stunning as the most popular touristic spots.
Be informed! Once you have set your destination, once you know by and large when you will travel, you should gather as many info as possible, starting with the main goal of your trip: an exceptional music festival, a couple of special archeological sites, an unspoiled natural area. From that starting gate, expand your search, read travel blogs and don't be afraid to get in touch with more experienced senior travelers, they are usually very helpful and fond of useful tips.
Flights and connections. Every airline has a travel planner showing the cheapest flights around a certain date. Just be careful and check the eventual coincidences with airport connections, trains and buses: sometimes low-cost flights force you to biblical and annoying waits.
Be precise! Accuracy and punctuality are a must when travelling, particularly as regard airport procedures, check in, baggage drop-off etc. Precision is especially vital when you are abroad, perhaps in a non-English speaking country. I would also suggest to have a copy of your ID documents, as well as of air/bus/train tickets.
Be unprecise! When visiting a town, a region or a country, you simply can't see everything. I follow a very easy rule: besides a small numbers of spots, buildings, museums I really want to visit, I let my instinct guide me, choosing what to do on the basis of the available time, the weather and on my today mood and shape. It works! Travelling becomes more relaxing and enjoyable.
Essential and unnecessary. Travelling light is warmly recommended. Write down a list of what should be included in your luggage and check it by and by before leaving, excluding each time everything that sounds superfluous. You can also google for some tips on how travel lightly. Remember to include a guide book in your list!
Avoid tourist traps. Every touristic town has one or more areas packed with souvenir shops selling improbable typical handmade unique stuff. Such articles are also valuable, but with some patience and a pinch of luck, you can probably find some more authentic and less expensive objects.
Look where the locals eat. Many travel sites suggest to cook your own food in order to lower the costs of your journey; sometimes, however, it is not possible, or you just want to taste the local food. In this case I recommend, again, to avoid places full of tourists, looking for some small, maybe hidden and not too glimmering restaurant instead: here you can usually experience the most authentic food of a region, for a fair price and with the right atmosphere!
Avoid areas known to be dangerous. Unfortunately world is not a safe place. There are wars going on, tensions ready to explode at any moment, also every metropolis has areas with a high crime rate. Finding yourself in such areas can turn very expensive and dangerous. Travel safely is something not to bargain on, for you and for your family waiting at home.
Written and unwritten rules. Every society has some unwritten standards of behavior, which can be very different from yours. Some observation before acting can be very rewarding: showing respect for the country you're visiting immediately make people more friendly, which practically results in preferential and economically more advantageous dealings.
Add some local flavor to your trip. Besides the touristic attractions, there are often minor events targeted to local people. A folk music festival or a jazz evening, for example, are cheap ways to dive into the local culture, also giving you the opportunity to meet actively with locals.
Share your gifts and skills. Travelling means meeting new people and hopefully making new friends. Sharing your passions with them, for example by cooking some special recipes from your country, can be a good, economical and funny way to strengthen the friendship.
Use technologies. The image of the Romantic traveler taking notes with ancient Roman ruins in the background is a long time gone memory. Nowadays we are dependent on technologies, and we can smartly use them to save money during our travels. Use Skype or WhatsApp to call home, possibly when a free WI-FI connection is available, or use some free online storage service to save your photos.
Use your skills. A notebook, a connection to the internet and some special skills can even make you earn some money. There are several freelance jobs you can do while travelling, writing for example. Many website offers cheap paper writing service and are always looking for new talents.
I wouldn't say that smiling makes you directly save money, but a positive attitude to whatever happens when traveling is rewarding anyway: we go through a journey as we go through life, doing it with an open smile makes everything easier, funnier and lighter. So, why don't smile?
This article was contributed by Robert Everett who is a freelance writer currently based in Chicago. Solving students career and university problems. Having interest in marketing and business.
Visiting the Edinburgh Dungeons – Review and Giveaway
Check out our free giveaway of a family pass and review of the super spooky Edinburgh Dungeons.
Edinburgh Dungeons Review
If you have time to kill after spending 48 hours in Edinburgh and have encountered the typical wet Scottish weather, it might be worthwhile visiting the Edinburgh Dungeons. The Dungeons were not high on our list of things to do, but one drizzly summer afternoon, we decided to head along and check out what the fuss was all about.
Located in the heart of the capital near Waverley Train station, the Edinburgh Dungeons are conveniently located so that you can tick it off your list of things to do after visiting some of the other sights in the city center as well.
The attraction is run as a tour with groups of around 40 people lasting just over an hour. All the characters and guides are dressed in period costumes and play their roles very well. We were nearly the last ones to enter the first room, which is set out like a mock courtroom, and so, of course, we had the front row seats.
Sure enough, Adela was picked out by the "judge" who made her plead guilty to her crime of dancing atop Arthur's Seat naked. It annoys me when you visit a place like this which is all about crowd interaction, and everyone is too scared to speak up or laugh. So make sure you get involved just like we did.
All the hallways are very dimly lit, and you spend the entire hour waiting for someone to jump out and scare the bejesus out of you, which does happen from time to time. I am not sure how some of the kids on our tour handled it because even I was afraid!
You are ushered into various rooms you are given an insight into what life was like in Scotland a few hundred years ago. Including the different torture devices used, William Wallace's beheading, meeting Sawney Bean's family of cannibals and watching a dissection occur.
Our favorite was saved to last when we went on the "Drop Ride to Doom!" Winched up several meters to the hangman's noose, you are dropped into the pitch blackness to answer for your crimes. It makes for some classic photos they take just as you are released.
Disclaimer: We were provided with two tickets to the Edinburgh Dungeons, but as always, our thoughts and comments are our own.
10 Dream Holiday Destinations For Couples
Exploring new and exciting places with the person you love provides the most incredible life experiences you could ever ask for. However, while the right companion is the most critical factor, there is no doubt that the choice of destination can have a meaningful impact too.
No two couples are the same, so finding a destination that satisfies your requirements is critical. Ten perfect goals catered to different personalities, tastes, and budgets.
1| London, England
London is one of the greatest cities on the planet and is visited by millions every year. First and foremost, there are many things to see and do in London. As a tourist, though, it's even more exciting to know that many of those attractions are near each other. The less time you spend traveling as a couple, the more time you can enjoy your break in the city.
While the attractions themselves will appeal to all, many are particularly suited to couples. Finding the romance with a walk along the Southbank, a river cruise, or meander through Hyde Park. Irrespective of the time of year you choose to visit, London is waiting to be explored by couples.
The multicultural DNA of the city ensures that finding food and entertainment that's to your taste should be easy too.
2| The Seven Seas
Taking a cruise is a bucket list item for everyone. However, taking a cruise with your lover can take this incredible experience to new heights. After all, there's nothing quite like looking out across the water. Sunrises and sunsets are particularly romantic.
Moreover, this is the perfect way to explore multiple locations and countries in a short space of time. Given that synching up your holiday time can often be very difficult, this opportunity to squeeze more into the break is beautiful indeed.
3| The Maldives
If the idea of getting away from it all to enjoy a short break of private luxury appeals, Maldives is ideal. Sun, sea, and sand are guaranteed, while the islands provide a slice of the excellent life unlike any place on earth. You've almost certainly seen pictures and videos. Even those images fail to do it justice.
The quiet is the perfect way to break away from the hectic nature of modern life. The food and drink are exceptional too. Combining this trip with visits to neighboring destinations such as Sri Lanka is also very possible. You will love it. This is a trendy destination for married couples, including those on their honeymoon.
This is paradise. And there's no better way to enjoy it than with your significant other.
4| Miami, Florida
The United States of America is home to many couple-friendly destinations. Miami, Florida, offers a little bit of everything. From the Everglades to Ocean Drive, every excursion is one that you'll cherish forever. This is the ultimate holiday destination in the USA.
There are some genuinely excellent short-term rental opportunities on Airbnb too. Better still, when you travel at the right time of the year, great weather will be virtually guaranteed. If you stay a little longer, trips to Orlando's many theme parks can take the adventures to a new level.
5| Paris, France
The city of love is one of the top destinations on vacation wish lists of couples around the world. Therefore, it should be on the bucket list if you've yet to go. Not only is it one of those things that every couple should do. More importantly, it is a romantic city blessed with great food, stunning backdrops, and cultural significance at every turn.
Paris is blessed with many attractions that everyone should see at least once. The Eiffel Tower, Arc de Triomphe, and Louvre are all significant sights. Meanwhile, Notre Dame will be a must-see after it is refurbished. The gothic architecture is also supported by a tourist-friendly city with street artists and performances. The public is very welcoming too.
The romantic venues are ideal for lovers while it's also a great choice of venue for a proposal.
6| Riviera Maya, Mexico
Several items will be on the checklist when taking a romantic trip with your partner. If spending time in a venue exclusive to adults, saving you from screaming kids, Riviera Maya in Mexico is ideal. Many of the popular destinations' top hotels offer this feature.
A few relaxed days can be coupled with a trip to Chichen Itza. You can take a long-haul holiday to learn how much a private jet costs to fly. Get it right, and you'll be set for the trip of a lifetime. Seeing a Wonder of the World with your lover is a memorable experience.
7| Iceland
Iceland is a small country but with a big reputation. It is a welcoming destination for solo travelers, couples, and groups alike. The combination of natural beauty, friendly locals, and weather are particularly suited to a romantic holiday. This is especially true when you cozy up in a hotel pod under the stars.
The small island country boasts some truly stunning sceneries and natural features. From visiting the blue lagoons to seeing the northern lights, the experiences gained in Iceland are unique. The romantic backdrops are supported by accommodation facilities that support those sentiments. A week should be long enough to explore the island nation in style.
Frankly, every couple should visit at least once in their lifetime. It's too beautiful to miss out.
8| Amsterdam, the Netherlands
Amsterdam is known for its liberal approach to sex and drugs. However, it offers so much more. Its culture is heavily influenced by music, fashion, and sport. Meanwhile, the canals and stunning architecture provide a romantic setting for couples, especially at mealtimes.
The country's small size means that you can easily explore other places like Eindhoven, Groningen, and Rotterdam. Even if you stay in the capital city, boredom isn't an option. Whether you want to visit the red light district, Amsterdam has plenty for couples to enjoy.
9| Kho Phangan, Thailand
Thailand is another destination that is known for liberal thoughts. While there are many beautiful places to explore across the country, Kho Phangan is one best. You can live and explore the area at a pace that suits you. So whether you're a couple that loves the fast life or prefers a calmer vacation, this destination is ideal for starting any trip to Asia.
A quick search of things to do in Kho Phangan will open your eyes to many different ideas. While you could undoubtedly tour the whole of Thailand, this region alone will have more than enough to keep you satisfied for the duration of your stay. Exploring by foot or bicycle is very fun, while the fact that many people don't even know about this hidden gem is vital to remember.
Whether it's a solo destination or part of an Asian tour, this is a beautiful part of the world to visit.
The island is full of hundreds of options for accommodation, but if you're looking for a great Koh Phangan hostel, you should check out Mad Monkey Koh Phangan.
10| Home
Life is about creating magical memories with the people you love. While traveling the globe is a great way to celebrate this, simply spending time together is the greatest gift. Modern life encourages couples to forget this, but taking time off for a staycation will change this.
By exploring the local attractions, you can rediscover a love of your hometown and your partner. It's cheaper, involves less travel, and can genuinely promote a greater appreciation of each other. Best of all, minimal planning other than booking time off of work is required.
Basic Arabic Words for Travel to Egypt
Use our quick language guide to learn the key basic Arabic words that we used when travelling through Egypt and the Middle East.
We knew very little about the Egyptian language before we visited earlier this year. All we knew was that they spoke Arabic. And to be honest, to my untrained and ignorant eyes, the written Arabic language looks a lot like squiggly lines.
We are not talking about ancient Egyptian hieroglyphics either, which would make me feel like an idiot if I had to translate them!
Essential Arabic Words To Get By In Egypt
We always pride ourselves on learning a few essential words and phrases to help us communicate when traveling in foreign countries. The locals always seem to appreciate it, and it makes us feel as if we are immersing ourselves in the culture, which is why we love to travel.
So whether you are just visiting the numerous Red Sea all-inclusive vacations or the Great Pyramids of Giza, use our list of essential Arabic words and phrases below to help you out on your next travel adventure through Egypt and the Middle East.
Keep in mind that there are loads of different ways to greet someone or be polite, etc. But by using the essential Arabic words below daily when strolling through the markets or stopping to eat Egyptian street food.

Essential Arabic Words and Phrases
Marhaba = Hello.
Shukran = Thank you (although we usually used "la shukran," which is no "thank you" when being offered another 100 camels for Adela).
Tatakallam 'English? = Do you speak English?
Ya-Allah = Let's go.
Naam = Yes.
La =No.
Min fad like = Please.
Kam? = How much?
Afwan = Excuse me.
Ilal-liqa = I'll see you later.
'Ayna… = Where is…
…al-Hammaam? = …the rest room?
WaaHid = One
'Ithnayn = Two
Thalaatha = Three
'Arbaxa = Four
Khamsa = Five
As always practice makes perfect and there is no easier way to learn a language than trying it out in every day situations so don't be afraid to have a go. Your pronunciation might be a bit off the first few times but like we said above, most locals will appreciate you trying and correct you.
Reader question: Do you have any tips or additional words that we didn't include that you think we should?
We have been wearing out our jandals (Kiwi for flip-flops) on our travel adventures around the world since 2009. We think our blog is thought provoking and a little witty. But we have been proven wrong before. Find out more about us here...
What Are You Looking For?