Think Locally, Date Globally: 6 Dating Customs Around the World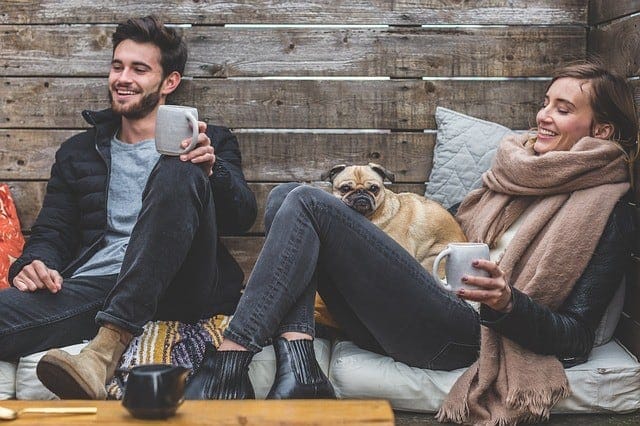 Strolling around with a camera in your hand. Walking down to the local watering hole. Immersing yourself in a language exchange. Heading to a "Meetup" activity.
These are just some of the ways you can plunge into the people, places and culture of a new destination. But these options engage the mind. They call on your sense of adventure and curiosity.
What about your hormones? Dating cross-culturally, in a new place, is its own adventure and experience that is completely unparalleled. Some are afraid of getting too emotionally involved while others worry about the reliability of a "stranger".
Dating abroad is like having your senses dulled through inebriation before things actually go bad: You feel warm, cozy, cared for, your inhibitions are lowered because you're in a different country and you think partying in the desert with your friends without a map and only one water bottle is a great idea.
Mark Manson, author of "The Subtle Art of Not Giving A F*ck", lays the blame at the feet novelty and mystery of "foreign women". And if you look at it on the surface, it makes sense: As a traveler, you crave the unknown and the new. And if it comes in the form of the opposite sex, how could you resist?
Dating cross-culturally, while traveling, is one of the best ways to get to know a country inside-out because, at the end of the day, it's people who make a place and culture. And, with the explosion of online dating through apps or on sites like Badults, your chances of meeting someone in a new country just tripled, my friend.
But it's a thin line. You don't want to be a part of breaking the customs or cultural appropriation. Chances are, there are very specific dating customs for the country you're headed to — and don't make the mistake of thinking this is only true of Eastern nations. There are plenty of "traditions" and expectations while dating in Western countries as well.
1. In the Land of the Rising Sun
As you might expect, dating in Japan has one objective (officially) and one objective only: marriage. Casual dating is not really openly accepted and most individuals are a lot older.
However, there are several instances of "puppy love" and interracial and intercultural dating. It's respectful to keep PDA to a minimum if you're out and about. Japanese family members are not as involved with their kids' love lives as, say, Chinese family members might be.
There is also a tradition where, on Valentine's Day, women purchase chocolates for their lovers and, exactly one month later, they celebrate "White Day", where men buy their women white chocolates to express the mutual attraction.
The only catch is that it doesn't actually stop at chocolates. Your gifts must go above and beyond – both, in cost and creativity.
2. Bagging the Ladies
In many Balkan countries as well as in many Roman villages and communities, it's common practice to snatch the "woman" or bride-to-be, put her in a sack and deliver her to the groom's house.
This is usually done in jest, as a funny tradition, by the groom's friends, who celebrate the custom as just one more during a wedding party.
3. The South Korean Way
There are two things at play in the dating lives of South Koreans: space and gender. On the one hand, it's perfectly acceptable and actually preferred that men not only initiate the courtship but also pepper her with an endless number of texts, being as forward and explicit as necessary to get her to agree to a date.
On the other hand, the city is overcrowded and crammed by inhabitants. And openly dating without a commitment of marriage is still frowned upon. Several young men and women still live with their families so, in this case, there are plenty of "love motels" scattered around the city where lovebirds can (and do!) go to spend quality time together.
4. Do as the French Do

The French, like the Danes, do dating as a group activity. If you're a North American, this might get you scratching your head — if the French are so sexually forward, why do they need their friends as chaperones?
It actually has nothing to do with prudishness and everything to do with the definition of a relationship in French culture.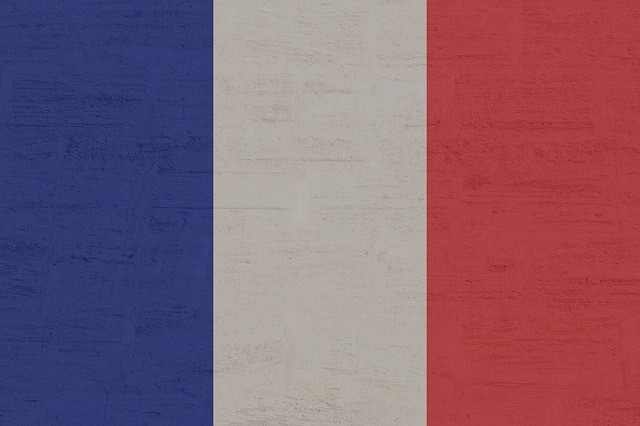 Men and women (and same-sex couples) can date one-on-one, keeping their conversations and interactions directed toward one another the whole time they are with friends. But the idea is that they all stick together.
There is no such thing as "dating around" — rather, the French like to call a spade, a spade: you're in a "relationship", no matter what that actually means, looks like, or entails, if you date without a group. It's assumed that you've met, like each other and now want to spend together alone.
So if you're looking to test the waters for the first time, make sure to do it in a group setting, with friends.
5. Down Under Without Labels
The dating customs of Australians might be quite familiar to Britons and North Americans — the attitude is much more relaxed and Aussie's not only date one-on-one, they can date several people in a week and keep things casual.
6. Bluetooth Tales

In Emirati countries like Dubai or Kuwait, customs are still strict around gender division. While things have become much more relaxed, openly approaching a beautiful woman and asking for a number is a good way to bring the wrath of her family on you.
Instead, creative young lovers have found a novel solution, a workaround that involves technology. They may have restrictive social customs but they also certainly all have smartphones.
Friends, lovers and potential dates communicate with one another through social media or by sending messages of interest via bluetooth devices. It's not only how you court and communicate, it's also how you plan a secret meeting at a secret venue after hours. These youth have mastered the art to low-key love.
How to Know if a FEIN Applies to You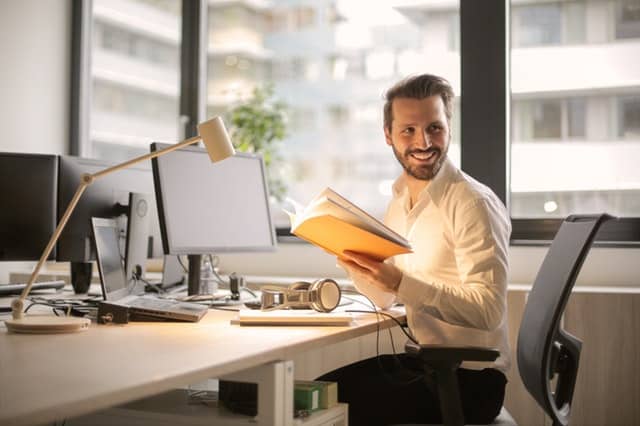 What is a FEIN? A FEIN is a federal employer identification number is used for the internal revenue service to identify a business for tax purposes. It is a nine-digit number, much like a social security number, that the IRS uses to identify different entities and is formatted like 12-3456789. All business entities are required to have a tax identification number to identify the taxpayer. To apply for a tax identification number, you can visit the website IRS-EIN-Tax-ID, to fill out paperwork from the Internal Revenue Services known as a SS-4.
Different Entities
To know if you should apply for a FEIN, you should first decide what entity you are. The different entities that require a tax identification number include:
Sole Proprietor/Individual
Limited Liability Company
Trust
Estate (Deceased Individual)
Non-Profit Organizations
Corporation and S-Corporation
Partnership
Personal Service Corporation
Church Controlled Organization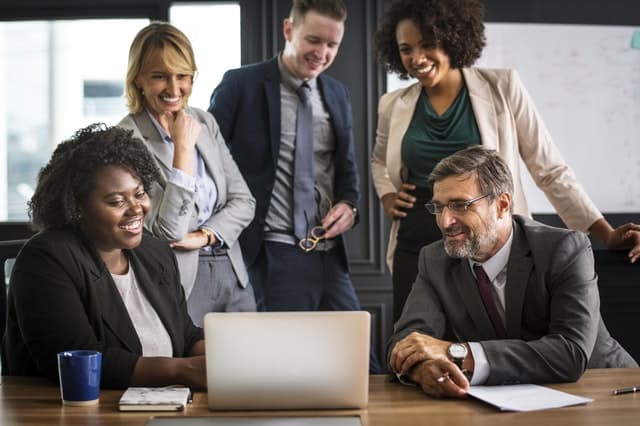 You also need to obtain an EIN number if you:
People work for you
Your business operates as a partnership or firm
You file any tax returns under excise, tobacco, firearms, alcohol, or employment
Any of your taxes are withheld on revenue, besides pay, paid to a foreign alien
You operate your business under a Keogh Plan
You have any affiliation with a trust, IRA, real estate mortgage, farmers' cooperative, or a plan administrator program
If any of the following applies to you then it is time to apply for your tax identification number. IRS-EIN-Tax-ID has broken the filling process down into three simple steps.
Select entity
Enter information
Review and submit
They have government agents available for any questions. They also provide a processing and filling service to make the process easier. If submitted during business hours, you will receive your EIN that same day via email, typically within an hour.
Hairstyles for Brides with Long Hair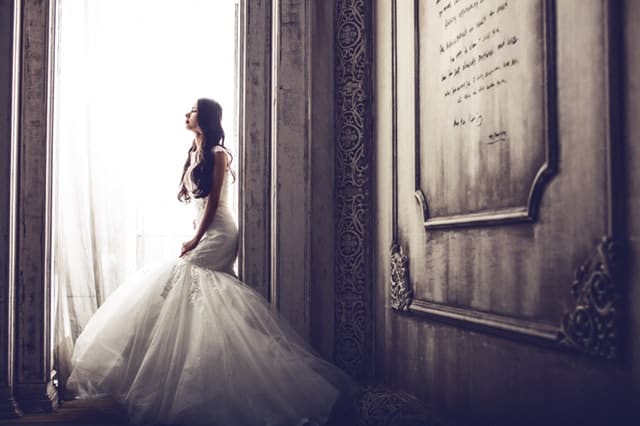 Your hairstyle is your crowning glory on your wedding day, and above all else, it needs to compliment your dress. The style of dress you've chosen should be used as a guideline to what type of hairstyle you want to go with on the big day. Consider the neckline, the sleeve length and the length of the dress and whether it would make more sense for your hair to be in an up-do or flowing free. To help get you set on the right path, we've taken the most popular dress styles from JJsHouse and explored the best hairstyles for brides with long hair to go with them.
A-Line, Trumpet and Mermaid Styles
These simple styles look best with slicked-back hair or hair worn in a sleek blow-out. Since A-line, trumpet and mermaid dresses all come with various types of necklines and sleeve lengths, pay close attention to the style of dress you've chosen and consider whether your hair would look best up or down.
If there's intricate detailing on the chest or neckline of the dress, wear your hair in a slicked-back up-do to show off those beautiful aspects. Dresses with sleeves also look best with hair pulled back to keep the overall look from getting too busy. Sleeveless or off-the-shoulder dresses look beautiful with hair worn down in a sleek blow-out.
Luxury Dresses and Ball-Gowns
Luxury dresses and ball-gowns always look best with hair in a dramatic up-do to match the drama of the dress. Fortunately, if you're a bride with long hair, there are hundreds of dramatic up-dos out there that you can choose to go with your gown. Consider what makes you most comfortable as well as the shape of your face and your personality.
Go with a classic chignon or a French twist and bun combo. Create an element of Old Hollywood glamour with a low bun and finger waves in front. Get a more ethereal look with a fishtail that mimics the look of a crown or tiara. Other styles include a high braided bun or a modern updo with embellishments like sparkles or pearls sprinkled throughout.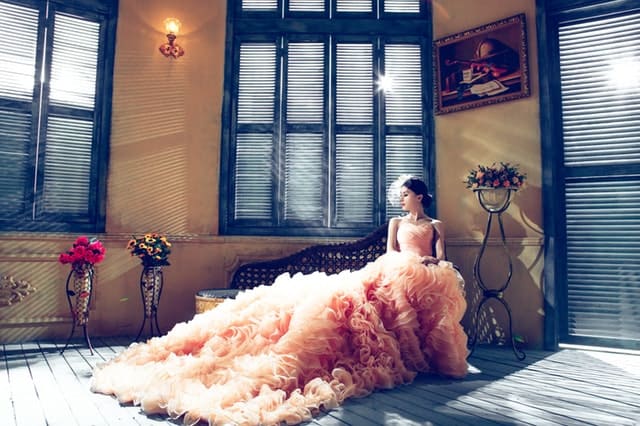 Colorful Dresses
If you're opting for a colorful dress, you probably have an outgoing, unconventional personality. A colorful dress combined with a unique style offers a great opportunity to use a matching headpiece or colorful flowers in your hair to compliment the dress. Consider your hair type and find an effective way to attach the headpiece so you don't have to fumble with it halfway through the ceremony. For thinner hair, use fine-tooth combs. For wavy or curly hair, use barrettes, bobby pins or combs.
No matter what hairstyle you choose, one of the most important things is to make sure that it shines. There are many tricks you can use to help create some super shine for your hair, such as applying a moisturizing conditioner before you start to style it and then using a shine serum once it's complete to add a nice layer of gloss. With a shiny 'do styled using the tips above, your wedding look will be absolutely perfect on your special day.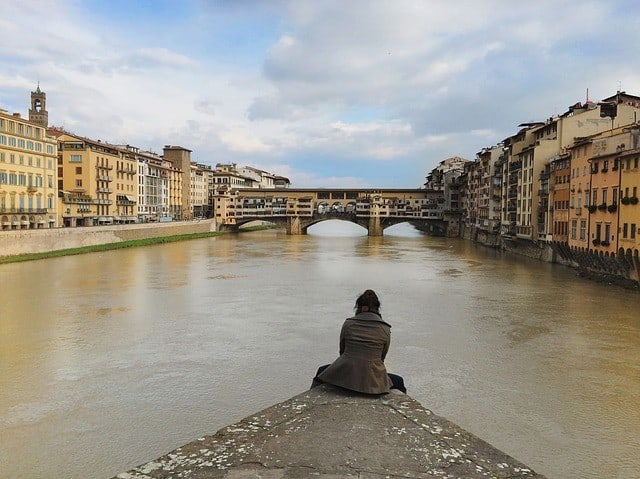 As regular readers know, we are a couple who loves to travel together. But we wanted to do this article to reach out a little bit and include people among our readership who have been asking about an article on travelling alone.
Some people may feel some trepidation about the whole thing, and be reluctant to go abroad as a single traveller, but really it's a very viable option. Let's analyze this a bit more deeply.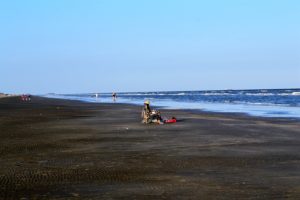 Types of Solo Travelling:
The Solo Tourist- You just bounce around the planet at will taking it all in, perhaps without even an itinerary. This experience can vary greatly depending on your budget levels.
The Working Traveller-  This is when you are obliged to go somewhere for work-related reasons, but you take advantage of such and take in as much as you can of the local culture, flora and fauna.
The Visitor- The solo traveller who hangs out with friends wherever he or she goes, visiting them in series. This is a great way to connect with people who otherwise would just stay at the margins of your existence. Of course, it's not as flexible as the first option, so there's your tradeoff.
The Singles Event Traveller- This person travels to singles' events abroad, whether it be quick getaways, extended cruises or stays at resorts, etc. This traveller is usually hoping to meet a potential SO on these voyages.
Pros And Cons of Travelling Solo: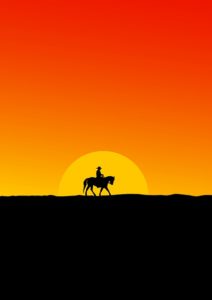 Pros:
-You get to keep your own schedule, or even avoid having one entirely. This is ideal for people who are either very early risers or very late risers.
-You don't have to take into account anybody else's tastes or prefereneces but your own.
-You get a mental reset by being away from everybody with whom you normally interact.
-You are much more likely to make friends abroad when travelling alone.
Cons:
–The loneliness can set in, and it is very real. Try to limit the length of your solo trips, or go for options like singles' events or visiting friends to mitigate this. Be realistic; you may be surprised how much greater your need for company and non-superficial relationships is than you may have previously thought.
-Sometimes your fellow travellers will have the best ideas that you may never would have thought of by yourself.
-Some things, let's face it, are best done in good company. For example, a great meal at an amazing restaurant is just that much better when shared with one or more people whom you esteem greatly.

We have been wearing out our jandals (Kiwi for flip-flops) on our travel adventures around the world since 2009. We think our blog is thought provoking and a little witty. But we have been proven wrong before. Find out more about us here...
What Are You Looking For?