Facing my Fears – Hot Air Ballooning in Costa Brava, Spain
I'm not a huge fan of heights & when I was given the chance to face my fears while hot air ballooning in Costa Brava, Spain, I was a little apprehensive.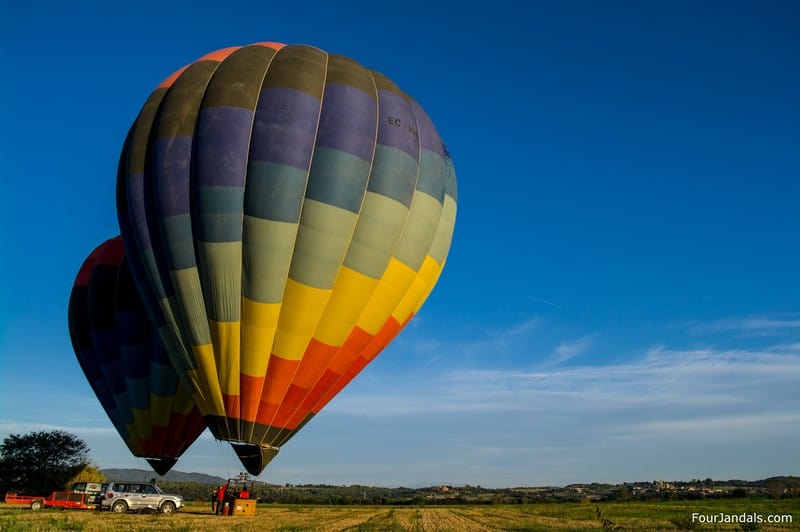 "Everyone holding on tight?"

"Brace! Brace! Brace!"
Not really the words I wanted to be coming out of our hot air balloon pilots mouth as we descended towards earth.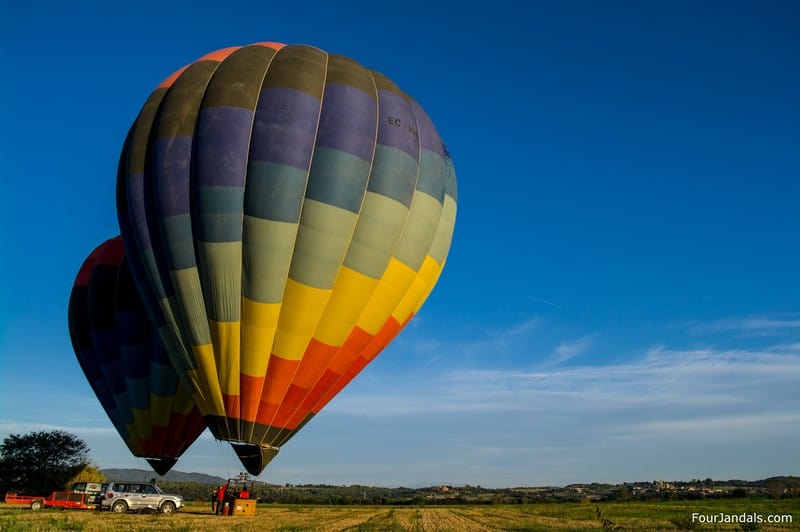 Even though I have always wanted to go hot air ballooning, I have not pushed it. You see, while Adela is not a fan of being underground, I hate being above ground. High above ground that is.
I don't do heights very well.
So how did I find myself on a crystal clear summer morning above the stunning Costa Brava coastline? Being told to "brace" as we descended towards a tiny clearing between trees and cornfields?
Hot Air Ballooning in Costa Brava, Spain
Rising before dawn is usually not a problem for me. I love sunrises. Even being told we have an awesome travel adventure high up in the sky doesn't faze me this early.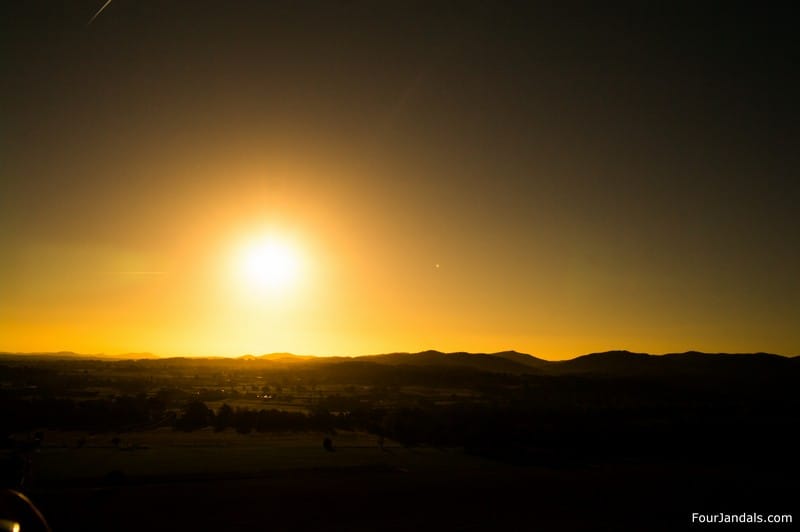 It is not until we are actually watching the balloons be filled with scorching flames that I begin to worry a little bit. How is a little bit of hot air meant to hold 10 full-grown adults up 1,000 meters in the sky? Not to mention 10 adults that have been gorging themselves silly on food and drink for the past week.
Climbing into what can only be described as a fruit basket for humans, I begin snapping away with my camera to avoid looking anyone else in the eyes in case they see my fear.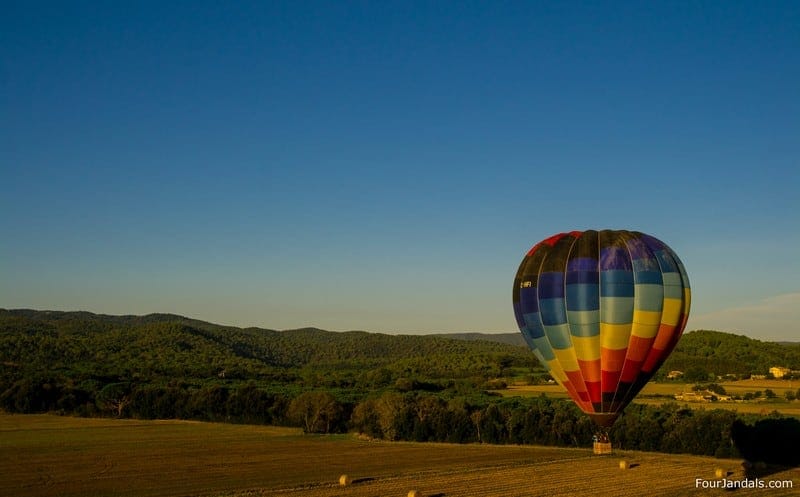 Pulling my eye from the viewfinder I quickly realise we have already drifted several hundred meters above the ground. I was so pre-occupied that I didn't even notice how gently we had taken off.
Maybe it has something to do with the sunrise peaking its blazing head above the Costa Brava skyline. Or the tight space we have managed to all squeeze ourselves into. Or maybe it is the extreme stillness and quiet between bursts of flame.
I realise it is not that bad up here. I am even breathing normally and able to look over the edge of the basket.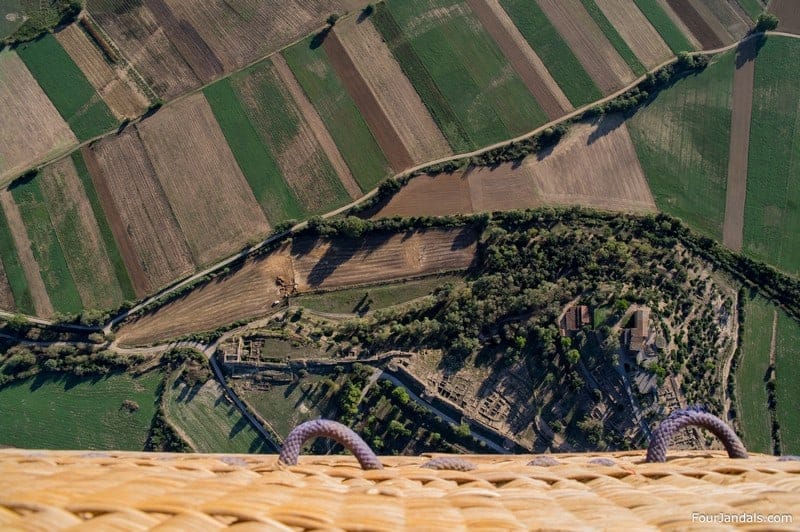 Okay, maybe not such a good idea.
But I am able to gaze into the distance towards the Pyrenees and across the stunning Costa Brava landscape. Farmland and Medieval towns drift silently below our feet. People go about their daily lives without even realising we are drifting above them.

In fact, it is not until we are starting to descend that the irrational fear begins to take hold again.
Our Spanish speaking pilot is gesticulating to our guide and interrupter that we are all meant to be doing something important. They both give nervous laughs before falling silent again.
Okay now would be the perfect opportunity to have finally learnt a second language like I promised myself at the beginning of the year.
Turns out that since we basically have no steering ability we are at the winds mercy. And with the coastline rapidly approaching it is time to take this contraption down to earth.
"Brace! Brace! Brace!"
Eyeing up the only clear patch of earth within a mile, our pilot is all business. The trees and houses that looked like miniature toys just a moment ago suddenly loom large directly in front of us.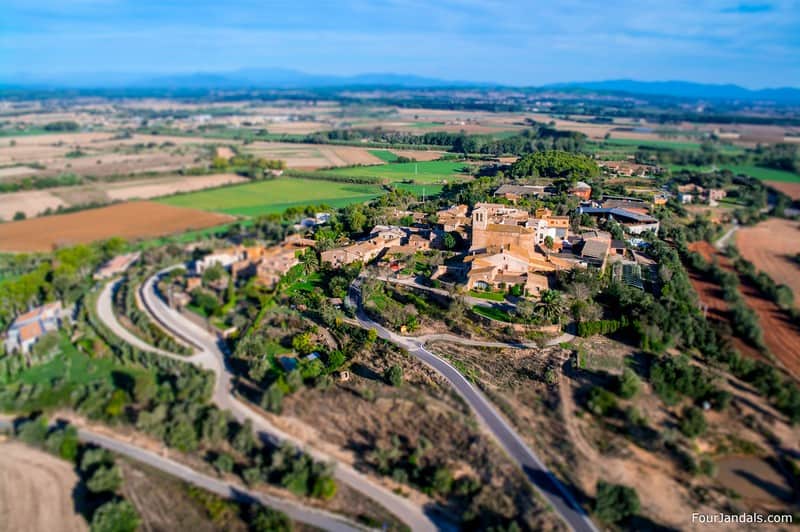 Instead of gently floating down in replication of our takeoff, we are drifting along quite quickly thanks to the wind picking up speed in the last 10 minutes.
My knuckles turn white as we brace our knees and back against the flimsy wicker basket.
And even though the command to brace is just a pre-caution, we still manage to bounce hard 3 times before settling down. A laugh escapes my lips as the tension eases from my muscles. And from the looks on the others faces, I am not the only one to be relieved we are back on solid earth again.
I had done it. I had conquered my fear.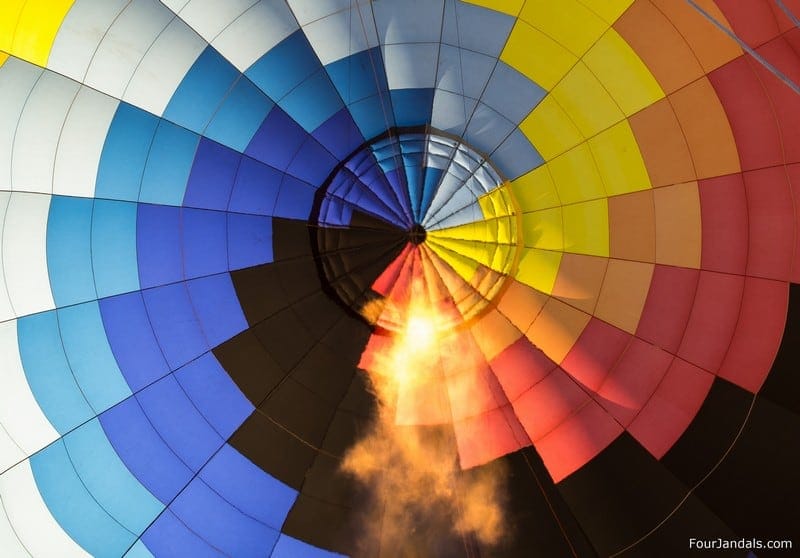 And if I ever get the chance to go hot air ballooning ever again, then I would jump at the chance.
I want to give a huge thanks to our incredibly talented pilot from Globus Costa Brava for taking me on a ride that will be forever remembered. And of course the extremely wonderful team at Costa Brava tourism board for helping me face my fears by organising the hot air ballooning in Costa Brava, Spain.
This is a post from a series called Facing my Fears. It helps us to step outside our comfort zone, in comfort. Check out the rest of the series here.
Disclaimer: I was a guest of the Costa Brava tourism board, but as always our fears, stories and photos are all our own.
Do you have a fear of heights or another phobia? How did you face your fears?