48 Hours In Bruges
We recently spent 4 days enjoying the Christmas festivities in Belgium and spent 48 hours in Bruges checking out the fairy tale city.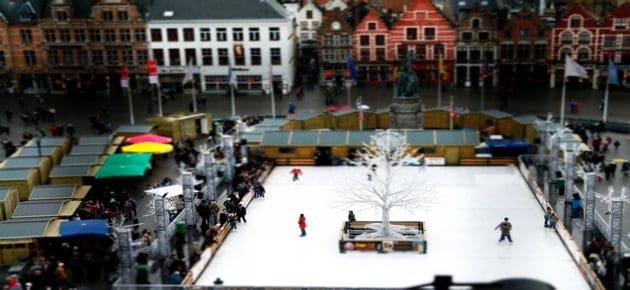 Maybe that's what hell is, the entire rest of eternity spent in fucking Bruges – (Ray, Colin Farrell, In Bruges)
Sorry Ray, I have to disagree.
Bruges is a fairy tale.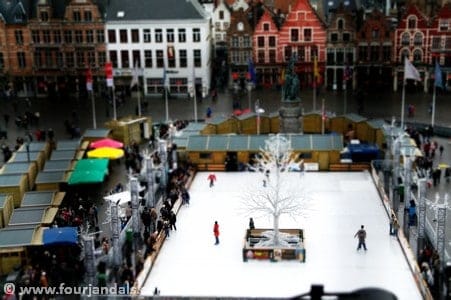 The only problem is that the historic city centre is overrun with tourists. There are just 20,000 residents living in  this section of Bruges and on a busy day the tourists far outnumber them. You can see why the locals get pissed off at tourists wandering into their path as they cycle around the city.
Everywhere we looked we were confronted with people from the UK. And they all had the same idea as us… Christmas markets.
We specifically chose to spend 48 hours in Bruges for the Christmas Markets (and Belgium was a country we hadn't been to yet). While the Edinburgh markets are great, we wanted to experience a "genuine" Christmas market. However I think we were kidding ourselves in assuming it would be any different. Same wooden booths, same lights, same gorgeous smells wafting through the chilly air and the same people.
Don't get me wrong. We loved every minute of it. But if you are looking for a traditional Christmas market then you might as well head down to your local one.
So while the markets were a disappoint, Bruges was anything but.
The walled city centre is a World Heritage Site of UNESCO with a canal system dissecting Bruges into small pockets of one way narrow streets and lanes. We love small cities that can be covered on foot or bike and Bruges ticked all the boxes with pedestrians and cyclists dominating. Unfortunately Bruges is not yet completely car free although it is in the pipelines so watch your back as you stroll around.
With all the canals Bruges is often referred to as "The Venice of the North" but is also well known for its chocolate, beer and lace. I definitely like 2 out of the 3.
Our hostel was set along half a block with their own bar (no surprise there) so it was quite a scene. On arrival we were told by the Aussie at the counter that we were sleeping directly above the bar! All this with a smile and thumbs up. Being a group of Aussies and Kiwi's I guess we were supposed to be stoked…
Exploring our room further we quickly realized that not only were we above the bar but we could see between the floorboards to the bands heads! Even with several glasses of mulled wine and Belgian beers to help we knew there would be no sleep tonight so Adela used her persuasive powers to get us moved.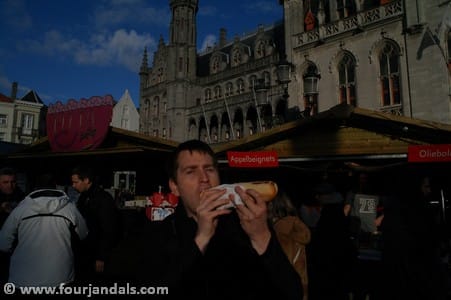 Venturing into the heart of Bruges with foot long bratwursts in hand we wandered through the Christmas markets. A beautiful area that was located in the central square surrounded by historic buildings and overlooked by the Belfry tower made famous from "that" movie. With 366 stairs to the top it may seem daunting but every 50 or so steps your climb is broken by a landing. The views at the top also made it worthwhile. Overlooking the city you get the sense you could glimpse the rest of Europe stretching away to the east.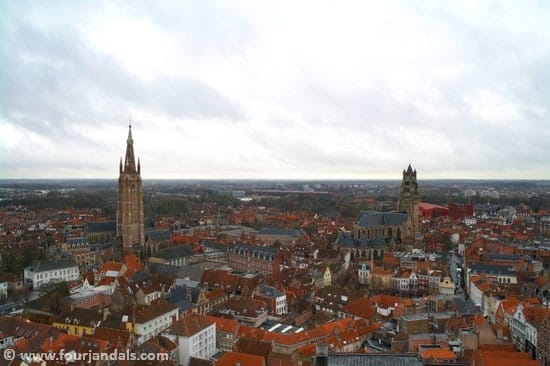 The only problem is that you don't want to hang around up there too long. The bells rang loud and true and never seemed to cease. And boy were they deafening.
What amazed me is that they don't just plug in an iPod and let it play. They actually employ some bloke with a fancy name, a Carilloneur, to play on the wooden hand keyboard. He must love his job to climb those stairs every day. You can actually watch him through his little window about 3/4s of the way up bashing out the latest hits from Lady Gaga. Okay the Lady Gaga part is fake but he does play with great gusto.
Mercifully the lines were not too bad so we were in and out relatively quickly. We had heard reports that you can stand around for half an hour or more waiting to gain entrance.
Walking the city streets and canal banks you don't want to carry a map. Our favourite part of the trip was spent wandering the maze of alleyways away from the tourist hordes. Stumbling upon hidden cafes and bakeries makes up for hours you will spend enjoying the simple surrounds.
And for a quick day excursion from Bruges hire yourself a bike and ride along the canals out of the city in any direction. We ventured out to Damme which used to be the port for Bruges. While you may not be able to spend hours here it is nice to get out of the hustle and bustle.
To top it all off, at night the city looks like a Roman candle with the buildings draped in decorative twinkling lights. Swans drift lazily under the spotlit bridges that zigzag across the canals while couples stroll hand in hand huddling close together to stay warm from the winter chill.
While two days were plenty long enough I wouldn't mind spending the rest of eternity chilling out In Bruges.
How can this really be hell Ray?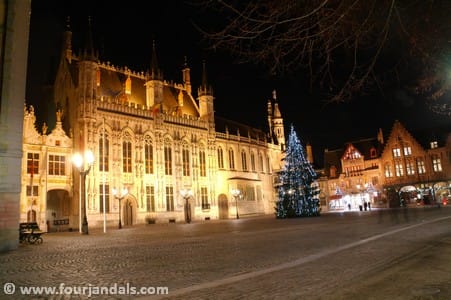 Amsterdam Food Guide
If you think of Amsterdam you don't think of food. However if you try the food here in our Amsterdam food guide you might get lucky.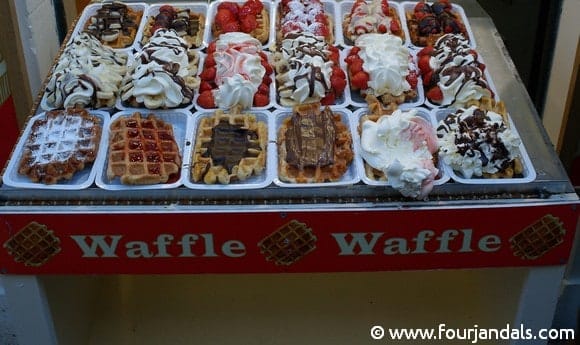 We are total foodies and our travelling has allowed our passion for food to grow considerably (not to mention our waist lines)!  We love trying new food when we visit foreign countries and always make a huge effort to eat the local cuisine. Check out some of the food we ate below in our cheap and delicious Amsterdam Food Guide.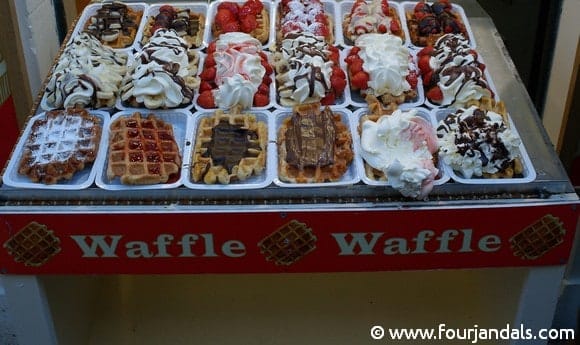 We had heard from a number of people that the Amsterdam food was nothing to rave about. To be honest food was not really our main interest in visiting but then again neither was an Amsterdam Peep show and we ended up enjoying that!
However we were pleasantly surprised. I think the people whom we had talked to had it wrong. Sure Holland doesn't really have a local cuisine but once we got over this fact we realised there is still some damn good food to be had from the various Amsterdam Restaurants.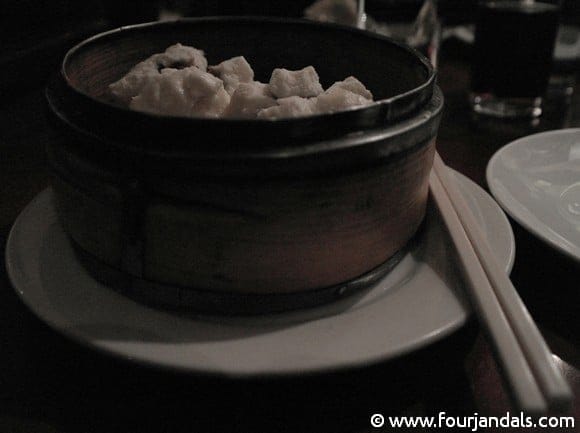 The best meal we had was actually next door to the Red Light district in Chinatown. Crossing the canal to the east away from the neon lights your nostrils are attacked and your mouth begins salivating from the delicious smells wafting along the narrow cobbled streets.
As we walked into Bird Thai restaurant the enticing aroma hit us instantly leaving us drooling in anticipation. It was definitely up there with some of the best Thai food we have had. We went for the classic Green curry, fried rice and duck combo.
The Green curry was so flavoursome with the richness of the coconut milk blending perfectly with the traditional spices.  The duck was cooked to perfection and for the first few minutes of the meal all you could hear was the crunching of the crispy outside layer as we devoured the duck in minutes. Needless to say the fried rice was a taste explosion too!
Cheap and delicious Amsterdam food is easy to come by. With hangovers and munchies affecting your hunger it is no surprise that there are an abundance of Fast Food chains and takeaways in Amsterdam. In fact it was actually more the way that the fast food was served that surprised us as you could buy it out of massive vending machines at Febo!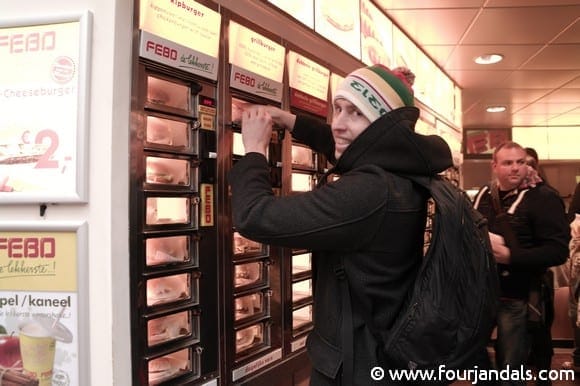 Hidden workers stand behind the vending machines churning out burgers, fries and sausage rolls so all you has to do is insert a Euro and "hey presto" you have a hot meal in your hungry hands.
Then there were the frites stores which seemed to be on every corner. The first thing you noticed about these was the tantalising smell. There is nothing like the smell of chips straight out of the fryer and covered in salt to get you tummy rumbling. Served in a triangle cardboard carton and covered in mayo which meant that that you couldn't reach the chips at the bottom without covering your greedy fingers in sauce. Just a tad annoying!
But there is nothing like hot chips to warm you up on a cold day.
Finally, while hot chocolates are not typically food I feel they still deserve a mention especially because the usually come paired with waffles! Ahhhh the perfect breakfast.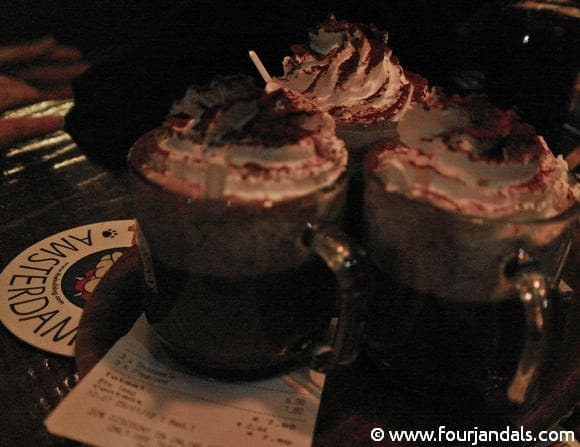 We loved nipping into a cafe or bar like Cafe Bar Eddy in Amsterdam to warm ourselves up with a hot chocolate. It literally tasted like they had melted chocolate down and added cream. Heaven in a cup. And the choice of waffles was daunting as you could have whatever you wanted. Fruit, chocolate, syrups, cream or all of the above!
If you are heading here then don't expect to find an array of traditional Amsterdam food. Instead treat yourself to a hot chocolate and waffle for breakfast, grab a quick bite from a vending machine and sample some of the different cuisines found near the Red Light District.
If you stick to this Amsterdam food guide then your taste buds will have a great holiday too!
If you have visited before then what did you think of Amsterdam food?
How to smoke weed in Amsterdam
Check out our guide for the first timer in Amsterdam visiting a coffeeshop.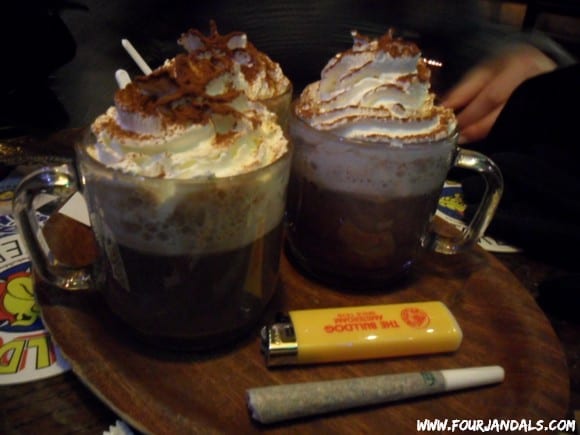 Before getting started I just want to clarify that we are not drug users. We don't condone using illegal drugs. And we are not telling you to go and smoke weed in Amsterdam. BUT, our goal of this travel blog is to help advise, educate and provide travel tips for ALL situations. So if you are headed to Amsterdam then we hope our guide to smoking weed in Amsterdam will help you out.
And check out this smoker friendly accommodation for your next trip.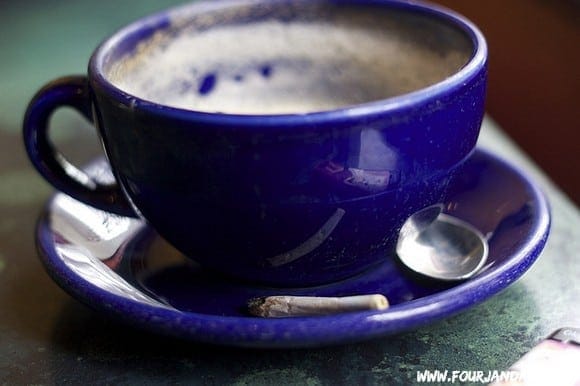 When you tell people that you are visiting Amsterdam then they immediately think of one thing and one thing only. Weed. Dope. Herb. Buds. Spliff. Whacky Tobbacky. Pot. Marijuana. Cannabis. 
Call it what you will but just know that the biggest name for it is "ILLEGAL".
Yes it is actually illegal to smoke weed in Amsterdam. But for now the Netherlands government do tolerate smoking in designated "coffeeshops". This is slowly changing as the Government tries to moderate the tourism drug trade and in 2013 there will be new laws which we won't go in to now as they are continuously changing.
In the meantime if you obey the rules, are not a moron and use our guide to smoking weed in Amsterdam then you are going to be fine.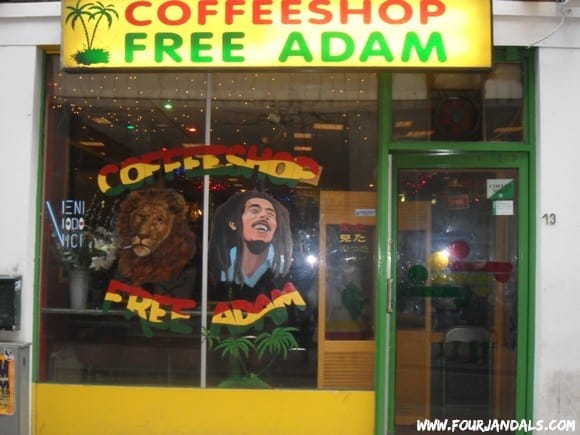 How to smoke weed in Amsterdam
Don't smoke weed in Amsterdam in public such as on the streets. There are over 300 designated coffee shops where you are tolerated to smoke weed. These places are regulated and everything is done in the open.
Don't get confused and try to smoke in a koffiehuis (coffee house) which sells coffee and light meals or a café that is a casual restaurant and/or bar.
The coffeeshops are super easy to spot with marijuana leaves in the windows and Bob Marley paintings on the doors. Not to mention the smell wafting through the cold breeze. There will also be the usual tourists that have stupidly over-indulged and are glassy eyed.
We visited one of the five Bulldog coffeeshops when we were in Amsterdam and had no complaints. We even enjoyed a delicious hot chocolate while we were there!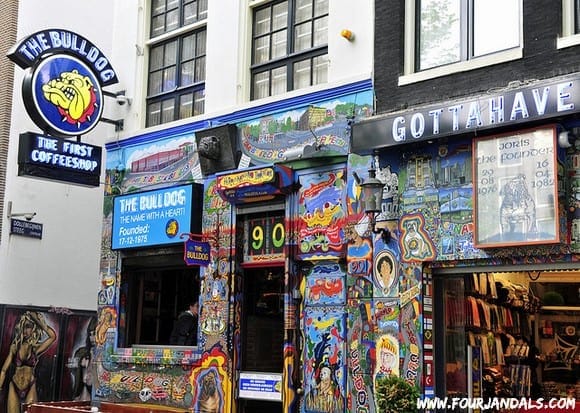 Buying weed in Amsterdam
As long as you are over 18 then you will be allowed to buy up to 5 grams of weed in the regulated coffeeshops. Plus you have the added security knowing that your marijuana is not going to be laced with anything else if you are attempting to buy it off someone on the street. And who knows, they might be setting you up to get busted.
We were (and are) total amateurs and had no idea what to do once we actually stepped foot in the coffeeshop. But quickly sussed it out. There will generally be a "dealer bar" with full menu's and everything for you to choose. So if you are an expert you will probably know what to order! Prices will of course vary by quantity (grams, bags, individual joints) and quality.
For a beginner ask lots of questions. Don't be shy like we were. Ask the staff what they recommend and what effects each type has. They will know then that you are a newbie and will guide you. Just know that they are very accustomed to tourists who don't know exactly how to go about the whole process.
What we found out is that it is actually perfectly fine for you to visit other coffeeshops and smoke weed that you have already purchased somewhere else. However, it is considered rude not to at least buy a hot chocolate or coffee if you do this. Coffeeshops do also have some of the best coffee in Amsterdam.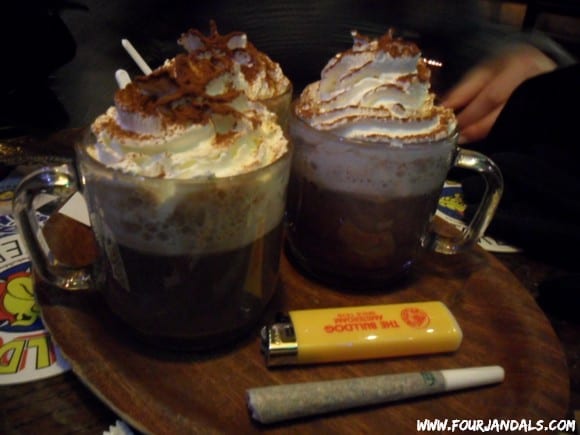 Don't be an idiot
Number 1 rule: Don't smoke too much weed in Amsterdam! Even if you are a pot loving hippie from a commune you are probably going to find the marijuana really strong in Amsterdam. Just take it slow.
If you are enjoying a drink as well then again take it easy with the booze. All the coffeshops won't sell you beer as well as cannabis.
EAT! Don't go drinking and smoking on an empty stomach as cannabis lowers your blood sugar level and this can turn a fun day into a disaster if you haven't eaten recently. Check out our Amsterdam Food Guide for some quick eating tips here.
A final word of warning, please watch out for the spacecake! Eating cannabis will knock you on your ass and is much stronger than when smoked.
Finally, enjoy yourselves and for goodness sake obey the rules, laws and customs while you are smoking weed in Amsterdam.
If you have an addiction to drugs then reach out and seek some help.
Check out these Weed Products for your next travel adventure.
Four Jandals Visits an Amsterdam Peep Show
Have you ever wanted to visit an Amsterdam peep show? We had the chance to go and embraced it with open arms. Check out our experience here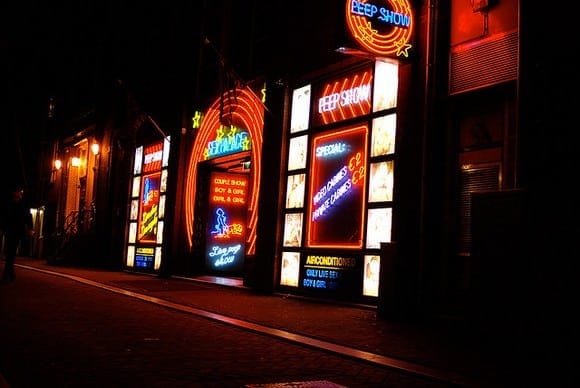 An Amsterdam peep show is a must, just like visiting the Eiffel Tower in Paris. Okay slightly different. But you have got to go!
And if you have ever wanted to visit Amsterdam then more than likely you are going to be interested in checking out a peep show in the red light district. It might be worthwhile checking out this Amsterdam's Red Light District – The ultimate guide.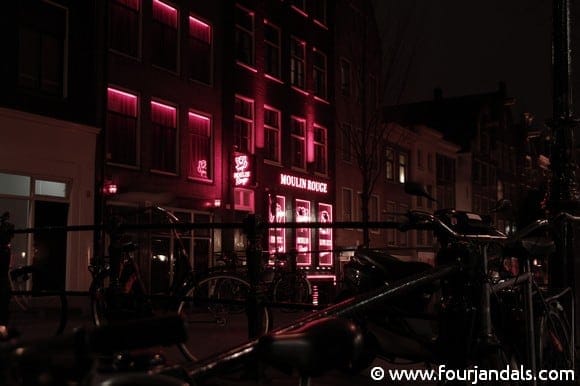 There is something about the red light district that draws the punters and tourists alike in. Maybe it is the bright red neon lights that illuminate the darkened alleyways that pull them in like moths to a flame. Or the bars and coffee shops that let a certain smell waft lazily across the glistening canals.
Or maybe it is just the fact that sex really does sell.
When we visited Amsterdam with a couple of friends we actually spent what I now consider an embarrassingly long time in that same area. The fact is that we seriously could not get enough.
Not like that of course!
We just couldn't believe that everyone is so open and carefree about what is for all intents and purposes, window shopping for sex. The number of guys knocking on windows and being ushered behind the curtains of every room were staggering.
However, we were not enticed ourselves to fork over $50 euros but were intrigued enough to want to check out an Amsterdam peep show. I just want to clarify here that it was actually Adela that was the most keen. I just didn't want to let her down so went along with it…
Visiting the Amsterdam peep show
Much to our surprise, there is only one Amsterdam peep show left in the whole city back in 2012!
The very originally named "Sex Palace" is situated on the banks of one of the main canals in the heart of the red light district on Oudezijds Achterburgwal street. Walking under the neon flashing lights into the entrance way your senses are assaulted by sights, sounds and disturbingly smell.
All around the walls are posters and screens showing ladies in various states of undress and positions. A white board lists the movies that you can rent out for your viewing pleasure in one of the many private booths. But we were only there for one thing:
The circular structure sitting slightly to the left of the entrance with a dozen small doors along it's walls. 
Each of those small doors lead into equally small rooms no larger than a traditional UK phone box. A small covered viewing window blocks your view forward.
The money box clinging to the wall to operate the viewing window only accepts coins. But don't worry if you only have notes as they handily have a large coin machine dishing out $2 euro coins for ease of watching.
Once you close the door and chuck in your money, the viewing window pops open for 2 minutes and allows you to view the large, slowly-rotating stage on which a scantily-dressed woman displays herself. With her flexibility she could have represented any country in the upcoming Olympics!
I was cracking up laughing the entire time I was in there because you can actually just make out the rest of the "audience" in the opposite booths. I even got a little wave and smile as the girl slowly revolved past my window.
The Amsterdam peep show was a little bit creepy. But even though we were there late on a Saturday night the booths were doing a roaring trade. Obviously nearly everyone else, from the hens parties to the couples, were there for the same reason as us. To check out one or two rounds before heading back into the night giggling like school girls at a sleepover at what we had just done.
The shifty eyed single men on the other hand skulked away to their respective viewing windows again and again with pockets full of coins.
If you ever get the chance then we actually do highly recommend taking the plunge and visiting an Amsterdam peep show. Just make sure that you are always respectful of the women in the shows and the ones on the streets!
Have you ever been to an Amsterdam Peep Show or Sex show? Tell us about your experience below.

We have been wearing out our jandals (Kiwi for flip-flops) on our travel adventures around the world since 2009. We think our blog is thought provoking and a little witty. But we have been proven wrong before. Find out more about us here...
What Are You Looking For?