Visiting Las Islas Cies in Galicia
A sailing trip out to Las Islas Cies from the coastal city of Vigo is a must to check out one of the arguably most beautiful beaches in the world.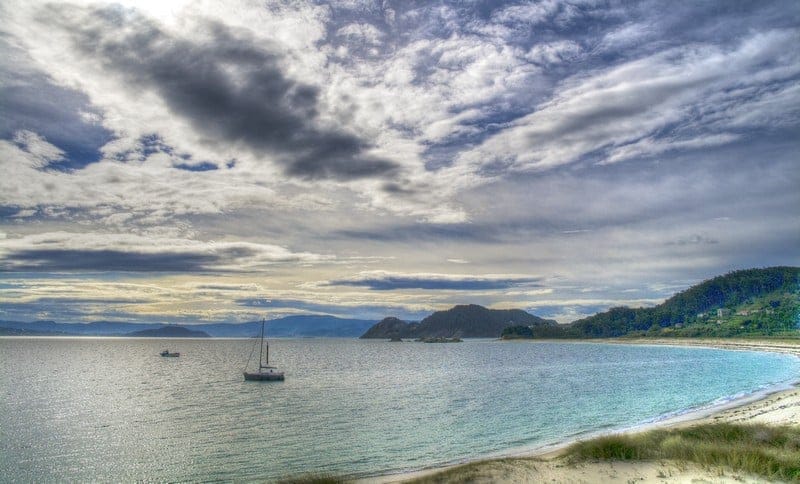 Las Islas Cies, or the Cies Islands, were once named as one of the top 10 beaches in the world by The Guardian newspaper. And after a recent sailing trip to the three islands near Vigo, we definitely agree that the beach is stunning.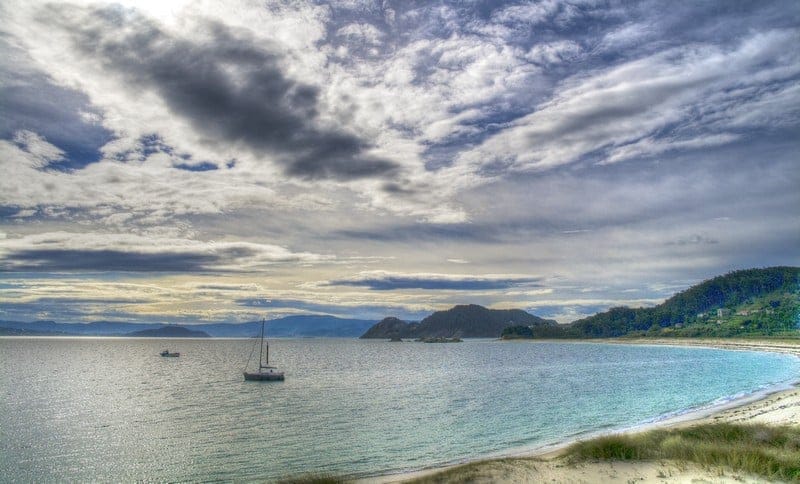 Las Islas Cies
Las Islas Cies is made up of three islands, Monte Agudo, O Faro and San Martiño, and are situated at the entrance to the Ría de Vigo off the coast of Vigo in the northwest of Spain. While a protected National Park, you are allowed to wander around on the islands of Monte Agudo and O Faro.
Although the only way to make it out to Las Islas Cies is to sail.
In summer a number of companies operate regular services, but due to the islands popularity, there are only a limited number of visitors allowed to step on to the pristine beaches everyday. And a maximum of 800 people per night are allowed to camp on O Faro Island in summer, so bookings are essential!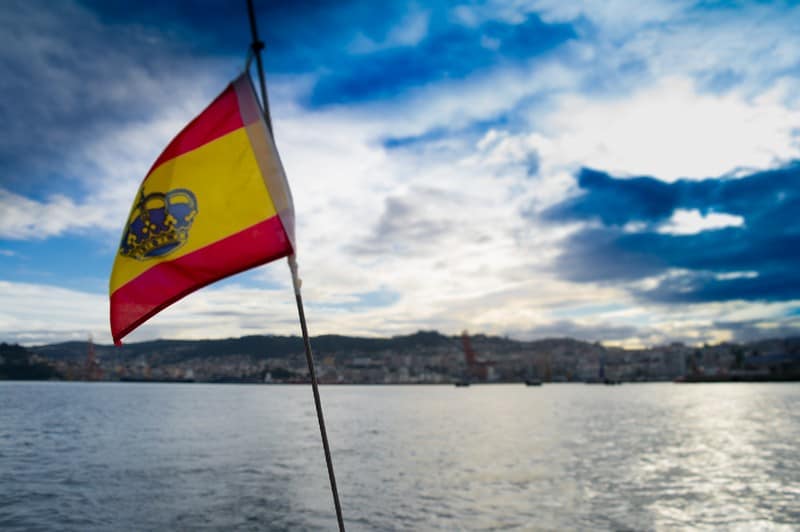 Sailing out from Vigo harbour.
On one of our mornings exploring Vigo as part of their new #VigoAlive campaign we joined the Sailing charter company Sailway for a relaxing cruise out to Las Islas Cies. Climbing aboard one of their 10m yachts we set out for the hour long trip across the harbour.
Spending the day sailing past the mussel farms and old light houses standing sentry along the shoreline is the perfect way to see more of the Galician coastline.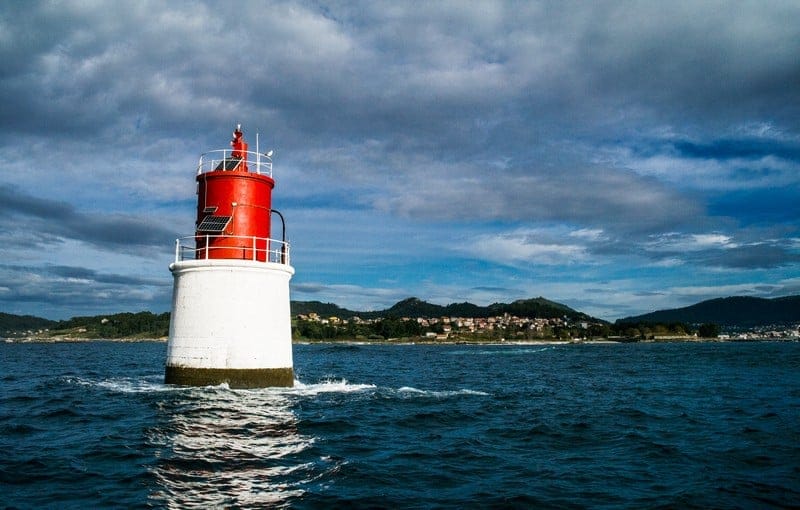 The only place to land at Las Islas Cies is on the island of Monte Agudo and as you get closer to the shoreline you begin to realise just why it was included as one of the top 10 beaches.
Walking up the gangplank you get your first proper look across the islands. Sunlight filters through the clouds and reflects off the white particles of sand and tufts of coarse grass protect the fragile dunes from eroding into the Atlantic.
Rodas Beach, the beach proclaimed as one of the top 10 most beautiful beaches, actually joins the two islands of Monte Agudo and O Faro islands via its curving length of golden sand. While the water was freezing in October, it is possible to swim and snorkel straight off the beach in the height of summer.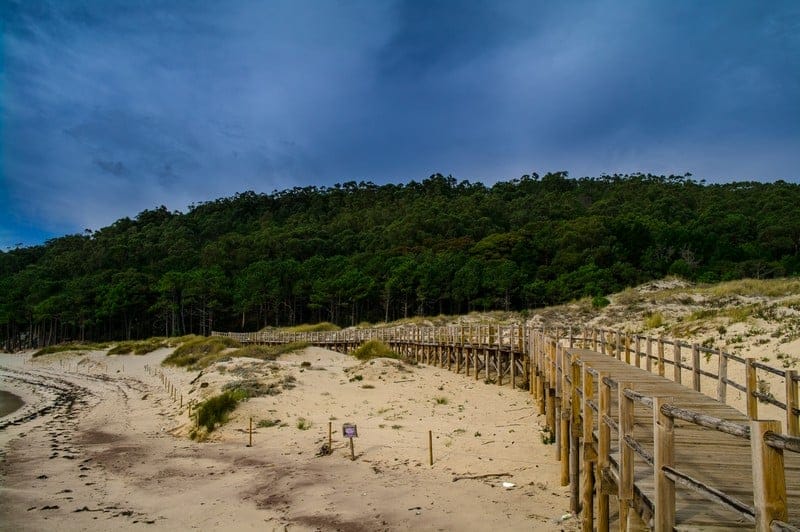 At each end of Las Islas Cies there are lighthouses which are easily accessible on winding walkways for the more adventurous explorers.
Strolling along the gravel path across the artificial roadway to O Faro Island we made our way up the zigzagging paths. Between breaks in the trees we could catch glimpses of the protected island of San Martiño to the south. On which only the remains of a few abandoned houses crowd the shoreline from a time when you were allowed to live there.
Now no one except for the Park Rangers are allowed to disturb the native birds nesting on the island.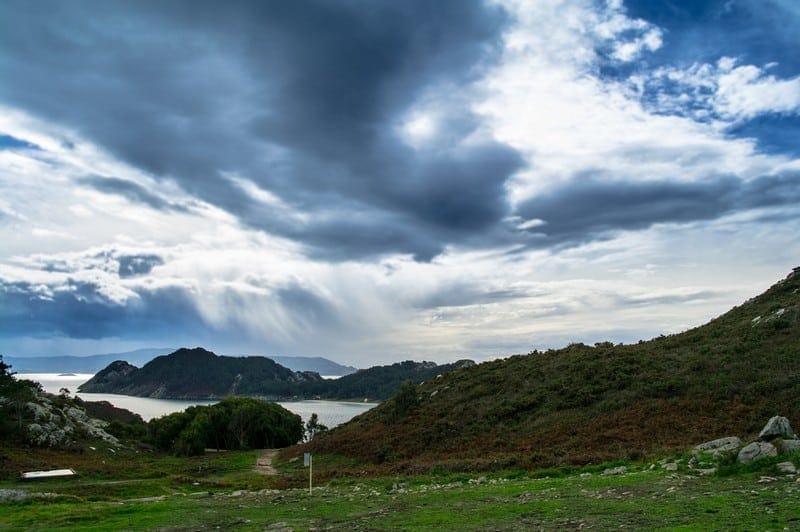 Views from O Faro Island to San Martiño Island
Pausing for breath at the top of Faro Island, we watched the birds cartwheel through the skies along the rocky outcrops. A sense of insignificance settled upon us as we gazed across the icy Atlantic Ocean. If you decided to dive in here and start swimming, then the next outcrop of land you stumbled upon would be somewhere in North America.
With so much empty space between the two continents you can only imagine how the waves have changed the landscape over the past millions of year. And how it will change in years to come as the deep turquoise water still churns to white around the base of the three Islands.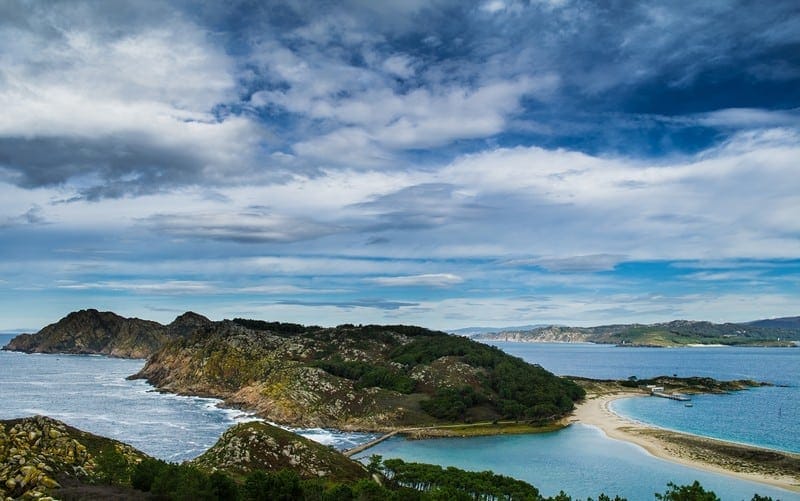 View from Faro Island back across 
As the sun swept low across the ever darkening sky we raced the rain back to the shelter of boat.
The sky began to drizzle and a rush of adventure and excitement filled us as the increasing winds snatched at the sails. The weather threatening to send us on a wild journey should we loosen our hands on the wheel.
But as we drew closer to Vigo and back to civilisation it seemed the further we were from relaxing. I could definitely get used to wandering the deserted paradise of Las Islas Cies and becoming the next Robinson Crusoe.
Expert Travel Information for Las Islas Cies:
Languages:
Many people don't know that the main language in Galicia is not Spanish but actually another language called Gallego. However, just about everybody also speaks Spanish, so it's still a good idea to brush up on your Spanish before coming.
Where to stay?
Check out the AC Hotel Palacio Universal if you would like a relaxing Hotel in Vigo. Nice and close to the harbour to visit Las Islas Cies easily.
What to do?
Sail out to the gorgeous Islas Cies of course! Check out the Sailway Facebook page if you want to learn a little bit more about them.
How to get there?
Unfortunately Vigo airport is quite small. But there are lots of flights into Madrid which is only a 50 minute flight from Vigo.
Helpful Travel Guides to use in Vigo and Spain:
Disclaimer: We were guests of the Vigo Tourism Board on the trip to Las Islas Cies. Although our photos and thoughts are always our own.
Perfect Your Car for an Offroading Adventure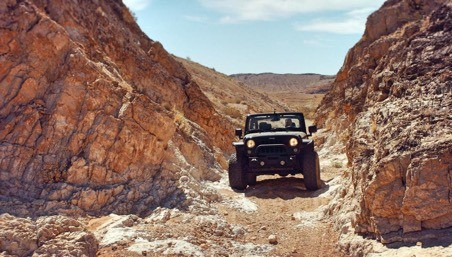 There is something awesome about offroading – the ability to just drive is so freeing it can get addictive! But if you don't want to get stuck or find yourself in a jam, you will need to make sure that your car is properly equipped to handle the terrain in front of you.
Road trips are the best way to discover what the wild has to hold and travel beyond the safety of the city. There is so much land to explore and so many opportunities to get back to nature that you just can't pass up a road trip when it comes along. Wherever you plan to go, here are the things you should never be without.
Car Snorkel
It sounds weird, but it does work exactly like a regular snorkel and allows you to take your car through deeper ravines without messing up the engine or exhaust. Airflow 4X4 Snorkels are great models to try and you can use their CAD templates to double check your measurements.
Even if you aren't planning to cross deeper water, having a car snorkel ready is perfect for a spontaneous change of route or if the weather takes a turn and there is a lot of water to deal with all of a sudden. It's also good to have when you find that you are going through a lot of mud.
The Right Tires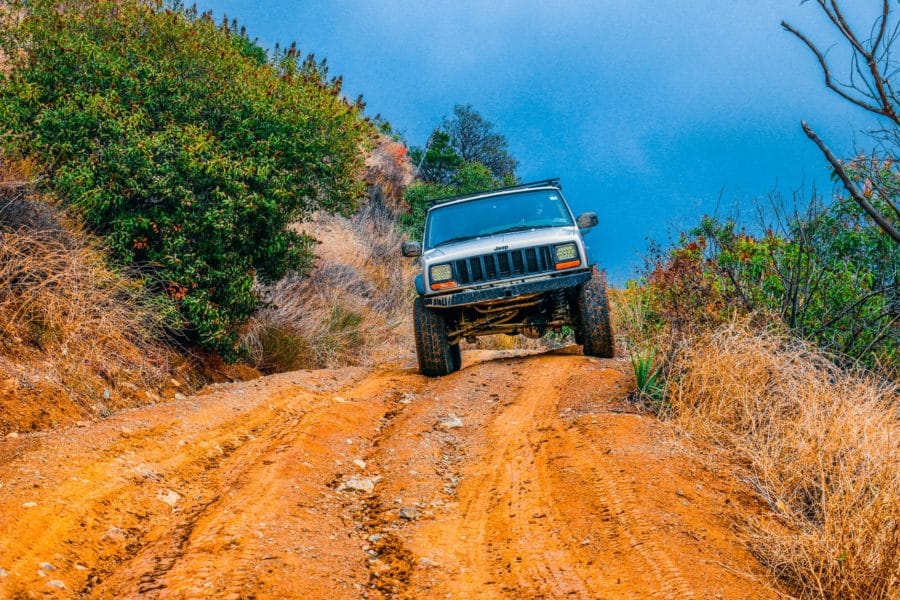 Depending on the terrain you plan to drive on, you will need to make sure your tires can handle it. Regular tires are just made for fairly smooth tarmac so if you want to go anywhere that doesn't have a road like that, you will need to step up your game and have a look at an off-road tire guide to see which is best for your trip.
Getting the right tires is important because you need to have enough grip on multiple terrain types to get to your destination. You also need to make sure that the car is stable while you drive so you aren't going to put your back out going over a bump. The better suited your tires are to different terrains, the more comfortable your trip will be and the safer it will be too.
Storing Extra Fuel
When you are far away from anywhere, fuel stations are, obviously, few and far between. This means that you need to think carefully about how much fuel you will need as running out in this environment is extremely dangerous. You could think about installing a long range fuel tank or bring jerry cans of fuel just in case.
Whichever method you choose, you need to make sure that you have enough plus spare to get to your next fuel stop. However, do remember that your vehicle will be weighted down with all your food and water as well as your clothes and whatever else you want to take. This means that you will go through fuel a bit faster than normal – especially if you are using your car battery to cook.
The Best Destinations For Sun, Splendour, And Sightseeing
Whilst an explorer should be seeking eye-opening experiences on his or her travels, there's no denying that a healthy dose of sun helps to make the adventure a little more enjoyable. There are heaps of cold destinations (Greenland, Russia, and even England) that are visually stunning and a lot of fun to explore, but we're going to talk about some of the hotter places on the planet that have a lot to offer in terms of sightseeing. You might as well have the perk of sunshine and warm weather whilst you're exploring the world, right? After all, there's no reason as to why you can't relax during a big excursion. That being said, you need to find some destinations that meet all the criteria we've mentioned. If you've no idea where to go on such a travelling experience then you should check out these top destinations for sun, splendour, and sightseeing.
California, United States.
California fits the bill perfectly when it comes to a place that promises endless sunshine and a lot of things to do. There are many beautiful places to visit in the U.S. that promise sunshine and adventure, but this state is a common favourite for both domestic and international travellers. And there's good reason for that – we'll prove it to you. First of all, no tour of this gorgeous state is complete without a visit to Los Angeles. The city of L.A. is unlike anywhere else in the world. You should start by exploring Hollywood, as it's something that everyone should do once. You'll get an intriguing look into the world's most famous films and actors behind the veil – and the Hollywood Hills are worth exploring for a look into the natural beauty surrounding this area. But once you've seen the intriguing truth of this surreal place, you should head into the heart of L.A. You'll feel as if you've entered a different world. Whether you head to sunny Venice Beach or the busy downtown area, there's so much to do. Find the Grand Central Market if you want a quirky L.A. dining experience; there's often live music to go with the food. And this is only one city of many to explore in the sunny state of California. Make sure you had to San Francisco too.
Victoria, Australia.
If you want a real adventure in one of the sunniest places on earth then you need to visit Australia. It's a huge and incredibly intriguing country with desolate uninhabited areas and dense cities that are heaving with people and things to do. The land down under finds the perfect balance when it comes to a destination that promises both natural beauty and lively culture. Whether you want to explore vast unexplored wilderness or a glitzy modern city, Australia has it all. The state of Victoria in the south-east is definitely the best place to start your journey, though. You should head to the Great Ocean Road for a journey that's both scenic and historically relevant (the road is the world's largest war memorial). You'll get to see the Twelve Apostles along the way (ginormous limestone stacks that have become an iconic landmark in their own right) and the bewilderingly beautiful towns of Port Fairy and Portland. You'll even have the opportunity to see whales and other fantastic sea life if you pay attention to the ocean at your side.
But the natural side of Victoria is only the very surface of what this state has to offer. You can expect sun and sweltering wherever you go and whatever you do in this massive state, but you probably want a little more than that out of your adventure. After all, you've travelled to such an exciting part of the world. This isn't any ordinary beach holiday. You should head to the city of Melbourne if you want to see the vibrant and lively side of this state. The capital city boasts such a powerful modern-day and historical culture. You should visit The State Library of Victoria and head into the La Trobe Reading Room if you want to see both mesmerising architecture and a fascinating place. The Princess Theatre also boasts sublime architecture and a whole heap of wonderful performances to enjoy once you step inside. Once you've had your fill of culture and entertainment in Melbourne, you should definitely try some of the fantastic cuisine that the city has to offer. Check out www.vamos.net.au if you like the idea of eating at a tapas bar in Melbourne's theatre district. This is just one example of a dining establishment that is influenced by cultures from around the world. The point is that Melbourne is one of the most fascinating places to visit in the state of Victoria. If you want a diverse and extensive experience of Australia with the perk of near-permanent sunshine then this is the place to go.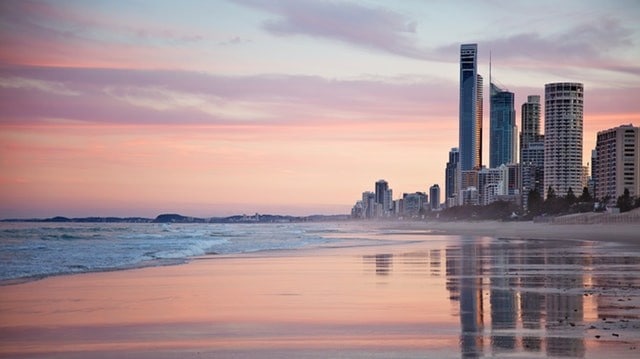 Barcelona, Spain.
You can't explore the sunny cities of the world without visiting Barcelona. It's not only a sunny and vibrant city – it's a sunny and vibrant Spanish city. The culture that pours out of every building is part of what makes this city such a beautiful place to visit. As explained over at www.traveller.com.au, the work of Gaudi is part of what makes Barcelona so stunning. This famous Spanish architect designed so many of the unique aspects of the city. In fact, La Sagrada Familia is a gargantuan church that he designed and it's still being built today (nearly a century has passed since his death). As suggested over at www.tripadvisor.com.au, you might want to take a private tour of the city if you want to get a full experience of the place.
The Kruger National Park, South Africa.
Whilst it's not a continent that tourists explore as extensively as some other regions of the world, Africa boasts a lot of natural beauty along with sweltering heat. And the country of South Africa is definitely a fascinating place to visit if you're looking for an enriching and educational experience combined with the chance to see some visually awe-inspiring sights. The Kruger National Park, in particular, is one of the most beautiful locations in the country. We've discussed it before, but it's worth discussing again. If you want to see stunning animals in their natural habitat then this is the place to go. There's something about seeing cheetahs, giraffes, monkeys, elephants, and many other stunning creatures in their natural habitat that fills you with a sense of elation. It's an incredible experience.
Tips That Will Help You Make More of Your Trip To Thailand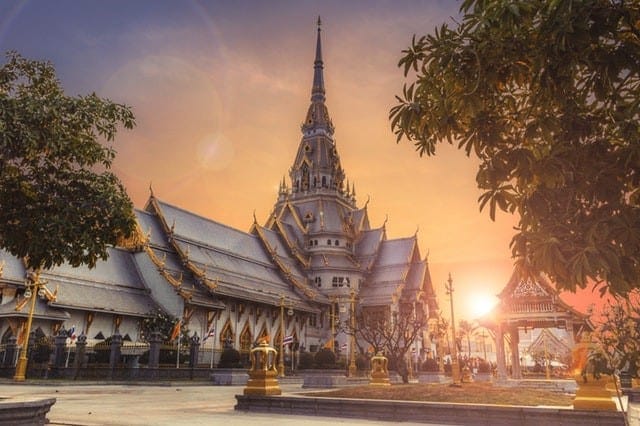 Are you thinking of taking a big trip to Thailand this year? If so, you need to learn a bit more about what you should do and what you should expect when you eventually get there. There's something for everyone in Thailand; it's that kind of country. But making the most of it and knowing the key attractions and ways to spend your time is important, so read on to learn about this and more.
Remember, You'll Get Further When You Smile 
Manners matter a lot in Thailand, and there are certain things you should never do. Pointing at people with your foot is seen as a sign of disrespect, as is touching another person's head. So make sure you don't do that. You will probably notice that Thai people smile a lot, so you should do the same. Being positive and smiling when you meet new people will help you go a lot further.
Explore the Markets and Don't Forget to Haggle
Markets are a big deal in Thailand, and experiencing them for yourself is something you won't forget. There are the conventional markets that are very loud and busy, and there are also floating markets that are navigated by boat, as you can see below. Whichever type of market you visit, soak in the atmosphere and don't forget to haggle because it's expected of you.
Sample the Street Food, But Do So Carefully
Street food is abundant in Thailand, and it can help you to get a taste of the real thailand by eating what the locals eat. As you walk through the streets, the smell of the street food will hit you first, but before you tuck in, make sure you take care and eat safely. Seek out food that has been cooked freshly in front of you and not the food that's been left sitting around.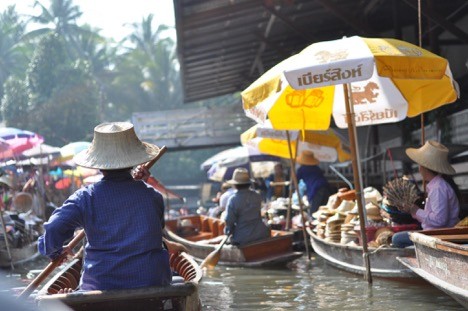 Find Time to Relax and Slow Down
Thailand can be a fast-paced and overwhelming place to visit, but you can't let it get the best of you. If you want to experience the country to the max, you need to find time to relax and slow things down a little. The Shiva Samhita is a classic Thai text on yoga, so maybe you should take some inspiration from it and find time to do some yoga. You'll find plenty of courses there to help you.
Don't Miss the Nation's Many Beautiful Temples
Thailand's temples are not to be missed. Anyone who's interested in religion, spiritualism or beautiful architecture can't help but be astounded by the temples that are found throughout Thailand. No matter what point of the country you find yourself in, you're sure to find incredibly buildings like the one you can see below. So make time to see as many of them as you can.

We have been wearing out our jandals (Kiwi for flip-flops) on our travel adventures around the world since 2009. We think our blog is thought provoking and a little witty. But we have been proven wrong before. Find out more about us here...