Autumn in Oslo, Norway – Photo Essay
While the weather may not be the best in Autumn in Oslo, the changing of the seasons can be a photographers dream. These are our favourite photos.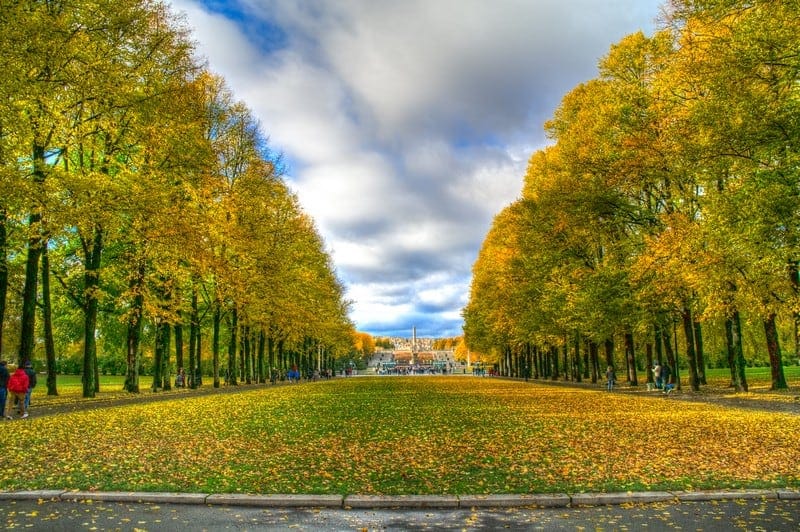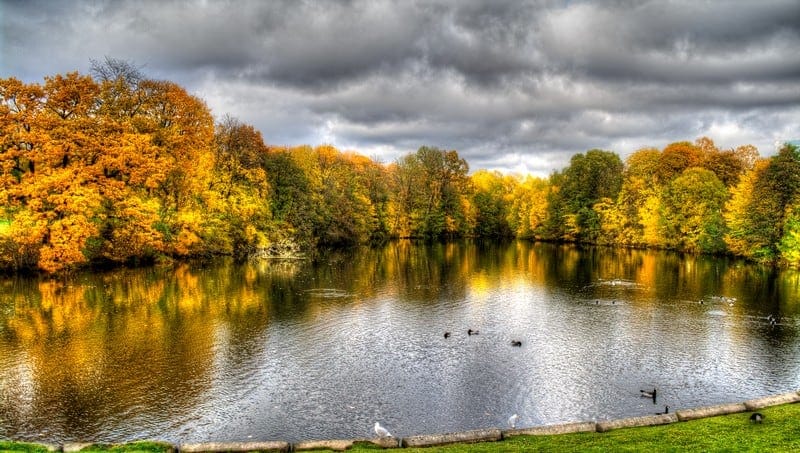 Vigeland Park reflections.
While the weather may not be the best in Autumn in Oslo, the changing of the seasons can be a photographers dream. As we begin to rug up, hiding away from the elements, Mother Nature decides to tease us outdoors with one last hurrah.
Green leaves are speckled yellow, while red and orange fight it out to see who can hang on the longest. Even brown has never looked better than when splashed haphazardly through the trees. Huge expanses of grass are strewn with leaves, ready to be kicked by kids winter boots.
While we were out exploring Oslo with the Oslo Pass, the clouds overhead grey and gloomy, we managed to catch the last few days of Autumn before the branches shook themselves clean and slept the winter away.
Autumn in Oslo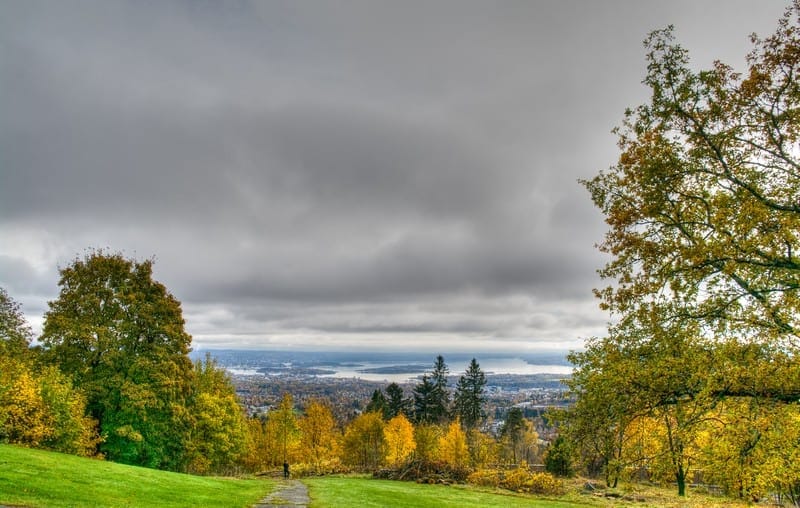 The view of Oslo Fjord from Holmenkollen Ski Jump.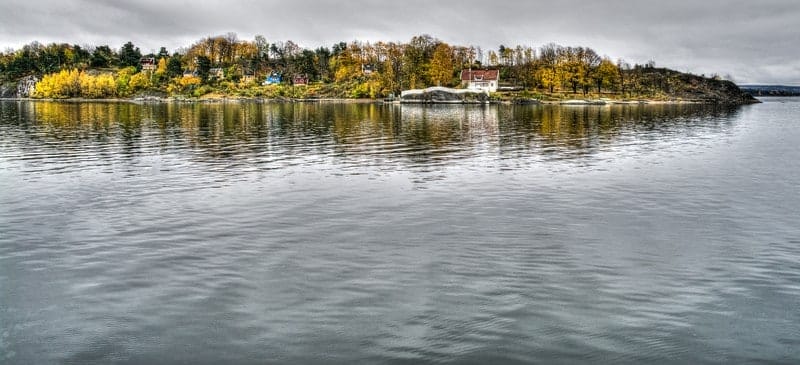 Sailing past the hundreds of Islands in Oslo Fjord.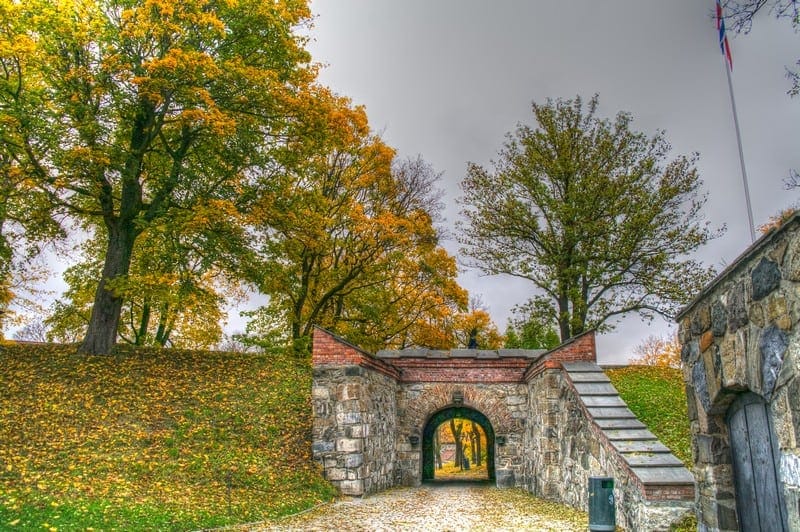 A guard marches atop Akershaus Castle battlements.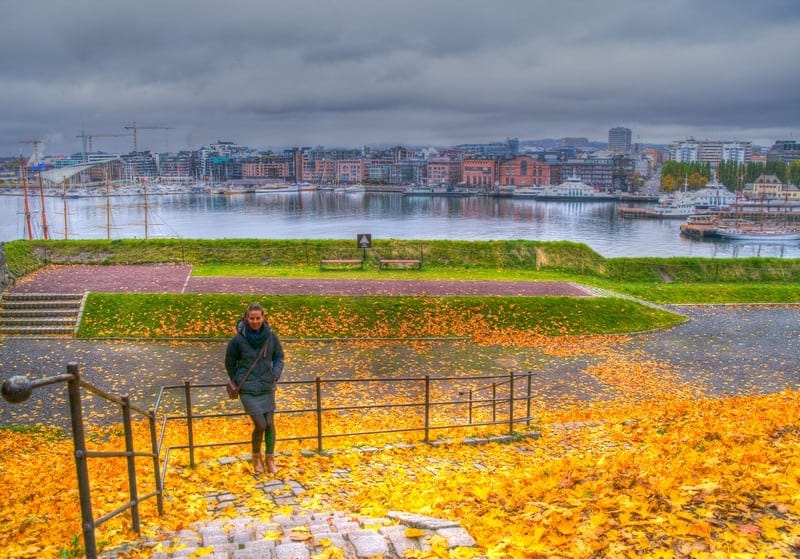 Oslo Harbour from Akershaus Castle.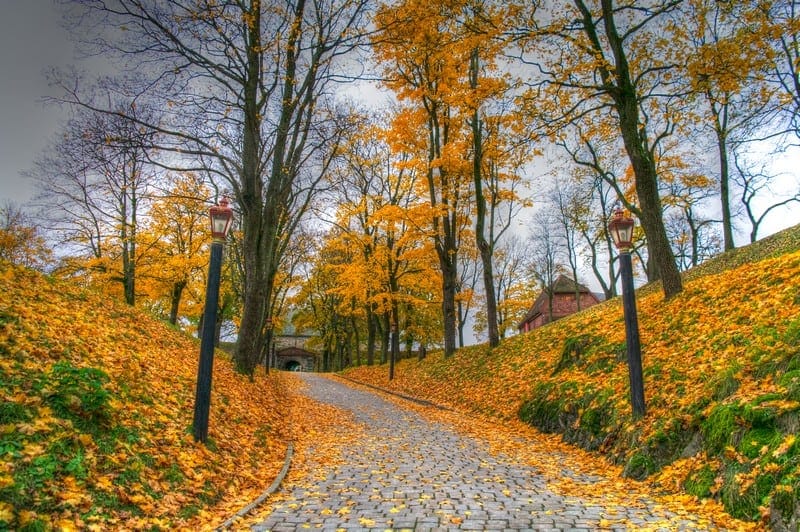 Strolling through the Akershaus Castle grounds.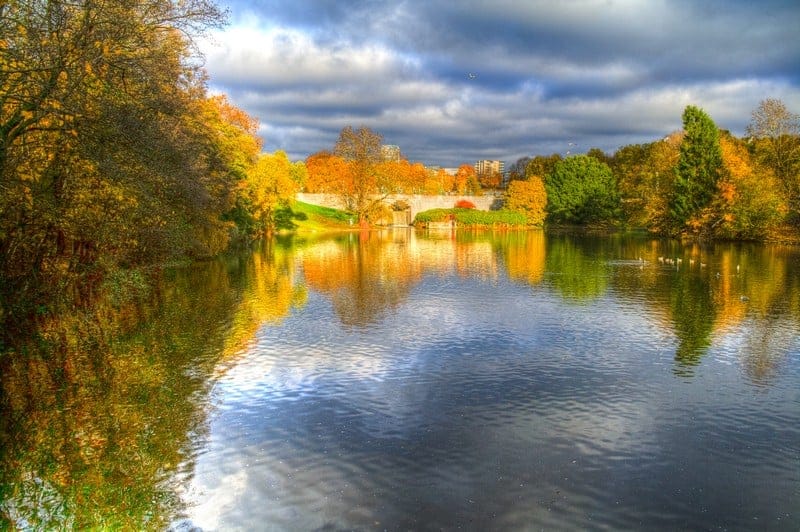 Baby statues line the Vigeland Park bridge.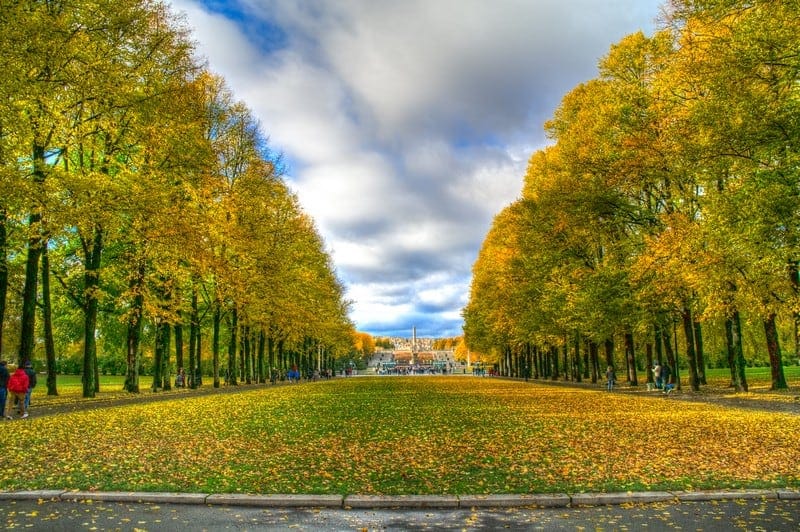 Vigeland Park in Autumn.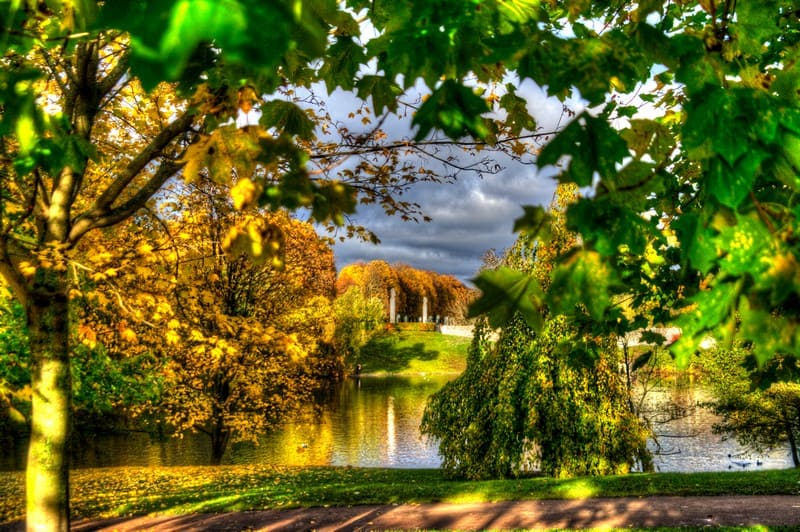 Catching glimpses through the leaves in Vigeland Park.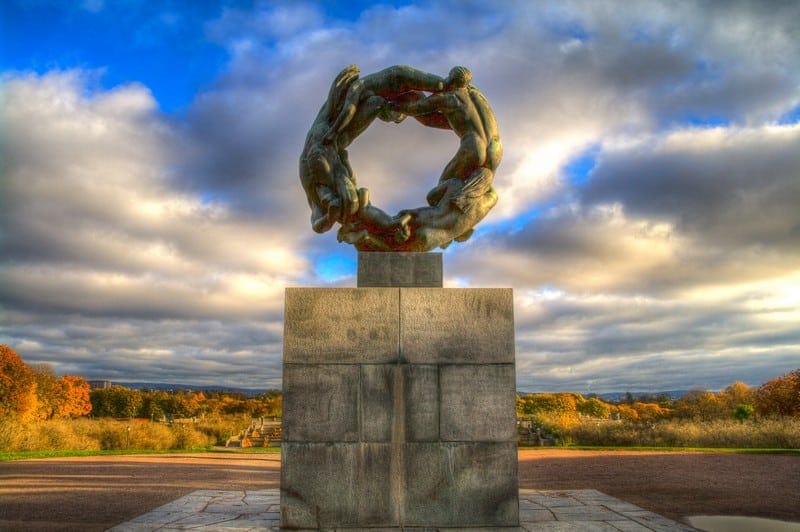 Statues in Vigeland Park.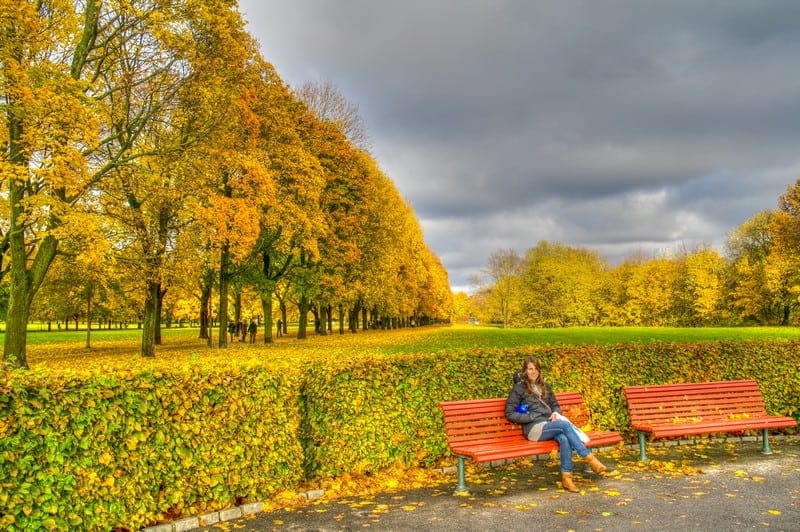 Adela taking it slow in Vigeland Park.
Expert Travel Information for Autumn in Oslo:
Where to stay in Oslo?
We stayed at the luxurious Radisson Blu Scandinavian Hotel while traveling in Autumn in Oslo. It has an awesome breakfast buffet to save you some money. Find some Hotel deals it here.
What to do in Oslo?
We highly recommend getting hold of one of the Oslo Passes as they are the key to saving money in the worlds most expensive city. You should check out our Oslo Pass review to see our savings.
How to get to Oslo?
While you can fly with Ryanair to Oslo, they actually land 120kms away from the city center  This means it is an extra $120 return by bus. So we do recommend flying with someone else if you can.
Helpful Travel Guides to use in Oslo:
Disclaimer: We were provided with complimentary 72 Hour Oslo passes from the Visit Norway and Visit Oslo Tourism Boards. However, we would have brought them anyway because they are such good value. And as always our thoughts are our own.
Walking the Camino de Santiago Photos
These are my favourite Camino de Santiago Photos from my pilgrimage along the French Way in March. A truly beautiful way to spend a few weeks.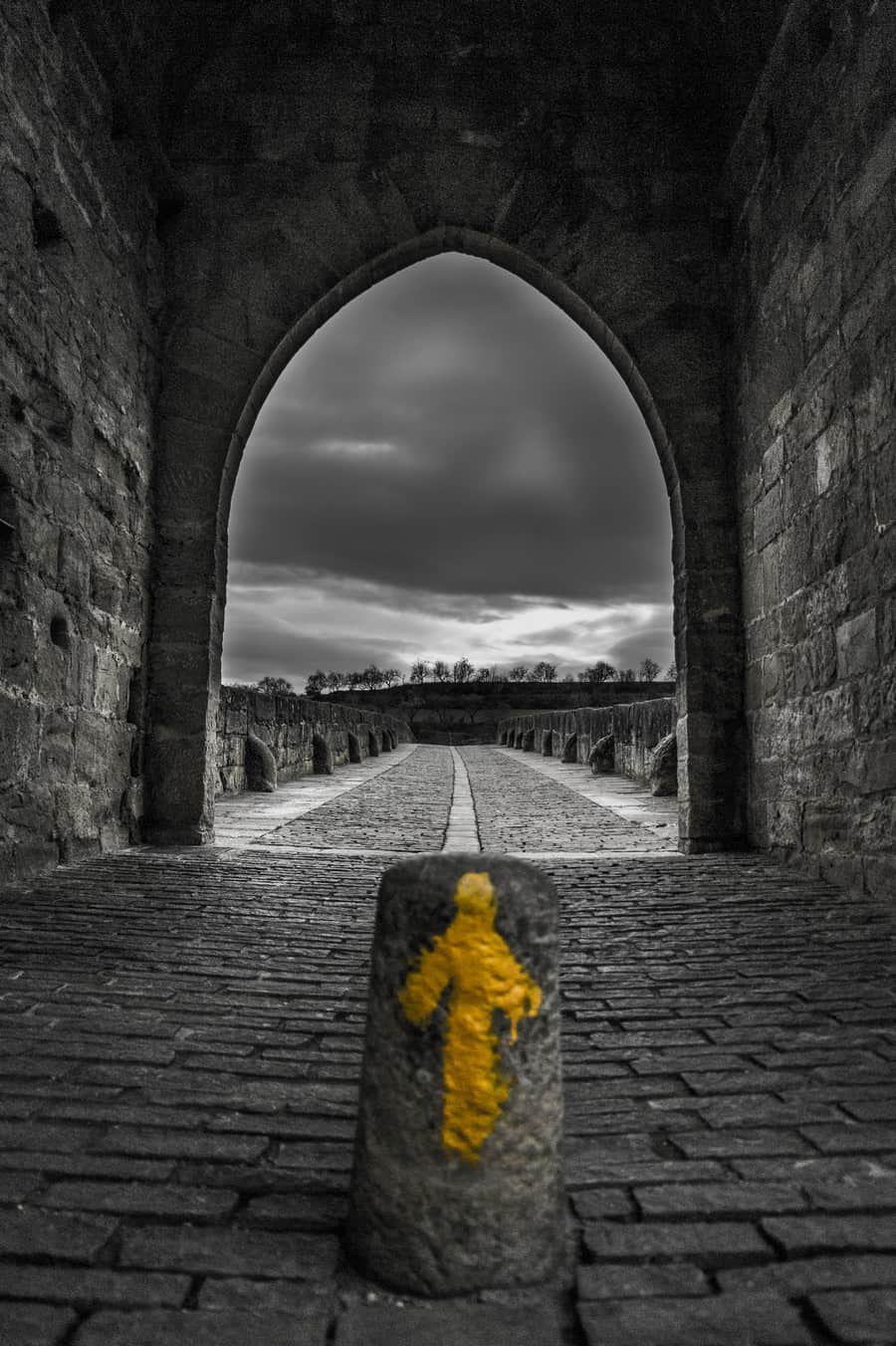 El Camino de Santiago kicked my ass. Well technically it kicked my feet. Turns out my minimal preparation for the Camino de Santiago was terrible. After a miserable effort of only 4 days, the doctor in Legrono told me that I wasn't allowed to go on until me feet healed. I had walked just over 100 km's and my feet were bloodied and blistered.
To be honest, I was relieved.
The thought of putting back on my shoes made my shudder. For the last 9 km's I had stumbled along in jandals and socks. One of the travelling fashion sins I vowed I would never break.
So while I have unfinished business with the Way of St James (an upcoming post), I did want to share with you some of my favourite photos from the Camino de Santiago. Because I had yet to reach some of the more "unsavoury" parts of the Camino that Sherry Ott had discovered, every step of my pilgrimage had been beautiful.
There is no way you can get lost on the Camino de Santiago. Arrows, scallop shells and signs point you in the right direction at every bridge, road crossing and intersection.
Reaching the top of Alto Pedron gave views back the way I had come from Pamplona, as well as views to where I was going. The rocky path on the way down proved to be my ultimate downfall, as my too small shoes caused my toes to smash into the front.
There were so many beautiful old churches along the Camino de Santiago. But since I was walking in early March, it seemed that most were yet to open for the busier summer season.
And between every small village the well-maintained pathways of the French Way wound across the spectacular Spanish countryside.
Puenta La Reina has one of the most amazing bridges I have ever seen. It was also the 1st village I had the pleasure of sleeping in after busy Pamplona.
Most mornings I was up and walking before the sun began to sprinkle across the horizon.
Every village and town was built on a small hill. Sure it looks beautiful until you realise you have to go back up again to go through them all!
While there were only about 20 pilgrims walking each section every day, it wasn't uncommon for you to encounter them all. The people I met along the Camino de Santiago were some of the most inspiring and remarkable people I have ever spoken to. They are the ones that make the pilrgimage so special.
Every village had at least one ancient church and it wasn't uncommon to find them dotting the landscape in remote locations either.
I have travelled through Spain in the past, including cycling in Costa Brava and surfing in San Sebastian with both independent planning and a vacation planner. But having the opportunity to walk at my own pace through some of the most beautiful scenery in Spain on the Camino de Santiago has so far topped them all.
Top of Cappadocia day trek – with Middle Earth Travel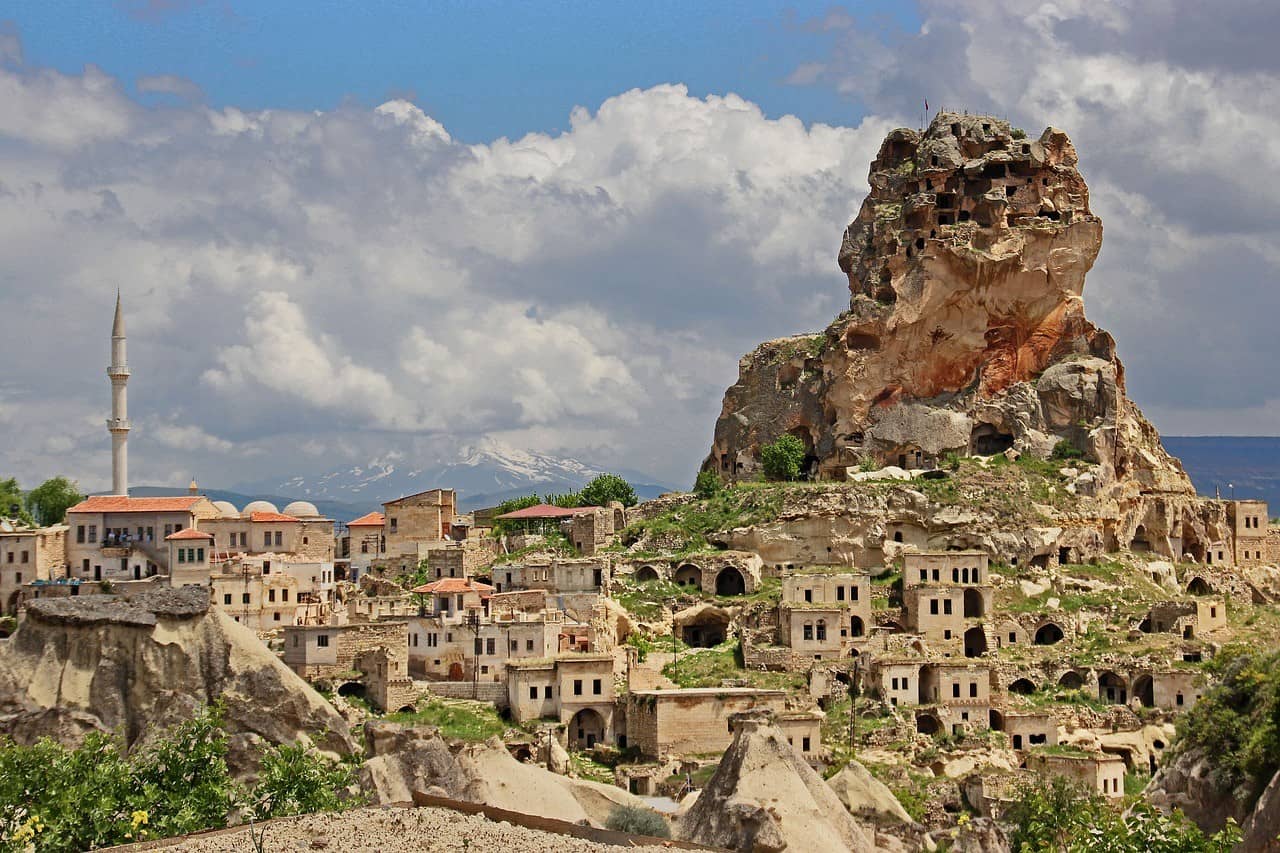 Trekking through the valleys of Cappadocia's fairy chimneys with Middle Earth Travel feels more like the set of a Star Wars movie than a historical region once carved out and lived in by humans. Churches, homes and pigeon houses are scattered throughout the valleys, all waiting to be explored. The best part is, Middle Earth Travel know all the hidden secrets.

Top of Cappadocia day trek – with Middle Earth Travel
On the 26th of July (which just so happens to be my birthday!) Middle Earth Travel took us on their private and guided Top of Cappadocia day trek. From Pasabag, along the top of Cappadocia and down through the Gulludere Rose Valley to Goreme, we trekked 15kms in one day! (We recommend getting your bearings with this map)
Upon arrival to the Middle Earth Offices, we were warmly greeted by our new friend Atil whom we had met a few days earlier while mountain biking through the Kizilcukur Red Valley. We were then introduced to our guide and given a briefing regarding the day. Normally, the Top of Cappadocia tour would start from Çavuşin, however, since we had already explored Çavuşin Castle, they adapted our tour to compensate ensuring we would explore new terrain!
With charged cameras, plenty of water and our running shoes on, we were driven to our starting point of Pasabag. We wandered through the fairy chimneys, coming across camels and markets – then the true hike began.
It was a slow and gentle incline. With no trees to provide shade, I quickly realised why our tour guide had chosen to wear fully covered clothing! As the sweat quickly set in (a waterfall in Moss's case) we snapped away with our cameras and enjoyed the entertaining shapes of Imagine Valley and the amazing view. We also passed a lot of rock piles, which according to our guide mean 'father' and are built to help lead the way.
The higher we trekked, the more breath taking the views became! As we walked along the summit of Bozdag mountain (the Top of Cappadocia) we could see EVERTHING – Pasabag, Çavuşin Castle, Kizilcukur Red Valley, Gulludere Rose Valley and Goreme. We were on the Father of Valleys! After a quick nod of agreement to the guide, we pushed ourselves the extra distance and made our way to the flag, as this HAD to be the highest point and was definitely worth a photo and a selfie or two!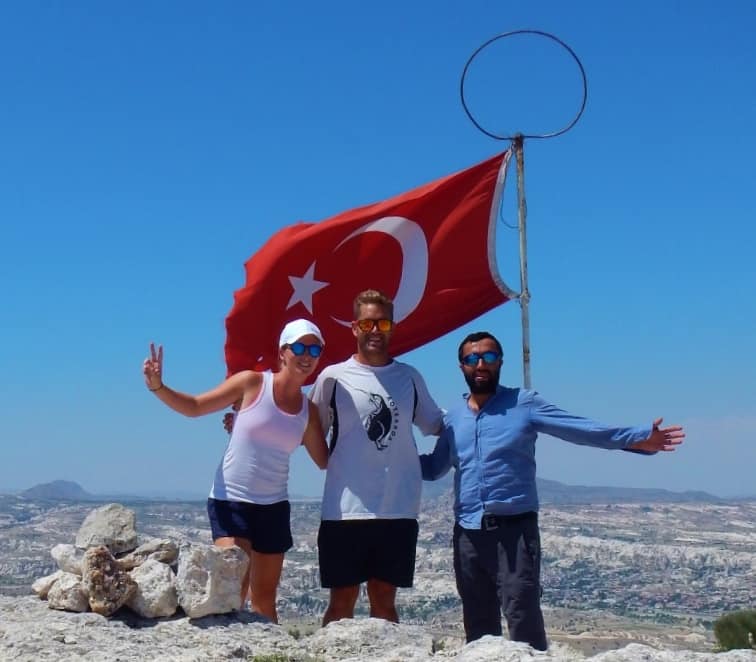 From the flag we looked down upon Aktepe Hill which is known as a popular destination for watching the sun set and could spot Kizilvadi Restaurant, our destination for lunch! Kizilvadi Restaurant is an attraction of its own. With its own historic winery and Grape church, plus some Middle Earth Travel treks even stay there for the night! After having a massive feed of soup, salad and pasta plus a surprise birthday cake, we made our way down into Gulludere Rose Valley.
The scenery is amazing, with strong colours visible in perfect layers on the chimneys, you would wonder what an artist was thinking, had it been a painting. Also, hidden to the side of the track we walked across a little bridge and not expecting anything to be there we were wowed by the massive church carved. It was absolutely huge and hard to believe that its most recent use has been as a pigeon house!
Middle Earth Travel Review
The team at Middle Earth Travel were extremely knowledgeable and certainly know Cappadocia's hidden secrets. They have friendships with local tea garden owners which is also of benefit as it gained us entry to locked churches and hidden rooms that we would not have otherwise seen.
We covered a lot of ground, however we did not feel rushed. The whole day focused on showing us the region, therefore we had as much time as we needed to explore each church and to take 'just one more photo'.
It wasn't all about trekking. With a whole day and 15kms to cover, there were a few silly poses (especially in Imagine Valley), and we learnt a lot about the myths, legends and way of life in Cappadocia.
In conclusion I highly recommend Middle Earth Travel if you wish to go trekking or mountain biking in Cappadocia.
Cost: Day treks with Middle Earth Travel range from 50-90 euro, depending on the number of people taking part. This includes lunch, guide, vehicle transfers and entrance fees to historical sites, but excludes alcoholic and soft drinks.
Middle Earth Travel are outdoor enthusiasts and offer multi-day over night treks, mountain biking, abseiling, or custom made itineraries, in multiple regions throughout Turkey.
Disclaimer: We were provided with a discount for the trek with Middle Earth Travel, however, as always our thoughts on our adventure travel blog our own.
Amsterdam Food Guide
If you think of Amsterdam you don't think of food. However if you try the food here in our Amsterdam food guide you might get lucky.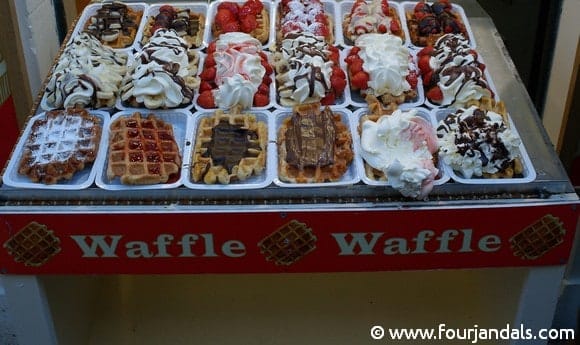 We are total foodies and our travelling has allowed our passion for food to grow considerably (not to mention our waist lines)!  We love trying new food when we visit foreign countries and always make a huge effort to eat the local cuisine. Check out some of the food we ate below in our cheap and delicious Amsterdam Food Guide.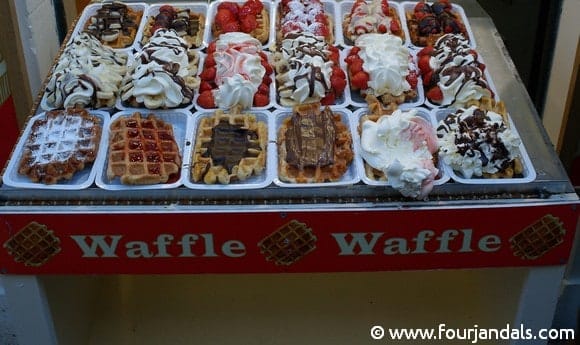 We had heard from a number of people that the Amsterdam food was nothing to rave about. To be honest food was not really our main interest in visiting but then again neither was an Amsterdam Peep show and we ended up enjoying that!
However we were pleasantly surprised. I think the people whom we had talked to had it wrong. Sure Holland doesn't really have a local cuisine but once we got over this fact we realised there is still some damn good food to be had from the various Amsterdam Restaurants.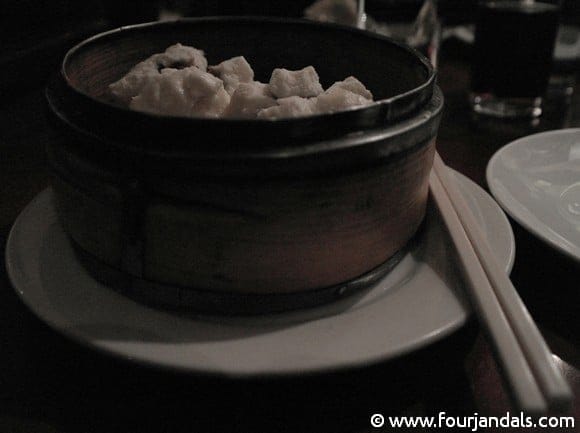 The best meal we had was actually next door to the Red Light district in Chinatown. Crossing the canal to the east away from the neon lights your nostrils are attacked and your mouth begins salivating from the delicious smells wafting along the narrow cobbled streets.
As we walked into Bird Thai restaurant the enticing aroma hit us instantly leaving us drooling in anticipation. It was definitely up there with some of the best Thai food we have had. We went for the classic Green curry, fried rice and duck combo.
The Green curry was so flavoursome with the richness of the coconut milk blending perfectly with the traditional spices.  The duck was cooked to perfection and for the first few minutes of the meal all you could hear was the crunching of the crispy outside layer as we devoured the duck in minutes. Needless to say the fried rice was a taste explosion too!
Cheap and delicious Amsterdam food is easy to come by. With hangovers and munchies affecting your hunger it is no surprise that there are an abundance of Fast Food chains and takeaways in Amsterdam. In fact it was actually more the way that the fast food was served that surprised us as you could buy it out of massive vending machines at Febo!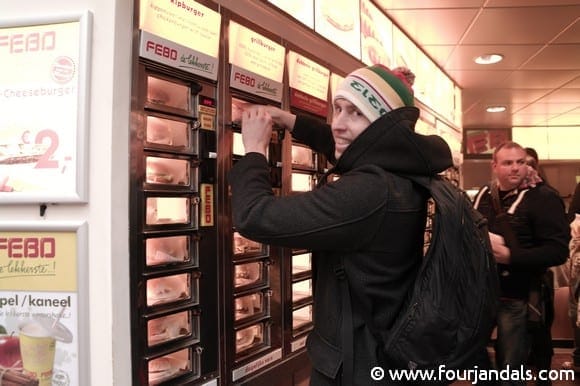 Hidden workers stand behind the vending machines churning out burgers, fries and sausage rolls so all you has to do is insert a Euro and "hey presto" you have a hot meal in your hungry hands.
Then there were the frites stores which seemed to be on every corner. The first thing you noticed about these was the tantalising smell. There is nothing like the smell of chips straight out of the fryer and covered in salt to get you tummy rumbling. Served in a triangle cardboard carton and covered in mayo which meant that that you couldn't reach the chips at the bottom without covering your greedy fingers in sauce. Just a tad annoying!
But there is nothing like hot chips to warm you up on a cold day.
Finally, while hot chocolates are not typically food I feel they still deserve a mention especially because the usually come paired with waffles! Ahhhh the perfect breakfast.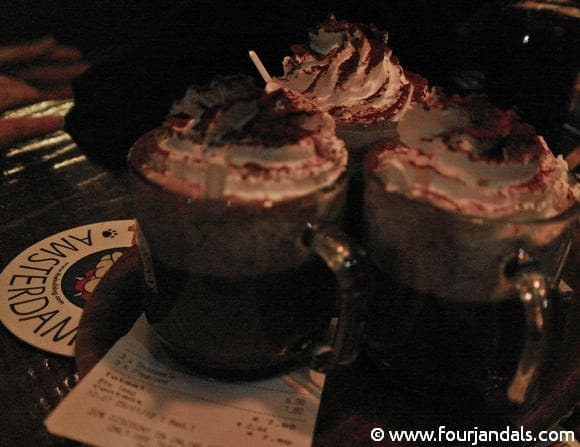 We loved nipping into a cafe or bar like Cafe Bar Eddy in Amsterdam to warm ourselves up with a hot chocolate. It literally tasted like they had melted chocolate down and added cream. Heaven in a cup. And the choice of waffles was daunting as you could have whatever you wanted. Fruit, chocolate, syrups, cream or all of the above!
If you are heading here then don't expect to find an array of traditional Amsterdam food. Instead treat yourself to a hot chocolate and waffle for breakfast, grab a quick bite from a vending machine and sample some of the different cuisines found near the Red Light District.
If you stick to this Amsterdam food guide then your taste buds will have a great holiday too!
If you have visited before then what did you think of Amsterdam food?

We have been wearing out our jandals (Kiwi for flip-flops) on our travel adventures around the world since 2009. We think our blog is thought provoking and a little witty. But we have been proven wrong before. Find out more about us here...
What Are You Looking For?