V-Go Sail Turkey cruise – Fethiye to Kekova
If your bucket list is anything like ours, swimming with turtles in Turkey's crystal clear waters with ancient ruins nearby, will be somewhere on that list! And what better way to explore the coast than on a V-GO Sail Turkey Cruise, with more than a dozen new friends and a great crew!
V-Go Sail Turkey cruise – Fethiye to Kekova in 8 days
We arrived at the V-GO office in Fethiye at 4pm and as expected, could hear a high majority of Australian accents. However, we were pleasantly surprised to also discover a large group of kiwis (New Zealanders) plus a few Italians. It was V-GO's biggest week ever, with over 90 people getting on board 5 boats and setting out for 8 days of sailing! A lot of the tourists had booked through V-Go's partner Busabout, and we were all looking forward to the week ahead.
With no idea as to the size of our boat or of what to expect, I was wowed as I clambered aboard the large, 26m dark wooden Gulet (sailing boat) and was shown to our room with a double bed and ensuite. However, I did not admire the room for long, as being peak season, the temperature was also peaking somewhere above 30 degrees.
We quickly began making friends and as there were 19 of us on board, there were a lot of names to learn. Our tour leader Ekin, with his impressive moustache was the easiest to remember. Because, as he pointed out – his name was Nike spelt backwards! Ekin was extremely helpful, keeping us all informed about what activites were available, playing his ukulele to us, plus we even convinced him to show us our path on a proper map!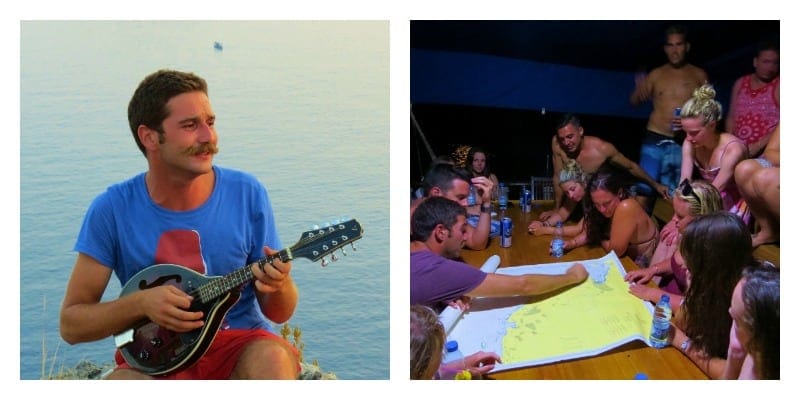 What gear is supplied by V-Go Sail Turkey?
We felt ridiculous, lugging our large bags on board. All we really needed was togs (bathers), towel, sunnies, sunblock and jandals! V-GO supplied shower towels, bedding (which, due to the heat we used for sleeping on the deck under the stars each night), snorkels, flippers and foam noodles for swimming. Some of the boats even had stand up paddle boards and kayaks.
V-Go Sail Turkey Meals and Desserts
All meals are prepaid for and included in the trip. However, you will need to pay for any drinks you consume on the boat eg a beer is 9TL. Our desserts were amazing and certainly not the norm. We were extremely spoilt by Captain Sunny whose hidden talent is also designing desserts made of fruit!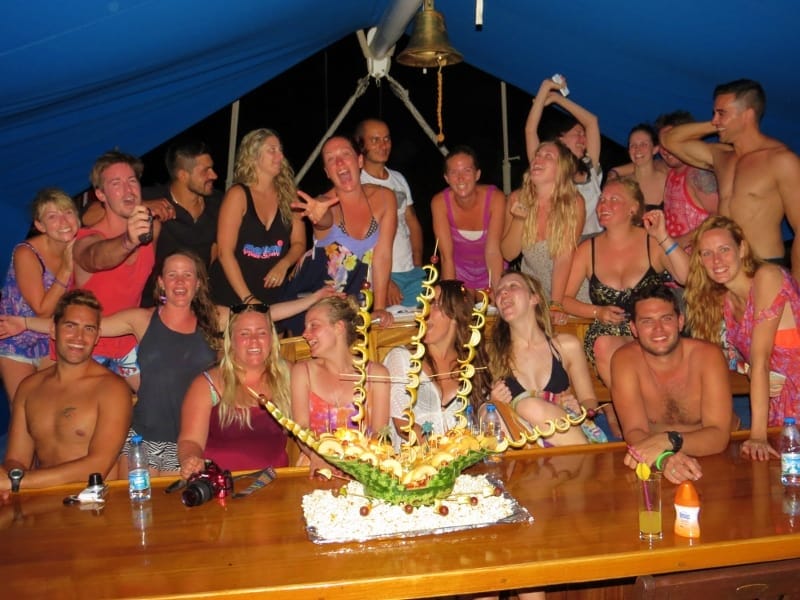 Our favourite swimming and snorkelling locations with V-Go Sail Turkey
Blue Lagoon (Oludeniz): Here everyone was very quick to jump into the water. Just be careful of your cameras, sunnies and any loose items as the water is fairly deep and unless you have a free diving friend on board (like Moss), you will never see your beloved possessions again. While we were there, Moss became a treasure hunter and found Turkish money, some snorkels, deck chairs, a watch, bracelet and a go pro!!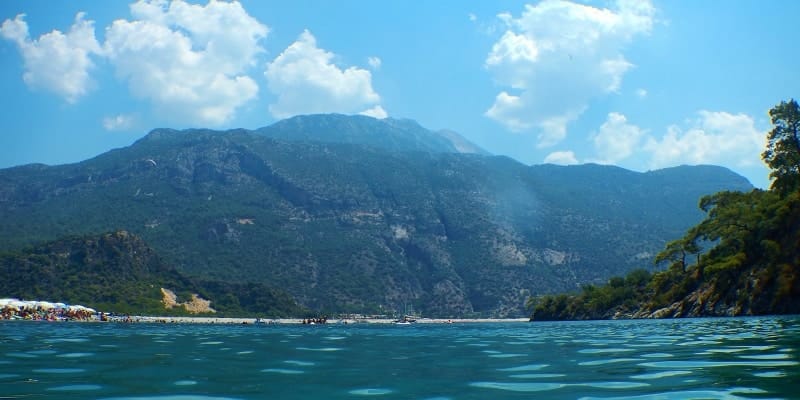 Shark statue bay: This is not the bay's actual name, however the location will be obvious once you see it. There is a concrete shark just over 7 meters underwater, plus there were turtles swimming about which was awesome to see! However, Moss noticed one turtle behaving a bit too friendly and discovered fishing line tangled around its fins and neck. At that moment Moss gained his new nickname – Moss Grilles (after Bear Grilles) and caught the turtle so the fishing line could be cut free.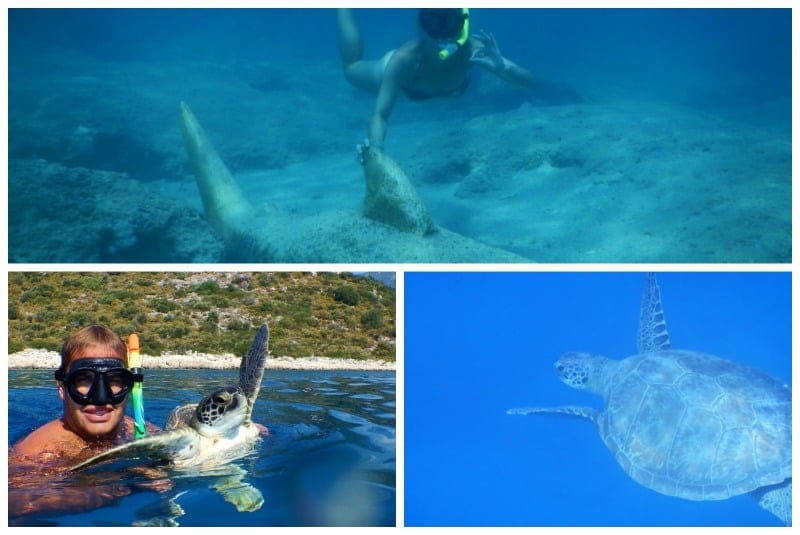 Sunken City Bay near Kekova Island: After playing cards and having drinks as we motored to our overnight destination we then proceeded to have party in the water. The water was crystal clear and the perfect temperature! (Note: we made sure no litter was left behind, hope you will do the same!)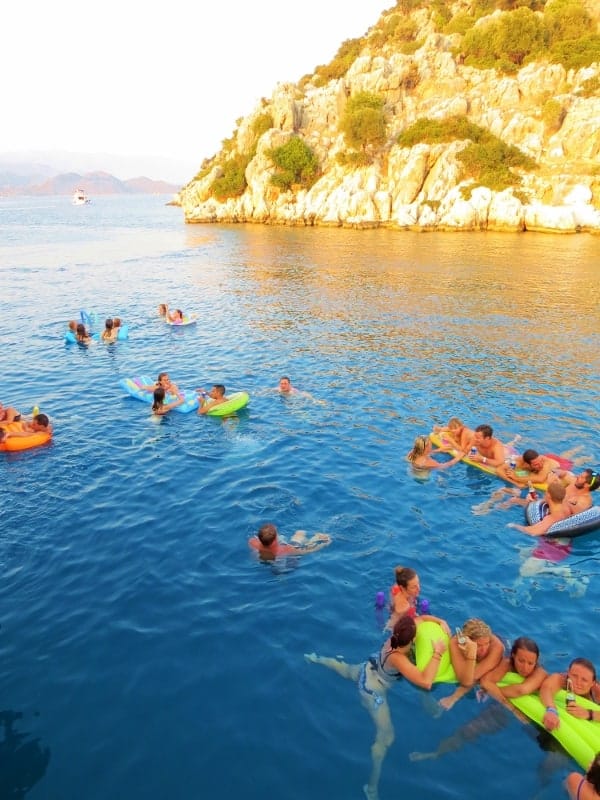 V-Go Sail Turkey Day excursions
On most of the days, extra activities are on offer for an additional cost. Plus, our V-Go boat was often approached by locals offering sea biscuiting, and items for sale such as ice creams and jewellery.
Waterfall at Butterfly Valley: Once the boat has anchored in the bay, everyone has the option of paying 5TL each and venturing on a short walk of less than 15 minutes to the waterfall. If you are game enough (and strong enough) there is also a rope leading up the cliff next to the waterfall which enables you to climb even higher and to see a lot of butterflies. For more details you can read about Coles Butterfly Valley Adventure a few years ago.
St. Nicholas Island (Santas Island): In the evening you can pay 8TL per person to explore the ruins, walk to the top of the Island and watch the sunset.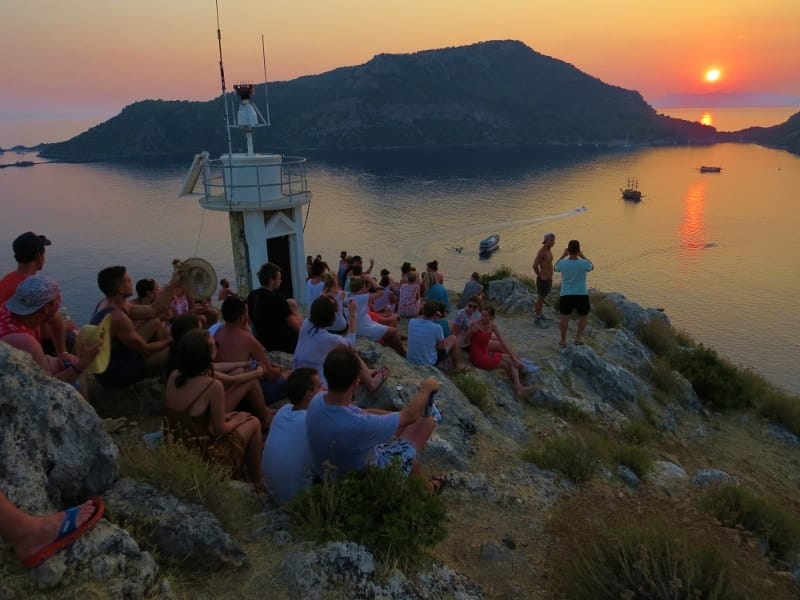 Paragliding at the Blue Lagoon (Oludeniz): You can go paragliding off the top of the hill which is nearly 2000m (6000ft) high. It costs 225TL per person. Paragliding photos cost 80TL and the videos cost 80TL, however, if you want both they will cost 140TL. Please note that most pilots do not let you use your own camera during the gliding. Tip: Take your camera and money with you. That way if you are like us and refuse to pay for photos that you could have easily taken yourself then at least you will get some of your own pictures before take off, plus if you do as many spins and flips as I did, you will be wanting an ice cream to sweeten your stomach at the finish 🙂
Simena Castle: A few of us braved the heat and paid the 10TL entry to the castle. The views from the top were amazing and certainly worth the sweat! Plus the path leading to the Castle has lots of women and children selling bracelets and items they have made, and yes I got sucked in and purchased some from a cute little girl!
More towns and attractions we visited with V-Go
As well as all the amazing snorkelling locations and day excursions, we also visited Tarzan Bay where all the boys swung from a rope – like Tarzan! We also stopped in at a couple of towns including Kalkan, Demre and Kas, plus we motored past the Sunken City and Pirate Cave as unfortunately swimming is not allowed.
Putting up the sails with V-Go Sail Turkey
Unfortunately, sailing is not a huge part of the trip but we did sail long enough to get a photo!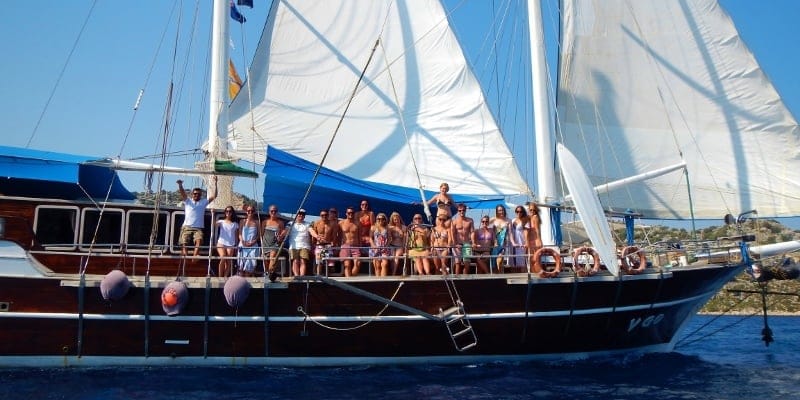 The V-Go Sail Turkey Pirate Party
The pirate party took place at Smugglers Inn in Gokkaya Bay. Everyone improvised with what ever sailor/ pirate themed clothes they happened to have and it was a great night! Entrance to the party was free and it was great to mingle with all the other V-Go/Busabout boats.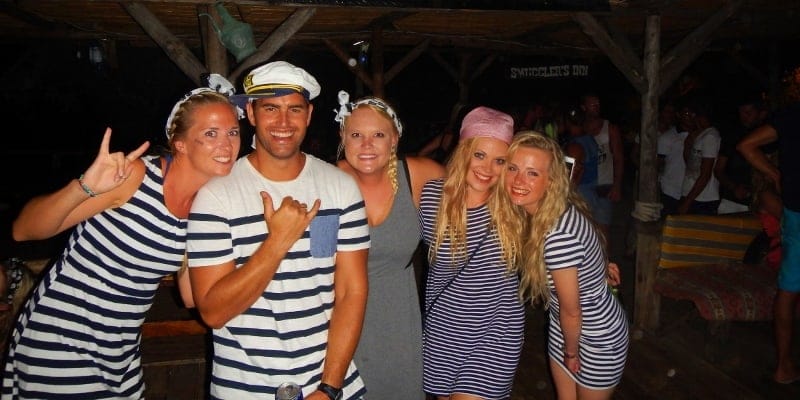 V-Go Turkish Night
On the final night of the trip we moored in Fethiye harbour, had dinner on board and then made our way to the V-Go hotel for a complimentary Turkish night. To my amusement our tour guide rigged the selection of belly dancing candidates and picked two people from our tour – one of them being Moss! The night was a good laugh and a great way to end the trip.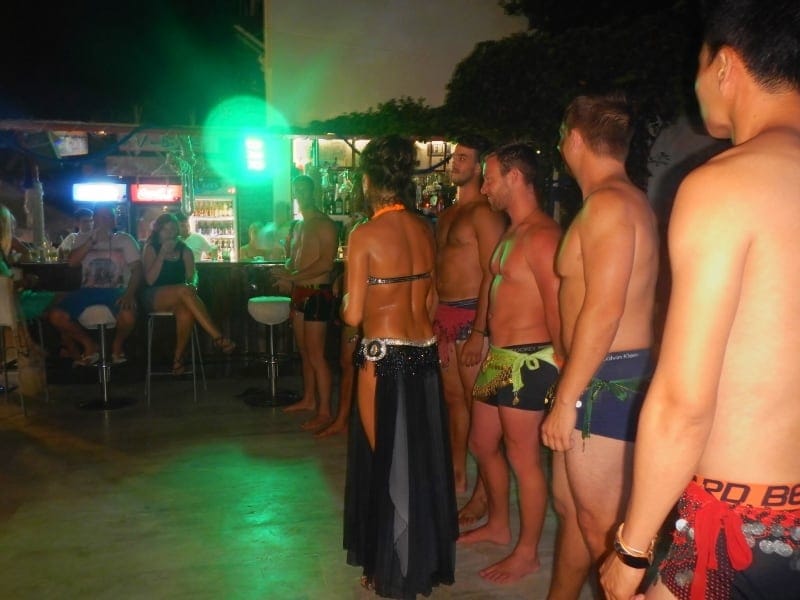 Accommodation in Fethiye
If you require accommodation in Fethiye before or after your boat cruise, there is plenty of accommodation to choose from. However of the four places we happened to stay at in Fethiye, we highly recommend the V-Go hotel.
V-Go Yatching & Travel Agency Review
The team at V-Go Yatching were extremely knowledgeable as they have been sailing the route since 1997. They know all the best locations for anchoring so the water is always tempting for a swim and a splash.
We visited all the main towns and attractions, however it was all done at a nice pace and we did not feel too rushed.
It wasn't all about being on a boat and drinking the entire time. Even though some people on other boats did drink their fair share of alcohol, everyone was generally interested in having a good time and not being too hungover – except for after the Pirate party of course!
In conclusion I highly recommend V-Go Yatching if you wish to explore the coastline of Turkey.
Cost: 8 day sail Turkey trips range from 285.00 € – 485.00 € depending on the time of year. This includes breakfast, lunch and dinner each day, but excludes drinks and extra activities such as entrance to Simena Castle and Paragliding. Note: it is also recommended to tip 3-5% of your trip cost to the crew at the end of the tour.
V-Go are a Yatching & Travel Agency who offer many types of boat trips, private boat trips, daily tours and activities, plus they have a hotel in Fethiye.
You can also read Coles review from 2012 about the first ever Busabout Sail Turkey adventure cruise and see how much the tour has progressed and improved over the years.
Disclaimer: We were provided with a discount for the V-Go Yachting Sail Turkey cruise, however, as always our thoughts on our adventure travel blog our own.
Explore Auckland's Coasts With One Exquisite Walking Hike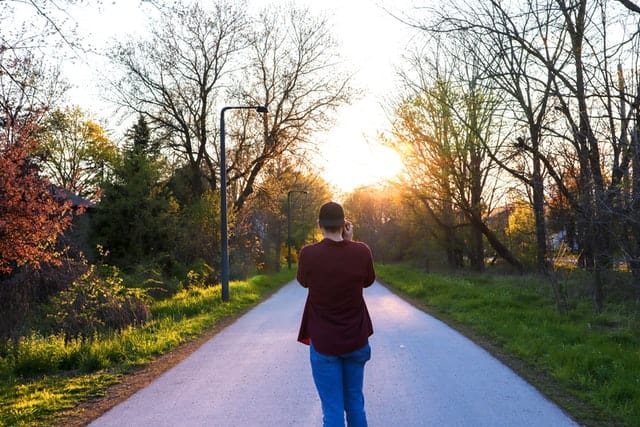 There is a wonderful place found in the far southwest of the Pacific Ocean. It is a place called Auckland, and it is found in the amazing terrain of New Zealand. It is a place that commands the attention of over 1 million people who prefer to live and reside in this majestic city.
Did you know that Auckland claims the top spot in New Zealand with its wide range of people and the most concentrated number of people within a city in New Zealand?
But why do so many people come to Auckland, New Zealand, and live there? What do they appreciate the most?
The truth is that the answer may vary, and it may differ from person to person, but it is hard to deny that nature is not a crucial part of their decision making. The beautiful city has fantastic places that offer great adventure and recreational activity.
You can take advantage of the diverse coasts, hidden coves, and more of the northern area in the North Island. It is known for its various boats, and some believe that it has more ships than any other city in the entire world.
It is a city that resides between two large fantastic natural harbors.
Let us find out more about how you can explore this majestic city with one fantastic walking hike.
The Auckland Coast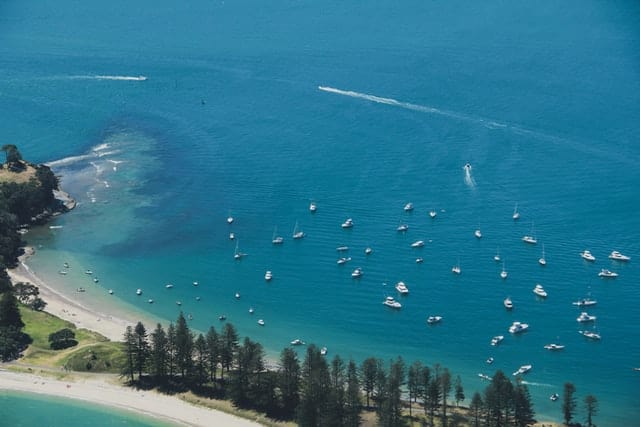 For those who want to stay near to Auckland's city and travel well, it is necessary to start your journey with the Auckland Coast's breathtaking area.
Did you know that Auckland's coast ranges over 15km, will take over four hours to traverse, and is somewhat challenging to navigate? But the truth is that it is worth it. Why is it worth it? Well, you can seemingly walk the length of an entire nation within the span of a few hours. If you wake up early in the morning and go on this journey, you can finish your hike by noon or an hour past noon.
But in that brief timeframe, you can experience several oceans, notice a slew of volcanoes, and have a glimpse into people's regular lives in the New Zealand area.
This fantastic walk is excellent because of its duration and because you are able to experience lush greenery and park settings over 30% of the time. It is a great way to clear your head, get to know more about the people you are traveling with, and experience the refreshing Auckland air.
Experts suggest beginning your journey at the less intriguing Onehunga area and then moving forward with public transportation at the Britomart stop. You will find that you can travel east to take in the water sights with a bit of work.
When your walk is over, you can grab a fresh beverage at the Waitemata Harbour, a premium harbor.
You will want to make sure to bring some healthy snacks along for the walk because you may not notice different places to eat as you go on this part of the hike.
It is best to ensure that you understand that you must input the Ferry Building into your mobile device or ensure to use the local municipal iSITE for further guidance.
If you are limited on time, I would suggest that you go on this route because it lets you take in the entire area and understand this excellent place.
Hiking Adventures in Bryce Canyon National Park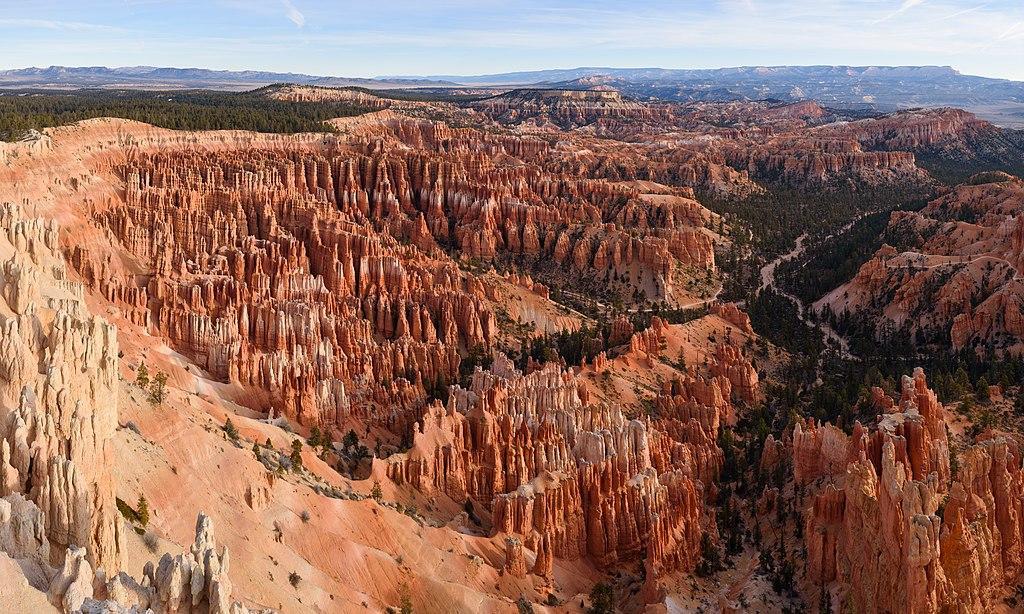 If you are on the lookout for the perfect environment for an adventurous and challenging hike, look no further. Located in the Southern Utah region is the best park that is most suitable for your hiking adventure, the Bryce Canyon National Park. This is a great option to relaxed after you are through playing in $5 minimum deposit casinos.
This park hosts hike lovers from time to time and people even come from other countries in the world to experience the wonder of this park. The landscape and beautiful trails make this a choice venue. There is a rental service at this location if you love to stay behind.
You can enjoy the priceless glimpse of the sunrise and sunset from the different landscape. The part also permits visitors to create traditional camps at different locations for a more adventurous experience.
There are a couple of trails that you can choose from for your hiking adventure, and no matter your level of experience in hiking, you will find a track that matches your taste. Even if you are totally new to hiking, there is something for you at the Bryce Canyon National Park . Below is a list of some of the trails to try when you take a trip to this park.
The Rim Trail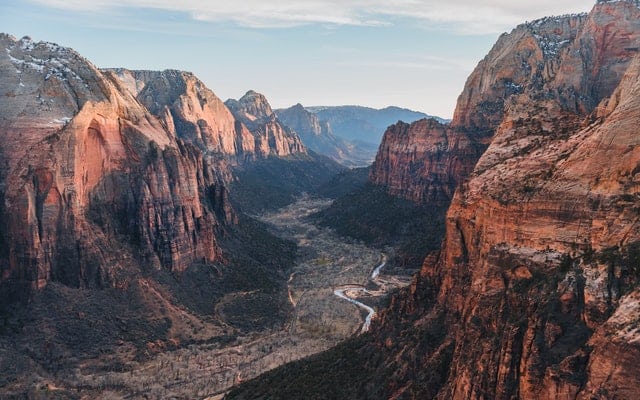 This is the most accessible trail at Bryce Canyon National Park. It is suitable for those who just want to have a good time walking around and savoring the magnificent scenery of the park. From any part of the park, you can connect to this trail as it goes all the way around the park.
When lodging at the Bryce Canyon Lodge, it is a good idea to start your hike from the place known as the sunrise point. Just as the name implies, if you wake up early to start your walk, you'll be able to watch the sunrise. If you have a camera with you, you'll take some fantastic pictures.
Also, you'll get a clear view of the Bryce amphitheater from this point. Just like in an adventure movie, you have to find a way to link up to boat Mesa, and on your way, you walk through some sites like the Mormon temple and Queen garden. This hiking trail is easy, and all you have to deal with is a total of approximately 200 feet elevation. You will surely have a nice time on this trail.
Navajo Loop Trail
On the order of difficulty, this trail comes next after the rim trail. The starting point of this trail begins from the sunset point around the southern area of the Bryce Canyon Lodge. Just like for the rim trail, the trail presents a nice view of the sunset, and with a good camera, you'll be able to take exciting photo shoots.
Walking this route involves a visit to the Silent City, which is an aesthetic combination of limestone and urban expansion. During the hike, you will also walk through Wall Street, which happens to be a distinctive attraction at the Bryce Canyon park. You won't ever want to miss the narrow walls. From this point, you may decide to go back to the sunset point or take other shorter hikes like the Peekaboo loop trail and Queen garden trail. Both routes are challenging and adventurous, but you will enjoy every bit of the challenge. After you have done this, you can then go ahead to have some fun in a $5 minimum deposit casino.
Mossy Cave Trail
This Trail presents an entirely different sight than the one that we have previously mentioned. From this trail, you will be able to catch the view of the towers in the park nearby without descending to the amphitheater. This hiking course begins at approximately 4 miles from the entrance to the Bryce Canyon park. However, if you visit this park and would like to enjoy something completely different from the other common tracks, then this is an exciting hiking trail for you to try.
Hiking is more than a walk, it is a fun and adventurous experience. All trails at the Bryce Canyon National Park are worth trying on your next visit. Whether you seek to have some fun or you just want to catch some beautiful scenery and feel close to nature, you will find the right place that suits you. Get ready to have an amazing hiking experience.
Walking the Camino de Santiago Photos
These are my favourite Camino de Santiago Photos from my pilgrimage along the French Way in March. A truly beautiful way to spend a few weeks.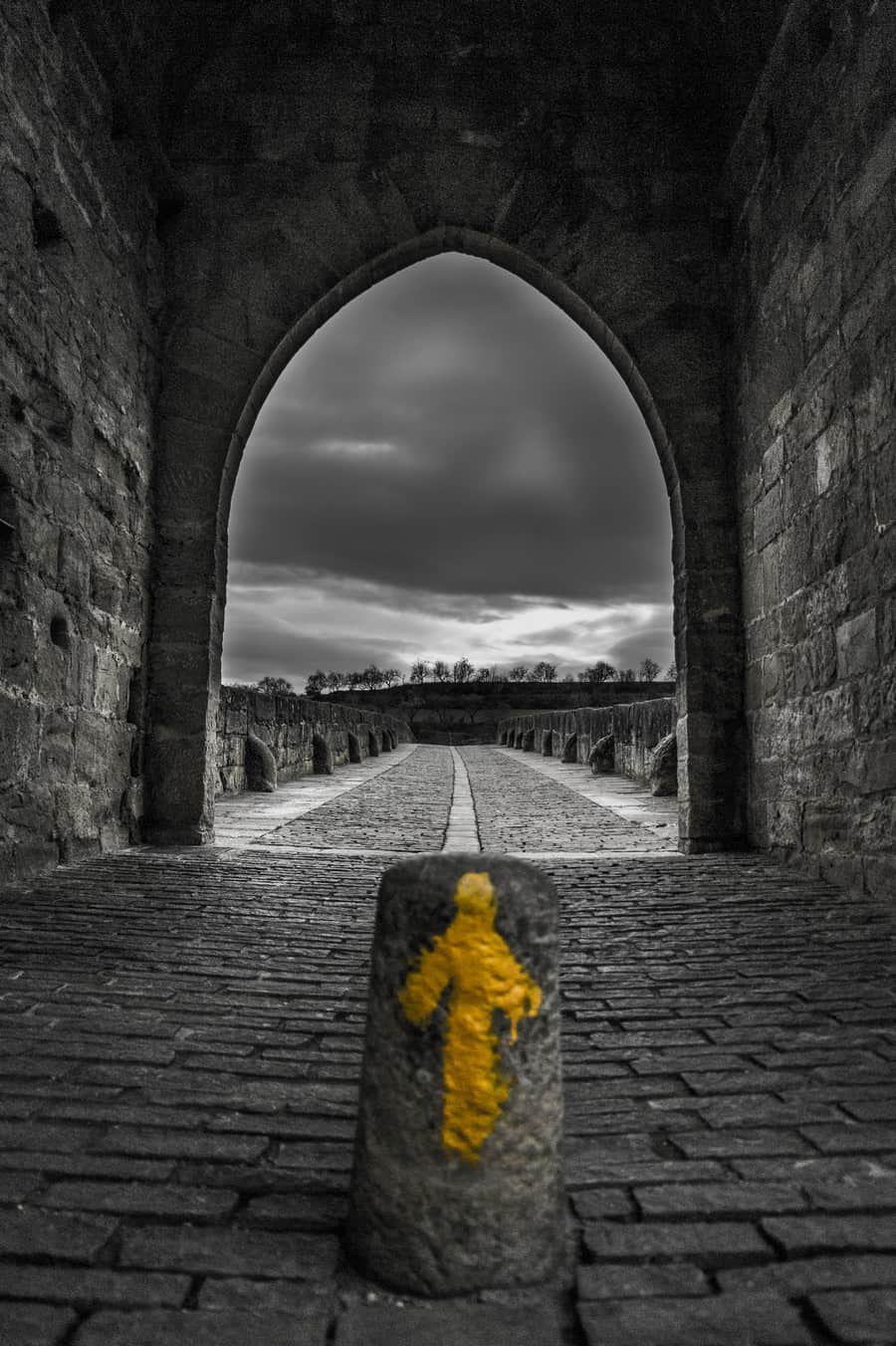 El Camino de Santiago kicked my ass. Well technically it kicked my feet. Turns out my minimal preparation for the Camino de Santiago was terrible. After a miserable effort of only 4 days, the doctor in Legrono told me that I wasn't allowed to go on until me feet healed. I had walked just over 100 km's and my feet were bloodied and blistered.
To be honest, I was relieved.
The thought of putting back on my shoes made my shudder. For the last 9 km's I had stumbled along in jandals and socks. One of the travelling fashion sins I vowed I would never break.
So while I have unfinished business with the Way of St James (an upcoming post), I did want to share with you some of my favourite photos from the Camino de Santiago. Because I had yet to reach some of the more "unsavoury" parts of the Camino that Sherry Ott had discovered, every step of my pilgrimage had been beautiful.
There is no way you can get lost on the Camino de Santiago. Arrows, scallop shells and signs point you in the right direction at every bridge, road crossing and intersection.
Reaching the top of Alto Pedron gave views back the way I had come from Pamplona, as well as views to where I was going. The rocky path on the way down proved to be my ultimate downfall, as my too small shoes caused my toes to smash into the front.
There were so many beautiful old churches along the Camino de Santiago. But since I was walking in early March, it seemed that most were yet to open for the busier summer season.
And between every small village the well-maintained pathways of the French Way wound across the spectacular Spanish countryside.
Puenta La Reina has one of the most amazing bridges I have ever seen. It was also the 1st village I had the pleasure of sleeping in after busy Pamplona.
Most mornings I was up and walking before the sun began to sprinkle across the horizon.
Every village and town was built on a small hill. Sure it looks beautiful until you realise you have to go back up again to go through them all!
While there were only about 20 pilgrims walking each section every day, it wasn't uncommon for you to encounter them all. The people I met along the Camino de Santiago were some of the most inspiring and remarkable people I have ever spoken to. They are the ones that make the pilrgimage so special.
Every village had at least one ancient church and it wasn't uncommon to find them dotting the landscape in remote locations either.
I have travelled through Spain in the past, including cycling in Costa Brava and surfing in San Sebastian with both independent planning and a vacation planner. But having the opportunity to walk at my own pace through some of the most beautiful scenery in Spain on the Camino de Santiago has so far topped them all.

We have been wearing out our jandals (Kiwi for flip-flops) on our travel adventures around the world since 2009. We think our blog is thought provoking and a little witty. But we have been proven wrong before. Find out more about us here...
What Are You Looking For?