Top Five Cities to Visit in Australia
Top Five Cities to Visit in Australia
Visiting Australia is a huge must for anyone who loves to travel. This country is completely unique, with animals and geography that you won't find anywhere else. But the unique nature of the outback means that cities are normally located around the coastline, and can be days of travel apart. So, when you can only pick one city, which do you go for? Here is a list of the five top cities to visit in Australia that you might want to choose. 
Sydney
Bondi Beach – Sydney
Let's get this one out of the way first – it's the most obvious option! Everyone has heard of the Sydney Opera House and the Harbour Bridge, so you will definitely want to head down to Circular Quay and see them for yourself. It's a foodie paradise, there are hotels to suit every budget and taste, and bars and pubs are ubiquitous. This is the biggest draw from tourists from outside of Australia, so it's busy – but worth it. If you want a chance to enjoy the sun, just head down the road to Bondi Beach, where you can relax on the sand or surf the waves. Harbour tours, the biggest and best museums in Australia, and a heaping dose of culture all await travellers who choose Sydney as their destination.
Canberra
While many mistakenly believe that Sydney is the capital of Australia, it's actually Canberra that takes that honour. It's an underappreciated capital which doesn't get as many visitors as it deserves – which is a shame considering that it was literally custom-built to perform the functions of a capital perfectly. Historic monuments and buildings, parks and green areas, nightlife, culture, and entertainment – it's all laid out here for you to enjoy, with wide streets and a public transport system that can take you anywhere. You won't be short of entertainment, even if this is not the most iconic Australian city. There's a lot more waiting for you here than you might expect.
Melbourne
Melbourne is definitely a strong contender for the top city to visit, and it has a culture all its own. With a strong rivalry against Sydney, Melbournians will be happy to tell you that their streets are the best place to enjoy independent coffee brands and interesting foodie treats. The Melbourne Zoo is one of the most visited in the world, and you can find museums and art galleries to your heart's content as well. Farmer's markets are a big deal here, but those who prefer a bigger price tag can look for designer clothing in the swanky shopping malls. There's a great range of accommodation choices for travellers within the city centre, from luxury apartments through to budget type hotels.  Just outside the city are plenty of other great attractions, such as Phillip Island, where little penguins reign supreme.
Brisbane
While you might be wary of swimming in Brisbane's river due to the bull sharks that swim in it, you can head to their artificial beach and swim in a huge man-made pool instead. Families love coming here to enjoy the Australian national pastime of a barbecue, and you'll love trying your hand at it too. Those without families will enjoy the thriving nightlife scene, and art and culture are to be found on the daytime streets. The Kangaroo Cliffs loom nearby as a great place to climb or just go for a run along the top, so those with a love of the outdoors will be in their element. The biggest attraction has to be the Lone Pine Koala Sanctuary, where visitors get to literally cuddle a koala. You'll learn all about these adorable critters, which are endemic to Australia.
Cairns
Cairns is well known as a city that enjoys sunshine all year round, which is why it's just perfect that the city government have built a saltwater lagoon and a sandy beach right in the centre of it. There's also a waterfront to enjoy if you don't fancy going swimming there. This precinct also boasts volleyball courts, skate parks, play areas, and all of the food and drink you could ever possibly eat. You barely even need to stray out of this area, but when you do, you can travel up into the hills to visit areas of natural rainforest. Those who have been dreaming of getting into the Australian outback can do it here.
It's a tough choice, and all of these cities put up a fair fight for the crown. After you've tried one, you might find a need to try the others and compare them for yourself.
The Finest Australian Holiday
Visiting Australia is pretty vast of us to try and start talking about. Australia spreads far and wide, and there's plenty of places that you can visit, all of which will offer a unique experience. There are the tourist favourites that seem to attract a lot of attention, and there are the ones that are a little off the map, the ones that you should be keeping your eye on as well. The great thing about an Australian holiday is that you can have the perfect mix of exploring the beautiful beaches, and basking in the summer sun. Or you can venture into the outback just a little bit, and have a really authentic experience. So, whatever you find yourself travelling to Australia for, we want to try and make sure that you have a really amazing time, and here's how we think you can do just that.
Authentic Experiences
Because the country of Australia is so big, you really can find some authentic experiences that will make your stay better than ever. One of them is taking a trip to one of the wineries. It's an experience people often associate with Europe, and perhaps Naples, but Australia has some of the finest vineyards there is. If you check out the Cafe Bus, you'll see an experience like no other. Filled with food, delicious wine, and amazing weather. It's better than going around the vineyards as you usually would, which is walking! You could also take a trip to the Mitchell Falls in Western Australia. When the air is so warm outside, the refreshing breeze that the waterfall gives is really welcoming. Plus, it's a great day out filled with adventure, and you might even get to have a little dip if the temperature is right!
The Best Beaches
It's no secret that Australia really does have some of the most amazing beaches. You've got some of the great, and some of the most famous, such as Bondi Beach. Hundreds of thousands of tourists flock there every year to see the famous lifeguards, and swim in some of the nicest waters that the country has to offer! If you travel a tiny way off the coast of Australia, you will find Whitsunday island, which is home to Whitehaven beach. It's arguably one of the most picturesque that Australia has, even if you do have to travel a tiny bit to find it!
City Wonders
Melbourne is at the top of our list for cities. It's so clean and pure, yet full of so much fun and vibrance. It's home to Yarra Valley as well, which is one of the most beautifully green areas that we know of in Australia. If you head deep into the city, you'll be surrounded by bars, clubs, restaurant, and pretty much anything else that you could wish for. Perth is also a really refreshing and up and coming city. It might be smaller than Melbourne, but it still has plenty to offer!
4 of America's Best Ocean Front Towns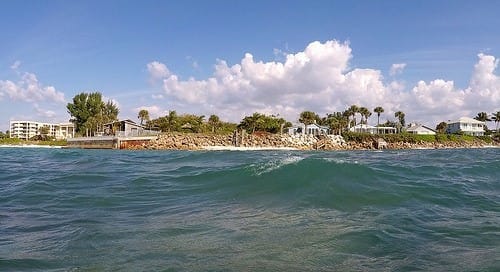 The United States is lucky to have lots of great coastal areas. With land on both the Pacific and Atlantic Oceans, the country has boundless beaches in many states. If you're looking to book a trip on the water, consider one of these oceanfront towns on the American coast.
Siesta Key, Florida
Ranked as the best beach in America by TripAdvisor, it's no surprise to see Siesta Key on the list of top oceanfront towns in America.
Your first excursion once here should be to dive under the water to see some of the country's finest aquatic life and corals. Snorkeling spots at Crescent Beach allow you to gaze upon a number of marine creatures in their natural habitat. Afterward, head to Turtle Beach to dry off and catch up on your reading. Finish the day off at Siesta Village, where you can shop, eat, and drink to your heart's content.
When looking for hotels in Siesta Key, check out locations near the beach so you can have waterfront views right from your room.
Pacific Beach, California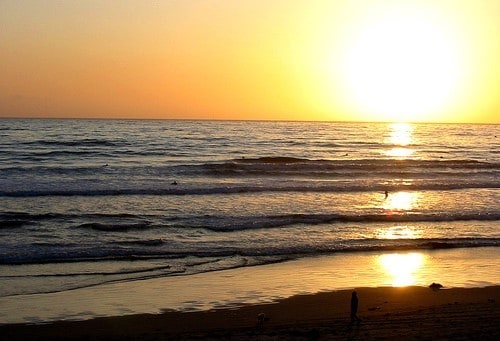 If you live on Florida's west coast, then Pacific Beach is your best bet for a fun time near the water. It's a hot spot for the younger crowd, with numerous bars and restaurants that stay open late into the night. If you're not so into partying, try your hand at surfing or bodyboarding during the day.
Pacific Beach also has a thriving Ocean Front Walk, which is a boardwalk that runs parallel to the water and has enough shops to keep you busy the entire day. Check out Pacific Beach accommodations early on so you can score a place close to all the action without breaking your budget.
Ocean City, New Jersey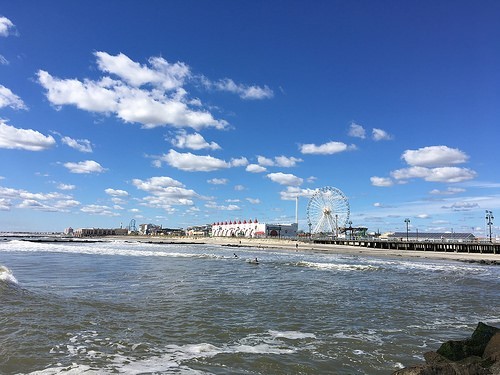 For those who are toting around the entire family for a fun-filled vacation, Ocean City in New Jersey is just where you want to be. From the world-famous boardwalk to the 8 miles of sandy beaches, Ocean City lets you keep the entire family happy without pulling your hair out.
Once you've tackled the shopping and dining of the boardwalk, head out on the water to try your hand at windsurfing, paddle boarding, Boogie boarding, and more. Kids will love it if you pick out Ocean City hotels near Jim Thorpe's River Adventures or the New Jersey Motorsports Park.
Islamorada, Florida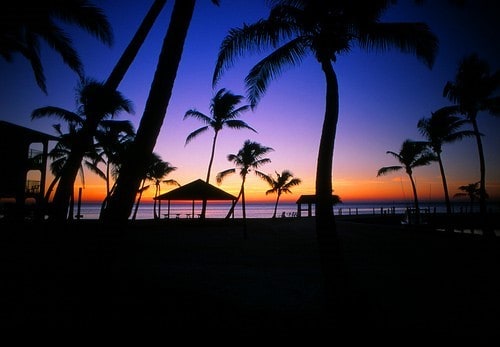 Islamorada is the place to go if you want a relaxed vacation with a natural vibe. Comprised of six islands, Islamorada is away from the hustle and bustle of the mainland. Fishing reigns supreme here. Test your skills with both saltwater fly and backcountry sport fishing.
If you have diving certifications, you'll need to go beneath the water's surface to explore the wide selection of reefs and fish. There's even the History of Diving Museum to help you learn more about the hobby. Be sure to book your Islamorada hotels early, as rooms near the water tend to fill up fast.
You can't go wrong with a trip to one of these four oceanfront towns in America.
Australia – The Ideal Backpackers Destination
Backpacking all around Australia is a fantastic way to experience the sights of one of the world's most exciting holiday destinations. For the traveller who loves nothing better than trekking around a beautiful country, Australia is the place to go since it's the most popular country for backpacking worldwide.
One of the best things about backpacking around Australia is that you could spend an entire year exploring each region and still not see the attractions by spending as much time as you want in each area. You can plan your route ahead of time or be spontaneous and go where the spirit moves you.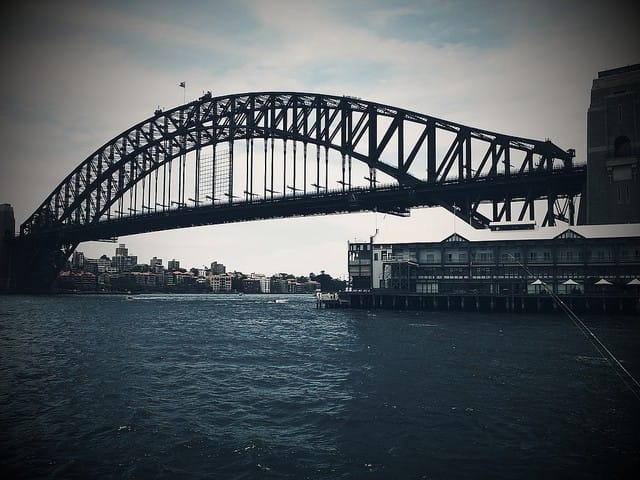 What Australia Has To Offer
Australia is a backpackers dream. The country is perfectly set up for anyone who wants to spend six months or even a year exploring. Some people even end up getting a camper and camping all over the country.  Hundreds of hostels for hikers and backpackers are throughout around the country; the accommodations are clean and comfortable, and it's easy to arrange transportation from one location to the next.
Heading down under offers the opportunity to make friends from around the world who share your love for backpacking. Some suggestions to follow before you begin your Australian adventure can contribute to making the journey everything you expect.
Food and Drink
A lot of backpackers travelling around Australia take advantage of the abundance of Asian cuisine that's available in the major cities and small towns. Asian food is inexpensive, filling, and tastes great. Cooking yourself is a good way to enjoy the food you like and save money since you aren't dining out every night. Check out this article if you are looking to dine on a shoestring.
Australia also has one of the most vibrant coffee cultures.  Visitors from Europe are often surprised at the quality and variety of coffee blends in the Country, much of which is due to the influence of European immigrants who brought their coffee culture with them.
And if you are "outback" they even have a way of making real Italian Coffee in the bush with a portable coffee machine called the Handpresso; a lightweight coffee maker designed to take easy serve espresso pods, giving you real Italian Coffee on the road.
Backpacking Destinations and Itineraries
If your have between three and six weeks and want an unforgettable experience, the east coast of Australia offers the chance to see the sights of Cairns and Sydney, with Melbourne and the Great Ocean Road if you want to extend your trip. In Sydney, visit the harbour and take the coastal walk between Bondi and Coogee Beaches. Blue Mountains National Park is to the west of the city. Towns near Port Macquarie are ideal for bush walks with some of Australia's best surfing on the coast.
Before you go to Cairns, pop over to Magnetic Island for some of the best walks on the east coast. The best way to observe koalas in their native habitat is on the Fort Walk. If skydiving is on the bucket list, head over to Mission Beach; the most inexpensive spot in the area to learn skydiving. When you get to Cairns, you've arrived at the Great Barrier Reef.
The Gold Coast of Queensland is a beautiful, laid-back region. Explore the World Heritage Gondwana Rainforest, camp out or hike the trails. Surfer's Paradise Beach is known by surfers worldwide. Make new friends at the cafes of Burleigh Heads.
Fraser Island is a must-see destination. The World Heritage site is the largest sand island in the world. Meet Australia's wildlife or explore the cliffs, the rainforest or go on a whale watch tour. You may even spot one of Australia's endangered dingos. The island offers accommodations for all budgets.
Backpackers can stay in group accommodations and enjoy the restaurants, bars, or cafes. Agnes Water, on the main coastal road in Queensland, is another famous surfing spot and is on the Great Barrier Reef's southern tip. Accommodations include hostels with basic amenities to luxury apartments and retreats with WiFi, swimming pools, bars, and bike rentals.
The Whitsundays are an island chain off the coast of central Queensland. The landscape is stunning, the beaches are secluded, and the people are friendly. The islands are on the Great Barrier Reef, with accommodations that are eco-friendly. Airlie Beach is known for hostels for backpackers, with diving, snorkelling, swimming, islands to explore, and exciting nightlife.
Places To Stay
Australia is gorgeous- it has a wide variety of landscape- from deserts and rainforests to beaches, forests, and grasslands. There are many places to stay at but the most fun is a place that's comfortable and offers you a great breakfast as well! Here are some of the best bed and breakfasts in Australia:
Ningaloo Bed and Breakfast– located in Exmouth, in Western Australia, this B & B is spread over 2.5 acres of bushland. Situated close to the Ningaloo reef, this lovely space has space for six adults. It's perfect for a quiet vacation, immersed in nature and enjoying the beauty of this wondrous landscape. There's something or the other to do the whole year through on the Reef, and this is the perfect place for nature enthusiasts.
Mary's Bed and Breakfast is situated at the base of Bold Park Bushland. With its comfortable rooms and continental breakfast, this is a popular choice for travellers keen to see and experience the bushland. There are beaches at a few kilometres away, as is King's Park and the Museum. You also have great food choices, sports and the village of Claremont. The King Studio and the apartments have all amenities, garage, and private entrance.
The 12 Apostles Bed and Breakfast is a lovely farmhouse situated on a hill behind the 12 Apostles. If you want to feel a sense of being in the countryside, this is the place for you. The sea views are calming and exciting, there's a lovely garden to relax in, and just a few minutes away is the magnificent 12 Apostles. The breakfast and the views are both gorgeous. You may have seen many a sunrise or sunset, but nothing quite like the one from here.
For a different type of B&B, head to Coober Pedy and check out the underground VenusHill Bed and Breakfast. Even the approach is great- a tunnel at a slight angle. It starts from here- the excitement and magic. The underground accommodation is warm in winters and cool in summers. It has a complete kitchen, all amenities and a chance to experience the mining life.
Launceston Bed and Breakfast Retreat- for a view of the river and some exciting wildlife sightings, check out this space. It's gorgeous not only for its location but also for how lovely the property is. The South Esk river keeps you company throughout. It's about 15 minutes from Brisbane St mall, and the Cataract Gorge. It's also close to the river and you can spot a lot of wildlife here- wallabies, kangaroos, etc.
Amber Lodge Bed and Breakfast– situated in a World Heritage Forest, this is one beautiful property. It has an old world feel to it- with its high ceilings, and wooden interiors. The Tamborine Mountains are a perfect backdrop to this property. Explore the wineries of the region, take a walk through the forest or just explore the space- the Markets are delightful. There's a lot to do in this gorgeous country. Head to South East Queensland for this place.
In Sydney, check out the Cecil Street B&B Manly. Set in a residential neighbourhood, the two warm and inviting rooms are comfortable and put you right in the centre of everything- the B&B is less than 4 kilometres from the Sydney Harbour National Park and just 15 minutes away from Manly Beach. Sydney is a vibrant, alive space and being at Manly will help you enjoy it even more so. Shop, visit the opera, take a trip to the outskirts- everything is well within reach.
Nestled in the Derwent Valley in Tasmania is the Roslyn House. This Bed and Breakfast has a great rustic feel, what with its furniture and decorative elements. A hearty country breakfast awaits before you set off on your day of exploration- the Mount Field National Park is 20 minutes away and the city of Hobart is less than an hour's drive off. This is absolutely breath-taking property- green lush grounds, lovely gardens and well-appointed rooms.
Como Waters Bed and Breakfast, in Perth, Western Australia, has three comfortable rooms and parking. It's 10 minutes by car from the City Center, and about half an hour from Fremantle. The Como is close to eating joints and stores. There's a private courtyard to take advantage of the beautiful weather. It's close to the Swan Valley wineries too and that makes for a fabulous trip.
Thanks to online sites, finding a vacation rental is easy today. A guest is spoilt for choice- from AirBNB to specific sites devoted to Bed & Breakfasts, Vacation rentals, be it apartments, villas or condos. But there's one thing that you need to do- take the time and effort to learn all about your hosts and the spaces they are renting out by doing a background check. Check the location, the proximity to places of interest and tourist choice and then take a call on where you want to go.
Enjoy a wonderful vacation!

We have been wearing out our jandals (Kiwi for flip-flops) on our travel adventures around the world since 2009. We think our blog is thought provoking and a little witty. But we have been proven wrong before. Find out more about us here...