The best thing about living in Edinburgh, okay second best after Edinburgh Castle, is that you can be outside the city within a matter of minutes if you are willing to hop in your car. However, like most backpackers and travellers, having a car on hand is not always an option.
You are in luck as exploring Edinburgh on foot is just as good, if not better, due to the excess of parks within just a few short steps. And the Arthurs Seat walk is one of the best in Edinburgh.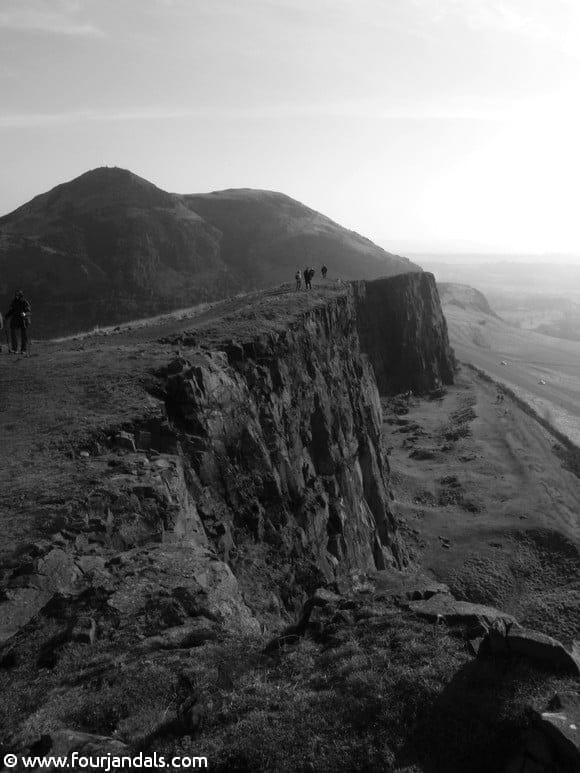 Guide to Arthurs Seat Walk
Our favourite place to get away from the hustle and bustle within the city limits is walking up Arthurs Seat in Holyrood Park. Visible from nearly every corner of Edinburgh it is quite easy to be daunted by the Arthurs Seat walk which provides a spectacular backdrop to an already beautiful city.
The fact is that it is actually only 251m to the summit which makes it a perfect vantage point for views. And these views, and its close proximity to Edinburgh's Royal Mile, make it extremely popular with walkers, joggers, locals and tourists alike.
There are a variety of pathways up the hill for all ages and abilities. You can tackle it by going straight up the guts from for a lung busting, calf burning steep climb (my favourite) which takes about 20 – 30 mins. Or take one of the many meandering paths that wind their way leisurely to the top.
The map below shows some of the many easier routes available…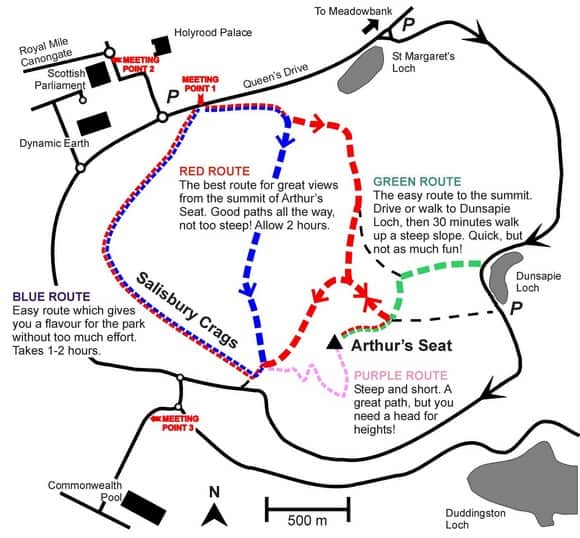 And for those extremely lazy folks, you can even drive most of the way up and park near the top for an even shorter stroll.
The views at the top of Arthurs Seat walk are truly spectacular. On a clear day you can see across the Pentland Hills, the Firth of Forth, not to mention that Edinburgh lies at your feet.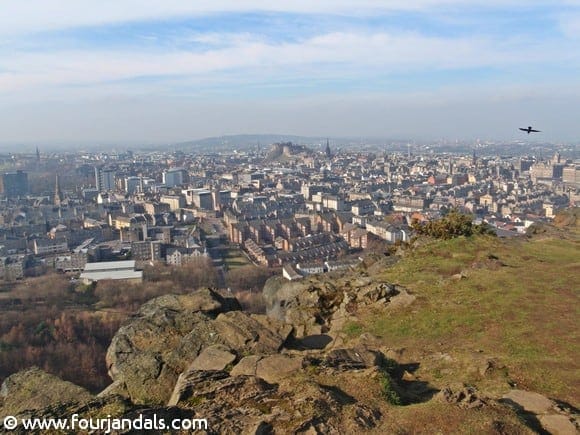 If you have a few hours to spare then don't stop at the top.
The rest of Holyrood Park has a variety of different places to explore. Following the Salisbury Crags will lead you back towards Holyrood Palace. Or wander around the park trying to locate the three lakes, Duddingston Loch, Dunsapie Loch and St Margaret Loch, which all provide an opportunity for the kids to get rid of that stale loaf of bread in your backpack to feed the swans.
There are also the ruins of Anthony's Chapel which provides a great opportunity for photo taking. Or the secret Underground Railway which I don't think many people know about as I only found it by accident one day as I was exploring the small pathways. Will let you find that one for yourself.
I am also convinced there must be secret tunnels from Holyrood Palace in case old Queenie ever needed to escape from a marauding horde! Let me know if you find them 🙂
Edinburgh's largest hill is definitely a quiet place of sanctuary away from the crowded streets and a small slice of Scotland's ruggest countryside within the city limits. An Arthurs Seat walk is the perfect way to spend your sunny summer's afternoon.