Travel Resources for Adventure Travellers
Hopefully you have had a read through our Start Here guide with our most popular, and helpful posts, and you now want to experience your own travel adventure.
Below you will find a tonne of travel resources that we use and recommend to all our friends. And best of all, they are perfect for travelling couples and solo travellers.
Our Favourite Travel Gear
We use this gear on a daily basis when we are travelling so we guarantee that you will love it too.
Samsung NX 1000
Most of our photos are taken with the Samsung NX camera. It is a micro four-thirds camera with interchangeable lenses which allows us to capture our adventures in every situation. Check it out.
Samsung Galaxy Tab 2 10.1 Inch
We love to read and surf the internet while on the move and cannot recommend the Samsung Galaxy Tab2 enough. It is light weight and has a great battery life for those long haul flights we dread. It has built in WiFi and additional storage for photo editing etc. Check it out.
Lenovo ThinkPad
Our laptop is one of the most important items we travel with. If we didn't have a fast, lightweight and durable laptop while we were travelling then we wouldn't be able to run our blog. It is perfect for editing photos with Lightroom as well as watching movies on. Check it out.
Samsung Galaxy SII
While I would love to upgrade to the SIII, it just isn't feasible. This phone allows us to update our travel blog in real-time as well as take amazing photos for Instagram. It is the perfect smartphone in our opinion. Check it out. 
GoPro Hero2
If you have watched any of our adventure travel videos then you would have seen the GoPro Hero2 in action. This rugged camera is perfect for your next skiing, hiking, mountain biking or diving adventure. You can literally take it anywhere. And now the upgraded Hero3 is out too. Check it out.
Our Favourite Travel Books and Guides
Whether you are an experienced traveller or a travel virgin, these eBooks are perfect for discovering insider travel tips and knowledge.
Our Favourite Travel Companies
Flights
Skyscanner is a great flight search engine for finding cheap flights for anywhere in the world. They take all the hassle out of finding flights by searching nearly every airline and other flight brokers to find the best deals. And it doesn't cost you any extra. It is a perfect starting point for finding cheap airline tickets.
loveholidays:  They have revolutionised the way that holidays are offered. They provide four flexible payment options to choose from, in a bid to make holidays more affordable for everyone. After all, there is no feeling quite like booking your perfect getaway!
Accommodation
We love to use Hotels.com because it allows us to earn one free night of accommodation for every 10 nights that we book. And considering we travel a LOT, we earn lots of free nights. They also have lots of special deals and sales for every city around the world.
Couchsurfing allows you to find spare rooms or couches around the world for free. Perfect for meeting the locals and saving money. You can even host couchsurfers in your own home if you want to return the favour.
Expedia can be a good option for finding package deals for accommodation, flights and experiences. They also seem to beat most other cruise comparison sites too. And once you start booking with them regularly they have a great loyalty program.
Booked.net
Booked.net is one of my other go-to sites when I am looking to book my accommodation online before embarking on my next adventure. I love showing up to a place knowing I don't have to door knock to find a bed for that night. With booked.net I can just dump my bags and start exploring.
Other Essential Travel Products
World Nomads will cover all sorts of situations whether you want to just wander the streets of Paris or jump out of aeroplanes. Their customer service and prices are some of the best in the business. And considering we have needed over $105,000 worth of insurance claims to date, we need good insurance.
Tours/Agents
Busabout
Busabout is a great way to travel around Europe with their unique hop-on hop-off flexible bus network. They have also created other travel adventures such as island hopping in Greece and Croatia, trekking through Eastern Europe and discovering the ancient cultures of Egypt and Morocco. Our Busabout Sail Turkey cruise still rates as one of our favourite trips to date.
GetYourGuide are an excellent travel resource that provides you with an extensive list of tours all around the world. Whether you want to go Whale Watching in Iceland or do a City Tour, GetYourGuide is definitely a one-stop-shop for your next trip.
Overseas Attractions
If you are looking for a travel resource to book all your trips and sort out your itineraries then check out Overseas Attractions. They have a range of tours and trips for everywhere in the world.
Our Favourite Travel Related Books and Movies
Coming soon…
Disclosure: While some of the links above are affiliate links, there is NO additional cost to you, but we will earn a commission if you make a purchase. If you want to support us and this website, and are ready to book any part of your trip, then using the above links will do exactly that. If you have any questions about the companies listed please contact us any time to hear about our personal experiences using them.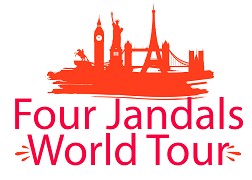 We have been wearing out our jandals (Kiwi for flip-flops) on our travel adventures around the world since 2009. We think our blog is thought provoking and a little witty. But we have been proven wrong before. Find out more about us here...
What Are You Looking For?