6 Basic Money Saving Tips for Travel Adventures in 2013
We want to help you start travelling this year. Check out our 6 basic money saving tips for travel adventures in 2013 to get your started on the road.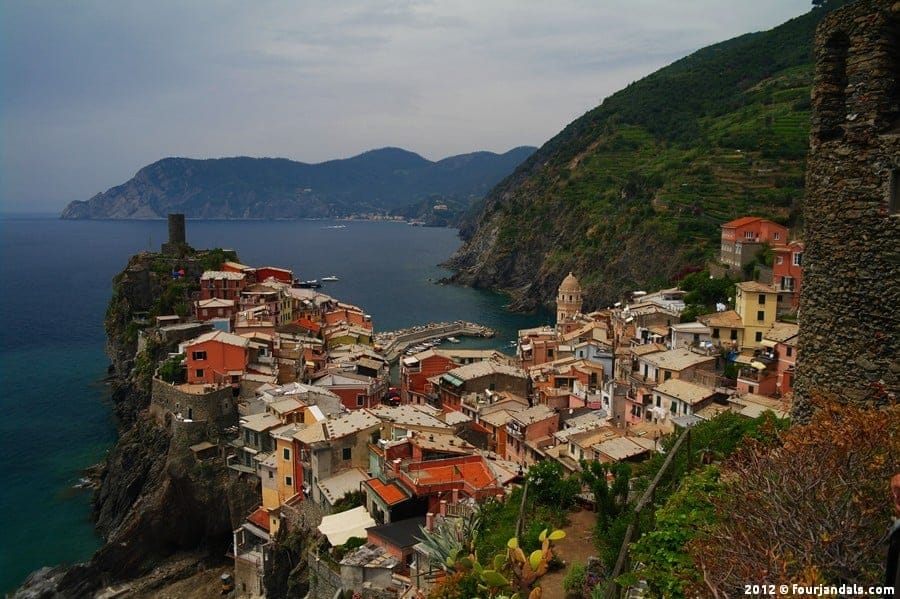 2012 was an incredible year of travel adventures for us. We used our money saving tips for travel and visited 14 countries. We were quite honestly living the travel dream.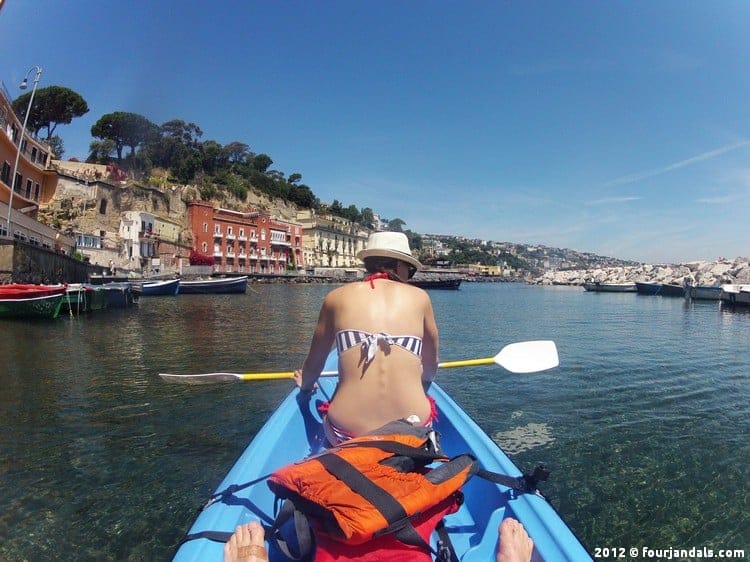 Kayaking in Naples, Italy
While some may think we are loaded with money, they would be very wrong.
In reality, the way we manage to have so many travel adventures around the world is because we prioritise and follow achievable money saving tips for travel.
With a little organisation about how we live on a day to day basis, we are able to save more money to travel.
Set your travel goals first
Before you read on, set two goals; where you want to travel and how long for. There is no point saying you want to travel around the world for 12 months if you only are willing to save $1000.
While I am sure there must be a way to travel for 12 months on $1000 (let me know if you find out how), it is important to be realistic about your travel budget. If you stay in 5 star resorts then you obviously need to save a little more money, than if you stay in backpacker accommodation.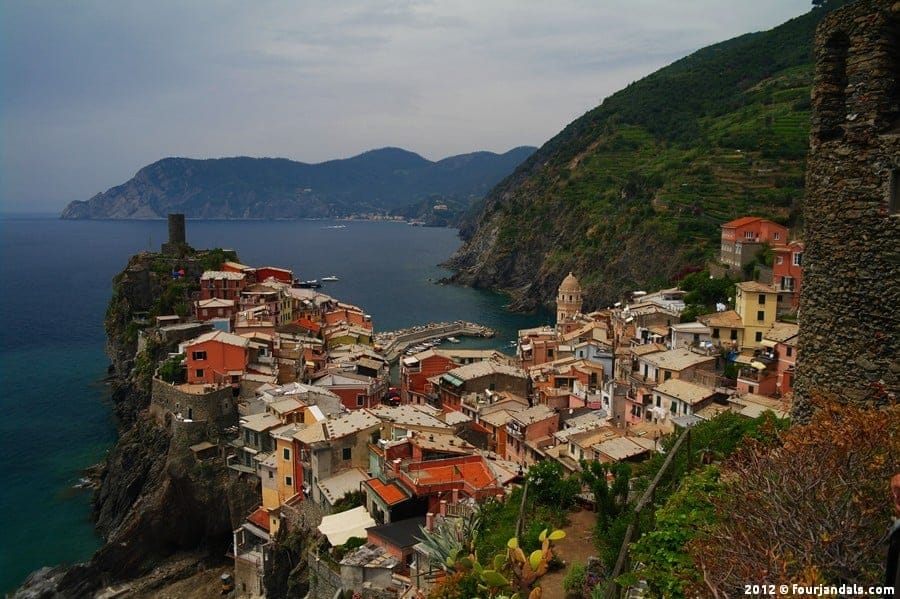 Additionally, if you only want to go on a 2 week trip to the perfect vacation destination then you don't have to save as much. If you want to enjoy an island paradise why not fly to Bali. You can enjoy island life, the amazing beaches and water sports all within your budget. Most people believe that beach front hotels are really expensive, but with little effort you can find great deals on ocean front Bali hotels. You can always use Marriott Rewards too.
If you don't know which accommodation you would prefer, then check out our Hostels vs Hotels vs Apartments article.
6 Basic Money Saving Tips for Travel
With your travel goals set, you can use these 6 basic money saving tips to start travelling to help get you on the road to your own travel adventures in 2013.
Start Saving
Yup that's right, start saving. You have to actually make a commitment to saving before you can even begin. There is no point going into this half-a$$ed if you are just going to give up in a few weeks.
Open a new bank account with a good interest rate and deposit your first $1. Ideally it would be more than that if you can afford it, but depositing the first $1 means that you have started!
Work out your necessary expenses budget
While it would be great if we could save every penny we make, there are some necessary expenses. You need to eat, put a roof over your head etc. Luckily you can quite easily figure out what your necessary expenses are.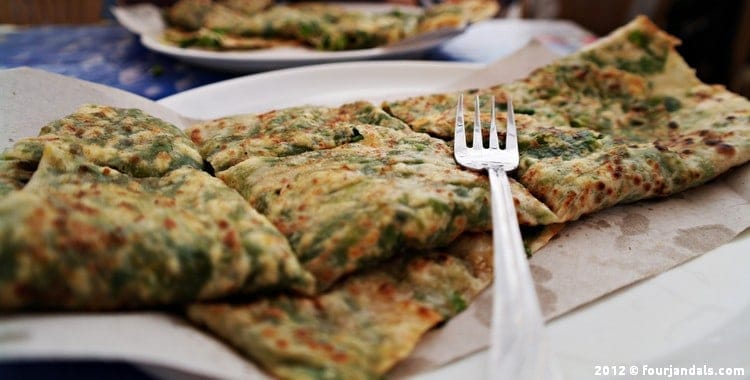 Cut your expenses so you can eat gozleme in Turkey.
And once you have those, you will know how much of your pay cheque you can afford to save. Anything extra should go straight into your bank account removing any temptation for you to make impulse purchases.
Use Cash and get a Piggy Bank
With your necessary expenses worked out you should know exactly how much cash you will need each week. By only getting out a set amount of cash each week you will limit how much you spend with the rest of your pay cheque going into savings.
Any coins from your wallet can also be thrown straight into your piggy bank (or jar). It is amazing how quickly loose change adds up. Within a few weeks you will have enough for another nights accommodation or a nice meal out.
The other benefit is that if you remove the coins then you are less likely to use those coins to buy small treats all the time too.
Change your spending habits
You will need to make sacrifices when you begin to save money for your own travel adventures in 2013. It is important to remember in the back of your mind that you are doing it for a reason…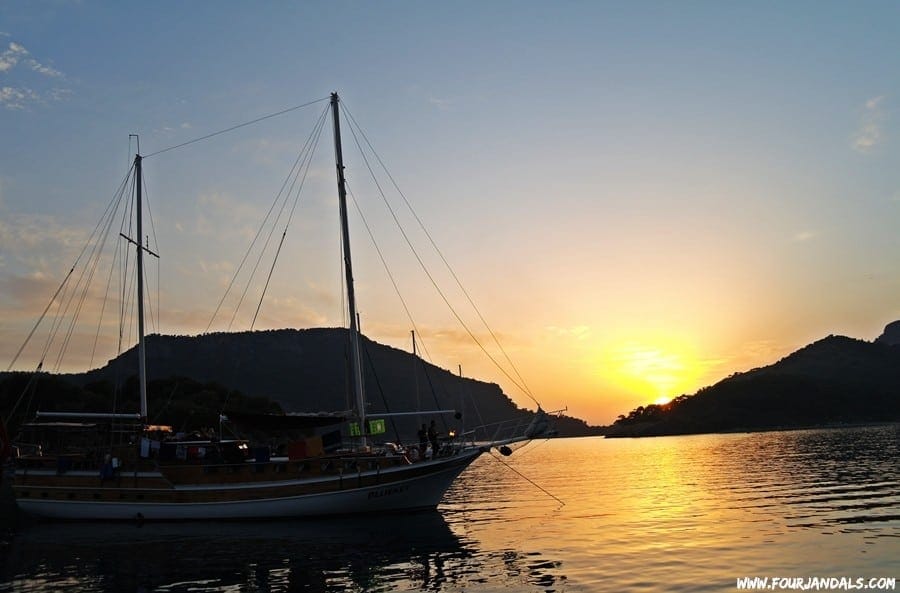 Is this reason enough to save money for travel?
Take a look at what you spend your money on at the moment. Every time you buy a cup of coffee, round of beers, go out for lunch or drive to work, they all cost you savings. Money that you could have used while travelling.
By cutting out these small purchases, you will rapidly increase your savings in your new bank account.
Sell your unwanted stuff
Now that you have cut down on a bunch of expenses, you should have some extra money building up every time youe pay cheque comes in.
One trick to boosting your savings right before you leave, is to look at selling some of the things lying around the house. Depending on how long you are travelling for depends on what you can sell. If you are going for a year or more then look at your electronics first.
Realistically, in a years time some of the electronics you own might be getting out of date. While they might be worth money now, they probably won't be in another years time.
Look at your old clothes, books and furniture. Anything you don't need in your backpack for your travel adventure can probably be sold.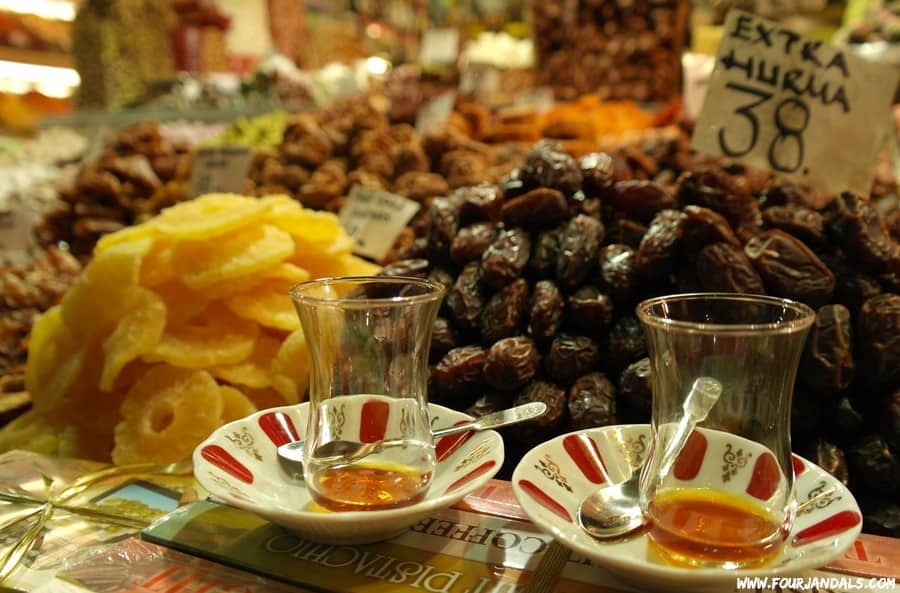 Finally, treat yourself
Okay so this isn't a money saving tip. But saving is damn hard work. You have to make sacrifices from your usual daily lifestyle to be able to save money for travel. That is why it is important to treat yourself every once in a while to stay sane.
Just don't go crazy!
Limit yourself to grabbing a beer with your mates, go out for dinner with your loved one or just rent a movie to chill out. By treating yourself, only very rarely, you will be able to save for a lot longer.
This will allow you to get out and begin to enjoy your travels. The best place to start is to get all your vacation rentals tips and ideas from here, before getting out and spending that hard earned cash.
So where are you going to go with all your money saved?
A guide on choosing the best air mattress or sleeping pad for the trail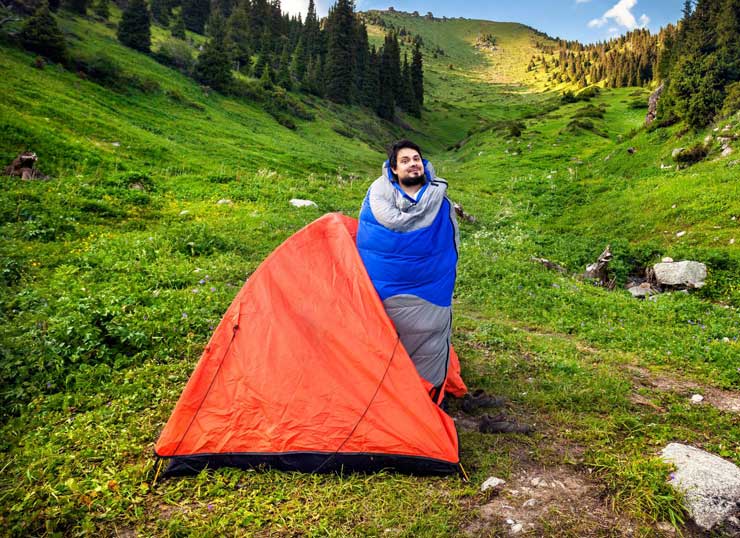 If you're planning an overnight hike, the essentials that can make or break it are the essential provisions (food & water) and a good night's sleep.
Getting the former right is not so complicated – you know your needs, you know the trek you're tackling and you plan the volume and how energy-dense your food needs to be to keep you going.
On the other hand – getting a good night's sleep outdoors is a bit trickier and calls for a bit more planning. The paramount choices you'll need to make are the tent, the air mattress (or sleeping pad) and an add-on like a sleeping bag.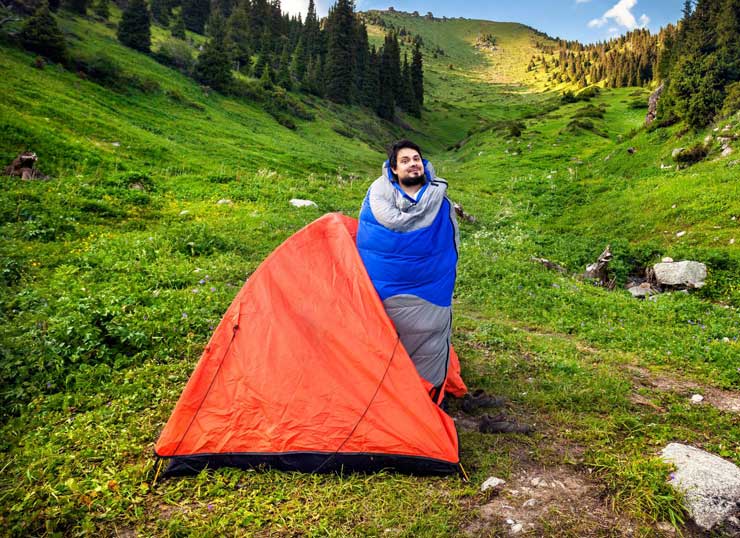 Today, we'll look into what you need to know to choose a good air mattress. We'll go over some basic rules-of-thumb and then we'll mention a few specific products that might be right, depending on your scenario.
The basic questions
Before you even look at specific products, there are a few questions you need to ask yourself:
Are you backpacking or driving to the trail?
Will you be setting permanent camp or move daily?
How do you adjust the size of the airbed to the size & shape of your tent?
Scenario 1: You're driving to the trail & setting up camp to get back to each day
This is a scenario that will give you the most options to choose from because you don't have to think about the weight of the airbed, the only thing to think about is fitting it into your tent.
The one mistake people make
You look at the space you have on the tent floor, you look at the dimensions of the air mattress, do the math and if they fit you might think that you're OK.
It might sound basic, but we've seen it too often to ignore it – people tend not to take the slanted sides and the height of the air bed. This part is especially important if you have one of the two most common tent types – a ridge or a dome.
The inward sloping of the sides will become a problem if you go with a high-rise blow up mattress. The higher the air bed, the more it reduces the sleeping capacity of a tent with slanted walls.
For a 2-person tent
Rule of thumb: If it's a 2-person tent you're "working with", a low-rise twin airbed or pad is your safest bet. Our picks as the best air mattresses for this scenario are the SoundAsleep Camping Series & the Lightspeed Outdoors TPU.
As per the user reviews we looked at, the SoundAsleep Camping Series is the top-rated classic airbed – it comes in Twin & Queen size, inflates in just under 3 minutes (the pump is included) and comes with a 1-year warranty.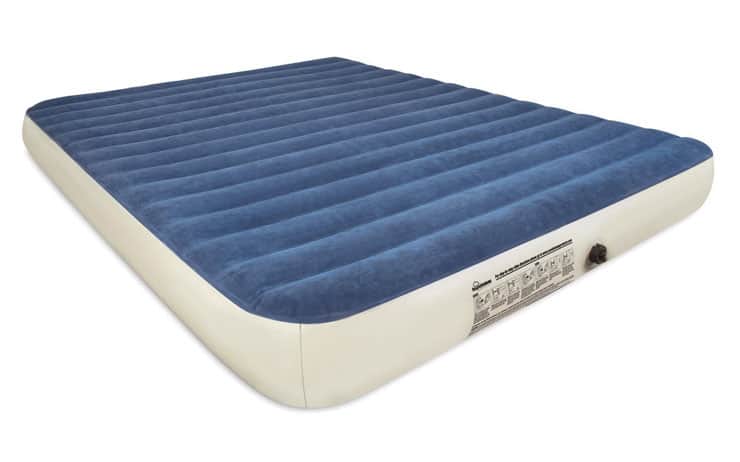 It sits at 9" and will not "waste" any significant tent space.
The Lightspeed Outdoors, on the other hand, is not what you'd call a classic model. The first thing that's not classic about it is the material – it's not vinyl but TPU. TPU is closer to the "feel" and characteristics of fabric than plastic.
It stretches less and, as a result, feels firmer.
The 2nd thing that's worth mentioning is that it is an inch longer and an inch narrower than a twin airbed (usually 78 x 60 "). It sits at 8 inches high.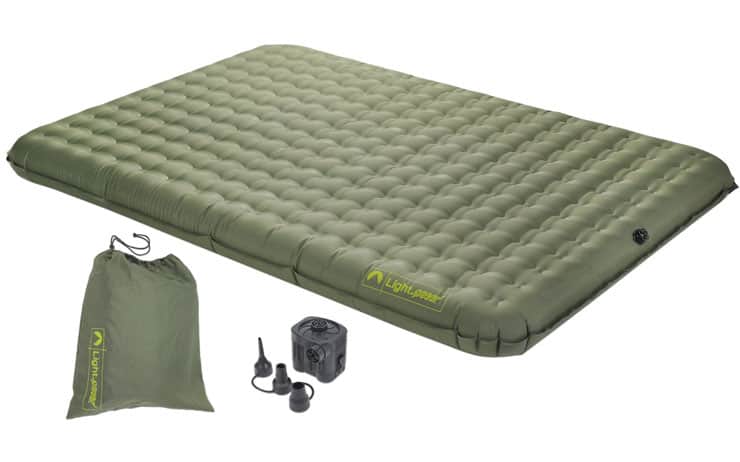 The SoundAsleep weighs just under 10 lbs (twin size) and the Lightspeed Outdoors is significantly lighter (just over 5 lbs).
Not only were these two models top-rated by users but they're also labeled as best air mattress as per TheSleepStudies.com – a website that tests and reviews air beds.
For a 4-person tent
A 4-person tent will be approximately 65 feet square. These are large enough to comfortably fit in a queen size inflatable. Our pick here & the best queen size air mattress is the Coleman SupportRest.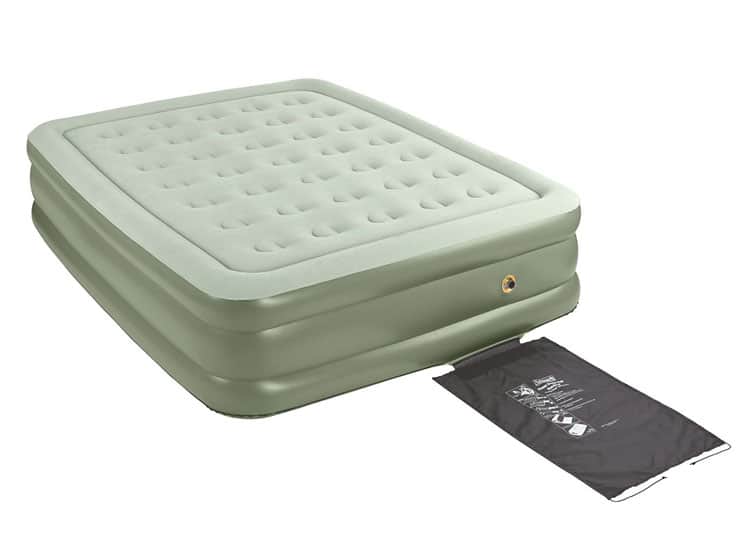 We didn't have to do much research because this Coleman is the official camping air bed of the National Park Foundation.
It's raised at about 20 inches and comes in Twin & Queen size. One thing to be aware of though, is that it doesn't come with the pump by default. If you go with the Queen size, you'll have to get the pump separately. The combined price of the two (the bed and the pump) is just over $70.
If you need something more durable & heavy-duty, you might look into Coleman DuraRest that was one of the top picks as per the Independent.co.uk.
Scenario 2: You're backpacking or moving camp each day
In this scenario, an inflatable mattress will simply not be an option; they are too heavy to be carried around. You'll want to go with a sleeping pad.
The best air camping air pads are significantly pricier than the options we mentioned above. The reason behind it is the fact that more technology goes into keeping you warm with a pad that's lighter than 1 pound.
Our top pick here is the Therm-a-Rest NeoAir Xtherm. This Therm-a-Rest has been top-rated and listed as Editor's choice as the best sleeping pad at OutDoorGearLab – a website that tests outdoor products, including sleeping pads.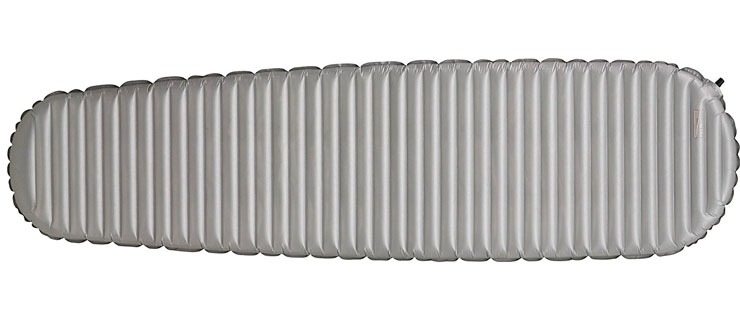 What's better about it is that the company managed to design so that it's amazingly light and thin (just over 1 pound and 2.5 ").
They did it by using what they call triangular core baffles and ThermaCapture material. The former minimizes heat transfer between the ground and top surface of the pad, while the later reflects the body warmth of the sleeper.
If you don't need so much insulation
If you're not expecting cold night on the trail, you can go with something more budget-friendly, like the Klymit Static V. It's wider and more comfortable than most pads in its price range. You can see more reference info about types and option you have when choosing a sleeping pad on REI.com
Do bear in mind that the R-value (describes how well the pad insulates the sleeper) of this Klymit is much lower than the mentioned Therm-a-Rest NeoAir (1.5 vs. 5.7). This means that it will keep you comfortable but won't do much in terms of keeping you warm.
We believe we got our bases covered
This guide was planned to look at the process of choosing from different angles and scenarios. We believe we've covered 90 % of those. If you have any questions, feel free to use the comment section and we'll do our best to help.
Tips for Couples Travel: Keeping Romance alive
Travelling as a couple on the road can be extremely hard. Use our tips for couples travel to help your travels especially in time for Valentines Day.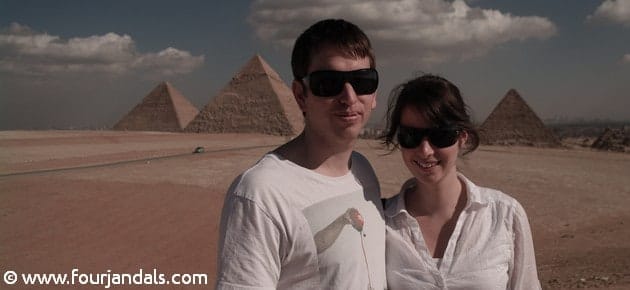 When you are travelling as a couple it is really important to remember to keep romance alive. These tips for couples travel will hopefully help.
You have to take great care to not only keep each other happy but also to celebrate special events such as anniversaries and other romantic moments in your lives.
Why?
Because travelling can take it's toll on even the strongest relationships.
A lack of sleep while crossing different time zones will leave nerves frayed. While the stress of navigating your way around a foreign country will rattle tensions further. And to top it off you will be in each others faces through the good times and the bad 24/7.
Considering that with most budget travel, your savings will not usually allow for extra expenses such as romantic dinners which can help to recharge those relationship batteries. Instead you will find yourself arguing over whose turn it is to cook the spaghetti on toast!
With Valentines Day nearly upon us it might be worthwhile sharing some of our own little secrets of how we travel as a couple.
So how do we find the energy while on the road keep from tearing each others heads off every second day?
It's easy!
Think outside the box
You shouldn't have to look very far from where you are at that moment to gain just a little bit of inspiration. Travelling is romantic in it's very nature!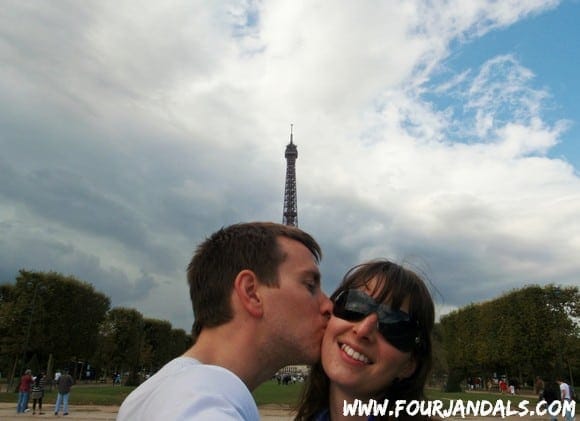 Sure you may not be in one of the most romantic cities of the world like Paris or having an epic Hawaii holiday on the beach. But, you are likely to be somewhere that isn't home! That is what makes it special.
Stop being a tourist and slow down
I don't mean for the entire time you travel but you can definitely spare a day or even an hour to slow down. For that short period you need to stop, think and act like a local.
What do locals do to keep their romance alive wherever you are? I am sure that they don't wake up at the crack of dawn to be the first in line at the local attractions! No, they sleep in and savour each others company. Or they just stroll hand in hand through a park.
By slowing down you will enjoy those moments of madness as you run to make your train travel trip because you know you can chill out sometime soon.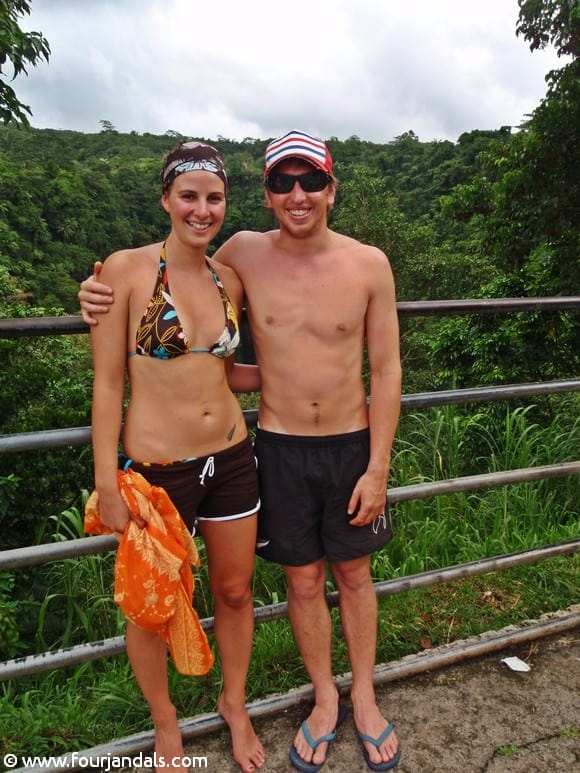 Don't be selfish
Travelling as a couple is all about compromise. If you have chosen the last 2 places to eat at or the last activity then it is time to hand over the reins. There is nothing worse than just getting to enjoy what you want while the other grins and bears it.
Other selfishness acts can be as simple as showing a little bit of courtesy. All it may take is to help her put on her backpack after a long day of hauling it around a dusty city and the romance will be kept alive.
Don't sweat the small stuff
You need to let the small things slide. You know that really cute chewing sound she makes when she is eating her food? Well that kind of starts to grind on your nerves when it is just the two off you.
But if you cannot learn to accept those small imperfections (and face it everyone has them and I am clearly no god myself) then the bigger worries are really going to set a wedge between you.
Time outs
Travelling is all about sharing special moments together. But, and I cannot stress this enough, everyone needs space.
Whether you like to chill out by going for a run, reading your book or just pondering life's mysteries with a beer in hand then make time for it. Just tell them upfront and trust me they will understand.
In fact they probably can't wait to get away from you too!
Laugh
We have had some epic fights on our travels and have spent whole days silently driving across America not talking to one another. Do you know how hard it is to give your significant other the silent treatment for 8 hours when they are sitting next to you in the car?!
Let me tell you, it is near on impossible.
Those times are tough but as you sit in silence you will realise just how stupid the situation is. Here you are halfway around the world from your family and you only have one other person to rely on.
When you are laughing most of the time then the small arguments will bounce right off.
Spend time with others
Human beings are social in their very nature. Why do you think girls like to sit around with other girls and talk at a million miles an hour? It's because we crave interaction.
I am quite happy to just chill out and be quiet. Adela on the other hand loves to talk. Early on in our travels I could not figure out how she can sometimes stand my quiet moments? Then it dawned on me.
It's because we always find the time to interact with others on the road. If you spend your whole time abroad and only talk to one another then it is going to be one helluva boring trip.
Travel is about meeting others. When you do finally get that time alone together you will relish in it!
Date night
Most couples usually have date nights when they are at home. So why not when you are travelling?
I know I said earlier that most of the time budget travel won't allow for you to go out for romantic dinners. But who said you have to spend $200 on a meal with a bottle of wine. Instead make a picnic and go chill out on the beach for a few hours.
Or just blow that budget and splurge! While your wallet might hate you, your relationship will thank you and the romance will be kept alive.
Do you have any couples travel tips you want to share?
Couples Travel – Why every couple should travel before marriage
We think that every couple should experience couples travel before marriage. It will make you stronger by helping you learn more about each other.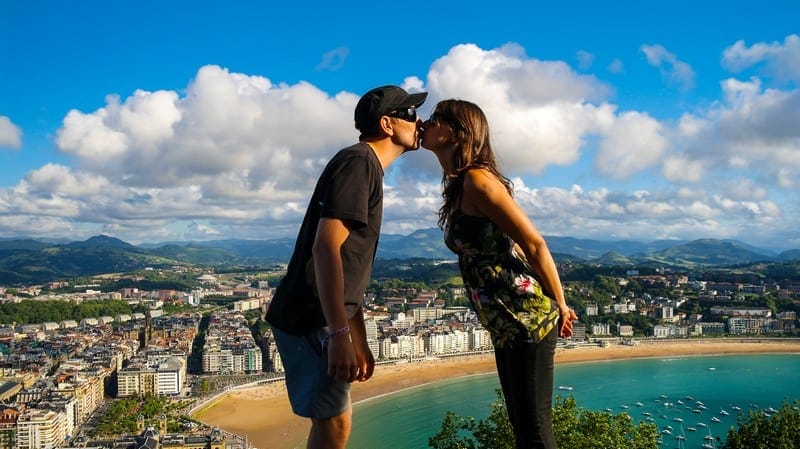 I have said it before and I will say it again. Before every couple settles down and gets married they should experience couples travel together for at least six months.
And I don't mean just going somewhere relaxing and romantic.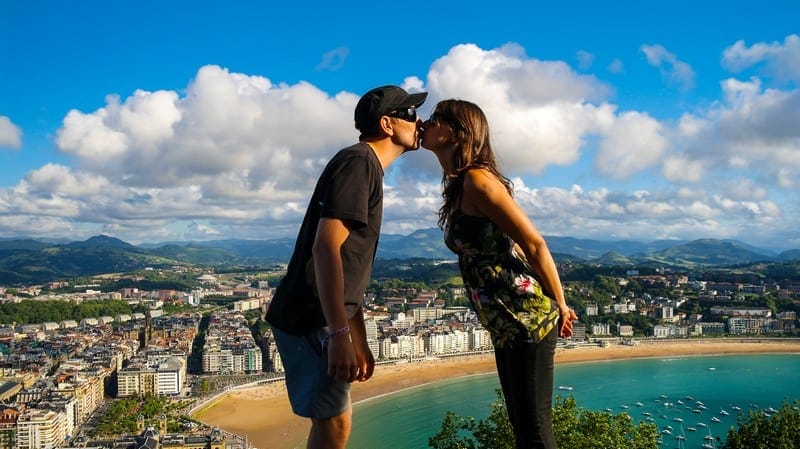 I mean that you have to really travel together. You have to step outside your comfort zones together to see if you are going to go be able to go the distance.
Couples Travel
While we may not be married, we do know what 3+ years of couples travel will do to a relationship. There is nothing that will strengthen, or break, those intimate bonds of a couple in love quicker than couples travel.
Travelling as a couple can be one of the most rewarding experiences of any couples lives. It can also be one of the greatest challenges you will ever face.
Living out of each others back pockets for months on end in foreign countries can be tough work. You might not be able to speak the local language fluently which means that you often have only one another to talk to for a few days.
Or you might be driving 18,000 km across North America in a tiny car that is also your bedroom, kitchen and living room. There is no escape and nowhere to hide if you fight.
The silent treatment for 8 hours tends to get quite boring.
You have to be able to make it work.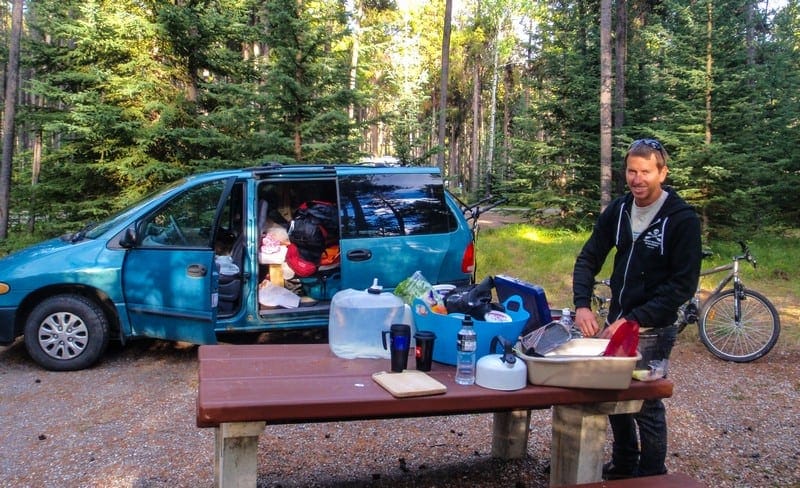 Yes we lived in that for 8 weeks.
So why should you travel as a couple before marriage?
Getting to know one another
During couples travel you quickly learn what makes another person tick. We have learnt a lot of life lessons while travelling as a couple and the ones that we stick to the most, are the ones that keep us both sane.
For example, I know that if Adela goes without a decent amount of sleep for a few days then she will be extremely cranky. And if I don't get food on a regular basis then I am going to turn into something resembling the incredible hulk, just without the green tinge and muscles.
It is being able to spot those little changes in one another quickly that will help you overcome much larger hurdles later in life.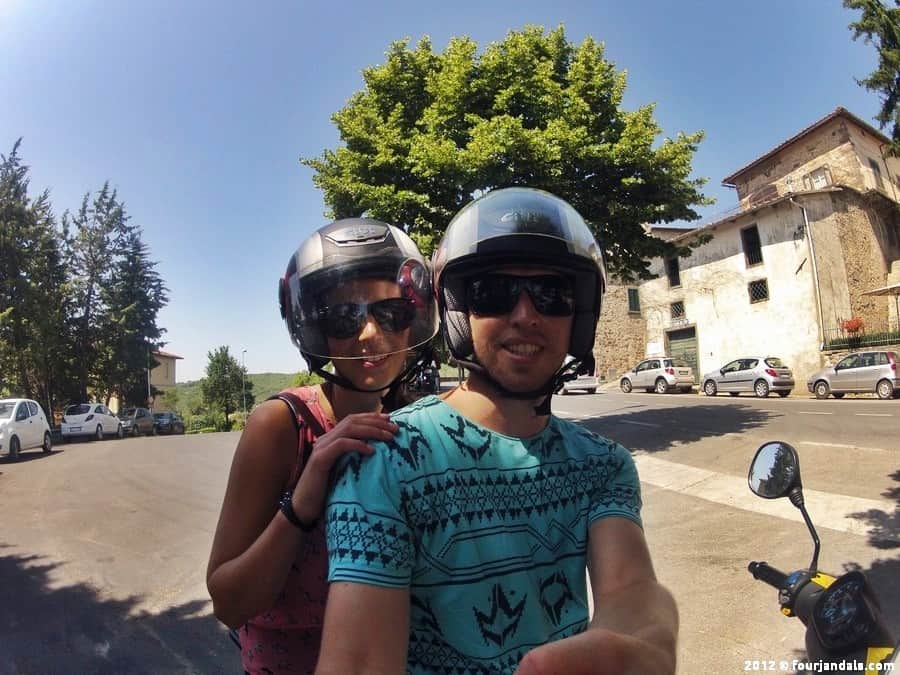 Good sleep + food = Happy couple
Facing your fears
Fears. We all have them. Whether it is a fear of heights or perhaps you suffer from claustrophobia, your partner can help you face those fears and overcome them.
We have a series on here about facing my fears where we deliberately put ourselves in situations that we are not 100% comfortable in. We think it helps us grow as individuals. But it also helps us grow as a couple.
When I suggested an adventure to go caving in Budapest, I knew that Adela would struggle with going underground. But she was willing to give it a crack. After we had walked just 50m underground, the door slammed shut behind us and Adela freaked out.
But knowing I was there to comfort her and help her out kept her calm until she got back to the surface. It of course didn't stop me from carrying on afterwards and having an awesome adventure either!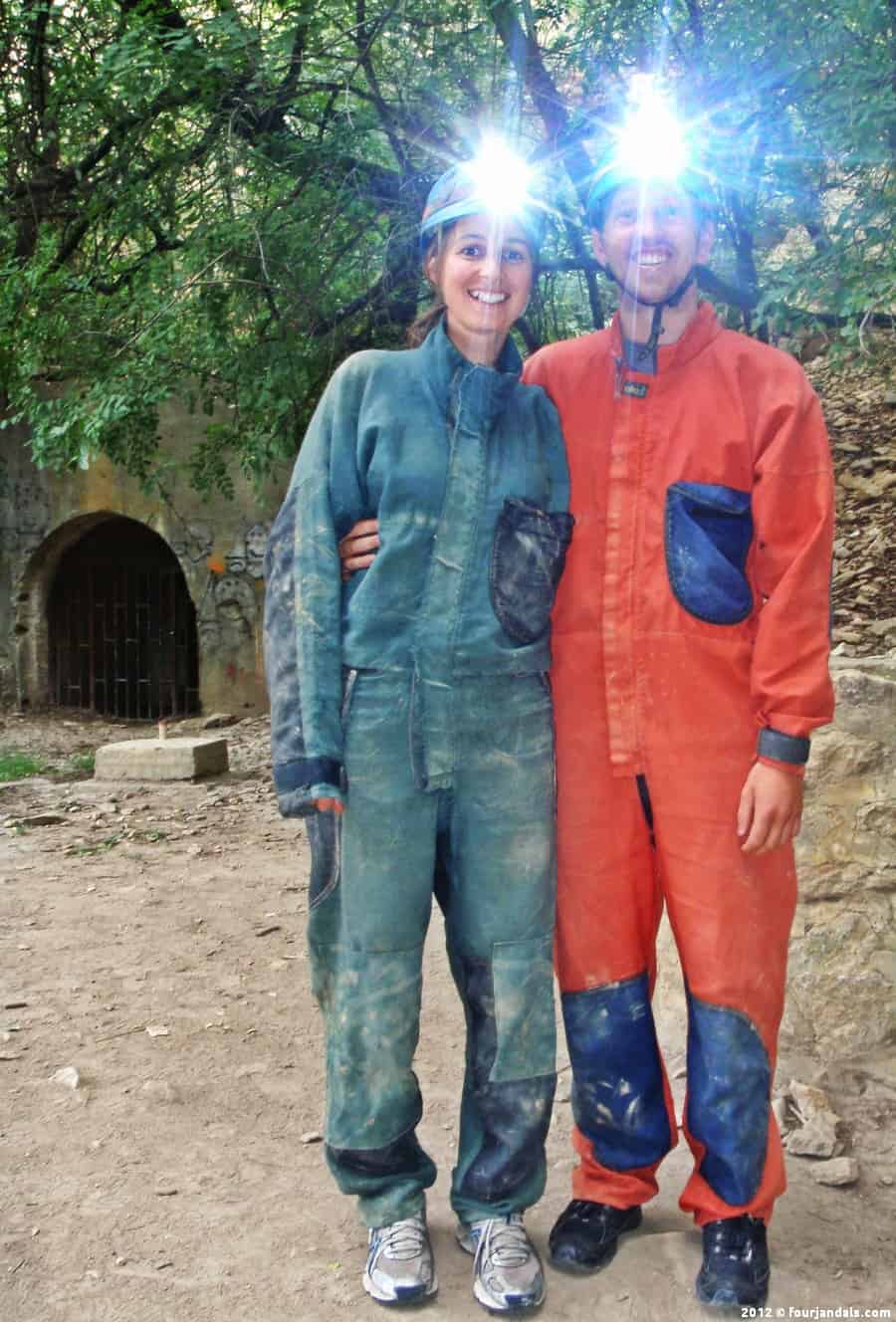 Being stripped bare
Being stripped bare in front of someone you love is not the same as facing your fears. It is much worse than that. It is allowing someone to become so close to you that they see you at your most vulnerable.
Couples travel will open up your most vulnerable sides.
Imagine this…
One of you falls victim to a sneaky snake charmer throwing his pet snake around your neck. 12 hours later you can't control the liquids coming out of either end of your body because of salmonella poisoning.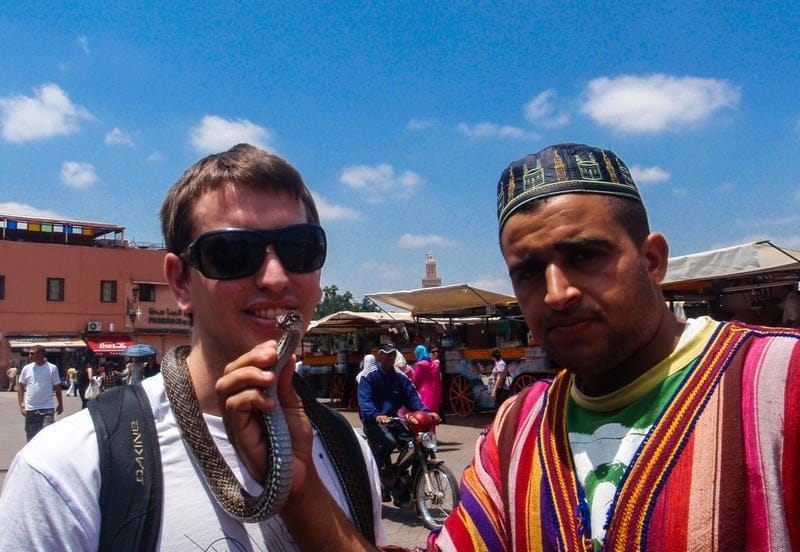 Not only do you wish that en-suite bathrooms with cowboy saloon style doors had never been invented. But this is also one time you don't want to be alone.
For two weeks I was horrendously sick and lost a frightening 10 kgs. So far from home and without the support of my family I had only one person to rely on. Adela. Luckily she put up with the sounds, smells and stress, and supported me through it all.
For that I am so thankful because I will never forget how vulnerable I was and how she never exploited my vulnerability.
Perspective: It's not all bad
Travelling as a couple is all about putting perspective on different events.
While you may become vulnerable, sick, frightened or angry, being there for one another is what counts to get you both through each situation. Because at the end of the day the good always outweighs the bad.
We never have to think too hard to remember the good times.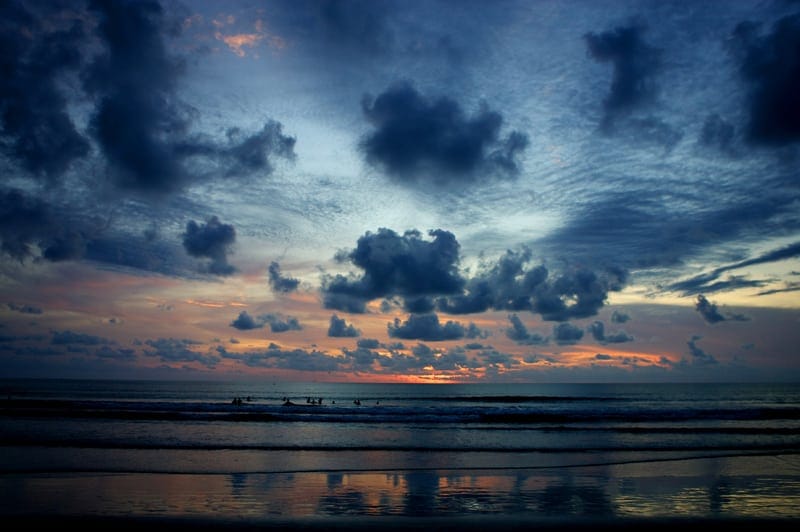 Sitting on a beach together watching the sunset. Drinking a coffee in a cute cafe in Paris or mountain biking in Canada. All of these experiences were made special because we did them together. They are treasured memories that we will share together forever.
Plus the bad can always be laughed at in the future.
In my opinion, if you can survive couples travel, you can survive anything. Including marriage.
Check out these Couples Travel Tips to learn how to survive travelling together. And if you want a "unique" Euro-trip adventure, you can always consider a holiday in Amsterdam to spice things up.
Have you travelled as a couple? Tell us about your experiences in the comments.

We have been wearing out our jandals (Kiwi for flip-flops) on our travel adventures around the world since 2009. We think our blog is thought provoking and a little witty. But we have been proven wrong before. Find out more about us here...