2012 Travel Adventures in Photos
2012 was an epic year for travel adventures. 14 countries and over 10,000 photos. Makes it hard to choose just 12 of our favourites but we have tried!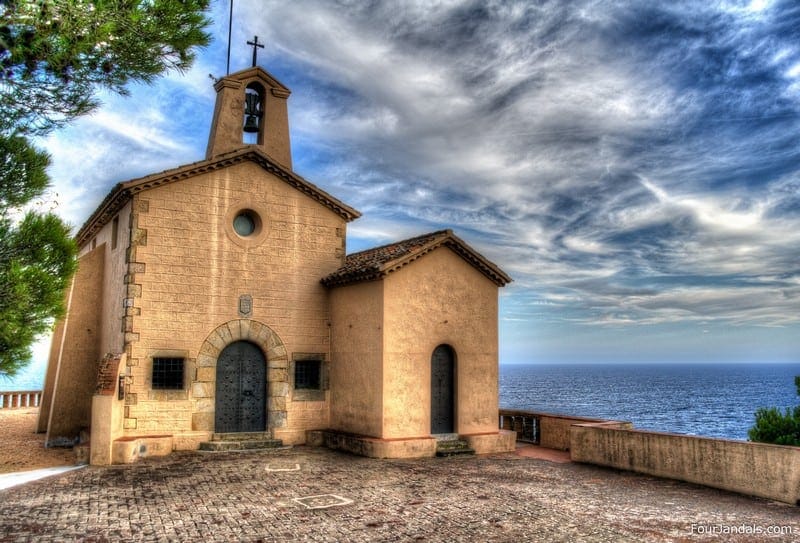 2012. What a year it has been.
It's hard to imagine that the year is nearly over because it feels like only yesterday that we were in Egypts capital city, Cairo, ringing in the New Year.
But since then it has been a whirlwind of travel adventures for us.
2012 Travel Adventures in Photos
This is actually the first time that we have looked back on all the travel adventures we have done this year. We are so fortunate to have been to 14 countries this year. 
So grab a coffee, sit back and take a moment to reflect back on the last 12 months of travel.
January 2012 – Egypt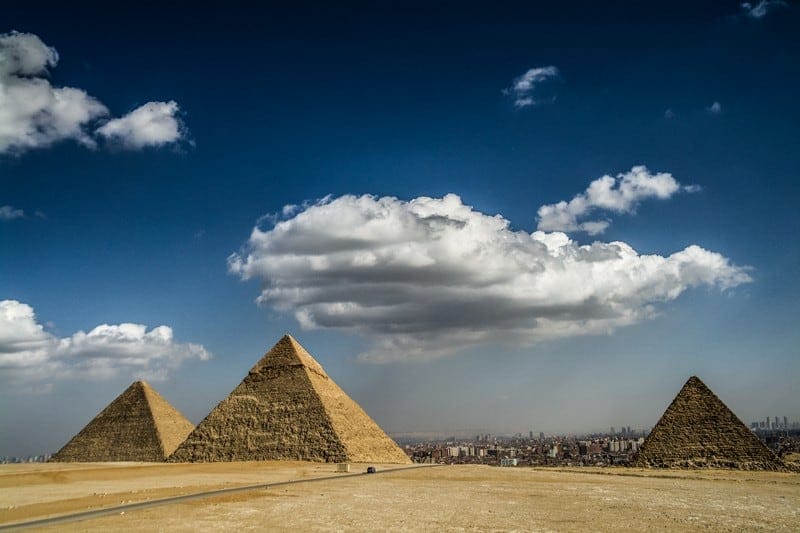 Pyramids of Giza, Cairo, Egypt.
Egypt was the perfect start to the year. It had been a dream of mine to visit the Pyramids of Giza for a longtime and I had huge fears that they wouldn't live up to my exaggerated expectations. Luckily the Pyramids, and Egypt in general blew my mind.
A truly magnificent country.
February 2012 – Amsterdam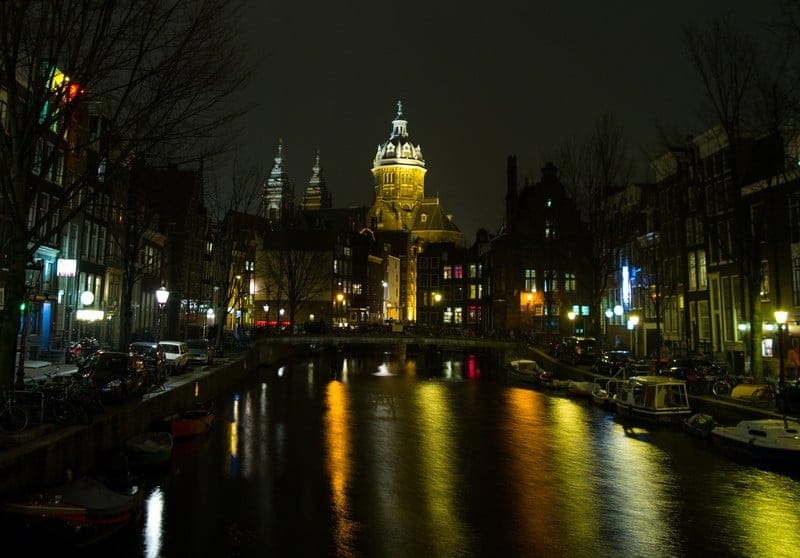 Red Light District Canals, Amsterdam
We wrote a few risqué posts from our 48 hours in Amsterdam. No surprises that our "How to smoke weed in Amsterdam" and "Visiting a Peep Show" posts continue to drive thousands of visitors to our travel blog each month.
What amazed me the most about Amsterdam was the high number (pun intended) of  Tourists that miss out on the highlights of Amsterdam such as the Anne Frank Museum. I guess they are too busy eating waffles, smoking weed and visiting the Red Light District,
March 2012 – 3 Valleys, France

3 Valleys Panorama, France
We hadn't skied in over a year when we made the decision to go skiing in the 3 Valleys. The snowcapped French Alps were endless and we quickly fell in love with the area.
It's also why we are moving there for this winter season. So you can expect lots more picturesque panoramas to come 🙂
April 2012 – Scottish Highlands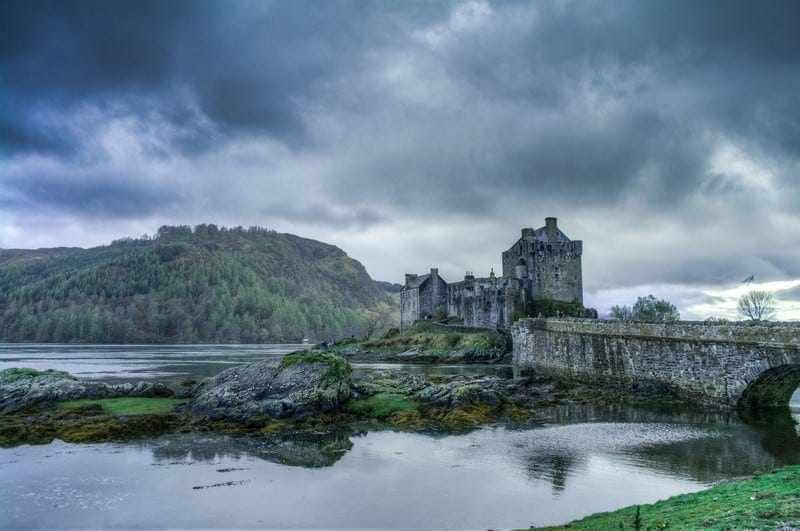 Eilean Donan Castle, Scotland
We are so glad that we made the decision to live in Edinburgh rather than London. Scotland continues to grow on us every day with its stunning Scottish Highlands and Castles around every corner.
We did countless drives around Scotland, but the one that stands out the most was our trip to the Isle of Skye. A vast, windswept and rugged Isle that left us wanting more.
If only the weather was a little better.
May 2012 – Turkey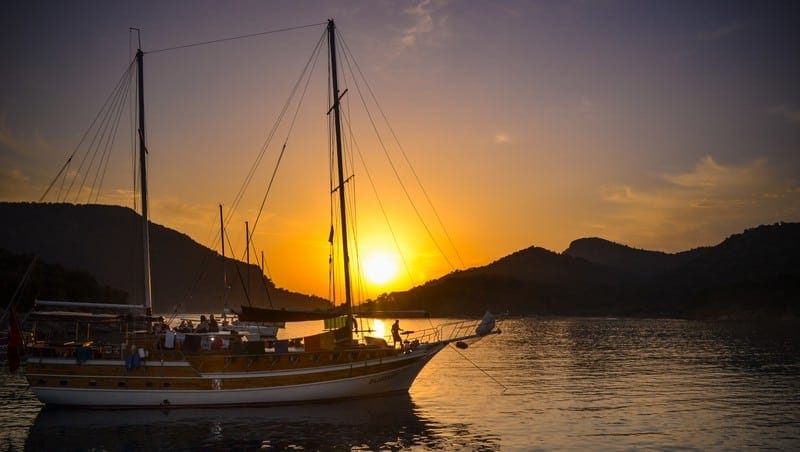 Sail Turkey with Busabout, Turkey
After shivering in Scotland for the winter we knew we had to escape to somewhere warm. Turkey proved to be one of the best decisions in the last 3 years.
We originally planned to just visit Istanbul and attend the incredibly moving ANZAC ceremony in Gallipoli. As an afterthought we tacked on a Sail Turkey cruise with Busabout. In one week lifelong friendships were forged and it has been one of the best travel adventures we have done.
June 2012 – Italy

Roman Colosseum, Rome, Italy
I get shivers looking at the Colosseum. While others may not agree with me I think it is one of the most beautiful buildings in the world.
But Rome wasn't the only highlight in Italy. For 4 weeks we toured the northern half. We hiked Cinque Terre, explored Tuscany by scooter, ate copious amounts of Pizza and Pasta, sea kayaked in Naples, visited Ferrari museums and celebrated La Notte Rosa in Rimini.
We could travel around Italy forever.
July 2012 – Running with the Bulls, Spain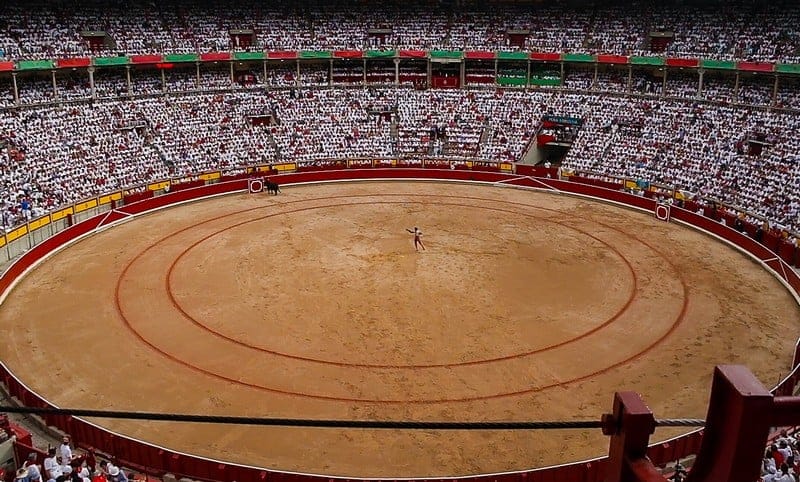 San Fermin Bull Fight, Pamplona, Spain
With the blood pumping in our ears and the vibrations of hooves on the cobbles we ran for our lives during the San Fermin Running with the Bulls festival in Pamplona. Never in my life have I been more terrified, excited and pumped up on adrenaline than for those 2 minutes.
The bullfighting wasn't the only travel adventure we got involved in though. Surfing in San Sebastian for 2 weeks helped me rediscover that passion that I had forgotten while we have been travelling.
August 2012 – Budapest, Hungary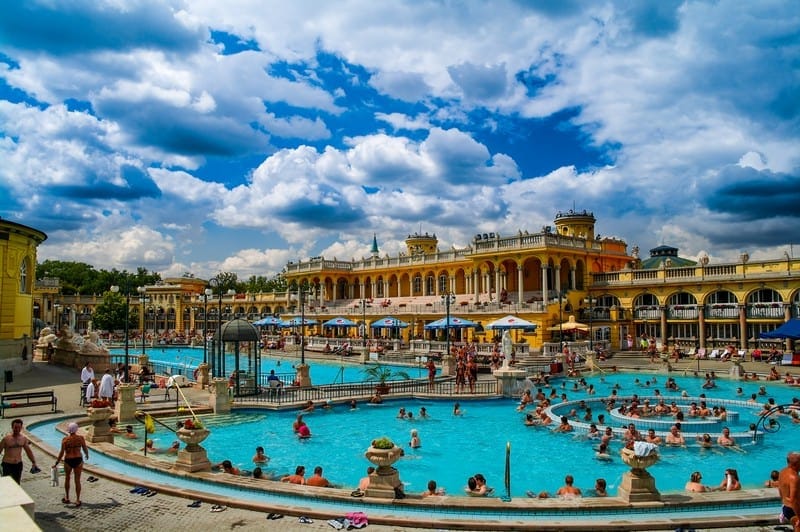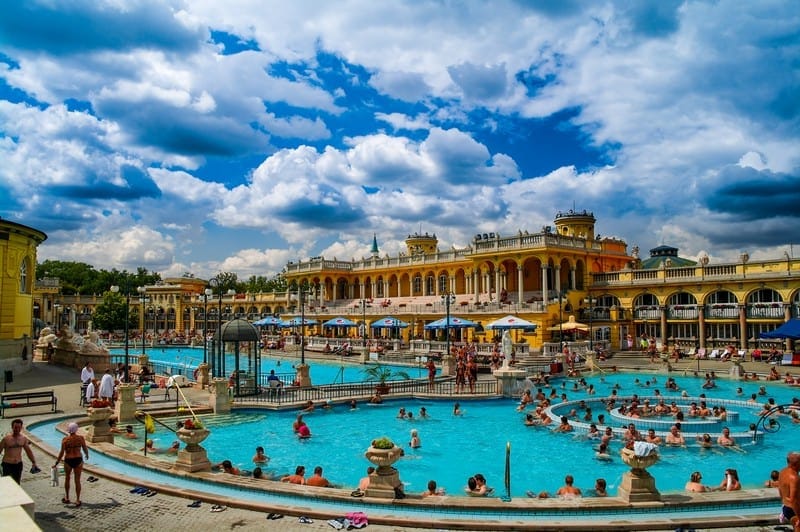 Széchenyi Baths, Budapest, Hungary
Budapest turned out to be a real eye opener for us. We hadn't yet ventured into Eastern Europe on our travels but it had always been in the backs of our minds. It's funny how one little trip changes everything because now we want to bike around Eastern Europe next summer.
Not only did we get to relax in the local Széchenyi Baths, but we also attended the Sziget Music festival and Adela faced her fears by going caving under Budapest.
September 2012 – Costa Brava, Spain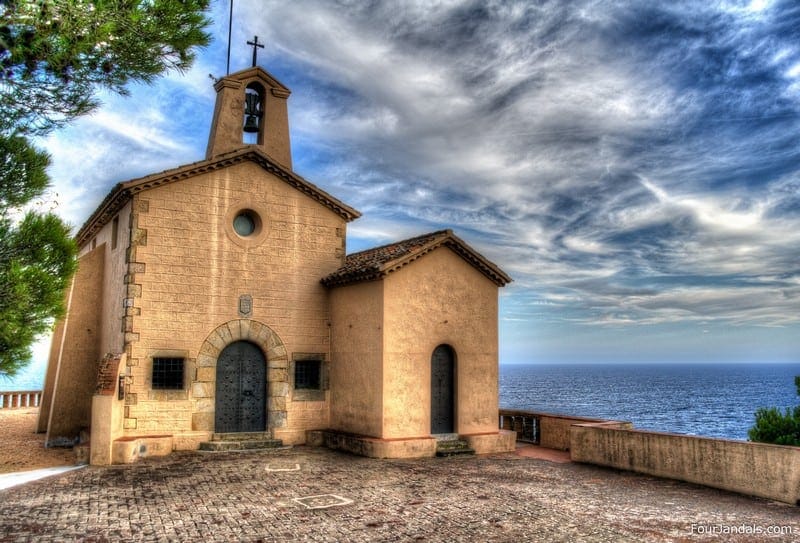 Ermita de Sant Elm Church, Costa Brava, Spain
This photos sums up Costa Brava for me. Gorgeous. On my second (out of three) trips to Spain this year I had the opportunity to explore the northeast of Spain in depth like a local.
Costa Brava has all sorts of travel adventures from hot air ballooning, remote Castle villages like Besalu and cycling old rail trails. It really is the perfect place to visit.
October 2012 – Oslo, Norway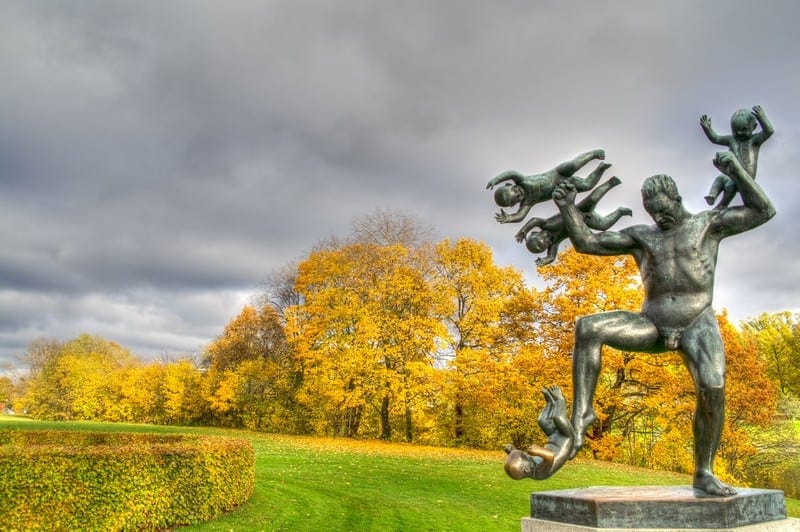 Vigeland Park, Oslo, Norway
Living in the UK has been great but unfortunately I could only obtain a two year visa. Before I got booted out of the country for good we did a quick visa run across the North Sea to Oslo.
In hindsight we could have chosen somewhere cheaper (Oslo is the worlds most expensive city) but it turns out that Oslo in Autumn is spectacular. The fall colours and crazy baby statues make it a really fun city to explore.
We are also planning on returning to Norway in summer because we have heard they have some of the best adventure activities in the world.
November 2012 – Whangamata, New Zealand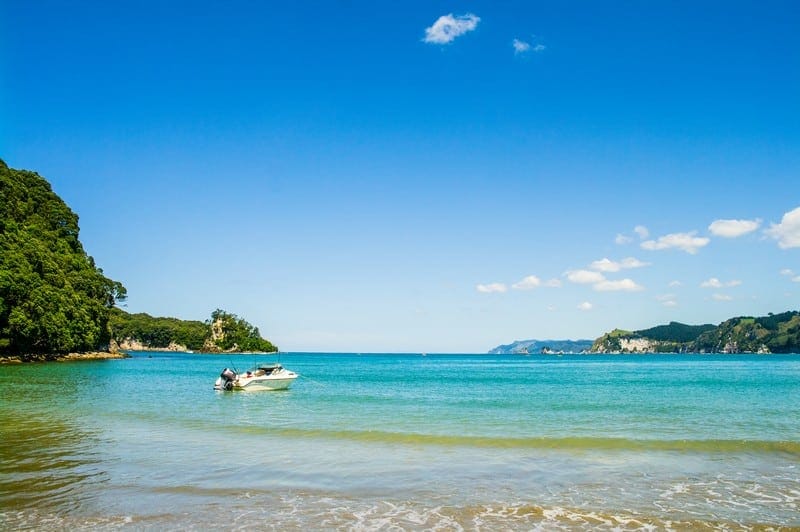 Clark Island, Whangamata, Coromandel Peninsula, New Zealand
For the first time in over 3 years I nearly quit travelling when I returned home to New Zealand. See the problem with travelling is that you miss out on so much back home. Especially when your home is one of the most talked about countries in the world.
Being able to go diving or surfing in Whangamata and relax on the beach afterwards with views like this are what I miss the most. After family of course. This is what will pull me home sooner than I thought…
December 2012 – Coromandel Peninsula, New Zealand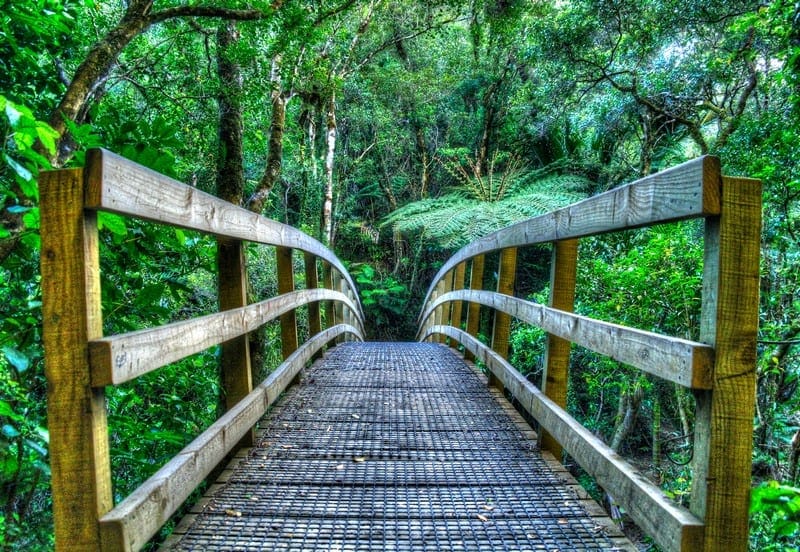 Wentworth Valley, Coromandel Peninsula, New Zealand
And to top off our travel adventures for the year, another photo from New Zealand. This one was taken on the hike up to Wentworth Falls. I don't think it needs much explanation as to why it joins the 2012 adventure travels list. Who wouldn't want to hike here!
Lets hope that 2013 brings just as many, if not more, travel adventures as 2012 did.
Tell us your favourite travel memory from 2012 below.
Medieval Towns with German Castles Near Munich & Frankfurt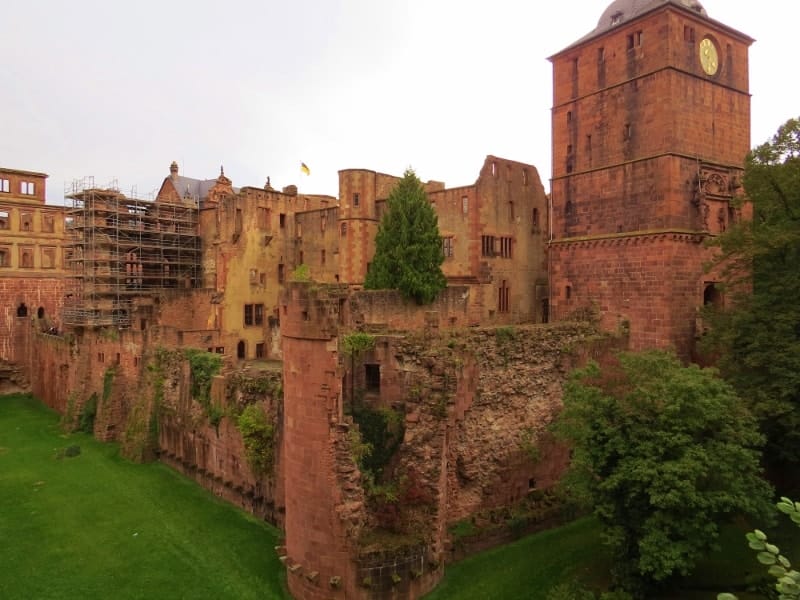 Our favorite castles in Germany near Frankfurt and Munich:
We were crazy enough to visit Neuschwanstein Castle on a public holiday. This meant that along with all the Asian tourists, there were an awful lot of Germans. Plus, even though we arrived by 11 am, the soonest tickets we could buy were for the German tour at 2.30 pm, as the terms in English were sold out until 4 pm. So, if you don't have German friends at hand to translate the tour for you, we recommend booking in advance online. The castle was impressive, and the time was undoubtedly fascinating! Don't worry, I won't spill the beans, but the manmade Grotto room made my jaw drop!
Mespelbrunn Castle is located on a pond between Frankfurt and Wurzburg. Unfortunately, we arrived 30 minutes after its closing time of 5 pm, but it looked cool from behind the fence!
Lichtenstein Castle is located on a clifftop near Stuttgart and costs 6 euros per person for a tour in German; however, they did give us a very informative written guide in English. This castle is small compared to Hohenzollern castle, but its story is fascinating. Tanks shelled it in World War II, and today you can still see the cracked mirror from where a small fragment of a tank grenade ricocheted!
Hohenzollern Castle is not too far from Lichtenstein Castle. It is located on a hilltop near Hechingen, and we enjoyed the guided tour. Along with getting to wear GIANT slippers, make sure you explore the casemates and secret passages. One sign made me want to learn more. It read, "Exactly where these steps lead to is unknown. More casemates and secret passageways are likely waiting to be discovered in the heart of the mountain"!
Heidelberg Castle was a lot larger than we expected! Unfortunately, we had spent far too much time at the Auto & Technik Museum in Sinsheim, so we did not have time to explore this castle. But if we get the chance, we will explore the town and its castle next time in Germany.
On our drive from Munich to Frankfurt, we also loved:
The beer garden at Andechs Monastery was just like Oktoberfest but amongst trees and more family-friendly. The beer was cheaper, and the food was great, including the giant pork knuckle, which Moss could not finish. It was also fun walking up multiple flights of stairs to the tower's very top.
Three hours in Rothenburg was not enough to explore this wonderful medieval town! We recommend getting your hands on a city map from the tourist information office. We enjoyed Roder Gate, walking along the wall and exploring the 17th-century spital bastion, plus Moss lost me in the Kathe Wohlfahrt Christmas shop for over half an hour, and I didn't even buy anything!
The average person would Google Munich to Frankfurt and see that it only takes about 3 ½ hours depending on how fast you wish to drive on the autobahn! However, we are NOT typical. We took one look at train prices and decided that hiring a car wouldn't cost too much more.
Suppose you're interested in traveling to Germany for a damn good deal. In that case, plenty of tour companies have some pretty unique and affordable vacation packages to Berlin, Munich, and Bavaria.
We aren't going to tell you our exact route. Still, after surviving Oktoberfest in Munich, we did a giant zigzag to see as many castles and medieval towns as possible. So to save you doing so much driving, we have picked our favorite cities and castles. First of all, 'Ausfahrt' is not a destination accessible from every off-ramp! It means 'Exit'! Another word of wisdom to keep in mind is that the autobahns with speed limits do have speed cameras… and the flash is blinding!
Running with the Bulls Video
Our shaky Running with the Bulls Video footage from the Festival de San Fermin in 2012. Experience it first hand in Pamplona. Enjoy.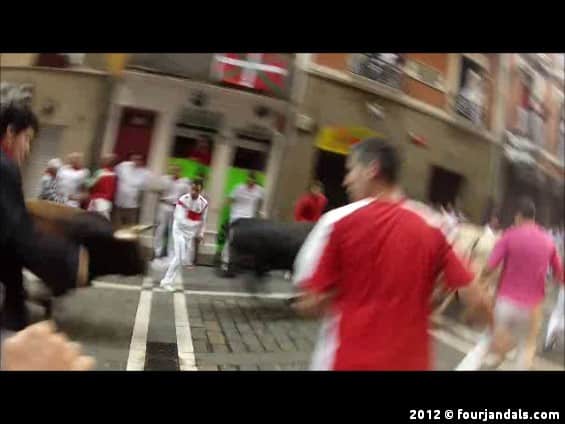 We recently wrote about our life or death experience of Running with the Bulls this year at the Festival of San Fermin in Pamplona. On that run, I carried along with our GoPro video camera and tried to shoot some footage for our running with the video of the bull.
All our travel video shooting techniques went out the window when the bulls' hooves started to shake the ground beneath our feet.
Once we had lined up for the running with the bulls, there was no escape from it as we were walled in by apartment blocks, shopfront windows, and 3-meter high wooden barriers packed with photographers along the entire length. At one end lay the relative safety of the bull ring pulsating with the cheers of the crowd who were still partying from the night before. Behind me, a dozen wild bulls pawed the stony ground looking for freedom.
Unfortunately, I was standing in their path. 
What we ended up with is below. However, I think what we filmed for our running with the bull video captures the chaos, craziness, and complete madness a lot better than if I had stood my ground.
Enjoy it and watch for the guy that nearly gets trampled to death near the beginning!
Running with the Bulls Video
Would you ever consider running with the bulls?
While we are very aware that not all people agree that the San Fermin Festival should be allowed to go ahead mainly due to animal cruelty, we think there are two sides to every story. We wrote a post about the controversy surrounding Bullfighting in Spain and the Festival de San Fermin.
We would love to hear your thoughts on the Festival de San Fermin and whether you would ever consider running with the bulls.
If you want to join the next Festival of San Fermin or any other wild festivals in Europe, such as Sail Turkey, book with our partners Busabout.
Outdoor Activities in Bangkok – Adventure City Guide
Find out how you can explore the streets, canals and local markets within minutes of Bangkok with our Outdoor Activities in Bangkok Adventure City Guide.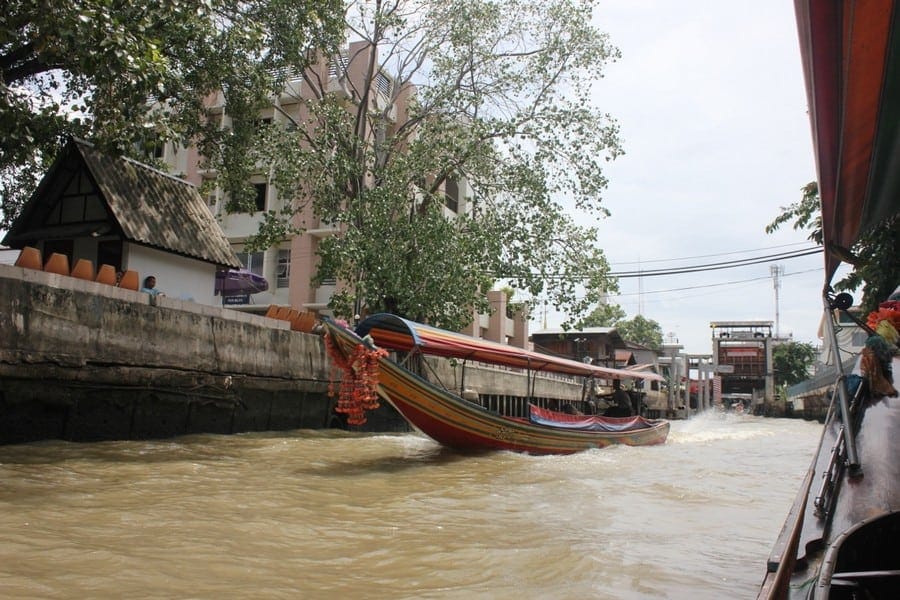 Are you looking for an insider's adventure travel guide for the best outdoor activities in Bangkok?
As part of our Adventure City Guide series, Ian from Where Sidewalks End shares his expert insider tips on the top adventure and outdoor activities to do in Bangkok.
Why visit Bangkok for adventure?
Bangkok is one of the world's largest metropolises and a gateway for most of the world to access the rest of South East Asia. With numbers surpassing 14 million people in the Greater Bangkok Region, this is no small player in the world's super-cities. Of course, having such a long history with foreign visitors, the city has become incredibly established in the world's tourist sector.
This has allowed it to grow many facets of adventurous activities – making access to something for everyone!
Outdoor Activities in Bangkok
Exploring the Klongs
Klongs are canals that used to feed the entire city with life-giving water, branched off from the city's main artery – the Chao Phraya River. Today, the locals wouldn't drink the water if you paid them, but there is still a fascinating life along the Klongs' banks. There is so much to explore, from floating markets to old houses on stilts, and it gives insight into this ancient way of life!
What's it cost, and how to get to the Klongs?
You can usually arrange the Klongs from the pier "Saphan Taksin" along the Chao Phraya River. This is conveniently a stop on the Skytrain, making it very easy to access. Usually, you will be renting the entire boat for the day (about 1000 THB, or USD 35) and not paying a per-person rate. So if you can find a few people to go with, the price will drop significantly per person.
Rickshaw City Tours
If you've never been to Asia before, Rickshaws are one of the most fun ways to get around. Although they can often be a little more expensive than metered taxis, you get an experience (and a view) that is unparalleled, especially in the busy streets of Bangkok.
What's it cost?
Occasionally, you can even haggle a deal for a city tour for next to nothing (50-100 THB or $1.50-3 USD), as long as you visit a couple of affiliated 'custom suit tailors' throughout the day, as they'll get a kickback from the shops just for bringing you there… No purchase is necessary.
You can often find Tuk Tuk drivers willing to do this standing along the perimeter of the Kings' Palace. It may take a few attempts of asking for a 'special city tour,' but you will be bound to find someone ready for a cut of this business.
Local Secret Spot
Chatuchak Market
Though most people wouldn't consider going to a market an adventure, they probably have never experienced the likes of Chatuchak (also known as JJs). This is one of SE Asia's LARGEST outdoor markets. It's so prominent that you can find maps of the market to help navigate. It's roughly the size of 4 city blocks and is divided into various sections.
You'll find everything under the sun here, from clothing to handicrafts, food, mobile phones, and even puppies and other cute critters for sale!! It's bonkers. If it gets too much for you, you can take a break in one of Bangkok's most famous parks (Chatuchak park), located next to the market.
How to get there?
You can get here via Skytrain (BTS), subway (MRT), taxi, bus, you name it – it's very accessible! But it's only open on weekends, from about dawn until 5 or 6 pm at its peak. Some shops stay open longer, but most will be closed by dusk. It's free entry and a perfect place to buy ANY souvenirs at the end of your time in Thailand.
Suppose you can coordinate to be here on the weekend. I generally hate shopping for 'stuff,' but I love this market and its energy!
Best time of the year to visit Bangkok for adventure?
Bangkok is in the tropics and quite close to the Equator. Of course, this means it's hot on a year-round basis.
It's considered the rainy season from May to October, though showers can happen at any time of the year. This is generally a less busy time for tourists, though the rains are not quite as bad as expected and often only last 30 mins-1 hour, cooling the city's heart. Peak season is in December-January when temperatures are at their most astounding ad driest… though it's still pretty hot!
And if Bangkok isn't to your taste, the luxury Koh Samui will be. Endless sandy beach, beautiful clear waters, and nightlife that could be lived in forever. The luxury rental properties are stunning, and we recommend Tempston Luxury villa rentals.
Finally, the reason I love Bangkok for adventure is that…
It's never-ending. This city is SO BIG that you could get lost in a new neighborhood almost every day. Single. Day. And still find new, exciting things to explore. On my list for the upcoming weeks, I've got the Scala Cinema, the Thai Air Force Museum, Papaya Vintage Shop, and the Erawan Museum – to name a few. Every time I explore one place, I learn of 3 more!!
BIO:

From a young age, Ian was always a wanderer. He's since travelled to all 7 continents, and has spent the majority of his life pursuing this passion. You can follow him in his off-the-beaten-path adventures and discoveries on Twitter, Facebook, Google+ and his travel blog Where Sidewalks End.
Have you been to Bangkok? What were your favorite outdoor activities in Bangkok?

We have been wearing out our jandals (Kiwi for flip-flops) on our travel adventures around the world since 2009. We think our blog is thought provoking and a little witty. But we have been proven wrong before. Find out more about us here...
What Are You Looking For?