Destination Itinerary – 48 Hours in Edinburgh
Use our travel destination guides to explore your favourite cities around the world including this handy 48 Hours in Edinburgh itinerary.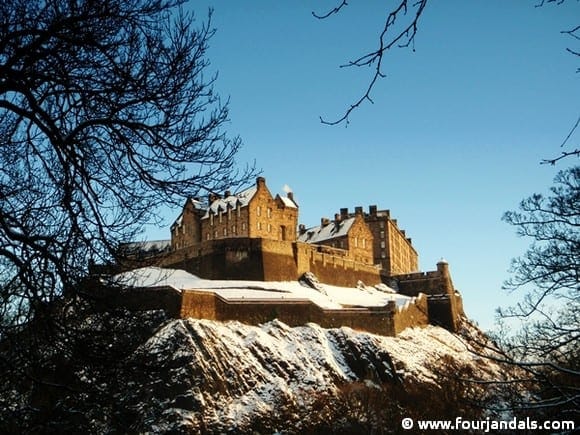 48 Hours in Edinburgh means you will only just begin to scratch the surface of Scotland's beautiful Capital. The beautiful architecture, huge number of historical sights, an array of free museums, great shopping, walking tracks and more bars than even we can keep track of are all tightly spaced so that you will be able maximise your visit.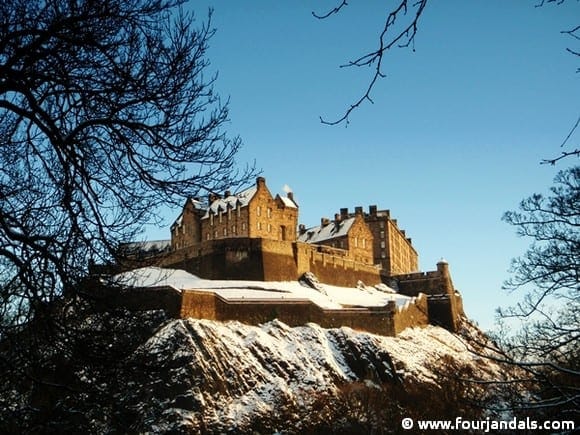 We would usually recommend 3 – 4 days but sometimes 48 hours in Edinburgh is all you have so we have highlighted all the best adventures and experiences in the itinerary below. By the end of it you will be absolutely exhausted but hopefully you will be satisfied and longing to come back.
48 Hours in Edinburgh – Day 1
If you need a recommendation of where to stay in Edinburgh then check out Sykes Cottages for some City centre apartments. From the city centre you will be able to start your morning with a quick warm up stroll up Calton Hill. It only takes five minutes to walk up and has panoramic views of Edinburgh, Holyrood Park and Edinburgh Castle.
It is also home to a number of Edinburgh's famous structures including the Scottish National Monument and the Nelson Monument.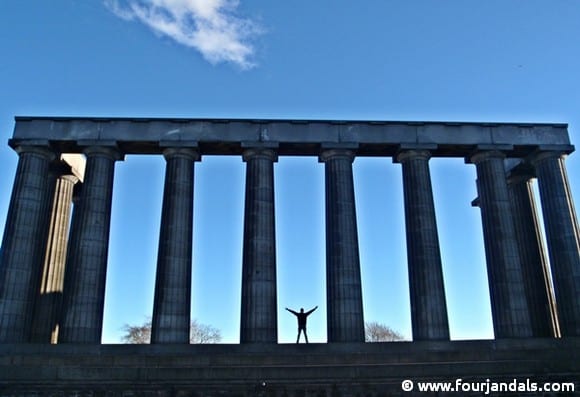 After getting your bearings from Calton Hill head on over to the world famous Royal Mile running between the Queen's home in Scotland, Holyrood Palace, at one end and Edinburgh Castle at the other. The Royal Mile is known as Edinburgh's "Old Town" and is packed full of tourist traps selling kilts and cute stuffed Scottish Highland cows. The cobbled lanes and narrow Closes (alleyways) add to the rustic feel and are great for exploring for a few hours.
About midway down the Royal Mile is a Starbucks and from outside you will be able to join the free Edinburgh walking tour run by New Europe Sandemans tours. These are completely free (although a small tip, £5, is usually expected) and are a great way to explore any European city including Edinburgh.
You will be able to familiarise yourself with the layout of Edinburgh and also learn some interesting facts that will make the rest of your sightseeing that much better. We make anyone that visits us in Edinburgh go on the tour as they are that good! Just be there 10 – 15 minutes before they start at 11am or 1pm as they can fill up.
Travel Tip: Wear comfortable shoes and DO NOT go hungover as while these tours are worth it they are at least three hours long.
After the tour you will probably want to rest your weary feet and Grassmarket is the perfect place to do this. Home to just some of the few 350+ bars in Edinburgh it is also home to some fantastic historical and traditional bars such as Last Drop Tavern and The White Heart Inn. These traditional Scottish pubs will also the perfect places to try some Haggis if you are brave enough.
Watch out for all the Stag and Hens parties which seem to flock to Grassmarket and get messy. If you want to join them on a night of partying then there are bunch of Pub Crawls available around the city. Or take the spooky option and join one of the many Ghost Tours that you can find in Grassmarket or on the Royal Mile.
48 Hours in Edinburgh – Day 2
To blowout the cobwebs from last night and get the blood flowing walk up Arthurs seat. While it may look daunting from the city there are lots of different routes you can take depending on how adventurous you are feeling. You can even drive if you are feeling that lazy. The views alone will be worth the small effort.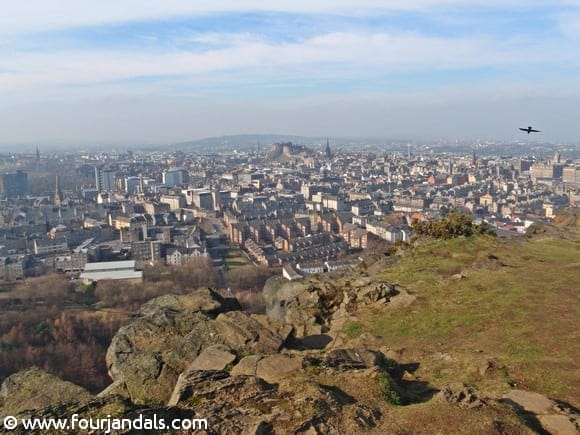 Depending on your route up Arthur's Seat it shouldn't take longer than two or three hours. This will get you back in time to visit Edinburgh Castle and see the One O'Clock Gun fired which is a tradition that has been going since 1861. Pencil in a few hours here is there is so much to see including the Scottish Crown Jewels, National War Museum, a dog cemetery, St Margaret's Chapel and THE STONE OF DESTINY!
Travel Tip: Purchase your ticket online to beat the queues.
With your 48 hours in Edinburgh coming to an end there are still plenty of options up your sleeve to finish with a flourish. For Art lovers the National Galleries of Scotland will be a must and the best part is that it is free.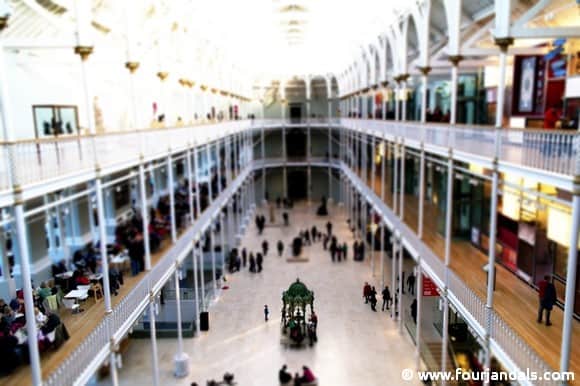 The National Museum of Scotland is a great option for families (or just big kids like ourselves) as it's a very hands-on interactive museum. There is even a replica Formula 1 car you can drive! If you are not much of a museum buff we would suggest shopping down Princes or George Street or for the more adventurous people a stroll along the Water of Leith or through the Botanic Gardens.
48 Hours in Edinburgh Map
Use our map below with all the sights mentioned in our itinerary to plan your route around Edinburgh. Click on the markers to see the sight and use the zoom and pan tools to move around the map.

View Four Jandals – 48 Hours in Edinburgh in a larger map
We hope you have a fantastic time in visiting Edinburgh and if you want any tips on where to eat or just relax please get in touch with us any time.
Plan your 48 hours in Edinburgh now and stay with Sykes Cottages.
5 European Cities to Visit in the Dead of Winter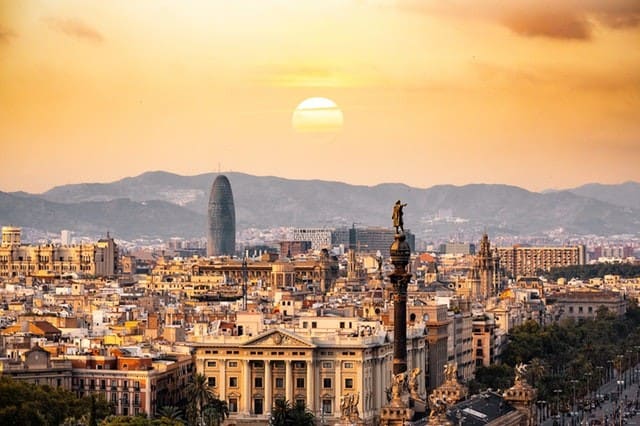 As one of the most polarizing seasons, winter could be termed as both a blessing and a curse by those who like making the most out of nature.
After all, while it brings about the opportunity to build snowmen and to ski on magnificent ice slopes, it also brings a chill to the bone and a desire to never get away from the fireplace.
Don't forget about the hot chocolate either.
That is why, when it comes to vacationing in winter, it gets quite difficult to choose from a location – especially when the destination is as diverse in climate as Europe. Do you select a place that's sunny and warm? Or somewhere that lets you enjoy the ice and cold in the best ways possible?
To make that decision easier for you, here are 5 European cities that you could visit in the dead of winter, with the assurance that you would come out of the vacation phase with a smile on your face.
Barcelona, Spain
Barcelona is a city that is synonymous with sunshine, warmth, and some of the world's most breathtaking architecture.
The temperature rarely drops below 45 degrees even in the coldest months of the year. While the sunshine remains present amidst the rainy days. This means that you can enjoy the best effects of winter without having to endure the worst of them.
If you happen to be a fan of football, then these effects can be increased by several times. This beautiful city is home to one of the greatest football clubs of all time and with Barcelona FC in contention for a championship virtually every year, odds are you'll be walking out with a smile on your face after watching a win. Not a bad way to take a break from the beach!
Athens, Greece
While you wouldn't be able to go to Mount Olympus' mythical version in this day and age, you can still experience Greece's magnificence through the beautiful city of Athens.
Like Barcelona, Athens also sees rare drops in temperature while being consistent around 45 degrees throughout the heaviest months in winter. With the architecture that you can experience under the sun, this weather can actually be ideal for an exploratory walk.
And if you are a fan of Greek food, then checking out local restaurants for authentic dishes would only add to the overall experience of your trip.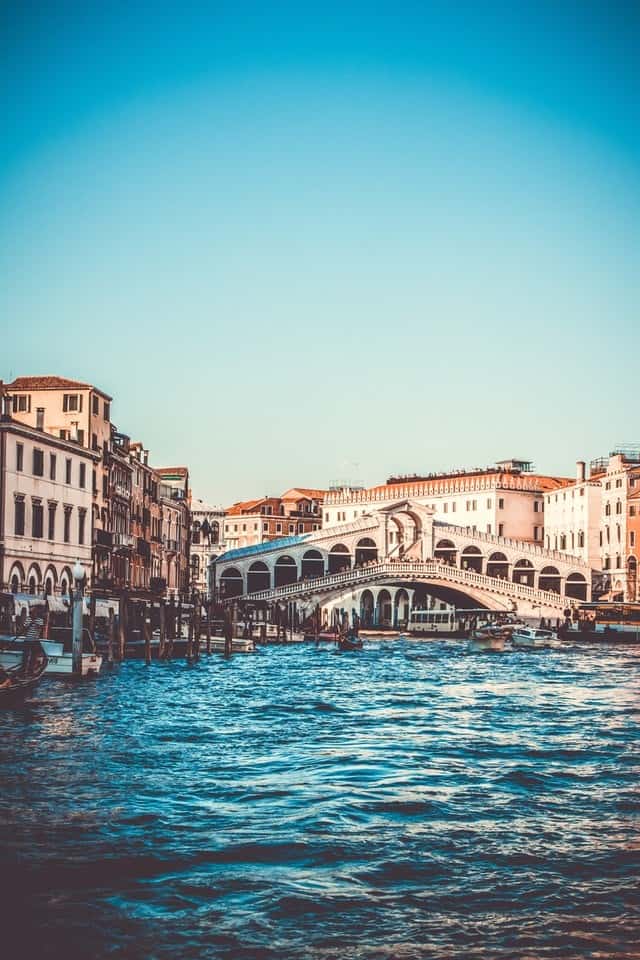 Venice, Italy
Since Italy is full of some of the most breathtaking architecture in the world, it would be quite debatable to say that Venice is the crown jewel of the country in terms of structural beauty.
But it is.
From the way that the city has been designed to the manner that the buildings have been developed, Venice remains a breathtaking sight for anyone who visits it.
That remains true even in the months of winter, where the does drop to around 30 degrees, but still provides the tourists and inhabitants with a way to enjoy the magnificent sights under the sun.
Zugspitze, Germany
Germany is considered to be one of the coldest countries in Europe, but it is a good thing for those who enjoy a bit of snow during their travels.
And for those who do, there are perhaps not many places that are as marvelous as Zugspitze in terms of a memorable winter experience.
With snow covered mountains and a temperature that dances around -14 degrees in winter, you can enjoy an array of winter sports such as skiing, sledding, and snowboarding to your heart's desire. If you are one to enjoy snow and everything good there is about the season of winter, then Zugspitze is the place to go.
Marseilles, France
While Paris gets quite cold in winter without the weather enhancing any effects of life within the city, Marseille seems to be quite the opposite. The city is as lively in the winter as it is during its busiest days in summer, with plenty to do in adjacent areas.
You may visit the many architectural sites and tourist attractions in Marseilles itself, but you can add to that experience when you choose to visit the Christmas markets in Aix en Provence or Avignon.
With that, the many warm and steamy French soups and bouillon based dishes that you can enjoy in Marseilles only add to the trip. This means that by the time you are done with your visit to Marseilles, you are bound to be fed well, have some goods in your shopping bags, and some memorable pictures in your phone to boot.
Even the Most Expensive Cities Have Cheaper Alternatives: Paris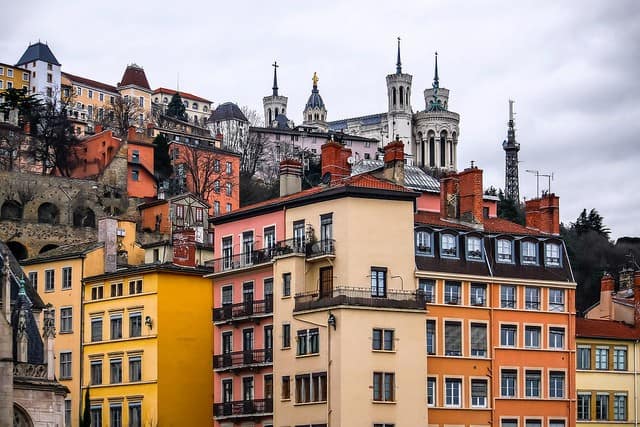 According to the results of The Economist Intelligence Unit's "Worldwide Cost of Living" survey, Singapore, Paris, Zurich, Hong Kong, and Oslo are the most expensive places to live – and visit – this year. This doesn't mean you shouldn't visit them, though – actually if your budget allows it, you should cross them off your bucket list as soon as you can. But this doesn't mean you have to break all your piggy banks and sell your soul only to spend a weekend in one of the most expensive cities in the world. Unless you're adamant that it's "Paris or bust", there are alternatives to this crowded and top-dollar destination you might want to consider – and start saving for your dream trip nonetheless.
Lyon
Lyon has a history of almost two millennia, and it shows: the remains of the Roman settlement Lugdunum, built at the confluence of the rivers Saône and Rhône, are showing to this day. Lyon might not be a capital city – it doesn't have the size or the population – but its role in the everyday life of France was always important, both as a trade and a cultural hub.
The city has many gorgeous sights to see, like the Basilica of Notre-Dame de Fourvière, the Tour Métallique (a tall TV tower that replicates the top of the Eiffel Tower), among others, covering every age from the birth of the city to its modern times. Plus, it has museums, parks, gardens, and a street art group that has been designated the cultural ambassador for the city. Not to mention its cuisine, the unique and popular Lyonnaise cuisine that has become a worldwide sensation.
Lille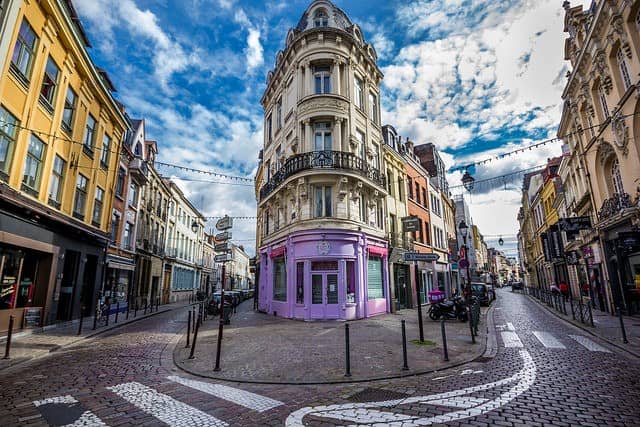 A relatively small city in the north of France, Lille is another charming alternative to a crowded and overpriced Paris. It features many distinct architectural styles, most of them with a clear Flemish influence. Among its landmarks, you find its Cathedral (Basilique-cathédrale Notre-Dame-de-la-Treille), its Citadel, its palaces, and gardens. Lille is also the place with the biggest flea market in Europe – Braderie de Lille takes place on the first Sunday of September, with millions of attendees and over 10,000 sellers gathering in the streets of the city. It's a charming, agreeable, and colorful city that will offer its visitors a beautiful experience.
Strasbourg
Last but not least, let us mention a city with a double significance – on one hand, it's the official seat of the European Parliament, on the other, it's a wonderful place to visit and a great alternative to an overcrowded Paris.
Strasbourg is a place where French and German architecture mingle in a unique way, with an Old Town filled with timber-framed houses surrounding typical French landmarks and churches. It also has many notable parks, some with historic significance, and almost too many museums for its small size. Plus, it's a distinctively multicultural city where visitors will find it easy to fit in.
Let's Do A Road Trip In Europe Fin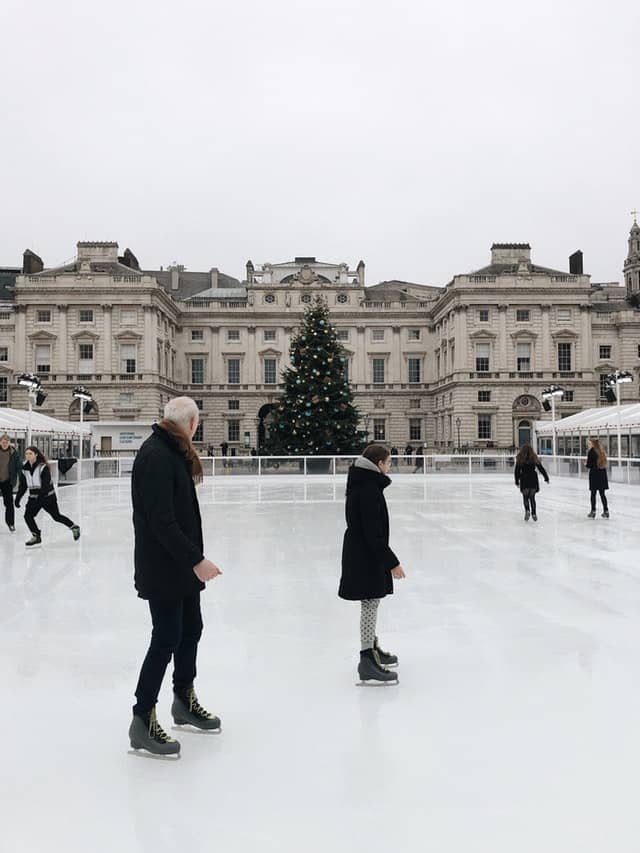 Its that time of year again. It is the holidays and vacation, mirth and much merriment is upon us. Those of us who are lucky are able to take a few days to a few weeks off for vacation and can enjoy it abroad or do a staycation. A trip abroad is probably preferred, there's so much to see and do, it would a pity to while the days away in your own hometown.
Get a move on, grab your bags, get a ticket and jump on a plane to Europe. When you get there, rest for a bit and begin your road trip. Nothing beats traveling on the road and taking all the sights that nature has to offer while stopping by at different locations.
Remember, a road trip can be very feasible and pleasant if it is done right. Make sure to have your car inspected, checked and ready to go for a long distance road trip.
You'll want to make sure that you have your oil checked and your tires as well. Proper tires from suppliers such as Kwik Fit will get you squared away and ready to hit the road.
Oh, The Places You'll Go
Grossglockner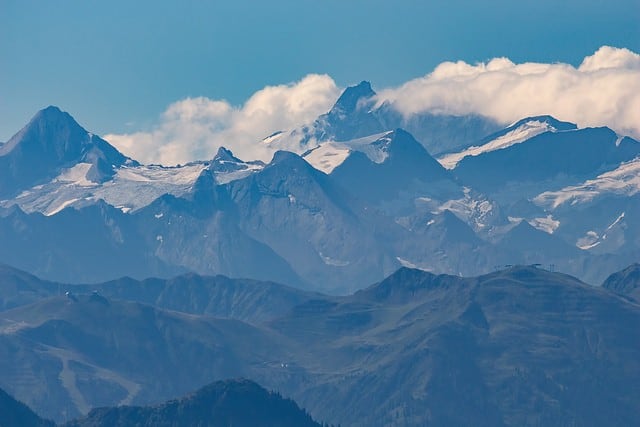 One of the top places that you'll want to go is in Austria. There's this little spot called Grossglockner Hochalpenstrasse, this spot is one that is talked about by road trip aficionados of all kinds.
The Grossglockner is the opposite of what it sounds like, it's not gross at all, it's quite pleasant actually.  The path will take you through different sights ranging from mountain tops to rivers, to rock formations and more. What's fun about this place is that you will also be able to have different changes in the road itself, it is not just one straight path but one that is filled with turns and changes to keep you from getting bored.
Italy and the Amalfi Coast
Italy is a place that won't disappoint, it has food, culture, and history to keep you company. Italy also has beautiful sights all over too. One of the best places to drive through would be the Amalfi Coast.
The Amalfi Coast has everything you could possibly want, beaches, cliffs, and beautiful fishing villages. The place is not only beautiful in nature but in culture as well. One can check out the Cathedrals, Villa Rufolo, engage in some boat tours for a quick respite from their road trip and also view the Sirenuse from afar.
Portugal – The Estoril Coast
Drive from Italy, pass by countries such as France, Spain and reach the destination of Portugal. You will find the climate and the overall setting over here to be appealing.  On your way to this beautiful place, make sure to check out popular spots such as Lisbon and other prominent locations such as Sintra. The Estoril Coast was home to the nobility of ages past and even to those that we see as nobility today, celebrities, wealthy people and tourists with a couple of euros or dollars to their name stop by this place and immerse themselves in the manmade and natural attractions that this place has to offer.
Don't Hesitate, Time Stands Still For No One
Time is slipping, check out budget and look into which part of Europe you want to stick to. Make the decision and take the trip, it will be a great refreshment and you will be glad you were able to have the experience. Take a few snapshots and indulge in the experience of #RoadtripsofEurope

We have been wearing out our jandals (Kiwi for flip-flops) on our travel adventures around the world since 2009. We think our blog is thought provoking and a little witty. But we have been proven wrong before. Find out more about us here...
What Are You Looking For?