We first stumbled upon the genius of Skyscanner when it was recommended to us a few years ago to help us travel the world. At the time we didn't have a smartphone and they hadn't created their free Skyscanner App. But we did do all our own flight bookings by using the Internet to find cheap flights.
Skyscanner, an Edinburgh-based company, has now established themselves in Singapore to target the Asian and Oceania travel markets. And considering they get more than 30 million visitors a month to their website they figured it was time to establish their mobile app.
Skyscanner App Review
This little App had already proved itself to us when we were asked to complete a Skyscanner App review as we use it regularly as our sole flight-search engine. So instead of keeping our little money saving App a secret we decided to share it with you too.
Ease of use
Simple, sleek and sexy is the best way to describe the Skyscanner App in my opinion.
Instead of jumping online via our laptop we now just use our phones to do our searching for us. It is lightening fast and there is no fluffing around trying to find the right page or being greeted with a wasted welcome message. It just leads you right to the flight search page.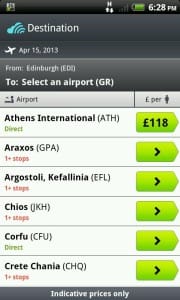 Inputting your location, destination, dates you want to fly, number of passengers and the class (economy for us of course) is all straight forward. Depending on what you requested, hitting the search function will quickly search multiple websites trying to find the cheapest flights from your request.
If you have been rather vague with your destination then you might directed to the next screen which will allow you to narrow down your search. Personally this is one of my favourite time-wasters when I am not travelling. 
We love selecting the dates we want to travel then choose "Everywhere" as our destination. The Skyscanner App will then trawl the net finding some cheap flights to countries all around the world. Germany? Poland? Sweden? Don't mind if I do.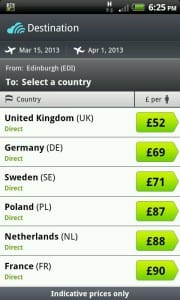 Search Results
Once you have finally finished playing around dreaming of travel and selected your destination airport, you will be directed to the prices page.
The results displayed are easy to read with the prices clearly highlighted. There are also lots of sorting options from travel duration to airlines available. Perfect if you prefer flying with one carrier.
If the current prices displayed are more than your budget, and you have some flexibility, then you can use the Skyscanner chart feature. This is another of our favourite features as it allows you to view all the prices within the month of your preferred travel dates.
Using this feature properly can save you hundreds of dollars, not to mention the time saved scouring the Internet, if you can book your flights on another day.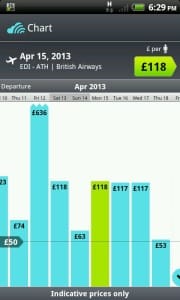 Downsides
While the Skyscanner App is handy, there are a few issues we have with it. Not serious enough that they would ever stop us from using it, but they are still inconvenient.
If you have used the Skyscanner website before then you will know that they don't actually sell flights themselves. Once you have selected your flights you are then redirected to the airline or travel agents websites to purchase the flights. This doesn't add any costs onto the overall flight price, but it does cause two problems…
Sometimes the prices displayed on the final search page can be off by a few dollars once you get to the booking website. This is understandable as the number of flights booked online is staggering to say the least, so they cannot keep up with flight prices. And we know for a fact that they actually have a dedicated team that spends their whole day searching for discrepancies in prices too.
Secondly, if you are flying with multiple airlines you have to visit each airline page separately to book your flight while crossing your fingers you don't book one and the prices changes for the other.
Overall
Searching for flights can be a pain in the ass. So having an App literally at your fingertips is perfect for every traveller. We honestly cannot recommend the Skyscanner App enough. It is simple to use and we actually prefer it over their website.
Basically it delivers exactly what it says on the tin, "free flight comparisons".
To find your cheap flights now, download the free Skyscanner App on iTunes or from the Google Play store. It is also available for iPad and the Windows Phone.
Disclaimer: While we were asked to do this Skyscanner App review by Skyscanner NZ our opinions are always our own and we would never damage our credibility by recommending something that we don't use ourselves.