Adventure Travel Guide to the Perfect Sydney Weekend – Without The Concrete Jungle!
Adventure Travel Guide to the Perfect Sydney Weekend – Without The Concrete Jungle!
A typical weekend in Sydney offers so many exciting things to see and do – if you like closed rooms and skyscrapers that is!
If picturesque green rolling hills, fresh air, meeting new friends and having outdoor adventures is more your thing you certainly don't have to strike Sydney off your list. Within just a couple of hours travel of the concrete jungle you can find culinary adventures and breath taking mountain ranges that will have your GoPro salivating at the ready to take the photographs that will have your Instagram followers drooling. 

When it comes to day trips from Sydney you are certainly spoilt for choice and if you only have a weekend up your sleeve before you have to return to reality you need to make some tough choices to maximise your time. Check out my ultimate Sydney weekend …. without the concrete!
Saturday – A food and wine adventure in the Hunter Valley
You'll have to be up early for this one but you know what they say about birds and worms! Your reward will be a gorgeous day sipping the citrus and honey flavoured Semillons and fruity Verdelhos that have made the Hunter Valley a wine destination to remember. Couple that with the vibrant plum and subtle oak characters of a rich Merlot, the creaminess of a locally made Labna cheese and some refreshing strawberry and cream flavours in a complex Moscato with a light spritz to finish, and you truly have a recipe for a day that your friends who are too busy to join you will envy!
Of course everyone thinks of wine when you mention the Hunter Valley but there are some true gems in this region that give you even more reason to leave Sydney in your rear view mirror for the 2 hour journey North.
The range of exciting craft beers is just one reason. You won't be able to ask for a "Dirty granny" or a "Dogbolter" or a "Redback" at the average bar in Sydney … and enjoy it in a rustic chic-setting where the indoors can become the outdoors within a few steps of the floor to ceiling glass doors.
And what about shopping?
There are more shops in Sydney than Lady Gaga could visit in a year but what you won't find is authentic handmade produce made by locals with more love and genuine passion than a supermarket has ever envisioned. I'm talking about visiting the Handmade In The Hunter Markets which are right on your doorstep most weekends if you visit Kevin Sobel's wines. Imagine candles that could pass for a chocolate Sundae dessert or handmade jewellery that is nothing short of an artwork that you can wear. You are not just buying a handcrafted item here – you are buying the artistic talents of Hunter Valley locals and you don't have to have the kind of budget needed to purchase a Rembrandt to take home a piece of Hunter Valley artwork that is the pride and joy of its creator.
These are just a couple of the amazing gems you can discover in the Hunter Valley and the best way to find them all is to join a tour with a guide that is a local. Other than the fact that you won't have to stress about navigating (or have someone in your group miss out because they need to stay under the legal alcohol limit to drive), you can draw on your guide's local knowledge of the cellar doors and their wines in order to have a unique tasting experience. Tour guides often have established relationships with the cellar doors and can ensure your group receives a private tasting with cheese and biscuits and other accompaniments that enhance the wines you taste that you wouldn't normally get at the public tasting bar with a sommelier that is busy serving everyone else from the general public as well as you.
It's a long way from Sydney (2 hours drive North of Gordon) so travelling with a tour company that offers those little luxury extras like stylish and comfortable leather seats, individual air conditioning controls, a mini-fridge to keep your dairy purchases cold and fresh and tasteful onboard entertainment through a DVD and sound system will take your tour experience to the next level. The wine tours of the Hunter Valley offered by Tastes Of The Hunter Wine Tours are definitely worth checking out. Their Trip Advisor reviews paint a picture of a comfortable ride and mention those little extras that make an experience memorable.
You'll want to arrive back to Sydney relaxed and ready for a big sleep before your Sunday adventures…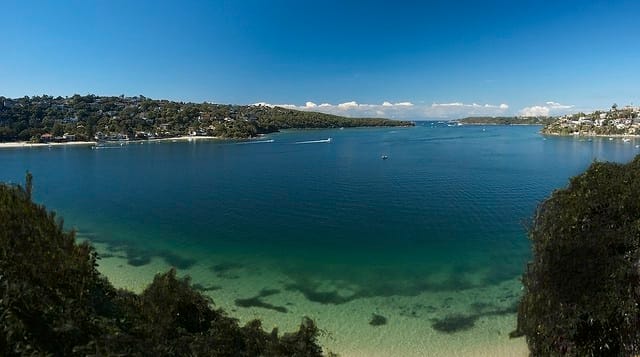 Sunday – Stunning scenery in the Blue Mountains
Charge your GoPro and bring extra battery packs as you are about to experience nature at its best. From the majesty of the Three Sisters rock formation to the quirky limestone rocks of the Jenolan Caves the Blue Mountains National Park is certainly a treasure trove of sights. All the famous characters of "Downunder" can be found as far as wildlife go with Kangaroos and Koalas in abundance but Wombats, Dingos and little Penguins are also waiting to greet you if you journey to Featherdale Wildlife Park.
If a wild ride is more your style rather than wildlife, then buckle up for the Scenic Railway – Australia's steepest railway. If you are not afraid of heights then cruising 370 metres above the mountain chasm of the Jamieson Valley also awaits you on the Skyway.
You can relax and enjoy the journey by coach or if you want to skip the peak hour traffic back to Sydney on a Sunday night and do things a little differently, you can enjoy a Parramatta River Cruise to see you back to Sydney as you relax with a drink from the bar in hand.
With so much to see and do beyond the city limits you should certainly think of Sydney as a region rather than just a city. When you do, your holiday and day trip options start to become way too many and too tempting to just think of Sydney as a weekend destination. Maybe you should apply for some extra annual leave and make it a whole week rather than a weekend!
4 of America's Best Ocean Front Towns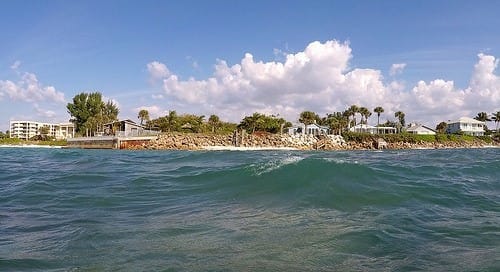 The United States is lucky to have lots of great coastal areas. With land on both the Pacific and Atlantic Oceans, the country has boundless beaches in many states. If you're looking to book a trip on the water, consider one of these oceanfront towns on the American coast.
Siesta Key, Florida
Ranked as the best beach in America by TripAdvisor, it's no surprise to see Siesta Key on the list of top oceanfront towns in America.
Your first excursion once here should be to dive under the water to see some of the country's finest aquatic life and corals. Snorkeling spots at Crescent Beach allow you to gaze upon a number of marine creatures in their natural habitat. Afterward, head to Turtle Beach to dry off and catch up on your reading. Finish the day off at Siesta Village, where you can shop, eat, and drink to your heart's content.
When looking for hotels in Siesta Key, check out locations near the beach so you can have waterfront views right from your room.
Pacific Beach, California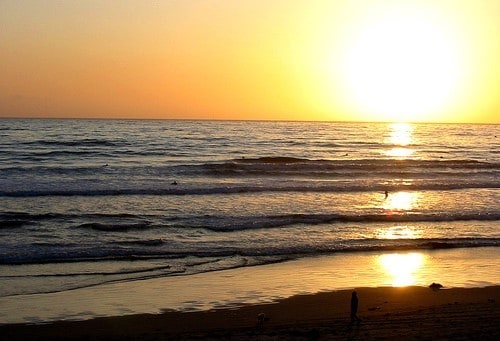 If you live on Florida's west coast, then Pacific Beach is your best bet for a fun time near the water. It's a hot spot for the younger crowd, with numerous bars and restaurants that stay open late into the night. If you're not so into partying, try your hand at surfing or bodyboarding during the day.
Pacific Beach also has a thriving Ocean Front Walk, which is a boardwalk that runs parallel to the water and has enough shops to keep you busy the entire day. Check out Pacific Beach accommodations early on so you can score a place close to all the action without breaking your budget.
Ocean City, New Jersey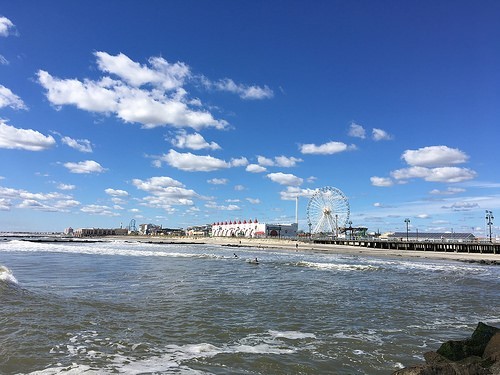 For those who are toting around the entire family for a fun-filled vacation, Ocean City in New Jersey is just where you want to be. From the world-famous boardwalk to the 8 miles of sandy beaches, Ocean City lets you keep the entire family happy without pulling your hair out.
Once you've tackled the shopping and dining of the boardwalk, head out on the water to try your hand at windsurfing, paddle boarding, Boogie boarding, and more. Kids will love it if you pick out Ocean City hotels near Jim Thorpe's River Adventures or the New Jersey Motorsports Park.
Islamorada, Florida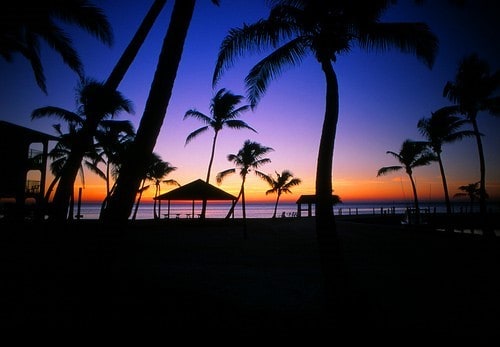 Islamorada is the place to go if you want a relaxed vacation with a natural vibe. Comprised of six islands, Islamorada is away from the hustle and bustle of the mainland. Fishing reigns supreme here. Test your skills with both saltwater fly and backcountry sport fishing.
If you have diving certifications, you'll need to go beneath the water's surface to explore the wide selection of reefs and fish. There's even the History of Diving Museum to help you learn more about the hobby. Be sure to book your Islamorada hotels early, as rooms near the water tend to fill up fast.
You can't go wrong with a trip to one of these four oceanfront towns in America.
Australia – The Ideal Backpackers Destination
Backpacking all around Australia is a fantastic way to experience the sights of one of the world's most exciting holiday destinations. For the traveller who loves nothing better than trekking around a beautiful country, Australia is the place to go since it's the most popular country for backpacking worldwide.
One of the best things about backpacking around Australia is that you could spend an entire year exploring each region and still not see the attractions by spending as much time as you want in each area. You can plan your route ahead of time or be spontaneous and go where the spirit moves you.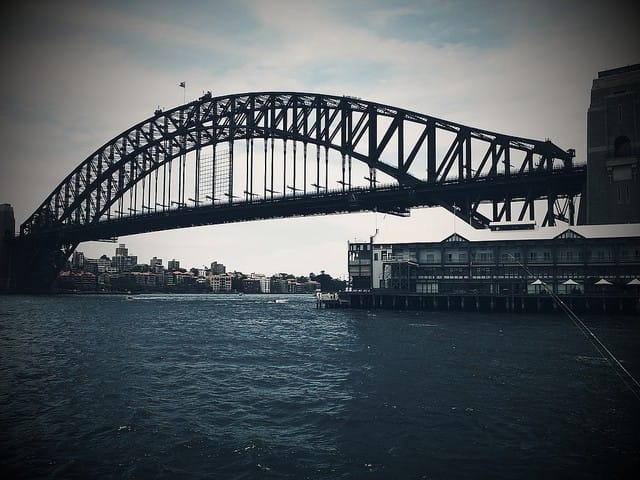 What Australia Has To Offer
Australia is a backpackers dream. The country is perfectly set up for anyone who wants to spend six months or even a year exploring. Some people even end up getting a camper and camping all over the country.  Hundreds of hostels for hikers and backpackers are throughout around the country; the accommodations are clean and comfortable, and it's easy to arrange transportation from one location to the next.
Heading down under offers the opportunity to make friends from around the world who share your love for backpacking. Some suggestions to follow before you begin your Australian adventure can contribute to making the journey everything you expect.
Food and Drink
A lot of backpackers travelling around Australia take advantage of the abundance of Asian cuisine that's available in the major cities and small towns. Asian food is inexpensive, filling, and tastes great. Cooking yourself is a good way to enjoy the food you like and save money since you aren't dining out every night. Check out this article if you are looking to dine on a shoestring.
Australia also has one of the most vibrant coffee cultures.  Visitors from Europe are often surprised at the quality and variety of coffee blends in the Country, much of which is due to the influence of European immigrants who brought their coffee culture with them.
And if you are "outback" they even have a way of making real Italian Coffee in the bush with a portable coffee machine called the Handpresso; a lightweight coffee maker designed to take easy serve espresso pods, giving you real Italian Coffee on the road.
Backpacking Destinations and Itineraries
If your have between three and six weeks and want an unforgettable experience, the east coast of Australia offers the chance to see the sights of Cairns and Sydney, with Melbourne and the Great Ocean Road if you want to extend your trip. In Sydney, visit the harbour and take the coastal walk between Bondi and Coogee Beaches. Blue Mountains National Park is to the west of the city. Towns near Port Macquarie are ideal for bush walks with some of Australia's best surfing on the coast.
Before you go to Cairns, pop over to Magnetic Island for some of the best walks on the east coast. The best way to observe koalas in their native habitat is on the Fort Walk. If skydiving is on the bucket list, head over to Mission Beach; the most inexpensive spot in the area to learn skydiving. When you get to Cairns, you've arrived at the Great Barrier Reef.
The Gold Coast of Queensland is a beautiful, laid-back region. Explore the World Heritage Gondwana Rainforest, camp out or hike the trails. Surfer's Paradise Beach is known by surfers worldwide. Make new friends at the cafes of Burleigh Heads.
Fraser Island is a must-see destination. The World Heritage site is the largest sand island in the world. Meet Australia's wildlife or explore the cliffs, the rainforest or go on a whale watch tour. You may even spot one of Australia's endangered dingos. The island offers accommodations for all budgets.
Backpackers can stay in group accommodations and enjoy the restaurants, bars, or cafes. Agnes Water, on the main coastal road in Queensland, is another famous surfing spot and is on the Great Barrier Reef's southern tip. Accommodations include hostels with basic amenities to luxury apartments and retreats with WiFi, swimming pools, bars, and bike rentals.
The Whitsundays are an island chain off the coast of central Queensland. The landscape is stunning, the beaches are secluded, and the people are friendly. The islands are on the Great Barrier Reef, with accommodations that are eco-friendly. Airlie Beach is known for hostels for backpackers, with diving, snorkelling, swimming, islands to explore, and exciting nightlife.
Places To Stay
Australia is gorgeous- it has a wide variety of landscape- from deserts and rainforests to beaches, forests, and grasslands. There are many places to stay at but the most fun is a place that's comfortable and offers you a great breakfast as well! Here are some of the best bed and breakfasts in Australia:
Ningaloo Bed and Breakfast– located in Exmouth, in Western Australia, this B & B is spread over 2.5 acres of bushland. Situated close to the Ningaloo reef, this lovely space has space for six adults. It's perfect for a quiet vacation, immersed in nature and enjoying the beauty of this wondrous landscape. There's something or the other to do the whole year through on the Reef, and this is the perfect place for nature enthusiasts.
Mary's Bed and Breakfast is situated at the base of Bold Park Bushland. With its comfortable rooms and continental breakfast, this is a popular choice for travellers keen to see and experience the bushland. There are beaches at a few kilometres away, as is King's Park and the Museum. You also have great food choices, sports and the village of Claremont. The King Studio and the apartments have all amenities, garage, and private entrance.
The 12 Apostles Bed and Breakfast is a lovely farmhouse situated on a hill behind the 12 Apostles. If you want to feel a sense of being in the countryside, this is the place for you. The sea views are calming and exciting, there's a lovely garden to relax in, and just a few minutes away is the magnificent 12 Apostles. The breakfast and the views are both gorgeous. You may have seen many a sunrise or sunset, but nothing quite like the one from here.
For a different type of B&B, head to Coober Pedy and check out the underground VenusHill Bed and Breakfast. Even the approach is great- a tunnel at a slight angle. It starts from here- the excitement and magic. The underground accommodation is warm in winters and cool in summers. It has a complete kitchen, all amenities and a chance to experience the mining life.
Launceston Bed and Breakfast Retreat- for a view of the river and some exciting wildlife sightings, check out this space. It's gorgeous not only for its location but also for how lovely the property is. The South Esk river keeps you company throughout. It's about 15 minutes from Brisbane St mall, and the Cataract Gorge. It's also close to the river and you can spot a lot of wildlife here- wallabies, kangaroos, etc.
Amber Lodge Bed and Breakfast– situated in a World Heritage Forest, this is one beautiful property. It has an old world feel to it- with its high ceilings, and wooden interiors. The Tamborine Mountains are a perfect backdrop to this property. Explore the wineries of the region, take a walk through the forest or just explore the space- the Markets are delightful. There's a lot to do in this gorgeous country. Head to South East Queensland for this place.
In Sydney, check out the Cecil Street B&B Manly. Set in a residential neighbourhood, the two warm and inviting rooms are comfortable and put you right in the centre of everything- the B&B is less than 4 kilometres from the Sydney Harbour National Park and just 15 minutes away from Manly Beach. Sydney is a vibrant, alive space and being at Manly will help you enjoy it even more so. Shop, visit the opera, take a trip to the outskirts- everything is well within reach.
Nestled in the Derwent Valley in Tasmania is the Roslyn House. This Bed and Breakfast has a great rustic feel, what with its furniture and decorative elements. A hearty country breakfast awaits before you set off on your day of exploration- the Mount Field National Park is 20 minutes away and the city of Hobart is less than an hour's drive off. This is absolutely breath-taking property- green lush grounds, lovely gardens and well-appointed rooms.
Como Waters Bed and Breakfast, in Perth, Western Australia, has three comfortable rooms and parking. It's 10 minutes by car from the City Center, and about half an hour from Fremantle. The Como is close to eating joints and stores. There's a private courtyard to take advantage of the beautiful weather. It's close to the Swan Valley wineries too and that makes for a fabulous trip.
Thanks to online sites, finding a vacation rental is easy today. A guest is spoilt for choice- from AirBNB to specific sites devoted to Bed & Breakfasts, Vacation rentals, be it apartments, villas or condos. But there's one thing that you need to do- take the time and effort to learn all about your hosts and the spaces they are renting out by doing a background check. Check the location, the proximity to places of interest and tourist choice and then take a call on where you want to go.
Enjoy a wonderful vacation!
Enjoy the very best of New Zealand on a luxury yacht charter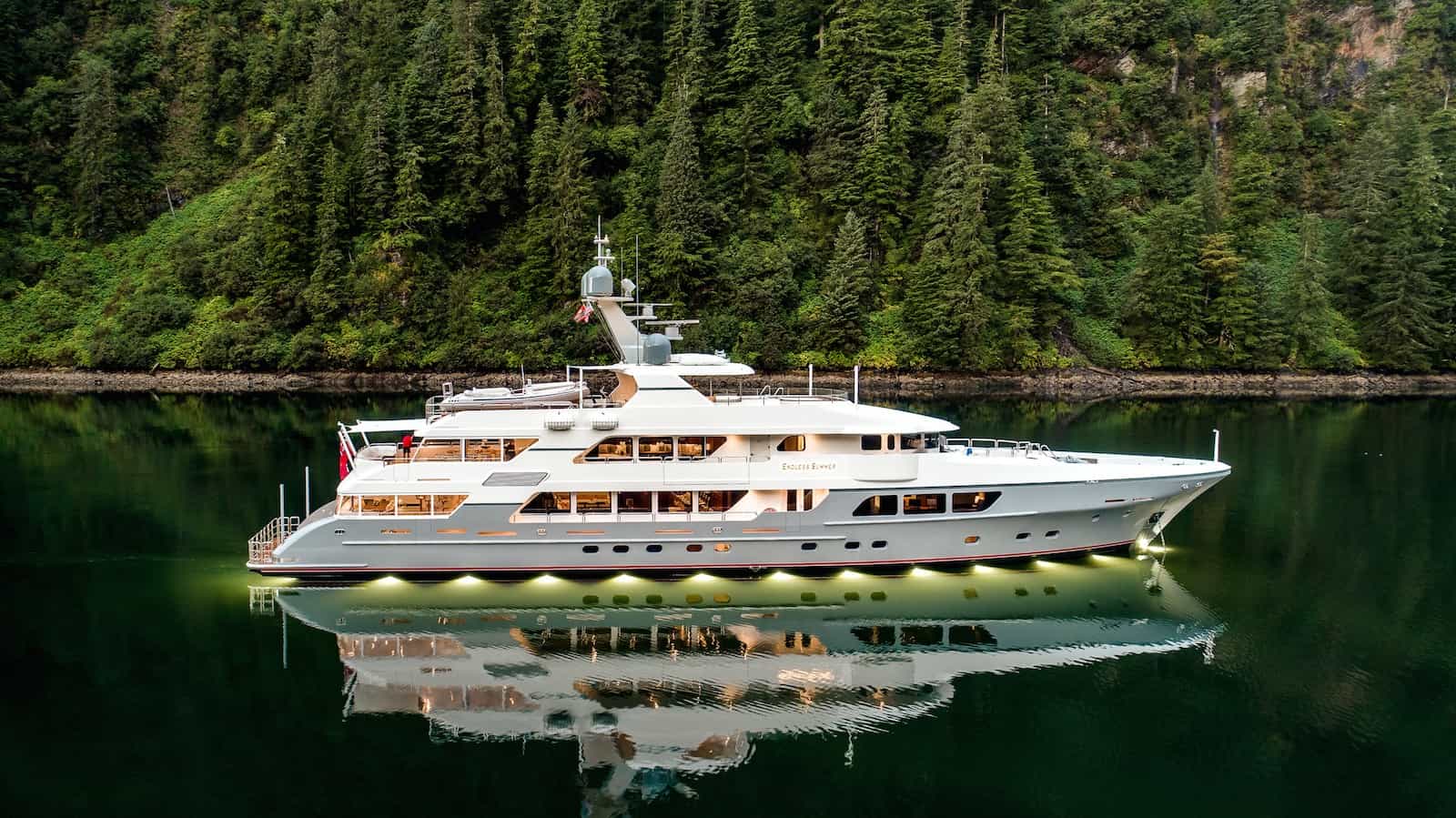 Halfway across the globe for many, New Zealand represents the ultimate destination for adventure-seekers, culture aficionados and nature lovers alike. No matter what draws you to these exotic shores, there could be no better way to experience the best that this land has to offer than onboard a luxury New Zealand yacht charter. Chart your own course and let your expert and attentive crew fulfil your every desire.
New Zealand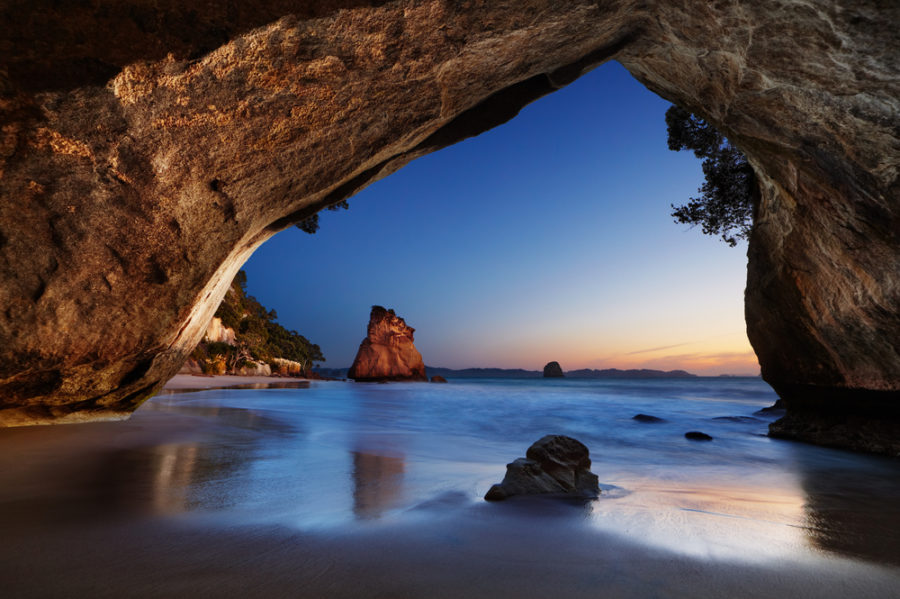 Explore every facet of one of the world's most breathtakingly beautiful spots, when you charter a yacht in New Zealand. Surf majestic swells. Study the mysteries and magic of the Maori culture up close and personal. Hike deep into thickly wooded, luxuriant forests. Learn every curve and rise of this rugged countryside intimately, as you follow New Zealand's nine epic "great walks", from Abel Tasman to Rakiura. Climb high up into the clouds, as you scale massive mountains.
Dive beneath the mirror-like surface of expansive lakes, nestled between green cliffs. Swim in the cool, clear glacial waters of fjords. Spend lazy hours drinking in the sunshine on deserted white-sand cove beaches with your New Zealand yacht charter anchored just offshore. Give into the laid-back vibes of a land that seems to inhabit its own unique space and time.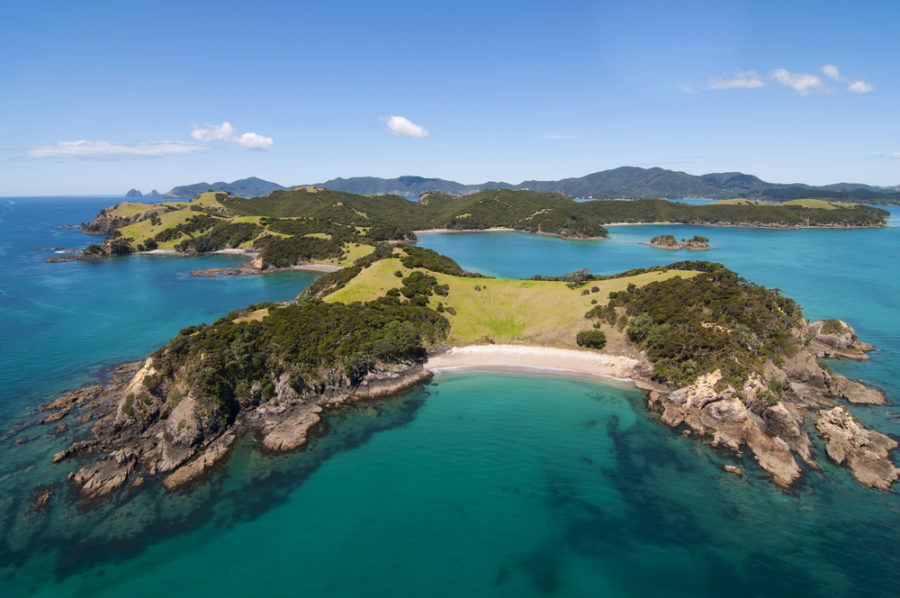 Discover the liveliest hangouts in up-to-the-minute, buzzy Auckland. Taste vintages guaranteed to convince you why New Zealand's reputation as a world-leading wine producer is well-deserved. Sample slow food specialties from every corner of this nation, which is celebrated for its local produce and innovative cuisine. Treat your taste buds to meals, which make the most of the freshest, locally sourced ingredients, such as the area's famed meats and fresh fish – all expertly prepared by your onboard chef.
Endless Summer – A superyacht made to go wherever adventure beckons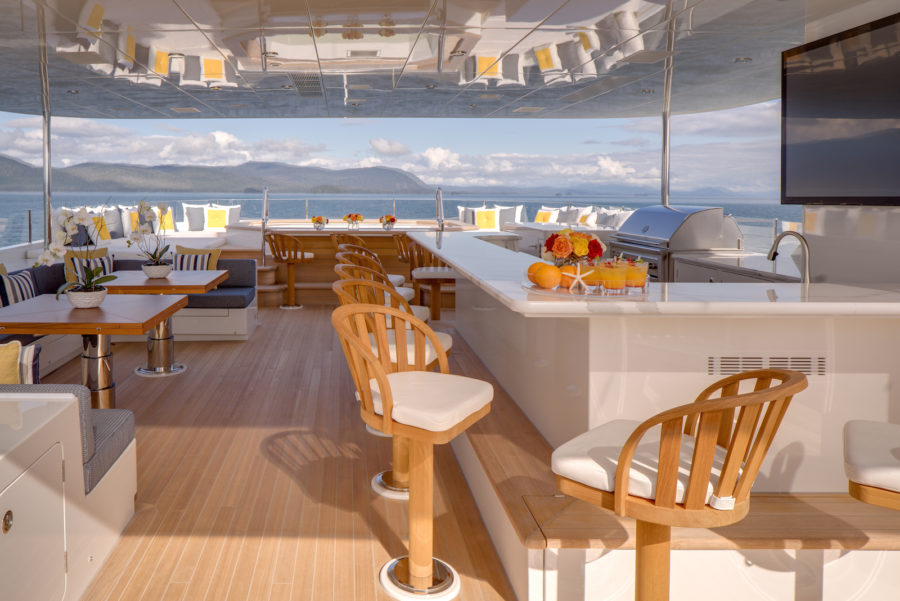 In search of the perfect yacht charter for your New Zealand adventure? Consider chartering the 49.9-metre (163.7-foot) superyacht, ENDLESS SUMMER. This brand new yacht, launched in 2017, has been specifically designed and constructed to travel over vast distances and to reach every corner of the planet.
Onboard this sturdy, powerful and extremely expansive, world-class superyacht you'll be able to truly get to know the very best that New Zealand has to offer. Plus, with a superb interior, created by the acclaimed Varo Team, and a ridiculously spacious exterior which includes multiple al fresco dining areas, a Jacuzzi, bar and outdoor cinema – Endless Summer yacht will let you cruise in high style, as you unlock the secrets and national treasures of this wild and irrepressible land. There's no better way to see, hear, taste, touch and feel the wonders of New Zealand than to journey straight to its heart onboard your own superyacht charter.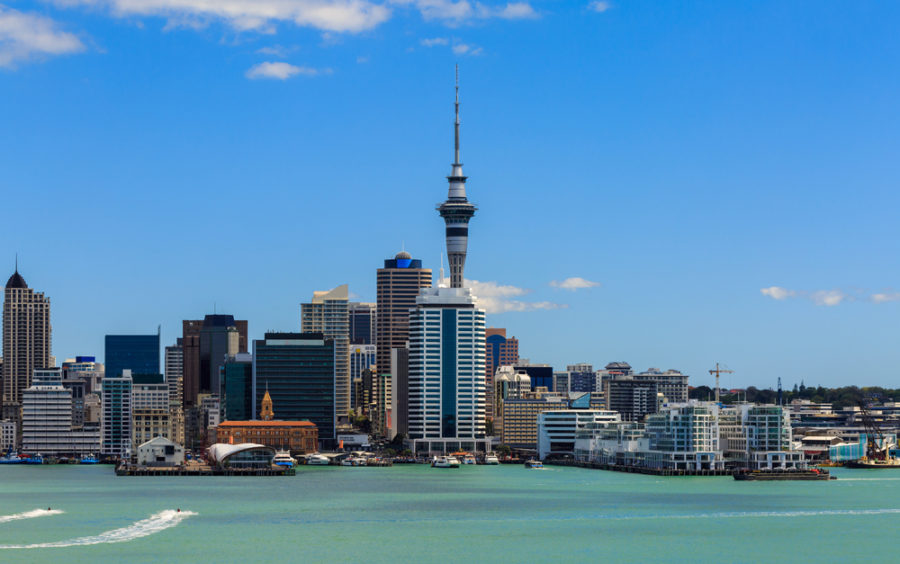 We have been wearing out our jandals (Kiwi for flip-flops) on our travel adventures around the world since 2009. We think our blog is thought provoking and a little witty. But we have been proven wrong before. Find out more about us here...