If at all possible, we recommend allowing extra time in Istanbul to visit Buyukada Island. If you don't have the time to stay overnight then it is still worth going for a day trip! The island is unique as no personal vehicles are allowed. Therefore, everyone including tourists all navigate the island via bikes and horse drawn carts!!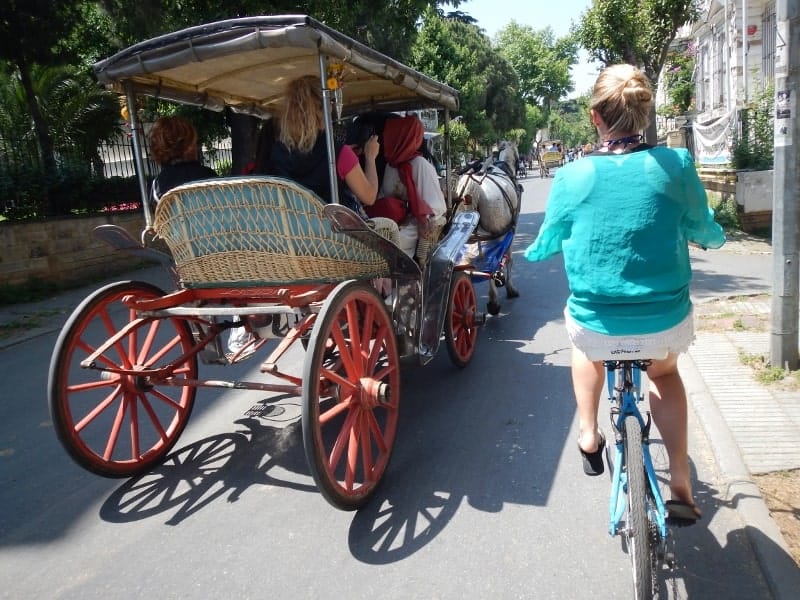 How to get to Büyükada Island (Princes Islands)
Depending on where you are staying in Istanbul, you will need to get onto the Blue Line tram to Kabatas Station (it is the last stop on the line). Upon arrival to Kabatas Station prepare to be hounded by locals on the hunt to make a buck as you are basically a walking dollar sign. They are selling food, flower headbands, and day trip packages to the Princes Islands (which we believe are unnecessary!). There are signs directing you to the ferries for Princes Islands, but the locals are happy to point you in the right direction if you feel lost. There are lots of people, boats, and desks so ask around until you find the ferry to Buyukada Island and it should cost you 5 lira per person.
The boats can get quite full and all the other passengers aren't the politest. Therefore, to save dramas try and get on the boat up to 30 minutes before you depart. If you are like us, it will give you time to lug your bags to the roof of the boat, pick the best seat and then take a few scenic photos before other tourists start blocking your view! Then it is just a matter of sitting back and soaking in the sea view as you motor past the Palace, the Blue Mosque, the Asian side of Turkey and islands along the way (the boat ride lasts about 1 hour).
As you arrive at Buyukada Island be prepared for more hounding by the restaurant owners and ice cream stalls (Turkish ice cream is delicious by the way). If you are anything like Moss you will chat to them all, promise them that you will probably come back later and befriend them all over the next few days!
Tips for using the trams in Istanbul:
The tram costs a flat fee of 3 lira per person, no matter how far you are riding it.
Each station is located in the middle of the road.
There are ticket machines at each station. Note that you may need to look around for them as the pay stations are sometimes only located on one side of the road.
Once you have inserted your 3 lira you will be issued an orange plastic coin which will give you entry to the stations platform.
When to visit Büyükada Island
Apparently more people visit the Island on weekends, but the way we see it you will either be swarmed by school trips on weekdays or families on weekends.
Where to stay on Büyükada Island
There is a lot of accommodation on the Island. We stayed at the Marine House Boutique which was called Marine House Hotel on the sign (it appears that no online booking names were the same as their sign on the door in Istanbul! So confusing!) The hotel was right in the centre of town, and was possibly the most modern building but was also a little pricey.
Do I have to wear covered clothing on Büyükada Island
The dress code on the island is a lot more laid back. Upon arrival I was sweating up a storm, still dressed in my Istanbul appropriate clothing of canvas shoes, jeans and a non-strappy top (I really don't know how they wear jeans every day!)
Restaurants and cafes on Büyükada Island
Be aware that some café/restaurants are pricy but the experience is sometimes worth it! We stopped at a little café on the waterfront looking at a harbour to grab a cold drink and to our horror purchased the most expensive Fanta we had drunk all holiday.. 5 lira each! However, while sitting at the table getting over the fact that each sip was costing about .50 lira, we noticed a local fisherman sitting close in the harbour. He was ripping the heads off live sprats with his bare hands and throwing them to a cat which was not fazed by the seagulls and ducks, let alone the water! We then managed to snap an action shot of it reaching for a fish scrap…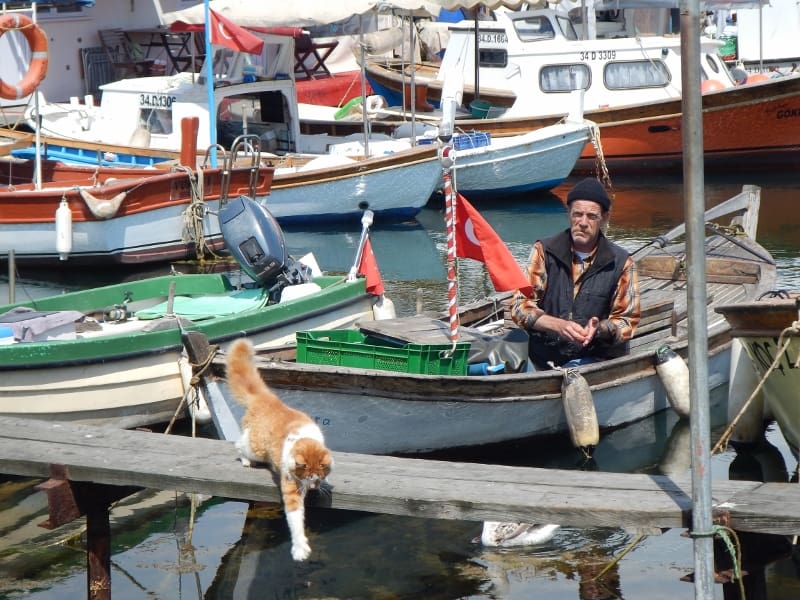 While staying on Buyukada Island, we recommend getting into the true Turkish spirit! We started off our Friday night with a local bottle of red wine and some fresh Cherries. They were both delicious! We also discovered a dip containing Yoghurt with eggplant (highly recommend!) and Moss managed to stomach a fish.. with the eye and all. If you are still feeling energetic later in the evening, we recommend going to a bar called 'The Harbour'. Its combination of comfy bean bags, shisha pipes and Turkish delight all go down a treat, plus the staff are super friendly and the language barrier is a good laugh.
Hiring bikes on Büyükada Island
The island is hilly and you need to stay out of the way of all the horse drawn carts but it all just adds to the adventure!  The horse drawn carts barrel along ringing bells so you need to react quickly in order to not be trampled. They are very touristy, but we didn't use them as the bikes gave us more freedom and were more appealing, plus we felt that the horses were malnourished and didn't like the concept of the horses being whipped to pull our lazy bums up the hill.
Tips for hiring bikes on Büyükada Island
The bikes cost different prices depending on how long you want them for. Ours cost 30 lira per person, needing to be returned by 10pm
Take an ID card with you. The bike company held on to Moss's ID card until the bikes were returned
Get your hands on a map (the bike company should be able to give you one)
Ride around the island in an anti-clockwise direction (as this way is much easier)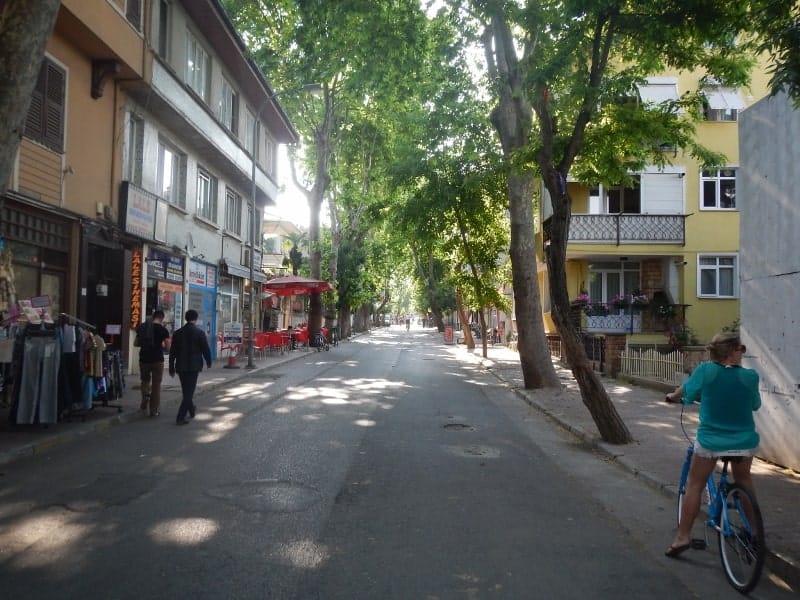 Things to do on Büyükada Island
If you get the chance, pay a visit to the old orphanage and Lovers Road. Unfortunately, we chose to walk to Lovers Road and could not find it! So hopefully you are better at navigating than us.
We also recommend cycling to a beach and spending a few hours enjoying the water. One of the beaches closest to the main town is called Yorukali and costs 30 lira to enter and lie on the beach chairs. It is set up as a beach club with loud music and looked as though it could be fun. However, we were the first to arrive for the day and as it was only 11am it did not appeal. There are a few beaches around the island, but the only one we did visit required us to pay at the café at the top of the hill and leave our bikes behind. There was a bit of a walk down the hill to the water, but it was worth it! It cost 15 lira per person and was beautiful and peaceful!