Five Of The Best Ways To Soak Up Scotland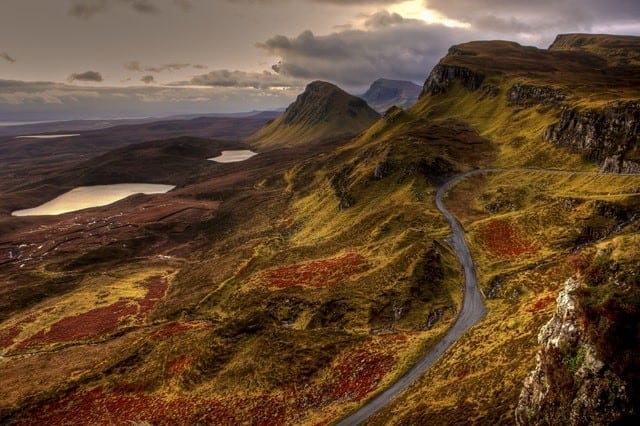 Rugged scenery, historic landmarks and a rich heritage – Scotland is a fantastic place to explore. With walking routes dotted between quaint cosy pubs, cities full with culture, and miles of beaches and scenic drives, there's really no excuse not to embrace the tartan. Here are some of the best ways you can explore and soak up Scotland's rich heritage.
Tour famous film locations
Scotland's landscape is stunning, so no wonder its dramatic scenery has been captured on the big screen. Explore the picturesque film locations, such as Glen Coe for James Bond's Skyfall moments. Visit Gairloch for the Billy Connolly classic, What We Did On Our Holiday where you can see views of the Isle of Skye from the expansive Red Point beach. Explore the Glenfinnan Viaduct in Lochaber for the iconic arched bridge that the Hogwarts Express chugs down in Harry potter.
By rail
Take the leisurely route around Scotland and travel by train. It's a much needed break from walking routes, with stunning views from the window that look out across the ever-changing landscape. Scotland's rail routes connect its seven cities with stops in many towns and villages across country, so you'll find it easy to delve into the West Highlands from Glasgow, traveling through the scenic Fort William, or roll past the battlefields of Robert the Bruce through Dumfries.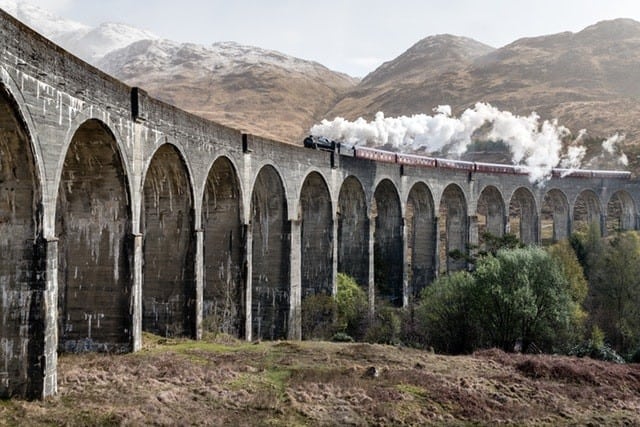 Walk, trek, stroll
Discover all the wonderful wildlife and nature on foot. Trek through the rugged countryside for unbelievable sights of the towering mountains, shimmering lochs, golden beaches and lush farmland. Find Lochan Urr in Glen Etive for a spot of paradise, stroll along Applecross Bay, or scale new heights for stunning views of Loch Lomond and The Trossachs National Park. For longer routes head to Fort William and Glen Coe for miles of green countryside.
Castle to castle
You'll find castles on top of, near enough, every rolling hill in Scotland. From pretty fairy tale castles to robust medieval fortresses, you can visit the most spectacular buildings all around Scotland. Enjoy strolling around the floral gardens looking up at the enchanting French design of Dunrobin Castle, on the northern coast near Dornoch. Explore Culzean Castle for dramatic scenes, or, Kilchurn near Dalmally in Argyll to gaze over the Loch Awe. Visit the royal stronghold, Fyvie Castle near Turriff for rich decor and 13th century furnishings. For something completely different, head to Kelburn Castle in Ayrshire for a colourful mural of unusual cartoons.
Cruise the Scottish waters
Take a look at Scotland from a different point of view by travelling Scotland's shores on a boat cruise around the islands. Visit the Isle of Skye, Stornoway, Port Ellen, Montrose and the picturesque Holy Loch Port. For something even more adventurous, canoe in the lochs and rivers around Fort William.
Sound good? There's so much to see in Scotland that you're bound to be mesmerised!
5 Cool Activities to do When Travelling in South America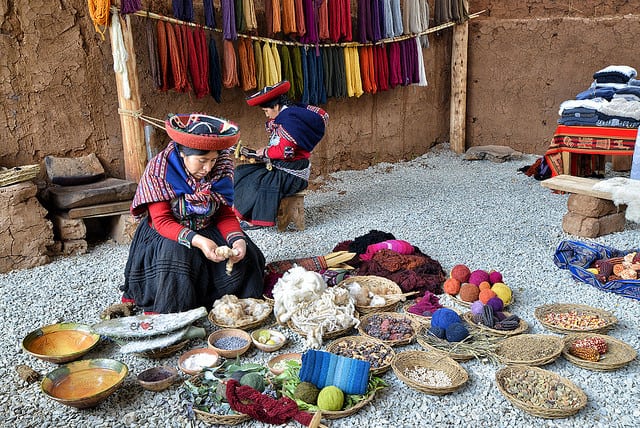 If you're considering going on a vacation soon, why not consider South America for your holiday destination?
Yes, beach holidays in the US are fantastic, but South America offers amazing activities for first-time travellers and pro-adventurers alike.
Learning Textiles with Puchka, Peru
Puchka is a textile school and cultural tour operator, which takes participants behind the scenes of the usual tourist hotspots.
You'll not only be introduced to locals and experience their traditional lifestyles, you'll also be taught the art of traditional Peruvian textile creation. This includes knitting, braiding, embroidery (machine and hand), tapestries, and even gourd-engraving and pan pipes.
You don't need to be a textile pro; even beginners can attempt embroidery at Puchka. The teachers are incredibly patient and provide amazing one-on-one lessons.
These cross-cultural exchanges enrich the lives of locals and visitors alike.
Visit Iguazu Falls, Argentina and Brazil 
The Iguazu Falls are located on the border of Argentina and Brazil and you can visit the Falls on either side (or both).
The Argentinian side of the Iguazu Falls is said to be the best to visit. There are multi trails and circuits to choose from, each encompassing different waterfalls and jungle trails. If you're up to it, take a boat ride under one of the falls (extra charge).
The Brazilian side, while less popular, is incredibly beautiful. It is located within the largest surviving Atlantic Forest in Brazil. This forest is incredibly rich in fauna and flora and highly protected.
As a tropical rainforest, Iguazu Falls is an all-year destination, although it does get considerably warmer from September to March.
Hike to Angel Falls, Venezuela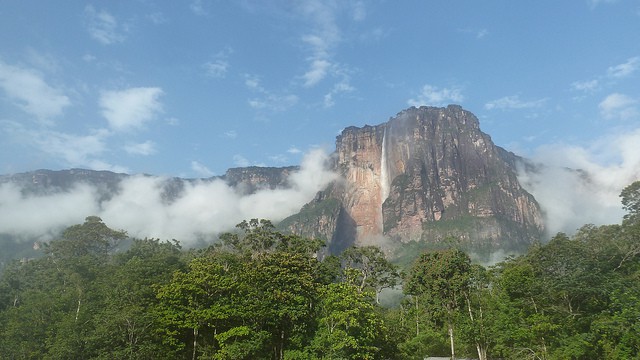 Located in the remote, unspoiled and nearly impenetrable Canaima National Park, Angel Falls is one of the world's natural wonders.
Measuring at 979 meters from the top of Auyantepui Mountain, the Falls is hidden deep within the jungle and getting there is an intense adventure. This magnificent natural wonder is ten times taller than Iguazu Falls – but less visited.
Yes, despite being such an iconic landmark, Angel Falls is not as widely visited since its location means intense hiking through a nearly impenetrable forest. Not many people think the sight is worth the effort.
Hike to Cuevas del Milodón (Milodon Cave), Patagonia
Located 24km from Puerto Natales, Milodon Cave is one of Patagonia's treasures.
The caves were once a place of refuge for the first human groups on the continent, offering safety from the elements and predators alike. It now holds an exhibition containing 14,000-year-old remains.
A wooden path leads you right up to the cave's entrance, where its magnificence will leave you in aware, and even a whisper will be echoed back to you.
You should dress warm for your visit here (rain-gear and a windbreaker are important) and wear appropriate trekking shoes. You may also want to take some sunscreen and a headlamp (or flashlight) along with you.
Take a Cable Ride to Sugarloaf Mountain, Rio de Janeiro
Taking a cable ride up to Sugarloaf Mountain is an unforgettable experience.
The ride happens in two stages (3 minutes each): stage one is from Praia Vermelha (Red Beach) to Morro da Urca (Urca Hill), and the second stage is from Morro da Urca to the top of Sugarloaf Mountain.
The ride up provides 360° views of the stunning Rio de Janeiro, and once you reach the top, you will be confronted with views of Rio's beaches, downtown Rio, Rio-Niterói Bridge and more.
Don't worry about eating before the trip up, there are bars available at the top, which provide amazing snacks and beverages.
If you're determined to go on an adventure but you're low on funds, why not take a travel loan for that dream trip? The adventure will be worth it.
11 Hidden Adventures for Your Travel Florida Bucket List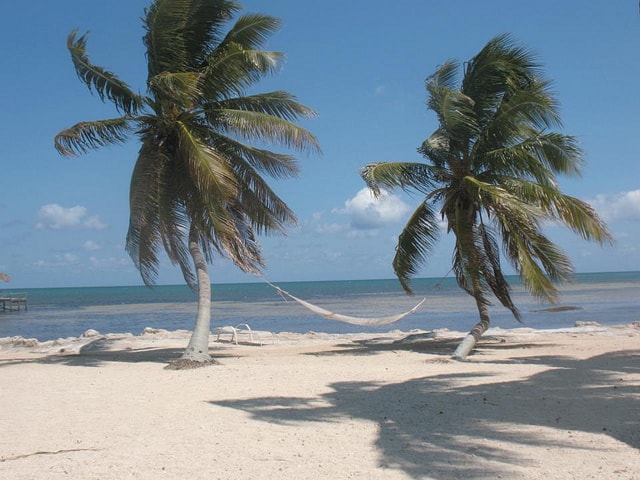 Who would not want a fabulous getaway to Florida? Florida is not just any other state; its hidden adventures can entice the inner fantasies in you. Every year Florida has a fresh start of its surprises that need to be unleashed. Traveling to Florida is always an occasion for new meetings, adventures, and discoveries. That said, here are 11 hidden adventures for your travel Florida Bucket List. Let the adventures begin!
   Shell Key
At Naples' Goodland Marina, you can board a boat wherein you can embark on Florida's best shelling experiences. Inhale salt air underneath clear blue skies where you can dance with the magnificent dolphins. A popular spot you can head for is called "Shell Key."
It is located in Ten Thousand Islands whereby there are shell layers which unleash prized rarities like the Junonia.
Miami city
Every great adventure in Florida starts in Miami. This city is all about fun, art, celebrities, fabulous houses and the beautiful waters. There is one perfect way to explore Miami – yacht rentals and going out with your squad.
The opportunity to have water experience comes no better than this because Miami is just the place to be, to enjoy, to explore, to melt in. You can just relax or even do celebrations with the Yacht Charters in the Miami. Biscayne Bay is also a perfect place to be because the waters are good for snorkeling.
 Gilchrist Blue Springs State Park
The system of Florida State Park purchased "Shangri-la" whereby Gilchrist Blue Springs gives off 55 million water gallons daily which flows to Santa Fe River. You get to swim after jumping from a wooden platform into crystal water.
If you are coming with your family, you can have a picnic underneath sprawling oaks. You can also go for kayaking and board paddling. If you want a plain simple trip, you can even stroll around to the Santa Fe River on a wooden boardwalk.
Caracara
If you are an avid or casual birder, then Caracara is the place for you. The birding experience is just worth it.
Get all the birding experience you can want to have at Space Coast Birding and Wildlife Festival in Titusville. With the annual festival, it will offer a birding crash course which features experts that would be so glad to help you out with hikes et al.
Mary's Fish Camp
Meandering via an oak hammock is a dirt road to one of Florida's campsites wherein screened porches cabins plus bait shacks face the river.
Mary's Fish Camp is nestled along Bayport's Mudd River. This is on the Gulf Coast of Hernando County which is a fishing spot landmark. You can camp there and enjoy nature at its best.
Datil Do 'Ya
This is a signature dish of St. Augustine which is famous for tomato base that is rich with a bit of heat from Datil pepper that is locally grown. You can eat all the best cuisines from the place due to the two outstanding restaurants wherein locals will serve you delicious chowder.
These two restaurants are Barnacle Bill's Seafood Restaurant and Aunt Kate's. Both these restaurants offer the best food experiences in Florida if you are a food enthusiast.
 Martin County
On the east coast of Florida, you will find Martin County which will offer you a quick escape from stubborn traffic and congested beaches. The county's distinctive vibe will help you embrace the beautiful environment that is pollutant free.
Amongst famous attractions is the Blowing Rocks whereby geyser effect is created which often erupts.  To reach this spectacular place you'll need to reach to the Hobe Sound Beach after which you will need to trek to Blowing Rocks Preserve and have yourself a moment of life.
Winter Park Scenic Boat Tours
A five-minute ride to Orlando's north, you will head straight to Winter Park. The place was made in 1938, and it navigates via pristine and popular Chain of Lakes.
There are numerous breathtaking nature views plus there are historical overviews of luxurious private estates and homes along shores.  This will give you visitors a nostalgic feeling.
Make sure you watch out for sunbathing alligators, paddleboard yoga and frequent water skiers. The whole experience can be enhanced and if you want you can rent a yacht for your family and friends from Miami Yacht Rental.
The Kumquat Festival
Dade city of Florida celebrates kumquat. Kumquat Festival which is celebrated annually on January 27th is a festival that honors this sweet fruit of Dade City. Dade City is the largest supplier of kumquat.
Admission is absolutely free because this family event offers you a chance to taste different combinations of fruits. However, the hidden adventure is Kumquat Growers Open House which is held on January 26th and 25th which features grove tours and packinghouse.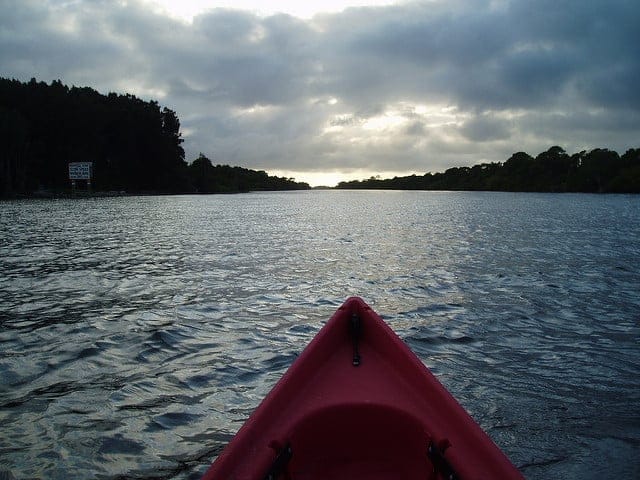 Day Away Kayak Tours
On the Space Coast of Florida, there is Merritt Island National Wildlife Refuge which is a special and interesting kayak tour. While there is a twinkling of evening stars on a phenomenon called bioluminescence, the water glows below.
Minute organisms which live in water glow shine iridescent green after the water's stirred up. With fish that dart there's a glowing trail that is created with paddling strokes producing eerie mesmerizing nightlight wisps.  
Titusville's Day Away Kayak Tours from May via September feature paddling trips in the nighttime.
Ocola
It is Florida's equestrian epicenter industry which is situated in Marion County which is at the center of Florida. It is habitat to over 70,000 horse farm acres of horse farms which are set amidst oak trees that are sprawling and green pastureland that is rolling.
The place is famous for horse riding and other related sports. The owner of the place is part of the fun which will not get a mention because she is part of the hidden treasure too.
Conclusion
Now that you have had a bucket list it's interesting to know which you are opting to go for. Florida is a real wonder. Doesn't matter if you are there on vacation or business, you never know where an adventure can take you.
But what if you need something more, or maybe less? How about, all you need is just to relax on the beach, to think nothing but a perfect tan and cool enough cocktail? The world is an open book – choose any all-inclusive hotel in Jamaica, Saint Lucia or Bahamas and make your adventure perfect for you. Pick your place, and let the journey begins!
Thanks to Excursion Tourism, You Now Have Countless Adventures At Your Disposal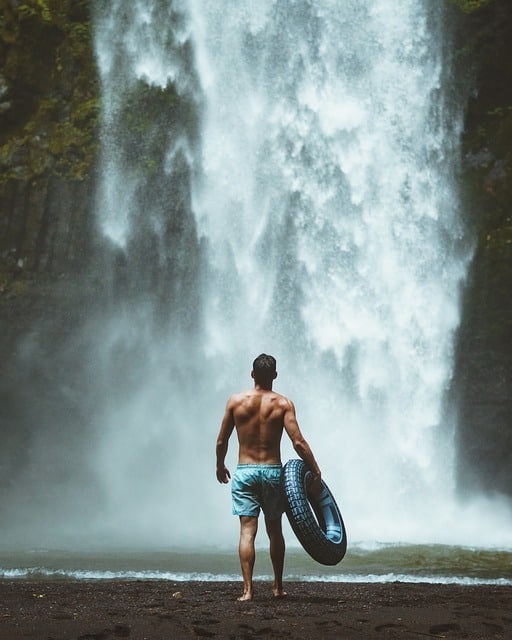 The holiday season is upon us and most of us would be planning for large meals and stay-in family vacations at home, this is the norm and a yearly routine for most individuals.
But then there are those of us who know how to break from that routine while also keeping their sense of leisure intact. We are, of course, talking about planning various fun and outdoor activities with the people that we get together with over the holidays.
The activities could be as extensive as taking a complete vacation or as time-friendly as a quick weekend excursion just a few miles away. It is prudent to note that the latter trend of excursion and weekend tourism has gained significant traction lately due to the thrilling options that it brings to the table, while also keeping the average American's busy schedule in mind.
Regardless of whether you are a large family reminiscent of the Brady Bunch or a very small group of people, you can still enjoy these short yet memorable trips with ease. With a large number of platforms facilitating these activities and providing various options to those who are interested in them, the process of putting your adventurous plans to fruition has never been easier.
While there are several options available in these excursions, there are two that stand out to most people in particular, largely because they offer activities that are highly adventurous while remaining easily accessible. Since both of these options are available from a local standpoint, tedious and time consuming logistical planning is not necessary.
Take a Skydive
Starting from Michigan City, Indiana, and ending around Illinois, this skydiving adventure is gaining popularity among locals in the vicinity as well as those who belong to adjacent states.
The reason behind it being so sought after is that it offers you the chance to jump down from 14,000 feet in the air and have a fall at 120 MPH – all while maintaining the highest of safety standards to ensure that you will have a fun yet healthy experience. At an affordable price and taking only a half day of your time, this truly remains an excursion that you as well as your family and friends would like to take.
What's more is that it gives you plenty of pictures and a video of your experience, so you could relive it countless times in the future (and maybe come back for more).
Climb a Mountain With a Bed of Water Under You
This option which is available at Malibu, California, remains just as special for its scenic views as it is for its level of adventure. That is why it is also one of the most popular options for a weekend excursion to those who could manage the trip (getting to Malibu from even another city remains easy to accomplish).
What this trip offers is a chance for you to indulge into real life rock climbing at the Westward Beach Road in Malibu. With the sun shining bright as you spend the day conquering a mountain, not many experiences can hold up to this one. This adventure also practices safety precautions, where all activities are performed under an instructor certified by the Professional Climbing Guides Institute.
What's also great about this option is that you'll be provided with snack to keep your energy up while climbing the mountain.  We almost forgot to mention that you will also get climbing equipment to enjoy for the day, and proper rock climbing training that you could keep with you for the rest of your life.
The Options Are Only As Limited As Your Reach for Them
The choices for these short trips range from weekend getaways in the forest to a few hours' adventure with the great white sharks in deep seawater.
Simply put, the choices are only as limited as your imagination –  all that you have to do is to pick a spot to visit with the kind of adventure you seek, and find yourself experiencing it within days or even hours, depending on your specific location.

We have been wearing out our jandals (Kiwi for flip-flops) on our travel adventures around the world since 2009. We think our blog is thought provoking and a little witty. But we have been proven wrong before. Find out more about us here...