5 top countries you should visit at least one time in your lifetime!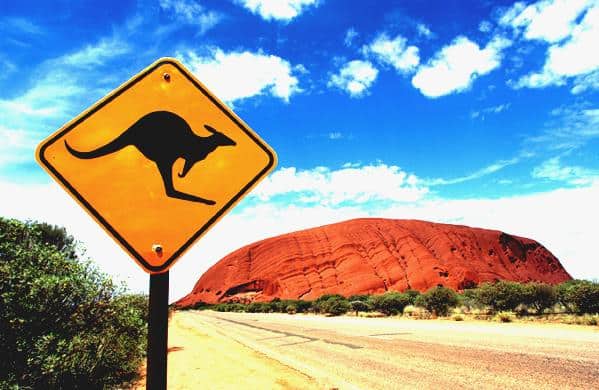 Do you dream of exotic and interesting far off places? Why spend your vacation at a resort in the USA when there are incredible places all around the world where you can experience a totally alien but fascinating culture. There are many countries that could vie for a place on your bucket list but here are five of the best.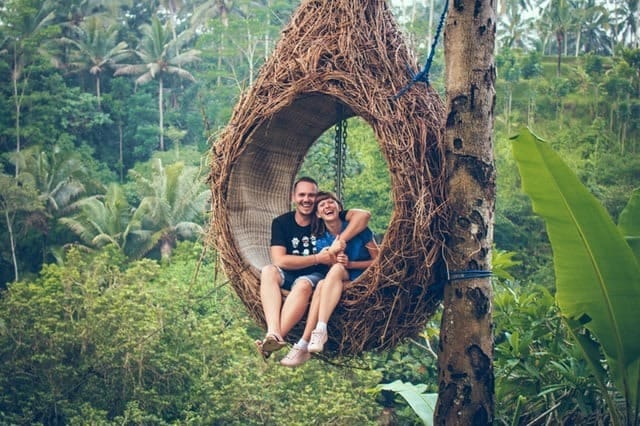 Australia
The Land Down Under is a place like no other. From huge vibrant cities like Sydney, Melbourne and Perth to the dry red center and the Great Barrier Reef and tropical islands, Australia is a land of contrasts. It is a laid-back country with a great sense of fun but also a legacy of sporting prowess. From trying your hand at panning for gold to diving with sharks there's an amazing array of adventures to have. There are incredible landmarks including Uluru, Sydney Opera House and Harbor, the "Big" things and its many rocky outcrops and mountains. If there's one place it worth considering getting a travel loan to visit, it's Oz.
Vietnam
If there is one over-riding image of Vietnam popular in the media, it is the number of motorcyclists in the major cities. Motorcycle travel across the whole country is popular and roads are surprisingly good. Vietnam Motorbike Tours are a terrific way to see the best sights and attractions. You can easily visit the top cities like Ho Chi Minh City, Hanoi, Dalat, Da Nang and the stunning Hội An, the picture-postcard perfect Ha Long Bay as well as the incredible beauty of jaw-dropping Hai Van Pass. With a long and rich history and one of the most fragrant cuisines in Asia, Vietnam deserves a spot on your bucket list.
South Africa
Known as the Great Mother or the Rainbow Nation, South Africa pulls in visitors like a moth drawn to a flame. A country of stunning contrasts, South Africa is a melting pot of cultures. From the two amazing coastal cities of Cape Town and Durban to the bustle of Johannesburg to outback towns where pre-apartheid life seems stuck in time, urban life is very different to the countryside of the Garden Route and the wine growing regions like Stellenbosch. Of course, the great attraction is the national parks. You couldn't pay a visit to South Africa without a safari trip to see the big five game animals.
Indonesia
Thailand has topped the list of Asian destinations for many years now but don't overlook Indonesia. This highly populous nation of more than 17000 islands, 300 languages and many varied cultures is a diversity lover's dream. It is simply filled with a myriad of adventures. Have some tropical R&R in beautiful Bali, go volcano trekking in Sumatra, or go shopping in a cool, glitzy mall in the capital, Jakarta. Wildlife is beguiling with orangutans lazing in trees and Komodo dragons menacing those who dare come too close. There's adventure around every corner.
Greece
Being one of Europe's top tourist hotspots shouldn't put you in mind of overcrowded beaches lined by high rise hotels. Greece is an absolute charm whether you choose the magnificent mainland or one of its idyllic islands. The capital, Athens, is one of the most historical destinations on the planet and the marvels of the ancient civilization will leave you in awe. The country boasts 6,000 sitting in the beautiful Aegean Sea, each with its own character. Some have huge party resorts while others might only be inhabited by a goatherd and his family and their animals. Island hopping by boat is a fabulous way to immerse yourself in the beauty of Greece. The food's not half bad either!
Which is going on your list of must-visit places?
Musical Adventures in Rome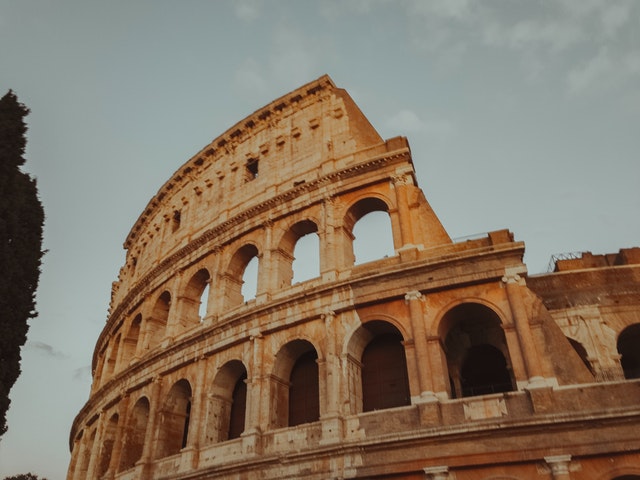 If you like to travel and are a bit of a music fan, head to Rome. This beautiful city caters for all kinds of musical tastes.
You can find concerts in Rome, any day of the week. Most of them take place in the evening, which is perfect for tourists. It means that you can enjoy sightseeing during the day and fill your evening with a musical experience. Here are a few suggestions of where you might like to go and what you could be listening to.
Enjoy the opera
Rome is a great place to attend an opera. You can do everything from visit one of the city's opera houses to enjoying an intimate performance in one of Rome's many churches. As you would imagine, the standard of opera is very high. So, whichever option you choose, you are bound to enjoy yourself.
A dinner concert
Italian food is world-renowned and with good reason. It is always tasty and there are usually several courses. So, during your stay in Rome, you really should eat out as much as you can.
For a special treat book yourself a dinner concert. If you love opera or classical music, you are sure to enjoy the experience. There are several available. Just go online and pick the one that appeals to you the most.
Visit one of Rome's jazz clubs
It pretty much does not matter where you travel in the world the chances are you will find a jazz club. Rome is no exception.  Use this guide to find performances of the style of jazz you like the most.
Go clubbing
If dance music is what you are after, again, there are plenty of venues offering DJs and live performances. Start by heading to Il Circolo degli Illuminati. There are three club rooms and a nice garden. This club offers an eclectic mix of musical genres. The 3 rooms offer House, Techno, Hip-Hop and chill out music.
It is also well worth visiting Shari Vari Playhouse. As well as music they offer the chance to enjoy a meal as well as a wide range of music. Genres include R&B and Hip Hop. This is the place to go if you like to dress up.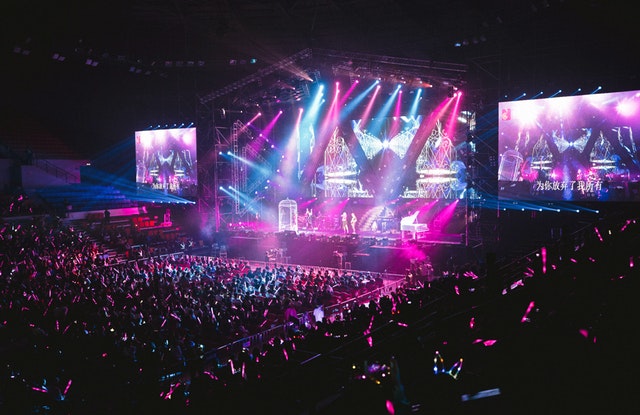 Live music jamming
It is always good to broaden your musical horizons and seek out emerging trends. If that appeals, head to Live Alcazar. There you can enjoy listening to up and coming singers and DJs. Later the dance floor opens up and the atmosphere changes. Effectively you get to enjoy two nights out in one, when you visit this venue.
Take in a music festival
The citizens of Rome love festivals and fiestas. They host them virtually year-round. Everything from Shakespeare to rock music is available. The Village Celimontana festival is an interesting one. It takes place in early September and despite only being 4 years old at the time of my writing this article is already crazy popular. It offers around 100 concerts that feature, jazz, swing, unplugged, rock and roll, tango performances, classical and all kinds of modern genres as well. You would be hard-pressed not to find something that you like.
Hopefully, the above ideas have provided you with some inspiration. Regardless of what musical events you choose to attend, be sure to book in advance. Rome is a busy city, so tickets do tend to sell out fast.
Hiking up and around the Caldera of Santorini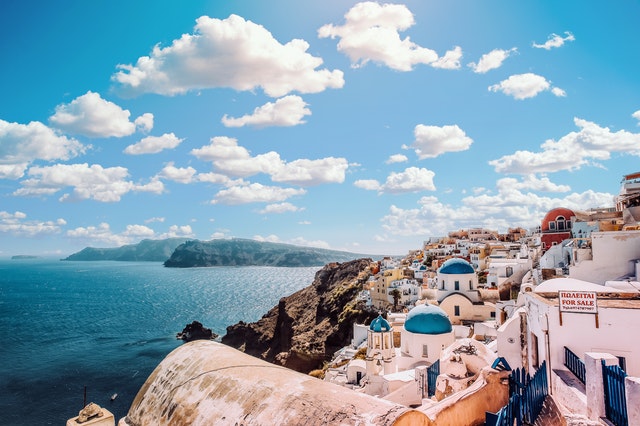 Can we think to typical summer destination where sunbathers go to revel in the sandy beaches. In fact, what draws visitors to this volcanic island is its unique architecture of white-washed houses sitting atop of the caldera, accompanied by the most amazing sunsets Instagram is so full of. 
The only way to really appreciate the beauty of this island is to explore it on foot. There are several hiking trails on Santorini that will take you up and down the winding paths connecting the points of interest you shouldn't miss. Grab some comfortable footwear and prepare to be stunned by the scenery along the way.
Hiking Trail of Ancient Thira
This trail can be done in two ways – either from Kamari Beach to Thira or from Perissa Beach to Thira and vice versa. Seeing as Santorini is one of Greece's most spectacular islands, it goes without saying that it is abundant in historical monuments and the ancient Thira is one of the greatest representatives. For this reason, hiking to Thira is ideal for those with a knack for history and the love of nature.
This is an easy trail lasting around an hour and a half (around 3 kilometers). You can start at Kamari known for its unique black-sand beach. You should head uphill toward Zoodohoos Pigi chapel and Ancient Thira where you can spend some time exploring the archeological sites. After that, the descent toward Perissa starts and the beach will come into view shortly. Parissa beach is 4 kilometers long, well-organized with lots of beach bars and restaurants you can enjoy after a lovely hike.
Hiking Trail from Pyrgos to Kamari or Perissa
Pyrgos is a small inland village that often gets overlooked in the face of Fira, Oia, or Imerovigli but it's actually rather charming and picturesque. This is why you can choose to hike through it and avoid the crowd usually encountered on the other more popular trails. 
Once you are in Pyrgos, it will take you around 6 kilometers to get to Kamari or Perissa. First, the path will lead you to Profitis Ilias Monastery which is also the highest point of the island so you can expect to catch some stunning views of the surroundings. Continue south and after 1 kilometer, you will come across yet another picturesque church – the Church of Christ. Similar to the previous trail, you will walk through the Ancient Thira where a signpost will await, telling you there is about an hour and a half until you reach Kamari or Perissa. From there on, you can choose your path depending on the beach you want to visit.
Hiking Trail from Fira to Oia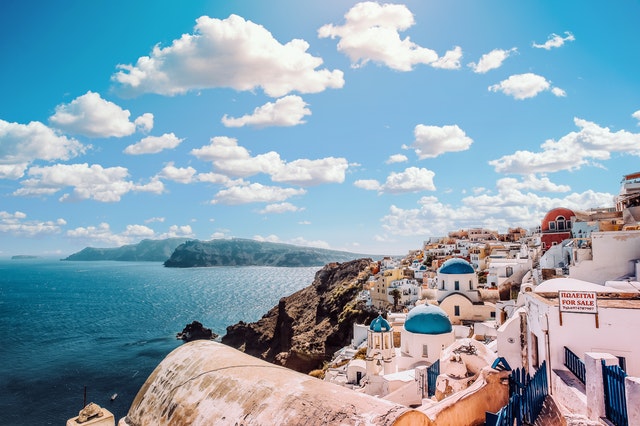 This is one of the most scenic and extensive walks along the Santorini's caldera that will take you from Fira (the island's capital) all the way to the northwestern tip of the island where Oia is located. The route is approximately 6.5 miles long which translates to 2 to 5 hours of walking, depending on your fitness level and the duration of breaks you make. 
Your route should start in Fira where you will head toward the north in the direction of Firostefani. The sea should be on your left the whole time and don't rely on the signposts too much as they are scarce. After reaching Firostefani, your next stop should be Imerovigli, a village just 8 minutes from Fira perched on a cliff of the caldera. Once in Imerovigli, you can choose between several mazy paths if you want to take a detour around the village. If not, just follow the path you came across which will push you forward toward Oia. This uphill walk will take you across one short section of the road where cars pass but that's just a 200-meter section after which you continue via a dirt path until you finally start descending toward Oia.
Hiking Trail in Thirassia
This hiking trail is not actually located on Santorini but on its neighboring Thirassia. Not only does it represent a stunning hiking experience but it also provides hikers with a unique opportunity to gaze at the caldera from an entirely different perspective. 
Ferries run regularly from Oia to Thirassia several times a day and the tickets are rather cheap so you can easily hop to Santorini's sister island. You can start at the village of Manolas and continue uphill until you reach the chapel of Prophet Elias. From then on, you will push ahead toward the southernmost part of the island where the monastery of Panagia is located. All the while, the majestic caldera will be visible just like the Aegean sea stretching in all directions. This track is almost 3 kilometers long and moderately difficult, easily crossed in less than an hour and 15 minutes. 
Additional Tips for Santorini Hiking
Stack up on water and snacks as there will be few shops along the way, some of which may not even be open at the time of your hike.

Embark on the journey as early as possible in order not to get scorched by the summer sun which reaches zenith as early as 11 am.

Prepare your route thoroughly and talk to the passers-by you meet along the trail in case you are not sure about the directions.

There is little to no shade along any of the trails so make sure you wear a hat and sunscreen.
Unmissable, Romantic New York For Couples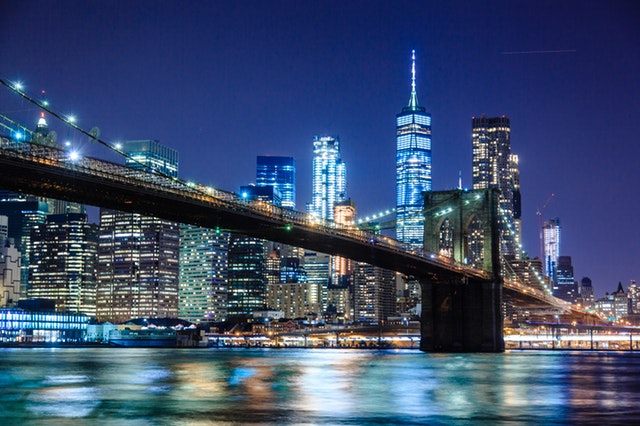 New York is the perfect destination for couples for so many reasons! There are incredible vistas and delicious food. Then there are the quirky bars and endless entertainments. There are even some pretty romantic spots to experience together if you know where to look. Something that we aim to help you with in the post below. 
Picnic In Central Park 
A long strip of green, in the grey of the metropolis, Central Park is a must for couples visiting New York. In fact, despite its diminutive size, there is no shortage of romantic spots to hang out here. 
For those with a literary bent try Conservatory Water were bronze statues of Alice in Wonderland, and Hans Christian Anderson are to be found. Alternatively, visiting Belvedere Castle can make you feel as if you have been transported into a fairytale. A place especially beautiful when the sun goes down and the moonlight glints off windows and turrets at night, 
Of course, if you want to add an extra layer of romance, taking along your own picnic is a smart idea. You can even go to places that will pack up a luxe lunch for you if you like?
Take In A Broadway Show 
Next, if you are looking for an enjoyable couples experience in the city that never sleeps, heading to the bright lights of Broadway should be your next consideration. In fact, it is where you will find some of the most famous productions in the world are being performed. 
Of course, how much you enjoy this experience as a couple, will have a lot to do with making the right show selection. Happily, there are so many shows to choose from, it should be relatively easy to find something that will delight you both. 
You can even get things like these Book of Mormon tickets online before your trip. Something that means you won't have to waste time queuing outside in the often bad weather to nab a seat. 
The Hayden Planetarium
Another popular location for couples to visit while in New York is the famous Hayden Planetarium. In fact, there you will find some pretty impressive science and natural history based exhibitions to geek out on.
Then there is the fantastic Dark Universe show projected onto the huge curved planetarium room. An experience that many couples enjoy together. 
Walk Brooklyn Bridge
Finally, one of the most romantic spots in the whole of New York is the Brooklyn Bridge. What many people do not realise is that it's entirely possible to walk the bridge. In fact, doing so can make an enjoyable couples-based activity. 
Of course, you can choose to make this 30-minute journey on foot at any time of the day. Although, once the sun goes down, and all the city lights are glowing is the most magical time. An experience that makes a stroll along Brooklyn Bridge perfect for couples looking for a romantic promenade. With the added bonus of getting to look out over the glorious city that is New York! 
We have been wearing out our jandals (Kiwi for flip-flops) on our travel adventures around the world since 2009. We think our blog is thought provoking and a little witty. But we have been proven wrong before. Find out more about us here...
What Are You Looking For?