5 top countries you should visit at least one time in your lifetime!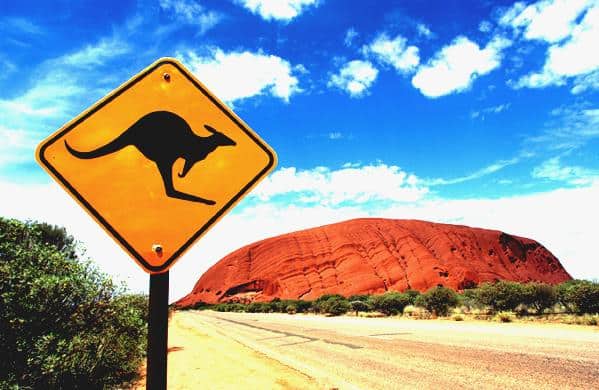 Do you dream of exotic and interesting far off places? Why spend your vacation at a resort in the USA when there are incredible places all around the world where you can experience a totally alien but fascinating culture. There are many countries that could vie for a place on your bucket list but here are five of the best.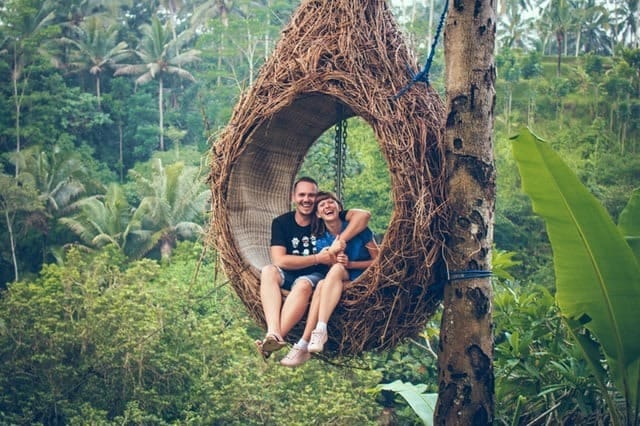 Australia
The Land Down Under is a place like no other. From huge vibrant cities like Sydney, Melbourne and Perth to the dry red center and the Great Barrier Reef and tropical islands, Australia is a land of contrasts. It is a laid-back country with a great sense of fun but also a legacy of sporting prowess. From trying your hand at panning for gold to diving with sharks there's an amazing array of adventures to have. There are incredible landmarks including Uluru, Sydney Opera House and Harbor, the "Big" things and its many rocky outcrops and mountains. If there's one place it worth considering getting a travel loan to visit, it's Oz.
Vietnam
If there is one over-riding image of Vietnam popular in the media, it is the number of motorcyclists in the major cities. Motorcycle travel across the whole country is popular and roads are surprisingly good. Vietnam Motorbike Tours are a terrific way to see the best sights and attractions. You can easily visit the top cities like Ho Chi Minh City, Hanoi, Dalat, Da Nang and the stunning Hội An, the picture-postcard perfect Ha Long Bay as well as the incredible beauty of jaw-dropping Hai Van Pass. With a long and rich history and one of the most fragrant cuisines in Asia, Vietnam deserves a spot on your bucket list.
South Africa
Known as the Great Mother or the Rainbow Nation, South Africa pulls in visitors like a moth drawn to a flame. A country of stunning contrasts, South Africa is a melting pot of cultures. From the two amazing coastal cities of Cape Town and Durban to the bustle of Johannesburg to outback towns where pre-apartheid life seems stuck in time, urban life is very different to the countryside of the Garden Route and the wine growing regions like Stellenbosch. Of course, the great attraction is the national parks. You couldn't pay a visit to South Africa without a safari trip to see the big five game animals.
Indonesia
Thailand has topped the list of Asian destinations for many years now but don't overlook Indonesia. This highly populous nation of more than 17000 islands, 300 languages and many varied cultures is a diversity lover's dream. It is simply filled with a myriad of adventures. Have some tropical R&R in beautiful Bali, go volcano trekking in Sumatra, or go shopping in a cool, glitzy mall in the capital, Jakarta. Wildlife is beguiling with orangutans lazing in trees and Komodo dragons menacing those who dare come too close. There's adventure around every corner.
Greece
Being one of Europe's top tourist hotspots shouldn't put you in mind of overcrowded beaches lined by high rise hotels. Greece is an absolute charm whether you choose the magnificent mainland or one of its idyllic islands. The capital, Athens, is one of the most historical destinations on the planet and the marvels of the ancient civilization will leave you in awe. The country boasts 6,000 sitting in the beautiful Aegean Sea, each with its own character. Some have huge party resorts while others might only be inhabited by a goatherd and his family and their animals. Island hopping by boat is a fabulous way to immerse yourself in the beauty of Greece. The food's not half bad either!
Which is going on your list of must-visit places?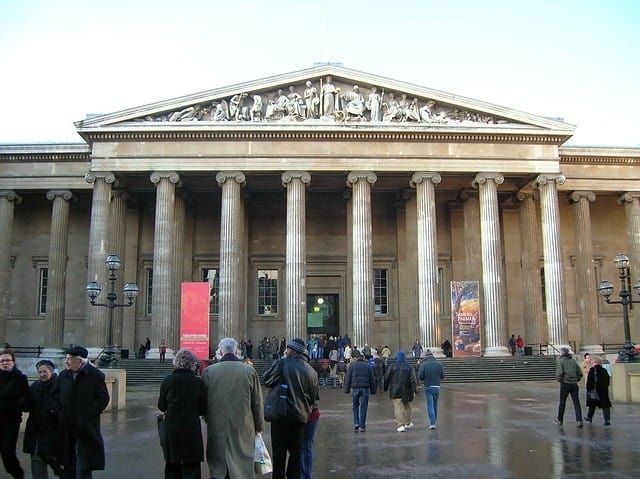 If you're traveling to London, congratulations. You are going to enjoy yourself. The capital of the United Kingdom has something for everyone – history, theater, art, and of course, the monarchy. Before you go, make sure you have attended an english course. It will make your trip all the more enjoyable. While there is much to do across the pond, make sure you put these destinations on your must-see list.
British Museum
Considered by many to be the best museum in England, this architectural marvel is free to visit. Constructed in 1753 and opened to the public six years later, the British Museum became the world's first national public museum. Nearly six million people visit the museum each year and explore its 10 departments – Africa, Oceania and the Americas; Ancient Egypt and Sudan; Asia; Britain, Europe and Prehistory; Coins and Medals; Conservation and Scientific Research; Greece and Rome; Middle East; Portable Antiquities and Treasure; and Prints and Drawings. Famous antiquities housed in the museum include the Rosetta Stone, the Elgin Marbles and the Lindow Man.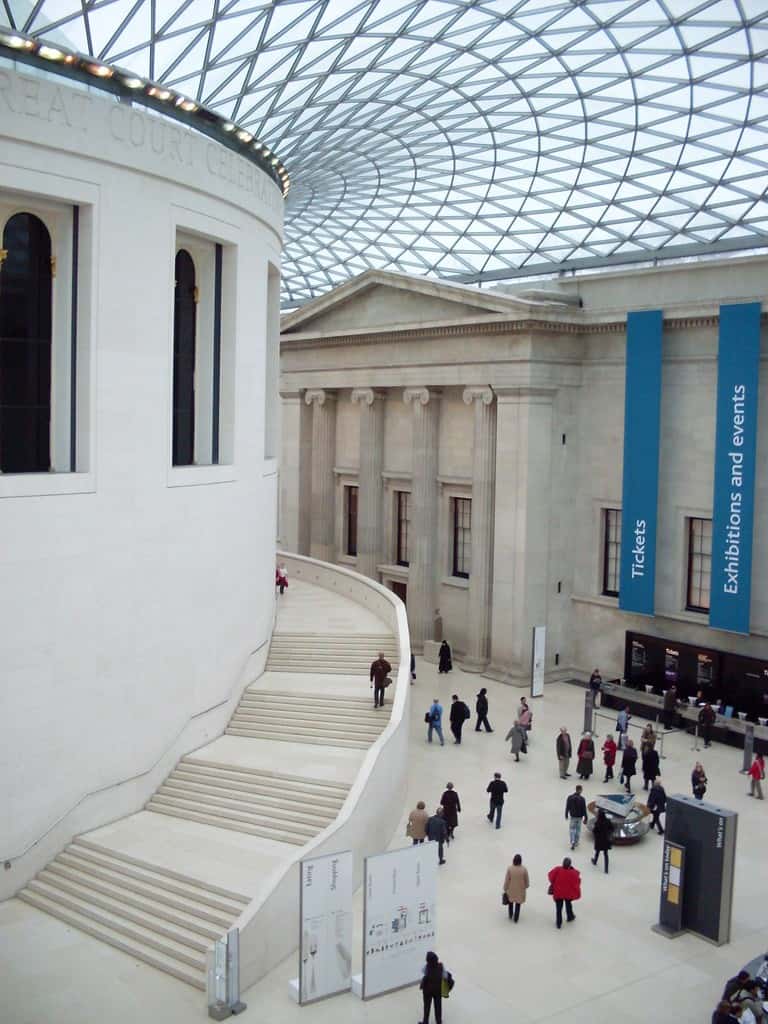 Buckingham Palace
The home of Queen Elizabeth II, Buckingham Palace is available to tour from July through October. It costs $34 for adults, $19 for kids 17 years of age and younger and is free for guests under 5 years old. When you visit, make sure to check out the 19 State Rooms, the Grand Staircase, fine art, a Prince Charles-narrated audio tour, fine art, the Throne Room, Sèvres Porcelain, the royal gardens, flags and clocks, special exhibits, the Garden Café and the Garden Shop. If you don't want to pay for a tour of the palace, you can still witness the storied Changing of the Guard. Executed by active soldiers from the Foot guards who have protected the Sovereign and the Royal Palaces since the 17th century, this special ceremony is forever linked to the British monarchy.
Westminster Abbey
The famed royal church offers daily services and is a World Heritage site. Since 1066, Westminster Abbey has served as the coronation church. It is the resting place of 17 monarchs. Started by Henry III in the 13th century, the church is considered the most famous Gothic building in England. At its center is a medieval shrine of an Anglo-Saxon saint. Abbey's most popular spots include Poet's Corner, Coronation Chair, The Lady Chapel, Pyx Chamber, Royal Tombs, Unknown Warrior, The Quire, Cloisters, Chapter House and College Garden. Admission to Westminster Abbey is $26, but you can visit for free. Evensong services are offered seven days a week. While not highly publicized, simply walk over to the iron gate by the church's main entrance and enjoy a beautiful service performed by a world-class choir.

London truly has it all. Depending how long you are in the country, you may not have time to see everything that makes the country great. If that's the case, make sure you put the British Museum, Buckingham Palace and Westminster Abbey on your to-do list.
Review: 10 Day Egypt Explorer Tour with Expat Explore
A comprehensive review of Expat Explores 10 Day Explorer Tour through the stunning country of Egypt.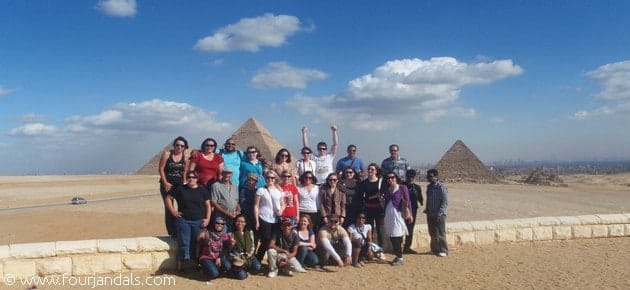 We have been wanting to visit Egypt for a while now so when the opportunity to get away over the Christmas and New Year period arose we knew we needed to head there for a break. We joined Expat Explore on their 10 Day Explorer Tour through Egypt taking in the sights of Cairo, Aswan, Luxor and Hurghada.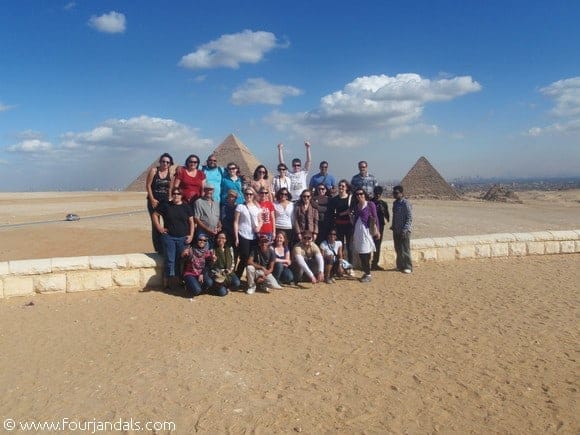 The reason we chose Expat Explore was that they were the cheapest in price with all the same sights and in the end we were happy with our choice.
Pre-departure they emailed us our itinerary with the optional excursions and additional costs for entry fees included so that we could budget properly. As well as following up with our pre-trip questions regarding flights, insurance and uhealth and safety advice.
From the start they were very professional. Landing in Cairo we were personally greeted the day before our tour and transported to our City centre hotel. That drive was an eye-opener to Egypt with crazy lane changes, honking, swerving, flashing lights with animals, people and vehicles everywhere.
El Tonsy Hotel is your base for your arrival and last night. Luckily we didn't expect much as our door didn't lock which was a bit dodgy and the rooms were freezing cold with a broken heater and only one blanket. You wouldn't think you would need heat in Egypt but it was the middle of winter and it was chilly at night. No complaints with the location though as we could see the Pyramids in the distance and were only 5 minutes walk from the Nile and 15 minutes to Tahir Square (perfectly safe by the way). Plus they have a little bar/restaurant with cheap food and free Wi-Fi. Just buy your snacks and water from the supermarket across the road and you will get on fine.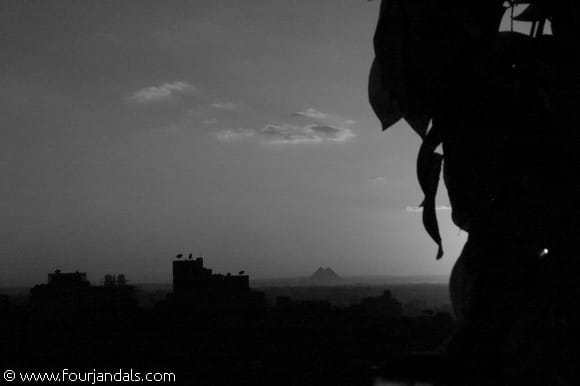 It's quite hard to break down a whole trip into one post but here goes:
Day One
Your tour starts with the best in my opinion by touring some sights of Cairo. The steeply angled Step Pyramid, mind-blowing Pyramids of Giza and the smaller than expected Sphinx. This day was definitely the highlight.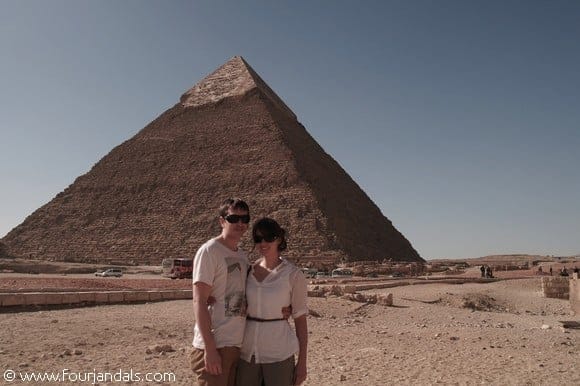 That night is spent aboard the train for 10-12 hours to Aswan. I highly recommend the Sleeper train for an extra £50 per person. Others that caught the standard train froze their butts off while we had a toasty sleep with a served dinner and breakfast. Unfortunately Expat Explore never told us about the provided food so we ate before we got on-board but what we could fit in was delicious.
Day Two
The tour splits in Aswan as one group embarks on a River Cruise aboard a 5 star ship while the others spend time in hotels and on a Felucca. No surprise that we went with the cheaper option aboard the Felucca so the next few days are from that point of view.
The afternoon is yours at Sara Hotel on the banks above the Nile. We lapped up the beautiful rays of the sun and managed to turn our pasty white bodies a more fitting slightly white shade. The Hotel was great until the toilet next-door erupted sending a river of smelly waste across our bedroom floor (throw your toilet paper in the bin not the loo)! Luckily we woke in time to rescue our bags from the watery mess! Not the fault of Expat Explore and we didn't blame the Hotel either as shit happens.
Day Three
Your day begins by visiting the monstrous High Dam for 10 minutes (fairly boring) and a drive past the Unfinished Obelisk. While the highlight is definitely the Philae Temple. When the sunsets across the Nile reflecting off the stonework it really is quite magical.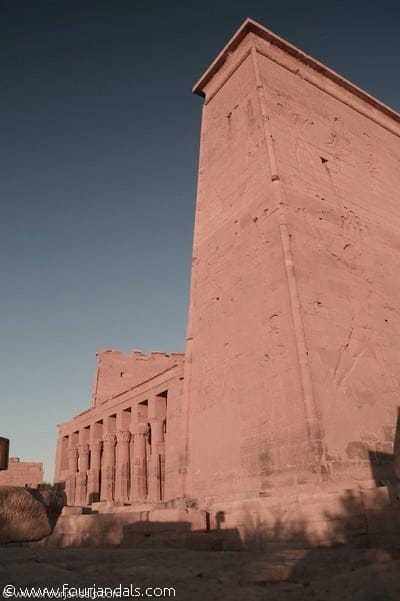 The evening ended with an optional dinner in a traditional Nubian families house. The food was scrumptious and you better bring your singing and dancing shoes.
Day Four
The following day and night is spent relaxing aboard the Felucca for a sail up the Nile for several hours. Sleeping no more than 8 people you will be snug if you bring your own sleeping bag like us. The rest of our crew were jealous as it did get quite chilly in the evening however blankets were provided.
With delicious pita bread and falafel cooked on the boat you will not be disappointed with the food either.
The day ends with a bonfire on the Nile shoreline as you sing and dance with the crazy fun Nubian crews. This was definitely one of the highlights of the entire trip for us.
Travel Tip: Don't be put off by doing your "business" amongst the reeds of the Nile. Just enjoy the view and remember to bring your own toilet paper (which you need everywhere in Egypt anyway).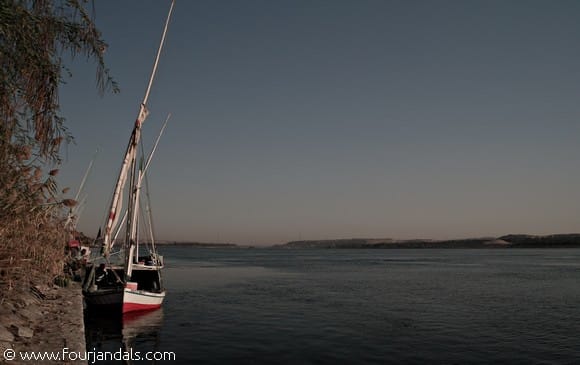 By all accounts, from the other tour members, the River Cruise is just as great with 3 nights on-board in comfortable accommodation, a pool and  buffets morning, noon and night.
Day Five
Waking to a sunrise breaking the morning chill is a glorious way to start a new day. Unfortunately there is little time for relaxation before you are off the Felucca and on a bus to Kom Ombu and Edfu Temples. I must say, all of the transportation was more than adequate with toilets on the buses and room enough for everyone. It's lucky because you do spend the majority of the time being driven around.
The Lotus Hotel in Luxor was probably the pick of them all. Situated on the Nile bank with a swimming pool and tasty buffet breakfast.
Day Six
One more day, one more busy schedule. Rushing to beat the crowds at the Valley of the Kings it's another 8am start. You are only allowed to visit three tombs and we recommend the guides picks which were Ramses II, IV and IX.
Travel Tip: You are NOT allowed to take your camera with you off the bus. Please don't ruin it for everyone by taking photos as you will be charged by security when caught.
We also squeezed in the crowded rock carved Hatshepsut Temple but only drove past Luxor Temple as we ran out of time as you need to drive 6 hours to reach Hurghada that night.
Day Seven and Eight
The next two days at the Red Sea are yours to do whatever you like so use them wisely. We joined most of our group for a spot of snorkelling and diving. The dive and the staff were great but the whole day seemed a little rushed which was a shame. Keep an eye out for our post on our diving experience in Hurghada.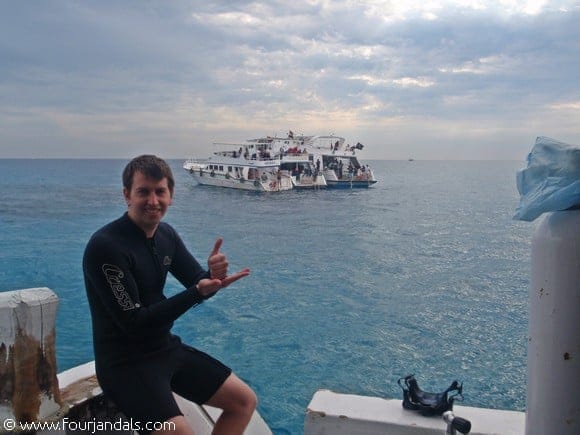 So nice being able to relax on a beach and read a book after such a hectic schedule. It's hard to leave and the 6 – 8 hour bus ride back to Cairo is tough.
Travel Tip: If you plan to do the tour over New Years Eve then you will have to depart Hurghada half a day early which sucked as it meant celebrating the New Year at the Hotel in Cairo. Bit of a let down but when hasn't New Years Eve been!
Day Nine
Your final day of sightseeing is spent around Cairo. Our favourite part of the day was definitely the Cairo Museum with an excellent tour guide. It fits perfectly at the end by seeing all the history close-up after having learned about it over the last 8 days.
By the time we hit the old area of Cairo and the Coptic Hanging Church we were spent on history but our guide made a good effort at keeping us entertained.
The last group activity is free time for an hour or so at the Khan El Khalili souk markets where the touts try to prise your cash from you for the last time from every nook and cranny.
Day Ten
With the tour over it's time to head home. Our flight was late the following night so we walked around the city and Souks on our own for the day. Expat Explore provides transport back to the airport which was great.
The Negatives
The trip was awesome but we think it's important to note the little things that could make a huge difference to the overall experience:
It felt like we were always hungry. Maybe it is just Kiwi's and Aussies that eat all the time but it seriously felt like we were constantly starving with lunches being served usually after 4pm and dinner at 9pm onwards. It might be the Egyptian way to eat at those times but not for us. Travel Tip: Buy lots of snacks for the road which are very cheap at supermarkets.
There was sometimes a lack of direction in what seemed to be happening. Everything is done on Egyptian time so be patient.
We were often delayed or behind schedule with little to no guidance as to how long it would take to get from place to place. A little knowledge goes a long was as then we can plan ahead.
More free time would be great to explore places on your own rather than have our hands held everywhere.
The Positives:
As we said above, the trip was amazing and the little positive things far outweighed the negatives which helped make it a memorable trip.
Pre-departure information and care was extremely good.
The tour was exceptional value for money and it was the cheapest tour we could find even though we still saw all the same sights the other groups did.
The guides were extremely knowledgeable and never failed to answer any questions we had. The insights into the daily lives of the people around us was a nice break from all the history. They also ensured you never felt unsafe or uncomfortable.
The Felucca trip was better than expected and overall so was the accommodation and transport options.
All in all we highly recommend you book with Expat Explore if you are considering a trip through Egypt.
Make sure you subscribe now and come back soon so you can enjoy reading our new posts which will cover everything else in more detail.
Disclaimer: Expat Explore provided us with a discount for our 10 day tour of Egypt however as always our thoughts are always our own.
How to Buy the Perfect Swimwear for Your Next Trip or Vacation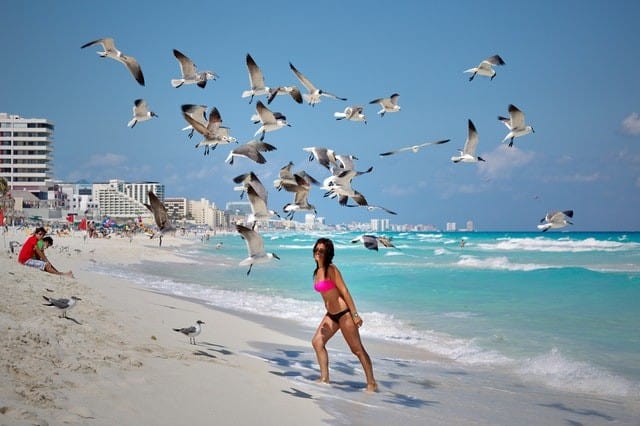 If you are planning to spend time on the beach or by the pool during your next trip or vacation you are going to need to buy the right swimwear. Below, we explain how to make the right choice.
Don't be afraid to try something a bit different
Gone are the days where men wore trunks and most women wore a one-piece or bikini. As you can see when you click here, these days, there is a lot more choice, especially when it comes to women's swimwear. You can now buy swim dresses, tankinis and even shapewear that is designed with swimming in mind.
If you have not been costume shopping in a while, it is worth taking the time to try out some of these new cuts and styles. The same applies to men. Try out a pair of swimming shorts instead of always wearing trunks. You never know you might end up really like them.
Getting the fit right
Before you travel, you should try your swimming costume on and make sure it fits you properly. It needs to stay in place regardless of what activities you take part in. So, when trying it on, go through the entire range of motions. Reach your hands above your head bend down and bend over. Then repeat the process when it is wet. Going through this little exercise will ensure that you do not end up embarrassing yourself while on the beach.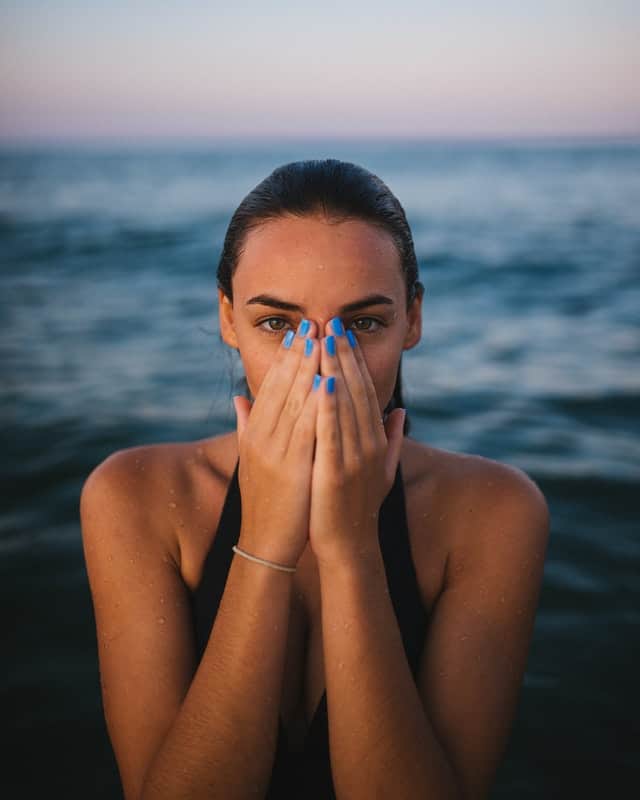 Bear in mind local swimwear rules and customs
In some parts of the world, there are regulations that govern the type of swimwear you can wear. Regardless of where you are planning to travel to it is worth clicking here and checking if there are any swimwear related rules or customs you need to bear in mind. For example, so many people get caught out by the French rule that says that men cannot wear shorts when swimming in a public pool that they now have vending machines that sell trunks.
The quality matters
If you are planning a long trip, it is wise to spend a little extra cash and buy a high-quality swimming costume. In the end, doing so will end up saving you a lot of money.
In many popular tourist destinations, the cost of swimwear is high. So, you really do not want to be forced to buy a swimming costume in a place like that. That is why it makes sense to buy something that has been made to last from your home country.
Most supermarket costumes are only designed to be worn for beach holidays. So, usually, they are not made from very good fabric. After a month or so you will notice that your costume starts to lose its elasticity and get baggy.
More packing and holiday clothing tips
If you found the above article useful and would like to read something similar, just click here. When you do, you will be taken to one of our packing tips articles.

We have been wearing out our jandals (Kiwi for flip-flops) on our travel adventures around the world since 2009. We think our blog is thought provoking and a little witty. But we have been proven wrong before. Find out more about us here...
What Are You Looking For?