It's Wednesday which means it is Hump Day. What is hump day you may ask yourself? Well contrary to popular belief it has nothing to do with sex. I can see I have probably lost half my visitors already. But they were creeps "googling" dirty things so never mind. Hump Day actually is the absolute BEST day of the week. Most other days can be defined by hump day. Tuesday is the day before hump day. Thursday is one day after hump day. Except Friday is WOOHOO FREEDOM Day, Saturday is Mostly Hungover day, and Sunday is PreDoom day and potentially another Mostly Hungover day.
So picture this… You have just had a completely fantastic, mind-blowing, eyeball popping crazy awesome weekend and you have to go back to work on Monday. All of a sudden your next superlative weekend looks so incredibly far away. The hump day is the proverbial bump you have to get over before you can start looking forward to your weekend again. So these photos are meant to inspire you to look forward to the weekend. It's the day of maximum hope that maybe, you might make it out of this week alive. A particularly good hump day can last you the rest of the week, and by Doomday morning (Monday) you survive by anticipating hump day again.
We will post a new photo up each Wednesday of something that we have found helps us imagine what we might get up to this weekend. It could be just a nice relaxing beach, some nice surf, a great snorkelling spot, a destination, you get the idea. Basically though its just going to be a picture of whatever I feel like putting up.
So lets start with my home town back in New Zealand. This is a picture from my parents house overlooking Tauranga Harbour across to the iconic Mount Maunganui. We spent our last year in Tauranga literally within a stones throw of the main Mount Maunganui beach before embarking on this World journey. We spent our days surfing, going out in the boat, or just lounging on the beach. Sigh… How we miss home.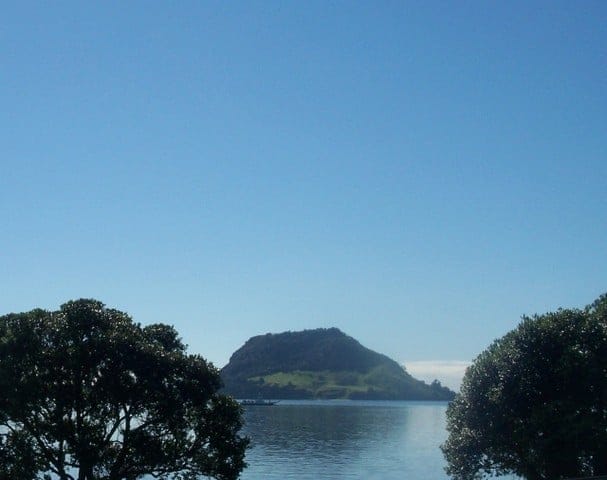 What does this photo make you think about to get you through to the end of the week?