While there are plenty of things to keep you busy in Naples it's true that most travellers only spend a day or two visiting the area. To help you maximise your time here are our top 5 things to do in Naples.
Top 5 things to do in Naples
Kayak Naples
If you haven't already then check out our Kayak Napoli post. It has been the best adventure we have had in Italy so far and it was a great way to explore the Naples coastline.
Warm turquoise water laps against the side of your kayak as you paddle along beside the cliffs. With huge caves to explore and ancient roman ruins to snorkel around there is much more than just paddling involved as well. And it's not only for the super adventurous as it's at a very leisurely pace.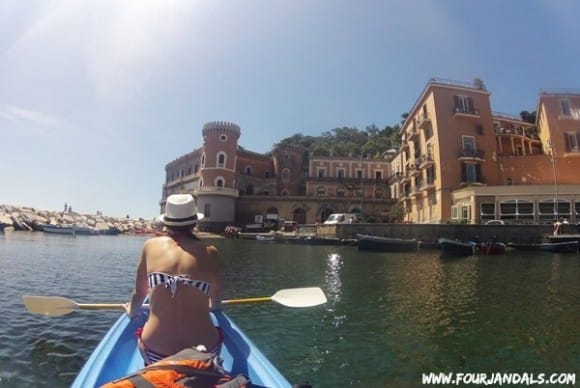 Eat Pizza in Naples
Naples is the birthplace of pizza. And not the crusted cheesy crap that you would usually get from Pizza Hut or the local chippy after a big night out, but genuine pizza.
With wafer thin handmade bases and fresh mozzarella spread across a deep red tomato sauce there is nothing better than a Naples Margherita pizza. Definitely recommend checking out Sorbillo Pizzeria on Via dei Tribunali for the finest in town.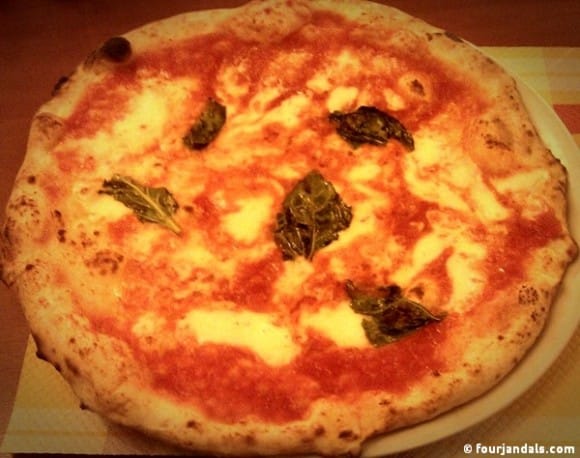 Explore the ruins of Pompeii
In the height of the Italian summer there are not many things worse than spending a few hours in the intense heat. However, if you get to Pompeii early in the morning you will be rewarded with cooler temperatures and a fascinating look into the lives of a whole town that was frozen in time.
Paintings on brothel walls and garden statues still stand basically untouched from when they were buried under metres and metres of burning hot ash. Humans and animals lie contorted in pain where there lives were suddenly lost.
Make sure you take an official guided tour when you get there and this shouldn't cost more than 12 euro per person. The audio guides in our opinion suck but not having anything will leave you wandering around aimlessly for several hours.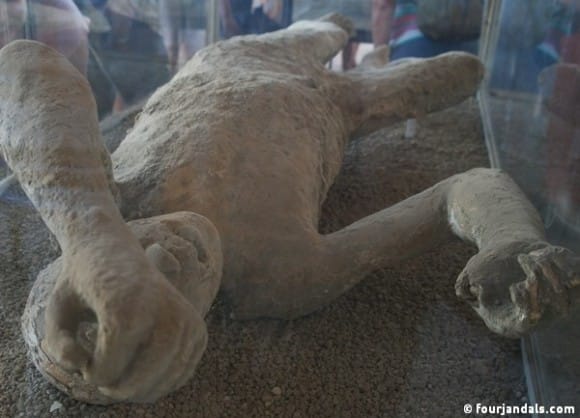 Swim along the Amalfi Coast
If you are not planning on a separate trip to the Amalfi Coast then you will need to take a day trip to visit the area. While some of the towns are touristy there is a very good reason for it. Amalfi is worth visiting just for the scenery!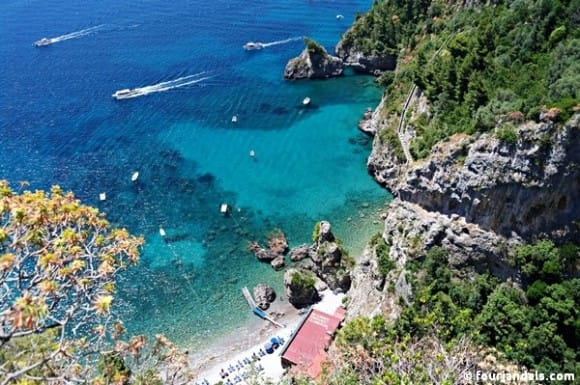 The small towns cling to the rocky shoreline with the Tyrrhenian Sea lapping at their bases. Grabbing a gelato in one hand and striking along the coast by boat or in a bus on butt-puckering windy roads is a must for anyone visiting the Naples area.
Take your togs, jandals and a beach towel and escape the city madness for a few blissful hours of relaxation.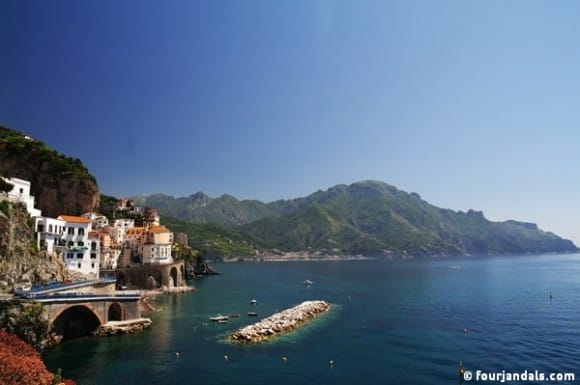 Catch the Cable Car
We love a good view.
Catching the central city cable car to the Castle standing guard over Naples provides an excellent vantage point to gaze into the distance. From Naples to Sorrento the various developments crowd the waterfront as far as the eye can see.
In the background Mount Vesuvius towers silently above it all waiting patiently until one day (hopefully never) it may rain fire again.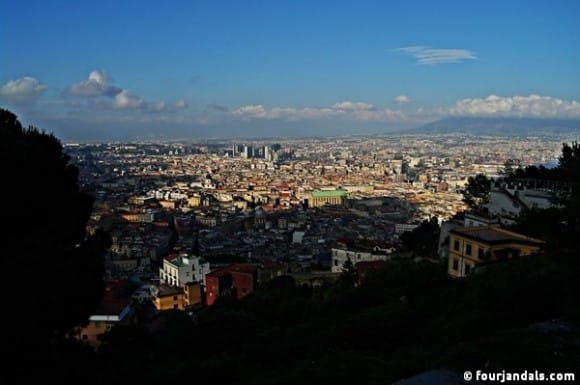 Obviously there are dozens of things to do in Naples but these are just our favourite five things to do in Naples.
Where to stay in Naples? Hostel of the Sun of course!
If you are spending a few days exploring the top 5 things to in Naples then you definitely want a good base. And you can't go wrong with Hostel of the Sun.
Location
Situated next to the harbour it is only a minutes walk to the public tram and a few minutes walk into central Naples. Basically the perfect location for resting your feet and head after a day of adventure travels.
The Rooms
Hostel of the Sun is perfect for travelling couples as they have really nice private rooms which seem more like hotel rooms. The shower was a little small but having your own private bathroom is a huge plus.
The dorms, which we stayed in one night, have typical bunk beds with private lockers and were surprisingly quiet. The perfect option if you are on a budget.
Other Amenities
We love free stuff like most budget backpacking couples so having free breakfast is the key for a good hostel. A simple affair but a tasty one with cereal, toast and random cold meats and cheese. Tea and coffee is also available all day.
WiFi is free and available in every room as well as in all the common areas.
The kitchen has all the trimmings but is a wee bit on the tiny side. You have to wait your turn or have an experience like Adela with a disgusting, topless English guy reaching over you to wash his dishes.
Staff
No doubt you will meet the owner Luca as he pops in and out all the time to check up on things and he truly loves his hostel. We couldn't have asked for better recommendations from the staff like our Kayak Napoli adventure and guided tour of Pompeii.
Social Atmosphere
For a tiny common area the social scene was surprisingly good. They have a small bar and huge collection of DVDs with comfortable couches but most people seemed to just want to chat and catch up with everyone else. A really chilled out feel to the whole hostel.
Negatives
Hate to nit-pick but even though they provided a kitchen it was just too small for 70 odd people. We were just lucky most of them were too lazy to cook so ordered Naples Pizza every night.
Cost
Per person: $35 Euro for a private room and $18 Euro for a 8 bed mixed dorm room.
Overall
Highly recommend the Hostel of the Sun for backpacking couples who want a bit of privacy as well as other travellers on a budget for the dorms. Having free breakfast, WiFi and a kitchen is how every hostel should operate and there is a reason why it has won so many HostelWorld awards.
Disclaimer: We were guests of HostelWorld but as always our thoughts are always our own.