If you are lucky enough to travel to Turkey then I would definitely recommend a Hamam or Turkish Bath. It is an extremely traditional and relaxing experience that you will never forget. And like most tourists we were able to arrange our Hamam in Fethiye through our hostel. The added bonus of being outside of the super touristy Istanbul is that it only cost us 35 Turkish Lira each.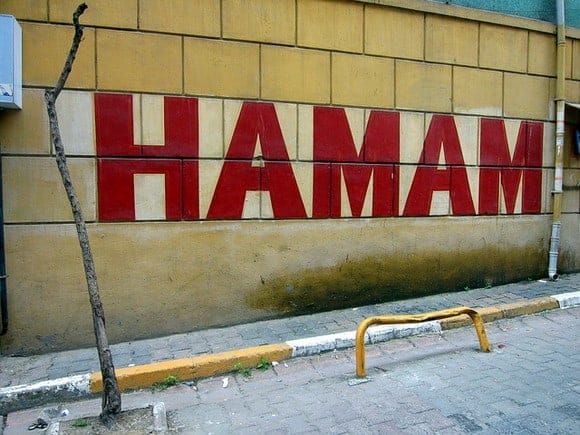 We really did not know what to expect from our first Hamam but luckily were warned to take along our bathers. Cole was keen to go traditional but considering we were with 5 other randoms from our hostel he decided against it. And yes, while unexpected for us, there were random butt naked Turkish men there getting their Hamam on at the same time as us. They will try to be a tad discreet with their sarong but it does not leave much to the imagination.
Being greeted by big, hairy Turkish men with nothing but a small sarong on definitely came as a surprise and we were glad that we were there with our new found Hostel buddies. Nothing secures a friendship like awkward situations! And even though our masseuses didn't speak a word of English they were very professional from the beginning which made us feel very comfortable.
Word of advice; Generally the Hamams will be conducted by men but if this makes you slightly uncomfortable you can ask for a female.
To begin our experience we were ushered in to a sauna for 20 minutes and proceeded to sweat out all the delicious bread we had consumed over the past week. The heat to begin with is totally unbearable but after about 5 minutes you start to relax. Cole seemed to think that being stuck in a claustrophobic hot room with half naked foreign men is a great time to practice his language skills and continued to butcher the Turkish language.
All sweated out after the sauna we were taken to an intricately carved marble room that had a large platform in the middle. Ushered onto the marble surface, which to my surprise was lovely and warm, we were suddenly assaulted by cold buckets of water as they were tossed over us. Spluttering there was no time to regain our senses before the real Hamam started.
The same big hairy Turkish men began to scrub us vigorously with an exfoliating glove all over. It feels amazing as you are literally shed of layers of skin turning us a sparkling pink. Being flipped from front to back on the slippery marble tiles is actually quite fun although I was worried about being flung across the room. And my knobbly knees and hip bones were getting a beating!
I again tried to strike up a conversation to mask the awkwardness I felt when they were scrubbing my chest however their English was limited so don't expect too much conversation or the chance to ask too many questions.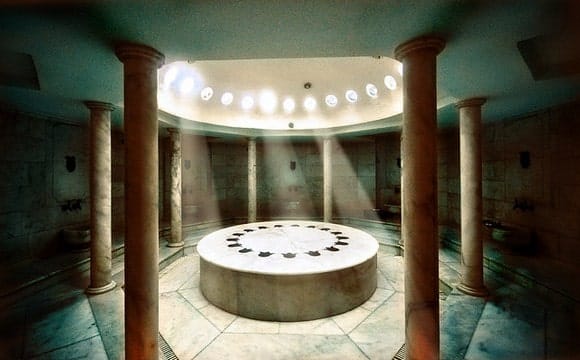 Next up was the massage. You are literally covered head to toe in soap bubbles until you look like a giant snowman. The masseuses are extremely gentle and have a knack to hit all the right spots where you are tight and sore from travelling. Their gentle hands are a massive contrast to the hard marble beneath you and are very relaxing after the skin cleansing scrubbing and sauna.
Halfway through the massage I was awoken from my half sleep state by my back being cracked in seven different places. My first thought was "oh my god I hope he knows what he is doing" whilst picturing myself walking out of the hammam hunched over. But the more he cracked the more the tension drained out of my back, neck and shoulders. There didn't seem to be a method though to how they were performing the Hamam's as Cole swears he didn't get the back cracking while some of the others in our group did as well.
Be careful when they motion for you to sit up as the overwhelming heat may leave you a little bit light headed. And close your mouth as the next cold bucket of water is thrown over you! The "hair wash" comes next although it was actually more like a "head wash" as my whole face got washed with shampoo! A pleasant enough experience as long as you remember to keep your mouth and eyes closed.
Feel free to sit back and relax in the warm Hamam room while your friends go through the same experience. And it is quite nice being able to provide them with a bit of support if they have been watching you the whole time as well. We just had to constantly keep dousing ourselves in cold water from the basins dotted around the room while we waited so that we didn't overheat.
When you are all done you will be ushered back out into the bright sunlight are are quickly wrapped up in far too many towels and ordered to lie down in the cool breeze with a refreshing bottle of water. You will feel totally relaxed, invigorated and exhausted all at the same time. While all you will be thinking about is when you can do it all again!
Travel Tip: Don't do the Hamam at the end of your time in Turkey or you will lose all of that hard-earned tan you have been working on!
Photo credits: Bex Walton and Mr Kubi