Big Jugs in Germany at Oktoberfest
Discover all you need to know about drinking from some Big Jugs in Germany at Oktoberfest.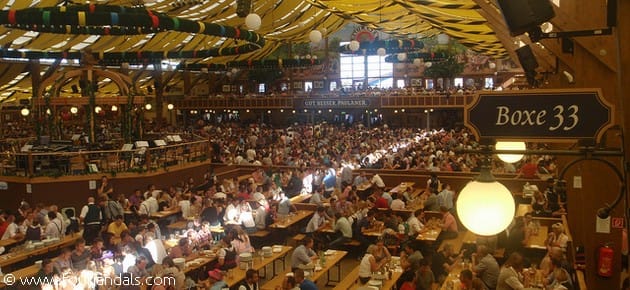 Walking in to the gigantic tent, you would think that you had stepped back in time 200 years – there are wall to wall wooden benches filled with men in form-hugging lederhosen and women in dirndl. An oompah band plays atop an elaborate stage shaped in the likeness of an old wooden sailing ship, the combined stale stench of beer, sweat and roast chicken assaults your nostrils.
A single syllable word suddenly rings true above the ear shattering sound of thousands of steins crashing together in unison.
Prost!
In fact you wouldn't have stepped back in time but you would be standing in the Augustiner-Festhalle beer tent in the heart of the world's largest festival – Oktoberfest. Even if you have never been to Munich during Oktoberfest then this one word instantly evokes images of Lederhosen's, songs of merriment, drunken revelry and strong armed Fräuleins touting large jugs.
Oh and don't forget the gigantic beer steins too…
Oktoberfest was first held way back in 1810 in celebration of King Ludwig the Firsts marriage to Princess Therese at the appropriately named fields Theresienwiese ("Theresa's meadow"), although the locals have since abbreviated the name simply to the "Wiesn". The city of beer loving Bavarian's enjoyed it so much that 2 years later they decided to hold it again. And again. And again.
Now celebrating its 178th year (cancelled 24 times due to various mass illnesses and wars) it attracts between 5 and 7 million tourists from around the world. Unsurprisingly it's our drunken cousins across the ditch, Australian's, who show up in the greatest overseas numbers. In fact, with no Australian embassy located in Munich, an official must travel down from Berlin for the entire of the festival to hand out temporary passports to the Australian's that lose them.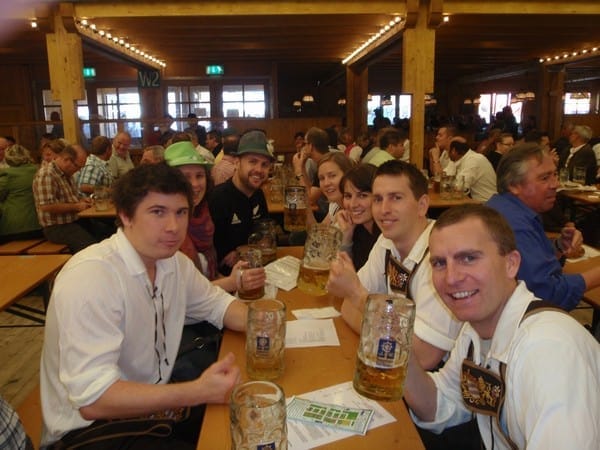 It's no surprise that the festival is so popular and the beer is so good considering that there are over 1250 breweries located withinGermany. However, only Munich brewers are allowed to sell their finest at Oktoberfest every year in their own tents (tents being a loose word for gigantic wooden structure holding up to 10,000 revellers).
These are no mere mortal beers either.
The average alcohol content being over 6 percent can quickly turn any self-styled beer connoisseur on to their ass. Luckily after the first day I had quickly learned my lesson that you cannot take them lightly…
Thankfully Oktoberfest is more than beer chugging and memory loss.
The share size of the spectacle blew my mind (and our bank accounts). The family atmosphere is great to see and all the locals bring along their children to the event to have fun on the various rides and activities from Ferris wheels to crossbow shooting.
The first day we managed to fly into Munich early on Thursday morning so grabbed the last remaining un-reserved table in the Augustiner-Festhalle tent. Unfortunately the beer was absolutely delicious and I didn't heed my own advice before sitting down at the table and quickly consumed a few too many steins without eating enough of the roast chickens and pork knuckles.
Needless to say I went home early and missed the best parts of the evening with dancing on the tables and more raucous singing.
Friday morning led to some bleary eyes and sore heads. I am pretty sure my brain was trying to force its way out of my skull until I downed a few panadol. We tentatively made our back to the Wiesn and squeezed our way in to the Winzerer Fähndl tent where they were serving the sweet tasting Paulaner brewed beer.
The first stein went down quite gingerly but considering that this is the largest tent holding 8,450 inside and another 2,450 people outside this quickly changed. The atmospheres are so addictive that you quickly find yourself on the benches singing wildly out of tune along with the others.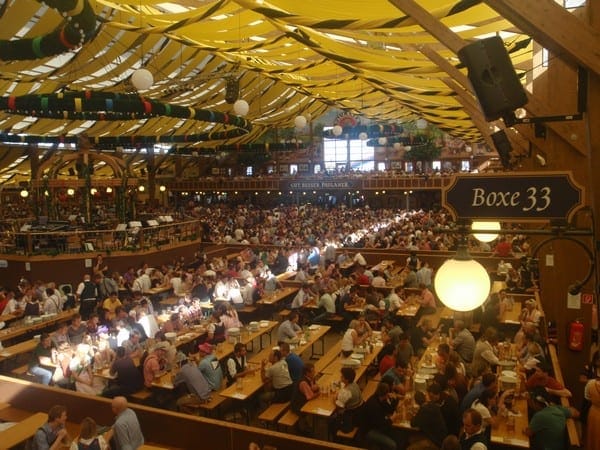 Unfortunately by not having reserved tables we were booted off our one at 4pm for the locals. And when you can't sit down at a table then they won't serve you another beer. The upside was that I wasn't too drunk to enjoy the rides and activities outside and won some inexpensive prizes at the shooting galleries.
Just one last thing, if you decide you want to go along and want to join in the festivities then don't buy the cheap ass nasty costumes like we did. Seems like a good idea at the time but I felt like I was disrespecting the traditionally dressed up men in leather lederhosen's. We never actually had anyone say it was disrespectful or bad taste, but they just didn't look quite right.
Tips for Making Any Overseas Trip a Romantic One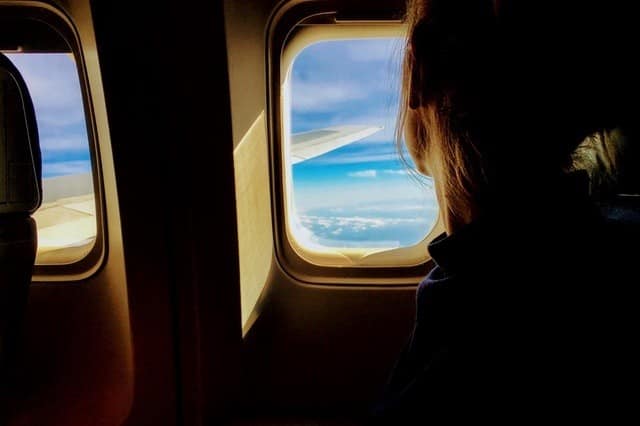 Vacations are a great way to leave our everyday lives behind to spend some stress free time with the one we love. Travel in itself can be quite romantic but there are definitely ways you can spice up your holidays even more.
Follow these helpful tips to make sure your romantic holiday gets off on the right foot and continues to head down the tunnel of love and passion. You can easily turn any part of your travels into a special romantic affair.
Choosing the Right Destination
A romantic trip starts with selecting the right destination. There are definitely cities and regions which are much more prone to sparking romance than others. Beauty may be in the eye of the beholder, but generally destinations such as popular European cities, beach getaways, Asian resorts, luxury ski resorts, or tropical islands make for a good choice.
Couples should pick a destination which they both will enjoy as this will of course make it far easier to express their love for each other.
Choosing the Right Time
It is a good idea to select a time that will be most appropriate for your holiday. Choose a time that is easy for you in regards to taking time off work or from household duties. This will make it far easier to feel relaxed while on your holiday, allowing you to focus more on fuelling the romance.
You may also want to research when the best time is to visit your chosen destination so as to avoid peak crowds or unideal weather conditions.
Choosing a romantic date to travel such as an anniversary, honeymoon, or birthday can also turn any holiday into one filled with more passion. Travelling during Valentine's Day can make for an especially romantic holiday of which there are many perfect Valentine's Day destinations.
Fly Business Class
Although your destination may be exhilarating, the flight or flights to get there can be stressful. Minimise the stress of flying by booking business class where you'll enjoy the VIP treatment with far more comfortable seats which many times convert into a bed allowing for a decent rest while in the air.
As a bonus you can many times be granted access to luxurious airport lounges when flying business class which makes waiting for your flight much easier as you are treated to free food and drinks along with clean bathrooms and seating areas.
Private Transportation
Public transportation can not only take longer to get to your hotel or attractions in your chosen destination, but they can also kill the mood for you and your loved one. By booking private transfers via your hotel or on your own, you can avoid buses, trams, and trains which can be crowded and noisy.
Choose a Nice Hotel
It may be difficult to find romance if you are staying in a dodgy motel or hostel. Be sure to book quality accommodation which has private en suites and clean furnishings. Remember that your vacation is supposed to be an escape, so make that escape the best it can be with premium toiletries, fancy marble bathroom floors, plush pillows, quality linen, and a nice hotel room view. All of these luxuries will make for a far more romantic getaway.
Eating Out
Nothing can ignite romance more than delicious food although preparing it isn't always that much fun. One of the best aspects of travelling is that it gives us an excuse to not have to cook.
Seek out popular restaurants that offer a romantic setting, quality service, and mouth watering flavours that will leave you passionate for more than just satisfying your hungry stomach.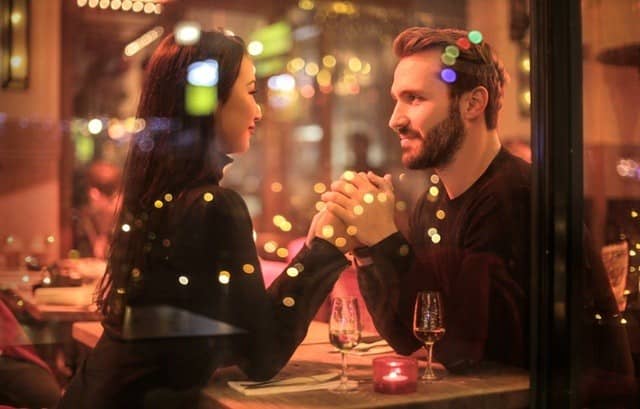 Get Dressed Up
Although you and your loved one may look good in any light and attire, it is never a bad idea to put on your Sunday's best. It can sometimes be difficult in our everyday lives to find occasions to get all dressed and made up, so why not make your holiday abroad an excuse to do so.
Although clothes may not necessarily make the person, a nice dress or suit and tie can go a long way to giving us a little extra special glow to spark a bit of romance.
Log Off and Put the Phone Away
Nothing can kill a romantic dinner or event than the sound of message notifications, phone calls, or emails. Any holiday should be an excuse to remove the stress of the online world or work and with romantic holidays this becomes even more paramount.
You want to be focusing your attention on the love you and your partner share or if travelling solo you want this time to focus on the beauty of the destination you have selected which may in turn bring you a bit of romance. Disconnecting is all about reconnecting; so log off and put the phone away!
Reduce the Risk of Stressful Situations
Stress can kill romance very quickly. When we are stressed we can easily find ourselves getting into silly arguments or bouts of criticism. Your holiday is supposed to be an enjoyable experience so don't let it turn sour by making the possibility of stress to creep on in.
Don't try to overload your itinerary with too much and avoid setting too rigid of a timeline. Prior planning is important to avoid any unwanted surprises or disappointments when it comes to securing reservations for flights, hotels, or activities.
Should anything go wrong during your travels, you want to have the peace of mind you are protected by travel insurance from InsureandGo. Travel Insurance can help when the unforseen happens while you are overseas.
How to Plan a Trip to Iceland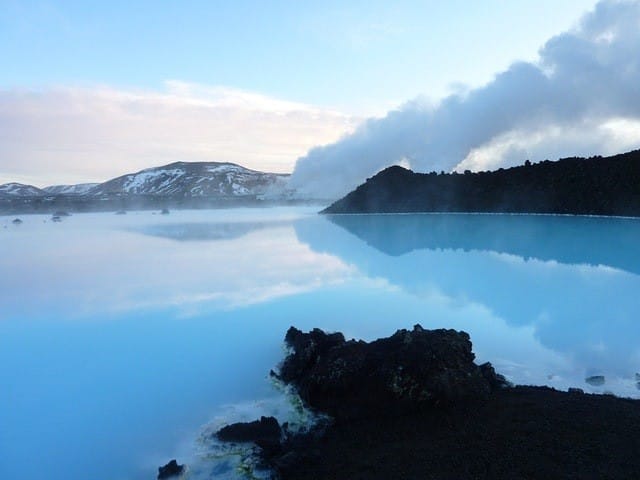 If you have ever heard the amazing stories about Iceland, they are all true!  If you've come this far into doing research about how to plan a trip to Iceland, I'm here to help you cross the bridge and fill in gaps so you can make your dream a reality.
As someone who has done this trip, I'm able to assist in every step of the journey.  I've boiled this down into cliff notes so you can do your own research after reading them and dig deeper into tours that will fit your personal preferences and budget.
First off, you are going to need to trust the Internet.  It's a big place with a lot of information that can help you get there in one piece and not be stressed out.  Long gone are the days of visiting a travel agency and having someone plan everything for you – for a fee!  It's your adventure, and you can know that every item is covered online, you just need to know how to look for it.
The best tip I can give you is to leverage the various Facebook Groups about Iceland.
Resource:  When In Iceland Facebook Group.
Next, you'll want to decide when to visit Iceland.
The winter months will allow you to have more freedom as the tourism numbers are down.  However, this comes with the caveat that it will be below freezing and there will be very little sunlight!  The sun is only out for approximately six hours during the month of December!
On the positive side, this allows you a great opportunity to view the Northern Lights, which is a marquee attraction in Iceland.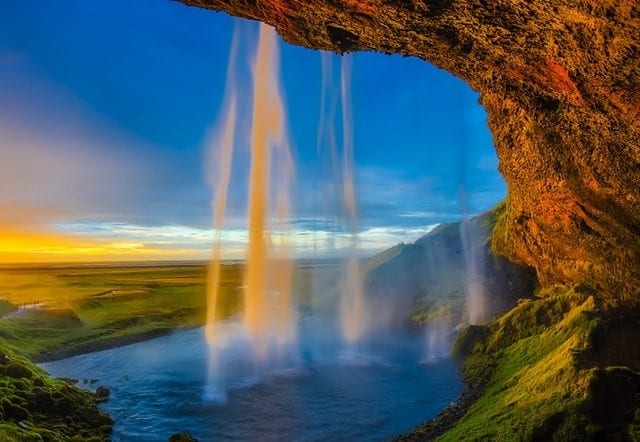 Conversely, the Fall and Spring will bring you better temperatures and less snow, but there will be a much slimmer chance of viewing the Northern Lights.
Lastly, there are the Summer months.  While you will see a greener country and experience a lot of beauty on that end of the spectrum, it does come with a much higher price tag.  Be prepared to spend more money if you choose to visit Iceland in the Summer.
Also, you'll want to have an agenda.  If you are one to take things in on your own and adventure into the wild, Iceland will be a perfect escape for you.  There are also guided tours that you can hire and they will accommodate to your every need or desire.  Simply ask anyone in the aforementioned Facebook group and they can steer you in the right direction.
You can of course, do public transportation in Iceland.  It's entirely safe and used by many people.
Iceland is a fantastic, unique place to visit.  If you need any help planning your trip, please visit my Iceland Tour guide resource and leave a comment.  Happy Travels.
Overlooked and Underrated Euro Vacations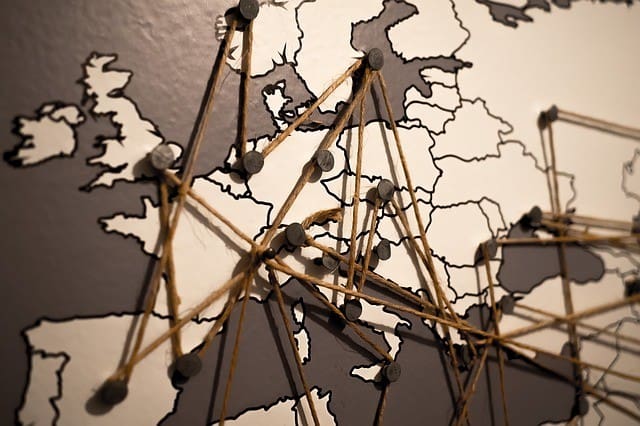 Here's a quick list of places to possibly include in your next European itinerary. 2018 is the year of the underrated vacation spot in our humble opinions, and we want to honor it.
Basque Country: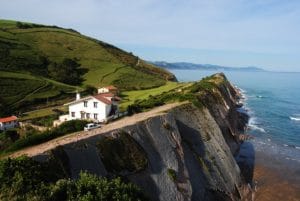 This place is in this author's humble opinion easily and hands-down the most underrated little corner of Europe.
And honestly, between the two, the Spanish side of Basque country is going to cost you probably around 50% what the French side will, and most people in the know will agree that the Spanish side is at least 100% more fun!
Canary Islands: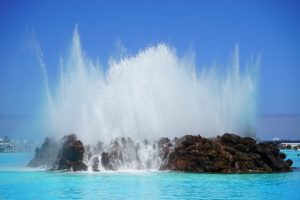 There are two ways to do the Canaries: simply fly in and enjoy them, or treat yourself and a loved one to a romantic Canary Island cruise.
Best time to visit is definitely either spring or fall, as it does get quite cold in the winter and quite hot in the summer. If you are a beach bum, on the other hand, summer is best (but there will be a lot more tourists in the summer).
Siena, Italy: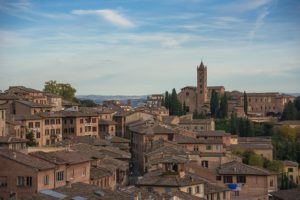 This city is often overshadowed by Rome, Florence, and Venice, but it actually is arguably the best-preserved city in Italy and has the best historic city center. The cuisine here is absolutely to die for, and you won't have to pay inflated tourist prices like you will in the aforementioned places either!
If you can, try to make it for the famous Palio, a horse race that has been going on literally for centuries.
Brussels: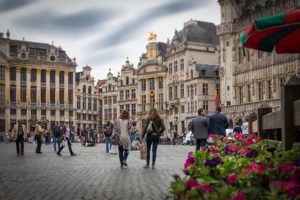 Just as Siena is overshadowed by other bigger Italian cities, Brussels tends to stand forgotten next to London and Paris. But Brussels has key elements of the two metropolises, as well as its own unique and delicious cuisine, its own beer (considered by more than a few experts to be the worlds best), and easily the worlds best chocolate, both in solid and drinkable form. Belgian chocolate will seriously change your life forever.
Istria, Croatia: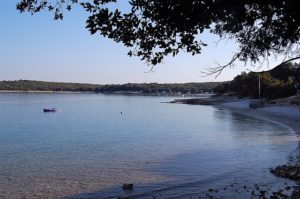 This is one of the world's best summer beach destinations. It's incredibly beautiful, and by Western European standards, almost outrageously cheap.
Hipster tourists are starting to come in and drive prices up, but it still remains a great bargain by any standards, and most importantly, it's a bargain without really having to give up any of our beloved amenities.
Budapest: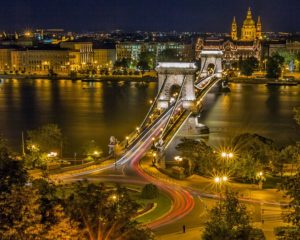 Budapest could be called the poor man's Prague, but in reality that name isn't very fair. For one thing, Hungarian culture and Czech culture are actually extremely different (for one thing, the Hungarian language isn't in the same family as the rest of Europe, it's its own thing completely, like the Basque language).
Prague is gorgeous, but it's getting almost as expensive as the rest of Europe too, and honestly Budapest's history and culture is much more interesting, especially for the seasoned traveller.

We have been wearing out our jandals (Kiwi for flip-flops) on our travel adventures around the world since 2009. We think our blog is thought provoking and a little witty. But we have been proven wrong before. Find out more about us here...