Travel Blog Statistics: Happy One Year Blogging Birthday
One whole year of travel blogging has really flown by. Today we are checking out all our travel blog statistics to analyse how far we have come to date.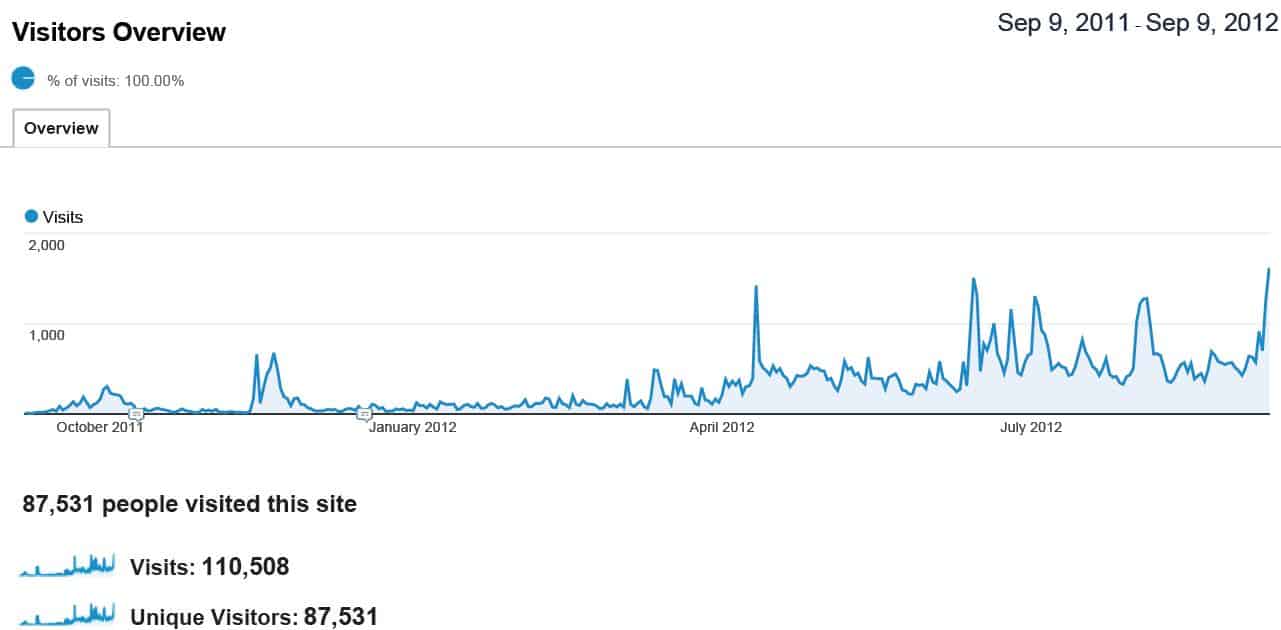 Travel blog statistics make us cry and many others quit. But they are a necessary evil which need to be analysed from time to time.
One year ago we took the plunge and switched our 2 month old adventure travel blog to our current self-hosted site here on FourJandals.com. Our first recorded traffic was on the 9th September 2011 so this is what we consider our blog's birth.
We had written a handful of posts and had no idea what we were doing. But I knew this is what I wanted to do full time as a job. At the time we didn't know what Google Analytics were, never been on Twitter and my Facebook account was gathering dust.
Travel Blog Statistics: One Year of Blogging
Today we wanted to step back and see how far we have come in the space of 12 months by studying a few of our travel blog statistics. We have included Google Analytics, Twitter, Facebook, our revenue and a few others.
If you are a travel blogger then hopefully this may help you out and we would love your comments below. Especially if you want this to be a regular monthly post.
If you are not interested then normal adventure travel stories will resume on Friday and you can check out our latest scooter adventure in Tuscany or see our cute Highland Cow picture!
Google Analytics
On September 9th 2011 we installed Google Analytics. We had been around for 2 months so Mum and Dad at least knew about our blog but our numbers were crap to say the least.
We had 10 visitors that day but within a month we got a HUGE spike of 300 (we average nearly double that every day now). We honestly thought we had been "discovered" and I was ready to quit my job then. Luckily we didn't as we soon discovered that tends to happen a lot.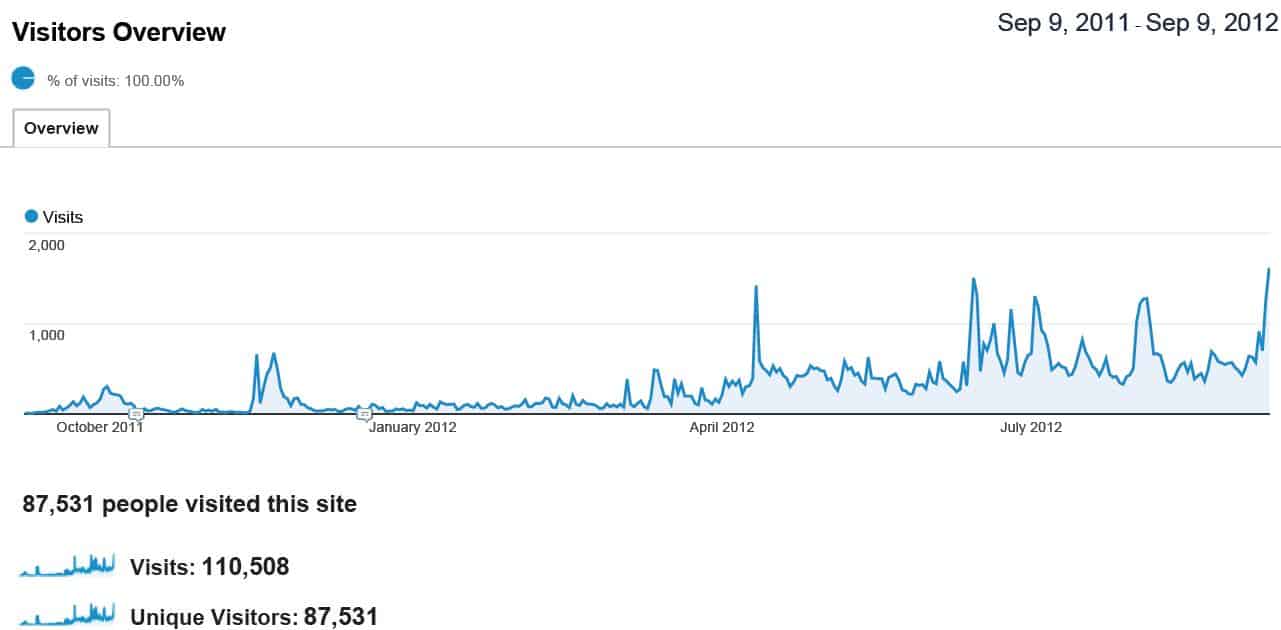 For any new blogger, you will quickly come to love and despise Google Analytics. I still wish I didn't know what they were as they have caused us too many sleepless nights.
When your visitors are up, life is good. Writing comes easily and there is no stress. When those numbers are down. Well, let's just say we are not a happy adventure travel couple.
Our statistics are like a damn YoYo.
One day they skyrocket. The next, plunging into a pit of despair. Although it seems that every time we have a spike, we steady off slightly higher than previously. So we have seen steady growth over one year. Ideally we need to turn everyone into regular readers. Then we would be laughing all the way to the beach with cocktails in hand.
And there is hope. If you break it down you can see that we have had over 100,000 visits to our travel blog in just 12 months! While some travel bloggers get those sorts of statistics on a monthly basis we are stoked.  Plus with over 87,000 unique visitors this means 23,000 readers came back for at least a second visit. So we are doing something right.
Digging deeper…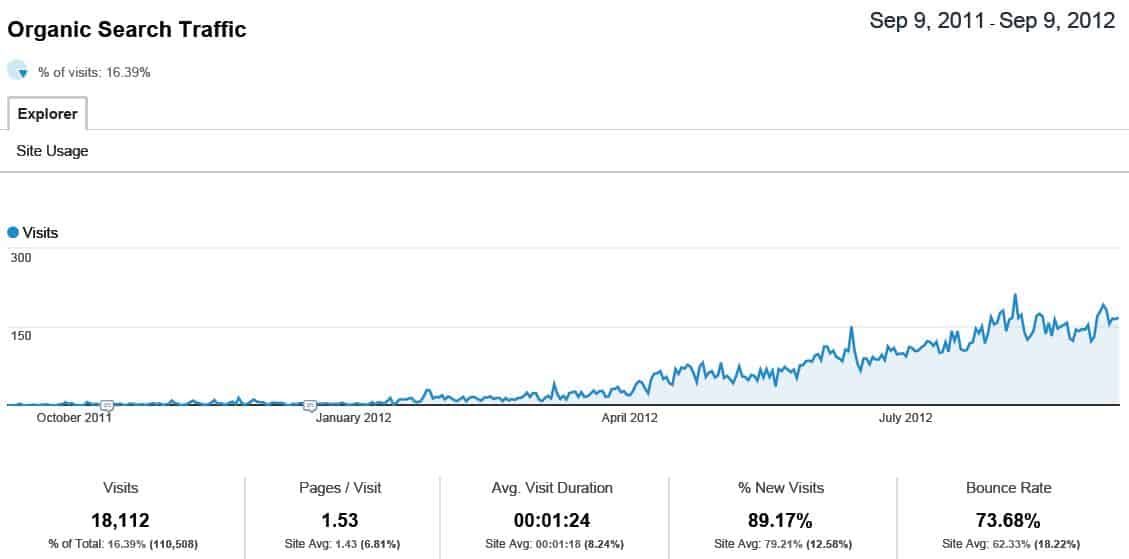 One place we have missed out on traffic is from search engines like Google. For the first 6 months we didn't know what SEO was.
But we have managed to start consistently driving traffic from the search engines. Now 16% of our visitors find us through keywords. 
They just don't seem to stick around for very long. They pop in, have a quick look at one or two pages and then poof, are gone like junkies as they search for their next internet fix. Either our writing sucks, or we are not targeting them to stick around on our site. It's something we are looking at and sorting out over the next few months now that we have a good base for traffic.
Social Media
It seems that the more effort you put into Social Media the more success you have. We just hate that if your existing following is huge on Twitter or Facebook, then because we are all sheep, the faster your social media empire grows.
We are playing catch-up.
Plus we recently found out people are gaming the systems. Did you know that you can actually buy Twitter and Facebook fans? I know, disgusting right. But it happens a lot. Luckily PR and Travel companies are wising up to these sorts of tactics.
Twitter
Unfortunately we cannot check our stats from all the way back to when we started. But we have been using SocialBro for over 6 months and this records all our statistics.

Back on the 11th March 2012 we had 1187 followers. Today we have 4758 twitter followers.
We have pushed Twitter over the last few months and our growth has been from regularly seeking out other travellers to interact with. We also participate regularly in travel events such as #TTOT and #FriFotos.
Our next few goals are to slowly personalise our twitter account because to date it has been all over the place. So if you are not following us yet, head over to Twitter to join our travel community.
Facebook
Facebook is another tricky one to follow but we can at least have a look at what we have currently. That way whenever we get around to having a look in the future we will know what we had to date.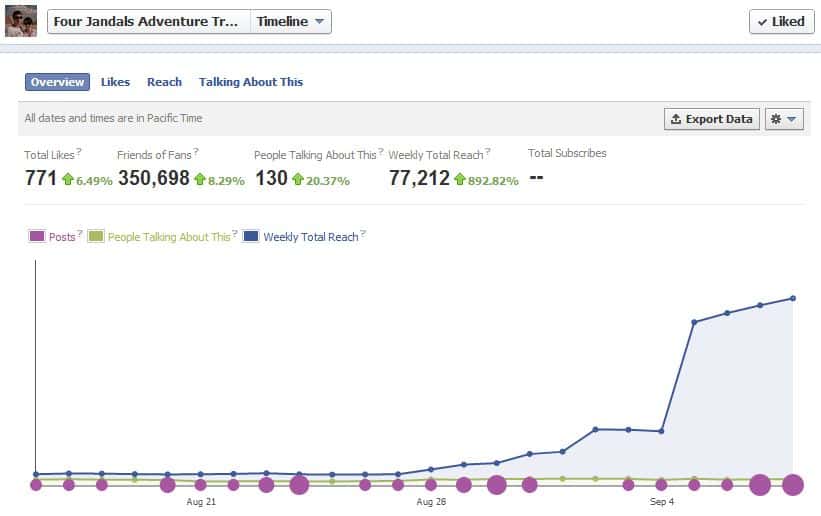 We recently installed a Facebook 'Like' pop up on Four Jandals. While some people hate it, most don't seem to mind. And it has tripled our fans to 771 in the past three months.
We also ran a couple of Facebook Ad campaign which has hugely increased our total reach in the past week. Not that it seems to have increased our likes too much. But it was interesting to see how just a few dollars can affect your overall reach.
We plan on creating a niche travel community by posting a couple of times a day on our wall with photos and cool adventure activities we find from around the world. Especially tips from our readers. So why not give us a "LIKE" on Facebook if you haven't already.
Other Stats
There are a bunch of other statistics to measure our success by and these are just the favourites.
Worldwide Alexa Ranking: 60,100.
Sites Linking in: 388.
Google Page Rank: 3
Domain Authority: 40/100
Page Authority: 50/100
mozRank: 4.74
Revenue
We started advertising and monetising our travel blog quite quickly. Our first advertising was actually in December 2011. But we are very careful about who we choose to advertise with.
Revenue to date: $4,750.00
It is interesting to note that since I started working full time on the blog we have actually found it harder to find advertisers. Apparently that is due to lots of advertisers running out of advertising budgets but hopefully it picks up soon.
We are also exploring a couple of longer-term sponsorship deals at the moment so it is all looking positive.
Summary
While we are reasonably pleased with our current stats we are never satisfied. In fact, I don't think any travel blogger would consider that they had reached as far as they possibly could.
We have a loooonnnngggg way to go until we catch up to some of our favourite travel bloggers. But we will keep plugging away at what we are currently doing.
With a new travel community website just launched – Top 10 Things to Eat, See and Do Everywhere – we have a lot of work ahead of us with various projects. But we will continue to create awesome engaging content for you and building a strong travel community around our Four Jandals brand.
For now, thanks for all your support to date! 
If you want a breakdown every month then tell us in the comments now!