Exploring Cappadocia: Why three days is not enough!
Along with hot air ballooning, Cavusin Castle, underground cities, and much more, the entire region of fairy chimneys and churches is just waiting to be explored!
Cappadocia (a magical region within Turkey) is often promoted as a destination which can be ticked off within 3 days, but in that time you would be hard pushed to see, let alone enjoy what Cappadocia has to offer. We were lucky enough to stay in Göreme for 6 nights, and recommend giving yourself the maximum time you possibly can.
Tourists are often given a map dividing Cappadocia into two zones, which supposedly only take one day each. But there is absolutely no way you will see everything in that short space of time. Plus, take our advice, there is a lot more than what is shown on that map!
How to get to Cappadocia?
Buses to Cappadocia run from all main destinations and are very easy to book at the travel offices and bus stations. However, make sure you book at least a couple of days ahead during peak season as the seats do sell out! There are also two airports near Cappadocia (Kayseri and Nevsehir).
Where to stay in Cappadocia?
Make sure you book accommodation in or near Göreme. There are tonnes of places to choose from, but if a hostel with a great atmosphere and helpful staff is what you are after, then we recommend Nomad Cave Hotel.
Do I have to wear covered clothing in Cappadocia?
With the heat constantly being above 30 degrees during July, we were very pleased that covered clothing was not necessary in Cappadocia (we were sweating enough in our shorts and singlet's!)
Restaurants and cafes in Cappadocia
Whether you are after a traditional meal in a Clay Pot or a cheap eat, Cappadocia has a lot to choose from. As a special treat on my birthday we ate at Topdeck Cave Restaurant and it did not disappoint!
Hiring mountain bikes in Cappadocia
There are many places to hire mountain bikes in Göreme (ours cost 5TL per hour). We recommend exploring Kilclar Valley, Kizilcukur Red Valley or Gulludere Rose Valley by bike. We attempted to explore Kilclar and Kizilcukur Red Valley, however we quickly realised our biking ability and confidence was not quite a match for the fairy chimneys and steep hills, but made the best of it.
By late afternoon we had discovered tunnels that were not on the map, started to gain some confidence and were just attempting to literally haul our bikes through another tunnel in Kizilcukur Red Valley, when a guide and his private tour came up behind us. I felt like a complete muppet to be found struggling in what must have looked an awkward manner! Therefore, I recommend locking your bike to a tree BEFORE this tunnel!
Tips for exploring the valleys in Cappadocia:
– You will get very thirsty from the heat so the tea gardens selling water/juice and snacks will certainly appeal. Therefore make sure you take cash and some loose change.
– When hiring bikes, make sure you get a bike lock as you will probably want to explore some areas by foot.
– In the Kilclar Valley, was south past the tea garden, climb up the cavern and when the path forks, take the first left towards the tunnel. This tunnel continues for a fair way and in some areas requires a torch!
Trek the valleys and fairy chimneys
If you are not a confident mountain biker or you have enough time to explore both on foot and bike, then we recommend grabbing a large water and your walking shoes and getting out there! Our day with the bikes turned into half walking half biking, and was a lot of fun but we only saw a tiny percent of Cappadocia in a day. Anywhere in the region including Kilclar, Kizilcukur Red or Gulludere Rose Valley are great to explore.
Trekking with Middle Earth Travel
We highly recommend going on a tour with Middle Earth Travel. We were lucky enough to meet Atil, a tour guide and Operations Manager of Middle Earth Travel on our first day in Cappadocia. We found him extremely knowledgeable and after he survived 101 questions from Moss, we realised just how much we were missing as we attempted to explore the valley's of Cappadocia on our own.
So, a few days later, on what happened to be my birthday, we had the pleasure of being taken on a private tour with Middle Earth Travel. They have a huge range of tours available, and even though we would have loved to do them all, we ended up doing the On Top of Cappadocia tour. We had an amazing day and walked a total of 15km! Take a look at my blog about the adventure – Top of Cappadocia day trek – with Middle Earth Travel.
The Green Tour day trip
Another tour on offer to explore Cappadocia is called the Green Tour. For about 100TL per person, it takes tourists to the Underground City, Selime Cathedrale and a few other attractions. Unfortunately the day trip did not quite meet our expectations, as we felt rushed at each main attraction, and would have loved an extra 20 minutes to explore all the nooks and crannies!
Any comments or questions are welcome! Please also take a look at my blog Top 10 Things to see and do in Cappadocia. 
Your Top Destinations For No-Contact Water Sports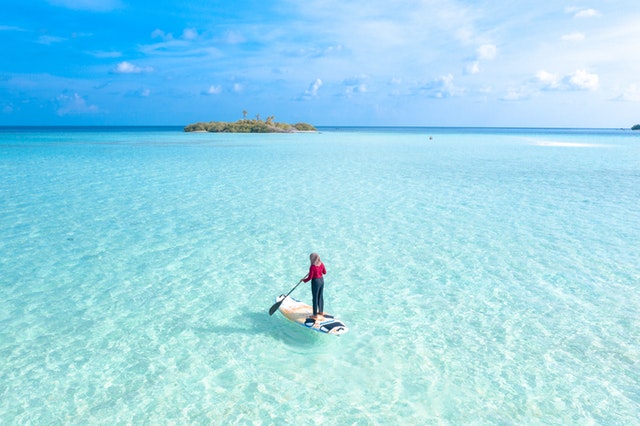 While it can be hard to stay cooped up inside throughout a beautiful summer, there are plenty of other places you head to for some fun in the sun before colder temperatures set in. The best news? If you're an American, you don't have to leave the continental US or mess with self-quarantining.
Lake Tahoe, California
A classic vacation spot, Lake Tahoe has it all for visitors. Great climate, little rain, a background of mountains, and one of the largest, most serene lakes in the US. This makes Tahoe not just a great place for spring break partying, but also for some amount of isolation, or at least a bit of peace and quiet. You can find yourself reflected on the water and reflect upon the world around you while out on the lake. Because of the still waters there, it is also a wonderful place for paddle boarding. In case you are looking for quality gear for water sports, you can look into Gili Sports.
Kitty Hawk, North Carolina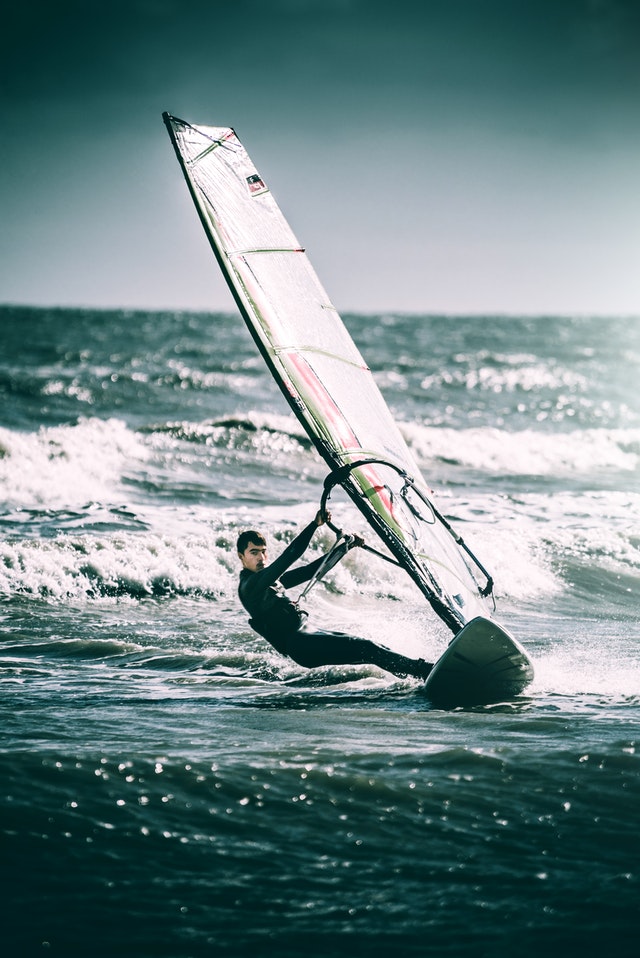 The Outer Banks of North Carolina are another classic vacation destination, especially for anyone who loves water sports. The weather remains mild in North Carolina all year round (with the notable exception of hurricane season), so it makes for an outstanding destination through any season. Kitty Hawk, famous for the Wright Brothers first flight, is an outstanding destination, as well as smaller towns like Currituck. You will find slightly rougher currents out in the Atlantic Ocean. However, paddle boarding is also popular here, as is windsurfing.
New Braunfels, Texas
The city of New Braunfels has a river entirely within its limits, the Comal River. This allows for many water sports activities, with tubing as one of the most popular choices. In these times, tubing is a popular choice, as it is a great activity for families that doesn't involve a lot of contact with strangers. New Braunfels has a huge German influence, with its largest water park named the Schlitterbahn.
Fort Lauderdale, Florida
Although there is a city in Florida named Venice, the city of Fort Lauderdale is often referred to confusingly as the "Venice of Florida." This nickname was won because Fort Lauderdale has nearly as many canals as its famous Italian counterpart. Fort Lauderdale boasts 23 miles of beach coastline, but if you add in all the city's canals and lakes, that puts it at 300 miles of coastline. Fort Lauderdale is also a magnet for yachts, so you can paddle board or kayak past boats in the harbor you've only dreamed of. Summers in South Florida can swelter, but there's also a reason that old folks go down in the winter.
Seattle, Washington
Although it is a huge metropolis, Seattle also offers some of the most pristine coastline in the country. Although it gets colder in the PNW than it might get anywhere in the southeast, the climate in Seattle stays relatively mild. One advantage of Seattle over more southern spots is its glacial lakes, which offer a beauty that few islands can replicate.
Even as the summer wanes, there are so many places in the continental US that you can get out and enjoy the water.
Top of Cappadocia day trek – with Middle Earth Travel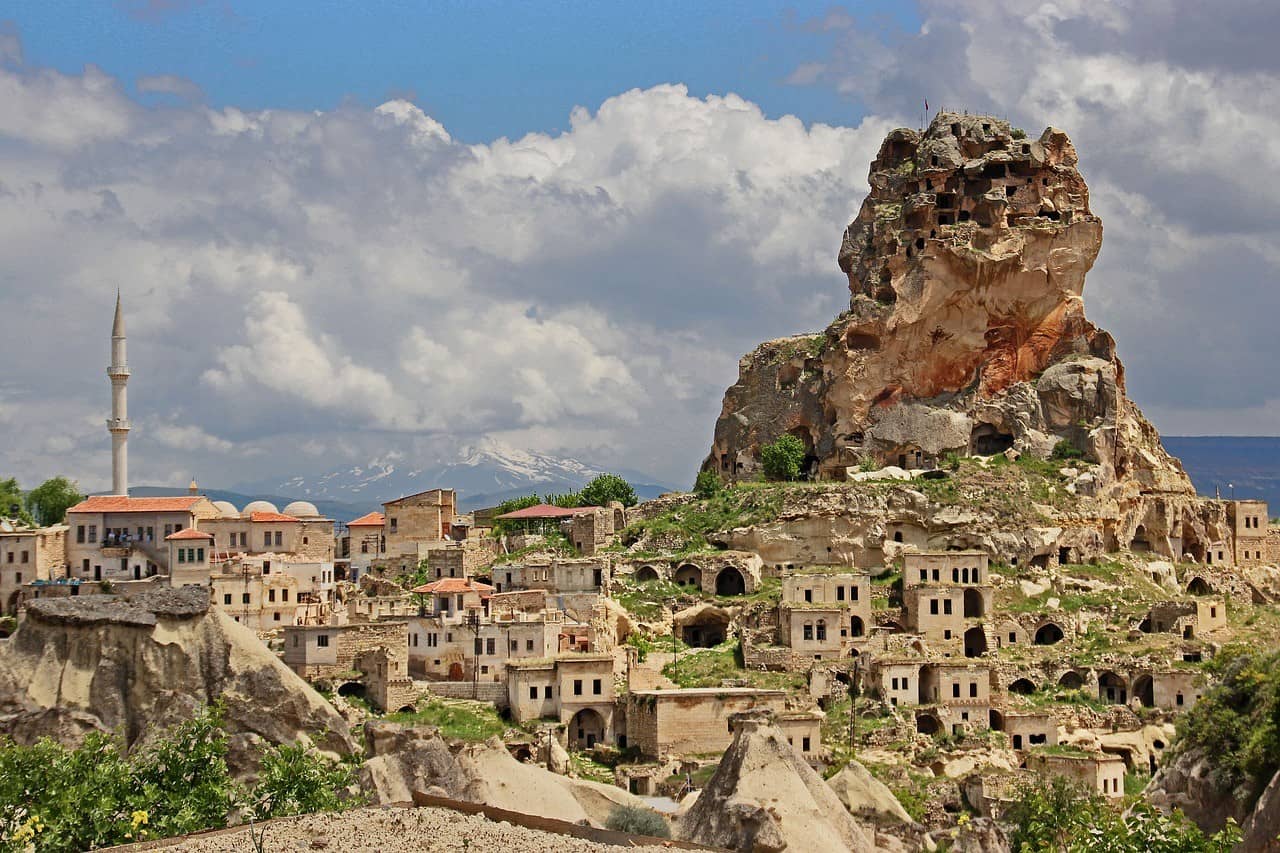 Trekking through the valleys of Cappadocia's fairy chimneys with Middle Earth Travel feels more like the set of a Star Wars movie than a historical region once carved out and lived in by humans. Churches, homes and pigeon houses are scattered throughout the valleys, all waiting to be explored. The best part is, Middle Earth Travel know all the hidden secrets.

Top of Cappadocia day trek – with Middle Earth Travel
On the 26th of July (which just so happens to be my birthday!) Middle Earth Travel took us on their private and guided Top of Cappadocia day trek. From Pasabag, along the top of Cappadocia and down through the Gulludere Rose Valley to Goreme, we trekked 15kms in one day! (We recommend getting your bearings with this map)
Upon arrival to the Middle Earth Offices, we were warmly greeted by our new friend Atil whom we had met a few days earlier while mountain biking through the Kizilcukur Red Valley. We were then introduced to our guide and given a briefing regarding the day. Normally, the Top of Cappadocia tour would start from Çavuşin, however, since we had already explored Çavuşin Castle, they adapted our tour to compensate ensuring we would explore new terrain!
With charged cameras, plenty of water and our running shoes on, we were driven to our starting point of Pasabag. We wandered through the fairy chimneys, coming across camels and markets – then the true hike began.
It was a slow and gentle incline. With no trees to provide shade, I quickly realised why our tour guide had chosen to wear fully covered clothing! As the sweat quickly set in (a waterfall in Moss's case) we snapped away with our cameras and enjoyed the entertaining shapes of Imagine Valley and the amazing view. We also passed a lot of rock piles, which according to our guide mean 'father' and are built to help lead the way.
The higher we trekked, the more breath taking the views became! As we walked along the summit of Bozdag mountain (the Top of Cappadocia) we could see EVERTHING – Pasabag, Çavuşin Castle, Kizilcukur Red Valley, Gulludere Rose Valley and Goreme. We were on the Father of Valleys! After a quick nod of agreement to the guide, we pushed ourselves the extra distance and made our way to the flag, as this HAD to be the highest point and was definitely worth a photo and a selfie or two!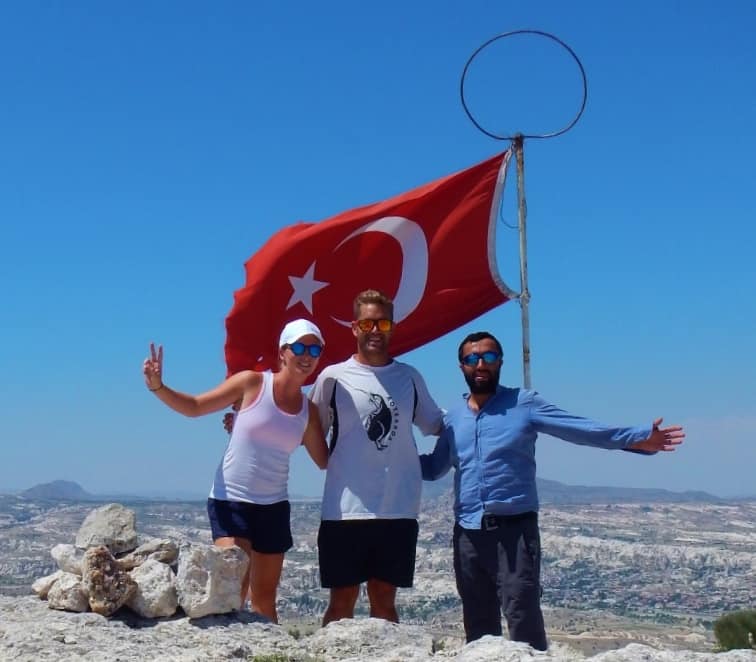 From the flag we looked down upon Aktepe Hill which is known as a popular destination for watching the sun set and could spot Kizilvadi Restaurant, our destination for lunch! Kizilvadi Restaurant is an attraction of its own. With its own historic winery and Grape church, plus some Middle Earth Travel treks even stay there for the night! After having a massive feed of soup, salad and pasta plus a surprise birthday cake, we made our way down into Gulludere Rose Valley.
The scenery is amazing, with strong colours visible in perfect layers on the chimneys, you would wonder what an artist was thinking, had it been a painting. Also, hidden to the side of the track we walked across a little bridge and not expecting anything to be there we were wowed by the massive church carved. It was absolutely huge and hard to believe that its most recent use has been as a pigeon house!
Middle Earth Travel Review
The team at Middle Earth Travel were extremely knowledgeable and certainly know Cappadocia's hidden secrets. They have friendships with local tea garden owners which is also of benefit as it gained us entry to locked churches and hidden rooms that we would not have otherwise seen.
We covered a lot of ground, however we did not feel rushed. The whole day focused on showing us the region, therefore we had as much time as we needed to explore each church and to take 'just one more photo'.
It wasn't all about trekking. With a whole day and 15kms to cover, there were a few silly poses (especially in Imagine Valley), and we learnt a lot about the myths, legends and way of life in Cappadocia.
In conclusion I highly recommend Middle Earth Travel if you wish to go trekking or mountain biking in Cappadocia.
Cost: Day treks with Middle Earth Travel range from 50-90 euro, depending on the number of people taking part. This includes lunch, guide, vehicle transfers and entrance fees to historical sites, but excludes alcoholic and soft drinks.
Middle Earth Travel are outdoor enthusiasts and offer multi-day over night treks, mountain biking, abseiling, or custom made itineraries, in multiple regions throughout Turkey.
Disclaimer: We were provided with a discount for the trek with Middle Earth Travel, however, as always our thoughts on our adventure travel blog our own.
Most Underrated Travel Destinations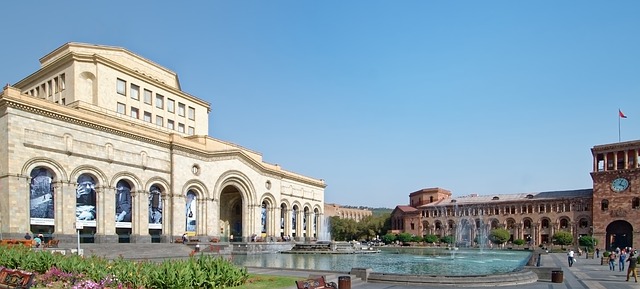 Everyone knows about Paris and Rome and London but there are so many other beautiful travel destinations that are amazingly underrated and they are cities on our list to visit again once the Coronavirus allows. The fact that so many beautiful countries go unexplored by travelers is a tragedy and we want to change that after Coronavirus. Not only because so many people are missing out on rich cultures and picturesque views, but also because a lot of these destinations tend to be a lot cheaper to travel to than popular cities. 
But what a lot of people don't know is that there are gorgeous, underrated foreign cities one can visit for a fraction of the price of touristy European cities. Forbes recently published a collection of the ten most underrated destinations you should consider visiting. 
Here are a few of them to learn about while stuck at home due to Coronavirus:
Yerevan, Armenia
Yerevan, the capital of Armenia, is known for its magnificent sights of Mount Ararat, historical monasteries, and its many striking temple ruins. Armenian cuisine is other worldly with classic dishes like rabbit stew, sautéed eggplant rolls, and lamb tartare. 
Telč, Czechia
Telč is a colorful town with Italian influences in Czechia. It boasts of Baroque-Renaissance architecture and has a castle of its own with exciting tunnels and passageways that you can explore underneath the town.
Santiago, Chile
Santiago is the capital of Chile and features gorgeous architecture from the neoclassical era. There are towering cathedrals and, of course, plenty of quality Chilean wine. Plus, the city of Santiago is a great place to kick off your exploration of Chile's wine country. 
Rotterdam, the Netherlands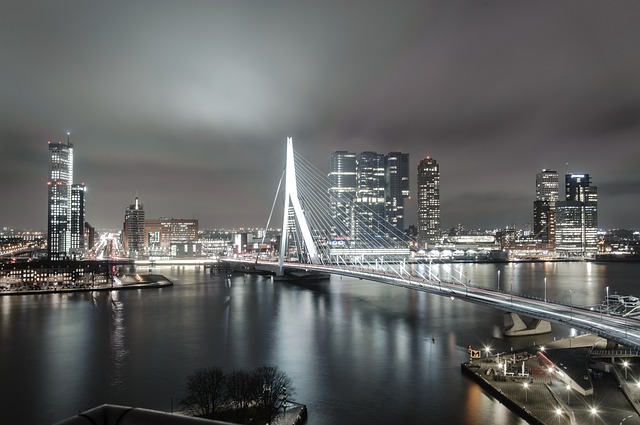 Rotterdam is often ignored due to the popular neighboring city of Amsterdam, but it is a bastion of underground music and street art. The architecture is strikingly modern since the city was heavily bombed during World War II and thus had to be rebuilt from the ground up. The city is filled to the brim with amazing cuisine and museums.
Lagos, Nigeria
If you are looking for a big city destination, Lagos is a metropolis that has plenty to see and do so that you'll never be bored. And whenever you need a break from the urban marketplaces, private beaches are just a short drive away.
Con Dao, Vietnam
Con Dao is a Southeast Asian island that makes an excellent beach destination with two resorts and tons of fascinating history. Once host to a brutal French prison, the island is also home to the tomb of the Vietnamese martyr Vo Thi Sau. 
Colonia del Sacramento, Uruguay
This is one of the oldest cities in Uruguay dating back to the 17th century. The city has a vibrantly decorated historic quarter and a three-century-old convent. It's also only a short trip away from the bigger city of Montevideo.
A majority of Americans, when asked about traveling abroad, will likely shake their head and say they can't afford such trips. Many people deal with multiple monthly bills, such as mortgage or rent, student loans, and title loans, which are all stress inducing. 

We have been wearing out our jandals (Kiwi for flip-flops) on our travel adventures around the world since 2009. We think our blog is thought provoking and a little witty. But we have been proven wrong before. Find out more about us here...
What Are You Looking For?