Guest Post – Finding love in a Haunted Prison by Global Goose
When you think of a haunted prison, the first thing that jumps into your mind is probably not finding the love of your life!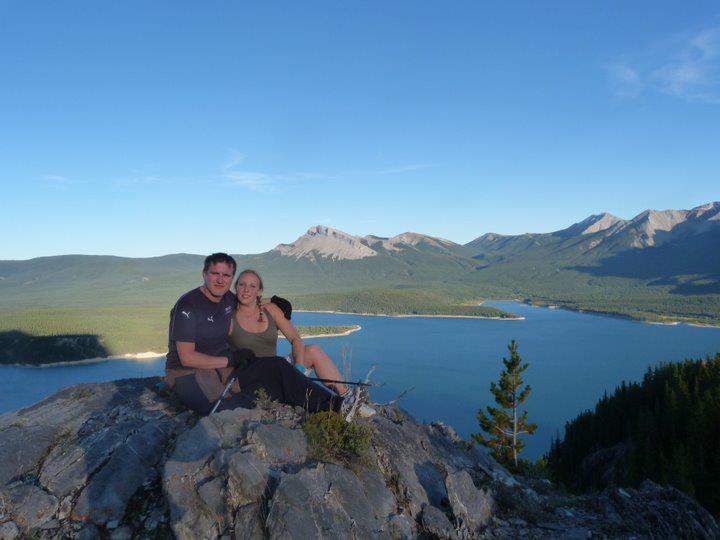 This is a guest post from Kelly and Lee of Global Goose about how they met in a little slice of our own backyard in New Zealand.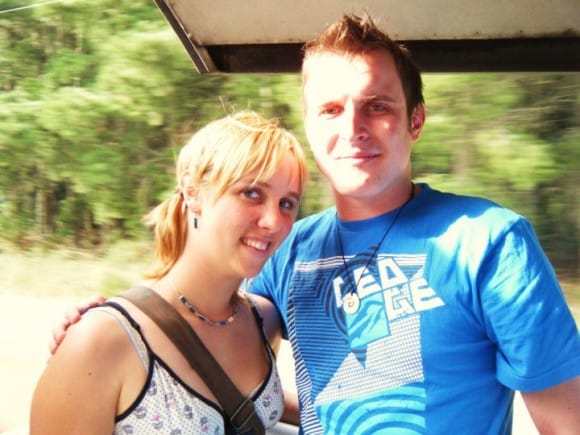 "So, how did you two meet?"
This is a common question for Lee and me, since it is unusual for a lad from Lancashire, England to be with a girl from middle-of-nowhere Alberta, Canada.
When people ask us how we met, we chuckle to each other and say, "in prison".
The response is usually disbelief, confusion, or nervous terror. "You met in prison?" people ask incredulously.
"Yes. In a haunted prison in New Zealand."
This is usually when we get accused of making up tall tales, but this story is absolutely true. Lee and I fell in love in the dreary halls and courtyards of the oldest prison in New Zealand, a spooky and dilapidated structure which was built in the 1860s and is perched on a windy bluff overlooking the ocean.
Don't worry we weren't serving time! In fact, we were living there on the rickety bunk beds in claustrophobic dark prison cells out of our own free will!
Let's back it up a bit and explain from the beginning…
Back in 2009 I was living in Victoria, British Columbia, Canada and I had it pretty good. I had my own place and a rewarding and well paid job as a children's art and drama instructor. I loved my job and my life. However, I just couldn't help the thoughts of travel that kept bubbling up in my head. I wondered what else was out there, and I daydreamed about leaving everything familiar behind and seeing different sights, experiencing foreign cultures and meeting new people.
Unbeknownst to me, Lee was experiencing the exact same if you only replace "Victoria, BC" with "Accrington, UK" and "children's art and drama instructor" with "football club shop manager".
So on a whim, we both followed that voice in our heads and booked a working holiday in New Zealand. I knew I wanted to do a working holiday so that I could have the chance to travel for several months rather than just take a short holiday. I could find work as I went along to fund my travels.
As I was preparing to leave, I saw a job posting for tour guides of a historical prison on the New Zealand backpackers job board website.
Napier Prison is the oldest prison in New Zealand, and was built in 1862. It was used as a prison until the 1990s, when it was officially decommissioned. It was reopened in 2002 as a tourist attraction and since then it has been a popular stop on the path of many travellers on the North Island of New Zealand.
I had previous experience giving architectural history tours of Victoria and so I applied. I found out that I had gotten the job only the day before I left for New Zealand, and so I booked a bus down to Napier from Auckland. When I spoke to Marion, the owner of the prison, on the phone she told me that backpackers worked for accommodation and lived within the prison cells. I knew I was getting myself into a once in a lifetime adventure!
I arrived in Napier on a Saturday evening and the sky was already dark. I sat on my huge backpack at the bus stop and waited, gazing at the illuminated art deco architecture of this beautiful east coast North Island town.
Suddenly, an old white van pulled up in front of me and two tall good looking blond German guys got out, dressed in blood-spattered prison jumpsuits and ghoulish white face paint.
"Are you Kelly?" they asked, in a "Come with me if you want to live" sort of way.
"Yes…" I stammered in a dorky, bewildered Canadian sort of way.
I threw my backpack in the van and a few minutes later we turned up a dark road leading up a steep hill. I wondered what in the world I had gotten myself into.  The prison hosts "Dead Hill" scary night tours on Saturdays and I was arriving right in the middle of the action. As I stood outside of the heavy wooden door to the prison walls I could hear terrified screams coming from inside and horrible cackles of laughter. I gulped nervously as I was pulled inside the dark walls and taken through the eerie courtyards to a door which was glowing with a warm and welcoming light, the prison staff lounge. This is where I would wait until the actors and guides were finished scaring the living daylights out of tourists so that I could find the prison cell where I would end up spending the next two months.
As I opened the door to the staff lounge there he was, sitting on a long plastic table and kicking his feet. Lee was tall, dark and handsome, and looked like the beat up zombie corpse of a dead prisoner. He was wearing a torn white jumpsuit and caked on face paint and was bleeding fake blood from a gory gash to his forehead.  I'm not sure if it was love at first sight, but he certainly made a memorable first impression.
Over the next month in Napier we had many adventures together, climbing scenic waterfalls, taking underwater photos at the swimming pool, "breaking out of prison" by climbing up onto the wall, eating at Burger Fuel, drinking beers in the courtyard, and walking hand in hand through the Napier Botanical Gardens.
Our travel plans sent us in different directions for about six weeks, but we kept in touch and eventually ended up renting an apartment together in Christchurch on the South Island for about three months. It was a strange situation, as we didn't know what would come out of our travel romance and what the future would hold for us when we finally had to go home.
The day finally came that Lee needed to go back home to England. We looked at each other, neither of us wanting to say goodbye. Then he said, "Do you want to come with me?"
Two years later we are still travelling the world together with no intention of stopping any time soon.  Before we left New Zealand we took a tour of the South Island, hitting up Queenstown, Dunedin, white-water rafting on the Rangitata River and taking the TransAlpine scenic rail journey.
We have lived and traveled in England, Italy, Portugal, and backpacked across Canada and are currently planning trips to the USA, Southeast Asia and Australia for 2012.  I learned a lot from my working holiday in New Zealand, but one of the most important things that I learned was that travel romances can evolve into something more and that I am so glad that my answer to that question was "Yes."
So open up your heart to love on the road and keep your life flexible so that love can jump out and surprise you when you least expect it. That travel romance just might be something worth holding on to.
Lee and Kelly are two creative and passionate travelers who have teamed up to create an unconventional life together working as digital nomads and exploring this big and beautiful world. Everything they own fits in their backpacks and with no permanent address they are perpetual wanderers on not just a Gap Year but a "Gap Decade". 
Together this Canadian girl and English guy have created Global Goose, a comprehensive travel resource for those who have been stricken by wanderlust. Their blog contains practical guides, stories from the road, interviews with inspiring travelers, and much more. They recently backpacked across Canada from Victoria to St. John's and somehow survived a snowy Newfoundland winter.  Their future travel plans include the USA, Southeast Asia, and beyond!
Follow along with Global Goose as they continue to share their stories on Facebook and on Twitter.
Five Thrilling Theme Parks in Australia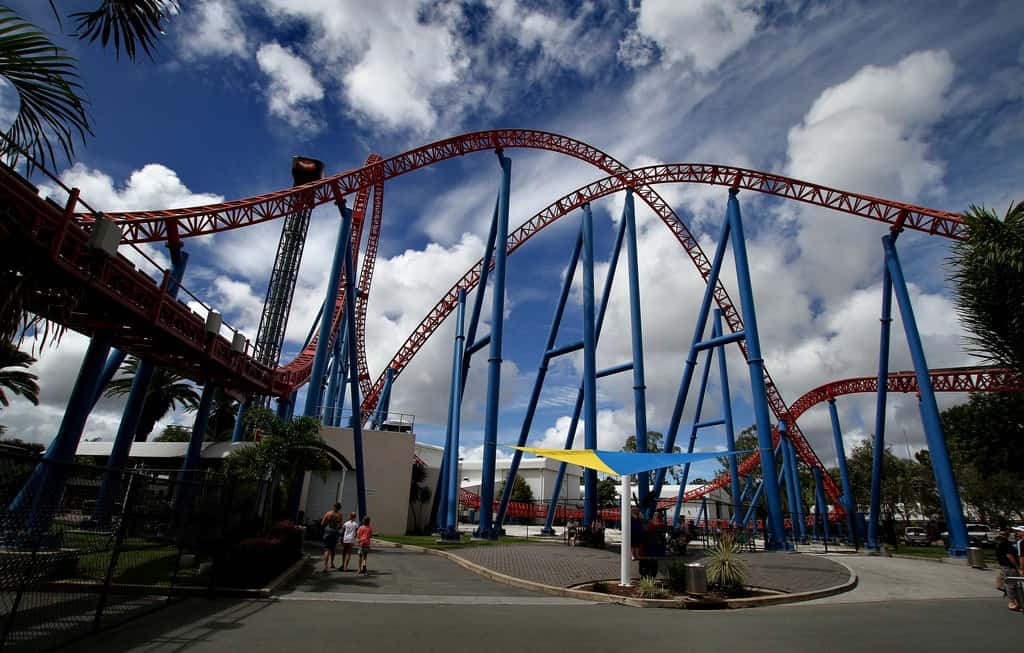 Thrill-seeking individuals, rejoice – as we have found five of the most amazing theme parks in Australia! There are actually A LOT of them, but we've decided to narrow it down to five to make it easier for you to choose.
Up for a blood-rushing and heart-stopping challenge? Try some of the most extreme rides that we are about to discuss below!
Dreamworld in Gold Coast
Ride/s You Shouldn't Miss: The Buzzsaw, Mick Doohan's Motocoaster, The Giant Drop, and Wipeout
With nine huge thrilling rides, eight family rides, eleven kids' rides, and twelve Whitewater World rides, anything that you could possibly want in a theme park can be found here. It has been called as one of the world's best theme parks by Adioso, as well as the number one Amusement & Water Park in the South Pacific by TripAdvisor.
Warner Bros Movie World in Gold Coast
Ride/s You Shouldn't Miss: DC Rivals Hypercoaster, Arkham Asylum, Wild West Falls Adventure Ride, DC Doomsday Destroyer, and the DC Comics Super-Villains Unleashed
Make your own dreams come true by seeing your favourite DC Superhero and cartoon character in person! The Warner Bros Movie World is part theme park and part studio, so you can even take a side trip by visiting famous movie sets. Take the kids for a fun day out, as they have kids' rides including the Justice League 3D Ride, Junior Driving School, Kids' WB! Fun Zone, and Road Runner Rollercoaster.
Luna Park in Melbourne
Ride/s You Shouldn't Miss: The Great Scenic Railway, Twin Dragon, Spider, and Pharaoh's Curse
Luna Park is one of the most visited theme parks in Australia, not just because of its rides, but also because of the view that it offers. There is no entrance fee too, so make the most out of your Australian by visiting one of the most well-loved theme parks in Oz! Before you buy your plane ticket though, make sure to book a car hire in Melbourne rather than taking a bus or hailing taxis, It will surely make your trip cheaper and more convenient!
WhiteWater World in Gold Coast
Ride/s You Shouldn't Miss: Super Tubes Hydro Coaster, Triple Vortex, The Wedgie, and The Bro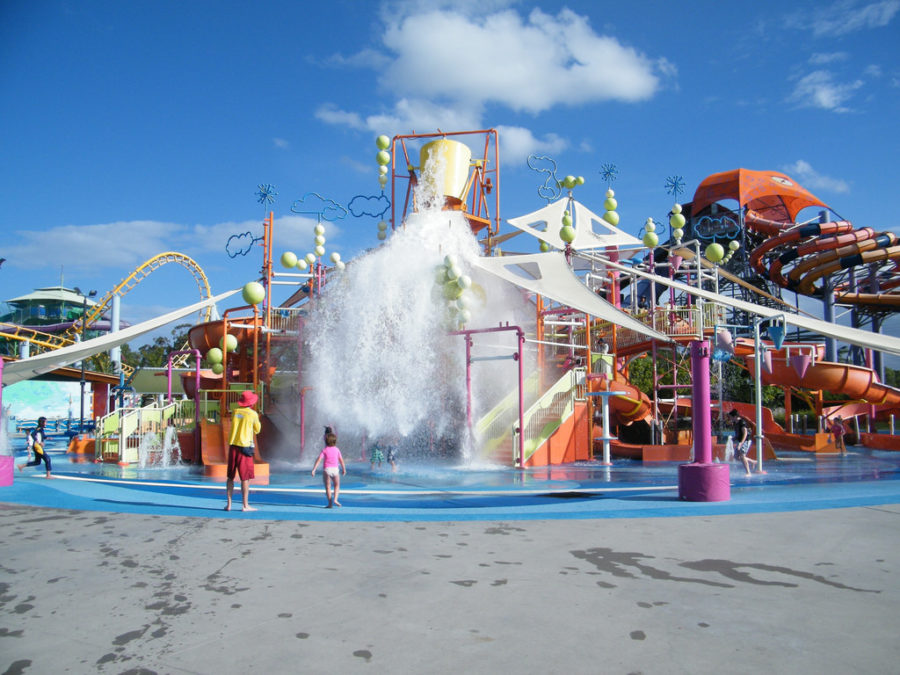 WhiteWater World is Dreamworld's sister park, so you know that it's as good, too. It might be too cold to go down a waterslide with winter in town, but during the summer time, this park is where it's at. It houses eight thrill rides and over twenty other slides, so you will never run out of choices. Each and every slide has an amusing name, too, so make sure to include the name when you post those amazing pictures on Facebook and Instagram.
Jamberoo Action Park in Jamberoo
Ride/s You Shouldn't Miss: The Perfect Storm, Funnel Web, Banjo's Billabong, and The Taipan
It's just about an hour ride south of Sydney, so it's really easy to visit. It has over 10 watery worlds, as well as other rides to explore. Everyone, including kids, will have a blast here, as there is a pool for every age. Do not miss the Funnel Web, as it features the world's largest spider sculpture – definitely not for the faint of heart!
Feeling pumped and excited for your visit in Australia? We hope you give our suggestions a try, have lots of fun!
Australia – The Ideal Backpackers Destination
Backpacking all around Australia is a fantastic way to experience the sights of one of the world's most exciting holiday destinations. For the traveller who loves nothing better than trekking around a beautiful country, Australia is the place to go since it's the most popular country for backpacking worldwide.
One of the best things about backpacking around Australia is that you could spend an entire year exploring each region and still not see the attractions by spending as much time as you want in each area. You can plan your route ahead of time or be spontaneous and go where the spirit moves you.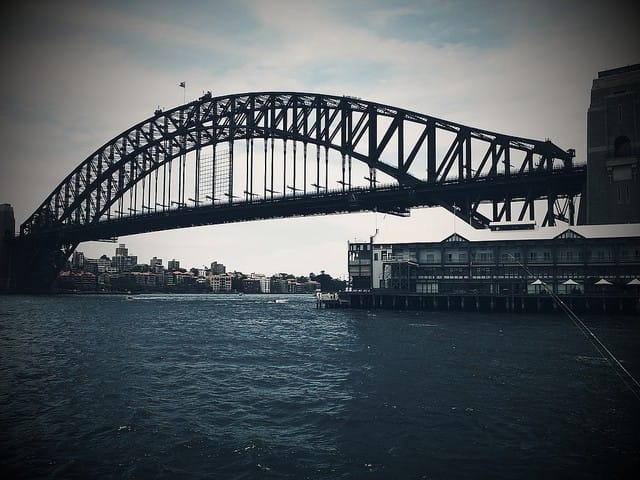 What Australia Has To Offer
Australia is a backpackers dream. The country is perfectly set up for anyone who wants to spend six months or even a year exploring. Hundreds of hostels for hikers and backpackers are throughout around the country; the accommodations are clean and comfortable, and it's easy to arrange transportation from one location to the next.
Heading down under offers the opportunity to make friends from around the world who share your love for backpacking. Some suggestions to follow before you begin your Australian adventure can contribute to making the journey everything you expect.
Food and Drink
A lot of backpackers travelling around Australia take advantage of the abundance of Asian cuisine that's available in the major cities and small towns. Asian food is inexpensive, filling, and tastes great. Cooking yourself is a good way to enjoy the food you like and save money since you aren't dining out every night. Check out this article if you are looking to dine on a shoestring.
Australia also has one of the most vibrant coffee cultures.  Visitors from Europe are often surprised at the quality and variety of coffee blends in the Country, much of which is due to the influence of European immigrants who brought their coffee culture with them.
And if you are "outback" they even have a way of making real Italian Coffee in the bush with a portable coffee machine called the Handpresso; a lightweight coffee maker designed to take easy serve espresso pods, giving you real Italian Coffee on the road.
Backpacking Destinations and Itineraries
If your have between three and six weeks and want an unforgettable experience, the east coast of Australia offers the chance to see the sights of Cairns and Sydney, with Melbourne and the Great Ocean Road if you want to extend your trip. In Sydney, visit the harbour and take the coastal walk between Bondi and Coogee Beaches. Blue Mountains National Park is to the west of the city. Towns near Port Macquarie are ideal for bush walks with some of Australia's best surfing on the coast.
Before you go to Cairns, pop over to Magnetic Island for some of the best walks on the east coast. The best way to observe koalas in their native habitat is on the Fort Walk. If skydiving is on the bucket list, head over to Mission Beach; the most inexpensive spot in the area to learn skydiving. When you get to Cairns, you've arrived at the Great Barrier Reef.
The Gold Coast of Queensland is a beautiful, laid-back region. Explore the World Heritage Gondwana Rainforest, camp out or hike the trails. Surfer's Paradise Beach is known by surfers worldwide. Make new friends at the cafes of Burleigh Heads.
Fraser Island is a must-see destination. The World Heritage site is the largest sand island in the world. Meet Australia's wildlife or explore the cliffs, the rainforest or go on a whale watch tour. You may even spot one of Australia's endangered dingos. The island offers accommodations for all budgets.
Backpackers can stay in group accommodations and enjoy the restaurants, bars, or cafes. Agnes Water, on the main coastal road in Queensland, is another famous surfing spot and is on the Great Barrier Reef's southern tip. Accommodations include hostels with basic amenities to luxury apartments and retreats with WiFi, swimming pools, bars, and bike rentals.
The Whitsundays are an island chain off the coast of central Queensland. The landscape is stunning, the beaches are secluded, and the people are friendly. The islands are on the Great Barrier Reef, with accommodations that are eco-friendly. Airlie Beach is known for hostels for backpackers, with diving, snorkelling, swimming, islands to explore, and exciting nightlife.
Adventure Travel Guide to the Perfect Sydney Weekend – Without The Concrete Jungle!
Adventure Travel Guide to the Perfect Sydney Weekend – Without The Concrete Jungle!
A typical weekend in Sydney offers so many exciting things to see and do – if you like closed rooms and skyscrapers that is!
If picturesque green rolling hills, fresh air, meeting new friends and having outdoor adventures is more your thing you certainly don't have to strike Sydney off your list. Within just a couple of hours travel of the concrete jungle you can find culinary adventures and breath taking mountain ranges that will have your GoPro salivating at the ready to take the photographs that will have your Instagram followers drooling. 

When it comes to day trips from Sydney you are certainly spoilt for choice and if you only have a weekend up your sleeve before you have to return to reality you need to make some tough choices to maximise your time. Check out my ultimate Sydney weekend …. without the concrete!
Saturday – A food and wine adventure in the Hunter Valley
You'll have to be up early for this one but you know what they say about birds and worms! Your reward will be a gorgeous day sipping the citrus and honey flavoured Semillons and fruity Verdelhos that have made the Hunter Valley a wine destination to remember. Couple that with the vibrant plum and subtle oak characters of a rich Merlot, the creaminess of a locally made Labna cheese and some refreshing strawberry and cream flavours in a complex Moscato with a light spritz to finish, and you truly have a recipe for a day that your friends who are too busy to join you will envy!
Of course everyone thinks of wine when you mention the Hunter Valley but there are some true gems in this region that give you even more reason to leave Sydney in your rear view mirror for the 2 hour journey North.
The range of exciting craft beers is just one reason. You won't be able to ask for a "Dirty granny" or a "Dogbolter" or a "Redback" at the average bar in Sydney … and enjoy it in a rustic chic-setting where the indoors can become the outdoors within a few steps of the floor to ceiling glass doors.
And what about shopping?
There are more shops in Sydney than Lady Gaga could visit in a year but what you won't find is authentic handmade produce made by locals with more love and genuine passion than a supermarket has ever envisioned. I'm talking about visiting the Handmade In The Hunter Markets which are right on your doorstep most weekends if you visit Kevin Sobel's wines. Imagine candles that could pass for a chocolate Sundae dessert or handmade jewellery that is nothing short of an artwork that you can wear. You are not just buying a handcrafted item here – you are buying the artistic talents of Hunter Valley locals and you don't have to have the kind of budget needed to purchase a Rembrandt to take home a piece of Hunter Valley artwork that is the pride and joy of its creator.
These are just a couple of the amazing gems you can discover in the Hunter Valley and the best way to find them all is to join a tour with a guide that is a local. Other than the fact that you won't have to stress about navigating (or have someone in your group miss out because they need to stay under the legal alcohol limit to drive), you can draw on your guide's local knowledge of the cellar doors and their wines in order to have a unique tasting experience. Tour guides often have established relationships with the cellar doors and can ensure your group receives a private tasting with cheese and biscuits and other accompaniments that enhance the wines you taste that you wouldn't normally get at the public tasting bar with a sommelier that is busy serving everyone else from the general public as well as you.
It's a long way from Sydney (2 hours drive North of Gordon) so travelling with a tour company that offers those little luxury extras like stylish and comfortable leather seats, individual air conditioning controls, a mini-fridge to keep your dairy purchases cold and fresh and tasteful onboard entertainment through a DVD and sound system will take your tour experience to the next level. The wine tours of the Hunter Valley offered by Tastes Of The Hunter Wine Tours are definitely worth checking out. Their Trip Advisor reviews paint a picture of a comfortable ride and mention those little extras that make an experience memorable.
You'll want to arrive back to Sydney relaxed and ready for a big sleep before your Sunday adventures…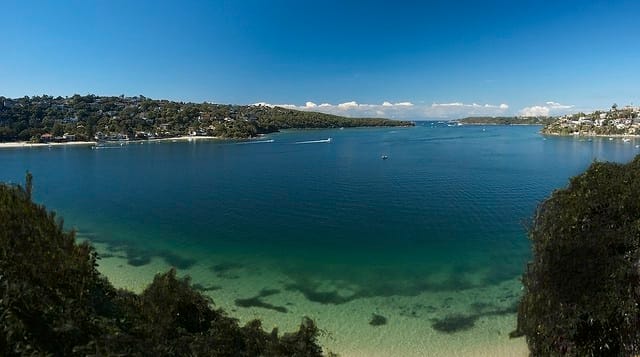 Sunday – Stunning scenery in the Blue Mountains
Charge your GoPro and bring extra battery packs as you are about to experience nature at its best. From the majesty of the Three Sisters rock formation to the quirky limestone rocks of the Jenolan Caves the Blue Mountains National Park is certainly a treasure trove of sights. All the famous characters of "Downunder" can be found as far as wildlife go with Kangaroos and Koalas in abundance but Wombats, Dingos and little Penguins are also waiting to greet you if you journey to Featherdale Wildlife Park.
If a wild ride is more your style rather than wildlife, then buckle up for the Scenic Railway – Australia's steepest railway. If you are not afraid of heights then cruising 370 metres above the mountain chasm of the Jamieson Valley also awaits you on the Skyway.
You can relax and enjoy the journey by coach or if you want to skip the peak hour traffic back to Sydney on a Sunday night and do things a little differently, you can enjoy a Parramatta River Cruise to see you back to Sydney as you relax with a drink from the bar in hand.
With so much to see and do beyond the city limits you should certainly think of Sydney as a region rather than just a city. When you do, your holiday and day trip options start to become way too many and too tempting to just think of Sydney as a weekend destination. Maybe you should apply for some extra annual leave and make it a whole week rather than a weekend!

We have been wearing out our jandals (Kiwi for flip-flops) on our travel adventures around the world since 2009. We think our blog is thought provoking and a little witty. But we have been proven wrong before. Find out more about us here...