2011 was a HUGE year for us.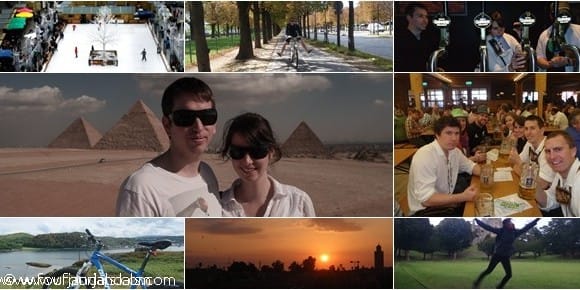 We had planned to summarize it but before we knew it the year was at an end! Luckily that basically sums up 2011 for us as we seemed to be in constant travel mode with little time for anything else. No complaints of course and we certainly count ourselves lucky to be able to do it.
So with 2012 just 6 days old and our return to semi-normalcy after our amazing trip through Egypt we thought we better turn our attention to our Dreams, Goals and the Realities for 2012.
I for one have actually never made a New Years Resolution. EVER.
Nor am I very good at planning my goals and aspirations. Ultimately I know what I want from life but writing it down, reviewing them, ticking the boxes and achieving those goals is the part I struggle with. So by sharing them with you hopefully it will give us a kick in the backside to make these dreams a reality.
Personal Goals:
Keep in contact with the family on a regular basis. Long term travel is hard on family relationships. When you are tired you don't want to email or Skype but we know those five minutes make a world of difference to our loved ones back home.
Be a better friend. As stupid as it sounds I know that I let my mates down from time to time when I am exhausted. So for 2012 if someone wants to catch up for a beer then I will become a YES man rather than a maybe man.
Health and fitness. Being a yes man is probably going to relate to some later nights and unhealthy eating/drinking habits. Therefore we will need to make sure we are hitting the gym when not travelling and work out a fitness routine when on the road which is something we never do unless on an adventure holiday.
Learn a second language. This has been bugging me for 2 years now and it is time we got off our butts and did something about it. We are going to enroll in a night-course over a few weeks and just need to decide on the language. Any advice on which to choose? Thinking maybe French or Spanish.
Travel Blog Goals:
If I could achieve just one goal this year then it would be become a full time travel blogger by the end of 2012. Still working out how exactly this will become a reality but just by writing it down hopefully it will get the creative juices flowing.
Travel, Travel, Travel. We want to broaden our horizons on this blog by creating interesting and relevant articles for you. And the best way to achieve that is through travelling. With trips like our 37 days overland from Turkey through Syria, Jordan and Egypt we will have loads of fresh content for you. Just tell us what you want and we will happily oblige.
Blogging has led us to find a passion in photography. They go hand in hand. No one wants to just read words. Everyone wants visuals! I am going to try a photography course and use that to create a new site for our photographs. Will keep you informed.
Create an interactive and engaging Travel Community for YOU by building up our subscribers on all media platforms such as Facebook, Twitter, YouTube and through our weekly Newsletter. This will include prizes, giveaways, hidden tips and advice.
We are going to start creating our first travel videos over the next few months as we think they provide so much insight into a destination in such a short time frame.
Ultimately we want to keep you happy so please let us know what you would like to see in the comments section below.
Keyword for 2012
To tie it all together we really need to have a focus. By creating a keyword we can quickly assess everything we do by relating it back to this. 2012 is going to be the year of GROWTH.
Your Goals
To create your own Dreams and Goals follow our simple steps below and then share them with us if you want:
Goals always start with a Question and then a Dream usually followed by Reality.
The Question: What is the number one thing you want to achieve over the next 12 months?
The Dream: Make this as far fetched as you could possibly imagine!
The Realities: That dream must then be broken down into achievable goals. You can't hope to achieve your dream by leaping across the river of aspirations. Instead use your goals as safe stepping stones.
If your dream, like mine, is to be the world's greatest travel blogger then your Goals could be as simple as planning to write 100 words per day EVERY day for the first month. Then 250 words, then 500 etc…
By creating these small but achievable steps over realistic timeframes you can't fail.
Good Luck and Share them with us below!