Where to begin? Literally.
Skiing the Three Valleys, which is the largest ski field in the world is a little daunting. With over 600 km of runs and a combination of 180 ski lifts, the decision of where to begin your skiing adventure can be hard.
We spent 6 days skiing the Three Valleys and it feels as if we did not even scratch the surface of the impressive ski field.
So let me start at the beginning. There we were standing at the bottom of just one of the eight areas, the Meribel Valley, gazing up at the biggest ski field we had ever seen and pondering which chairlift to start with. At the time we thought that six days would be more than enough to explore the Three Valleys. How wrong we were.
As usual our decision-making process came down to a quick game of rock/paper/scissors. With rock trumping all and the first lift decided we were off.
I was buzzing with excitement and could not wait to get on my board and with every metre we ascended the view got even more impressive. Then the moment I had been eagerly awaiting had finally arrived. The feel of snow under my board, that first glorious carve and the wind in my hair as I sped down the first descent.
The first thing we noticed about skiing the Three Valleys was that the runs are long. Really long. Each run easily lasted ten minutes and we even took over half an hour to complete some of them! Needless to say we had a lot of hot chocolate breaks to rest our rubbery legs.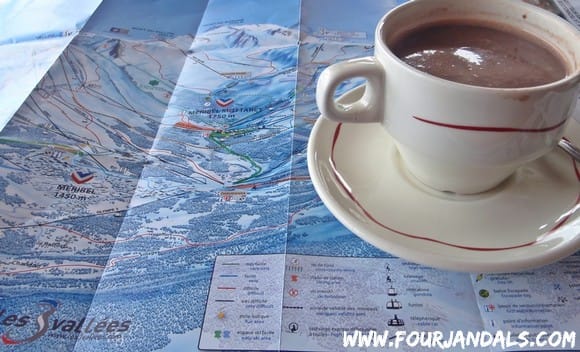 Every run lead us to a new chairlift and every chairlift led us to even more breathtaking views. It really feels like the ski area goes on and on forever. The fact that you cannot get a view over the entire Three Valleys really enhances this feeling as every peak we went over led to a new area and adventure to explore.
The facilities in the Three Valleys are superb. The chairlifts and cable cars are really comfortable and the lines were not too long during our spring skiing adventure.
All abilities are catered for with a great choice of runs of which the majority are groomed daily. For the thrill seekers there are also a huge range of parks and boarder-cross areas that have features from beginners to experts.
One thing that is obvious when skiing the Three Valleys, is that the French take their Après-skiing very seriously. Every bar nestled along the many runs were packed with locals and tourists alike. And that is just to kick-start the evening. Off the ski field the parties just keep on going.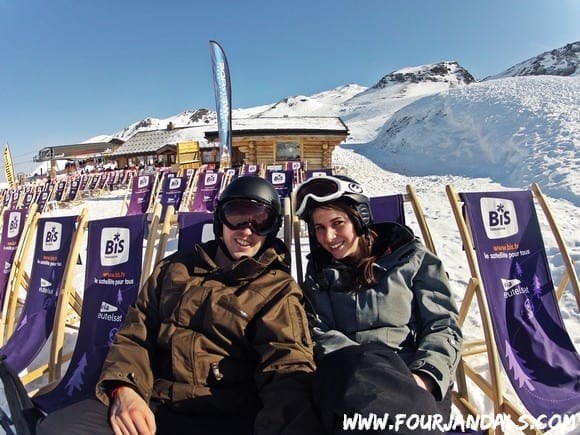 Even if you are not in the Three Valleys for adventure then you are well catered for. Each of the main villages including Meribel, Courchevel and Val Thorens boast an impressive range of first class shops, day spas, bars and restaurants all with price tags to match!
And the cafes and restaurants situated on the ski fields themselves are awesome. The food was delicious in that way that the French seem to have mastered. All of it far from the deep fried reheated muck that gets served up in the cafeteria style areas on ski fields back home. Leisurely ski lunches, if you can afford them, consist of three courses and wine seem to be the norm.
Not a bad way to ski really!
Overall a fantastic holiday destination for all levels of skiers. Just remember to come with a full wallet and expect it to empty fast.
Also remember that you have to get back to your hotel at the end of the day so be mindful not to venture too far afield. It took Cole and I over an hour to get back on the first day!
If you want to go skiing make sure you have good travel insurance sorted our first!