Living in Portland Why So Many Are Embracing the Weird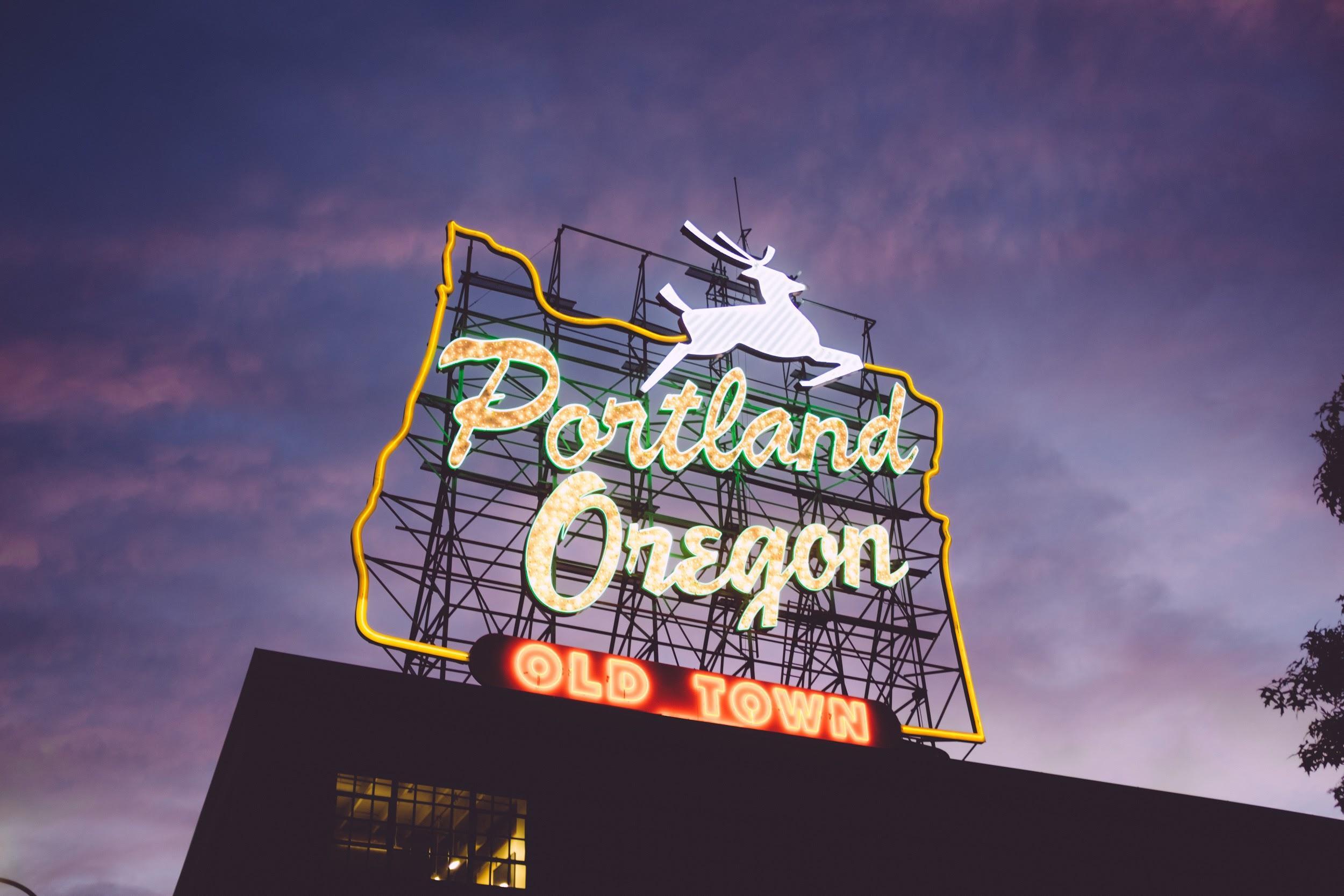 Some Quirky And Weird Things About Portland That Will Make You Want To Move There
Sure we've heard about Silicon Valley, the southern part of the San Francisco area in Northern California. We've heard about the innovative tech companies that reside there and blah blah blah. Boring. Have you heard about Silicon Forest? Wait. What? Silicon Forest, what and where is that? You ask. Silicon Forest is the term given to Portland, Oregon that is now home to a cluster of high-tech companies in the area. Yes, Portland is now a tech hub and with that, picturesque living with a quirky vibe. Today, we'll talk about some of Portland's "off-the-beaten-path" kind of unconventional things that most out-of-towners may consider weird. But despite the "weirdness" that others perceive Portland to be, it is actually a great place to move to and live. So here we go.
Stumptown
Contrary to Portland being now considered "Silicon Forest," Portland was first nicknamed "Stumptown". The name is derived from its early history when Portland was experiencing rapid growth (mid-19th century). Because of this, the residence, at the time, had to quickly clear the land to support the growth. Although the trees were chopped down, the tree stumps were not immediately removed. Thus, "Stumptown" was coined. It is also said that the tree stumps were used by residents as a way to avoid muddy unpaved roads by jumping from stump to stump. Imagine carrying a basket full of eggs doing that! Today, Portland is Silicon Forest but the coined nickname stuck around with it being used as part of the names of local businesses.
A Short Block Walk
Depending on where you are from, a typical block is about 10 for every mile or 311 feet long. In the case of rural Texas, it could be up to 12 blocks a mile. With that said, you'll find it relatively strange that Portland's downtown city blocks are only 200 feet long. So what would've taken you to walk 10 blocks at a mile elsewhere, in downtown Portland, it's only a half-mile walk. Strange but could be beneficial, cutting time so you can get to work quicker, sort-of.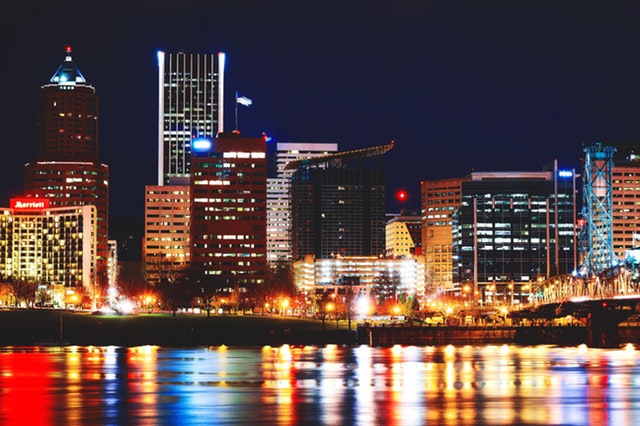 Too Polite?
Since we're talking about commuting and all, let's talk about traffic. Yes, I know, traffic is no strange thing, no matter where you live. You get the honks, the occasional (or always) "bird", you get curse words, and road rage. But have you ever been to a place where traffic stalls because people are too polite in traffic? Like something out of the Twilight Zone, Portland is sometimes too, way too, polite when it comes to traffic etiquette. For instance, a pedestrian is slowly but surely crossing the street, you wait patiently while huffing and puffing in your mind and looking at the time. They've all crossed and traffic on the other side continues, preventing you from making a turn. While you are left frustrated and boiling over, Portlanders on the other hand, are the epitome of patience and politeness. Not only do they wait politely for all pedestrians to clear the crosswalk before turning, but they also "hold the door" for other cars to get by. Which means traffic will stall because Portlanders are too polite.
Biking: The Way of Life in Portland
As mentioned, Portland is a picturesque city — to the west the ocean, to the east are mountains. With that, it's no wonder Portland is known to rank as one of the top places for biking. Portlanders are so into biking that the city has incorporated dedicated bike lanes and off-road areas to bike as well. Well, that makes sense, nothing weird there. Right? But did you know that Portland holds an annual naked bike ride? Participants ride their bikes in their birthday suit, annually. So now you are probably searching for Portland's public nudity law. Portland and the entire state of Oregon has a relaxed approach to public nudity in its laws. It says that public nudity is broadly legal, and here's the but (no pun intended), you can be nude as long as it does not cause arousal in others. By now, I am laughing out loud while also saying, "WEIRD!".
These are only to name a few of the many unconventional things that make Portland the next city you should move to and live in. Since now you are convinced to make that move, you are probably searching for long-distance movers to get you and your things moved clear across America and into Portland. You're probably seeing a sea of search results, too. Well let me make it easy on you, services provided like those from, Suddath Portland long distance movers, offer you the ease in moving, especially if you've acquired tons of things throughout the years. They provide free in-home estimates and cater specifically to your needs and budget. They can also provide an estimate using your mobile device via a virtual walkthrough, putting you as part of Portland's tech community and into Silicon Forest.
The Top Wildlife Attractions In The Exumas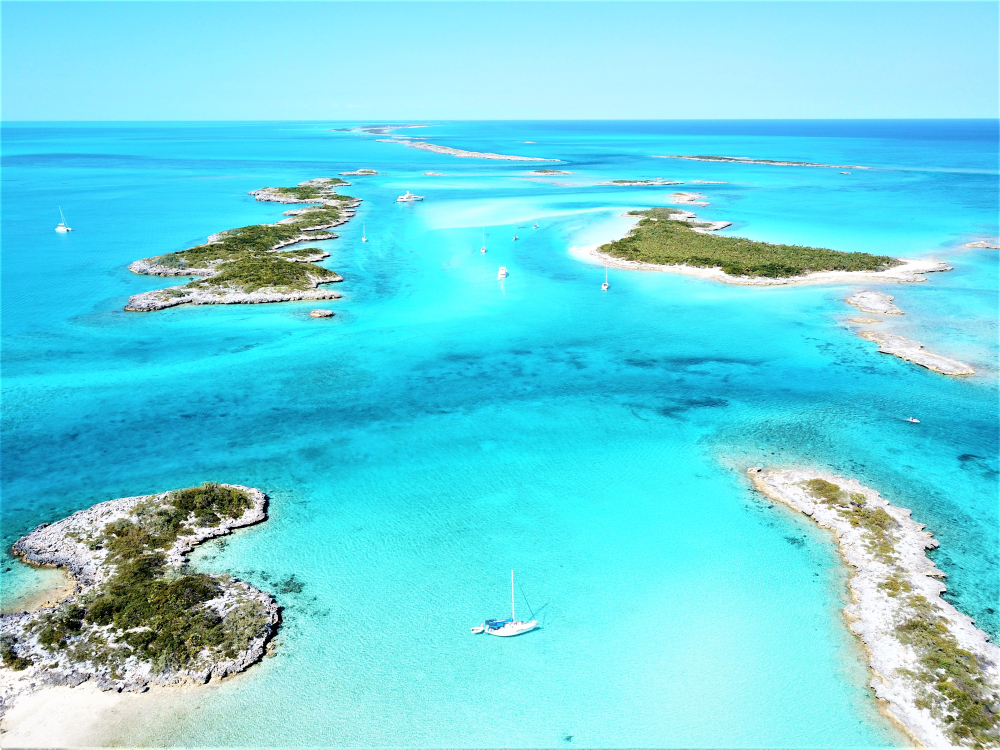 Best known for their idyllic turquoise waters and over 365 cays, the Exumas is also home to one of the world's largest marine parks. As one of the oldest national parks in The Bahamas, this island chain is home to a spectacular array of wildlife that can be seen all year round.
If you are seeking memorable wildlife experiences, consider a detour from the typical holiday stop-offs with one of these extraordinary up close and personal animal encounters.
Here are some of the top wildlife experiences the Exumas has to offer.
Feed the pigs on Big Major Cay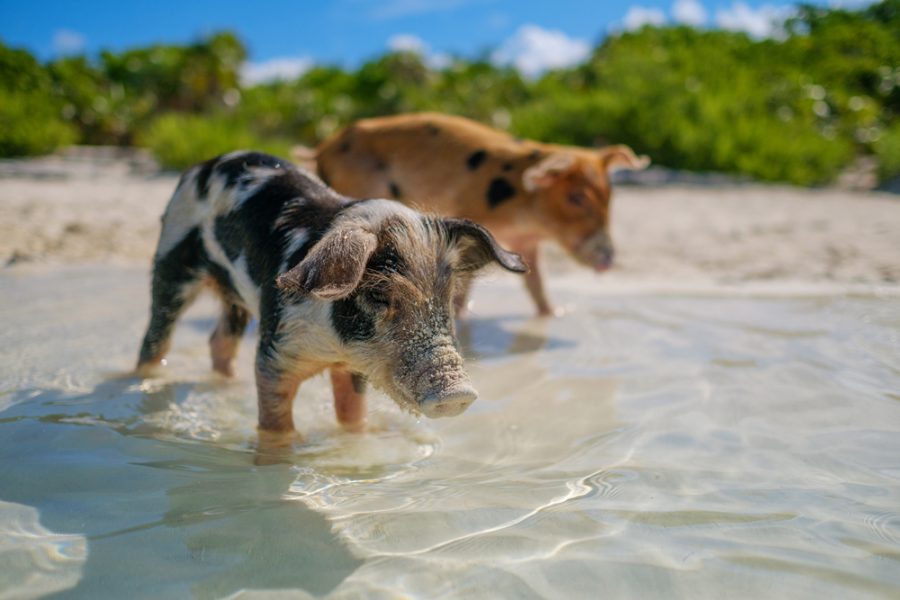 Easily accessible, Big Major Cay is an uninhabited island in Exuma, home to a large colony of friendly pigs. While it is rumoured that the pigs were left by passing sailors, Pig Beach is unique in its charm, delighting visitors with scenes of undeniable beauty. These happy pigs share the island's crystalline waters with discerning seafarers all year round and love getting to know their human counterparts. Graciously accepting snacks and attention, these remarkable animals make for fantastic company and even better photo opportunities.
The cay is perfectly sheltered from natural storms, offering attractive tranquillity throughout the year. That being said, the best time to see these lovable creatures are the winter months. Much drier and less humid, December through to April make for a much more comfortable visit.
Swim with the sharks on Compass Cay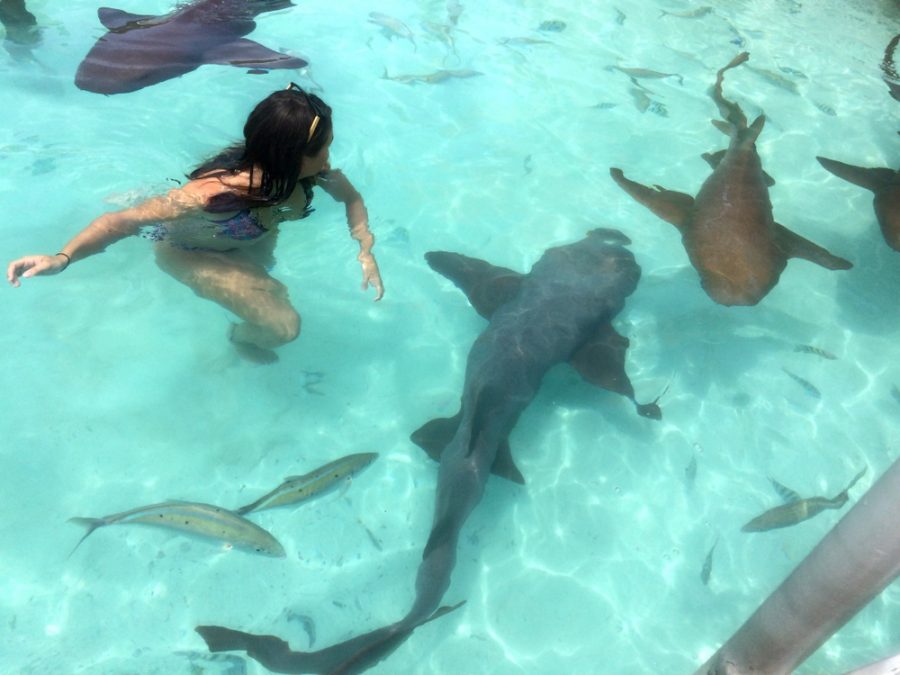 Take a dip in the shallow waters off Compass Cay, an exclusive island in the Outer Exumas, and enjoy a thrilling swim with the resident nurse sharks. Despite their daunting silhouette under the water's surface, these 2-metre long nurse sharks are quizzical and placid creatures that feed off small fish and crustaceans on the seafloor. Surrounded by a sandbank, the marina's waters are especially clear, making it a fantastic immersive experience for all. With snorkelling gear, you can join them underwater and listen to the high-pitched whistles they use to communicate. Alternatively, you can stand on the submerged viewing platform and pet them as they glide past. The viewing platform coupled with see-through waters makes for an incredible photo opportunity.
Get up close with the iguanas on Allen Cay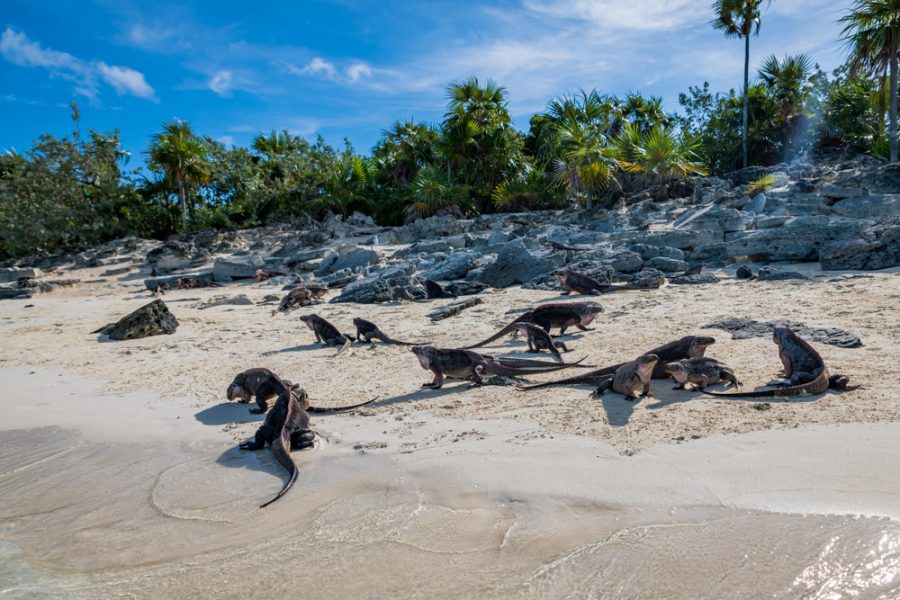 Located just 30 minutes by boat from Nassau, horseshoe-shaped Allen Cay is the gateway to the Exumas. Allen Cay is home to beautiful anchorages and picturesque beaches. However, the real appeal is the Allen Cay rock iguanas. At nearly three feet in length, often basking on the sun-lapped beaches or cooling-off in the surf, the rock iguanas are hard to miss. As Allen Cay is uninhabited, you can only reach the island by boat. With great anchorages off the southern shore, Allen Cay is easily accessible via a tender or dinghy ride. If you choose to pay the iguanas a visit on your holiday don't forget to take a handful of fruit for these spectacular reptiles.
Snorkel Thunderball Grotto alongside exotic fish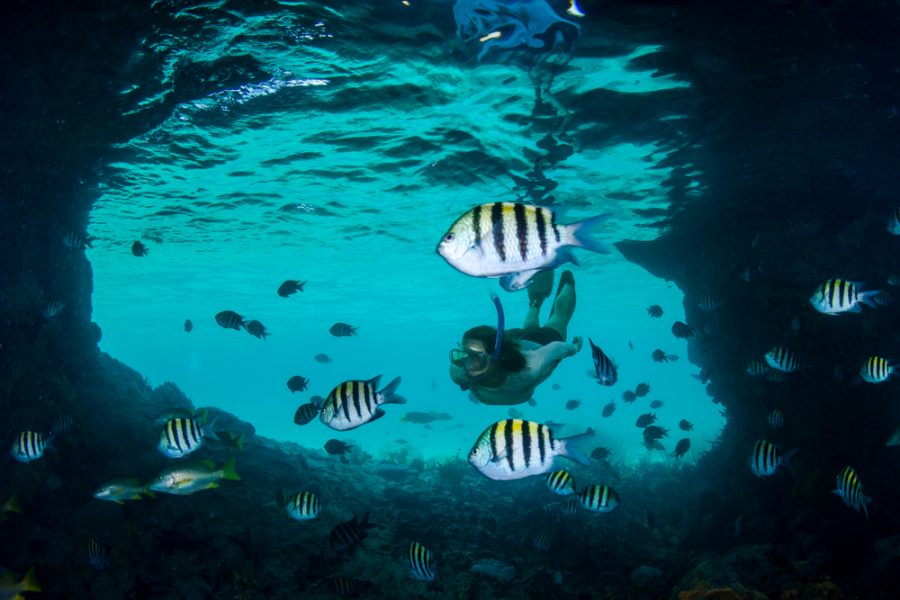 Named after the iconic 1965 James Bond film, Thunderball Grotto has gained a world-renowned reputation. Accessed via a hidden entrance coming off from the beach, the underwater cave system surrounds a hollow centre, making the destination a striking haven for avid divers and snorkellers. Populated by hundreds of exotic fish, the wide tunnels are illuminated by beaming spotlights reflected around the hollow centre, making a snorkel excursion a colourful and mesmerising experience. To enjoy the Thunderball Grotto in true Bond style, it is recommended to visit the caves at high tide. During these times, divers can make their way through various tunnels and for the most relaxed snorkel, there is always the option to take things easy in the open water centre.
Of course the best way to get up close and experience these magnificent creatures is with a luxury Exumas yacht charter. So, if the idea of feeding the pigs, swimming with sharks or diving down to otherworldly waters with an array of tropical marine life excites you, make sure you request that your charter broker adds these incredible animal attractions to your charter itinerary.
Amazing Places to Travel In Pakistan and From Pakistan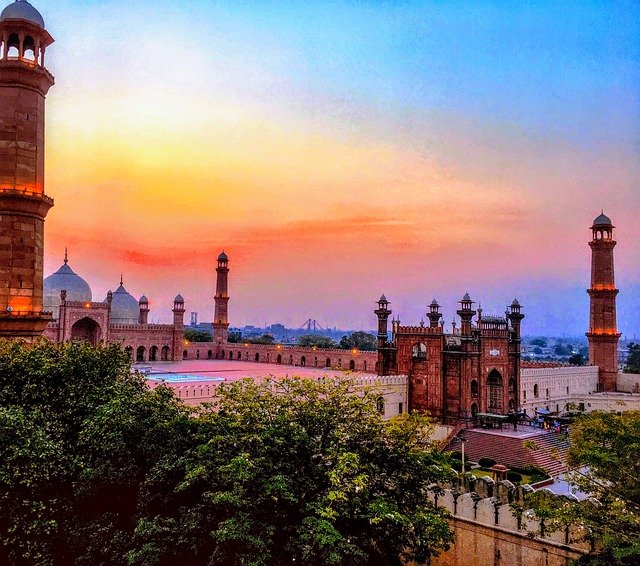 Even though Pakistan is known as a developing country, it holds natural beauty, lush landscapes, and archaeological sites for the truly curious.
Indeed, Pakistan holds potential for tourism. Did you know, According to the International Travel Magazine, Pakistan has been ranked as one of the top tourist attractions in the world in 2020? Yes, over the years, Pakistan has been a famous tourism spot. With that said, there are some places in Pakistan that you must visit.
Pakistan also has quite a bit of economic activity that ranges from fashion to finance and more. The country has quite a bit to offer for tourists that choose to visit it. At the same time, individuals from Pakistan may choose to go to other countries to seek economic opportunity or to merely travel.
If you are looking to travel to Pakistan or travel in and around the country, remember to have knowledge of your airblue flight schedule and other matters. With that being said, here are a few of the places to be aware of when you are looking to travel in and around the growing nation of Pakistan.
Places to Travel In Pakistan
Here are a few places to travel within this South Asian region.
Peshawar
One of the most tremendous cities of Pakistan, Peshawar comes under the Khyber Pakhtunkhwa province. The city is known for its historic places and cultural values. The residents of Peshawar are called Pathans and speak the language Pashto. As the largest city in the province, Peshawar has the Mughal mosque.
It is decorated with calligraphy and floral work. Additionally, the Peshawar museum has items from the Mughal era. The museum holds great significance in the eyes of visitors.
Karachi
The next city you must visit in Pakistan is Karachi. The cosmopolitan city is the largest city of Pakistan and ranks 5th globally. Karachi is well-known for being the city of light, its food, and its beaches. The beautiful diversity in architecture speaks volumes about the city itself. From high-rise buildings in Clifton to the fire hall in Saddar, Karachi is a mix of old and modern architecture. It has endless options for entertainment including theaters, shopping malls, restaurants, and museums.
Lahore
The last city we have to think about is Lahore. The second-largest city in Pakistan holds a historical value of more than 1000 years. As one of the most traditional cities in South Asia, Lahore has a population of over 20 million. You shouldn't miss the shahi qila also referred to as the Lahore Fort. A treat for art lovers, it has palaces, halls, and mosques, and most importantly, the palace of mirrors (Sheesh Mahall).
Fantastic Places to Travel From Pakistan
There are several places you can travel to from Pakistan, but there are some places in the middle east that you shouldn't miss out on. Let's take a look at some of the places you can travel to from Pakistan right away! Whether you are going for tourism purposes or for economic purposes, these are some of the best places that you should certainly visit.
Dubai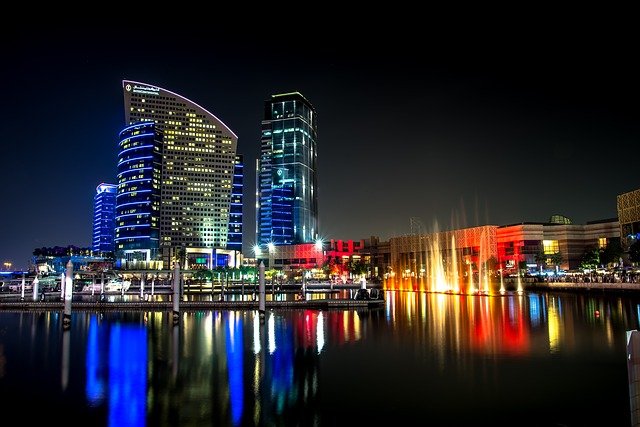 The first city we have is Dubai. As the capital of the United Arab Emirates, Dubai is a traveler's dream. It has futuristic architecture, nightlife, attractive destinations, and historic sights. Whether it is a family vacation or a honeymoon, Dubai is a perfect spot to relish the days of your life. Places like the Mall of Emirates, Jumeirah Beach, Burj Khalifa, and Ain Dubai are a delight to visit.
Riyadh
Over the years, Riyadh has become one of the most prosperous cities in the Middle east. From shopping malls, restaurants, and museums, Riyadh has been the number 1 tourist destination. You can go biking in the red dunes, or make your way to the world-class Riyadh zoo. Riyadh is recognized for its outdoor festivals and events.
Jeddah
Jeddah is known for its contemporary skyscrapers and incident villages. As one of the largest cities of Saudi Arabia, Jeddah is an economic hub and a tourist destination. The famous Jeddah sculpture museum is a must-visit. It has the essence of Arabic traditions and monumental art. It has a beautiful floating mosque that you can visit any time of the day or offer prayers. You can visit the souks in Jeddah and learn more about their culture.
It can be stressful to plan out your vacation or travel plans, ensure to make your flight schedule on time and get to where you need to be. But remember that the whole point of your trip is to relax, meet a certain objective, and be present. Experts would suggest to be mindful and ensure to have a great time as you move around!
7 Best Ways to Explore Greece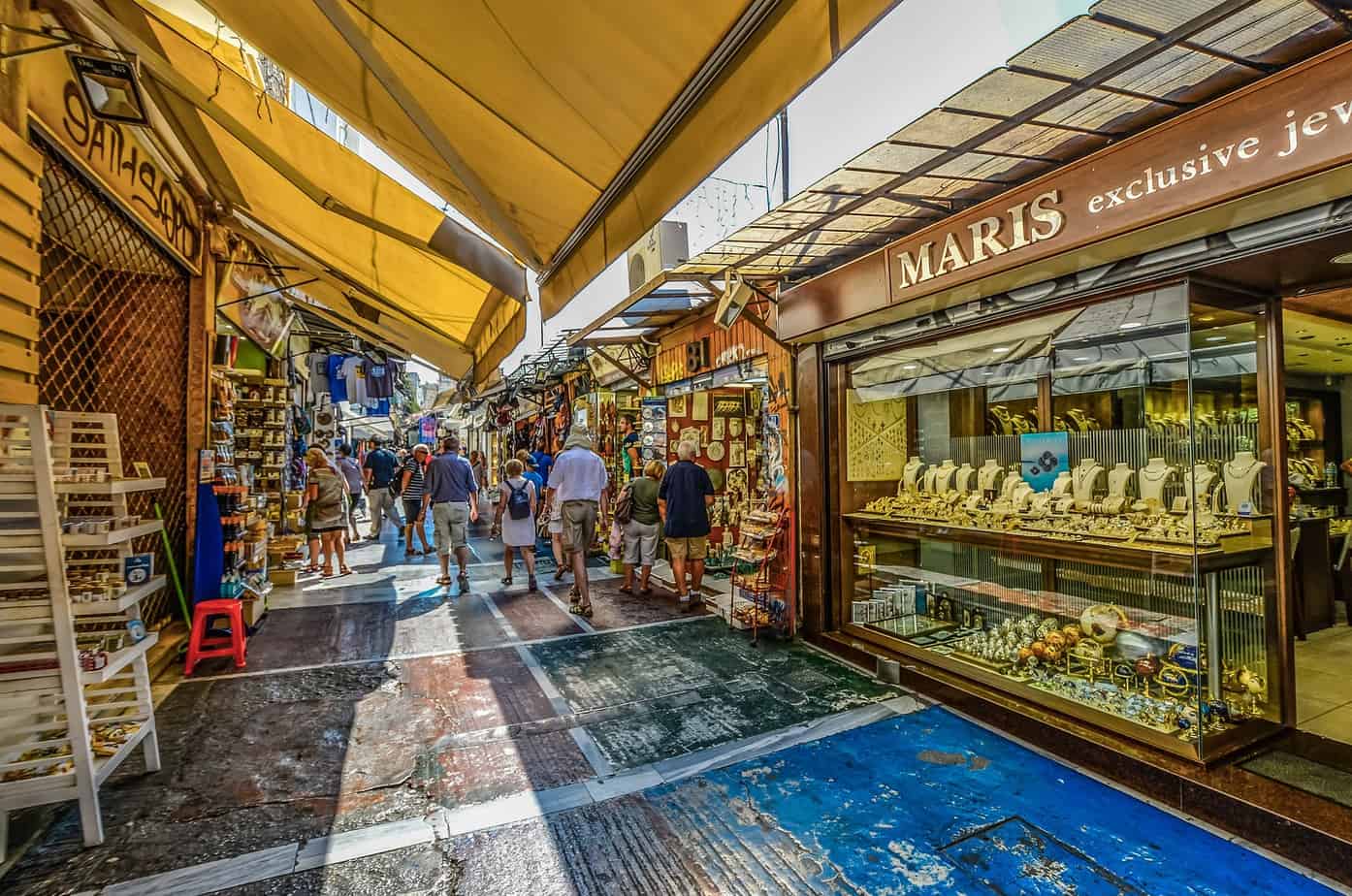 Greece has everything to offer travellers–whether you want to explore bustling cities, relax on pristine islands, learn about fascinating culture, or just soak up the sunshine. Whatever you decide, we hope this list helps inspire your next trip to the country.
Visit Athens
Athens is one of Europe's most beautiful cities and should be at the top of every traveller's itinerary when visiting Greece. This thriving metropolis boasts of over 1 million inhabitants and a rich history dating back to 3000 BC. Overlooking the Saronic Gulf, the Acropolis dominates the skyline with its distinctive minaret-like structure built upon layers of rock.
Its construction started under Pericles and continued right up till 1828. For centuries now, Athenians have lived side by side with their past glory. Athens offers plenty of reasons to visit its many museums and monuments, including the Acropolis, Keramikos museum, Ancient Agora Museum, National Archaeological Museum and more.
Sightsee the Peloponnese Peninsula
The Peloponnese peninsula stretches southwards from Sparta and includes the largest cities of southern Greece: Corinth, Argolis, Patras and Larissa. Its mountainous terrain provides excellent conditions for walking, biking, para-gliding, rock climbing and mountaineering. The area is dotted with small settlements, monasteries, castles, and churches dating back centuries.
Take a boat tour along the Greek Islands
The best way to see the beauty of the Greek Islands when you visit Greece is by taking a cruise ship vacation. You'll experience breathtaking views as well as enjoy an authentic island lifestyle that's unlike anywhere else in the world. There are dozens of different cruises available throughout the Mediterranean Sea; however, there are only two main types: coastal tours and offshore trips.
Coastal tours take passengers near shore while offshore excursions allow them to travel farther out into the open sea. If you're looking for something between these two options, consider a mix of both. For example, a combination of a coastal tour followed by an overnight sail will give you time to spend ashore before returning home. For the best experience, consider renting a private boat or yacht.
Get into the water activities at Mykonos
Mykonos is known for being one of the world's top destinations for windsurfing, kite surfing, parasailing, scuba diving, jet skiing and yachting. Whether you prefer land-based sports or sea adventures, you won't get bored on Mykonos. Several companies run organised trips to different locations around the island. However, if you'd like to venture off the beaten track, there are several opportunities to rent equipment locally.
Watch sunset drinks while sitting by the beach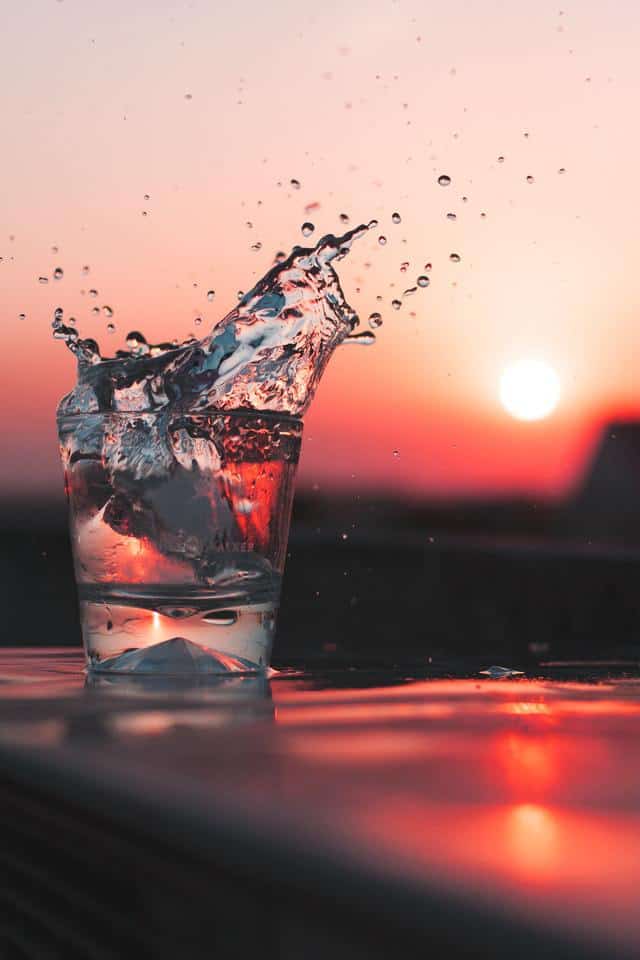 Kos offers several great locations for watching sunsets. One particular area worth checking out is at Kasteloura Beach where you'll find a bar serving cocktails with fantastic views across the water. Alternatively, head to Platis Gialos harbour, where you will spot dolphins playing around the boats moored nearby.
Have breakfast overlooking the sea in Corfu Town
Corfu town sits right next to the beautiful bay of Laganas, where it enjoys views over the Gulf of Mirabello. This picturesque location means that this part of Corfu will always be busy, especially during summer months. However, even though there are plenty of bars and clubs, most people still choose to enjoy their breakfasts here.
Wander through old town Patras
Patras used to be one of the largest cities in southern Europe until the 19th century. It keeps much of its original charm despite being modernised. The old quarter contains ancient churches, narrow streets lined with restaurants, cafés and boutiques. There's also lots to do beyond wandering around the old town; take boat trips or visit the Aquarium of Southern Italy.
Enjoy seafood fresh off the grill in Halkidiki
Halkidiki is a popular choice among tourists looking for cheap holidays in Greece. With so many activities available, no matter what your interests may be, you're bound to have fun!
Do a wine tasting in Rethymno
The Greek island of Crete is most commonly associated with luxury resorts, high end cuisine and glitzy nightclubs. However, those seeking something more down to earth will enjoy visiting the small towns scattered throughout the region. Among them is Rethymnon located along the southern coast. Here, visitors can sample some delicious wines before heading home.
Greece has been attracting travellers since antiquity. Today, thousands flock here every summer hoping to experience this beautiful country first hand. From exploring bustling markets to relaxing on pristine islands, there's plenty to see and do in Greece. Whether you choose to stay in cosmopolitan Athens or explore remote villages dotted all over the Aegean Sea, there's always an adventure waiting just round the corner.

We have been wearing out our jandals (Kiwi for flip-flops) on our travel adventures around the world since 2009. We think our blog is thought provoking and a little witty. But we have been proven wrong before. Find out more about us here...
What Are You Looking For?