Travelling slowly and living like locals is our favourite way to explore a city. But when we are short on time, which often happens when exploring the world, then the only way to fit in is by visiting the local markets. The Great Market Hall in Budapest is definitely a local market you want to visit.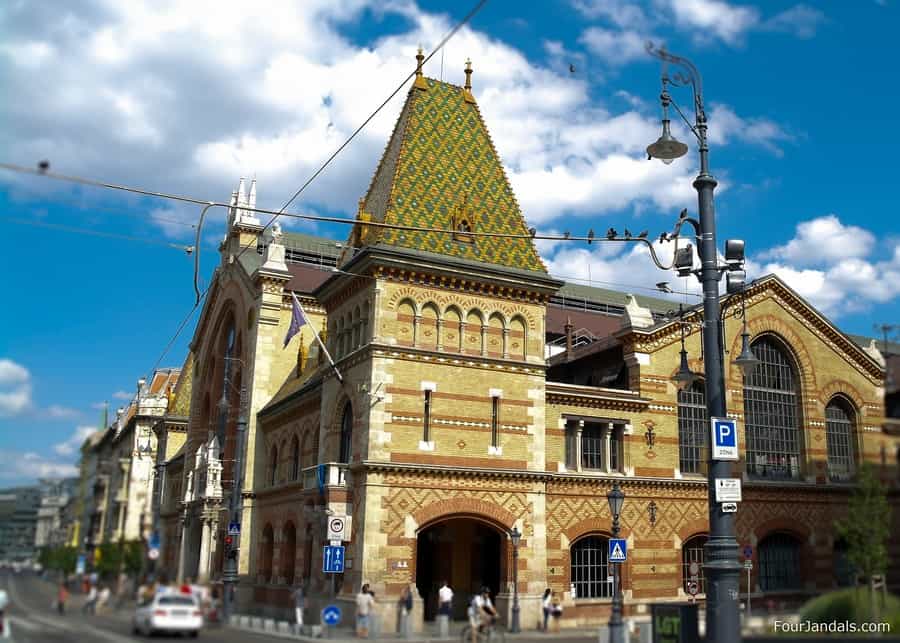 I love the feeling of walking up to the entrance, excitedly pushing through the ancient doors and waiting for the tantalizing smells to hit me.
The smell of freshly baked strudels and cakes waft through the air teasing my stomach with every breath I take. Overlaid by the slight pungent odour of the fish stocks tucked away somewhere near the back.
Locals bustle around the fruit and vegetable sections, shouting at each other trying to find the best deals. While shop owners voice their various wares out to the dawdling browsers, hoping to make a sale.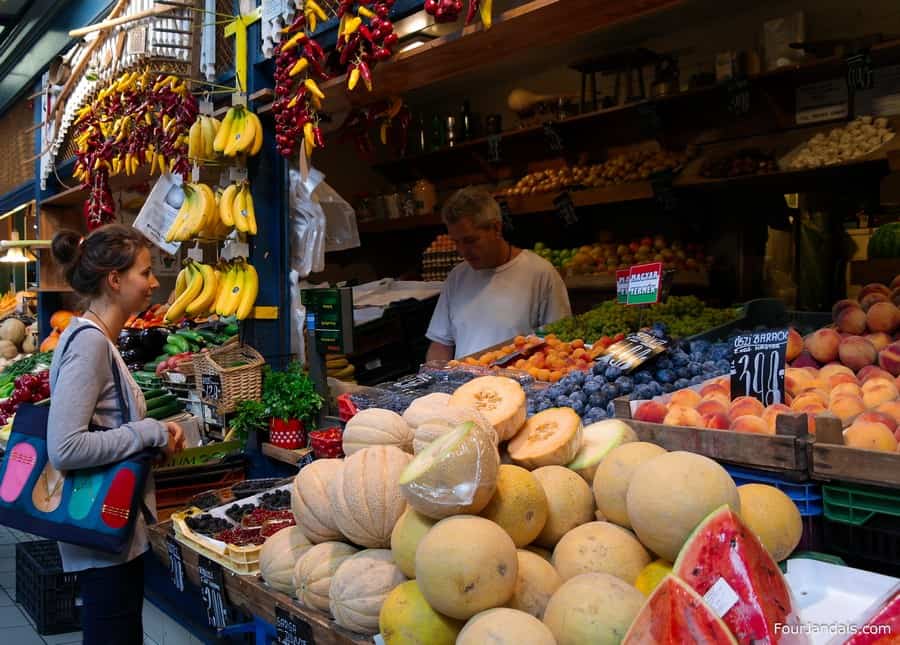 To make your way to the Great Market hall in Budapest then make sure you head out early from your accommodation in Budapest. You don't want to miss out on all the bargains.
Great Market Hall in Budapest
The Great Market Hall in Budapest is only one of many markets the city boasts. However, it is easily the most impressive.
The building itself is absolutely stunning. At over 100 years old it looks as if it jumped right out of a storybook. Ancient yellow and red bricks on the outer walls have faded over the years. But the decorative yellow and green tiles on the roof still manage to capture the sunlight in summer.
Inside the three-story building, the roof is crisscrossed by interlacing support beams above the huge open selling ground. Balconies and stairs wind their way around the outer walls. And crowds of people drift about on every level.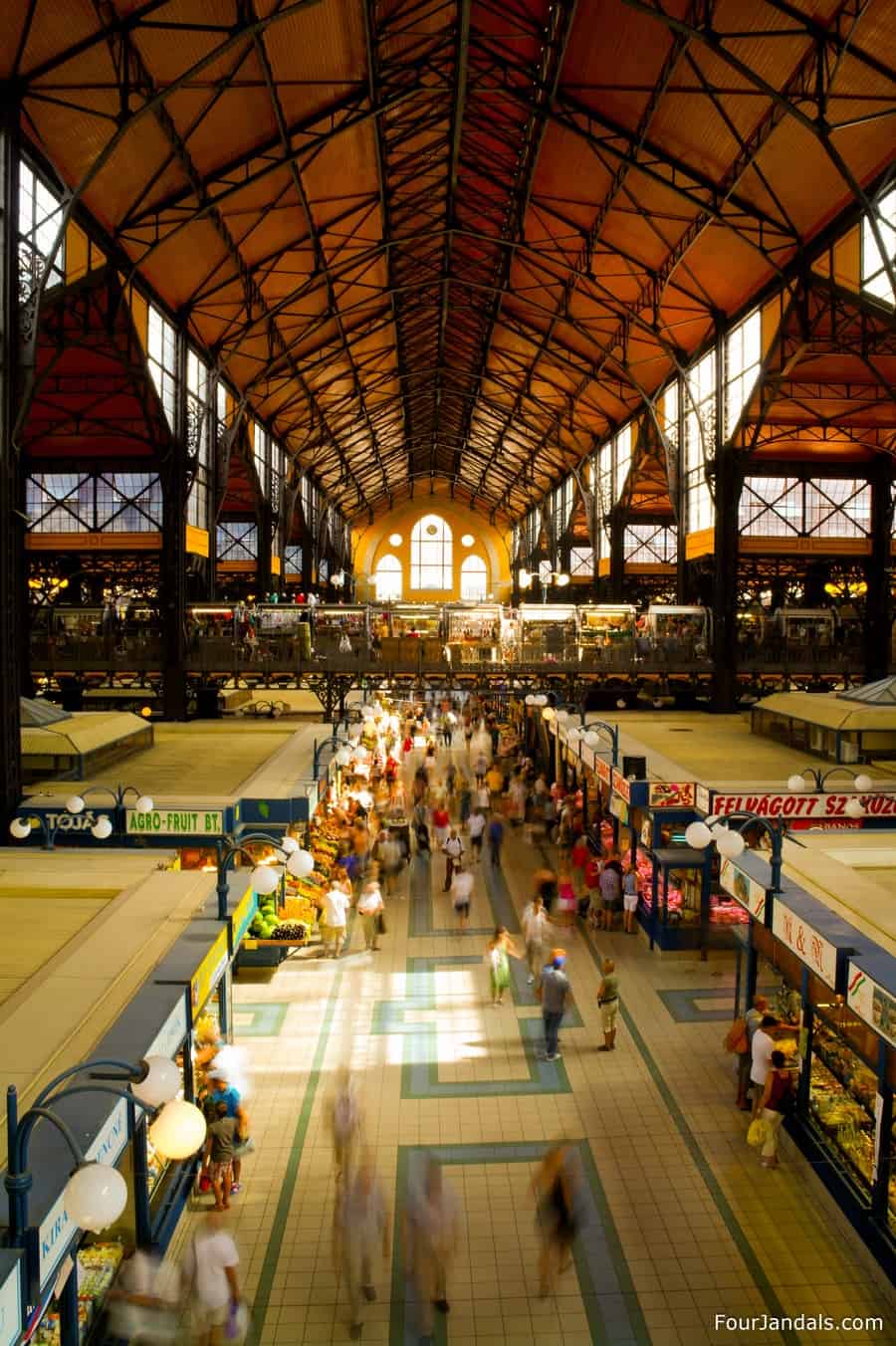 Walking into the gigantic market my nose immediately led us directly to the first bakery stall. I began drooling as I anticipated my first taste of a traditional Hungarian cake.
With my hands and nose pressed up against the window, my eyes ping-ponged between the different cakes. I felt like a kid in a candy shop.
This candle inspired chocolate cake was so rich that we had to throw a quarter of it out!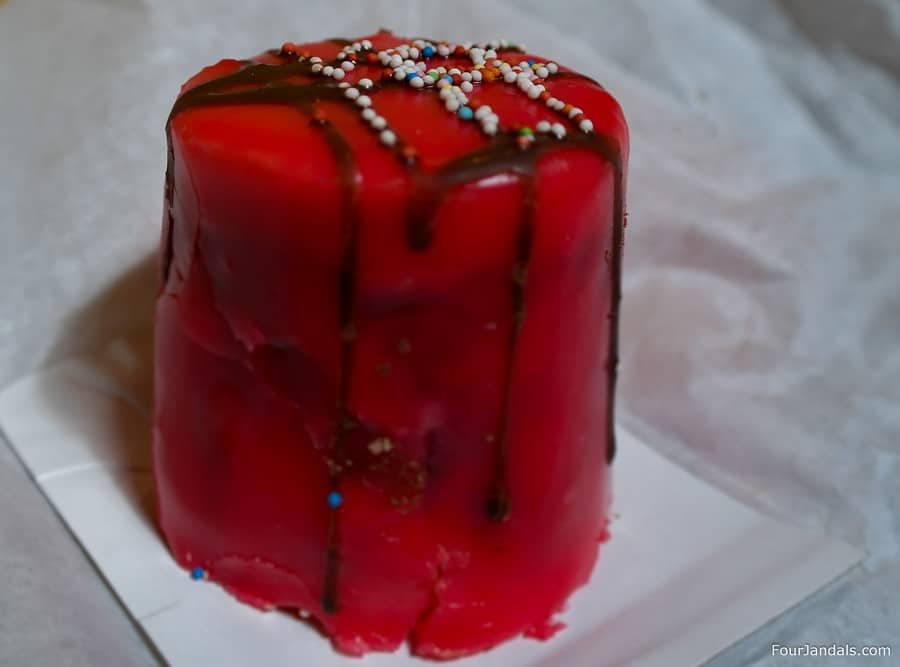 As we wound our way up the stairs we found where the real food magic begins. On the narrow walkway the locals crowded together shoulder to shoulder vying for a position to order. Squeezed around the tables they were eating and drinking with their friends.
Hungarians love their comfort food and the Great Market Hall in Budapest seemed to attract everyone on their lunchtime breaks. Steaming ladles of hot soup and meaty dishes galore lined the stalls.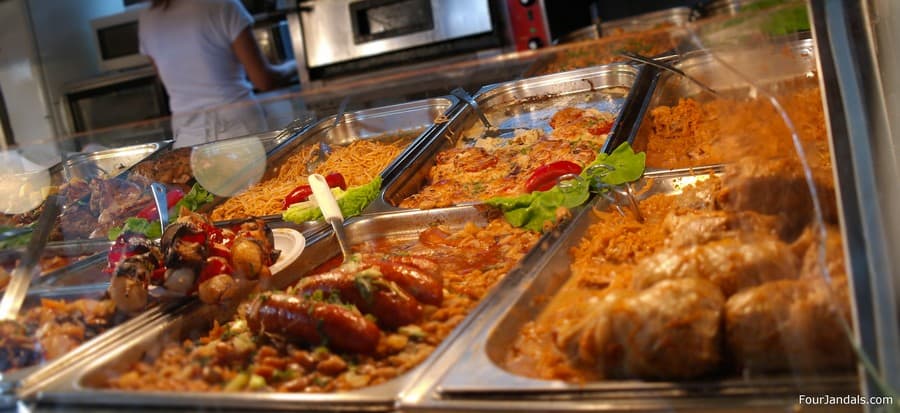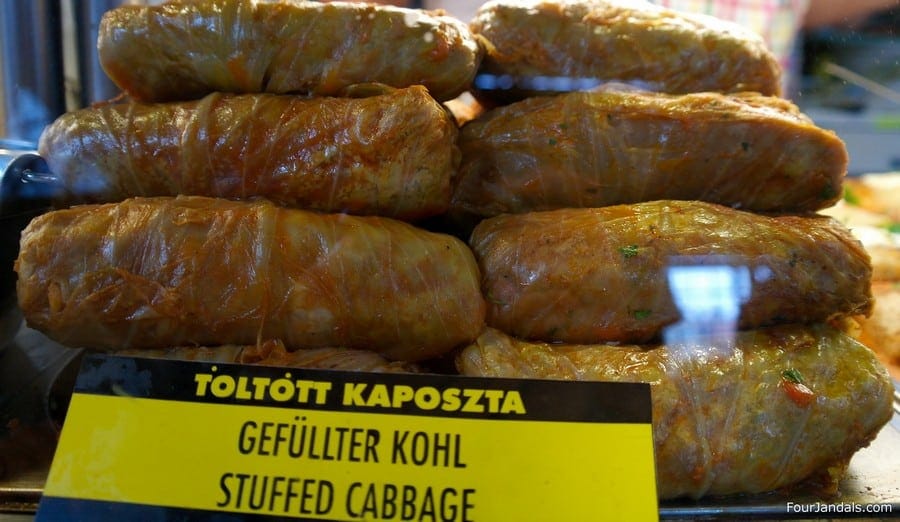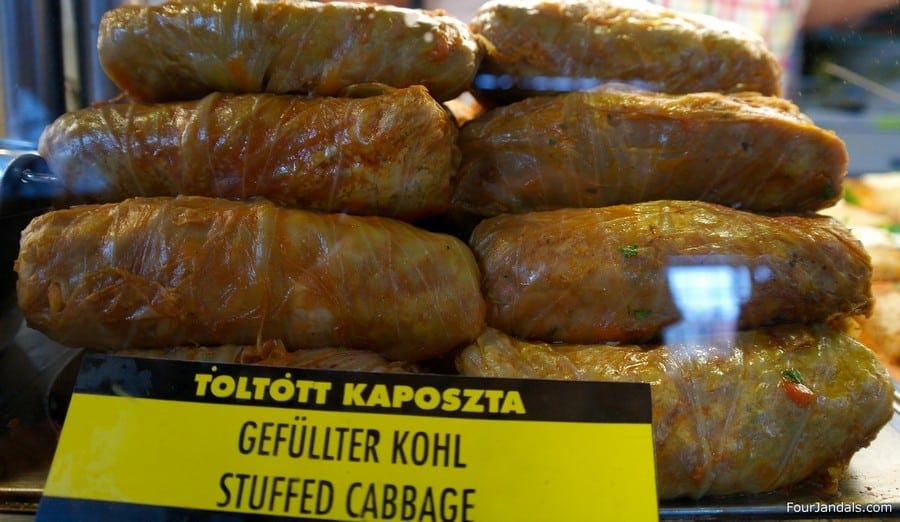 The tourists love it up here as well because of all the best Hungarian dishes including fried sausages, black pudding and traditional lángos. A delicious deep-fried round pastry rubbed in garlic and smothered in sour cream and grated cheese.
We had already tried lángos so decided on the stuffed cabbage, traditionally known as Töltött káposzta.
As we skewered our lunchtime snack, great globules of grease ran across the plate. But that didn't stop us digging in. I was sold after the first bite, and wolfed down the rest of the meal in minutes.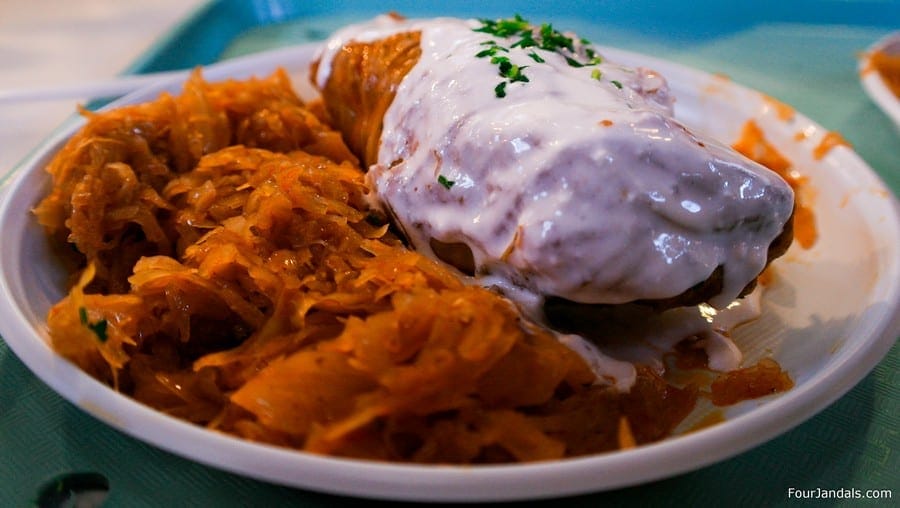 With bellies bulging and and our bags stuffed full of Hungarian delights we attempted to work off our feast by wandering some more.
On the ground level you will find the most people and all the exotic fruits, vegetables and goods from around the world. Spices such as saffron can even be brought here much cheaper than back home.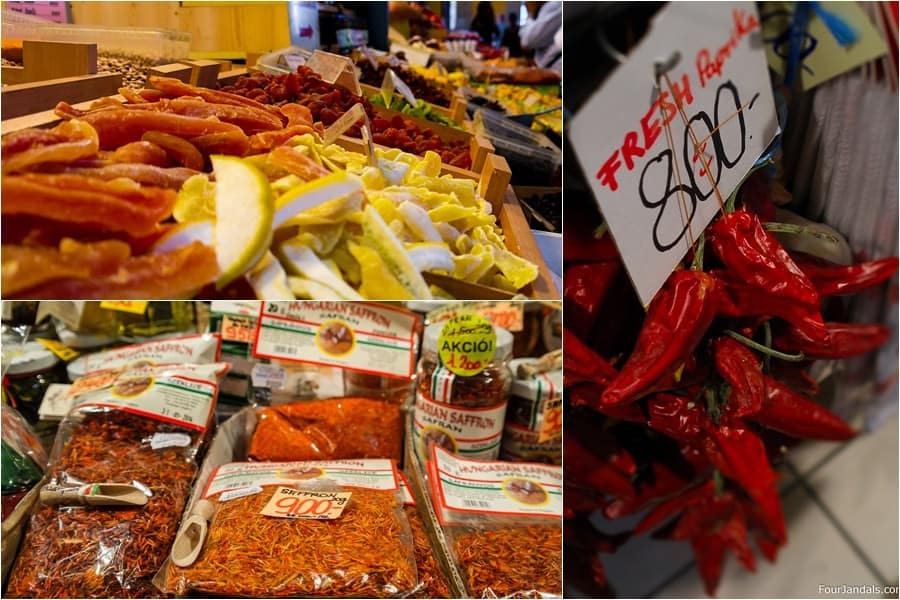 It didn't seem that many people ventured into the basement. But if you do then this is where you will find all the oriental spices, teas, and pickles. And to be honest, I am not sure it is worth making your way down there.
Extra Travel Information:

Great Market Hall location: Fővám tér, Pest end of Liberty Bridge. Get to it via Trams 2, 47 and 49. Or the nearest metro station is at Kálvin Tér (M3 blue line).

Great Market Hall in Budapest Opening Hours: Monday: 06.00-17.00, Tuesday-Friday: 06.00-18.00, Saturday: 06.00-14.00, Sunday & Public Holidays: closed.

If you want to avoid the crowds then go on Monday morning. But if you want to experience it like a local like us, then go on Saturday mornings when everyone descends for their weekend shopping.

Check out fly.co.uk for cheap flights to Europe and explore Budapest and the rest of Hungary.
Disclaimer: We were invited to step out of our comfort zone by the Visit Hungary Tourism Board for our trip to Budapest. As always our thoughts, recommendations and taste buds are always our own.