Hiking up and around the Caldera of Santorini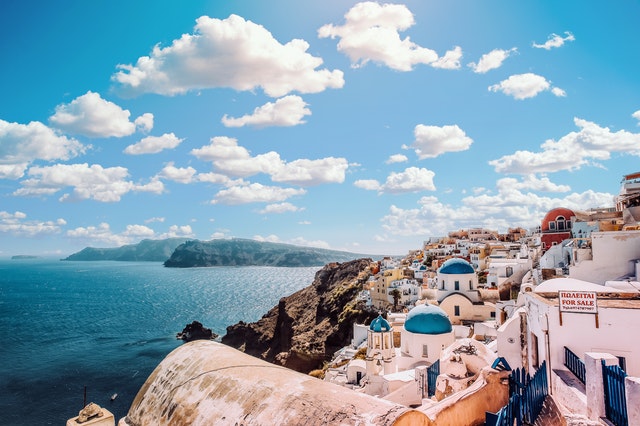 Can we think to typical summer destination where sunbathers go to revel in the sandy beaches. In fact, what draws visitors to this volcanic island is its unique architecture of white-washed houses sitting atop of the caldera, accompanied by the most amazing sunsets Instagram is so full of. 
The only way to really appreciate the beauty of this island is to explore it on foot. There are several hiking trails on Santorini that will take you up and down the winding paths connecting the points of interest you shouldn't miss. Grab some comfortable footwear and prepare to be stunned by the scenery along the way.
Hiking Trail of Ancient Thira
This trail can be done in two ways – either from Kamari Beach to Thira or from Perissa Beach to Thira and vice versa. Seeing as Santorini is one of Greece's most spectacular islands, it goes without saying that it is abundant in historical monuments and the ancient Thira is one of the greatest representatives. For this reason, hiking to Thira is ideal for those with a knack for history and the love of nature.
This is an easy trail lasting around an hour and a half (around 3 kilometers). You can start at Kamari known for its unique black-sand beach. You should head uphill toward Zoodohoos Pigi chapel and Ancient Thira where you can spend some time exploring the archeological sites. After that, the descent toward Perissa starts and the beach will come into view shortly. Parissa beach is 4 kilometers long, well-organized with lots of beach bars and restaurants you can enjoy after a lovely hike.
Hiking Trail from Pyrgos to Kamari or Perissa
Pyrgos is a small inland village that often gets overlooked in the face of Fira, Oia, or Imerovigli but it's actually rather charming and picturesque. This is why you can choose to hike through it and avoid the crowd usually encountered on the other more popular trails. 
Once you are in Pyrgos, it will take you around 6 kilometers to get to Kamari or Perissa. First, the path will lead you to Profitis Ilias Monastery which is also the highest point of the island so you can expect to catch some stunning views of the surroundings. Continue south and after 1 kilometer, you will come across yet another picturesque church – the Church of Christ. Similar to the previous trail, you will walk through the Ancient Thira where a signpost will await, telling you there is about an hour and a half until you reach Kamari or Perissa. From there on, you can choose your path depending on the beach you want to visit.
Hiking Trail from Fira to Oia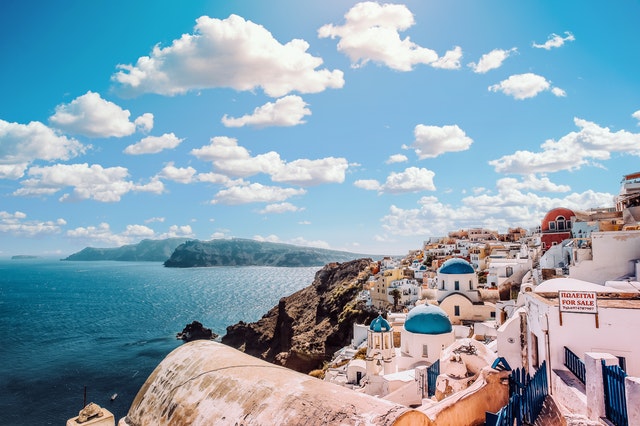 This is one of the most scenic and extensive walks along the Santorini's caldera that will take you from Fira (the island's capital) all the way to the northwestern tip of the island where Oia is located. The route is approximately 6.5 miles long which translates to 2 to 5 hours of walking, depending on your fitness level and the duration of breaks you make. 
Your route should start in Fira where you will head toward the north in the direction of Firostefani. The sea should be on your left the whole time and don't rely on the signposts too much as they are scarce. After reaching Firostefani, your next stop should be Imerovigli, a village just 8 minutes from Fira perched on a cliff of the caldera. Once in Imerovigli, you can choose between several mazy paths if you want to take a detour around the village. If not, just follow the path you came across which will push you forward toward Oia. This uphill walk will take you across one short section of the road where cars pass but that's just a 200-meter section after which you continue via a dirt path until you finally start descending toward Oia.
Hiking Trail in Thirassia
This hiking trail is not actually located on Santorini but on its neighboring Thirassia. Not only does it represent a stunning hiking experience but it also provides hikers with a unique opportunity to gaze at the caldera from an entirely different perspective. 
Ferries run regularly from Oia to Thirassia several times a day and the tickets are rather cheap so you can easily hop to Santorini's sister island. You can start at the village of Manolas and continue uphill until you reach the chapel of Prophet Elias. From then on, you will push ahead toward the southernmost part of the island where the monastery of Panagia is located. All the while, the majestic caldera will be visible just like the Aegean sea stretching in all directions. This track is almost 3 kilometers long and moderately difficult, easily crossed in less than an hour and 15 minutes. 
Additional Tips for Santorini Hiking
Stack up on water and snacks as there will be few shops along the way, some of which may not even be open at the time of your hike.

Embark on the journey as early as possible in order not to get scorched by the summer sun which reaches zenith as early as 11 am.

Prepare your route thoroughly and talk to the passers-by you meet along the trail in case you are not sure about the directions.

There is little to no shade along any of the trails so make sure you wear a hat and sunscreen.
Tips for Celebrating Christmas While Travelling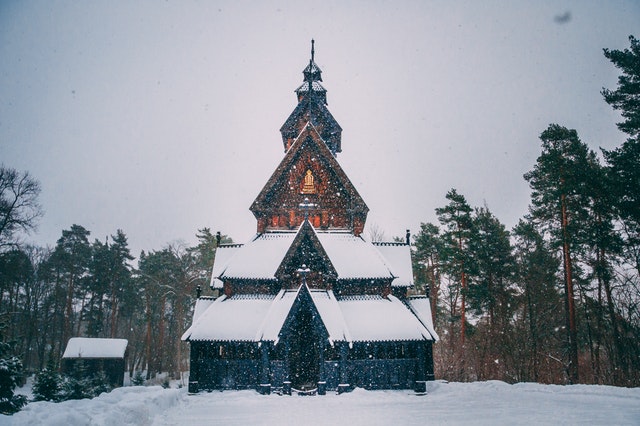 Christmas is a wonderful time of year to spend with those closest to you and showing them how much you care. However, it can be really tough if you're travelling away from home. Whether you're backpacking and hostel hopping or living away in another country -Christmas doesn't quite feel the same if you're not at home. However, there's plenty of things you can do to get into the spirit of things and enjoy your own celebrations.  
Video Call 
One of the most valuable things you can do if you're away from your loved ones is to call them on Christmas Day. Make sure you establish a time which will work for the both of you as you will have to factor in the time differences. Even though you won't be in the same country a video call means you can still spend part of the day celebrating together. You can use whichever app works for you. 
Posting Gifts
Just because you're not in the same country over the holidays doesn't mean you can't send one another gifts. You could send your family and friends festive parcels. They could send you things you miss from home, and you could send them trinkets from the country you're in. Photos and personalised cards are also a great addition to make the gift even more thoughtful. It's important you use a reliable courier system – like Parcel2Go so your packages get there safely and in time for Christmas.  
Embrace the Experience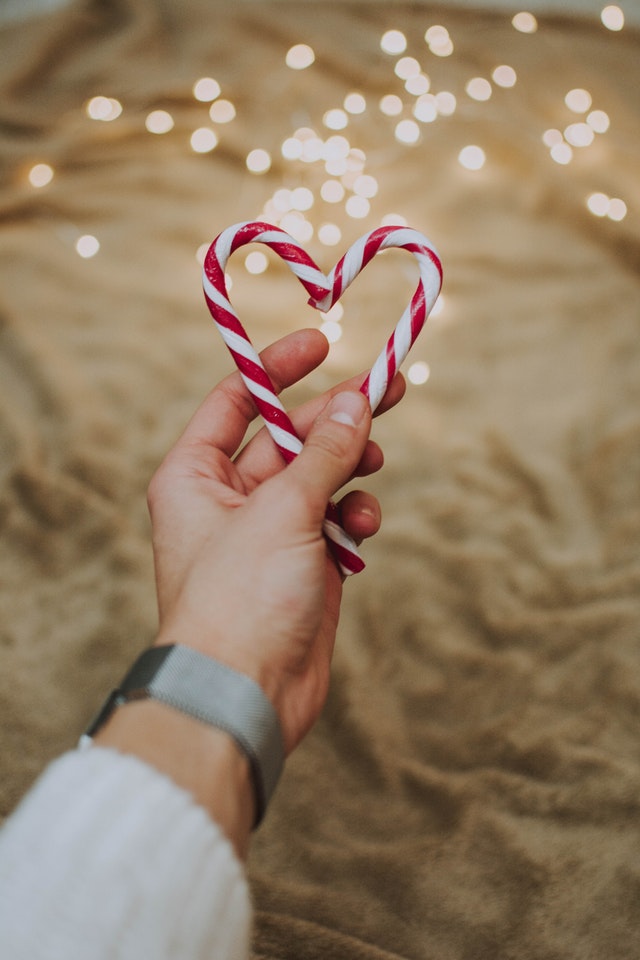 If you're travelling to new places over Christmas, it gives you a great opportunity to do something different. You won't get to do the normal family traditions so why try something completely new? This could be particularly special if you're somewhere warm. You could spend Christmas Day on the beach, having a barbecue or swim in the ocean. There'll be plenty more times with your family and loved ones. Embrace the adventure and see where the day takes you. 
Meet People 
No-one wants to be alone on Christmas. If you're solo travelling, the thought of spending the whole day alone can be daunting. However, the wonderful thing about solo travel is you're rarely by yourself. Get talking with people in the hostel, or whatever place you're staying. You could arrange to do something together.  Or, why not research the place you'll be in beforehand and see what events are being hosted? You could see what the locals are up to. There are so many possibilities and people waiting for you. 
Just because you're away from home for Christmas, doesn't mean you can't still have fun celebrating it. Whatever you end up doing, you're bound to create some unique memories for yourself. Do you have plans for Christmas celebrations while travelling? 
Finding Culture in the Tourist Hotspot of Benidorm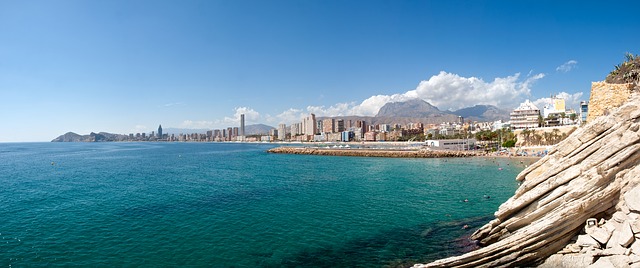 Benidorm is a popular holiday destination with UK families and it is easy to see why because it is an easy and affordable way to have a sun, sea and sand holiday. This does mean that Benidorm doesn't have the best reputation if you are looking for culture, but there is another side to this sunny Spanish seaside resort which will give you an authentic Spanish experience.
Here are a few of the best things to do in Benidorm that will allow you to escape the crowd and find the hidden gems. 
Placa del Castell
The beautiful Placa del Castell is situated at the point of the promontory between the two beaches and it is perhaps the prettiest area in the resort. Featuring checkerboard tales and white balustrades, this is where Benidorm Castle previously sat but is now an idyllic spot with beautiful views and plenty of surroundings bars.
Old Town
Benidorm's quaint Old Town feels almost like stepping back in time and can be a refreshing change of pace from the chaotic beaches. With twisting backstreets, whitewashed buildings and impressive architecture, Old Town is a charming place to explore on foot with plenty of shops, cafes, restaurants and bars to visit along the way for an authentic Spanish experience.
Tapas Alley
Leading on from this, in the heart of Old Town is a small, covered alley called Calle Santo Domingo which is lined with inviting tapas bars. This is the best place to sample authentic Spanish cuisine in Benidorm and a chance to see how the locals live – try sampling some wine and tapas and sitting on the tables out in the alley where you can mingle and people watch.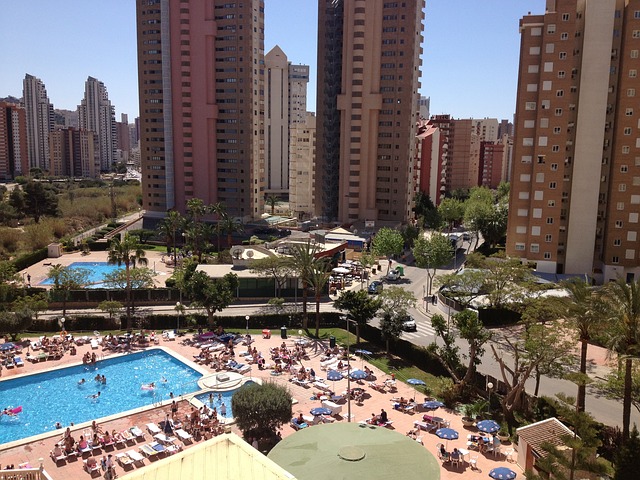 L'Aiguera Park
This long Parkin neoclassical style separates the newer parts of Benidorm from the old and can be a nice place to visit if you are looking to relax and recharge. In addition to the lovely green areas, the park also features two amphitheaters which host a range of cultural shows to check out.
Getting Around
These are a few of the best cultural activities in Benidorm which will allow you to escape the hordes of families. Keep in mind that as such a busy place with tourists, it can be hard to get around which is why it is a good idea to book your transport in advance, including Benidorm transfers from the airport. 
Benidorm has a reputation as being somewhere cheap and cheerful for Brits to enjoy a sun, sea and sand holiday. While there certainly is this side of the Spanish seaside resort, there is also a more cultural, authentic and enjoyable side beneath the surface which is not to be missed and somewhere that allows you to see the real heart and soul of Benidorm. 
Essential Things to Equip Yourself for the Perfect Camping Trip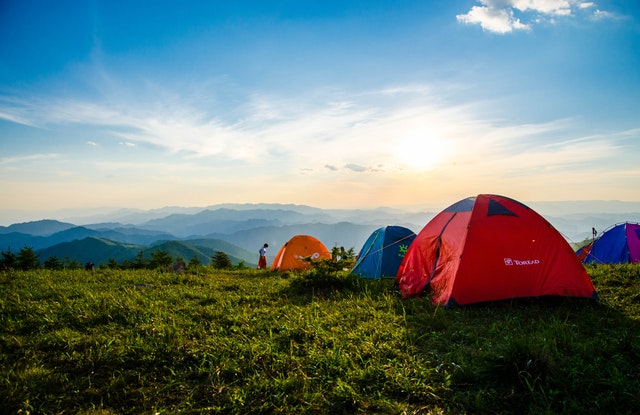 Camping has always been a popular way to take a trip. It can be done in so many ways from a family excursion with all the associated things you need to keep everyone, including children, happy to a solo trek going hiking and climbing in rough and remote terrain. But no matter what form of camping you are getting involved in you need some essential kit that's important for everyone. 
Tent
Well, you need somewhere to sleep. So no matter what happens a tent is an essential part of the trip. So firstly it needs to be waterproof, and windproof. So although you can indeed pick up a cheap pop-up tent for a few dollars it's likely that it won't be up to the task. If you are taking the family then you can get large tents with several rooms and even a living area.  
Sleeping Bag & Mattress 
Next up you are going to need something to sleep in. So a sleeping bag is the first thing to consider. Sleeping bags are rated in two ways, by seasons, as in a four-season bag that will be suitable for spring, summer, autumn, and winter. They are also given a temperature rating, this is done via two values, a comfort value and a survival value, so the first temp, if it is 6 degrees you should be nice and comfortable at that level and then if it has a survival rating of -2 degrees you will survive but it wouldn't be fun. Also, you will need a sleeping mat or a camping mattress as well.
Transport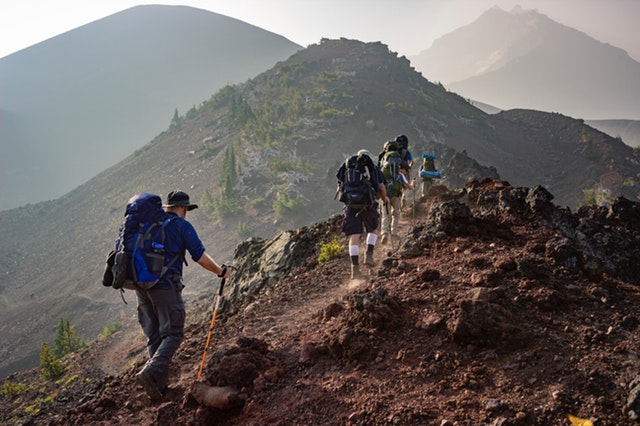 You may be hiking and in that case, then you are your own transport. But if you are driving then you need to consider how to transport everything. Often the more space the better but there will always be decisions to be made so try and keep everything to essentially what is useful. You can even think about converting an old vehicle to turn it into a camping van, check out parkedinparadise.com for some great info and guides on how to achieve this. 
Cooking Equipment
Hungry? Of course you are! So we're going to need cooking equipment. Camping stoves come in a variety of sizes, from a small single burner to a double burner with grill and even bigger barbecues, etc. You also will want to consider camp cookware rather than traditional pots, pans, and plates as the size and weight of the camping versions are designed to be as small and light as possible.
Camp Furniture
You are going to want to sit down and relax, so there is a whole range of camping furniture available these days. You can get everything from normal camp chairs to full inflatable sofas, armchairs and you can get camp kitchens and stores. You can get a fold-away picnic table and even separate pop-rooms to use away from the tents as well. 
So no matter how you do it be sure to enjoy your trip, make sure you have a checklist and bring everything as well.

We have been wearing out our jandals (Kiwi for flip-flops) on our travel adventures around the world since 2009. We think our blog is thought provoking and a little witty. But we have been proven wrong before. Find out more about us here...
What Are You Looking For?