A Crash Course Itinerary for Seeing London in 48 Hours
Itinerary for Seeing London in 48 Hours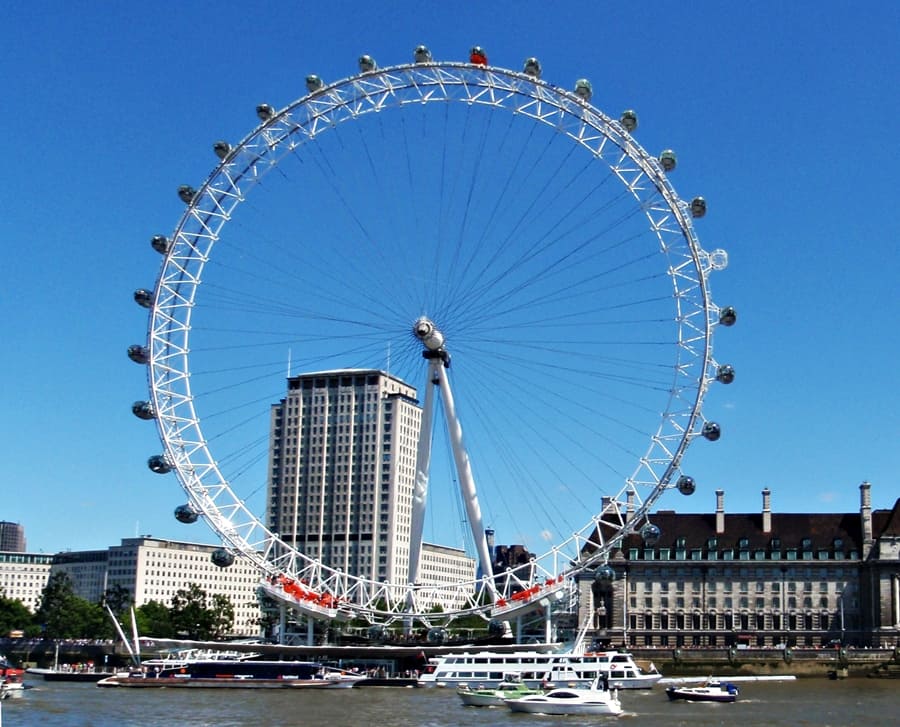 London is a huge city with many attractions to see and many plenty to explore, but sometimes you can only swing a short trip or a few hours to kill during a long layover. With a tight itinerary in mind, here is a plan for eating the best and seeing the most of London in 48 hours.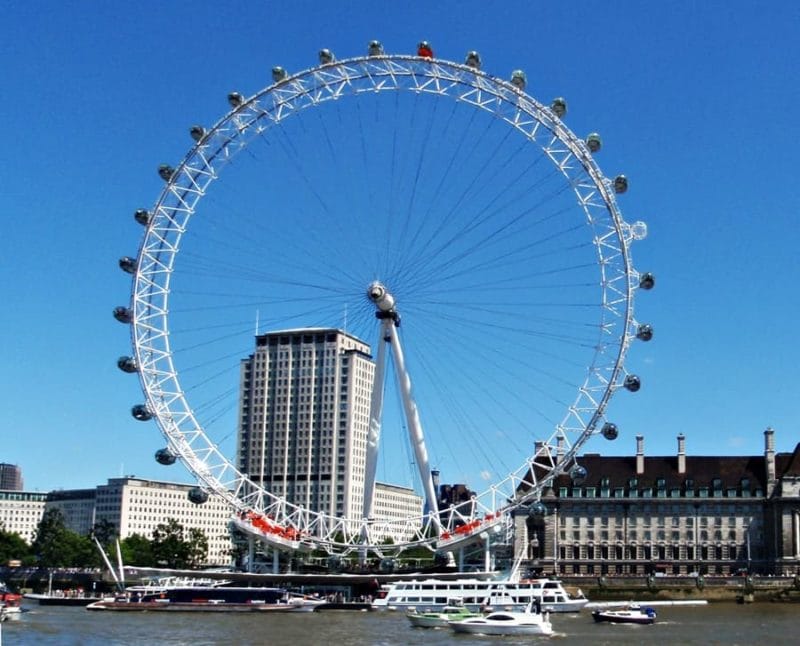 Itinerary for Seeing London in 48 Hours
Day One
Head out early to beat the crowds at Buckingham Palace, a top spot on every visitor's itinerary. Snap some pictures of the famous façade and try to make the guards laugh before 9:30am when tours of the palace begin.  You'll be one of the first in line!
Next, walk along The Mall and turn at St. James' Palace, grabbing a pastry at The Wolseley. Check out the neon signs and the fountain of Eros in Picadilly Circus, then follow Regent Street to Trafalgar Square, home to Nelson's Columns and the world's tiniest police station.
Make your way to Horse Guards Parade, where many large-scale public events are held.  Pass under the main archway toward Downing Street, home to the British Prime Minister.  With all of that walking, you'll be ready for lunch.  If you haven't caved yet, continue to Big Ben, grabbing a bite at the historic St. Stephen's Tavern Pub right across the street.
Cut across Parliament Square to Westminster Abbey, host to huge British moments, including coronations, funerals, and royal weddings (including that of Prince William and Kate Middleton in 2011).  The Abbey is closed on Sunday, so plan accordingly in order to get inside.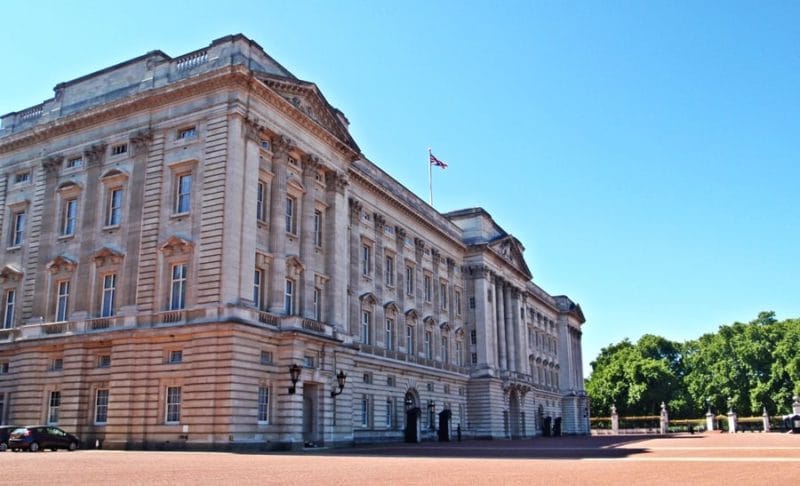 Pass by the House of Commons and the Palace of Westminster, crossing the River Thames to the London Eye for an incredible view.  Back at Westminster Bridge, take classic double-decker bus #148 to Grosvenor Gardens.  Enjoy an award-winning Afternoon Tea at the nearby Goring Hotel.  Wrap up your day in the West End, home to restaurants, nightlife, and theaters galore.
Day Two
Fuel up for your day with a full English breakfast, locally called a fry up.  You'll get a huge plate of eggs, bacon, potatoes, beans, toast, and more.  Priding itself on local ingredients, Roast serves up the best in town, and its setting overlooking Borough Market is pretty great, too.
After breakfast, walk to nearby London Bridge and along the Thames to often-photographed Tower Bridge.  Cross over and check out the Tower of London, home to the Crown Jewels.
Make your way to the Great Tower Street bus stop (15 or N15) and hop on board, enjoying views of the beautiful St. Paul's Cathedral and Somerset House.  Exit at Savoy Street and walk to Covent Garden, a bustling marketplace filled with street performers.  The area is packed with restaurants and pubs, so now would be a good time to grab a pint or some lunch—try The Harp in Chandos Place, the Lamb & Flag, or The Freemasons Arms.
The British Museum houses an amazing collection that includes the Rosetta Stone and the Elgin Marbles Parthenon sculptures.  It's free to enter and open daily, so there's no excuse not to go!
Next, stroll through Soho, checking out the shops on Oxford Street, then jump on the Tube at Oxford Circus, getting off at Knightsbridge.  Swing by Harrods before heading to Kensington Palace, home to the newest royal couple, and its gardens.  Finish the day with traditional fish and chips—the best are found at North Sea Fish in Bloomsbury and Golden Hind in Marylebone.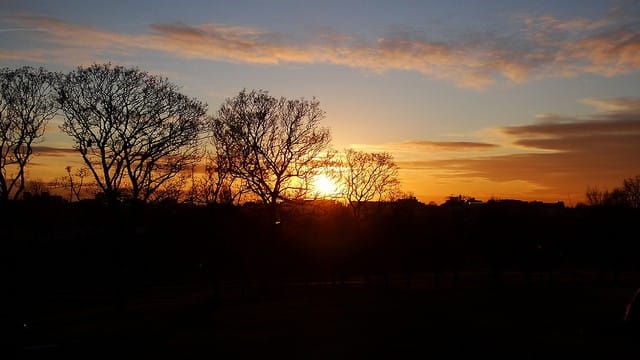 Getting Around Town
The quickest and most efficient way to get around London is via its extensive Tube system.  This underground train service has 12 lines and 270 stations.  Millions of people ride the Tube each day in order to travel throughout the city.  Ticketing is charged according to the zones through which you're planning to travel, but as most of the city's main attractions are all within Zone 1, things shouldn't be too complicated.  Riding the Tube is a attraction in and of itself–be sure to admire the stations, as many of them contain fantastic artwork.
Another option for getting around in London, and one we suggest using a few times in our itinerary above, is by bus.  The city has 700 different lines, many of which use the iconic double-decker red buses.  While riding the bus may not be very efficient if you get stuck in traffic, it will offer you a chance to see more of London while you're traveling between destinations.  The same goes with a taxi, which are readily available throughout the city.
For those who like to be active while on vacation, and like to get to know a location up close and personal, bike rentals are available all around town.  Hundreds of rental stations are located strategically throughout London and rates are very economical: free for the first half hour and just £1 per hour after that.
Where to Stay
London offers a fantastic mix of hotel accommodations, with everything from 5-star properties to money-saving hostels.  With accommodation options scattered in and about all of the main attractions in London, you'll be able to plan your stay accordingly in order to maximize your time.  After all, if you only have two days, it's key to stay close to the big-name sights in order to avoid wasting precious time traveling around.  Choose a London hotel in an area where you'll spend most of your visit: Mayfair, Soho, West End, or Westminster.  While Mayfair and Soho might be a bit more pricey, they're also right in the thick of things.  Westminster is very convenient to the historical government-related part of town. And, of course, the West End is where you'll likely be spending your evenings, so choosing a hotel in that area will mean having a nearby place to crash after a long day and night on the town. Here are some recommendations in those four fantastic, and convenient, London neighborhoods, broken down by budget:
Splurge
A classic hotel, The Savoy is all luxury, all the time.  The top choice of celebrities and politicians, guest rooms overlook the Thames and the London Eye.
Well-known luxury Mayfair hotel Claridge's offers every amenity you can imagine, in addition to a great location and spectacular service.
45 Park Lane is consistently voted one of the most luxurious hotels in London.  Overlooking Hyde Park in the Mayfair neighborhood, the hotel assigns each guest their own host, who will make sure that every aspect of their stay will be perfection.
Mid-Range
Dean Street Townhouse, in the heart of Soho, is perfect if you plan to enjoy London nightlife.  With rooms starting at £95, you'll enjoy comfortable accommodations and an ideal location.
Those looking for a typical hotel experience can check in to the Radisson Blu Edwardian Berkshire, which offers spacious accommodations right off of Oxford Street.
The Doubletree Hotel Westminster is located right in the middle of a bustling neighborhood that is close to all of London's biggest attractions.  With floor-to-ceiling windows, you'll be able to take in gorgeous views while enjoying your contemporary guest room.
Budget
The Pavilion Hotel is perfect for those looking for something on the quirky side.  With fashion and rock and roll coursing through its veins, the rooms start at £60.
With simple, straightforward rooms starting at £39, the no-frills Easy Hotel, London Victoria, is great on the wallet, especially if you'll be spending most of your 48 hours out and about.
Located near Oxford Circus, The Astor Court Hotel is housed in a former gentlemen's club, but you'd never notice it given that the guest rooms have been remodeled so many times, each one unique and interesting.  And with rates starting around £24 a night, you won't be able to beat either the location or the price!
Outdoor Activities in Bangkok – Adventure City Guide
Find out how you can explore the streets, canals and local markets within minutes of Bangkok with our Outdoor Activities in Bangkok Adventure City Guide.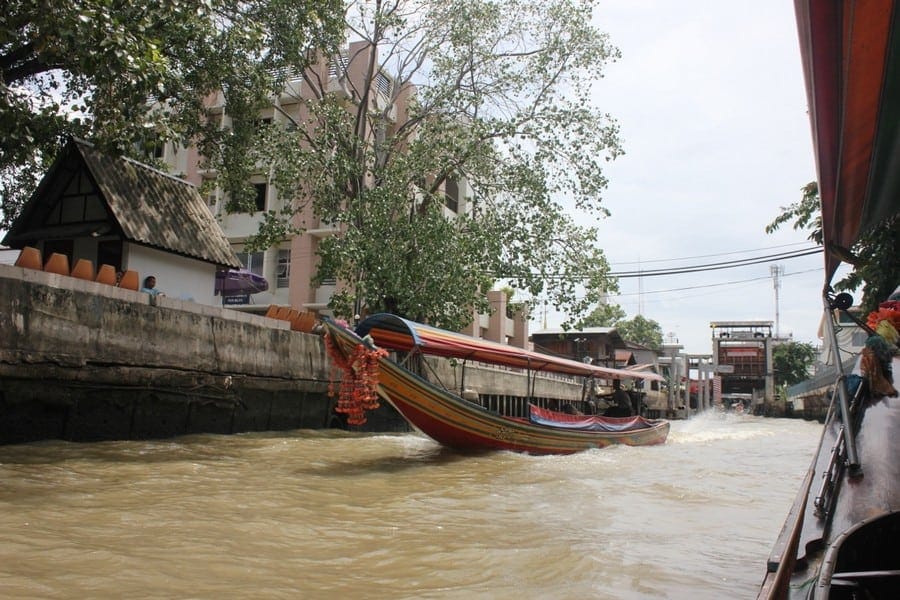 Are you looking for an insider's adventure travel guide for the best outdoor activities in Bangkok?
As part of our Adventure City Guide series, Ian from Where Sidewalks End shares his expert insider tips on the top adventure and outdoor activities to do in Bangkok.
Why visit Bangkok for adventure?
Bangkok is one of the world's largest metropolises and a gateway for most of the world to access the rest of South East Asia. With numbers surpassing 14 million people in the Greater Bangkok Region, this is no small player in the world's super-cities. Of course, having such a long history with foreign visitors, the city has become incredibly established in the world's tourist sector.
This has allowed it to grow many facets of adventurous activities – making access to something for everyone!
Outdoor Activities in Bangkok
Exploring the Klongs
Klongs are canals that used to feed the entire city with life-giving water, branched off from the city's main artery – the Chao Phraya River. Today, the locals wouldn't drink the water if you paid them, but there is still a fascinating life along the Klongs' banks. There is so much to explore, from floating markets to old houses on stilts, and it gives insight into this ancient way of life!
What's it cost, and how to get to the Klongs?
You can usually arrange the Klongs from the pier "Saphan Taksin" along the Chao Phraya River. This is conveniently a stop on the Skytrain, making it very easy to access. Usually, you will be renting the entire boat for the day (about 1000 THB, or USD 35) and not paying a per-person rate. So if you can find a few people to go with, the price will drop significantly per person.
Rickshaw City Tours
If you've never been to Asia before, Rickshaws are one of the most fun ways to get around. Although they can often be a little more expensive than metered taxis, you get an experience (and a view) that is unparalleled, especially in the busy streets of Bangkok.
What's it cost?
Occasionally, you can even haggle a deal for a city tour for next to nothing (50-100 THB or $1.50-3 USD), as long as you visit a couple of affiliated 'custom suit tailors' throughout the day, as they'll get a kickback from the shops just for bringing you there… No purchase is necessary.
You can often find Tuk Tuk drivers willing to do this standing along the perimeter of the Kings' Palace. It may take a few attempts of asking for a 'special city tour,' but you will be bound to find someone ready for a cut of this business.
Local Secret Spot
Chatuchak Market
Though most people wouldn't consider going to a market an adventure, they probably have never experienced the likes of Chatuchak (also known as JJs). This is one of SE Asia's LARGEST outdoor markets. It's so prominent that you can find maps of the market to help navigate. It's roughly the size of 4 city blocks and is divided into various sections.
You'll find everything under the sun here, from clothing to handicrafts, food, mobile phones, and even puppies and other cute critters for sale!! It's bonkers. If it gets too much for you, you can take a break in one of Bangkok's most famous parks (Chatuchak park), located next to the market.
How to get there?
You can get here via Skytrain (BTS), subway (MRT), taxi, bus, you name it – it's very accessible! But it's only open on weekends, from about dawn until 5 or 6 pm at its peak. Some shops stay open longer, but most will be closed by dusk. It's free entry and a perfect place to buy ANY souvenirs at the end of your time in Thailand.
Suppose you can coordinate to be here on the weekend. I generally hate shopping for 'stuff,' but I love this market and its energy!
Best time of the year to visit Bangkok for adventure?
Bangkok is in the tropics and quite close to the Equator. Of course, this means it's hot on a year-round basis.
It's considered the rainy season from May to October, though showers can happen at any time of the year. This is generally a less busy time for tourists, though the rains are not quite as bad as expected and often only last 30 mins-1 hour, cooling the city's heart. Peak season is in December-January when temperatures are at their most astounding ad driest… though it's still pretty hot!
And if Bangkok isn't to your taste, the luxury Koh Samui will be. Endless sandy beach, beautiful clear waters, and nightlife that could be lived in forever. The luxury rental properties are stunning, and we recommend Tempston Luxury villa rentals.
Finally, the reason I love Bangkok for adventure is that…
It's never-ending. This city is SO BIG that you could get lost in a new neighborhood almost every day. Single. Day. And still find new, exciting things to explore. On my list for the upcoming weeks, I've got the Scala Cinema, the Thai Air Force Museum, Papaya Vintage Shop, and the Erawan Museum – to name a few. Every time I explore one place, I learn of 3 more!!
BIO:

From a young age, Ian was always a wanderer. He's since travelled to all 7 continents, and has spent the majority of his life pursuing this passion. You can follow him in his off-the-beaten-path adventures and discoveries on Twitter, Facebook, Google+ and his travel blog Where Sidewalks End.
Have you been to Bangkok? What were your favorite outdoor activities in Bangkok?
Outdoor Activities in Athens: Adventure City Guide
Use our Adventure City Guide for Athens to find all the best Outdoor Activities in Athens; including hiking, kayaking and bungee jumping.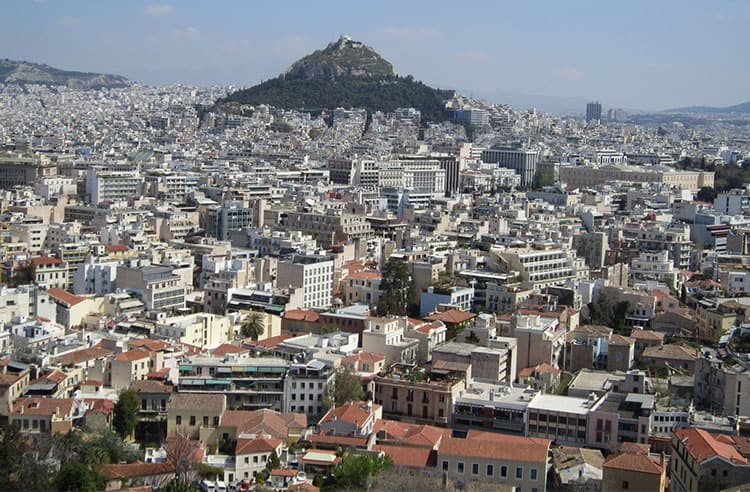 Are you looking for an insider's adventure travel guide for the best outdoor activities in Athens?
As part of our Adventure City Guide series, Stephen Shreck from A Backpacker's Tale shares his expert insider tips on the top adventure and outdoor activities to do in Athens, including how to go on holiday to Greece and the costs.
Why visit Athens for adventure?
Athens' location lends itself to the adventurous. On one side, you then have the Aegean Sea and the beautiful Greek islands begging to be explored. And on the other, you have scenic mountains and hillsides, which are perfect for people who want to hike, mountain bike, and take in some of the countrysides.
Best Outdoor Activities in Athens
Corinth Canal
This world-renowned canal is a stunning sight in itself. Imagine standing on the edge of the platform, looking down the right before diving yourself head-first into the middle of the canal. Taking on the challenge of bungee jumping into Corinth Canal is an adventure you will never forget.
Getting to the Corinth Canal
Hop on the train from Athens to Corinth. The ride takes between 60 – and 70 minutes.
Additional information
The Bungee jump is only available from April to September and costs 60 Euros. Check out Zulu Bungee for more information.
Mt Parnitha
Towering over Athens at 1,400 m, Mt. Parnitha is one of Greece's most beautiful and scenic mountains.
Not only does Mt. Parnitha have the ancient fortress of Frourio Fills and Spileo Panos, the cave to the Greek god Pan to explore, but it also has numerous hiking and mountain biking trails that allow you to take you across the stunning Greek countryside, making it perfect for sightseers and adventurers of all skill levels.
Getting to Mt Parnitha
Located just 25k outside of Athens, the easiest way to reach Mt Parnitha is by public bus or car.
Explore a Greek Island
Athens is the doorway to the Greek islands, and a few of them are close enough to enjoy as day trips. Aegina and Hydra Island are the most popular, but if you have to choose only one, then I would recommend Hydra.
This island offers a good mix of sights and plenty of things to do. You can wander the streets of the beautiful port town and get some great photos of the tall marble bell tower of the Church of Assumption. There are areas to enjoy cliff jumping for those seeking more adventurous activities.
Cost of Exploring a Greek Island
How much you will spend will vary on what island and adventure travel activities you choose. However, it's safe to say that most of the cost will be getting there. Boat fares change all the time, but a reasonable estimate is about 50 euros round trip.
Best time of the year to visit Athens for adventure?
Many people are worried about visiting Athens since the European debt crisis, but honestly, this is the perfect time to visit. You will have to deal with smaller lines, but you will also find lower prices. Athens' weather is gorgeous in the summer, making it the perfect time to visit, especially for Island hopping. Mt Parnitha is beautiful in any season, and the view you can get from hiking in the winter might even be more beautiful than in the summer.
Where to stay in Athens?
If you're a budget traveler, you will want to check out the hostel, City Circus.
It has a great location in the middle of the city, as well as a fantastic atmosphere and a great bar at a budget price. The hostel staff is also accommodating.
Finally, the reason I love Athens for adventure is that…
Athens has a little to offer everyone with beaches, mountains, and extreme sports, like bungee jumping, all right near the city. This makes Athens the perfect home base for your next travel adventure.
Bio:

Stephen Schreck is a world traveller, nomad, and mistake-prone backpacker. He is currently traveling the world full-time making his dream his reality. His adventure travels lead him on a endless quest to try and tackle his growing bucket list.

Make sure you check out his travel blog, A Backpacker's Tale to follow along with his many entertaining misadventures in random locations. You can also find him on Twitter and Facebook.
The Best Dog-Friendly Attractions in Portland, Oregon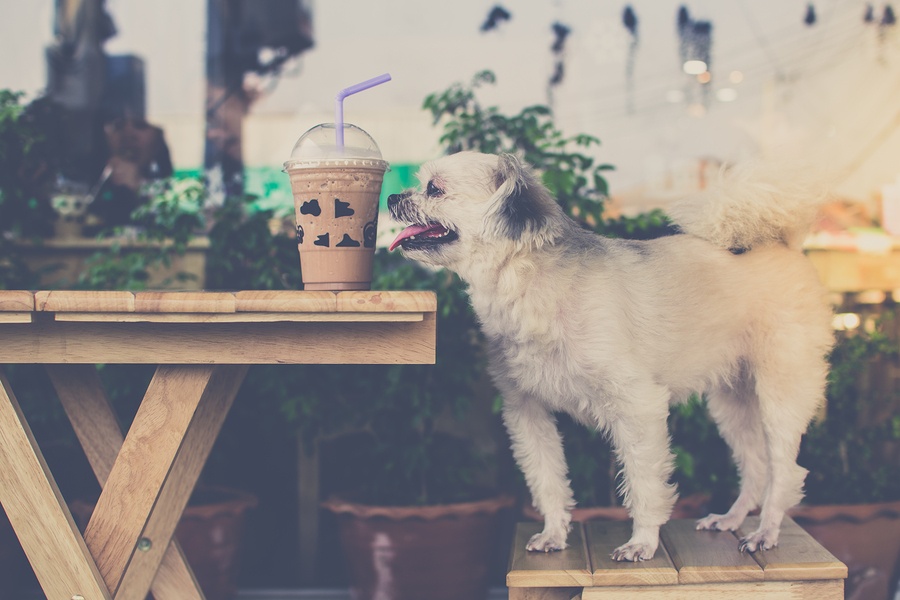 With a green focus and an animal-loving attitude, a superb collection of pet-friendly hotels, and many fantastic pooch-welcoming bars and restaurants, Portland is one of the most dog-friendly cities in the USA. Check out our top dog-friendly attractions…
1 Sellwood Riverfront Park
With a 1.5-acre off-leash area that extends to the river, this is a great place to bring your dog, especially if yours loves to run and play with other dogs. You'll need to put your dog back on the leash to use the connecting paths that take you through the forest, parks, and neighborhood areas, but there are plenty of places to enjoy sniffing around. Make sure you bring your poop bags and drinking water for your dog. The park provides picnic tables where you can rest after your walk.
2 Wildwood Trail, Forest Park
This wilderness area is situated at NW Germantown Road for serious hikers and canines of a high fitness level. Its 30-mile hike takes a couple of days to get around comfortably. It would help if you considered getting a map of Forest Park to find the best way to get around the trails, as some are more challenging than others. You'll need to keep your dog on a leash the whole time, and you'll have to bring your water and poop bags as these are not provided.
3 Portland Saturday Market
If you and your pup are the socializing kinds, then the open-air arts and crafts Saturday Market and Farmers Market at 2 SW Naito Parkway is the place to be. You'll have to keep your dog on the leash while browsing for delicious baked goods, meats, and cheeses, but dogs are made welcome with plenty of drinking water stations and lots of shady spots when the weather gets too hot.
4 Portland International Raceway Dog Park
If you're looking for somewhere you can let your canine stretch their legs, the fenced-off dog park has the best place to go. This is a very well maintained area where the grass is kept short and neat, and garbage is constantly cleared away, so take poop bags with you. Portland International Raceway is the home of drag racing, auto racing, motorcycle racing, and motocross, as well as Cruise-in specials, and all of these are held at various times throughout the year, so why not make a weekend of it and enjoy plenty of thrills, excitement, music, and great food and drink. Remember, though, that your pet must be adequately supervised, on a leash at all times, and must be cleaned up after. Some events do not allow pets, so check before you book.
5 Plum Hill Vineyards
How about this for something a little different? Plum Hill Vineyards, situated between Forest Grove and Gaston, this family-owned concern brews its wines, and not for nothing do they say it's 'your dog's favorite winery'! It has to be one of the very few places where you can enjoy the company of your canine friend and, at the same time sample, some of the delicious wines the Plum Hill Vineyard has to offer. This place is genuinely dog-friendly as well-behaved dogs (and their humans) are allowed into the tasting room and onto the outside patio area. A large fenced dog run right next to the Vineyard where you and your dog can play. Poop bags, water, and treats are thoughtfully provided for you.
6 International Rose Test Garden
If you love to walk around well-tended gardens full to the brim with the sweet aroma of more than 10,000 beautiful roses, other plants, and attractions, then this is well worth a visit. The International Rose Test Garden, the oldest public garden in the US, is pet-friendly and extremely easy to get around on paved paths. You can take one of the free public tours or stroll around at your own pace to enjoy the fountain, statue, and gardens. Why not bring a picnic lunch and sit a while to enjoy the superb view, provided it is a clear day, over the city and Mt Hood in the distance. The garden is open all year round, but you should visit in June to see the roses at their best. There is free admission and a gift shop on-site as well.
7 Sandy River Delta, Thousand Acres Park
Although known to locals as simply Thousand Acres, and located just off I-84, 20 minutes from downtown Portland, this is 1,400 acres of doggy paradise. Consisting of open fields, wetlands, hiking trails, two rivers (the Sandy River and Columbia River), and numerous blackberry bushes, you and your pup can enjoy as much off-leash fun as possible. If your dog loves to swim, run, or just take a stroll at your side, you should come here to appreciate all that the Thousand Acres has to offer. It isn't solely for dog walkers either – the Park is popular with birders, waterfowl hunters, horseback riders, and mountain bikers. There is one part of the park that you won't be allowed into; however, as one-third of it is an off-limits wildlife habitat, so be aware of this. The park is open all year round from dawn until dusk, and there is car parking on site. The US Forest Service is responsible for the upkeep and development of the Park and for maintaining the off-leash regulations for doggy visitors. These state that dogs should be kept on a leash in the parking lot and within 100 feet of the Confluence Trail.
8 Hotel Monaco
Canine and human visitors to Portland will need a dog-friendly place to stay, and the Hotel Monaco is one of the best. The hotel welcomes all dogs, whether large or small, pure-breed or mutt. On arrival, you and your pup are greeted by the hotel's canine, a Golden Retriever, to make you all feel at home. You can order a dog bed, food and water bowls, and mats if you don't want to take your own. The hotel's nightly wine reception welcomes guests and their pups, and you'll be glad to know there are many dog-friendly restaurants nearby.

We have been wearing out our jandals (Kiwi for flip-flops) on our travel adventures around the world since 2009. We think our blog is thought provoking and a little witty. But we have been proven wrong before. Find out more about us here...
What Are You Looking For?