When we are not travelling we are usually dreaming of travel or looking for inspiration for our next travel adventure. It is why we love inspirational travel quotes.
The best travel quotes are the ones that help us picture an adventure we have done, or a place we have on our dream list. Over the last few years we have read hundreds of inspirational travel quotes and these 39 are are our favourites.
Hopefully our photos and inspirational travel quotes can inspire you to start looking for your next travel adventure. And feel free to share them on Facebook or Pinterest with your friends and family too.
39 Inspirational Travel Quotes
"Not all those who wander are lost." – J.R.R. Tolkien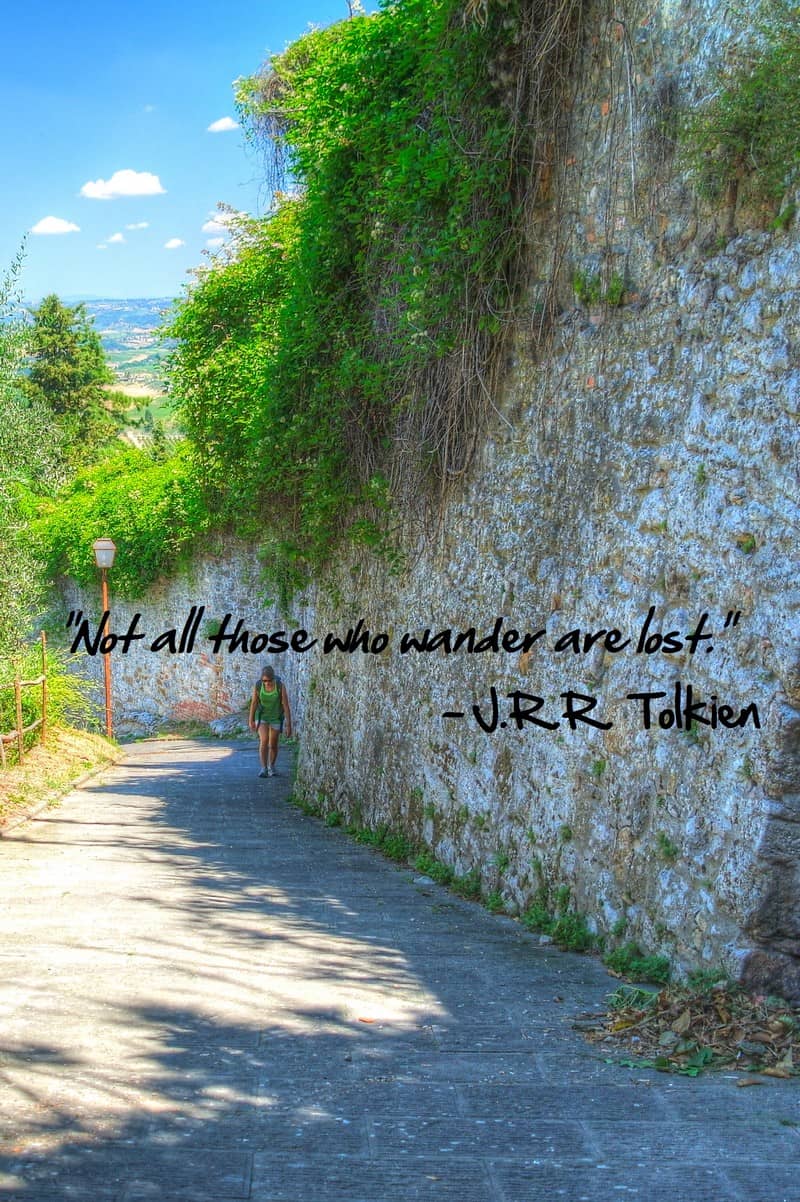 "Twenty years from now you will be more disappointed by the things that you didn't do than by the ones you did do. So throw off the bowlines. Sail away from the safe harbor. Catch the trade winds in your sails. Explore. Dream. Discover." – Mark Twain
"Life is either a daring adventure or nothing." – Helen Keller
"Adventure is worthwhile." – Aristotle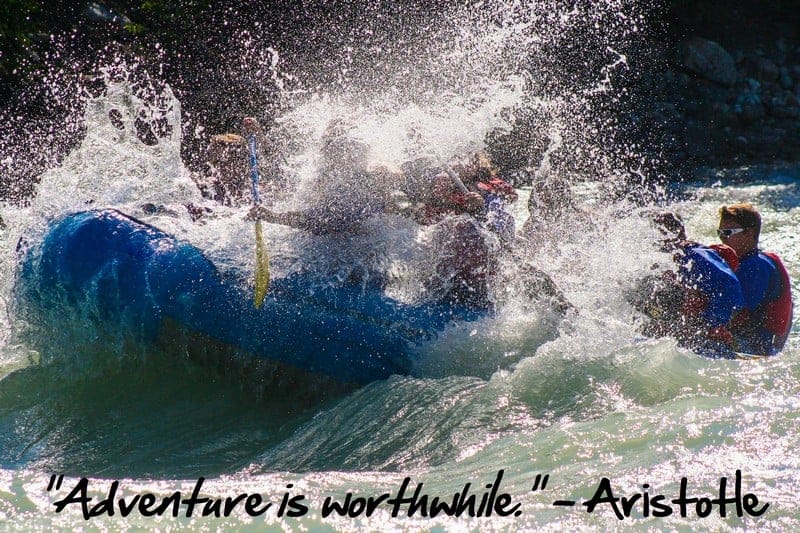 "Half the fun of the travel is the esthetic of lostness." – Ray Bradbury
"Make voyages! Attempt them… there's nothing else." – Tennessee Williams
"We live in a wonderful world that is full of beauty, charm and adventure. There is no end to the adventures we can have if only we seek them with our eyes open." – Jawaharal Nehru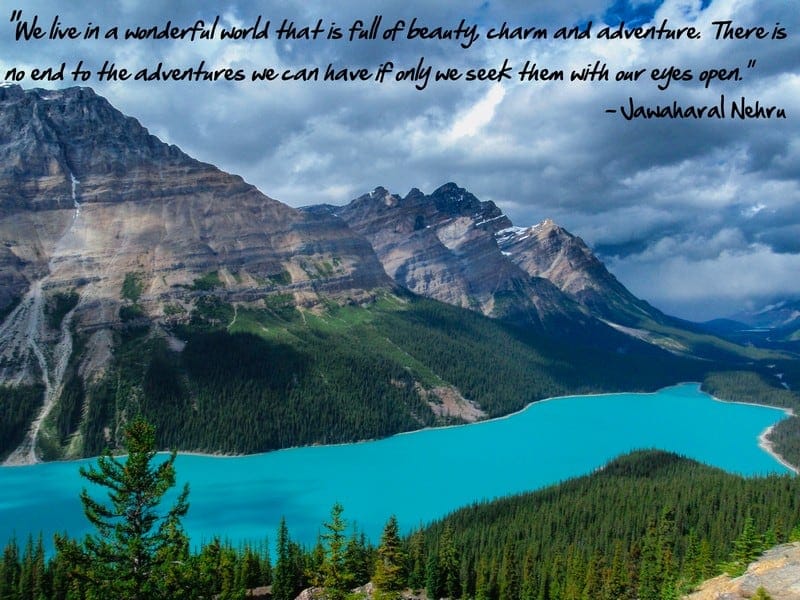 "Traveling tends to magnify all human emotions." — Peter Hoeg
"One of the gladdest moments of human life, methinks, is the departure upon a distant journey into unknown lands. Shaking off with one mighty effort the fetters of habit, the leaden weight of routine, the cloak of many cares and the slavery of home, man feels once more happy." – Richard Burton
"A ship in harbor is safe, but that is not what ships are built for" – John A. Shedd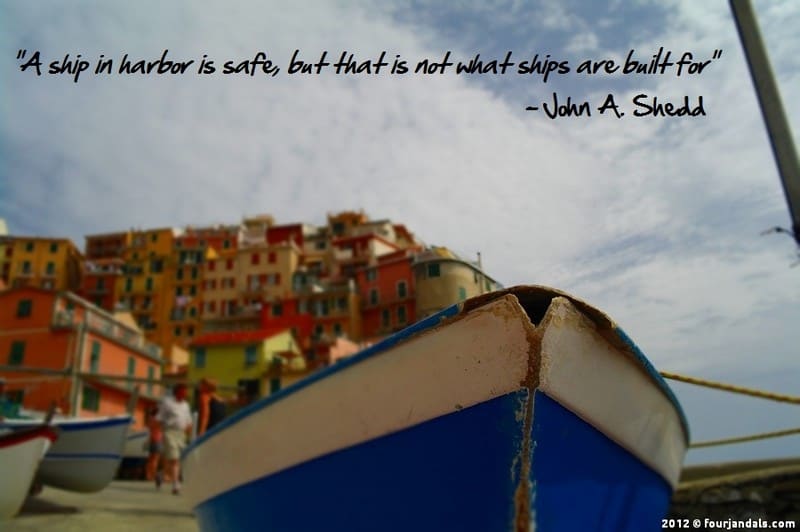 "For my part, I travel not to go anywhere, but to go. I travel for travel's sake. The great affair is to move." – Robert Louis Stevenson
"Experience, travel – these are as education in themselves" – Euripides
"To awaken quite alone in a strange town is one of the pleasantest sensations in the world." – Freya Stark

"A good traveler has no fixed plans, and is not intent on arriving." – Lao Tzu
"You lose sight of things… and when you travel, everything balances out." – Daranna Gidel
"The traveler was active; he went strenuously in search of people, of adventure, of experience. The tourist is passive; he expects interesting things to happen to him. He goes "sight-seeing." – Daniel J. Boorstin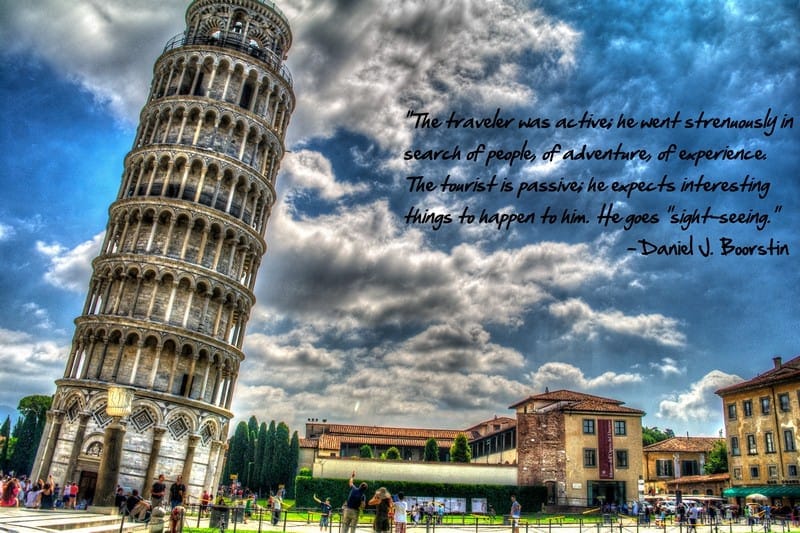 "We should come home from adventures, and perils, and discoveries every day with new experience and character" – Henry David Thoreau
"To my mind, the greatest reward and luxury of travel is to be able to experience everyday things as if for the first time, to be in a position in which almost nothing is so familiar it is taken for granted." – Bill Bryson
"If you reject the food, ignore the customs, fear the religion and avoid the people, you might better stay home." – James Michener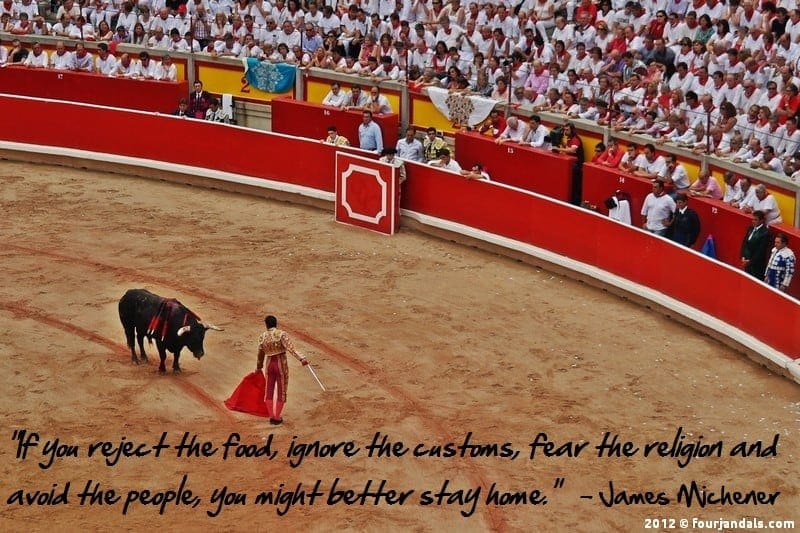 "Two roads diverged in a wood, and I — I took the one less traveled by, and that has made all the difference." – Robert Frost
"Only by going alone in silence, without baggage, can one truly get into the heart of the wilderness. All other travel is mere dust and hotels and baggage and chatter." – John Muir
"Our happiest moments as tourists always seem to come when we stumble upon one thing while in pursuit of something else." — Lawrence Block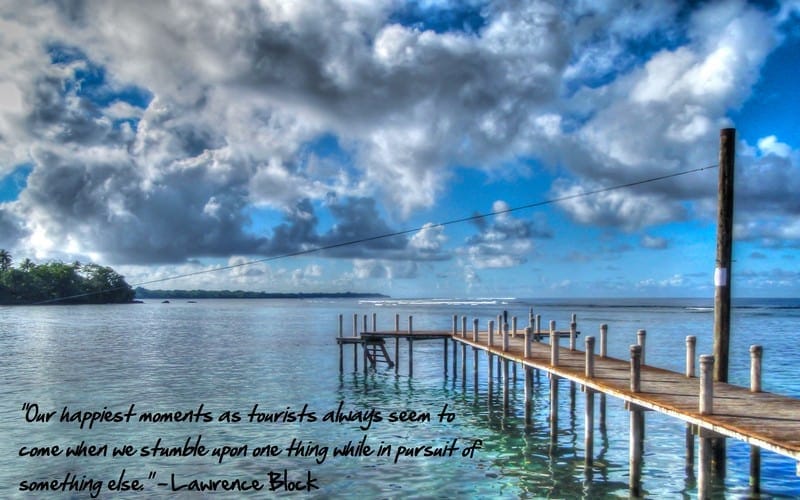 "The man who goes alone can start today; but he who travels with another must wait till that other is ready." – Henry David Thoreau
"Travel makes one modest. You see what a tiny place you occupy in the world." – Scott Cameron
"The first condition of understanding a foreign country is to smell it." – Rudyard Kipling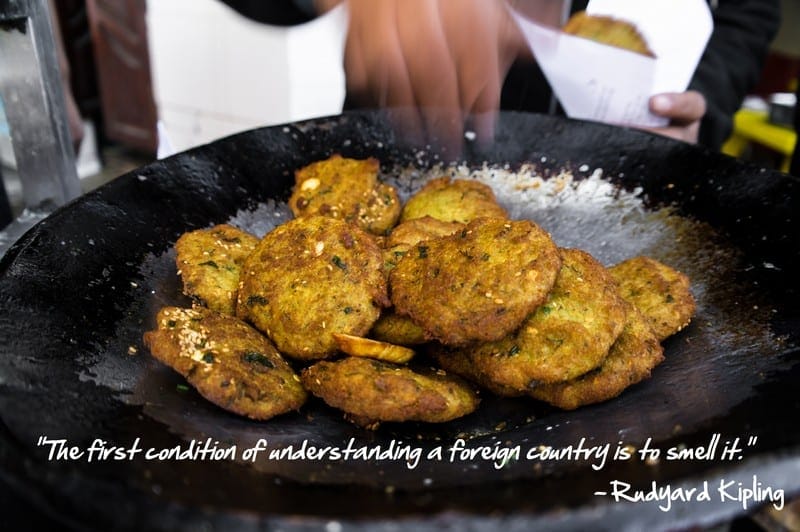 "A tourist is a fellow who drives thousands of miles so he can be photographed standing in front of his car." – Emile Ganest
"I have found out that there ain't no surer way to find out whether you like people or hate them than to travel with them." – Mark Twain
"I'd rather wake up in the middle of nowhere than in any city on earth." – Steve McQueen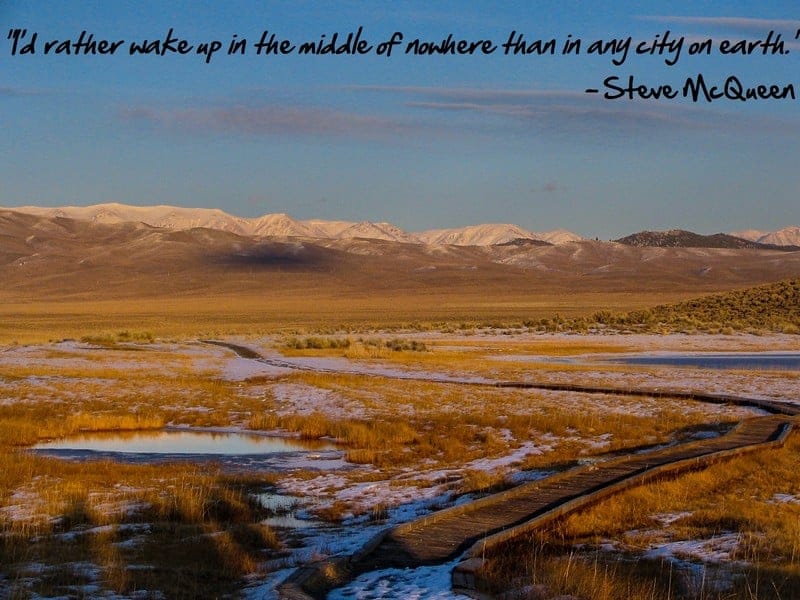 "The World is a book, and those who do not travel read only a page." – Saint Augustine
"Once you have traveled, the voyage never ends… The mind can never break off from the journey." – Pat Conroy
"Travel is glamorous only in retrospect." – Paul Theroux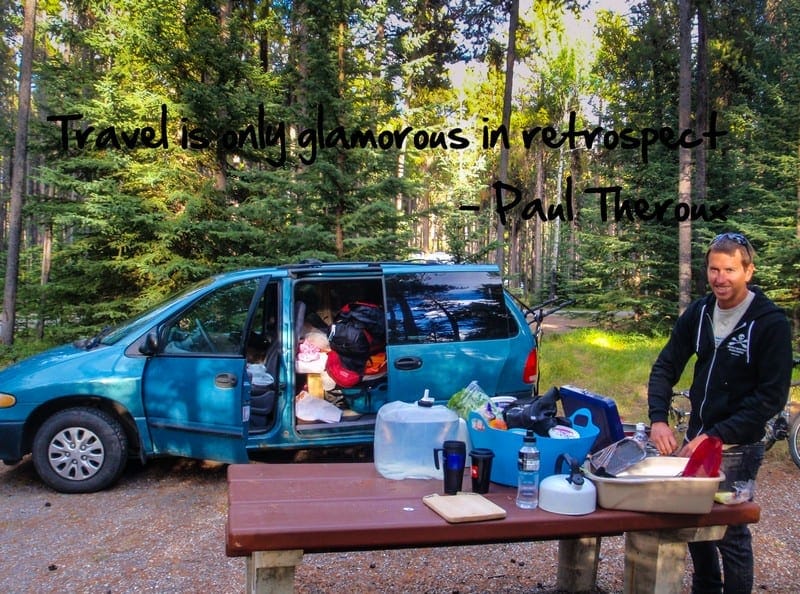 "Every man can transform the world from one of monotony and drabness to one of excitement and adventure." – Irving Wallace
"When you travel, remember that a foreign country is not designed to make you comfortable. It is designed to make its own people comfortable." – Clifton Fadiman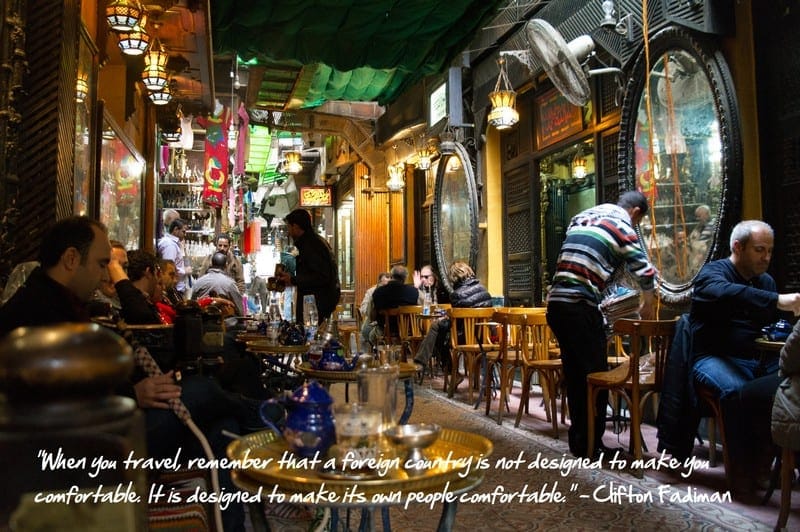 "While armchair travelers dream of going places, traveling armchairs dream of staying put." – Anne Tyler
"You don't choose the day you enter the world and you don't chose the day you leave. It's what you do in between that makes all the difference." – Anita Septimus
"It is only in adventure that some people succeed in knowing themselves – in finding themselves." – Andre Gide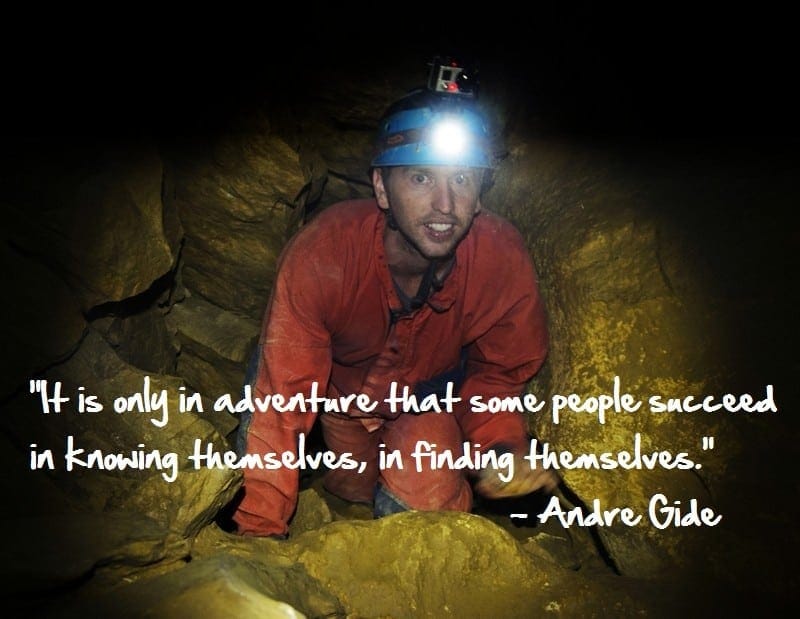 "People don't take trips . . . trips take people." – John Steinbeck
"Take only memories, leave only footprints." – Chief Seattle
"Tourists don't know where they've been, travelers don't know where they're going." – Paul Theroux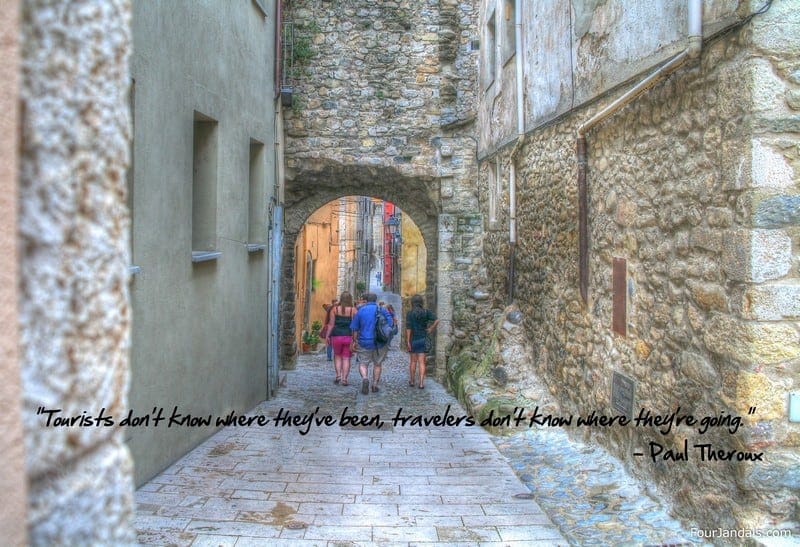 We hope our inspirational travel quotes have inspired you to travel! And remember, if you want to share our awesome photos on Pinterest, Facebook or on your own blog then we always appreciate a link back.
Did we share your favourite inspirational travel quote? Tell us it in the comments!