When our Oasis Overland tour leader offered us a slum tour through Bwaise slums in Uganda, I wasn't sure how comfortable I felt about it. Not only would we be wandering through the residents private village and homes, but no doubt we would also be snapping away with our cameras at every sign of poverty. It seemed so wrong.
I very nearly decided not to go along.
However, I am so glad that I did decide on visiting the slums in Uganda as it has led to a small change in my life.
Bwaise Slum Tours in Kampala, Uganda
Catching a matatatu (local taxi) through the traffic-choked streets of Kampala, the capital of Uganda, is an experience in itself. Add 12 muzungu's (white tourists) like myself and you become the main attraction. As we crawled through the streets we were reminded that the residents of the slum we were visiting, Bwaise slum, live well below the poverty line but we had nothing to fear in terms of being robbed as we would be guided with a guard.
Arriving in Bwaise Slum we met our AFFCAD (Action for Fundamental Change for Development) tour guides who explained where we would be going and who we would meet over the next 2 hours.
AFFCAD is a non profit community based organisation with offices in Bwaise slums in Kampala. It was formed in 2009 by a group of four youths to mitigate the impacts of HIV/AID and Poverty in the slum areas of Kampala, Uganda.  They now run tours and also offer various volunteering options, from 1 day to several months.
As we learnt more about the AFFCAD organisation, children's faces began to peer through the wooden windows at us. Their faces breaking into shy grins every time they caught our eyes or we offered a wave.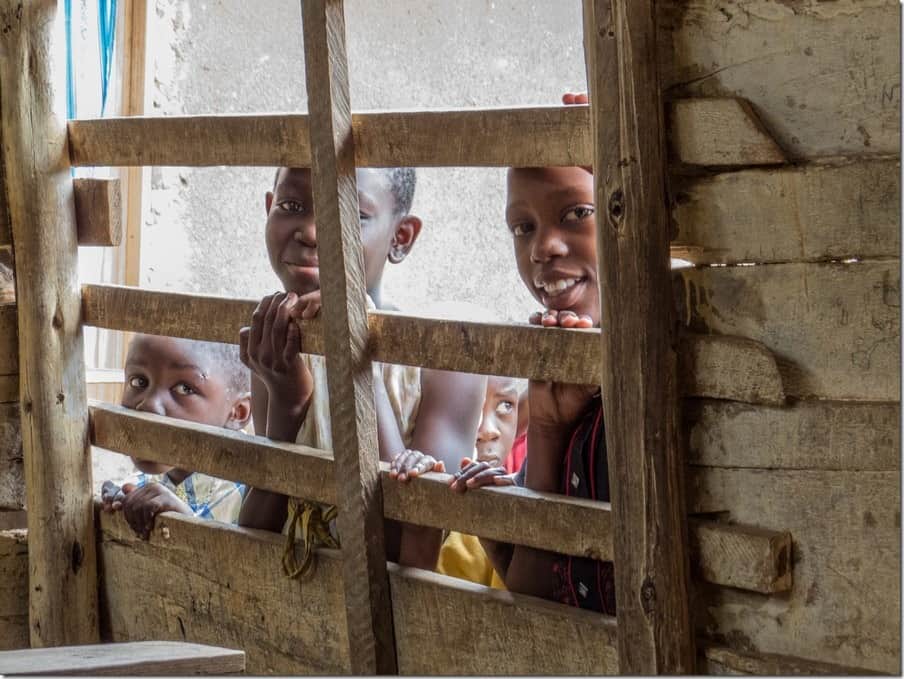 Walking out onto the streets of Bwaise slum I quickly felt a tug at my hand as it dangled at my side. Glancing down I spotted a grubby little hand clasped around my fingers. The ear to ear grin split her face as she looked up at me and my heart melted.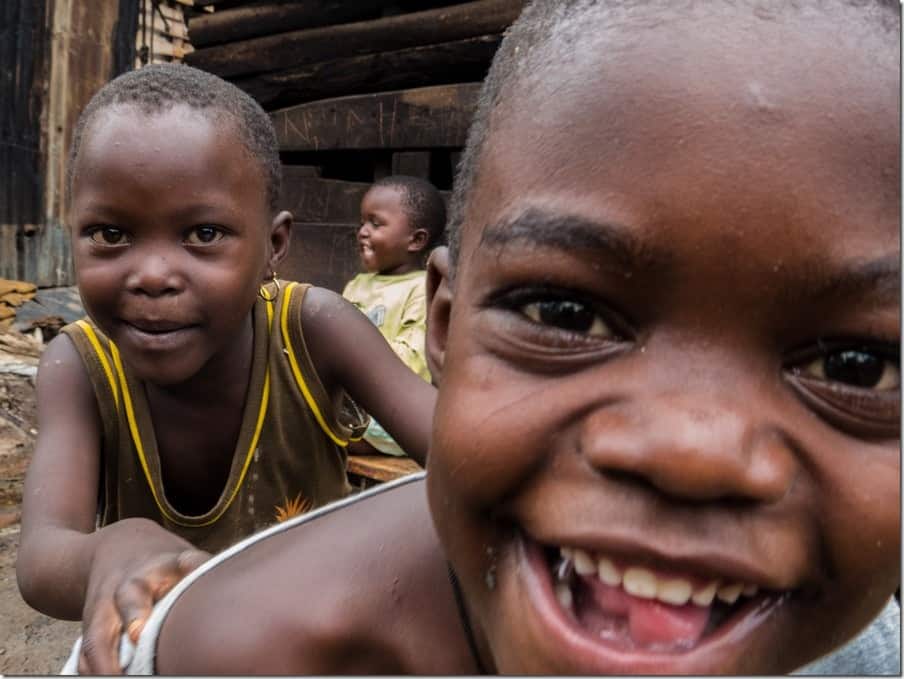 Within seconds everyone had at least one kid grasping both hands as we began our slum tour. And in most cases two or three kids would be hanging off our fingers.
Visiting the local school where 40 kids cram into a shoebox of a room with dirt floors was eye opening. Brightly painted pictures plastered the wooden walls and wooden desks lined the room. Another of the classes was completely flooded with a foot of water sloshing between the walls due to it being rainy season.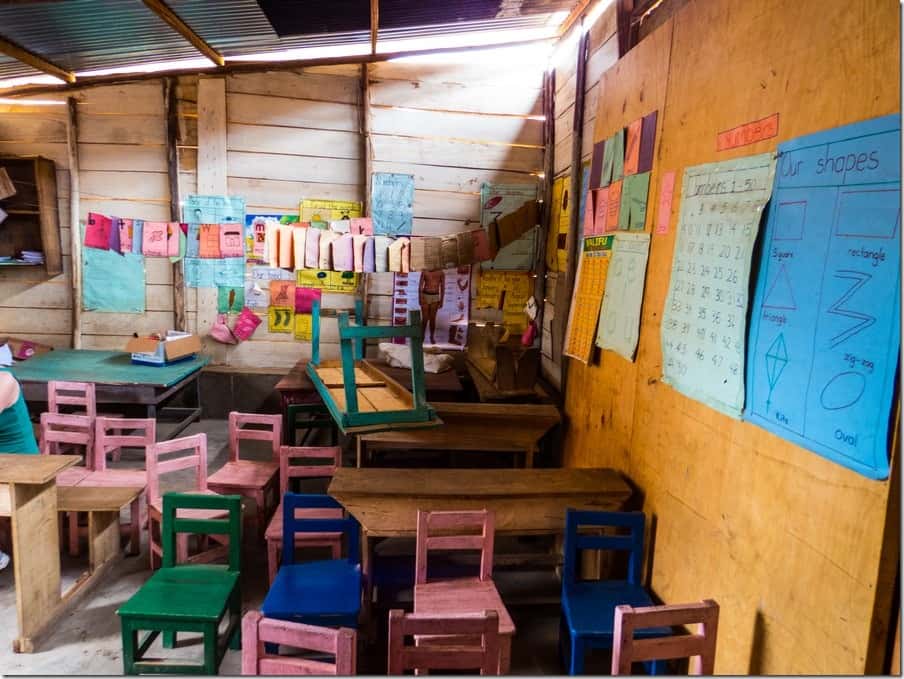 When the floods arrive, several weeks of the year, there is nothing to be done but send the kids back home. It sucks as all they want to do is learn and play.
Continuing the slum tour we were taken through a maze of winding streets of ramshackle homes. Each housing several generations of family members with no electricity or running water.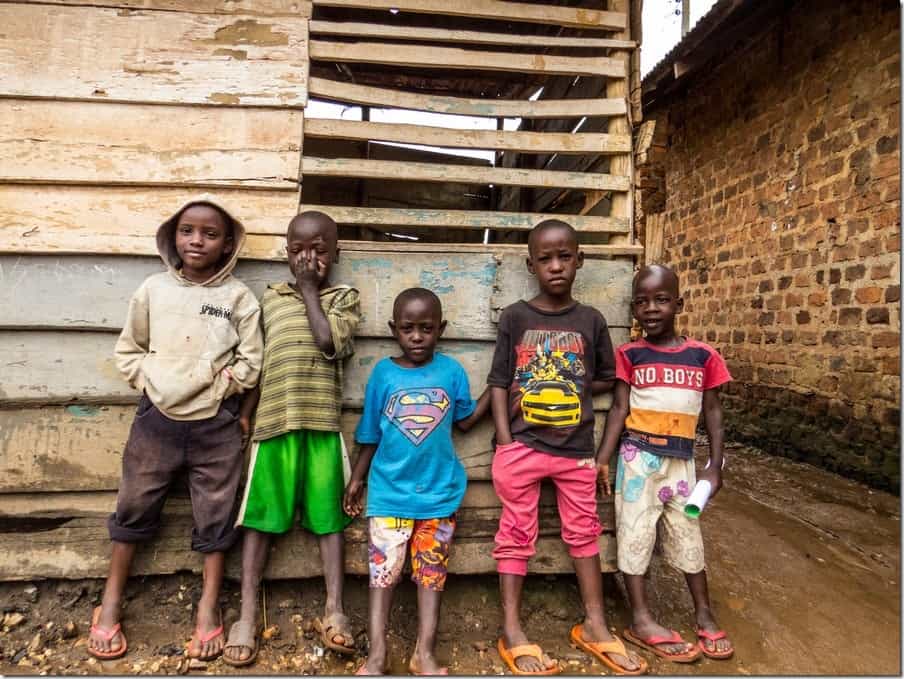 The water they do collect often bubbles up from natural springs that are littered with rubbish.
A queue of tiny kids carry plastic containers waiting to be filled for their once daily (if lucky) meal of plain rice. Education about boiling the water before consuming it is the only way to keep them from getting sick.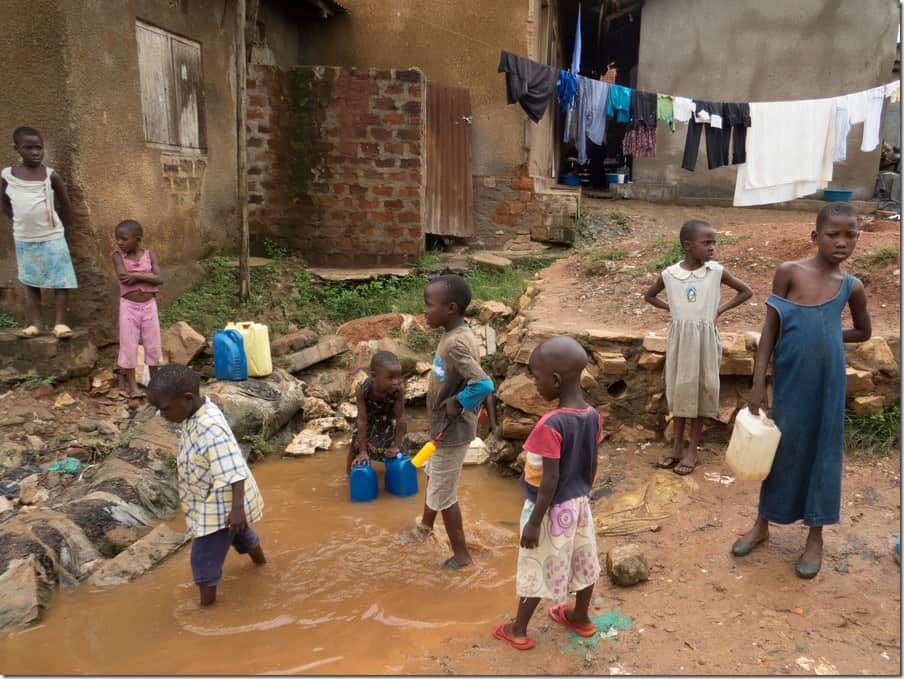 Long canals choked with rubbish criss-cross through the slums. The locals stand waist deep in them pulling trash out of the water to see if anything has washed down from neighbouring communities that is worth keeping or selling.
Nearly everything can be reused and each item is meticulously poured over to calculate its value.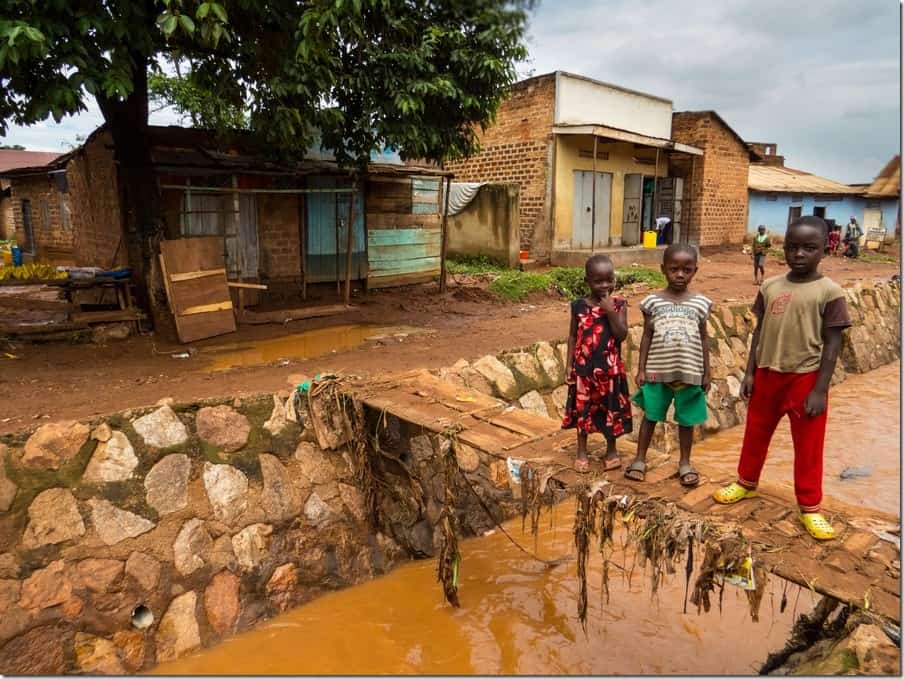 Wandering deeper into the slum we are told to switch off our cameras.
The locals here are mostly prostitutes in the slum earning little more than $1 an hour, yet this is more than most. It is a lucrative business for someone with no other options. And while AFFCAD are trying to stamp it out, they know they are fighting a losing battle.
They would rather educate the sex workers about HIV/AIDS and how to protect themselves over the long term.
As we wrap up the tour we are invited into a local restaurant to devour a traditional meal of Ugali (a type of rice and maize mixture) with a stew of tender beef. All costing less than $2.
Waving goodbye to the kids I make the very easy decision that as soon as I return to New Zealand I will be organising the sponsorship of one of the children. For just $40 a month I can make a huge impact in their lives with 3 daily meals, school supplies and medicine to help them out.
What is ridiculous and weighs on me heavily is that I can quite easily spend that on one night out drinking. It makes me sick just thinking about it.
Reader Questions: Do you sponsor a child or donate to a worth charity? Do you recommend any for me to research?
To learn more about what AFFCAD are doing in Bwaise slum, or how you might help them, then please check out their website.