Camping with Your Guitar: Things to Consider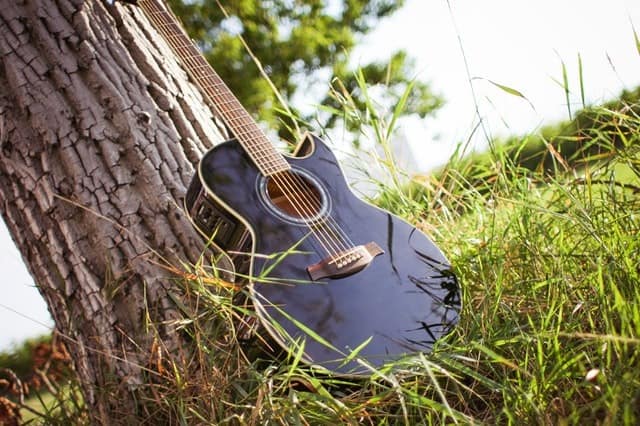 Going on a camping trip with an acoustic guitar is always a fun and exciting idea that's definitely possible with proper planning. Going anywhere with an instrument can be a complicated affair, with factors to consider such as the weather, handling, storage and even if your guitar can survive the trip to and from your destination unscathed.
If you don't want to risk your primary acoustic getting damaged during your camping trip, consider investing in a guitar that's designed for traveling. A travel acoustic guitars are small and lightweight, yet produce a sound that's good enough for jamming around a campfire or at the back of a van. Some travel guitars are even equipped with a pickup, allowing you to plug them in a small battery-powered amp. Getting a travel-friendly guitar is actually the best way to protect a more valuable instrument from the risks of transit.
Let's say you haven't gotten around to acquiring a travel acoustic yet. What can you do to keep your beloved guitar in top condition during your outdoor adventure? Consider the following and prepare accordingly!
Storage
Is your guitar case suitable for a camping trip? If you have a hardshell case and you're going to the camping grounds by car, storage shouldn't be a problem. If you're backpacking however, a hard case probably isn't the best idea. Choose a sturdy padded gig bag that's lightweight and has straps to make it easier to carry.
Make sure your guitar fits snugly in its case and it doesn't move around in it. Put soft shirts (without buttons) around the headstock, lower bout and other places where there's extra space. You want to make sure your guitar doesn't get jostled around in its case so it doesn't get damaged.
Loosen the strings a bit to prevent warping if the wood on the guitar expands or shrinks. Put masking tape or better yet, duct tape along the seams and clasps to prevent water from coming in and to keep the case tightly closed.
At camp, find a spot where you can place your guitar without it tipping over or getting trampled on. Inside a car in the shade (with windows slightly open) and inside the tent are your best options. Avoid keeping it close to the campfire or leaving it in a hot car.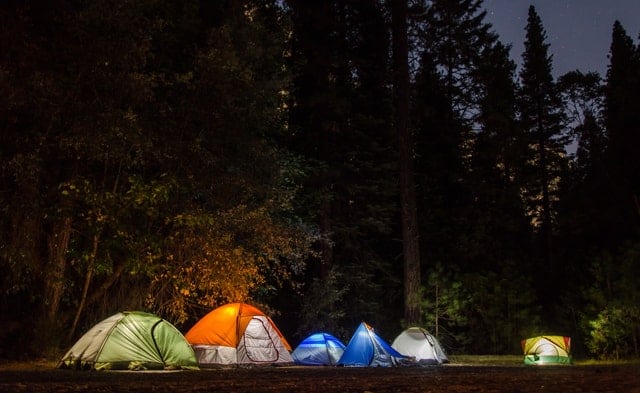 Humidity
Acoustic guitars are made of wood, which needs just the right amount of moisture to keep it from cracking or expanding. Your guitar should be kept in an environment with a relative humidity of 35 to 50 percent.
While you can't control the humidity outdoors, you can control the humidity in your guitar case. Get a humidifier-dehumidifier, which absorbs moisture from the guitar when it's too humid and humidifies the guitar when it's too dry. Remember to keep your guitar in its case when you're not playing it, and make sure to lock or zip the case properly.
The weather
We're assuming you have the good sense to plan your trip during the summer or when you know there isn't a storm coming. However, the weather can be really unpredictable, which means you can get drenched in an unexpected shower. In such event, it's important to keep your guitar dry. If your guitar case isn't waterproof, make sure you bring along a plastic sheet or an extra bin liner/trash bag where you can place your guitar case if it begins to rain.
We hope you keep these considerations in mind when planning your camping trip. If you still have time, it would be really wise to invest in a lighter, more compact travel guitar than to expose your favorite and probably more expensive guitar to the elements.
How to Pack for A Walking Holiday in the UK
A sense of real-life adventure, the great outdoors, and the fresh air are all the things you can expect from a walking holiday. Indeed, one main reason that a walking holiday is so rewarding is that it's challenging, therefore, you get a sense of having really achieved something.
Of course, to make the challenging aspect of a walking holiday enjoyable as opposed to uncomfortable, you'll need to pack adequately.
Packing
You're really excited about your South Downs Way walking holiday; a well-deserved break rumbling through the serene countryside, exploring the local villages, and taking in the beautiful woodlands. But, you'll first have to pack. This checklist will ensure that you've got everything you need for that perfect walking holiday.
Medical Kit
A small medical kit which can fit in your rucksack might be very useful if you or anyone you're with encounters minor health issues which can be easily addressed especially when you're far away from the nearest pharmacy. For instance, you can pack painkillers for strained muscles and headaches, wet wipes, diarrhea treatment, and plasters for blisters. If you suffer from altitude sickness, you can request your doctor to prescribe some medication.
Comfortable Boots
The foundation for a perfectly enjoyable and unforgettable walking holiday is comfortable boots. Your legs and feet take a lot of strain from walking, and getting the right boots will significantly reduce the chances of blisters and sore feet. The best walking boots have great ankle support to cope with uneven or slippery paths. Where the route is less arduous, trail shoes or lower cut boots would be a good choice, particularly if your feet get really hot during summer.
The ideal boots are lightweight, solid, waterproof, and have a breathable membrane to keep your feet comfortable and dry. Planning on buying new boots for your trip? Try on several pairs before settling on one. And then, before you go on holiday, wear them as often as you can to avoid getting blisters. Also, buy socks that are specially designed for hiking. The socks usually have extra cushioned soles to protect your feet.
Quick-Dry Shorts or Trousers
Heavy cotton and jeans trousers or shorts are okay for wearing at the hotel, but not a great choice for your day's walk. They'll fast get soggy in case it pours. You should pack at least a pair of walking shorts or trousers made from lightweight and quick-drying material. Or, instead of carrying shorts and trousers, you can find trousers that double up as shorts. Alternatively, you can use sports shorts or tracksuit bottoms which are also made from quick-drying and lightweight fabric.
Shorts or trousers with plenty of pockets are very useful for keeping your items, including phone and maps, safely.
Waterproof Jacket
Summer in the UK is characterized by occasional cooler mornings or showers. You'll need a waterproof jacket for these types of weather changes. Get a jacket that's substantial enough to keep you warm in the morning or evening yet small enough to fit in your rucksack.
Consider buying a jacket with the following: adequate pockets to put all your small items, a breathable membrane to ensure you don't sweat excessively, and zips for your under-arm ventilation.
Walking T-Shirts
Choose a variety of lightweight T-shirts, and a few vest tops. Vest-tops are great if you want to get a tan, but you should alternate them with sleeved T-shirts. This will help avoid the discomfort and irritation of sunburned shoulders. T-shirts that are made from treated merino wool or technical fabric are designed for walking, and they'll keep you cool as well as wick away excess sweat.
A Bandana or Hat
Summers can get extremely hot, and a sunhat will definitely come in handy. You don't want to risk getting unsightly sunburns or worse, sunstroke. A cotton bandana will help keep hair away from your face. It can also prevent your neck from getting sunburns and be used to wipe off sweat as well.
A Fleece
Pack a fleece in case you encounter chilly moments in the evening or even in the early morning. Your T-shirt, when layered with a mid-weight fleece, should give you adequate warmth. If you can get a waterproof fleece, the better.
Day Sack
Since most walking holidays entail walks from your hotel, you'll only need a sizeable rucksack to carry what you need for the day. A sack of about 20 to 30 liters with mesh pockets for holding your water bottles, lots of zipped compartments, and loops should be ideal.
It's also advisable to carry a few plastic bags to store items such as your phone, clothes, maps, and anything else that can get wet in case of a sudden downpour.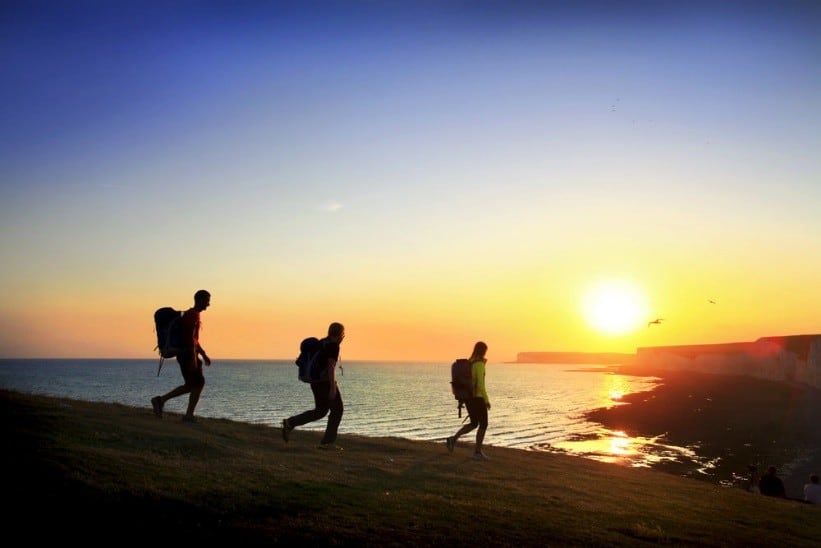 Walking Pole
For gentle and flat walking routes, you'll not need a walking pole. However, for arduous routes or paths that have steep climbs, you might require a walking pole. If you're walking on a mountainous terrain, a walking pole will help ease the strain off your legs and knees. The walking pole will give you some much-needed support on steep, slippery, and uneven paths.
Foldable or telescopic poles are recommended since they are easy to pack and carry in your rucksack.
A Reusable Water Bottle
The most important part of your walk is to always stay hydrated. When you're taking a walk in the rural areas, you'll need plenty of fresh water supply. To avoid wastage as well as conserve the environment, get a refillable bottle to carry your water.
Underwear
Supportive and comfortable underwear is definitely a must for walking. Pack only a few lightweight and wicking underwear including sports bras. You can wash them as you travel.
Evening Wear
At the end of a long and adventurous day of walking, and after a shower, you'll want to put on an outfit that's suitable for relaxing or dining out. Lightweight clothes, shoes, flip-flops, or trainers will fit the bill perfectly for your post-hiking wear.
Toiletries
Pack all the necessary toiletries and keep in mind how long they'll last. Some hotels provide small containers of shampoo, soap, and lotion. However, it's best to bring your own, as well.
Extra Essentials
Remember to carry sun cream or sunscreen, sunglasses, camera phone or camera, insect repellent, universal plug, washing detergent, antiseptic gel, and camera and phone charger.
Food
Many lodges or B&Bs will pack a small lunch for you. You can also stock up on heavy snacks such as trail mix, protein bars, cheese, bread, or crackers. You'll need plenty of protein on your walk. And don't forget to carry candy. You'll relish a sweet treat while you're burning those calories.
Ultimately, the right equipment and packing right will make your walk trouble free, relaxed, and more enjoyable.
Mental Health Benefits of Getting Away From Time to Time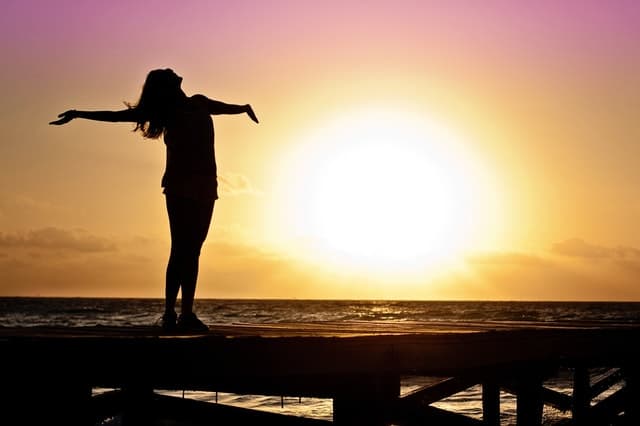 Most people know that all work and no play isn't the best thing for their overall well-being. Yet, the need to pay the bills, support loved ones, and afford the bare necessities often takes over. Working long hours and then spending the rest of your time tending to the needs of others without a break will eventually result in a mental breakdown. That's where vacations come in. Stepping away from the everyday grind to explore a new place and be at one with yourself can be a really eye-opening experience. It has also been proven to be a great benefit to your mental health.
Great Stress Reliever
One of the major mental health benefits of traveling is stress relief. Taking a trip removes you from the hassles of everyday life and essentially allow you to enjoy things that bring you happiness without having to worry about paying the bills or covering the cost of a home improvement job. Having the freedom and time to simply be in a new destination helps to soothe the mind and decrease stress levels.
Deeper Sense of Self-Discovery
Self-awareness and confidence are extremely important throughout life, yet many people are so consumed with surviving life, that they often neglect their true selves. Traveling can change all of that. As you encounter new experiences and lands, you're exposed to things that peak new interests and perhaps even spark some old ones. It allows you to get a deeper sense of who you are in this very diverse world and perhaps even find your true passions.
A Therapeutic Way to Recover
Everyone has inner demons they battle, skeletons in their closet, and experiences that they've had to overcome. Whether it was a horrible childhood upbringing with verbal and physical abuse or a recent bout with addiction, along with counseling, a detox center like forward rehab, and lifestyle changes, traveling can be an instrumental tool in helping individuals to recover. It provides them with an atmosphere outside of what they're used to where they can learn to make effective choices that directly tie to their own happiness. A vacation for a recovering addict or mentally ill individual can be the grand escape their mind needs to come to terms with their past and create an effective new future.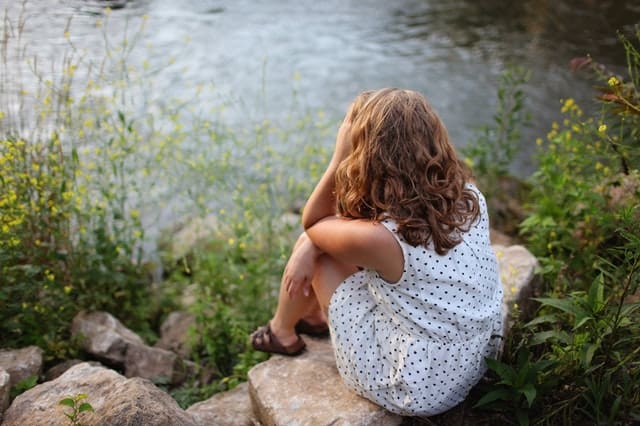 Rest and Relaxation
It doesn't matter who you are or how hectic your life may be, everyone needs to take a break at some point. The distractions of work, familial needs, household needs, financial problems, and an overbooked schedule can often make it hard to get the rest and relaxation your mind and body need to replenish. Taking a trip gives you a chance to really rest without all the distractions in the way. Turning into the hotel early, waking late in the afternoon hours, can result in improved physical well-being, better cognitive function, higher levels of energy, and increased happiness.
Relationship Builder
Having a human connection with others is imperative to your psyche. Everyone has the natural desire to be loved, seen, valued, and connected to someone else. Traveling is a great relationship builder. Whether you travel alone and develop connections with strangers, take a companion along and create new memories, or bring the whole family and strengthen your bond, getting away helps to cultivate relationships in a manner that not many other methods can.
Enhances Creativity
Staying in one place all the time, encountering the same people, eating the same foods, hearing the same sounds, and seeing the same experiences can eventually stunt your creative growth. It can make it complicated to do anything from developing a new business strategy to designing the perfect website. Taking trips to new places and taking in the new sites, sounds, tastes, smells, and experiences inspires the inner creative allowing you to forge far into the future of your professional life.
When you're so busy surviving the day to day grind that you become consumed with working long hours and find yourself constantly spent from the demands of your hectic schedule, it's time for something new. Traveling is just the remedy for removing the clutter from your mind, reducing the stress, and helping you to gain a whole new perspective about yourself and your life. So, be encouraged to travel whether it's a weekend getaway or a week-long international excursion. It could be just the medicine your mind needs.
Think You're Prepared for Your Travelling Adventure? Read this First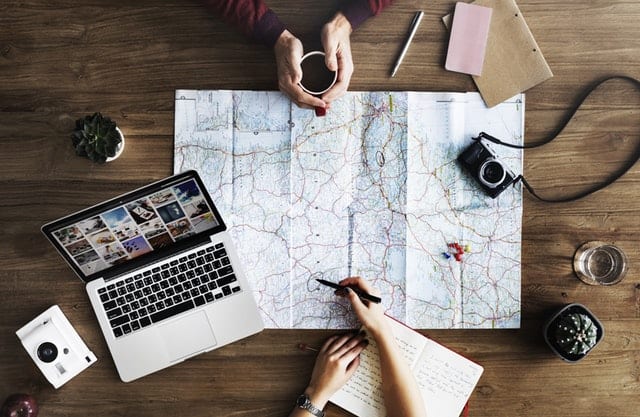 Preparing your travelling adventure can take months of careful planning, endless lists, painstaking schedules and flight management but are you ever really ready? With so much to plan and take into consideration it's more than likely that you might forget something!
Well, don't worry, here you'll find a checklist of things you might have forgotten to sort or arrange before your big adventure.
Your insurance
Travelling without insurance is a big no, no. You need to be covered for every eventuality. You need to find yourself a reputable provider like safetrip and take out a policy that covers all the bases. So regardless of where you are in the world, what has happened or how far you are from medical assistance, your travel medical insurance will give you peace of mind.
Visit your GP
Getting a clean bill of health before you travel will fill you with confidence before you set foot on that plane. It'll also get chance to speak with your doctor about any medical concerns you might have. That niggling cough, a rash that keeps flaring up, or a pain in your ankle that comes back sporadically – they're all things you could bring up. Get your prescriptions up to date, as well as any vaccinations you might need for your travels. You might want to discuss your contraception options while you're there.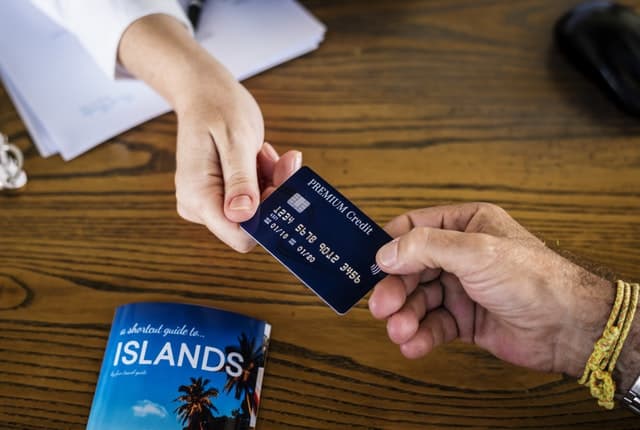 Speak to your credit card provider
Firstly, make sure that your credit card will work at your chosen destination and make a note of all the available banks and ATMs you can use. It's also wise to speak to your credit card provider and let them know that you'll be accessing your account whilst abroad. This will stop them potentially blocking your card if they see money being withdrawn in Cambodia and you're from Stoke.
Research
Many people like the romance of not planning their journey or activities and going with the flow. But you never know what once in a lifetime events you might be missing out on if you don't do a little research before you travel. A world famous fiesta, or carnival, ceremonies or even rare natural events could be happening, and you might not know. When people ask you where you were when so and so happened, you want to say you were right at the heart of it, not taking photos of your food in a café somewhere.
Speak to your mobile provider
Most phone contracts come with some kind of free access and (un)limited access to the internet in foreign countries, it all depends what you signed up for at the time. If you're unsure of the details of your contract or what you'll have access to, then speak to your mobile phone provider before you go. If possible, go into a store and ask them to demonstrate how to activate and set up your phone for use abroad. You don't want to reach your destination and find that it doesn't work!

We have been wearing out our jandals (Kiwi for flip-flops) on our travel adventures around the world since 2009. We think our blog is thought provoking and a little witty. But we have been proven wrong before. Find out more about us here...
What Are You Looking For?