We knew very little about the Egyptian language before we visited earlier this year. In fact all we really knew was that they spoke Arabic. And to be honest, to my untrained and ignorant eyes the written Arabic language looks a lot like squiggly lines.
Just to be clear, we are not talking about ancient Egyptian hieroglyphics either which would really make me feel like an idiot if I had to translate them!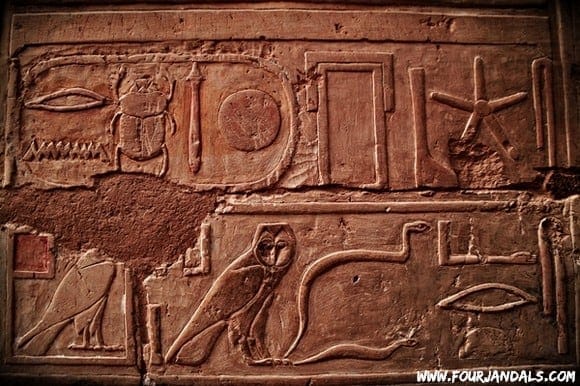 We always pride ourselves on learning a few basic words and phrases to help us communicate when we are travelling in foreign countries. The locals always seem to appreciate it and it makes us feel as if we are immersing ourselves in the culture which is why we love to travel.
So whether you are just visiting the numerous Red Sea all inclusive vacations or the Great Pyramids of Giza use our list of basic Arabic words and phrases below to help you out on your next travel adventure through Egypt and the Middle East.
Keep in mind that there are of course loads of different ways to greet someone or be polite etc. But by using the basic Arabic words below on a daily basis when strolling through the markets or stopping to eat Egyptian street food we always got by.

Basic Arabic Words and Phrases
MarHaba = Hello.
Shukran = Thank you (although we usually used "la shukran" which is no "thank you" when being offered another 100 camels for Adela).
Tatakallam 'inglizi? = Do you speak English?
Ya-llah = Let's go.
Naam = Yes.
La =No.
Min fadlik = Please.
Kam? = How much?
Afwan = Excuse me.
Ilal-liqa = I'll see you later.
'Ayna… = Where is…
…al-Hammaam? = …the rest room?
WaaHid = One
'Ithnayn = Two
Thalaatha = Three
'Arbaxa = Four
Khamsa = Five
As always practice makes perfect and there is no easier way to learn a language than trying it out in every day situations so don't be afraid to have a go. Your pronunciation might be a bit off the first few times but like we said above, most locals will appreciate you trying and correct you.
Reader question: Do you have any tips or additional words that we didn't include that you think we should?