9 Travel Safety Tips for Couples – While Travelling
Using a few basic travel safety tips for couples, and solo travellers, you can cut down your risks while you travel the world on your next adventure.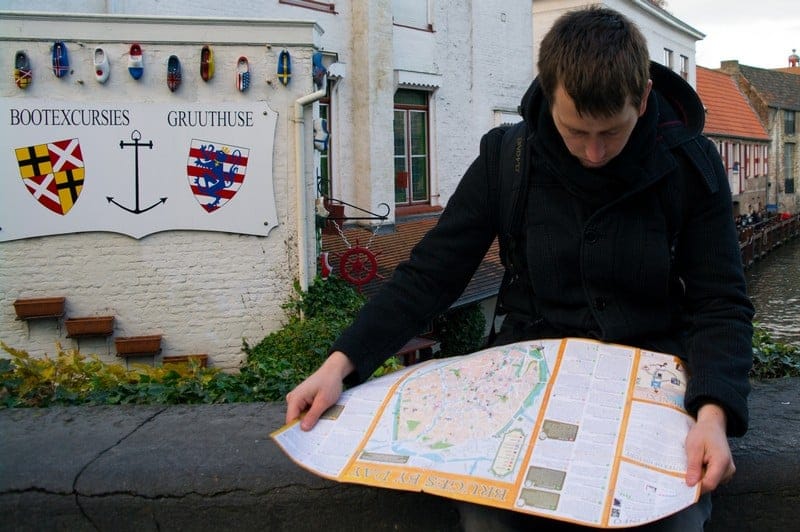 Note: We actually wrote these travel safety tips for couples before we heard about the tragic killing of the solo female traveller Sarai Sierra in Turkey. Our travel safety tips can also be used by solo female travellers and males.
This post is a follow up to our previous article: Travel Safety Tips for Couples, Before you Travel.
We felt obliged to write about travel safety because we get asked a lot of questions regarding travel safety. We travelled to Egypt over a year ago and still get asked "is Egypt safe to travel to?"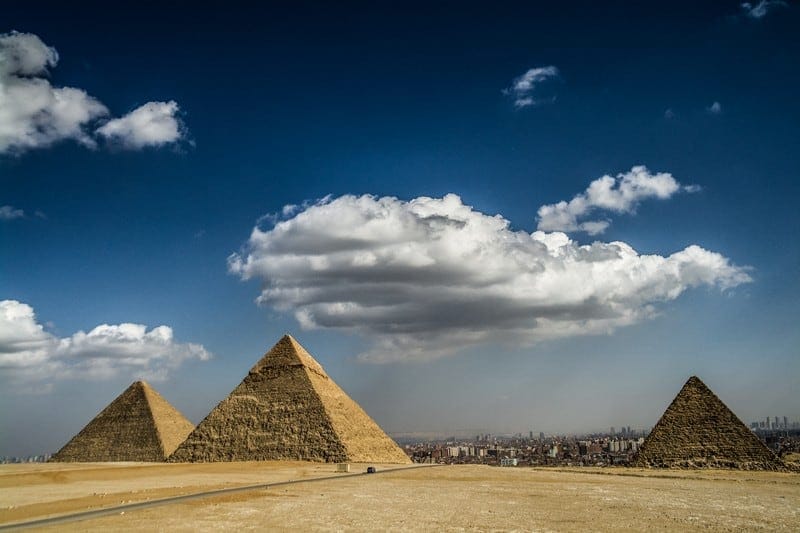 Of course travel in Egypt is safe! 
We basically consider that everywhere in the world is safe to travel to, as long as you are sensible and take precautions. It is like I said in our previous post, you don't want to listen to everything others say, especially the media.
The world is NOT dangerous or unsafe. Sure there are dangerous people and destinations, but they are a really small percentage of the world.
And most of the unfortunate bad experiences that happen to travellers arise from them being stupid, drunk or just in the wrong place at the wrong time. By using a few simple travel safety tips, you can cut down your risks.
Travel Safety Tips for Couples
After 3 years of travel we haven't had anything stolen and have NEVER felt unsafe because we follow our basic travel safety tips for couples, and solo travellers.
Travel Safety Tips: Blend in
One of the keys to travel safety is to limit drawing attention to yourself.
The closer you resemble a tourist, or more specifically the less you resemble other tourists, the better it is for you. Wearing sandals with white socks or sneakers with a large camera dangling from your neck is kind of a giveaway.
Similarly if you are waving around a map you may be targeted.
Travel Safety Tips: Dressing appropriately
Once you have stopped acting like a tourist you want to dress appropriately.
By leaving your valuables at home you should be carrying less stuff as you explore the streets. Everything you carry should be able to fit into your pockets or be within your bubble of "personal space". Any time someone gets within that bubble you know to keep an eye on things.
There are always situations where this is unavoidable such as tightly packed public transport or local markets. To reduce your risk and avoid being pick-pocketed you want to keep your wallet in your front pocket, preferably buttoned up. Or use the inside pocket of your zipped up jacket.
You might also want to consider buying a "money belt" (examples here) that wrap around your waist underneath your shirt.
Finally, if you are a travelling couple ensure that you both carry your money and that it is not all in the same place. By spreading it out you won't lose it all if one is stolen or lost.
Travel Safety Tips: Gather your gear
On arrival, or departure you are most likely to lose something.
At the airport you are tired from travelling and rush through customs eager to go exploring. Simply stuffing your wallet or passport at the top of your bag or in your back pocket is not good enough.
Use a money belt or secret compartment in your luggage to store valuable items.
It's the same situation in a restaurant, accommodation or at an attraction. Take a moment to stop, gather yourself, and your belongings. As you walk away check behind you to see that you didn't leave anything behind. I always do a quick "pat down" to check my camera, wallet, phone etc are in the right places.
If you know where everything should be then it becomes very easy to make this a simple routine ritual.
Travel Safety Tips: Don't leave it unattended
We see this all the time. Someone sits down at a cafe and promptly ignores their bag or coat because they feel safe.
Always keep your items in your line of sight and within that personal bubble of space. It isn't hard for someone to wander by and take something from your chair, or table, when you are distracted by delicious pastries and coffee.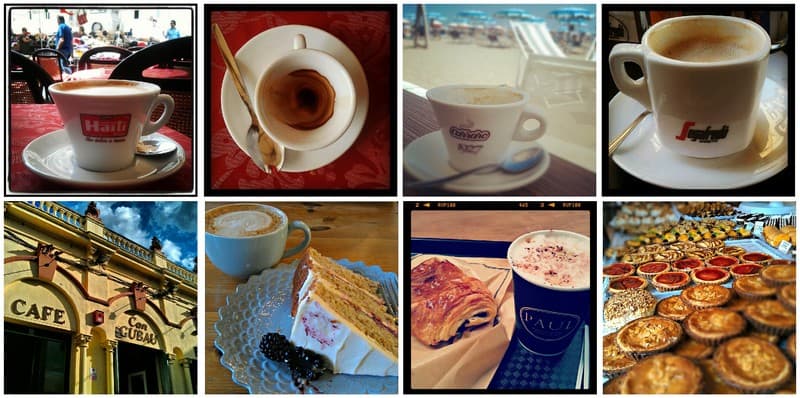 Travel Safety Tips: Stay Alert
Before leaving your accommodation ask the staff if there is anywhere in the city they recommend not going. While you don't necessarily want to stick to the boring tourist trails, you also don't want to end up in seedy areas.
It is easy to unwittingly wander up the wrong street when you are gazing at all the sights. Just retrace your steps (guys are a little better at this than girls for some reason) and carry on your way.
The important thing is that you see what is going on around you. Take notice of what strangers are doing because it's common practice for thieves to work together.
Kids with signs may try to distract you while the others pickpocket you. Or women will beg for money while pushing a crying infant in your face. While we feel bad doing it, we always just ignore them and keep walking. Once you stop, you become a sitting duck.
Our only rule is that if someone outright robs you then NEVER FIGHT BACK. Insurance will cover anything stolen and it is better than getting injured or worse.
Travel Safety Tips: Lock your luggage
While you should travel with minimal stuff, anything you leave in your accommodation should be locked away. Most hotels and hostels provide safes or lockers.
Our small padlocks probably wouldn't stop a determined thief, but it will make them think twice and/or slow them down. Stealing your stuff is all about speed, so most won't take that risk.
Travel Safety Tips: Walk away from confrontations
Everyone has been in a situation where someone upsets you or makes you angry. They might have accidentally bumped you or tried to chat up your girlfriend. Some ridiculous people might just be looking for a fight.
Unless you are Chuck Norris, walk away calmly. You never know who that person might be associated with. If they follow you then stick to public areas and find a local spot to ask for assistance.
And by no means are we telling you to avoid people. Meeting people is a main reason to travel!
Travel Safety Tips: Know your way out
Memorising maps and routes comes naturally to me but there are still many times I have gotten lost while wandering small streets in Italy, Egypt and Turkey.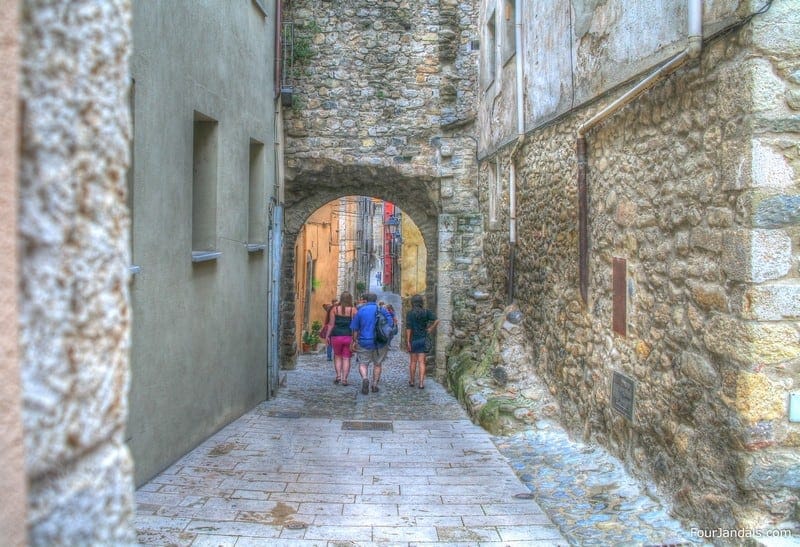 Familiarising yourself with local landmarks as you wander around the streets of a foreign city can be very helpful for when you do take that eventual wrong turn.
Don't be afraid to ask for help. If you have taken the time to learn a little bit of the local language then someone will be willing to help you out. Our favourite experiences have been after we have gotten lost then shown where to go by a friendly local.
Travel Safety Tips: Don't try this on holiday
While we love to step outside our comfort zones, we don't take unnecessary risks. Especially when something looks a little dodgy.
There are way to many stories of travellers getting injured, or killed, while taking part in something life threatening. Sure we have run with bulls, driven scooters in Italy and scuba-dived in Egypt. But we consider these calculated risks. And we had great travel insurance.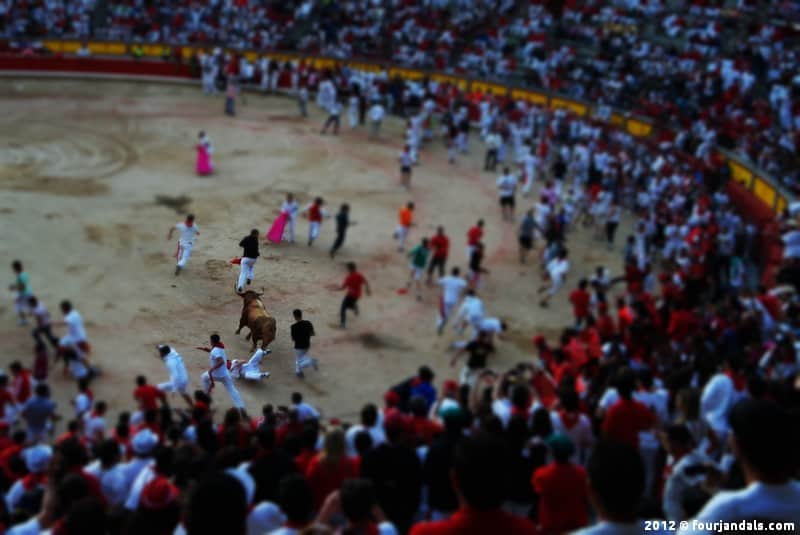 If you want to take part in adventure travel activities then always check that the operators have legal qualifications and a good safety record too. The cheapest option is usually that price for a reason.
Travel Safety Tips Summary
No we are not trying to scare you away from travelling. We just know from experience that people seem to go on holiday without their brains. By showing you examples of worst-case scenarios we hope that we can limit your risks.
Travelling is safe when you reduce your risks and take precautions.
The important thing to remember is that if you do suffer a loss or a problem, don't let that ruin your trip!
Tips for Couples Travel: Keeping Romance alive
Travelling as a couple on the road can be extremely hard. Use our tips for couples travel to help your travels especially in time for Valentines Day.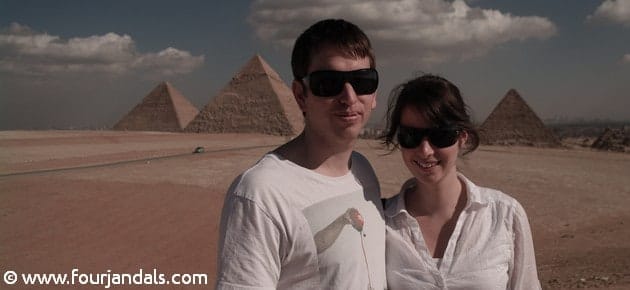 When you are travelling as a couple it is really important to remember to keep romance alive. These tips for couples travel will hopefully help.
You have to take great care to not only keep each other happy but also to celebrate special events such as anniversaries and other romantic moments in your lives.
Why?
Because travelling can take it's toll on even the strongest relationships.
A lack of sleep while crossing different time zones will leave nerves frayed. While the stress of navigating your way around a foreign country will rattle tensions further. And to top it off you will be in each others faces through the good times and the bad 24/7.
Considering that with most budget travel, your savings will not usually allow for extra expenses such as romantic dinners which can help to recharge those relationship batteries. Instead you will find yourself arguing over whose turn it is to cook the spaghetti on toast!
With Valentines Day nearly upon us it might be worthwhile sharing some of our own little secrets of how we travel as a couple.
So how do we find the energy while on the road keep from tearing each others heads off every second day?
It's easy!
Think outside the box
You shouldn't have to look very far from where you are at that moment to gain just a little bit of inspiration. Travelling is romantic in it's very nature!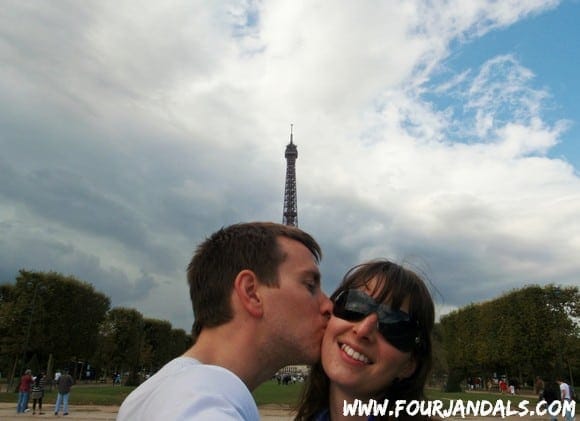 Sure you may not be in one of the most romantic cities of the world like Paris or having an epic Hawaii holiday on the beach. But, you are likely to be somewhere that isn't home! That is what makes it special.
Stop being a tourist and slow down
I don't mean for the entire time you travel but you can definitely spare a day or even an hour to slow down. For that short period you need to stop, think and act like a local.
What do locals do to keep their romance alive wherever you are? I am sure that they don't wake up at the crack of dawn to be the first in line at the local attractions! No, they sleep in and savour each others company. Or they just stroll hand in hand through a park.
By slowing down you will enjoy those moments of madness as you run to make your train travel trip because you know you can chill out sometime soon.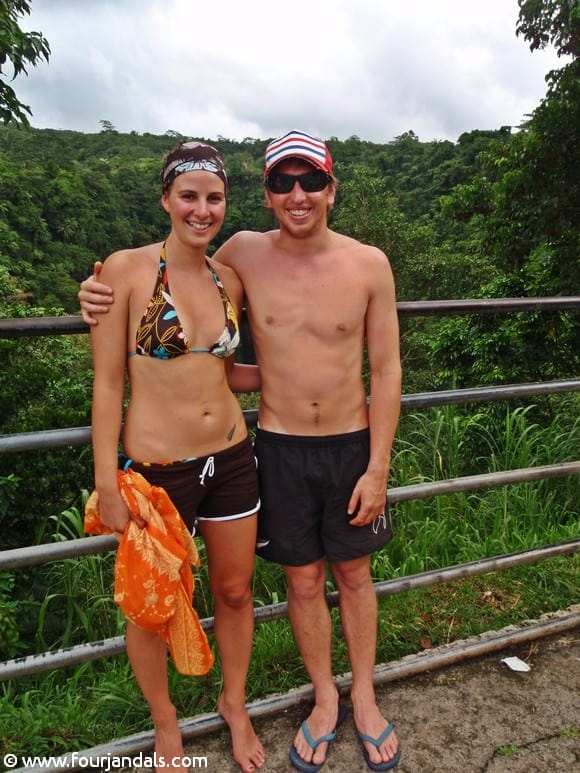 Don't be selfish
Travelling as a couple is all about compromise. If you have chosen the last 2 places to eat at or the last activity then it is time to hand over the reins. There is nothing worse than just getting to enjoy what you want while the other grins and bears it.
Other selfishness acts can be as simple as showing a little bit of courtesy. All it may take is to help her put on her backpack after a long day of hauling it around a dusty city and the romance will be kept alive.
Don't sweat the small stuff
You need to let the small things slide. You know that really cute chewing sound she makes when she is eating her food? Well that kind of starts to grind on your nerves when it is just the two off you.
But if you cannot learn to accept those small imperfections (and face it everyone has them and I am clearly no god myself) then the bigger worries are really going to set a wedge between you.
Time outs
Travelling is all about sharing special moments together. But, and I cannot stress this enough, everyone needs space.
Whether you like to chill out by going for a run, reading your book or just pondering life's mysteries with a beer in hand then make time for it. Just tell them upfront and trust me they will understand.
In fact they probably can't wait to get away from you too!
Laugh
We have had some epic fights on our travels and have spent whole days silently driving across America not talking to one another. Do you know how hard it is to give your significant other the silent treatment for 8 hours when they are sitting next to you in the car?!
Let me tell you, it is near on impossible.
Those times are tough but as you sit in silence you will realise just how stupid the situation is. Here you are halfway around the world from your family and you only have one other person to rely on.
When you are laughing most of the time then the small arguments will bounce right off.
Spend time with others
Human beings are social in their very nature. Why do you think girls like to sit around with other girls and talk at a million miles an hour? It's because we crave interaction.
I am quite happy to just chill out and be quiet. Adela on the other hand loves to talk. Early on in our travels I could not figure out how she can sometimes stand my quiet moments? Then it dawned on me.
It's because we always find the time to interact with others on the road. If you spend your whole time abroad and only talk to one another then it is going to be one helluva boring trip.
Travel is about meeting others. When you do finally get that time alone together you will relish in it!
Date night
Most couples usually have date nights when they are at home. So why not when you are travelling?
I know I said earlier that most of the time budget travel won't allow for you to go out for romantic dinners. But who said you have to spend $200 on a meal with a bottle of wine. Instead make a picnic and go chill out on the beach for a few hours.
Or just blow that budget and splurge! While your wallet might hate you, your relationship will thank you and the romance will be kept alive.
Do you have any couples travel tips you want to share?
Couples Travel – Why every couple should travel before marriage
We think that every couple should experience couples travel before marriage. It will make you stronger by helping you learn more about each other.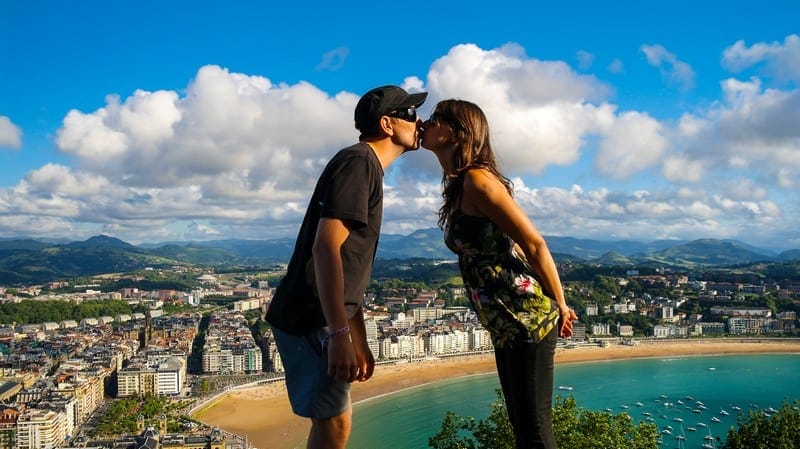 I have said it before and I will say it again. Before every couple settles down and gets married they should experience couples travel together for at least six months.
And I don't mean just going somewhere relaxing and romantic.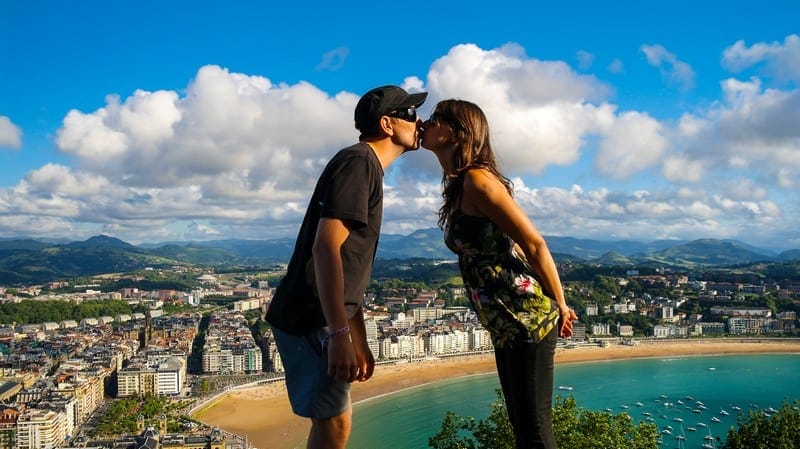 I mean that you have to really travel together. You have to step outside your comfort zones together to see if you are going to go be able to go the distance.
Couples Travel
While we may not be married, we do know what 3+ years of couples travel will do to a relationship. There is nothing that will strengthen, or break, those intimate bonds of a couple in love quicker than couples travel.
Travelling as a couple can be one of the most rewarding experiences of any couples lives. It can also be one of the greatest challenges you will ever face.
Living out of each others back pockets for months on end in foreign countries can be tough work. You might not be able to speak the local language fluently which means that you often have only one another to talk to for a few days.
Or you might be driving 18,000 km across North America in a tiny car that is also your bedroom, kitchen and living room. There is no escape and nowhere to hide if you fight.
The silent treatment for 8 hours tends to get quite boring.
You have to be able to make it work.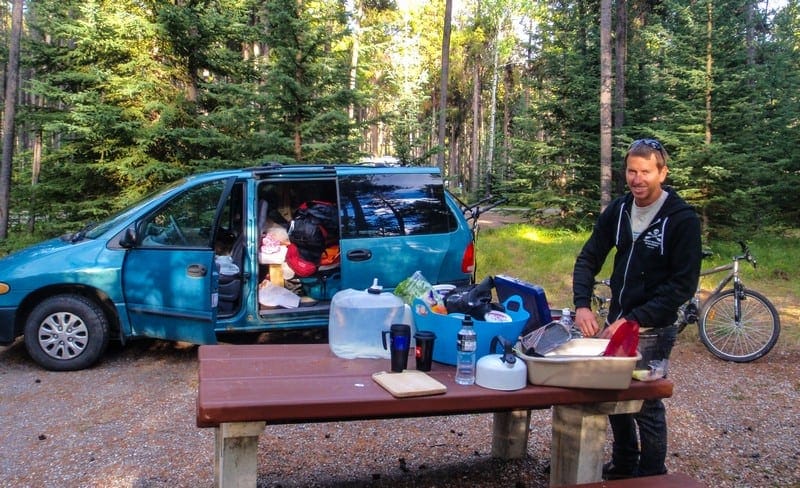 Yes we lived in that for 8 weeks.
So why should you travel as a couple before marriage?
Getting to know one another
During couples travel you quickly learn what makes another person tick. We have learnt a lot of life lessons while travelling as a couple and the ones that we stick to the most, are the ones that keep us both sane.
For example, I know that if Adela goes without a decent amount of sleep for a few days then she will be extremely cranky. And if I don't get food on a regular basis then I am going to turn into something resembling the incredible hulk, just without the green tinge and muscles.
It is being able to spot those little changes in one another quickly that will help you overcome much larger hurdles later in life.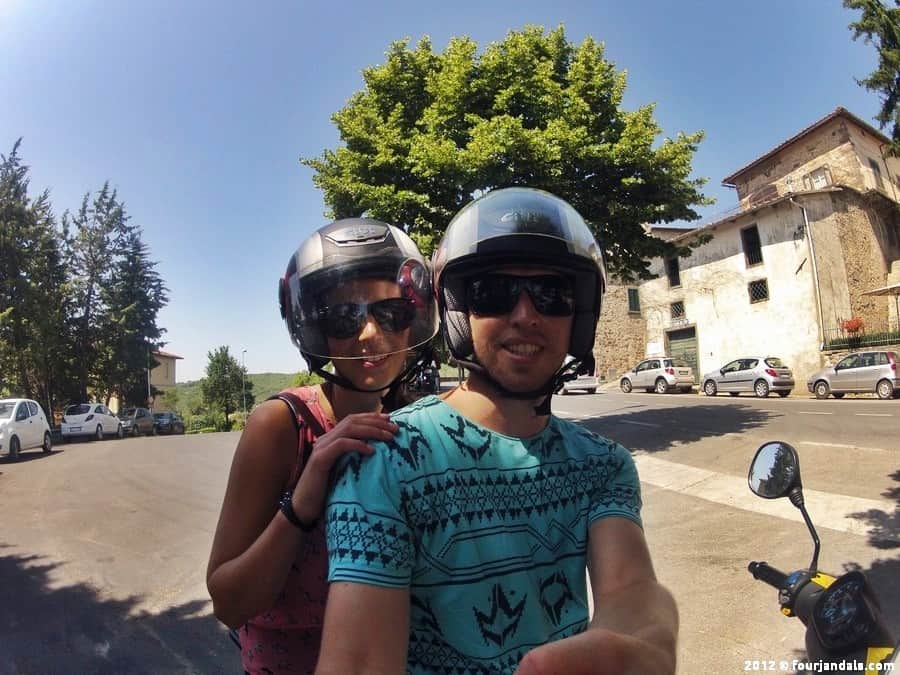 Good sleep + food = Happy couple
Facing your fears
Fears. We all have them. Whether it is a fear of heights or perhaps you suffer from claustrophobia, your partner can help you face those fears and overcome them.
We have a series on here about facing my fears where we deliberately put ourselves in situations that we are not 100% comfortable in. We think it helps us grow as individuals. But it also helps us grow as a couple.
When I suggested an adventure to go caving in Budapest, I knew that Adela would struggle with going underground. But she was willing to give it a crack. After we had walked just 50m underground, the door slammed shut behind us and Adela freaked out.
But knowing I was there to comfort her and help her out kept her calm until she got back to the surface. It of course didn't stop me from carrying on afterwards and having an awesome adventure either!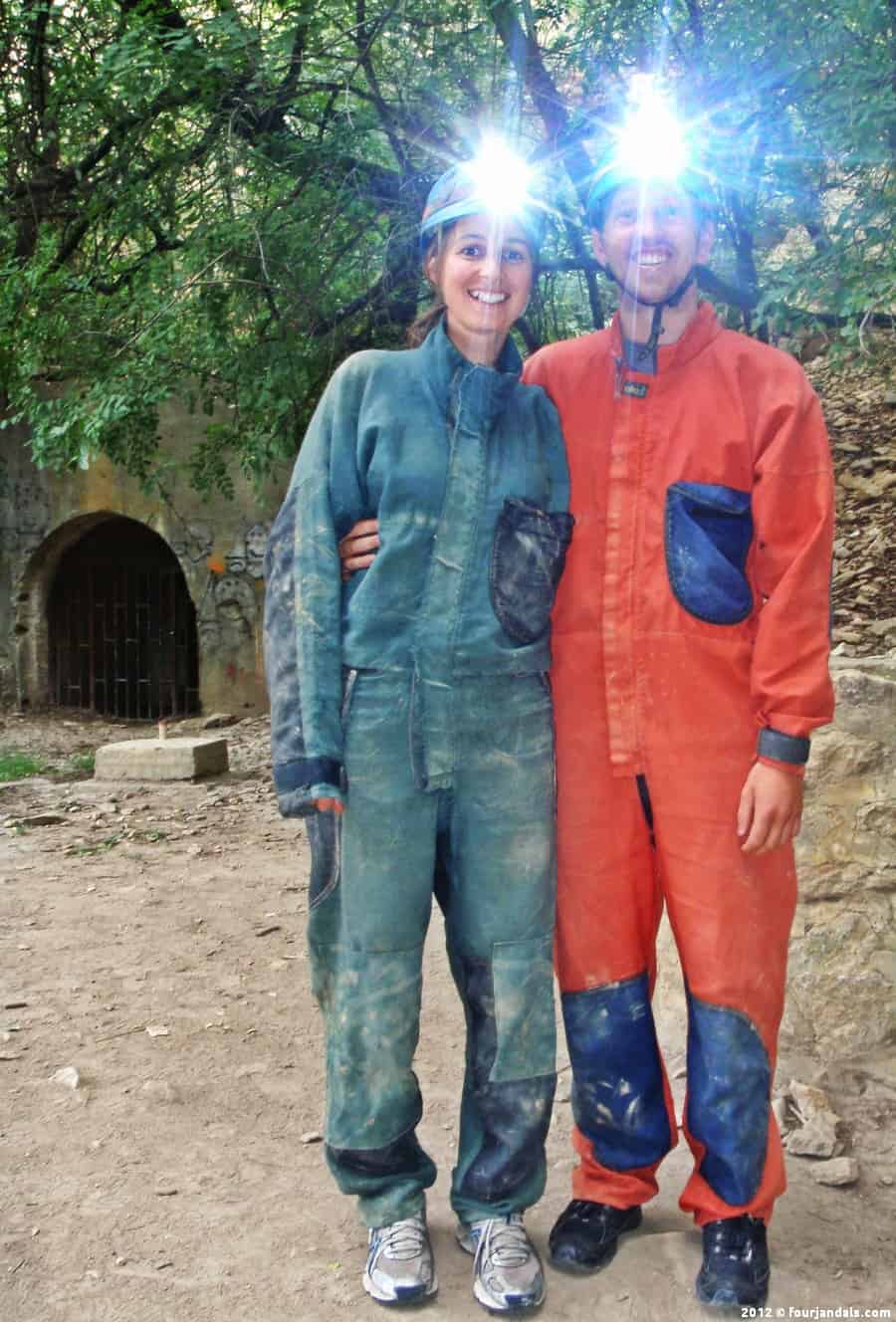 Being stripped bare
Being stripped bare in front of someone you love is not the same as facing your fears. It is much worse than that. It is allowing someone to become so close to you that they see you at your most vulnerable.
Couples travel will open up your most vulnerable sides.
Imagine this…
One of you falls victim to a sneaky snake charmer throwing his pet snake around your neck. 12 hours later you can't control the liquids coming out of either end of your body because of salmonella poisoning.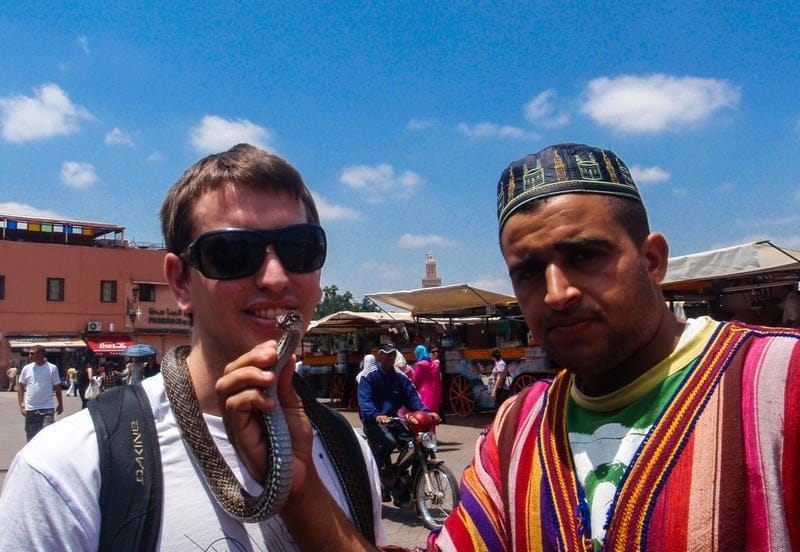 Not only do you wish that en-suite bathrooms with cowboy saloon style doors had never been invented. But this is also one time you don't want to be alone.
For two weeks I was horrendously sick and lost a frightening 10 kgs. So far from home and without the support of my family I had only one person to rely on. Adela. Luckily she put up with the sounds, smells and stress, and supported me through it all.
For that I am so thankful because I will never forget how vulnerable I was and how she never exploited my vulnerability.
Perspective: It's not all bad
Travelling as a couple is all about putting perspective on different events.
While you may become vulnerable, sick, frightened or angry, being there for one another is what counts to get you both through each situation. Because at the end of the day the good always outweighs the bad.
We never have to think too hard to remember the good times.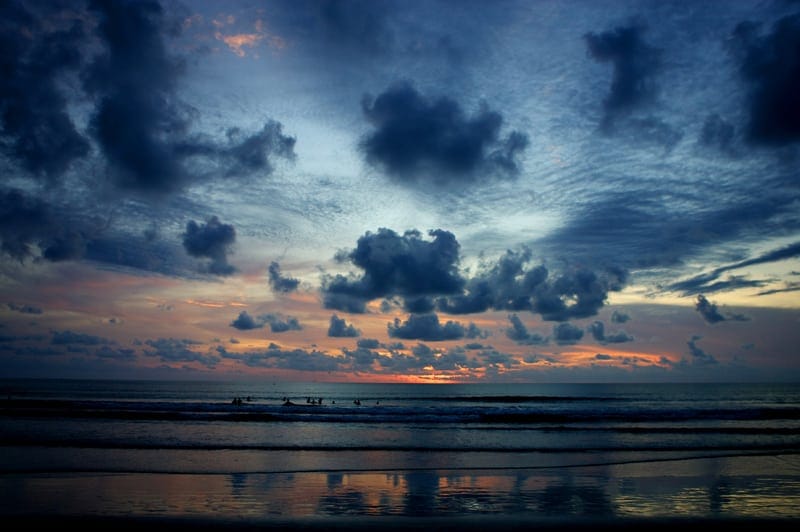 Sitting on a beach together watching the sunset. Drinking a coffee in a cute cafe in Paris or mountain biking in Canada. All of these experiences were made special because we did them together. They are treasured memories that we will share together forever.
Plus the bad can always be laughed at in the future.
In my opinion, if you can survive couples travel, you can survive anything. Including marriage.
Check out these Couples Travel Tips to learn how to survive travelling together. And if you want a "unique" Euro-trip adventure, you can always consider a holiday in Amsterdam to spice things up.
Have you travelled as a couple? Tell us about your experiences in the comments.
Budget Tips & Tricks: How to go on Vacation without Breaking the Bank
A vacation does not necessarily have to be the money sink that we all fear and dread. In fact, if done properly, you can end up saving a lot more money than you can imagine.
While there are a lot of luxurious vacation packages that are being pushed by travel agencies and the words "affordable" and "accessible" are as common as water and blinking, a truly frugal traveler would know better than to fall for them.
There are ways in which you can have a proper vacation in which you relax and enjoy yourself without having to spend your hard earned money. All you need to do is be very careful while at the same time be willing to plan and choose everything yourself.
1. Choose your destination and scout out the economy
The very first thing that you have to do is decide where to go on vacation, and while we are aware of the popular destinations, the truth is that every place has something to offer so don't be afraid to venture out into less popular and frequented destinations.
Make sure to check out their economy online by searching for the prices of various basic items such as bread, bottled water, and so on. This will give you a rough idea of what the real price of various items are, thus allowing you to avoid over-inflated prices and "tourist taxes".
2. Set up the transportation and lodgings
First off, check and see what the cheapest way to get to and from your destination is. The cheapest train tickets, the cheapest flights, the cheapest buses, and so on.
Then check and see what accommodations you can find. You might not want to go for the very cheap ones but be sure to at least pick one or a few with decent and reasonable prices. Of course, you can always consider camping which is why we recommend taking a look at the best down sleeping bag money can buy. This will keep you warm in any situation regardless of the choice you make (cheap motel or tent).
Once this is all said and done, check and see if there are any travel agencies that can beat these prices. They usually partner up with airlines and hotels, so you might be able to get a better price that way.
3. Pack light and keep a tight budget
Only pack the essential items that you will need on your trip. Usually around 3 changes of clothes, a washroom and toiletry kit, a couple of seasonal items depending on where you are going, and one of the best outdoor watches that you can find.
A good thing to do is to set aside a decent vacation budget and an extra 10% in reserve, just in case something happens and you need access to additional funds.
In conclusion
It does not take much to plan a proper vacation, even when on a budget. As long as you are careful and take the time to weigh in your options, you will undoubtedly find quite a few ways to save a good bit of money. Just make sure to have a backup fund just in case.

We have been wearing out our jandals (Kiwi for flip-flops) on our travel adventures around the world since 2009. We think our blog is thought provoking and a little witty. But we have been proven wrong before. Find out more about us here...