Enjoy the very best of New Zealand on a luxury yacht charter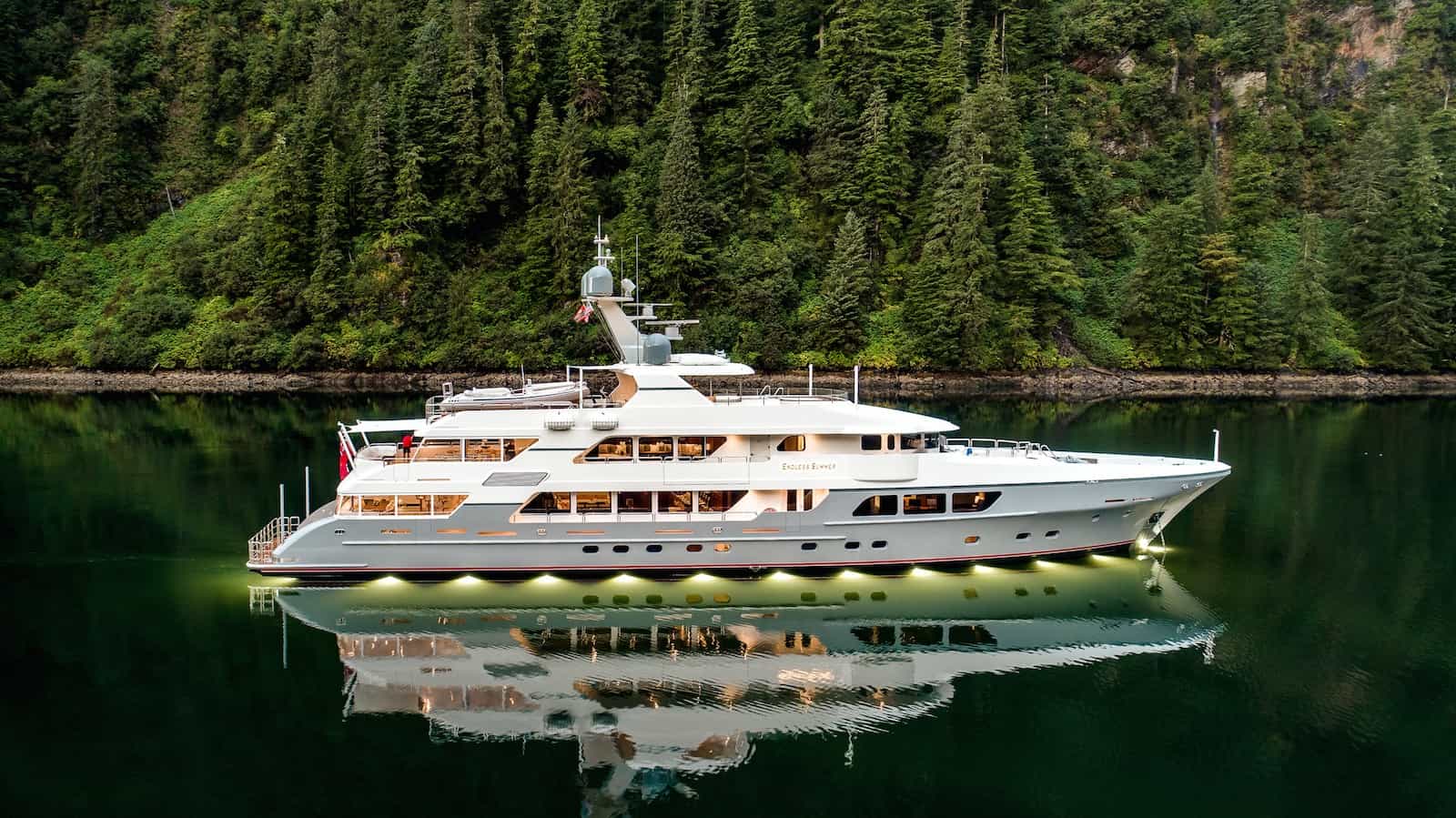 Halfway across the globe for many, New Zealand represents the ultimate destination for adventure-seekers, culture aficionados and nature lovers alike. No matter what draws you to these exotic shores, there could be no better way to experience the best that this land has to offer than onboard a luxury New Zealand yacht charter. Chart your own course and let your expert and attentive crew fulfil your every desire.
New Zealand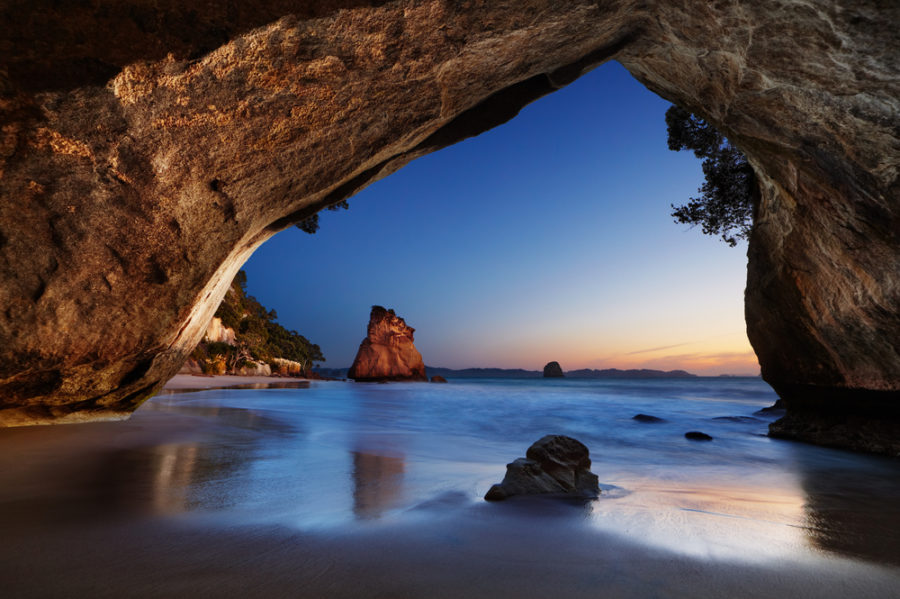 Explore every facet of one of the world's most breathtakingly beautiful spots, when you charter a yacht in New Zealand. Surf majestic swells. Study the mysteries and magic of the Maori culture up close and personal. Hike deep into thickly wooded, luxuriant forests. Learn every curve and rise of this rugged countryside intimately, as you follow New Zealand's nine epic "great walks", from Abel Tasman to Rakiura. Climb high up into the clouds, as you scale massive mountains.
Dive beneath the mirror-like surface of expansive lakes, nestled between green cliffs. Swim in the cool, clear glacial waters of fjords. Spend lazy hours drinking in the sunshine on deserted white-sand cove beaches with your New Zealand yacht charter anchored just offshore. Give into the laid-back vibes of a land that seems to inhabit its own unique space and time.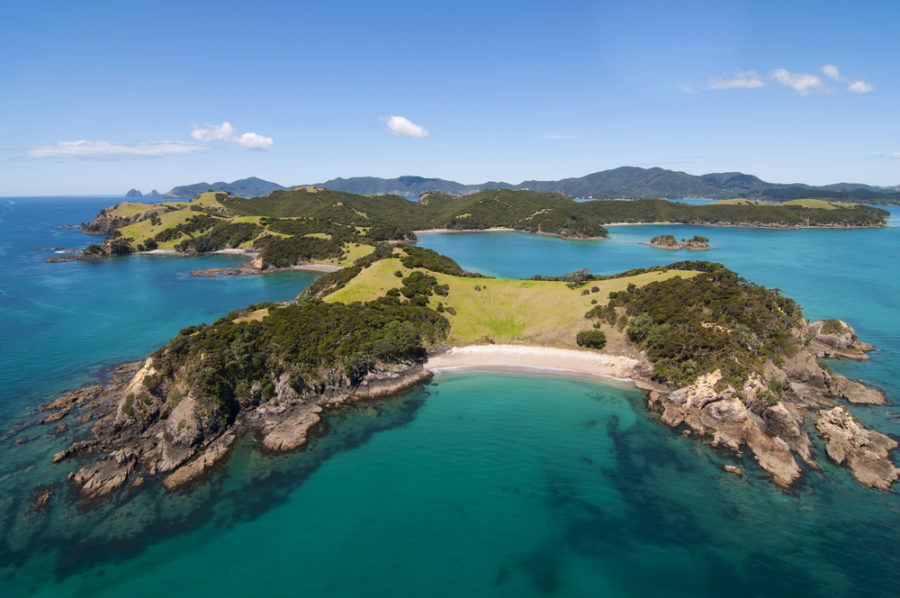 Discover the liveliest hangouts in up-to-the-minute, buzzy Auckland. Taste vintages guaranteed to convince you why New Zealand's reputation as a world-leading wine producer is well-deserved. Sample slow food specialties from every corner of this nation, which is celebrated for its local produce and innovative cuisine. Treat your taste buds to meals, which make the most of the freshest, locally sourced ingredients, such as the area's famed meats and fresh fish – all expertly prepared by your onboard chef.
Endless Summer – A superyacht made to go wherever adventure beckons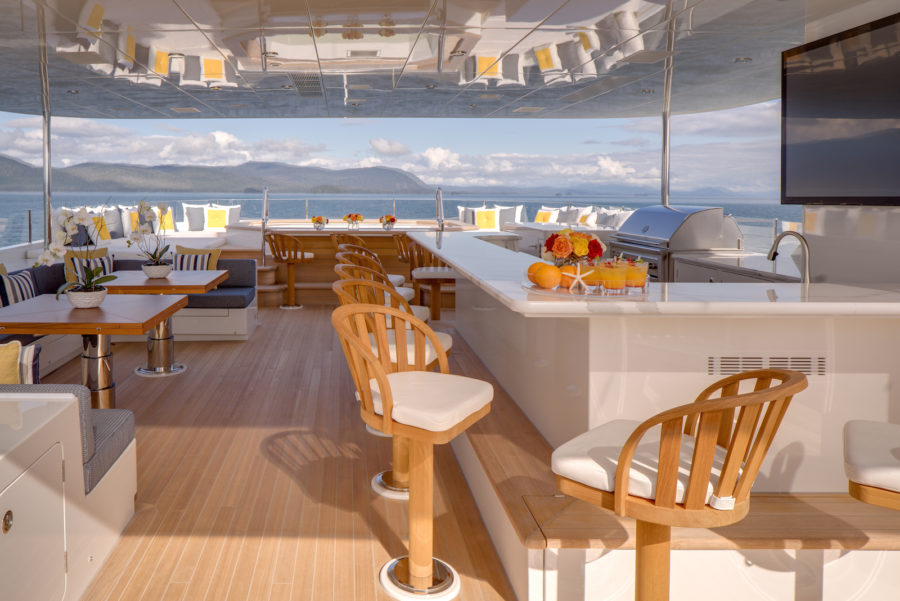 In search of the perfect yacht charter for your New Zealand adventure? Consider chartering the 49.9-metre (163.7-foot) superyacht, ENDLESS SUMMER. This brand new yacht, launched in 2017, has been specifically designed and constructed to travel over vast distances and to reach every corner of the planet.
Onboard this sturdy, powerful and extremely expansive, world-class superyacht you'll be able to truly get to know the very best that New Zealand has to offer. Plus, with a superb interior, created by the acclaimed Varo Team, and a ridiculously spacious exterior which includes multiple al fresco dining areas, a Jacuzzi, bar and outdoor cinema – Endless Summer yacht will let you cruise in high style, as you unlock the secrets and national treasures of this wild and irrepressible land. There's no better way to see, hear, taste, touch and feel the wonders of New Zealand than to journey straight to its heart onboard your own superyacht charter.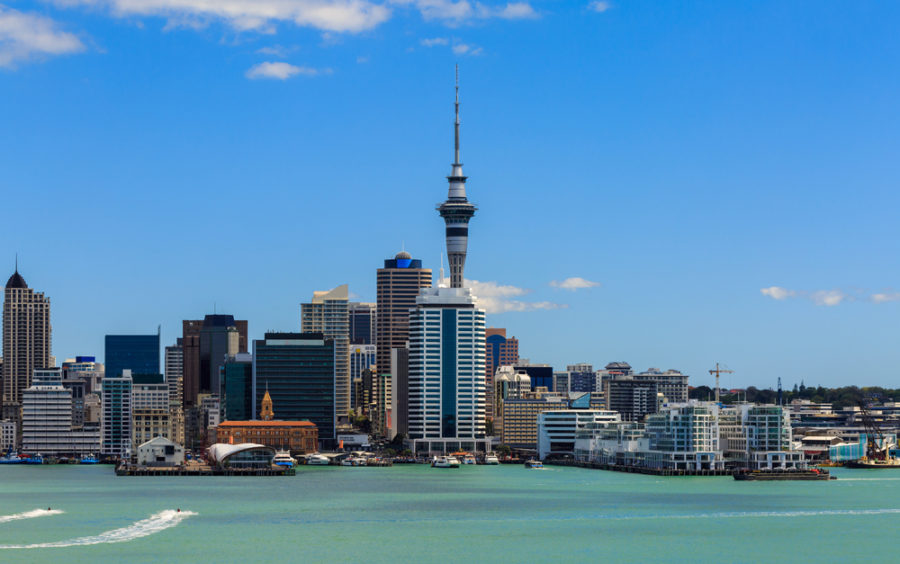 Adventurous Adelaide: Driving Up The Coastline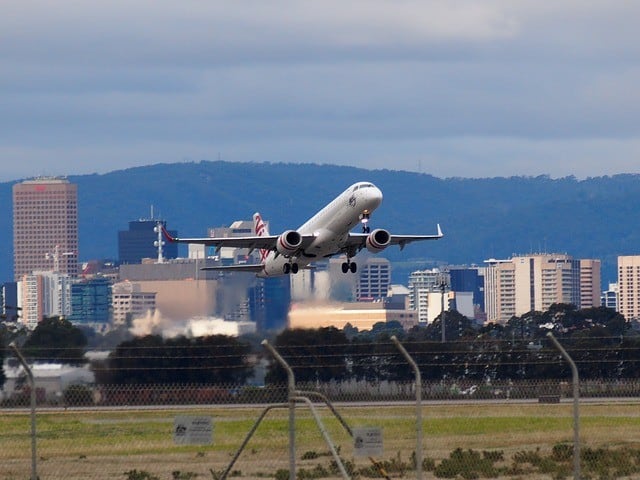 In the south-east of Australia, one of the oldest cities in 'down under' is situated at the coastline. Kangaroo Island neatly tucks the city away as it protects it from the southern winds and tropical storms. However, it's a place that is rural and humble. Normally tourists and travellers might see Sydney and Melbourne as the two places you have to visit if you do come to this side of the world. Yet Adelaide is what you might call 'real' Australia. It's the everyday life of living in a country that is most desert, surrounded by deadly wildlife and taking it slow that shows the side of the country that is bare and true. It's a city of 1.3 million people but this population is spread out in the countryside surrounding the city, and in suburban as well as urban districts. It's a place where many Australians have decided to retire in as it's quiet, and is at one with the beaches and the ocean waves. This makes it a perfect city to take a road trip in.
Take it slow
Driving up the coast, you'll be on many rural roads that will be winding and at times changing in gradient. Before you get going, consider campervan hire as it gives you a place to sleep, cook meals and hang out late into the night. These motorhomes are of the premium variety, which means you have many features that base models do not. Things like an onboard shower and toilet, as well as mattresses and external BBQs are available. Pretty much everything you need for a road trip is onboard. There's easily enough space for 3 to 4 adults but if you have a family such as 2 adults and 2 or 3 children there's enough space for all of you too.
On the cliff
Start your road trip journey in Seacliff. It's a small suburban area right by the coast. Long flat plains and beaches that are a gentle beige are accompanied with winding roads. The light green vegetation that surrounds the beaches, the roads and at the foot of the hills is just up to knee height. This little area is south of Brighton which is mainly a tourist hotspot. Seacliff is a quiet residential area with large houses and sometimes gated communities. A great place to watch the sunset and cook outside for your first night. Go down to the Seacliff Beach or the Seacliff Esplanade to learn how to row in a kayak. There's also a yacht club that can take you around the coast to see the rock formations.
Lack back sands
Your next stop along the coastline should be West Beach. An incredibly laid-back beach where local residents come to walk their dogs. Many families will come here on the weekends to have a picnic with an awesome view. The waters are largely calm because as aforementioned Kangaroo Island takes most of the speed out of the waves. It's a very popular swimming destination because the waters aren't just calm but they're also a clear blue sky colour. There are also ice cream parlours that will help you stay cool and enjoy something sweet. A lot of eateries are spread around the coast also, with the unusual barbecue joints being very popular. Of course as you can imagine, there are stores that sell iconic Australian beachwear and fashion brands that are popular among surfers and swimmers.
An inland island
To finish your coastal road trip, you should enter into West Lakes with the sole intention of visiting Delfin Island. It's a small island inland, with a golf course that also has lakes in it. However, West Lakes itself has attractions such as the long number of restaurants on the southern point. There's also a large mall called Westfield West Lakes with lots of domestic brands. So if you ever want to take a piece of trendy clothing back to your own nation with the style of Australia, here is a good place to get some. High up on the north end of West Lakes there is a boating club, which again can be used to take small tours around the lakes and enjoy the cool evening breeze just cruising up and down.
Australia is easily one of the best nations in the world for any kind of road trip. However, driving up the coast of Adelaide is one of the more pleasurable routes to take. It's quiet and peaceful, you're surrounded by beaches, lakes and the coast. No wonder so many people choose to live in this city, it's got clear blue waters, a slow-paced lifestyle and plenty of sunshine.
7 BEST BEACHES IN AUSTRALIA NO TOURIST SHOULD MISS
Australia is renowned for its natural beauty and its beaches, which never fail to catch us by surprise as each one is completely unique from the other. Australians have a prominent beach culture with the beaches not just many in number but also of high standards. With the country being 'girt by sea' it's no surprise that there are many Australian beaches to choose from. And when you see them, you then understand how they have become one of the main reasons why tourists visit the country.
The following are the 7 most iconic beach destinations in Australia that no tourist should ever miss.
Whitehaven beach
In 2008 State Awards, this beach was granted the title "Queensland's Cleanest beach". The beach is a 7km stretch and has facilities like Beach BBQ and camping. This beach is actually best known for crystal white silica sands and turquoise coloured waters. White haven beach got its name from the presence of white sands all over it which makes it look really pleasant and beautiful. The white sand on this beach is especially notable as due to the colour and shape of the grains, it does not retain heat which makes it very comfortable for people to walk barefoot all day. This is one of the best beaches in Australia.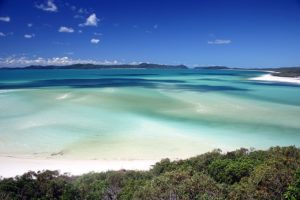 Image from Canvas Factory – Used with permission
Turquoise bay
The waters at Turquoise bay are the cleanest, clearest and calmest in Western Australia. This sandy beach is located in Cape Range National Park. The waters are warm, shallow and crystal clear. The beach is a home for massive prawns and whale sharks and a lot more fish species. One can find plenty of colourful corals in here. Turquoise bay ranks in the top 20 best beaches in Australia. The best way to spend an evening if you want to sit and relax is to visit Turquoise Bay!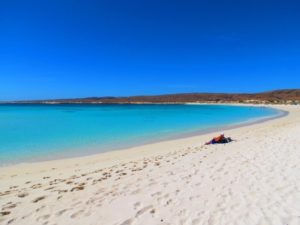 Image from TripAdvisor.com.au – Used with permission
Blinky beach
New South Wales has one of the best beaches in Australia and that is the Blinky beach. This is considered as one of the best surfing beaches in the country by the Australians. The Blinky beach has in it the turquoise sea, white sand, tall dunes and white daisies. It is situated right between the Blinky point and Mutton Bird lookout. This is one of the popular tourist attractions in New South Wales however swimmers should take great care as there are no lifesavers on duty at this beach, so if you get into trouble it might not end well.
75 Mile beach
Located right in Fraser island, the beach got its name apparently because it is 75 miles long. The other attractive feature of this beach is the presence of a popular swimming spot called as Champagne pools and Maheno Shipwreck. The beach is well known for its multi coloured sand that varies from vivid white to mosaic orange to ochre tones. This beach is the home for a large Tiger shark population and a great spot for oceanic views. It is considered as Australia's most iconic 4WD adventure spot and also world's best coastal drives. Tourists should take great care at this beach for two notable reasons, the tiger shark population and also the fact that 75 Mile Road is considered one of the more dangerous roads in Australia.
Bondi beach
One of the most visited sites in Australia is Bondi beach which is located in Sydney and is about 1 km in length. A large number of whales and sharks have been found in this beach during the months of March to May. A community cultural centre called as Bondi Pavillion is located in Bondi beach which has galleries, function rooms, theatres, art workshops and studios. This is the place where many of the festivals take place as well.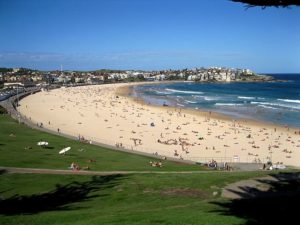 Image from Wikimedia – Used with permission through Commons License
Palm Cove
Palm Cove which is located in Northern Queensland coast got its name from the palm trees that line up the beach. It is located quite close to Great Barrier reef and Daintree forest and hence it gets a lot of tourist attraction every year. Many restaurants, cafes, galleries and Boutique shops are located very near to Palm cove that keeps the entire area busy.
Wineglass bay
Wine glass bay located in Freycinet National Park, Tasmania got its name right because of the perfect wine shaped curve the beach has got. The beach has white chalky sand, pink granite cliffs, clear and sapphire coloured waters and is entirely surrounded by forests and peninsula of mountains. The walk to wine glass bay is beautiful and most loved by all the tourists. Campsites are located at the end of the beach for people who prefer camping.
The Finest Australian Holiday
Visiting Australia is pretty vast of us to try and start talking about. Australia spreads far and wide, and there's plenty of places that you can visit, all of which will offer a unique experience. There are the tourist favourites that seem to attract a lot of attention, and there are the ones that are a little off the map, the ones that you should be keeping your eye on as well. The great thing about an Australian holiday is that you can have the perfect mix of exploring the beautiful beaches, and basking in the summer sun. Or you can venture into the outback just a little bit, and have a really authentic experience. So, whatever you find yourself travelling to Australia for, we want to try and make sure that you have a really amazing time, and here's how we think you can do just that.
Authentic Experiences
Because the country of Australia is so big, you really can find some authentic experiences that will make your stay better than ever. One of them is taking a trip to one of the wineries. It's an experience people often associate with Europe, and perhaps Naples, but Australia has some of the finest vineyards there is. If you check out the Cafe Bus, you'll see an experience like no other. Filled with food, delicious wine, and amazing weather. It's better than going around the vineyards as you usually would, which is walking! You could also take a trip to the Mitchell Falls in Western Australia. When the air is so warm outside, the refreshing breeze that the waterfall gives is really welcoming. Plus, it's a great day out filled with adventure, and you might even get to have a little dip if the temperature is right!
The Best Beaches
It's no secret that Australia really does have some of the most amazing beaches. You've got some of the great, and some of the most famous, such as Bondi Beach. Hundreds of thousands of tourists flock there every year to see the famous lifeguards, and swim in some of the nicest waters that the country has to offer! If you travel a tiny way off the coast of Australia, you will find Whitsunday island, which is home to Whitehaven beach. It's arguably one of the most picturesque that Australia has, even if you do have to travel a tiny bit to find it!
City Wonders
Melbourne is at the top of our list for cities. It's so clean and pure, yet full of so much fun and vibrance. It's home to Yarra Valley as well, which is one of the most beautifully green areas that we know of in Australia. If you head deep into the city, you'll be surrounded by bars, clubs, restaurant, and pretty much anything else that you could wish for. Perth is also a really refreshing and up and coming city. It might be smaller than Melbourne, but it still has plenty to offer!

We have been wearing out our jandals (Kiwi for flip-flops) on our travel adventures around the world since 2009. We think our blog is thought provoking and a little witty. But we have been proven wrong before. Find out more about us here...
What Are You Looking For?