Are you ready to explore Australia? Start planning your road trip!
Are you ready to explore Australia? Start planning your road trip!
So you want to plan the ultimate road trip around Australia? You are ready to start your journey of the vast land we live in and experience it all!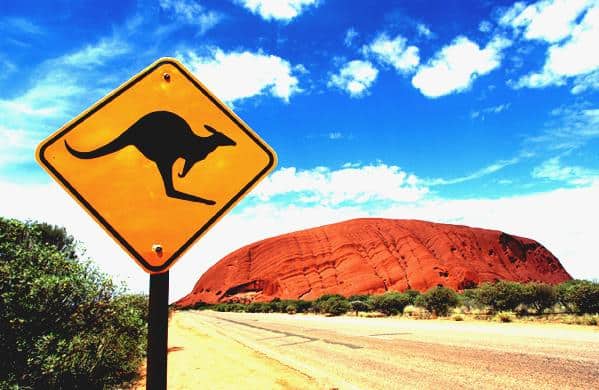 The incredible sites of Australia including Uluru, the Sydney Harbour Bridge, The Great Ocean Road and the beautiful beaches that surround us, are all in our backyard.
But you might have a setback. Either you don't have a car, need a bigger car or just don't want to use the car you currently own? For buying a cheap car or van for a road, Manheim Auctions Australia has you covered.
With weekly auctions opened to the public in all Australian states, you can buy a cheap car to get you going on that road trip you have always dreamed of.
Now you can plan all your adventures through the major Australian cities, explore the miles and miles of outback, get up close and personal with some of our native animals – but not too close – and enjoy the sight and sounds of your own country. Don't forget to pack your GPS.
So now you are probably thinking, what am I going to do with the car when I get home? Well there is a quick solution for that as well.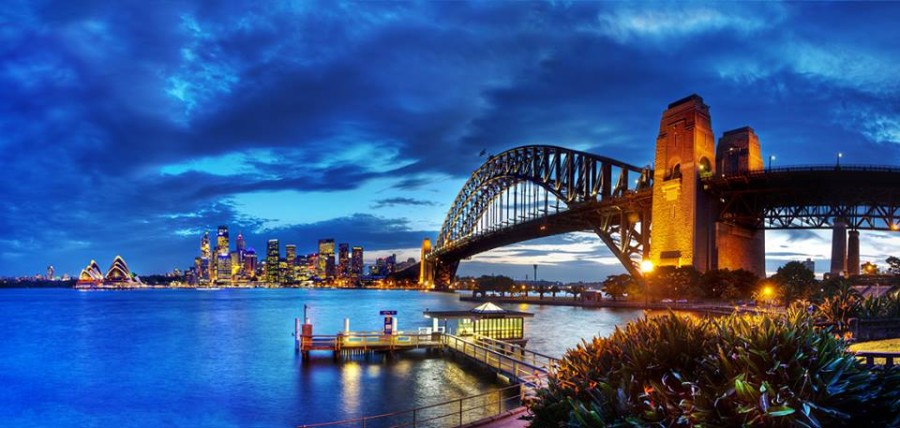 SellMyCar, a car buying service, will buy your vehicle when you get home from your trip. Sell your car fast with payments into your account within 24 hours.
SellMyCar is an easy and simple way to sell your car and will give you extra money when you get back to the reality of work, bills and more bills.
Get a car valuation before booking your appointment for an estimated value for the car. This is a fast and effortless way to get a rough idea of what your vehicle is worth, now that is quick and effective research.
Obtaining an online valuation for your car is completely free and provides you with the ability to research car values before selling or deciding to sell your car.
So relax, plan your trip of a lifetime and get excited, because Manheim and SellMyCar have your transport covered!
How does Sell My Car Work?
As a national car buying service the company buys all makes and models, including luxury vehicles. To sell your car, it takes only three easy steps –
Online car valuation – just enter your vehicle details online to receive an estimated value
Book an appointment – online or on the phone at one of Sell My Car's convenient locations
Attend an appointment – present your vehicle and the required paperwork and after verifying the condition of your car, a final offer will be presented with payment guaranteed within 24 hours if you are happy to proceed.
Selling your car this way is a simple, step by step process. With no roadworthy required it makes it a fast way to convert your car into cash, within 24 hours of sale.
About Sell My Car
Sell My Car is owned by Cox Automotive, one of the largest automotive services firms in the world. We purchase vehicles directly from owners offering a fast, easy and simple way for car owners to sell their cars. Payment is guaranteed on all vehicles and paid into customer's bank accounts within 24 hours of sale.
7 BEST BEACHES IN AUSTRALIA NO TOURIST SHOULD MISS
Australia is renowned for its natural beauty and its beaches, which never fail to catch us by surprise as each one is completely unique from the other. Australians have a prominent beach culture with the beaches not just many in number but also of high standards. With the country being 'girt by sea' it's no surprise that there are many Australian beaches to choose from. And when you see them, you then understand how they have become one of the main reasons why tourists visit the country.
The following are the 7 most iconic beach destinations in Australia that no tourist should ever miss.
Whitehaven beach
In 2008 State Awards, this beach was granted the title "Queensland's Cleanest beach". The beach is a 7km stretch and has facilities like Beach BBQ and camping. This beach is actually best known for crystal white silica sands and turquoise coloured waters. White haven beach got its name from the presence of white sands all over it which makes it look really pleasant and beautiful. The white sand on this beach is especially notable as due to the colour and shape of the grains, it does not retain heat which makes it very comfortable for people to walk barefoot all day. This is one of the best beaches in Australia.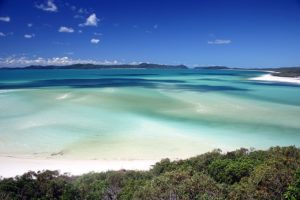 Image from Canvas Factory – Used with permission
Turquoise bay
The waters at Turquoise bay are the cleanest, clearest and calmest in Western Australia. This sandy beach is located in Cape Range National Park. The waters are warm, shallow and crystal clear. The beach is a home for massive prawns and whale sharks and a lot more fish species. One can find plenty of colourful corals in here. Turquoise bay ranks in the top 20 best beaches in Australia. The best way to spend an evening if you want to sit and relax is to visit Turquoise Bay!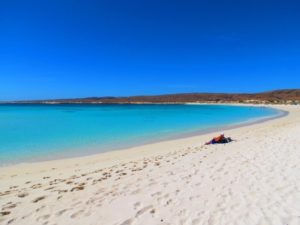 Image from TripAdvisor.com.au – Used with permission
Blinky beach
New South Wales has one of the best beaches in Australia and that is the Blinky beach. This is considered as one of the best surfing beaches in the country by the Australians. The Blinky beach has in it the turquoise sea, white sand, tall dunes and white daisies. It is situated right between the Blinky point and Mutton Bird lookout. This is one of the popular tourist attractions in New South Wales however swimmers should take great care as there are no lifesavers on duty at this beach, so if you get into trouble it might not end well.
75 Mile beach
Located right in Fraser island, the beach got its name apparently because it is 75 miles long. The other attractive feature of this beach is the presence of a popular swimming spot called as Champagne pools and Maheno Shipwreck. The beach is well known for its multi coloured sand that varies from vivid white to mosaic orange to ochre tones. This beach is the home for a large Tiger shark population and a great spot for oceanic views. It is considered as Australia's most iconic 4WD adventure spot and also world's best coastal drives. Tourists should take great care at this beach for two notable reasons, the tiger shark population and also the fact that 75 Mile Road is considered one of the more dangerous roads in Australia.
Bondi beach
One of the most visited sites in Australia is Bondi beach which is located in Sydney and is about 1 km in length. A large number of whales and sharks have been found in this beach during the months of March to May. A community cultural centre called as Bondi Pavillion is located in Bondi beach which has galleries, function rooms, theatres, art workshops and studios. This is the place where many of the festivals take place as well.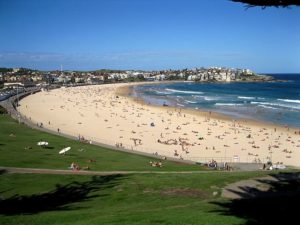 Image from Wikimedia – Used with permission through Commons License
Palm Cove
Palm Cove which is located in Northern Queensland coast got its name from the palm trees that line up the beach. It is located quite close to Great Barrier reef and Daintree forest and hence it gets a lot of tourist attraction every year. Many restaurants, cafes, galleries and Boutique shops are located very near to Palm cove that keeps the entire area busy.
Wineglass bay
Wine glass bay located in Freycinet National Park, Tasmania got its name right because of the perfect wine shaped curve the beach has got. The beach has white chalky sand, pink granite cliffs, clear and sapphire coloured waters and is entirely surrounded by forests and peninsula of mountains. The walk to wine glass bay is beautiful and most loved by all the tourists. Campsites are located at the end of the beach for people who prefer camping.
The Finest Australian Holiday
Visiting Australia is pretty vast of us to try and start talking about. Australia spreads far and wide, and there's plenty of places that you can visit, all of which will offer a unique experience. There are the tourist favourites that seem to attract a lot of attention, and there are the ones that are a little off the map, the ones that you should be keeping your eye on as well. The great thing about an Australian holiday is that you can have the perfect mix of exploring the beautiful beaches, and basking in the summer sun. Or you can venture into the outback just a little bit, and have a really authentic experience. So, whatever you find yourself travelling to Australia for, we want to try and make sure that you have a really amazing time, and here's how we think you can do just that.
Authentic Experiences
Because the country of Australia is so big, you really can find some authentic experiences that will make your stay better than ever. One of them is taking a trip to one of the wineries. It's an experience people often associate with Europe, and perhaps Naples, but Australia has some of the finest vineyards there is. If you check out the Cafe Bus, you'll see an experience like no other. Filled with food, delicious wine, and amazing weather. It's better than going around the vineyards as you usually would, which is walking! You could also take a trip to the Mitchell Falls in Western Australia. When the air is so warm outside, the refreshing breeze that the waterfall gives is really welcoming. Plus, it's a great day out filled with adventure, and you might even get to have a little dip if the temperature is right!
The Best Beaches
It's no secret that Australia really does have some of the most amazing beaches. You've got some of the great, and some of the most famous, such as Bondi Beach. Hundreds of thousands of tourists flock there every year to see the famous lifeguards, and swim in some of the nicest waters that the country has to offer! If you travel a tiny way off the coast of Australia, you will find Whitsunday island, which is home to Whitehaven beach. It's arguably one of the most picturesque that Australia has, even if you do have to travel a tiny bit to find it!
City Wonders
Melbourne is at the top of our list for cities. It's so clean and pure, yet full of so much fun and vibrance. It's home to Yarra Valley as well, which is one of the most beautifully green areas that we know of in Australia. If you head deep into the city, you'll be surrounded by bars, clubs, restaurant, and pretty much anything else that you could wish for. Perth is also a really refreshing and up and coming city. It might be smaller than Melbourne, but it still has plenty to offer!
4 of America's Best Ocean Front Towns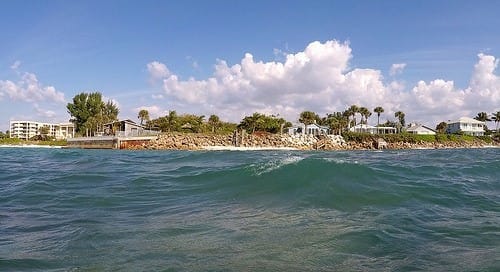 The United States is lucky to have lots of great coastal areas. With land on both the Pacific and Atlantic Oceans, the country has boundless beaches in many states. If you're looking to book a trip on the water, consider one of these oceanfront towns on the American coast.
Siesta Key, Florida
Ranked as the best beach in America by TripAdvisor, it's no surprise to see Siesta Key on the list of top oceanfront towns in America.
Your first excursion once here should be to dive under the water to see some of the country's finest aquatic life and corals. Snorkeling spots at Crescent Beach allow you to gaze upon a number of marine creatures in their natural habitat. Afterward, head to Turtle Beach to dry off and catch up on your reading. Finish the day off at Siesta Village, where you can shop, eat, and drink to your heart's content.
When looking for hotels in Siesta Key, check out locations near the beach so you can have waterfront views right from your room.
Pacific Beach, California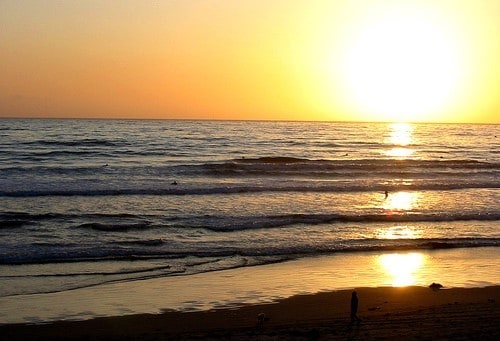 If you live on Florida's west coast, then Pacific Beach is your best bet for a fun time near the water. It's a hot spot for the younger crowd, with numerous bars and restaurants that stay open late into the night. If you're not so into partying, try your hand at surfing or bodyboarding during the day.
Pacific Beach also has a thriving Ocean Front Walk, which is a boardwalk that runs parallel to the water and has enough shops to keep you busy the entire day. Check out Pacific Beach accommodations early on so you can score a place close to all the action without breaking your budget.
Ocean City, New Jersey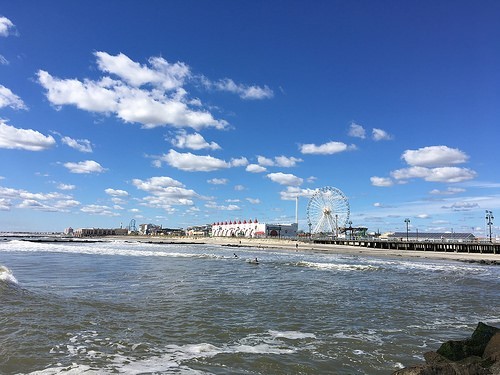 For those who are toting around the entire family for a fun-filled vacation, Ocean City in New Jersey is just where you want to be. From the world-famous boardwalk to the 8 miles of sandy beaches, Ocean City lets you keep the entire family happy without pulling your hair out.
Once you've tackled the shopping and dining of the boardwalk, head out on the water to try your hand at windsurfing, paddle boarding, Boogie boarding, and more. Kids will love it if you pick out Ocean City hotels near Jim Thorpe's River Adventures or the New Jersey Motorsports Park.
Islamorada, Florida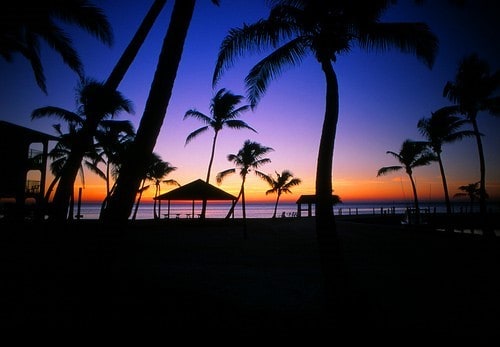 Islamorada is the place to go if you want a relaxed vacation with a natural vibe. Comprised of six islands, Islamorada is away from the hustle and bustle of the mainland. Fishing reigns supreme here. Test your skills with both saltwater fly and backcountry sport fishing.
If you have diving certifications, you'll need to go beneath the water's surface to explore the wide selection of reefs and fish. There's even the History of Diving Museum to help you learn more about the hobby. Be sure to book your Islamorada hotels early, as rooms near the water tend to fill up fast.
You can't go wrong with a trip to one of these four oceanfront towns in America.

We have been wearing out our jandals (Kiwi for flip-flops) on our travel adventures around the world since 2009. We think our blog is thought provoking and a little witty. But we have been proven wrong before. Find out more about us here...