East, South, West, North – 18,068km through Canada and USA (Week 2)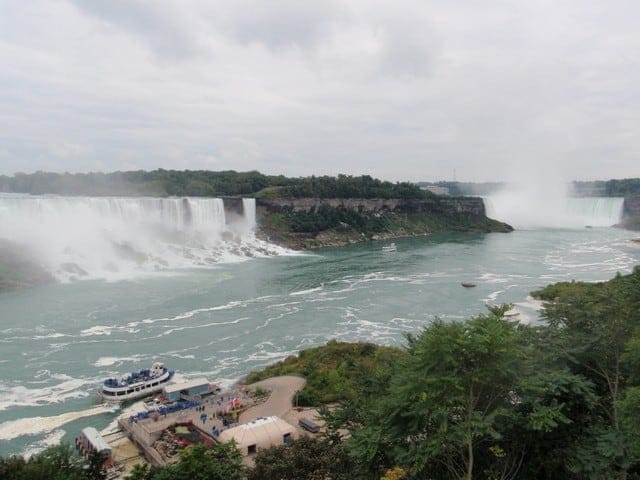 The following (really long) post relates to Week 2 of mine and Adela's road trip from Jasper in the Rocky Mountains across Canada into America and back to Vancouver covering a total of 18,068 km in just 7 weeks. 
Its tricky trying to get photos of both of you
Day 8 – 11/09/2010 – Toronto.  It was a different kettle of fish and completely daunting being back in a city after spending the last 10 months working in Jasper which only has a full time population of 5,000.  We had decided before we left Jasper that we wouldn't use a GPS either (and when I say we, I mean me since I am a man and can navigate by the stars).  Since I did the majority of the driving it was left up to Adela to navigate us through the city to find a parking spot.  She did an outstanding job but by the time we had parked we were playing a fun game I like to call "silence".  Basically we enjoy each others company while slowly fuming away in silence until about an hour later one of us will laugh at the other for being so grumpy.  Its a great relationship builder…

Unhitching our bikes we set off for the day along the waterfront to the city centre to catch a ferry out to Toronto Island.  I love the bike lanes in countries such as America because they actually work and don't unexpectedly stop down the middle of the road.  NZ government and local planners take note.  We spent the better part of the sunny morning biking around Toronto Island and it was amazing that there are a small number of houses that are actually on the island.  Great views over the water as well to the CN tower and cityscape.  


The almighty CN Tower
Made our way to Old York (apparently Toronto use to be called York but didn't want to be Old York since New York sounded cooler and more modern) where we checked out the St Lawrence Market.  Suckers for a good food market we got stuck into all the speciality foods with the highlight an extremely tasty savoury muffin.  China Towns always seem to drag Adela towards them as well, and although they usually have some great food this one was a bit of a disappointment but we still got a quota of 5 plus a day fruit and veges to take in the car.  Kensington Market was the next stop on the agenda and we wish we had a few more hours to spend checking it out.  Very hippy and alternative with the local houses reminding us both of Dunedin student flats (without the Speights cans).  Some cool shops and little cafes where Adela wanted to eat everything and buy all the little dresses.  Luckily we stuck to budget.
Kensington Market street art
Found a cute campsite in Jordan Valley not far from Niagara Falls.
Spending = $50 (petrol), $4 (car parking), $13 (ferry), $13 (food), $32 (camping) = $112 total.
Day 9 – 12/09/2010 – Niagara Falls.  Free parking was found at Marineland since we are cheapskates before biking down to the falls.  Holy Moley.  What a site.  Even the rapids before the actual falls are intense then all off a sudden the ground just disappears and the water thunders over unrelenting.  Even the spray can be felt above the falls themselves.  What is scary is that there is a barge that is perched upon some rocks a few metres up from the falls and there are a huge number of nutters that have gone over in all sorts of stupid contraptions.  Some living to tell the tale and some just disappearing for ever.  We spent the better part of an hour being full on tourists snapping away getting some shots.
American Falls on the left and Horsehoe Falls in the distance.  Maid of the Mist in the foreground setting off packed to the rafters.



We donned the blue Maid of the Mist ponchos, which seemed a bit tacky and unnecessary to begin with but boy did we need them!  We piled onto the boat, which we decided looked like a  refugee boat with the hundreds of other tourists and set off.  The Americans must be gutted that the "American Falls" are actually smaller than the "Horseshoe Falls" which belongs to the Canadians.  However, they are both incredibly impressive and the boat drives right into the mist.  The water hitting the rocks creates a crazy effect of strong winds and heavy spray that feels like you are in the middle of a storm.  Two oldies elbowed their way in front of us as we drove up to the first falls but were quickly cowering behind us after a few minutes of getting pounded by the water in the heart of Horsehoe Falls.  Well worth the money we spent and such a cool experience. 
After drying off we headed to the main tourist strip.  I was really disappointed though as it had become so commercialised with souvenir stores, wax museums, and other tacky shops.  All in all though a great day out and would love to view it from the American side as well.  We packed up our bikes and headed to Peterborough to visit another Jasper friend who Adela worked with during the summer.  After staying in Walmart the night before Adela was desperate for a shower and I needed some clean clothes as there are only so many different ways you can turn your shirts inside out and back to front so it was good to do some washing up.  Huge burgers and beers before we crashed out.
KM travelled = 322 km.
Spending = $32 (Maid of the Mist), $10 (chocolate present for staying the night), $35 (food) = $77 total.
Day 10 – 13/09/2010 – A blissful sleep in with no real plans for the day apart from to drive to Montreal.  However as we headed along the road we decided to make an unscheduled pitstop in Ottawa, the capital of Canada, and what a neat stop it turned out to be.  Even though we only spent about 2 hours wandering around we still managed to check out Parliament Hill.  Some huge old buildings including the Peace Tower which had amazing panoramic views across the city.  The Peace Tower was built as a War Memorial and they never fail to move me.  Again we managed to find the local food stalls, this time at Byward Markets where we tucked into some tasty treats.  Finished the day stuck in freaking traffic before stopping just 30 km from Montreal at another Walmart.
Spending = $58 (petrol), $8 (car parking), $21 (food) = $87 total.
 Parliament building and the Peace Tower in the middle
Day 11 – 14/09/2010 – Rush hour!  Frick.  It took us 2 hours to travel just 30 km into Montreal city. Luckily the breakfast cafe we found quickly made up for it and put smiles back on our faces.  It is completely whack that in the middle of a huge English speaking country there lies Quebec province which incorporates everything to do with French people.  I was just keen to try my French out on everyone I met but quickly realised the very little I knew was completely useless.  However, we battled on hitting the tourist trail once more with Cathedrale Marie-Reine-du-Monde up first.  One word = Massive.  Its modelled on St Peter's Basilica in Rome so had beautiful paintings on the roof and wooden carvings throughout.  Wandered on down past the town hall to the Bank of Montreal museum which was the first Canadian bank and actually invented currency.  
Chappelle Notre-Dame-de-Bon-Secours was next on the hit list.  The old sailors used to come in and pray for safe journeys across the ocean.  During their travels at sea they would often past the time by fashioning wooden model boats that they carved or made and these would be donated to the Chapel on their safe arrival back home.  Marche-Bon-Secours had been converted into a high-end shopping mall with little boutique shops and staff who turned their noses up at us as we wandered past in our jandals.  Definitely no chance of shopping there.  The old town roads were still the original cobble stones with heaps of street artists selling their wares.  I had to drag Adela off before she brought anything that we would then have to squeeze in to the cramped car. 




The final, and most impressive building was left to last, the Basilique Notre-Dame. Its one of, if not the most famous landmark in Montreal and well worth the donation at the end for a tour explaining the history, which included the 6,000+ pipe organ, the hidden stained glass window, the wedding chapel, Priests staircase and the largest bell in North America.
KM travelled = 94 km.
Spending = $8 (car parking), $32 (brekky), $10 (tour of Notre-Dame), $22 (camping), $10 (more food) = $82 total.


Day 12 – 15/09/2010 – We had found a campsite just outside Montreal so returned again to the city in the morning.  This time turning off the tourist trail to explore and educate our minds at the Montreal Science Centre. The main exhibits consisted of a glass area, sex exhibit and a hands-on area, obviously not all in the same place… Not quite sure what the sex part was all about but we were pretty much in hysterics the whole time.  Somehow we managed to spend about 5 hours taking it all in but it was nice not to be rushed for time.  Dinner was located in some funky French pizza cafe where again I established that I really wish I knew a second or third language. As a Kiwi I have hardly even mastered the English language, yet we would often met French-Canadians or other travellers who could speak 2/3 or more languages.  
I had heard of a surfing spot in the heart of Montreal on the St Lawrence river so decided we better go check it out.  AWESOME.  There were about a dozen surfers milling around on the shoreline patiently waiting their turn all having a good laugh.  Basically everyone takes turns to paddle straight out into the middle of the river current faces upstream and starts paddling like mad so that once you hit the perfect spot on these natural river waves you will remain stationary and can then stand up.  The ride can be endless but every minute or so a new paddler would jump in and they would just rotate out having to paddle back to shore before running along the track to the put in again.  I still wish to this day that we had stuck around for one more day so I could hire some gear and have a crack.  Hopefully we will visit again in the future!  
KM travelled = 113 km.
Spending = $50 (petrol), $24 (Science exhibits), $10 (parking), $28 (dinner) = $112 total.
Surfing on the St Lawrence – Signalling the next guy in for his turn
Could pull cutbacks and ride it for as long as you liked!  A surfers dream.


Day 13 – 16/09/2010 – No traffic thankfully as we headed away from Montreal via the St Lawrence river to Quebec City.  Some cute little towns that I wish we had time to explore but as always not enough time and too many k's to do.  Straight onto our bikes around the Parc des Champs-de-Batallie (Abraham's Battlefields Park) which was the site where the British defeated the French many moons ago.  I seem to have a fascination with old military weapons as you can see…  
The Parliament building was pretty neat as was the St Jean Church that had been converted into a library.  A great use of space for an old building that was no longer used.  Some how our noses, and the guide book, led us to the Chocolate Museum where we had to indulge in some tasty treats.  

Locked the bikes up to explore on foot and wandered down the Rue-St-Jean (very pretty french street) with little side streets tucked away and some cool houses around.  My favourite was definitely checking out the battlefields and the history there while Adela enjoyed the chocolate (surprise surprise) with Rue-St-Jean coming in a close second.
KM travelled = 271 km.
Spending = $22 (food), $8 parking, $12 (chocolate treats), $8 (clothes washing), $22 (camping) = $72 total.


Adela intent on buying some art
Day 14 – 17/09/2010 – Back to Quebec City in the morning for some more touristy delights.  Biked through the Battlefields again to the Quebec City Citadel, which is still an occupied and functioning Army base and one of only 2 in the world still active.  Walked all the way along the humongous perimeter walls into the walled Old Quebec City stopping in for lunch (starting to get sick of peanut butter sandwiches) in Place de Armes Square outside Le Chateau Frontenac.  A classic Frenchman was belting out a little bit of Andrea Bocellia who just happens to be Mum's favourite Opera singer so I was tempted to sing along.  Alas we ran out of time but he deserved a tip for for entertaining us.
Le Chateau Frontenac is the most photographed hotel in Canada.  It was gorgeous, but we decided we have seen better.  Adela soon spotted the local artwork in a side alley and promptly fell in love with every piece there.  I restricted her to one item which she browsed over for about an hour while I lazed in the sun.  Started to get hot and bothered so wandered down the aptly named "Breakneck Stairs" to the narrowest legal streets in North America for some gelato and jumping.  Adela had been hanging out for a coffee all morning but we didn't find them until it was early in the evening after the University area and Latin Quarter had been explored.  The Basilica Notre-Dam-de-Quebec was good and pretty inside but the Montreal one trumped all over it.

Walked our way around the rest of the wall and I found the Parc de L'Artillerie (no translation required here) with several old cannons and tonnes of photos for me!  The final stop of the evening was the Citadel where we managed to jump on the last tour of the day.  We always prefer getting a tour around areas including cities and buildings as I always think for the money you spend they are definitely worth it.  The Citadel is designed as a star shape so that you have loads of points to defend from covering all the different angles of approach.  The walls are all built into the ground with slopes leading up to them so that the enemy can't actually pinpoint where to fire.  Very effective, all though the French still managed to lose it somehow.  


Exhausted after a heavy day of walking and sightseeing throughout the cities around Quebec and Ontario provinces.
KM travelled = 226 km.
Spending = $7 (car parking), $18 (dinner), $10 (treat), $10 (tour), $25 (painting), $55 (petrol) = $130 total.
Weekly KM travelled = 1669 km.
Spending for the week = $672.

 Atop the Citadel walls

Citadel looking back towards Le Chateau Frontenac
The Best Safari Holiday In The World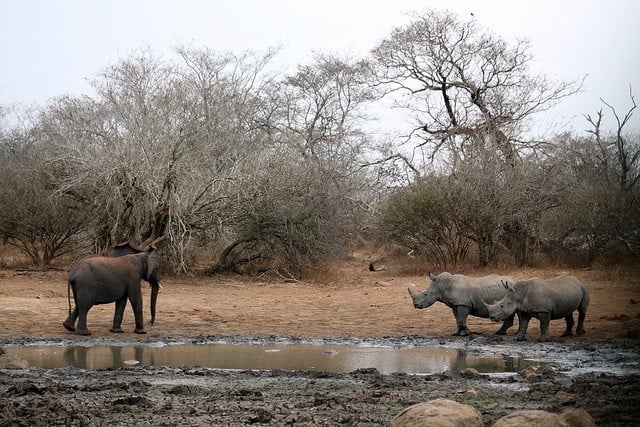 Every continent has its little treasures. North America is big and beautiful and is the entertainment capital of the world. South America is exotic and offers treasures such as the Amazon rainforest. Europe is known for its culture, architecture and art. Asia is known for its interesting hardworking people who live very differently to the west. Australasia (Australia and New Zealand) is known for its sunny beaches and very friendly people. Antarctica, of course, is very cold and then there is Africa – lush, expansive, green Africa.
The movie 'The Lion King' is not far from the truth with regards to how the animals live amongst each other in Africa. Obviously they don't roam the streets, as some people actually think, but are kept in the safaris where game rangers protect them.
In Africa, particularly South Africa, there are many safari experiences. The biggest one being 'The Kruger National Park'. The Kruger National Park is a staple of the South African experience. Millions of people flock there from all over the world each year to experience it. There really is no other experience quite like it. It is all about nature and the wild. Just remember when traveling to these far away places to keep your health in check. This Research Verified review will tell you more.
What Makes The Kruger National Park So Special
The Kruger National Park was established long ago as far back as May 31, 1926. It was named after the president at the time, Paul Kruger. The unique part of the safari are the animals you will find there. Animals such as rhinos, leopards, buffalos, lions and elephants (known as the big 5) as well as African wild cats, caracals, cheetahs and servals. You will find tall giraffes, hippos, jackals, kudu, an array of gorgeous, colorful birds, warthogs, monkeys, baboons and more. This is the biggest reason so many people come from all over the world – to experience something different and dazzling under the African sky. This is Africa's offerings at its best. Just to be there and explore its pure nature. It is one of the largest parks on the surface of the Earth extending to 19,485 square kilometres. It's basically the same size as Israel (Israel covering 20,770 square kilometres). It's massive with so many things to do and it offers both day and night game drives.
Travel Packages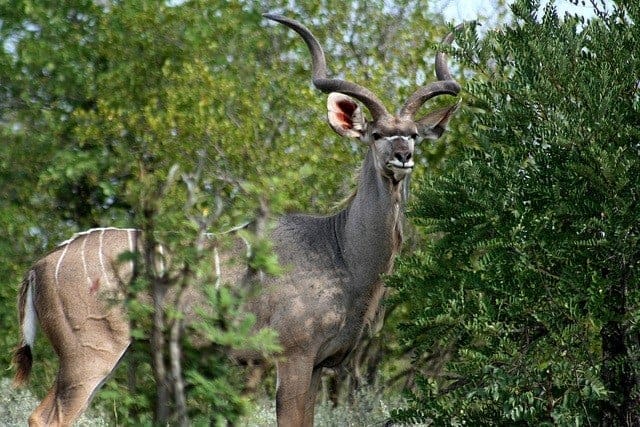 Back in 1926, the first tourist cars entered the Park. Back then there was no accommodation provided for them. Nowadays there are gorgeous travel packages on offer. There are a lot of 3 day options that go for great prices including luxury options. There are lodge, camping and gorgeous luxury safaris. Although, if you are traveling from overseas you will want a longer experience. There are combination tours that combine the Kruger National Park itself with trips through the Garden Route and Cape Town as well as Victoria Falls, Swaziland and Kwazulu Natal.
Kruger National Park Offerings
There are gorgeous culinary delights at the safari and there are huge buffet breakfasts on offer made superbly under the watchful hands and eyes of expert chefs. There are actually 17 different restaurants within the Kruger National Park that offer breakfast. You can also enjoy a bush "braai" at the Kruger Park which is the South African term for 'barbeque'. You cannot visit South Africa or the Kruger National Park and not have a braai – it's part of the complete experience. It often includes different meat such as 'boerewors' which are very thick, juicy and tasty meat filled sausages, lamb chops, beef steaks and chicken as well as chicken kebabs. It will always come with beautiful salads and fresh bread (often buttered garlic bread with herbs) and buns for the boerewors in which ketchup and mustard are often combined. Beer and wine are also really big in South Africa and there will be a big variety.
There are also swimming pools at the park which are great during the hot summers – December to February period. There are beautiful spa resorts within the Kruger National Park that offer gorgeous packages as well as ziplining nearby.
You can travel to this magical place alone but it is best spent with family or friends. The Kruger National Park offers ample adventures. There is no other place like it on Earth and the memories of it will stay with you forever!
Top 5 Cruise Ideas for Winter Holidays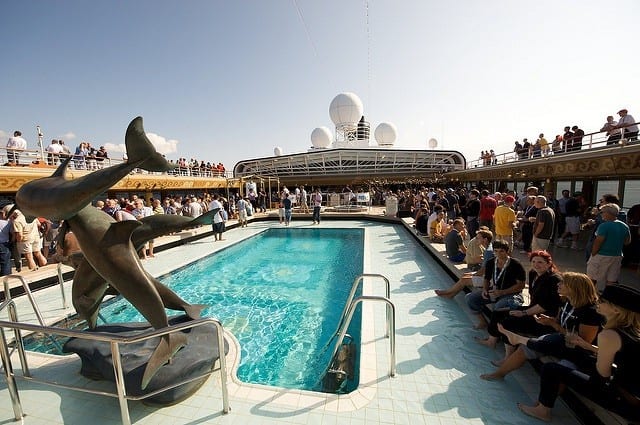 Mention a cruise to most people and they will think about sun and islands.  But there are lots of different places to go on a cruise that is fun, interesting and can also be done in winter.  So, whether you want some winter sunshine or enjoy the splendor of the snow, here are five ideas for a winter holidays cruise.
Alaska cruises
Alaska has some amazing scenery and plenty of great places to visit that means you should definitely try an Alaskan cruise for a winter holiday.  Many of them combine the best of Alaska with neighboring areas of Canada – an example includes seven nights around Alaska and a two day trip to the Rocky Mountains on the Rocky Mountaineer Train.
Other combinations include taking in the sights of Alaska and visiting one of the big Canadian cities such as Vancouver.  This lets you see the beauty and splendor of Alaska including areas such as Glacier Bay National Park as well as spend some time in the city.
Norway cruises
Like Alaska, Norway is a classic place to visit if you love a snowy, cold winter and all the sights that it brings.  Norway cruises are a chance to see amazing spectacles such as the Northern Lights and the Gulf Stream means that the coast of the country is ice-free all year round so the weather doesn't stop the fun.  These cruises are also a chance to take in some top winter activities such as snowmobile safaris and even dog sledding as well as classic winter sports such as skiing and snowboarding.
Polar cruises
A Polar cruise is a unique experience, especially for wildlife fans.  It is a chance to see amazing creatures such as whales, polar bears and penguins in their natural habits and also to visit remote Inuit communities in Greenland.  These pristine areas are the last untouched wildernesses on the planet and offer the chance to see locations that are historic for polar expeditions of the past.  You can even try some activities such as kayaking and mountaineering with the ship acting as a base camp.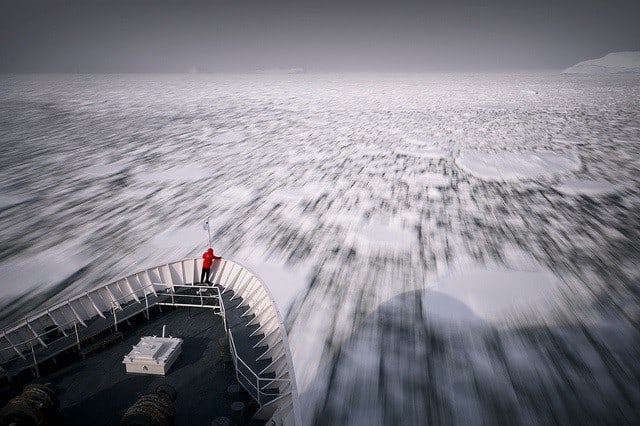 Indian Ocean cruises
Not all winter cruises need to be cold ones – there are plenty of warmer Southern Hemisphere locations to visit as well.  One example is a cruise around parts of the Indian Ocean.  There are a number of notable islands around the ocean that make for a great place to stop on a cruise and enjoy some winter sun.  Examples include visiting the Seychelles, Zanzibar, the Comoros Islands, Reunion Island and even the islands of Tanzania.
Caribbean Cruise
The Caribbean Cruise is one that can be enjoyed at any time of the year.  While the temperatures may be a little cooler during winter, it is still pleasant with plenty of sun.  Pick islands that offer the activities you love most – diving, surfing, horse riding or just relaxing on the beach.  Each island has its own personality and offers something different for visitors to ensure you can have the perfect winter cruise every time.
3 Adventurous Things to Do in Canada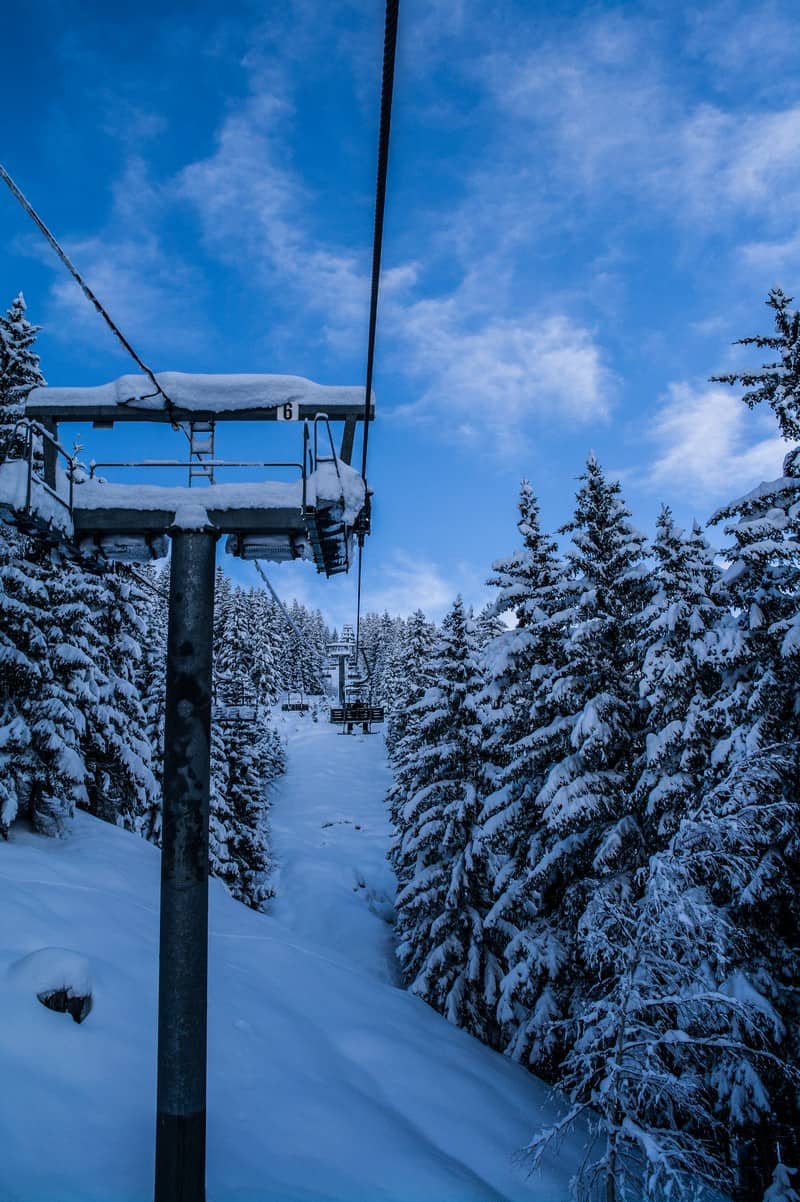 Canada is an overwhelmingly large country that sits comfortably above the U.S. If you are preparing to travel to Canada it's even more important to do your research about each province and what there is to do. Adrenaline junkies would feel upset to visit Ontario rather than British Columbia and a digital nomad might feel more at home in cities like Toronto and Vancouver. The summers are generally warm but watch out for the winter in many parts of Canada which go well below zero making you desperately not want to venture outside without a good reason. That's why this article is for you as a few select activities are highlighted.
Skiing or Snowboarding
Canada has some of the best mountains for skiing in the world that rival the alps and then some. While not for everyone, the true adventurer can take advantage of heli skiing opportunities throughout the country. This off-trail downhill skiing is only accessible by a helicopter thanks to a man named Hans Gmoser who first came up with the idea. One of the top places to try this sport is British Columbia's famous mountains in Banff or on the other side of the country in Mont-Tremblant. The views from above are stunning and one of many reasons why travelers trek here from all over the world.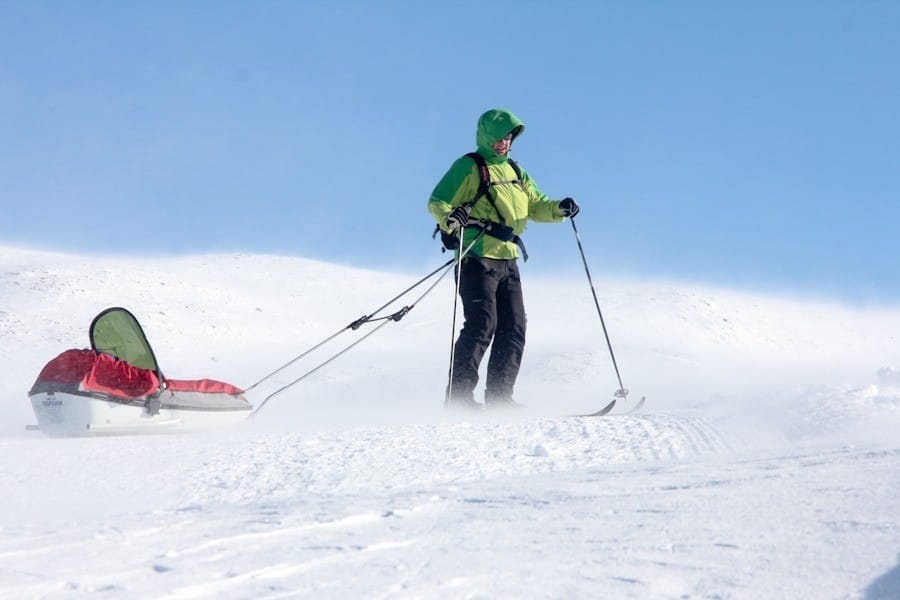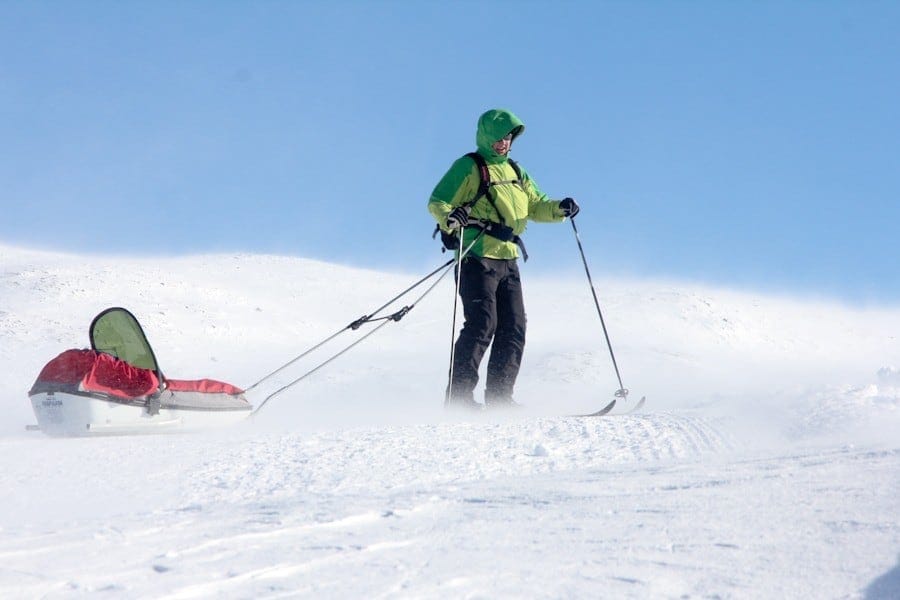 See the Polar Bears in Churchhill
Most people do not realize that polar bears migrate just like birds. Each year from September until November, polar bears pass through Churchhill as part of their migration route. This town in Manitoba is one of the few places to observe polar bears in the wild as they spend the winter season hunting their prey. This is a truly off the beaten path without roads to access the town. Instead, locals and travelers both use buggies to cross the rough terrain.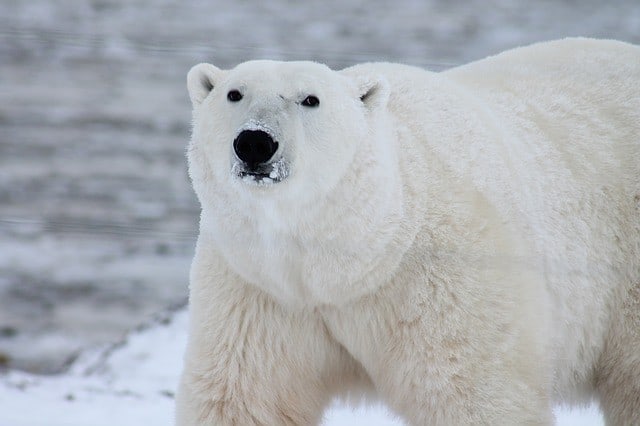 Try Surfing in Tofino, British Colombia
When it comes to surfing most people think of California and Hawaii. Both states are excellent surfing spots. However, Tofino in British Colombia has some of the most scenic surfing in the world without the typical backdrop. Despite the cold waters that hover around 50 degrees Fahrenheit year round, it's still possible to surf with wetsuits during the summer months. The winter months are simply not possible as imagined. Fortunately, there is plenty to do in Tofino along with surfing due to its rainforests, hiking and thermal springs.
Canada is one of few meccas for adrenaline junkies whether you have an itch to see wildlife in some of the most remote areas or simply go surfing.

We have been wearing out our jandals (Kiwi for flip-flops) on our travel adventures around the world since 2009. We think our blog is thought provoking and a little witty. But we have been proven wrong before. Find out more about us here...