Ultimate Guide: What to pack for the Camino de Santiago for 2 weeks?
Find out what to pack for the Camino de Santiago by using my comprehensive list for my own personal pilgrimage of 2 weeks on the French Way.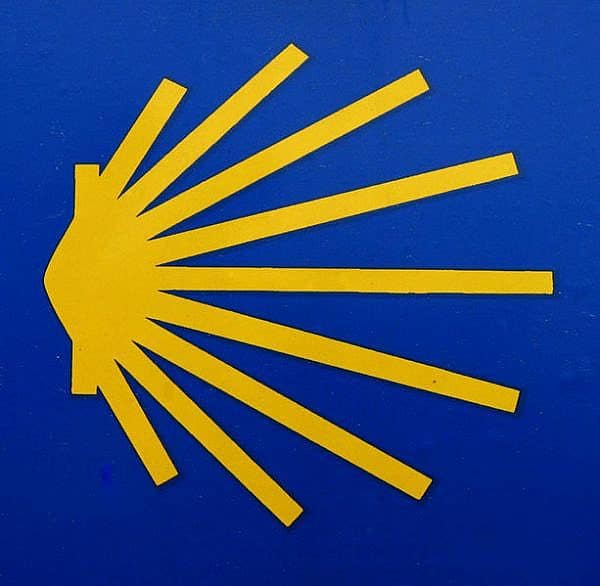 Packing lists for travel are so incredibly personal that I usually wouldn't advise you what to take on a trip. What one person considers essential, I may think is ridiculous and vice versa. However, when you are trying to figure out what to pack for the Camino de Santiago when you only have 2 weeks to walk, I think you have to follow a guide.
Since I announced I was setting off on The French Way, I have been asked several times exactly what to pack for the Camimo de Santiago.
I only had a couple of weeks for my pilgrimage and it didn't go so well (full story to come) so I can't count myself as an expert. Nor did I do nearly enough research. I only had 5 days to get everything ready from when I booked my flight, until I flew out.
But even so, there was nothing in my backpack that I felt like I could leave behind and this is everything that I recommend you pack for the Camino de Santiago.
What to pack for the Camino de Santiago for 2 weeks?
Weight and comfort are the only things you want to think about when figuring out what to pack for the Camino de Santiago. Most people choose to limit their Camino backpack to 10% of their body weight which is a good starting guide.
My full backpack with all the gear below weighed a touch over 10 kgs. But luckily my trusty Trespass Harket 35L Backpack is comfortable. So while it was a little heavier than I would like it wasn't as bad as some of the 25 kg backpacks I saw.
It also fits in carry on for the plane and I definitely wouldn't go larger than this.
Clothing:
North Face Hedgehog Gore-Tex Walking Shoes
Jandals
Undies x 3
Beanie
Merino Thermal tops x 2
Buff
Merino Thermal Trousers
Waterproof Trousers
North Face Waterproof Jacket
Plastic waterproof Poncho
Ethcs T-Shirt x 2
Running shorts
Merino wool socks x 4 pairs
Sweater
Sun hat
Woollen Gloves
Sunglasses
Electronics:
Samsung Galaxy Tab 2 10.1 Inch
Samsung NX11 Camera
GoPro Hero2
HTC Desire S smartphone
iPod
Travel USB memory sticks x 4
European plug travel adapter
Medical Supplies:
Asthma Inhaler
Sun block
Compeed Blister Block (various sizes)
Nurofen
Needle and Thread
Padded sports strapping tape
Other essential items:
Sleeping Bag
The ultimate silicone sleeping ear plugs
Renewable grocery bag
Ziplock bags for waterproofing electronics
Toilet paper
Twistie clothesline
Duct tape
Quickdry towel
1L Reusable Sigg drink bottle
Paper notebook and pens
Whistle
Spork
Shampoo
Toothbrush
Toothpaste
Dental floss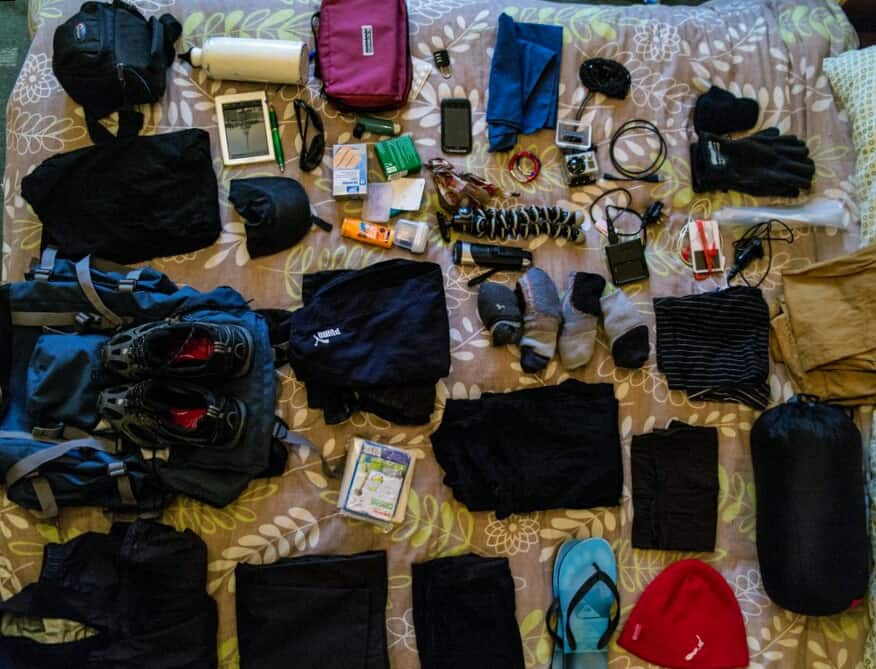 Ok, even this list is slightly personal to me. And you can definitely argue about a few of my items in my backpack. But for my own sanity, and so that I could keep this blog updated, I sacrificed weight to keep things like my Samsung Galaxy Tab 2 and GoPro Hero2 in my Camino kit.
If I wanted to really do it as a full blown pilgrim convert then I could easily have left all the electronics at home. I also would have cut down on my clothing by losing 1 t-shirt, 2 pairs of socks, 1 pair of undies, and a thermal.
But for the benefit of my other pilgrim buddies, I didnt want to have to walk alone smelly the entire time!
Also take the time to check out my favourite photos from the Camino de Santiago.
What do you think of my ultimate Camino de Santiago packing list? Anything you would leave out? Something additional you would have packed?
How to Make the Most of Your Travels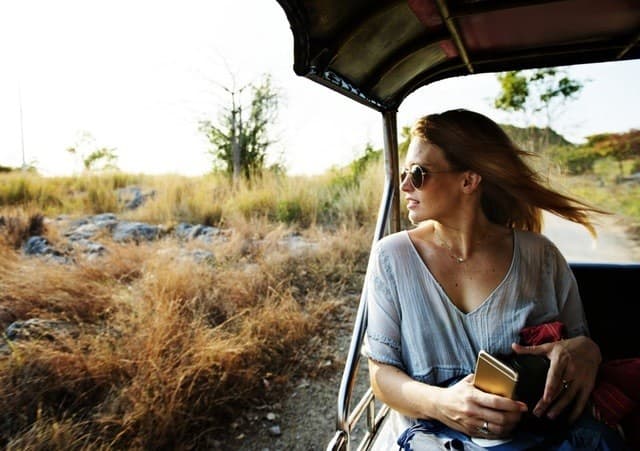 Traveling is a very liberating and fun experience. Not only do you get to see some incredible sights, taste some amazing foods, and hear sounds you might never have heard before, but you also get to know the people who live in such exotic places. There are 7.6 billion people in the world, and we have created a complex, fascinating collection of cultures that truly need to be experienced to be understood. There is so much potential when you travel, but you need to make the most of your time abroad in order to appreciate it truly. Staying at a hotel the whole time won't let you learn about places like Egypt, Israel and Peru, it will only give you a taste of what another resort is like. To truly make the most of your travels, you need to:
Get Out There: Taking Tours
If you aren't comfortable jetting off on your own, that's okay! There are tours and packages available that will ensure you have a safe and comfortable trip. For instance, you can extend your South Africa trip and take all-inclusive tours to Israel. This means you get a return flight, your hotel rooms booked, and your food covered all on top of great guides to show you around the most ancient of cities. These kinds of tours allow you to experience the world with the comfort and peace of mind that comes when an experienced travel agency has arranged everything.
Explore at Your Own Pace: Going Off on Your Own
When you're experienced enough with traveling the area, you can then go off on your own. When you do, opt for slow travel. This means that instead of trying to see all the top sights in a week, you stay for a longer period of time and explore a smaller area at greater length. Not only is this slower travel better for the environment, but it's also better for your health, and you'll gain more insight from your trip.
Do Your Research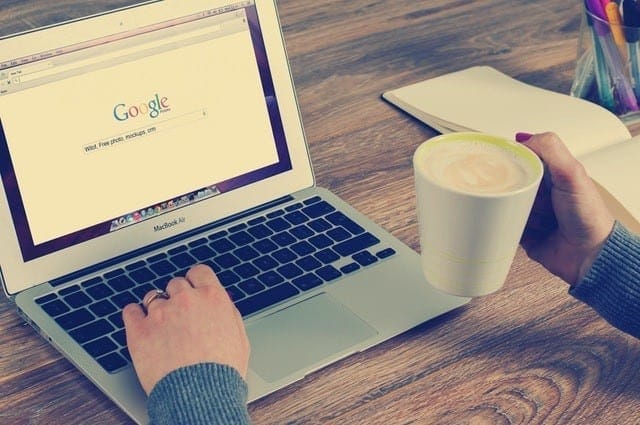 Many activities will have to be booked in advance. Therefore, you'll need to read up on the activities in advance, so you know the scams you should avoid and the best offers available to you. You should also read up on common dos and don'ts. For instance, you shouldn't take cabs that aren't arranged for you through your hotel.
Document It!
Memories only last so long before they begin to fade, which is why you need to document your travels. Take photos, video, and most of all, keep a journal. This can be on paper or on your phone, but write down everything that you have done that day. Write down what you've done and what you felt. This will be the best souvenir that you can take home with you.
Traveling is an amazing experience, but you need to do your research so that you can find the best tours, key information, and safety tips. The more prepared you are and the more you know, the more you'll get out of your journey.
Travel Photography – Most Photogenic Places in New Zealand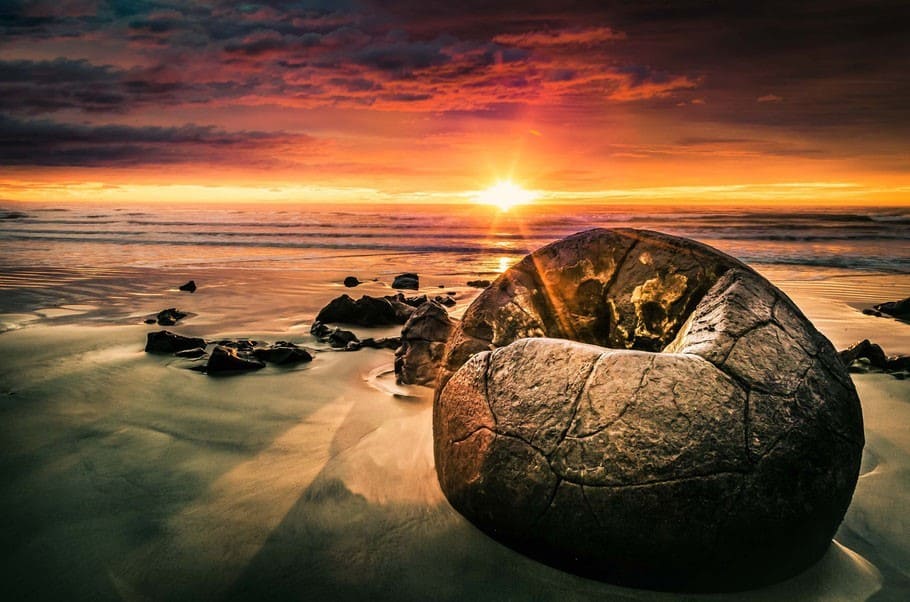 If there is a place in the world no nature enthusiast should miss no doubt the South Island of New Zealand it is. The landscapes there are simply breathtaking, so diverse you can't imagine such a small country has it all. Throughout this wonderful island are stunning beaches and thrilling waterfalls, turquoise lakes and snow-capped mountains; the list is literally endless. Although so small you only need a few hours to traverse, you a likely to spend days in the blissful amazement of this country.
Take your camera with you. This is a place to remember through the rest of your lifetime. In that regard, below are the most photogenic places on The South Island of New Zealand.
Moeraki Boulders
Found on Koekohe Beach, these strange-looking, large spherical concretions rank among nature's oddest and astonishing sights. Eroded from the shoreline, some of these boulders are up to 2 meters in diameter. The best time to view these natural wonders is at sunset, and some visitors say they look like dragon eggs waiting to hatch.
Marlborough Sounds, New Zealand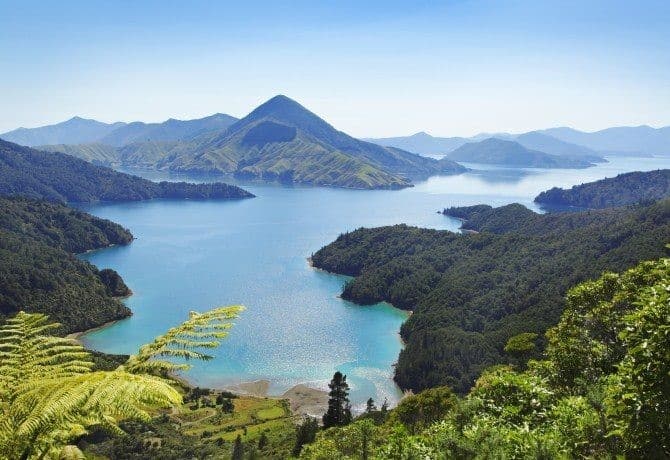 At the top end of the South Island, you'll find an amazing geological occurrence. The Marlborough Sounds are a collection of sunken river valleys, where the ocean has reclaimed the land. The stunning contrast of thick forested hills sinking steeply into the ocean creates some wonderful opportunities for photography.
Church of the Good Shepherd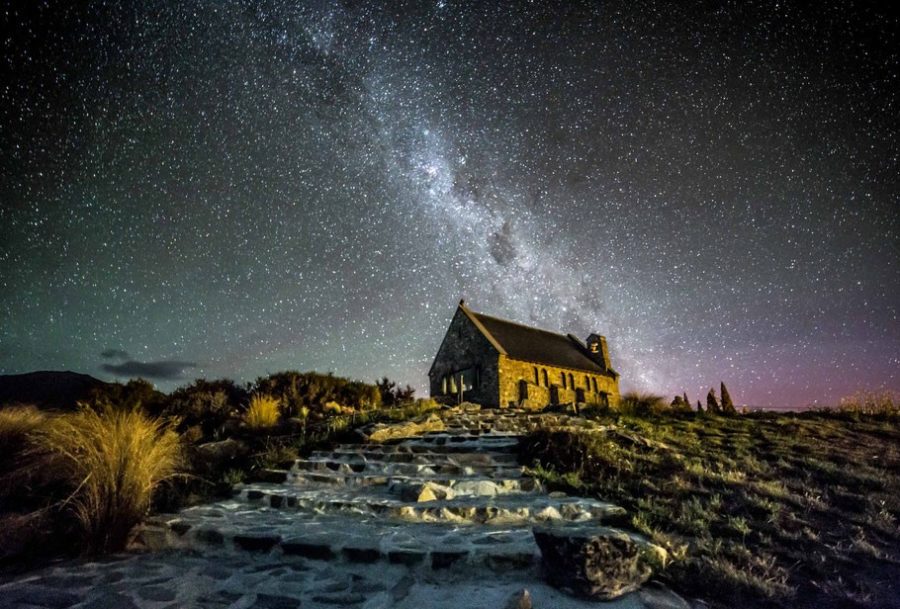 One of the most visited historical sites in New Zealand, the Church of the Good Shepherd is located in Mackenzie Country area. Located right within the international dark sky reserve in, the placement of the church means you can capture some of the most amazing astrophotographical shots imaginable. Any astrophotography enthusiast visiting must see this little chapel, located in the famous Tekapo region.
St Clair's Beach – Dunedin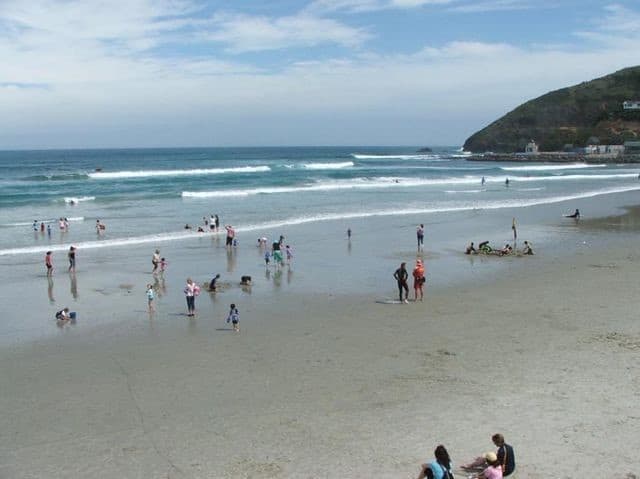 St. Clair's is a stunningly beautiful sandy beach, one of the many sweeping along Dunedin's eastern suburbs. As well as being a highly popular surfing spot, St. Clair's Beach is home to tourist's bars, café's and relaxing saltwater outdoor heated swimming pools. At the end of the beach stand old wooden poles, and there is most photographers' favourite spot.
Purakaunui Waterfalls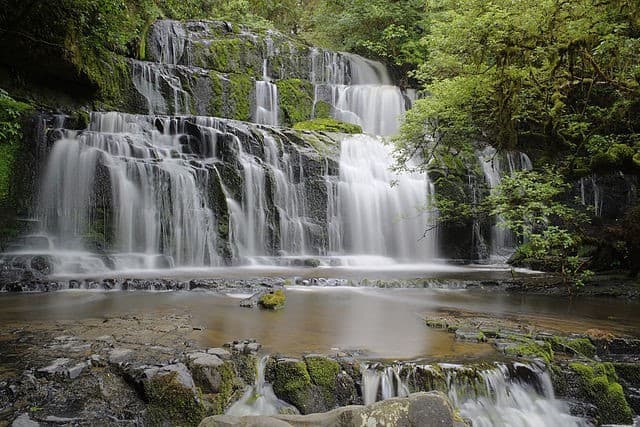 The Caitlins region is an absolute delight for nature photographers, with countless beautiful locations to visit. One of the best in the region is the Purakaunui Waterfalls. Found at the southern tip of the country, the crystal cascade of water contrasts beautifully with the mossy green rock and lush vegetation it cuts through.
Lake Pukaki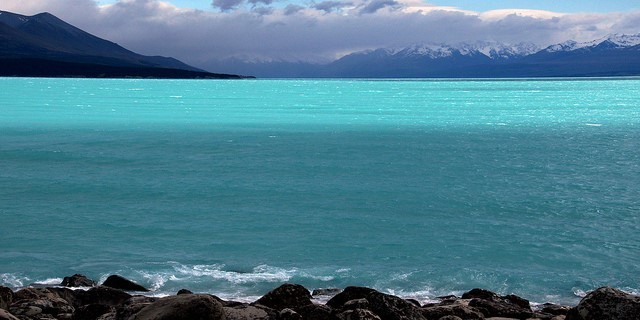 Lake Pukaki, with its amazingly ice blue 180 square kilometer water expanse provides breathtaking colour combinations across a backdrop of snowy mountain ranges. You could be forgiven for thinking you'd suddenly ended up in the Canadian ranges as the scenery is very similar.
Lupin Flowers in Tekapo
On December, during the summer's peak, pretty beautiful lupin flowers buoyantly bloom for up to six weeks, offering a very fantastic view for nature kids. Each summer these flowers turn into startling bright colours, calling masses of photographers and tourists. Mostly found at the beautiful shores of Lake Tekapo as well as the nearing zones, these wonder flowers flourish best in the first two weeks of the month.
Mount Roy
Hikers have a reason to smile whenever they visit the Southern Island of New Zealand. Mount Roy is the place that, besides offering an iconic viewpoint of the Lake Wanaka, stands out as a wonderful area for exciting day hikes. Up there, you get amazing views to the landscape below, which savvy photographers cannot miss.
Hooker Glacier Lake
At the foot of Mount Cook is the Hooker Glacier Lake, an all-year-round stunner you cannot afford to miss while visiting this incredible country. However, most experts recommend winter as the most suitable time for photo taking.
Lake Matheson
Planted at the centre of Glacier Country and Westland National Park, this lake provides a pretty sight. It was formed 14,000 years ago through glaciations. Its surrounding is rich in ancient native forests that are also a favourite phenomenon for photographers. Lake Matheson mirrors Mount Tasman and Mount Cook—two of the highest peaks in New Zealand.
Milford Sound
Milford Sound receives quite much rainfall. The annual estimates are up to an amazing 6.8 meters, making it among the very wettest spots of New Zealand. Due to such high rains, the area is adorned with pretty spectacular waterfalls, many of them cascading into the photo famous fjord on wet days. Milford Sound is found in the Fiordland National Park.
Devil's Punchbowl Waterfall
Anyone would be excited to see and photograph the Devil's Punchbowl Waterfall. It is the largest waterfall in the land, standing at 131 meters. It is surely worthy visiting, but remember to take rain jacket. You likely will get wet.
The Remarkables
As suggests the name, this is a truly remarkable place. Featuring a rare scene of mountain range, the Remarkables are located next to Queenstown. Moreover, around this top photogenic zone is one of the finest ski fields the island boasts of.
Bennett's Bluff, Glenorchy Road
Bennett's Bluff is a popular viewpoint along one of the impressive drives through New Zealand. Glenorchy Road runs from Queenstown to Glenorchy. This particular viewpoint impressively overlooks the Pig and Pigeon Islands, as well as Lake Wakatipu.
The Wanaka Tree
The Wanaka is a symbolic willow tree located off Lake Wanaka shore line. It is claimed to be among the most photographed trees the world over, making it one of the most photogenic places in The Southern Island of New Zealand.
Franz Josef Glacier Valley
This is one of the major attractions on the island's west coast, an ice glacier descending 12 kilometres. It starts in the high peaks coming down through rainforest to a mere 300 meters above the sea level.
Despite being a small country, New Zealand is one of the most exciting places to visit in the world. You cannot finish in a day or even two, for every corner you go, you will want to take a photo.
Summer Events to check out in Surfers Paradise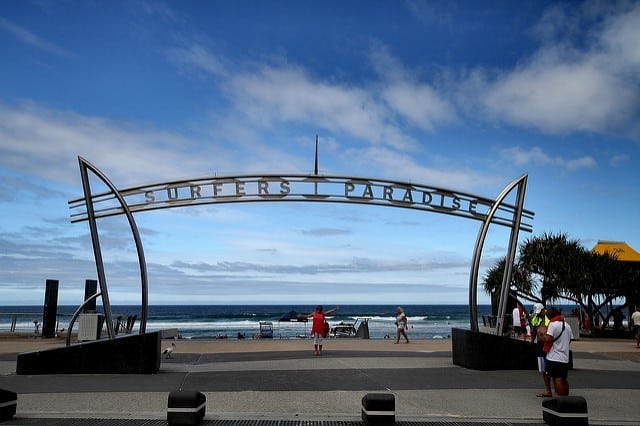 The weather is already heating up on the Gold Coast and everyone is getting ready for some hot days on the beach. Christmas is just around the corner and with it all the big summer events and festivals that happen at this time of year. Surfers Paradise is at the centre of it all and makes a great base for exploring the Gold Coast and attending the events on the Gold Coast's summer schedule. There is plenty of places to stay in Surfers Paradise, so book yourself a room and check out some of these fantastic summer events.
Australian PGA Championship
Pacific Pines Resort is one of the premier golf courses in Australia. The country's biggest golf tournament will make its way here from the 30th of November until the 3rd of December, where the best golfers from Australia and overseas will compete for the title. This is a must attend event for golfers, and there will be plenty of food and entertainment on offer across the four days.
Beachfront Markets
The foreshore in Surfers Paradise comes alive every Wednesday, Friday and Sunday night, with over 100 market stalls filling up the esplanade. The iconic Beachfront Markets will continue throughout the summer and provides the perfect opportunity to get out and about on those warm summer nights, browse the stalls for some unique buys, and then head out on the town for dinner.
Christmas in Surfers Paradise
Experience Christmas in true Aussie style by attending the popular Christmas in Surfers Paradise event that fills up Cavill Mall from the 13th – 24th of December. The entire mall is transformed into a festive wonderland, Surfers style. Even Santa himself will be wearing boardies and travelling in a surf boat sleigh. The kids will love getting to visit Santa in the mall, and the whole event ends with the popular Carols on the Beach on the 23rd of December. Where else in the world can you experience Christmas Carols on the beach on a hot summer's night?
New Year's Carnival
Surfers Paradise is one of the best places to celebrate the New Year in the country. The New Year's Carnival happens on the foreshore of Surfers Paradise across five days from the 27th of December until the 1st of January. It will be one big celebration with lots of rides and fun filled activities, music and more. On New Year's Eve, you can enjoy massive fireworks displays over the water, with three different displays lighting up the skies above the Gold Coast. There will even be an earlier fireworks display for the little ones. This is definitely the place to be to bring in the New Year.
Magic Millions Carnival
One of the first big events to check out in 2018 will be the extravagant Magic Millions Carnival. On from the 7th until the 13th of January, the Magic Millions Carnival is the premier event of the summer horse racing season. This is a $10 Million horse race and it is sure to be a huge event, with all the glitz and glamour and socialising that goes with it. On the 9th of January, head to the Surfers Paradise Foreshore for the Barrier Draw, where you can watch the horses on the sand and enjoy food and beverages from the stalls. The big race day will be held on the 13th of January.
Burleigh Pro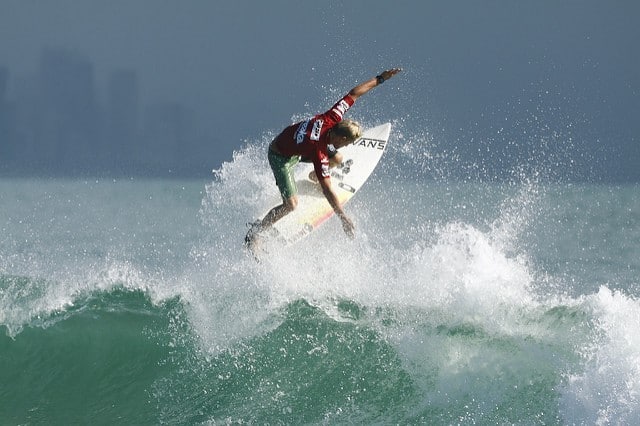 Surfing is huge on the Gold Coast and one of the best surf spots is at Burleigh Heads. The Burleigh Pro has grown to become one of the biggest surfing competitions in Australia and will see some of the world's top surfers compete for the title. Local surfers and visitors should definitely attend this one. The Burleigh Pro will be held from the 25th – 28th of January.
Sand Safari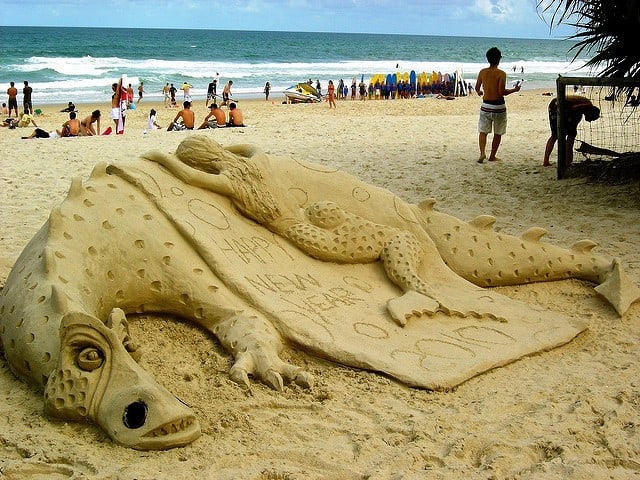 One of the more unique and interesting events to check out this summer will be the 2018 Sand Safari. This arts festival focuses on Australia's talented sand sculptors, who will compete in the Australian Sand Sculpting Championships. These sand artists carve out incredible, often life sized sculptures entirely of sand, and you will often be truly awed by what they are able to create. The main sculpture competition takes place on the beach along the Surfers Paradise foreshore, however this is a big event from the 2nd to the 25th of February, and you will be able to find special sand sculpture exhibits all over Surfers Paradise.
Summer of Surf
The Summer of Surf is a massive event which will see the country's best Ironmen and Ironwomen compete in a gruelling six discipline event across six rounds, including the highlighted IronMan and IronWoman competitions. These athletes are the epitome of endurance, and the competition will hit Surfers Paradise for round five of the competition on the 3rd and 4th of February.
The Village Markets
Burleigh Heads is one of the most picturesque and laid back places on the Gold Coast and well worth heading to for a few hours. A good time to visit is during the twice monthly Village Markets which have become an integral part of the Burleigh atmosphere. This popular and laid back market has a beachy, artsy feel to it, and you will find all kinds of unique buys here from the many stalls on offer. Street food stalls are also a big thing here so you can sample some delicious delicacies while browsing the stalls. Finish the day by relaxing on the beach, or sit down for a drink at the Burleigh Surf Club.
Whether you're looking for a destination for a family holiday or just wanting a quick getaway to unwind this summer, Surfers Paradise is a great choice. With so much happening from cultural night markets to world class sporting events, you are sure to find something of interest in this iconic Gold Coast location.

We have been wearing out our jandals (Kiwi for flip-flops) on our travel adventures around the world since 2009. We think our blog is thought provoking and a little witty. But we have been proven wrong before. Find out more about us here...