Packing lists for travel are so incredibly personal that I usually wouldn't advise you what to take on a trip. What one person considers essential, I may think is ridiculous and vice versa. However, when you are trying to figure out what to pack for the Camino de Santiago when you only have 2 weeks to walk, I think you have to follow a guide.
Since I announced I was setting off on The French Way, I have been asked several times exactly what to pack for the Camimo de Santiago.
I only had a couple of weeks for my pilgrimage and it didn't go so well (full story to come) so I can't count myself as an expert. Nor did I do nearly enough research. I only had 5 days to get everything ready from when I booked my flight, until I flew out.
But even so, there was nothing in my backpack that I felt like I could leave behind and this is everything that I recommend you pack for the Camino de Santiago.
What to pack for the Camino de Santiago for 2 weeks?
Weight and comfort are the only things you want to think about when figuring out what to pack for the Camino de Santiago. Most people choose to limit their Camino backpack to 10% of their body weight which is a good starting guide.
My full backpack with all the gear below weighed a touch over 10 kgs. But luckily my trusty Trespass Harket 35L Backpack is comfortable. So while it was a little heavier than I would like it wasn't as bad as some of the 25 kg backpacks I saw.
It also fits in carry on for the plane and I definitely wouldn't go larger than this.
Clothing:
North Face Hedgehog Gore-Tex Walking Shoes
Jandals
Undies x 3
Beanie
Merino Thermal tops x 2
Buff
Merino Thermal Trousers
Waterproof Trousers
North Face Waterproof Jacket
Plastic waterproof Poncho
Ethcs T-Shirt x 2
Running shorts
Merino wool socks x 4 pairs
Sweater
Sun hat
Woollen Gloves
Sunglasses
Electronics:
Samsung Galaxy Tab 2 10.1 Inch
Samsung NX11 Camera
GoPro Hero2
HTC Desire S smartphone
iPod
Travel USB memory sticks x 4
European plug travel adapter
Medical Supplies:
Asthma Inhaler
Sun block
Compeed Blister Block (various sizes)
Nurofen
Needle and Thread
Padded sports strapping tape
Other essential items:
Sleeping Bag
The ultimate silicone sleeping ear plugs
Renewable grocery bag
Ziplock bags for waterproofing electronics
Toilet paper
Twistie clothesline
Duct tape
Quickdry towel
1L Reusable Sigg drink bottle
Paper notebook and pens
Whistle
Spork
Shampoo
Toothbrush
Toothpaste
Dental floss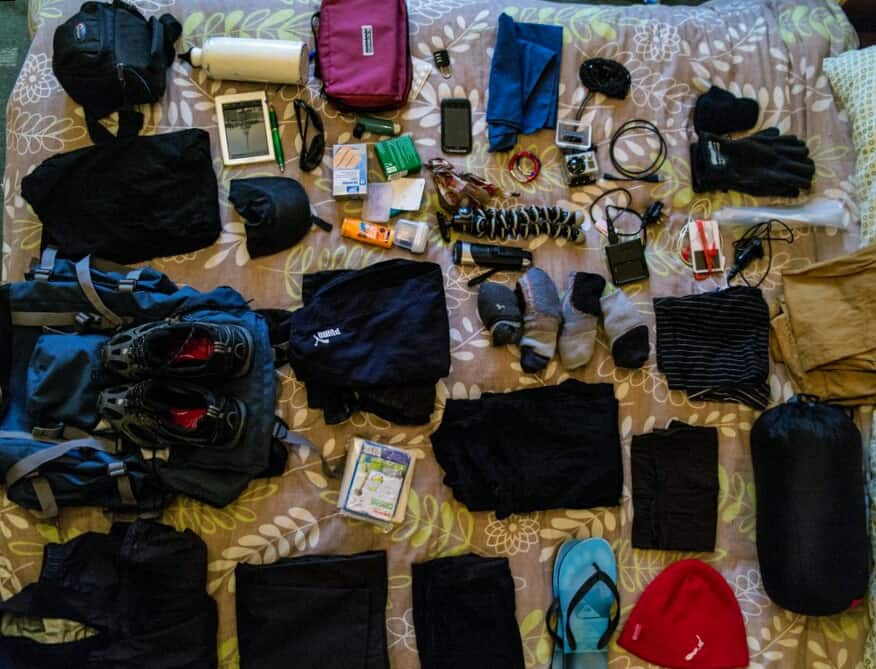 Ok, even this list is slightly personal to me. And you can definitely argue about a few of my items in my backpack. But for my own sanity, and so that I could keep this blog updated, I sacrificed weight to keep things like my Samsung Galaxy Tab 2 and GoPro Hero2 in my Camino kit.
If I wanted to really do it as a full blown pilgrim convert then I could easily have left all the electronics at home. I also would have cut down on my clothing by losing 1 t-shirt, 2 pairs of socks, 1 pair of undies, and a thermal.
But for the benefit of my other pilgrim buddies, I didnt want to have to walk alone smelly the entire time!
Also take the time to check out my favourite photos from the Camino de Santiago.
What do you think of my ultimate Camino de Santiago packing list? Anything you would leave out? Something additional you would have packed?