Visiting the Isle of Arran
If in Scotland, then visiting the Isle of Arran situated on the west coast, is a must. Home to some great adventure travel activities.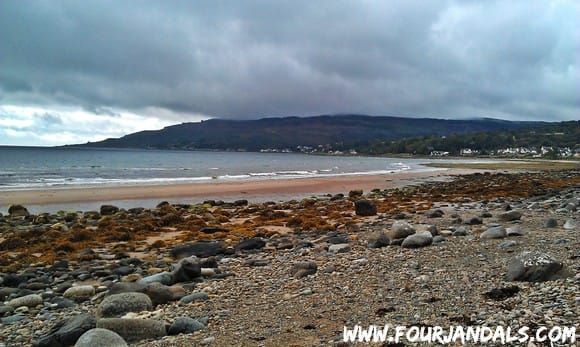 We wanted to get out of Edinburgh for a weekend of adventure travels and since we still have a number of Isle's off Scotland's coastline to visit we decided on visiting the Isle of Arran.
We also heard there was excellent mountain biking on Arran so strapped the bikes to the back of the car, grabbed the maps, downed a tasty curry for dinner in Ardrossan and were off.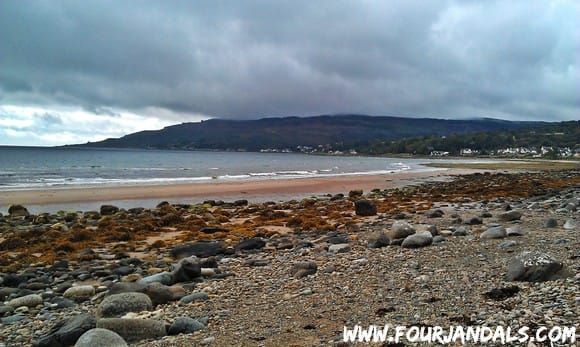 We had decided that apart from all the mountain biking we were actually going to try and take it easy after an exhausting long weekend in Paris the weekend before so had chosen to stay in our first ever Bed and Breakfast!
We were definitely not disappointed. Even after arriving at 11pm the retired couple who were diligently waiting for us to show up offered us tea and home baked cakes. For two sweet-toothed travellers this was the life. The other bonus was knowing that each morning there would be a giant cooked breakfast waiting for us to fuel our legs for the days cycling.
Each morning as the sun rose across the open sea we gorged ourselves on the big brekky. We were treated to stunning vistas from the kitchen table before wandering two minutes down to the rocky shoreline.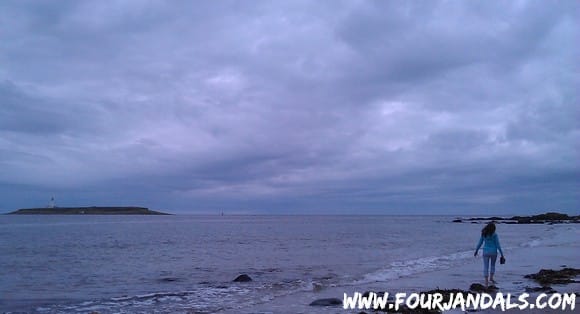 For two days we exhausted ourselves on the mountain bike and tourist trails all over Arran. Unfortunately our slightly out of date maps meant that it was not always fun and games.
Sometimes the trails would end suddenly and being the stubborn male that I am I trusted my natural compass to lead us to salvation. Unfortunately we would often end up bush-bashing with our bikes slung across our backs as we made our way up what I assumed to just be an overgrown path. Much to Adela's dismay I was wrong and we had to spend the next 20 minutes going back down again.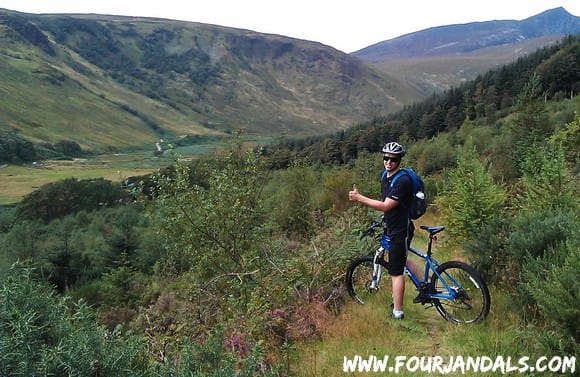 Bit of the 'Old Silent Game' came in to play as we both slowly licked our wounds. Mine from reading the map wrong and Adela literally licking her wounds from all the scratches she ended up getting from falling in the blackberry bushes!
There is so much to see and do on the Isle of Arran. We acted like idiots over the ruins of the "Giants Graves" and "oohed" at Glenashdale Falls. And most of the time there was not another soul in sight.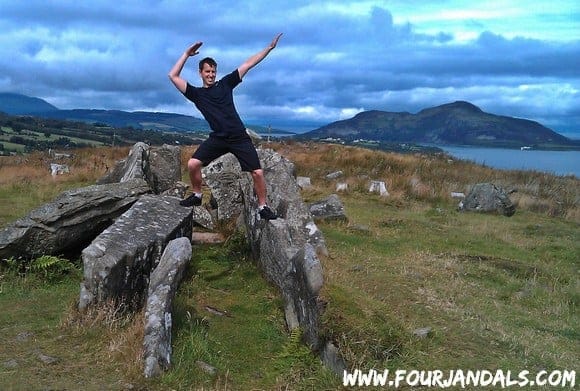 Being blessed with those long summer evenings stretching the available light past 10pm you can spend endless hours cruising the 90 km coastal road (not just by bike). Just make sure you stop to enjoy the secluded beaches. We witnessed birds swooping down to catch their dinner fresh from the sea.
While seals frolicked in the shallows off the shoreline at Kildonan in front of the ruins of one of the many castles.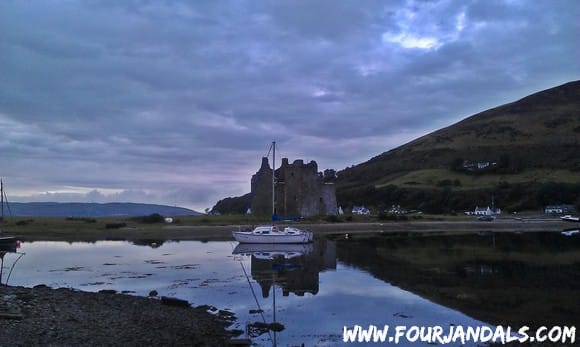 Before hopping back aboard the Isle of Arran ferry be sure to check out Brodick Castle and the world-famous gardens. Nestled on the shore with a backdrop of the country estate there is plenty of adventure travel activities to spend hours here.
Or just sit back on the grass and relax.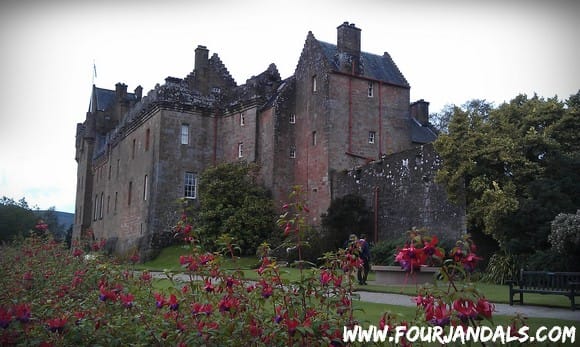 Any other tips for visiting the Isle of Arran?
5 UK festivals to visit this summer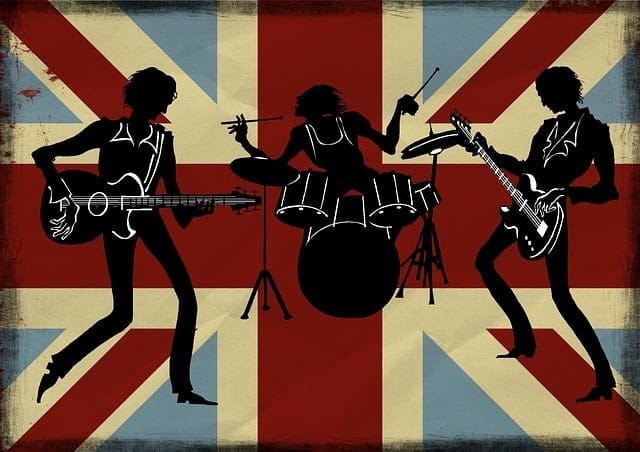 The UK is so beautiful in the summer, why go abroad when you have thousands of fun things to do right here? People travel from all over the world to see our beautiful country, so get to know the UK better.
These are some of my favourite festivals for summer 2018. They are family friendly with entertainment for both parents and children.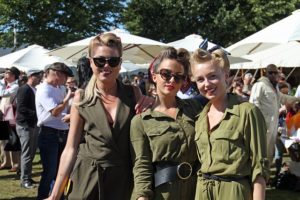 BLISSFIELDS 5-8 July 2018 | Winchester. Whilst you're getting your groove on, your children will enjoy making woodland fancy dress costumes in the Angel Gardens Family Area, having paint fights and dancing their socks off at the onesie disco and everyone's in their happy place. Address: Vicarage Farm, Woodmancott, SO21 3BL  Website: blissfields.co.uk Tickets: Adult weekend tickets from £100; youths £85
LATITUDE 13-15 July 2018 | Suffolk. Latitude must be the closest grown-ups can get to a real festival experience with the kiddies. You can enjoy yourself while your cuties hang out in the Enchanted Garden where there's circus skills classes, screen printing and wildlife craft sessions. Address: Henham Park, Nr Southwold, Beccles, Suffolk NR34 8AN  Website: latitudefestival.com Tickets: Adult weekend tickets from £197; accompanied teens from £132.50; children from £15
GIVE 13-16 July 2018 | Leicestershire. This tiny celebration of soul, house, funk, reggae and blues, grew out of a series of club nights started by a gang of warehouse ravers in the 80s. While it is not a family festival, many regulars now bring their kids, who love it. This year, watch British Soul singer Corrina Greyson and then head to the treehouse, bouncy castle, karaoke and magic forest schools. Address: Stanford Hall, Lutterworth, Leicestershire, LE17 6DH  Website: houseofhoney.org Tickets: Adult weekend tickets from £175; under 18s £55; under 13s £30
DEER SHED FESTIVAL 20-22 July 2018 | North Yorkshire. Kick off the school holidays with this weekend of fun at Baldersby Park in Yorkshire, combining music, cabaret, comedy, theatre, book readings, family films, science workshops and lots of scampering in the woods. Address: Baldersby Park, Topcliffe, North Yorkshire YO7 3BZ Website: deershedfestival.com Tickets: Adult weekend tickets from £135; 6-15 year olds £45; 3-5 £10; 0-2 free
CURIOUS ARTS FESTIVAL 20-22 July 2018 | Hampshire. It's all snail racing, midnight bat walks and bee-keeping lessons at the Curious Arts Festival, in the grounds of stately Pylewell Park. The film and poetry workshops for kids are a must. Address: Pylewell Park, East End, Lymington, Hampshire SO41 5SJ  Website: curiousartsfestival.com Tickets: Adult weekend tickets from £128; 5-13 year olds £23; under 5s free.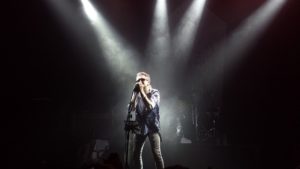 Sometimes one can get tired of driving all over the country to the festival of your choice, then you also have to think about how much alcohol you consumed the night before and whether or not you're ok to drive. Why not 'coach it'? Travelling by coach means you don't have to worry about driving at all, you can just sit back and relax and enjoy the ride. Click here for some excellent discount offers and have a fabulous festival summer!
Exploring Hawaii: A Guide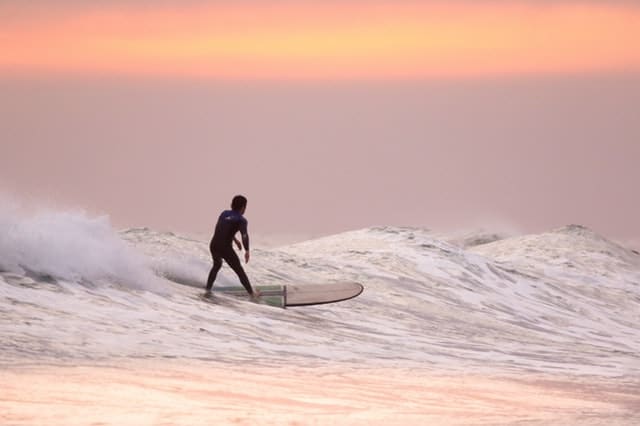 There are said to currently be 195 countries in the world, and each has its own unique qualities and possesses its own beauty. Amongst them, one of the most popular destinations has to be the breath-taking Hawaii. This beautiful state has eight major islands and is surrounded by clear seas and white sands making it a perfect destination for the beach lovers. In the instance that you've been thinking about going to Hawaii or are curious about what exactly it has to offer, you're going to find out a few interesting things about Hawaii in the following guide.
Helicopter Tour to see Kauai Landscapes
If you enjoy seeing things from a bird's eye point of view, then you should think about trying a helicopter ride. There are endless beautiful landscapes and unforgettable views for you to see, with the Kauai landscapes being among them. It may also be interesting to know that many of the amazing scenes that you saw if you ever watched Jurassic Park were shot there. If you do decide to go on a helicopter tour, you'll be able to see the astonishing waterfalls amongst many other views.
Kaanapali Beach
Hawaii has some of the most beautiful beaches in the world and Kaanapali beach is definitely a sight to behold. There is plenty of space to surf and sunbathe for those who are interested in pure relaxation. In case you want to do a little snorkeling, you should know that the waters are shallow and there's also the possibility of seeing whales off the coast. In terms of accommodation, you could look for a nearby hotel or consider exploring different Maui Beach vacation rentals until you find one that suits your preferences and needs if you want something more personal.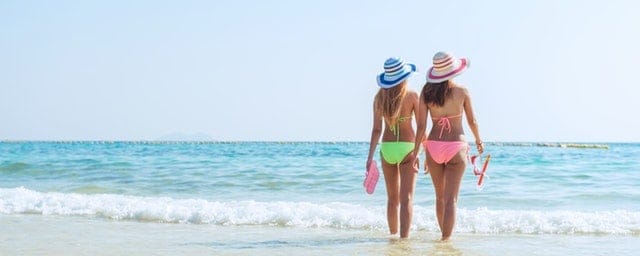 Catamaran Snorkeling Excursion
For those who enjoy the mystique world beneath the seas, you may want to consider going snorkeling. If you've never been snorkeling before, it's your chance to swim with all of the sea creatures and experience it firsthand. Some things that you can expect to see are exotic colorful fish, sea turtles, as well as dolphins. It is a chance to experience the Hawaiian waters in an intimate way and also an experience you're likely to never forget.
Haleakala National Park
Another thing you can get up to in Hawaii is visiting the Haleakala National Park. This is home to the world's largest dormant volcano. One of the most popular spots there happens to be the mountain which is 10,000 feet above sea level. Planning your visit in the morning would also make it special as you'd be able to see the sunrise which is said to be a beautiful sight. Once you reach the top of the mountain, you can then go down towards the mouth of the volcano. You can also visit the park's most popular trail, Pipiwai, and take some stunning photo's while you're there.
Hawaii is one of the most popular vacation destinations, and it has been for a few years. This could be a result of the stunning beaches, many activities, or local culture. For these reasons, it is definitely a spot worth visiting in the near future.
Why Should You Choose A Couple Resort as a Romantic Getaway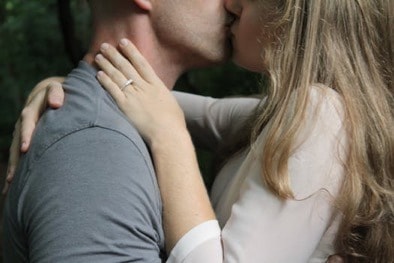 There's no point in planning a couple's holiday retreat if you aren't choosing a place that speaks of romance. Different couples have different tastes, some prefer long drives while some are into adventures. A majority of couples also turn to beaches or pick places that are known for calmness and quiet.
This is why it is important to know what your partner prefers so that you can choose a destination that fits everyone. This may be difficult, but what if there was a place that offered all of the above mentioned things? There is. A resort can offer you all this and much more.
You just have to find the best resort for the family and you are good to go. Remember that not all resorts are created same. For example, some are close to the beach while some are not. You need to find a resort that offers all the activities you are interested in so that you can have a great time when you go for a holiday with your partner.
Without much ado, let's have a look at why you should go to a resort when you plan a picnic in the future:
Excursions Included
If you are looking for memory making adventures as a couple then a couples resort is your best bet. Most resorts have their own excursions that you can opt for. This removes the need to find travel agents as you can book all that you need from the comfort of your room just by dialing the reception.
You can experience heart pumping activities like snorkeling, boat rides, jet ski and a lot more.
There's no need to panic or worry if you haven't gone through any of these activities before as you will be provided with safety equipment and training before you embark on your journey.
While all these are adventurous options, this is not all that a resort offers. You can enjoy other activities as well such as a couples massage and other relaxing activities.
Most top class resorts have their own spas where you can relax and allow your mind and body to soothe.
Top-Class Meals
Meals are the soul of a holiday trip and bad meals can definitely ruin your adventure by ruining your mood. However, couple resorts are said to have trained and top notch chefs who know how to make the diners go wow with their cooking skills. There's a wide variety of foods available at a couple's resort.
You can look at the available menu before you book a resort so that you know what kind of food you will get at the resort. Many resorts offer all-inclusive deals where you pay a lump sum for your stay and food. This is a good option as it takes the burden off your shoulder and allows you to relax without any worries.
Romantic Spots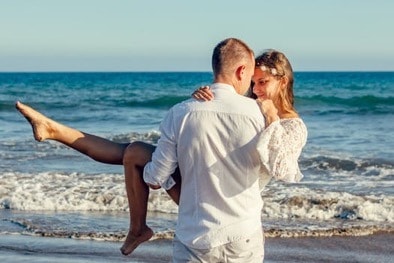 What's your definition of a romantic spot? Sunbathing under an umbrella? Getting drenched in a jacuzzi with your partner? Expressing love on a boat while you're in the middle of the sea? A couples resort can make all your romantic wishes come true and get you two connected like never before.
Let the receptionist know of your plan and they will make it happen for you. Plus, if you go for a couple resort you will be able to enjoy intimate moments without any trouble as they understand the importance of privacy and will provide you with all that you need.
Pack your bags and start planning your next trip tomorrow. The key lies in being on the same page as your partner and planning in advance so that you do not only save money, but also make every moment count.

We have been wearing out our jandals (Kiwi for flip-flops) on our travel adventures around the world since 2009. We think our blog is thought provoking and a little witty. But we have been proven wrong before. Find out more about us here...