"Wow check out that view. Wait, look over there" punctuated the air around every corner as I tried to focus on the road as we took in the views on our drive from Edinburgh to Oban. 
As we crested the final hill and wound down into Oban itself we couldn't get over the beauty of the area. What a fantastic location and setting for a quick getaway only 2.5 hours drive from Edinburgh on the west coast of Scotland.
Arriving late in the evening we pulled into the Oban camping and caravan park, located just a couple of miles south of Oban overlooking the water, and were immediately told that my company car with its sign writing was not welcome. Not that they hated our business, it was just a policy to not allow commercial vehicles on site. We weren't the only ones either.
We were allowed to set up our campsite and then park a half mile down the road and wander back along the country road. A reasonable request and one we had to obey anyway as all the other places were full!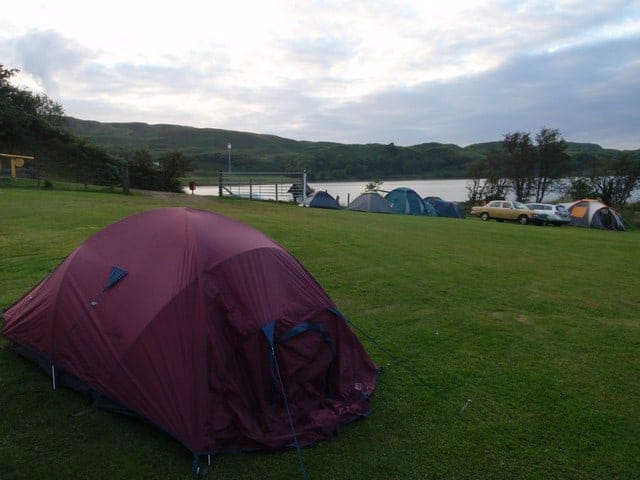 A quick trip back into town saw us at Ee-Usk Pizza restaurant for a fantastic zuchinni starter and yum pastas. Highly recommend checking it out on the pier with some great views over the harbour and amazing staff who squeezed us in before the kitchen closed. Although we do advise booking ahead as they get very busy.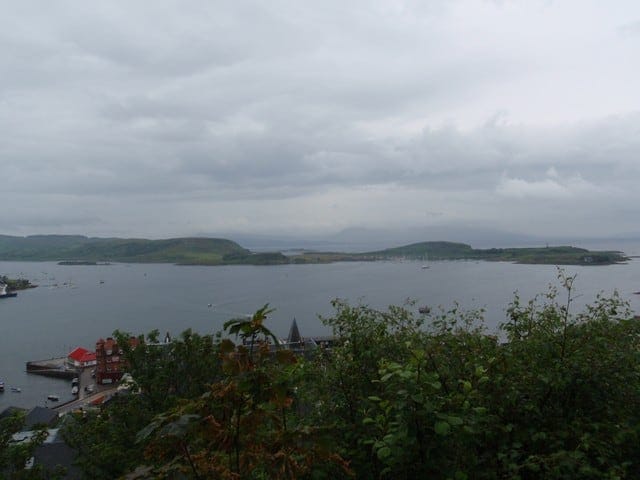 Island of Kerrera across the harbour
We woke to a warm but overcast day. Perfect for exploring the wee Island of Kerrera on our mountain bikes.
Kerrera is located just a short 5 min ferry ride (£5 return) from the ramp near the campground and runs basically every half hour. Unless he has stopped for lunch at 12, then its good luck or a swim.
Unfortunately he can also only take a dozen at a time so be prepared to wait a trip if its a nice weekend like we did.
The only cars allowed on the Island are owned by the approximate 30 locals. But there is no reason for one anyway as the entire Island of Kerrera is only 6 miles long so can easily be walked in a few hours.
We decided to take in the northern tip first to check out the Obelisk which is visible from Oban and is a memorial dedicated to David Hutcheson, founder of the steamer company. Although it all appears to be private land, the locals didn't mind us biking everywhere provided that, as in any rural setting, you make sure you shut every gate you go through.
I wouldn't recommend taking a bike that isn't a half decent mountain bike as it does get rough in patches although nothing was unrideable.  Just watch out for the sheep raisins on the ground flicking up leaving a nice trail up your back!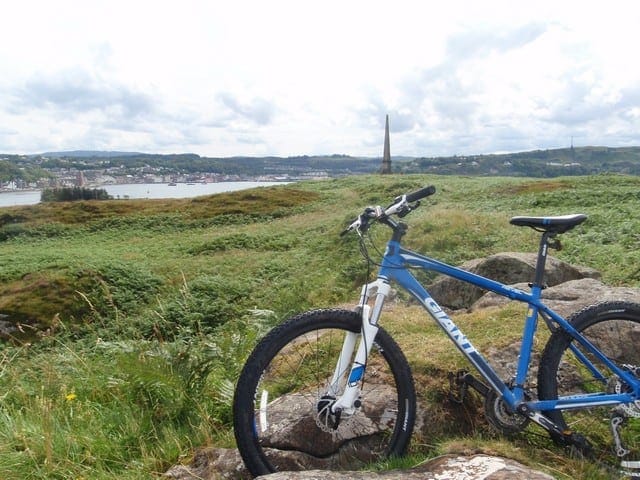 Biking on Kerrera with Oban in the background
After the monument we took a wrong turn and ended up biking through chest high bracken and carrying our bikes up a mental hill. Good times…
I just wish I had a towel for a swim and cool down in the crystal clear water.  I'm sure I would've regretted it but will remember to pack a travel sized one next time we travel.
We ended up cruising along the coastal road to take in Gylen Castle.  It was abandoned in 1647 after Cromwell's forces laid seige to it.  We are suckers for a castle and this was no exception with it perched high on the cliffs overlooking the sheltered bays.
Could just imagine staying there many moons ago.
Final stop was the tea house for a tasty and well deserved homemade banana chocolate and pineapple cake with ice cold orange juices to wash it down.  We missed the ferry by seconds and were rewarded with a short sharp downpour, but it was nice to cool off.
Absolutely buggered so fish and chips were the call on the pier at the reasonably priced tasty Cuan Mor restaurant.
Gylen Castle
Rain. The only downside to camping in a ten year old tent. 
Adela held her doubts about the weather-proofness of said tent while I assured her if it leaked we would just jump in the car, unfortunately still 1 mile down the road since we couldn't park on site. I could just imagine how fun that would be at 3 in the morning.
4.30am in the morning and "Cole its leaking!". A single drop had managed to squeeze through and plopped on Adela's cheek. I groggily told her just to shift over a bit. The tent held and we slept on.
As it was absolutely pouring in the morning we made a quick getaway from the campground and hit the tourist route. We managed to fit in MacCaig Tower with stunning views over Oban and is a must, even if the climb up is a steep one.
Along the coast, within a short walk or cycle is the overgrown Dunollie Castle perched on the northern entrance of the harbour. 
Following another tasty feed, this time at Dolce Vita cafe for a big brekky and amazing deluxe hot chocolate we took off back to Edinburgh. The final stop being Dunstaffnage Castle (15 mins out of Oban) which is great for getting up on top of the battlements to look over the harbour. An indomitable structure that was built over 800 years ago on the skinny peninsular.
Its amazing to think that NZ was not even inhabited then!
Dunollie Castle in the rain
In Summary – The Top 10 to do in Oban :
A walk or cycle on the Island of Kerrera (even if its only for the cakes at the end);

Fish and Chips on the pier as it is billed as the seafood capital of the world;

Dunollie Castle;

MacCaig's Tower with its stunning views out to the other Islands and over Oban;

Dunstaffnage Castle;

A cycle along the coastline taking in the secluded beaches including Ganavan Beach;

The Oban Distillery for a wee dram;

Sea kayaking (which we planned to do on Sunday if it didn't rain);

Relax with no worries;

And last but not least… The Island of Kerrera (it's so good it gets on here twice).
If you have been to Oban then let us know your Top 10 to do in Oban in the comments below.